Twitch, being the world's champion when it comes to streaming, is a thrilling choice of both a hobby and even a career.
The only potential setback that keeps so many streamers, both new and old alike, is the question of how to get followers on Twitch. It is boring to stream to an empty channel, isn't it?
The answer is relatively simple when you get down to it, and identifying the most important issues regarding how to get more followers on Twitch is what we are going to do!
---
To have a career on Twitch (and earnings, as well), you will need to attract viewers to your channel. Are you wondering how to get Twitch followers? The simplest way is to be unique, skillful, chatty, and engaging.
What To Do To Have More Followers
Followers will come if you choose the right niche where you will play games you like. People will recognize that and watch your streams when they see you enjoy playing and have some skills they lack. Also, try to be unique by creating catchy titles and custom-made layers. Don't forget to include your followers in streams by interacting with them. You need to be proactive and try implementing something new into your streams. Watch what other popular streamers do, but don't copy their work. Instead, try to improve their tactic.
Best Tactics For Gaining Followers
To get and retain followers you need to:
Have quality content,
Have quality gear,
Use YouTube to spread your gaming content,
Promote yourself on social media,
Interact with your viewers.
---
How to Get Twitch Followers
Once you have established yourself around a particular niche and when you start catching the ropes, there is still a long way to go before you can consider yourself successful and start racking in passive followers as time goes on. Now it's time to grow your Twitch channel.
First of all, make sure the bare-bones necessities are in place. By this, I mean that you do have some idea in what direction your streaming experience is going to go.
1. You have your own gaming or content creation gig going
The bread and butter of a streamer who wants to succeed in the long-term is the right niche – both popular and enjoyable to produce. As the golden rule says: "if the community ain't dead and it is still popular, the game is viable."
Playing the newest games sounds very fun and attractive, but being strategic about this, in most cases, will turn out to be in your favor. In this case, picking already-established games for streaming. If you started out recently, no worries – it is easier to change your course when you are just starting out.
But don't take this as a sign that playing saturated games is the way to go (like Fortnite, for instance). Starting out by playing a game that is continually popping up on the platform gets rather dull after some time.
Not to mention how stale it can be when the entirety of your feed revolves around a couple of small selection of games. A desirable personality can only get you so far. It often pays to take a leap forward and pick out a game that is as exciting to play as it is to watch.
Before you even start contemplating how to get more followers on Twitch fast, make sure the backbone of your streaming activities can get you where you want to be.
2. You are expanding your presence by using social media
This is an underrated but essential part that new streamers either forget about or underestimate but ask yourself this question; how can I start getting Twitch followers if they don't even know I exist?
What does this entail? Sharing your link across the internet, having your name heard in relevant communities/forums, and your present followers/viewers doing their part in promoting the fruits of your labor. Teaming up with other streamers and helping each other out either by hosting for them or by playing a game together is also an excellent strategy for expanding the influence of your channel.
The importance of getting yourself noticed is so vital that treating your channel's marketing as necessary as the content production quality is an absolute must (unless you have someone else doing the heavy lifting for you).
So, when you secure a place for your channel on one or a couple of social media giants, climbing the competition ladder will go a lot smoother (as long as other factors are in place, of course). This will be explained in more detail later on.
3. You are dedicated to creating catchy titles for your stream content
Imagine yourself getting ready to make some sick plays on your favorite game, preparing the best streaming equipment while chugging down your favorite drinks on a truly fantastic day! You feel like you are at the top of your game and that nothing can go wrong, right?
Now think how your future public will find you if you just started out with little to no followers. Out of hundreds of different streams with all sorts of different names, what makes your stream so unique?
Does it have a catchy title? Learn how to create a title.
Does it promise a good time just from the title?
Does it innovate the traditional approach to creating titles and offer something genuinely different?
It is up to you to decide! Don't be afraid to experiment and use your creativity- the sky is the limit when It comes to being original!
4. You are engaged with your viewers
Saying "Hi" does not cut it!
Building a culture, a genuine community, depends highly on your actions. People pick Twitch over Youtube almost exclusively for the ability to engage with streamers and other viewers.
Before you can start any serious business towards becoming an affiliate or a partner, make sure that you are comfortable talking to strangers who pop up in your channel suddenly and that you do have a vision of what kind of community you wish to foster.
There is a little hack you can sneak into the formula by using a Twitch viewer bot.
5. You are committed to being consistent
The biggest fish in the sea of streaming don't stop being consistent no matter the results!
Consistency is a trait that separates hobbyist streamers who stream periodically, just for fun, and those who intend to remain relevant and popular for as long as possible.
Chaotic streaming schedules don't constitute as consistent, so be ready to create or re-create a new program that you can follow and that
What You Shouldn't Do
Big No-No's
Starting out on the road of accumulating many followers is a two-way street- it is mostly determined by you but also on the community's taste.  There are a couple of matters to keep In mind that you should NOT do.
1. Copying another channel
Probably the most noticeable culprit out of all others, copycat streamers try to imitate their favorite personas on the platform, and, more often than not, a specific streamer might be their main inspiration to start streaming out of adoration.
This is a horrible way to start your channel towards more ambitious goals, partly due to the sacrifice of authenticity and because of the effect, it has on the audience. Think about it, people come to Twitch to not only watch interesting plays but to spend time with a large number of different personalities that differ from channel to channel.
While tastes are entirely subjective, it is a better bet to commit to doing what you can do best; creating content you like and being the best version of yourself while doing it.
2. Don't stream only "for the fun of it."
Committing to streaming is extremely fun and can be a good way to earn solid revenue, but, as you can already guess, treating it as just another way of having fun is not a wise strategy.
Progress in any sort of activity that you are streaming takes dedication and time, from making skill-demanding plays in multiplayer games to nerve-racking single-player modes from games with difficulty spikes such as dark souls; it all revolves how well you master your game as much as your charisma.
This specific category is related to consistency (since you will have to stick by your plan and make time for your audience) and strategy (can't jump from one game to another as you please, unless you are doing something like reviews).
3. Don't wait for opportunities
But instead, BE THE OPPORTUNITY that hits Twitch by storm and embeds a new game at the top list! Be ambitious and slowly take your place among the stars of Twitch!
Does the aforesaid sound like it is too much for you? If it is, embrace it, as having the right attitude towards gaining a large following does require a fair amount of self-confidence, combined with iron-hard dedication and perseverance. The best don't wait for change, they ARE  the change!
 You might fail to reach your goals thousands of times, yet as long as you are progressing, you are always moving forward, one step at a time, towards that seemingly unattainable goal of becoming one of the biggest names of Twitch, in a genre or in general.
The Stepping Stones Towards the Heights
How to Gain Followers on Twitch
When you master the fundamentals of proper channel management (and keeping the right goals in mind), you can get down to the "meat" of the topic – how to get followers on Twitch fast!
1. Setting up your profile
Sometimes giving other people the right image about yourself from just a few glances at your profile can be much more challenging than what most people might think.
If you did have taken the time to look at the profile appearances of successful streamers. In that case, chances are that you did notice how many of them look custom-designed with plenty of detail and ornamental additions.
With a continually growing number of people interested in starting their streaming career professionally, the standards of quality keep going up and include absolutely Everything, from aesthetics to performance.
There are a couple of modifications that you should implement into your profile;
A good overlay
If you are new, you can get away with keeping the vanilla Twitch overlay for a while, but not for too long!
The good news is that you have a nearly limitless set of choices for both freemium and premium overlays that you can try out. Despite the leeway of choice, an overlay is supposed to look pretty and functional as it represents your game style.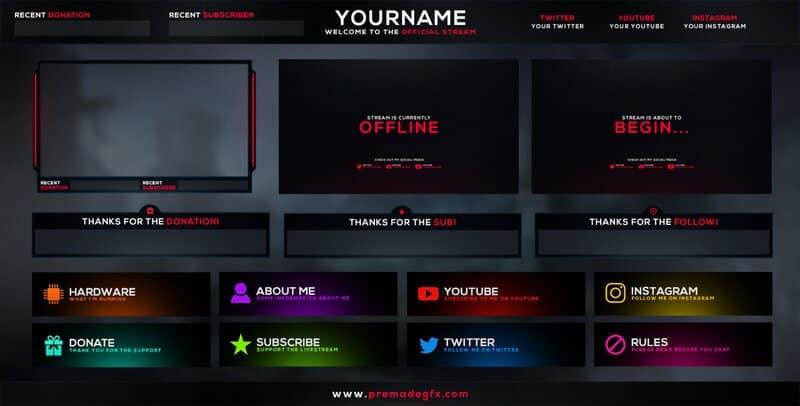 There are 4 distinctive types of overlays you can get for yourself:
Webcam Overlay– most people who are familiar with overlays will associate the word with webcam overlays. It is placed around the webcam widget. A good quality webcam overlay can provide fantastic aesthetic qualities, often making a difference when it comes to getting Twitch followers
 Stream Chat Overlay – a customized box that appears on your video screen whenever you are streaming a game.  For streamers that can get immensely engrossed within their games, this is a must-have
Stream Alerts– Wanna know the moment a new viewer pops into your stream, the moment you get cheers or new followers with alerts subtle enough not to disturb your play but visible to the point where you will know what's going on? If so, custom stream alerts are a real bargain in your case
Ad Overlay– When you get to the point of being sponsored by a third-party to promote specific products or services, you better make them a lot more appealing than the standardized ad pop-ups that annoy the hell out of at least 80% of people that might come to your stream. Custom-made and uninterrupted ad overlays are here to help!
You have three choices when it comes to picking out the Overlay that works for you:
If you are unsure if you want to invest in overlays yet or if you're going to experiment- you can try out free overlays (Placeit, OWN3D, Nerd or Die)
If you have a general idea of what kind of Overlay you want and are ready to invest in making your channel one-of-a-kind- you can switch to custom-made paid overlays (Placeit, Stream Shark, StreamLabs)
Hire a professional designer(s) to produce custom graphic overlays only for you. This is the most expensive option but, for the most dedicated and original streamers, no price is too high for achieving their goal.
Interesting and informative overlay
I won't sugar coat it. It's a rarity to see people fill out their bios and profile with ample amounts of info, and it's even rarer to see nicely flashed-out Twitch bio with good taste. And when it comes to creating the perfect profile, everything has to perfect. The requirements aren't even that hard to meet!
The example shown above is perfect in many ways as it covers pretty much anything a potential follower of a channel needs.
Basic info about the streamer
It gives potential followers quick access to the streamer's channels outside of Twitch
Lays down basic rules of etiquette
Streaming schedule
The streamer pays homage to the channel's most loyal followers
Basically, you get nicely compiled information in the form of panels. Everyone who comes to the channel will have all the essential information served to them, isn't that practical? Considering that most people won't want to dig through the channel for more than two-three worth of clicks, being pragmatic is the best policy.
2. Content quality
Ensuring your output meets the quality standards of your audience is of the utmost importance, while multi-platforming extends the reach of your content- similarly to how social media marketing spreads your name (brand) across.
Hardware
Before we go any deeper, think; what is the biggest turn-off for any viewer when they enter a stream, regardless of how good the content is or how charming the streamer is?
I can name a couple:
Low-quality audio
Low-quality video
Background noises
Stream interruptions
Unstable internet connection
You will need to ensure that you have the basics set up, which include:
A personal computer with a keyboard and monitor
A good internet connection
Headset
A microphone (this can be substituted by a regular headset mic)
An HD camera (preferably 1080p. Finding good cams can be a headache, so it's worth checking out this quick guide in case you are unsure where to start)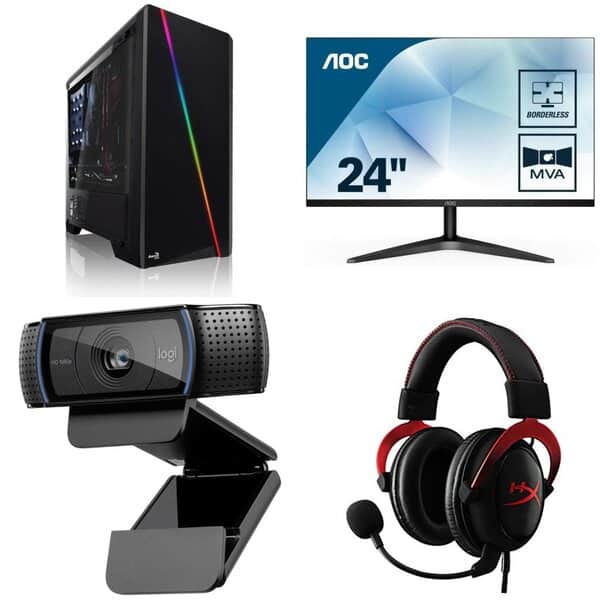 Most of the necessities are already common sense to pretty much anyone who has decided to get into streaming, so make sure that the equipment is of solid quality and reliability, and you are good to go!
3. Use YouTube to spread your gaming content
When it comes to competing in the market with thousands of competitors, you have to go far beyond the lengths of an average competitor to have a chance against the more dedicated percentage of streamers who make an extra effort in order for their work to be seen.
For this purpose, YouTube is an invaluable tool for reaching thousands, if not millions of people that otherwise would not stumble upon your channel otherwise.
It's easy as pie to upload your videos, but it is an entirely different story when you are deciding what keywords to put in your videos.
Before going any further, it is worthwhile to research what the most popular keywords are and what kind of content (related to a specific game) are you trying to spread? It could detail different methods of beating a difficult boss, reaching secret areas, or merely making sick plays.
 The sky is the limit, but only as long as it hits home with the point you are trying to make (in this case, attracting more people to your channel). For this purpose, using additional software can make a noticeable difference. This is where  TubeBuddy comes in. It is a  dedicated keyword research and management software with tons of different tools to advance your YouTube channel.
4. Market yourself on social media
When you ponder on how to get followers on Twitch fast, the best answer is – marketing! What you should do is promote your Twitch stream on social media.
As mentioned before, social media can play a vital role in popularizing your activities, but that importance can be elaborated and executed in various ways to benefit your channel.
For starters, identify what kind of audience you wish to address (professional gamers, recreational gamers, gamers of a specific genre, etc..)
Instagram
Due to the ease of sharing all kinds of content (often of a promotional nature) in an easy and non-invasive way, Instagram is absolutely flawless if utilized to announce activities such as Just Chatting (which is seeing a massive increase in popularity). You can even share those posts further over to Twitter, Tumblr, or Facebook, saving a lot of time and effort on your part.
Twitter
You can't hit two birds with one stone, and that is why using different platforms is the surest way to get the attention of a diverse crowd. Twitter is unparalleled in creating your own brand and interacting with specific groups of people (gamers, streamers, important people within a field/game scene).
As you retweet interesting posts and start becoming more popular, your brand will become more and more recognizable to the point of attaining the interest of potential sponsors!
Reddit
Reddit is a gold mine that too few people recognize these days, but don't let that discourage you from being an exception. Thousands of subreddits dedicated to different topics make it easy to discern the crowd that might be interested in your content. For the most part, you are more likely to attract a loyal following because most people that are within a subreddit are more interested in the relevant topic of the sub compared to people on Instagram or Twitter that just happen to find your posts.
5. Interaction with your community
The mother of all factors to consider is, of course, also the primary differentiation between Twitch and YouTube, and that is – real-time interactions with the community!
Interacting with your audience
The obvious (and most important) segment of any streamer's kit is their charisma, as entertaining your audience is the bread and butter of any Twitch streamer that wants to learn how to get followers on Twitch the fastest way possible.
While there are no shortcuts in this business (patience and persistence are the two best qualities after charisma when it comes to streaming), there are a couple of practices that pay off;
Engage the chat – Either by making sick plays, funny jokes/remarks, or merely asking interesting questions (or a combination of all three). Everything you do has some sort of impact.
Host special events – 24-hour gaming marathons? Charity streaming events? Celebrating special life events in your or your top followers' lives? Whatever pops into your mind and seems like a good idea to celebrate, don't hesitate to add additional content to your streams and celebrate with your viewers!
Create unique channels your audience can communicate with you – Be It Discord, Reddit, or Twitch, any sort of platform that allows you direct oversight over what your audience thinks about your content and if they have any suggestions is wise to have.
While you don't have to sacrifice your authenticity, your channel will prosper a lot faster if you take into consideration the thoughts and opinions of your audience.
You might also employ the services of chatbots and moderators.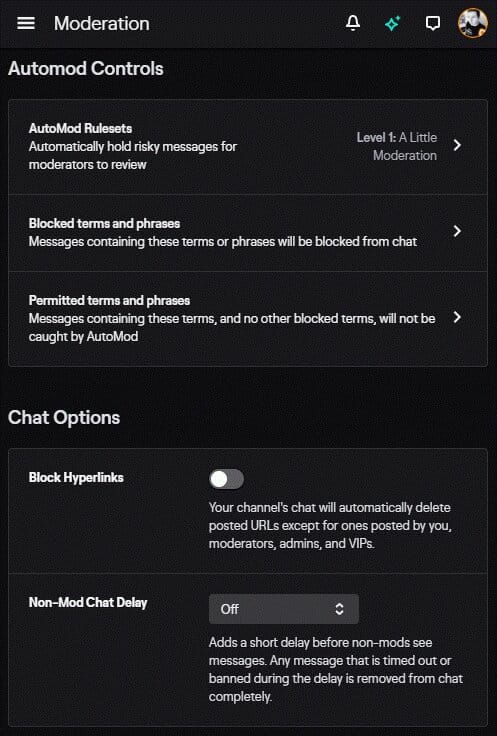 Ensuring your chat remains flame-free and devoid of vulgarity, you can set the boundaries of what can be said and done within your chat without having to directly involve yourself in moderation.
Paid moderators offer an additional layer of protection alongside chatbots. They can even lend you a hand in keeping the chat active. With the help of high-quality software and a dedicated team, paired with exciting content, you are pretty much guaranteed excellent results in getting Twitch followers.
But, most of all, focus your effort on making every streaming session a welcoming and fun environment, and Everything else will fall into place.
6. Communicate and network with other streamers
Look at it this way – a large number of your colleagues are in the same boat as you and have almost identical goals, wouldn't all of you prosper if you worked together? You can get more viewers together!
This is where the popular activity "follow for follow" Twitch offers originated from, as streamers can boost their own channel's popularity by working alongside other streamers. Playing co-op games, hosting each other, and even going so far as to form squad streams, there is no shortage of activities you can participate in.
While it's true that some viewers might transition from one stream to the next, let's face it- it's a free market. You are far more likely to have better gains than losses if you pair up with the right kind of people that are willing to share the glory and climb to the top as a team.
7. Constantly improve and have fun!
At the end of the day, everyone is on Twitch to have a good time, so even if you don't yet have much experience in streaming, you can have a hell of a good time learning the ins and outs of this growing industry.
While you are in the process of learning, take note of how your actions are perceived and how well you are progressing when you change your style if you notice room for improvement in your activities. Don't be afraid to make mistakes and ask if your followers how much they are enjoying themselves.
And, last but not least, have a blast!
---
If you want to get more interesting Twitch streaming tips, check out the video below!