Streamers know how important it is to have a high-quality gaming headset with a good mic. The best gaming headset will take your streaming process to a completely new level.
That's why my choice is Pacrate H-11. The noise-canceling feature, anti-static microphone, and excellent audio quality will truly transform your streaming experience.
I have also tested and reviewed several other models, so let's dive in!
QUICK OVERVIEW: Best Mic Headset for Streaming
16Ohm ± 15 % impedance
40 mm audio drivers

-38 dBV/Pa mic sensitivity
32 Ω impedance

115+3DB sensitivity
20Hz-20KHz frequency range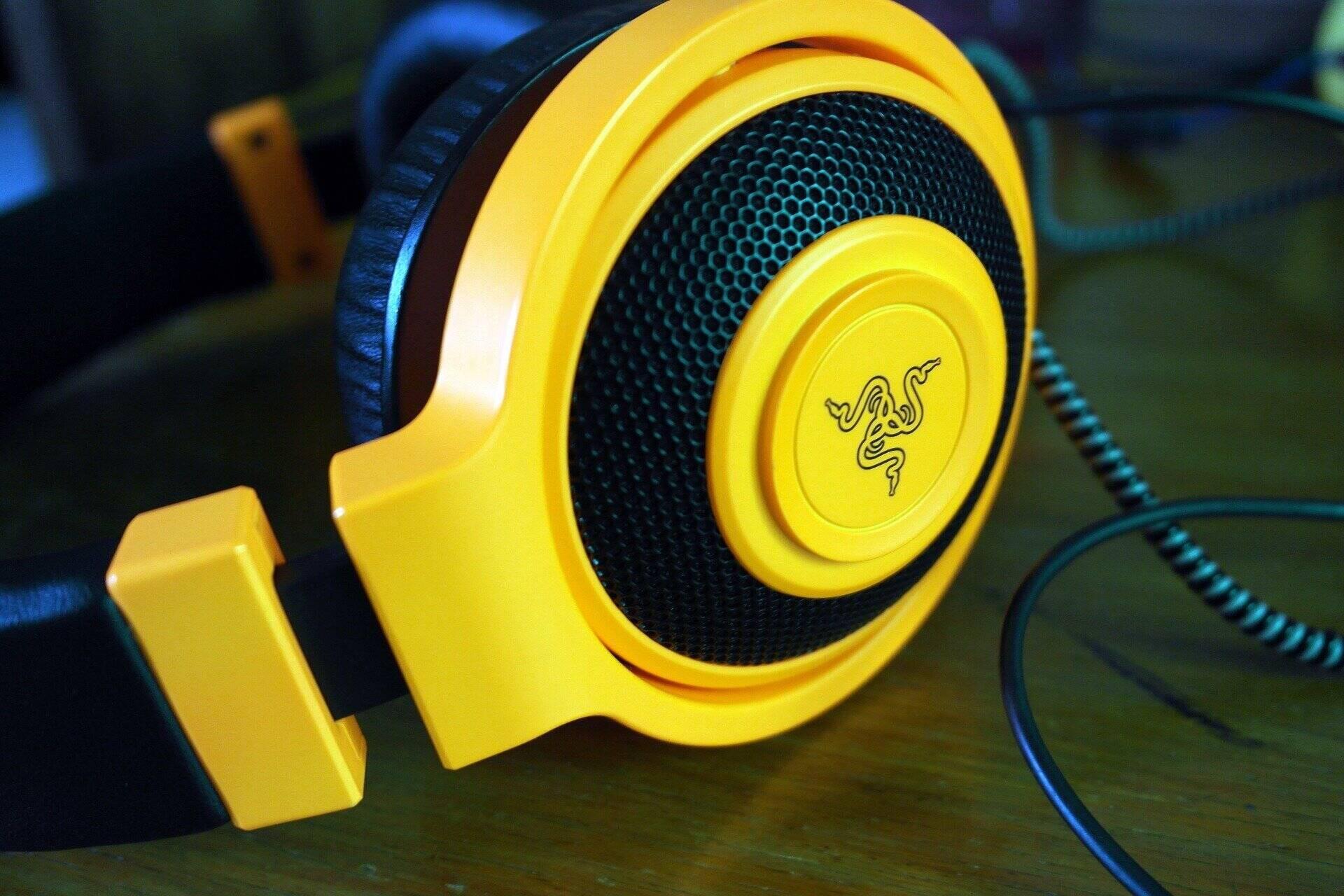 Best Headset Microphone for Streaming
Reviewed & Tested
Knowing how hard it is to find a good headset microphone, I researched and tested many models to find the best ones on the market.
These have the best specs and will satisfy even the most demanding streamers.
1.  Pacrate H-11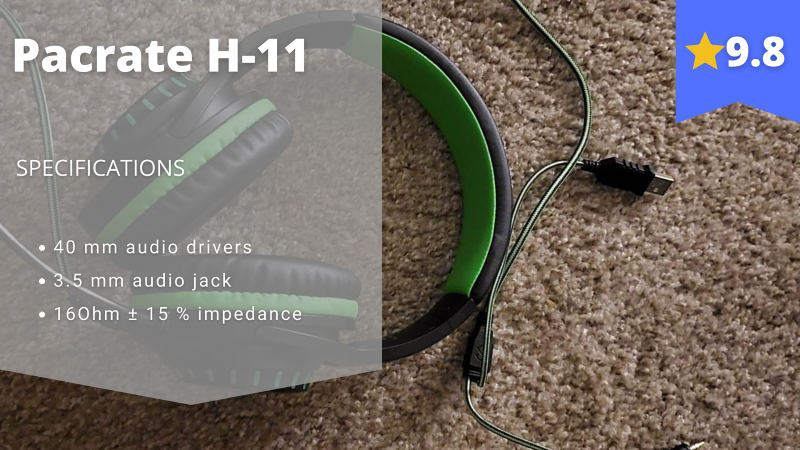 Stefan's Take:
This Pacrate model is a game-changer!

I cannot decide which feature I liked the most – the excellent noise-canceling or anti-static technology of the microphone. Or great design that allowed me to wear the headset for hours without discomfort.

This is the best headset for gaming, no doubt!
| | |
| --- | --- |
| Audio Quality | 10 |
| Mic Quality | 10 |
| Noise-Canceling | 10 |
| Comfort | 9 |
Why do I think Pacrate H-11 is the best among these?
Because of the outstanding user experience! Pacrate H-11 ticks all the boxes needed for streaming, from noise-canceling to excellent mic output audio.
Who is it Best for?
If you are looking for an affordable and high-quality product, then The Pacrate H-11 headset may be a good option for you.
The headset is perfect for streamers that spend lots of their time gaming, as it is very comfortable. You won't feel any pain after wearing them for hours.
This headset is perfect for gamers because it blocks the surrounding noise and offers high-quality sound.
Key features
Advanced audio technology delivers high-quality sound and makes the streaming experience better.
The microphone that comes with the headset is adjustable and has noise – canceling technique that separates the surrounding noise. Another feature of the microphone is the anti-static technology that prevents loud static noise while gaming.
The 40 mm sound quality driver also brings a stable stereo sound that really transforms your streaming and gaming experience, in my opinion.
Also, what makes it better than the other models is the faux leather padding and headband that allow gamers to comfortably use these headsets for hours, without hurting.
Outstanding design is another plus in my book! The headset is equipped with LED lights in green, blue or red color. Be aware that lights work only when you plug in the USB interface.
Even though it is supported by various devices, the H-1 headset needs an additional adapter for Xbox that doesn't come with the device.
Pros
No background noise
Adjustable speaker
Comfortable
Connectivity to various devices
2. SteelSeries Arctis 1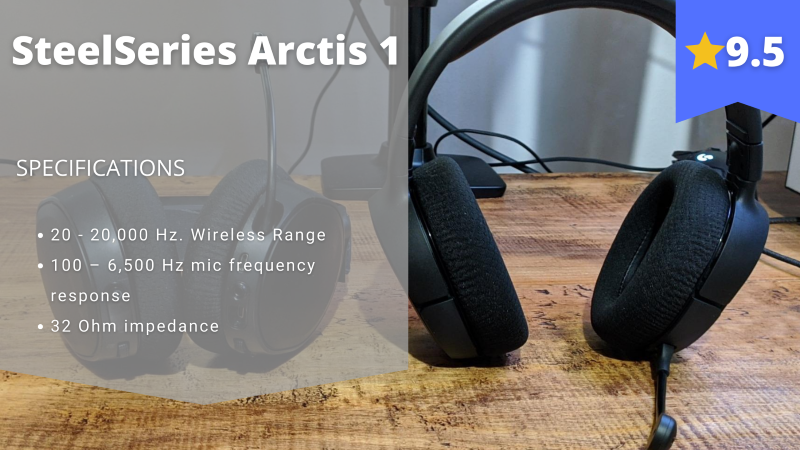 Stefan's Take:
I already tested SteelSeries earbuds, so I was just as excited to try their headset. At first, I wasn't too happy with the product. But once I downloaded SteelSeries Software, I noticed a change in the audio quality.

It was so easy to tell from which direction players were approaching, and they transformed my gaming experience entirely.
| | |
| --- | --- |
| Audio Quality | 10 |
| Mic Quality | 9 |
| Noise-Canceling | 10 |
| Comfort | 9 |
Their Arctis 1 gaming headset has one of the best headset mics. Let's check out the specs!
Who is it Best for?
If you are looking for something affordable, yet of good quality, consider Arctis 1.  This headset is decent for wired gaming and can be used with and without a mic.
This headset is also perfect for Nintendo Switch Gamers who want a wireless audio solution. If you play Nintendo, you may know how hard it is to find a pair of headsets that will work for both docked and undocked plays.
With Arctis 1 you can easily switch from docked to undocked by taking a little dongle out of the adapter.  
Key features
The gaming headset enables a wireless connection and uses a USB-C dongle. Arctis 1 is compatible with  PC, PS4, Switch, and Android.
The design is simple and attractive. The headsets are very comfortable to wear. The left pad has mics' features – volume dial, mute button, and removable mic. The removable mic is a great addition to the device and for this price range not very often.
The sound that comes from the headset is balanced and clear which makes Arctis 1 a good choice for listening to music.  
This means that you will be able to hear every part of the music you are listening to or every tone of the game you are playing. The noise block feature also works well and stops most of the outside noise.
The headband is created out of plastic and the sides cannot be adjusted, so it may be a problem for streamers who want to wear it for a long time. The battery of the headset lasts for about 20 hours.  
Pros
Good sound performance
Good microphone performance
Lightweight
3. Pacrate GH-1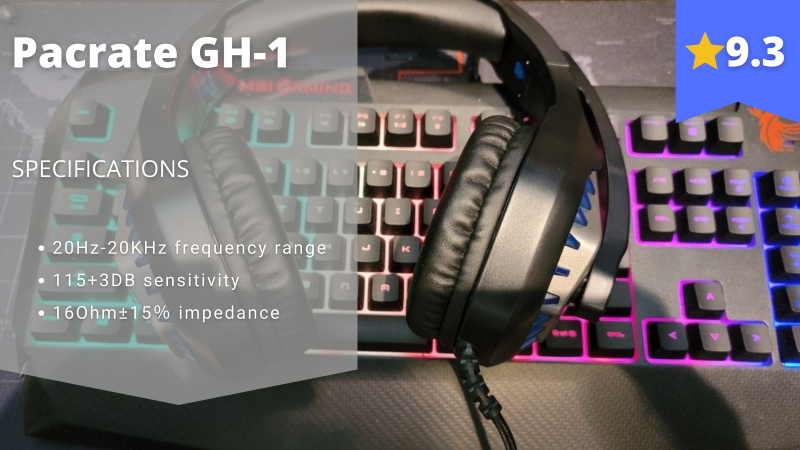 Stefan's Take:
The features of this model are quite similar to H-11. The audio quality is great for first-person shooter games, the design is cool, and the earpads are comfortable. However, compared to H-11, noise-canceling could be just slightly improved.
| | |
| --- | --- |
| Audio Quality | 9 |
| Mic Quality | 10 |
| Noise-Canceling | 9 |
| Comfort | 9 |
When compared to the H-11, the Pacrate GH-1 headset is similar to its mate and is one of their 3 best-selling headsets, so I had to test it.
Who is it Best for?
Pacrate GH-1 gaming headset is a perfect fit for professional gamers. It offers great quality for less money and is perfect for gaming on multiple platforms.
Just like the other Pacrate model, Pacrate GH-1 also blocks outside noise and is very comfortable.
Key Features
GH-1 is also suitable for various devices. For this one, you will also need another adapter to connect it to the older versions of Xbox.
The LED lights only work with the USB interface. The lights on the headset come in four versions: black green, black-red, blue and luxury black.
The ear pads are created to allow long streams without any pain since they are made from memory foam.
High precision 50mm magnetic neodymium driver offers sound clarity and strong bass. These audio drivers offer you the chance to better hear the direction from where the sound is coming.
The mic is flexible and picks up the voice in real time while filtering the outside noise.  
Pros
Great sound quality
Comfortable
Cool design
Cons
Not compatible with older Xbox
4. Sony-INZONE H7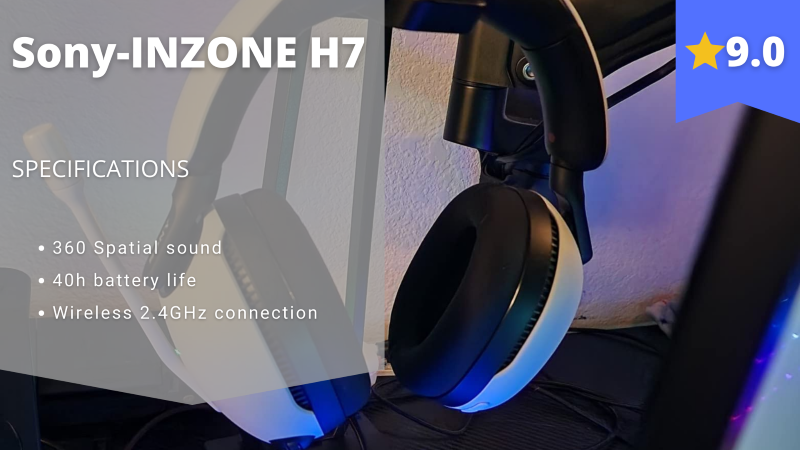 Stefan's Take:
I knew headset from Sony won't let me down. In my opinion, if you have more than $200, get this model, because you won't find better on the market for that price. The spatial sound feature is what I liked the most – it really brought the game to life!
| | |
| --- | --- |
| Audio Quality | 9 |
| Mic Quality | 9 |
| Noise-Canceling | 9 |
| Comfort | 9 |
This Sony headset model is a bit more expensive. But is it worth the money? Let's find out!
Who is it Best for?
This gaming headset is one of the headsets with the best mic and it is perfect for the players that love to give commands during the game. They offer a clear sound that your team players will be able to hear even in a noisy competition.
For gamers looking for comfort during streaming, this headset may come as a good choice. The headband is flexible and can be easily adjusted to the head.
The thing I liked the most was the 360-degree Spatial Sound that brings the game to life – ideal for FPS games, but also other, if that is not your cup of tea.
Key features
The mic provides a good and clear sound with a 360⁰ spatial sound and noise-canceling technique.  
Immersive sound effects are also one of the key features of this headset. H7 headset offers exceptional sound and incredibly clear communication.
The surround sound provided by this headset is very clear and it allows gamers to hear every tone.
The design of the headset is ergonomic. The earpads are large and comfortable – I wore the headset for several hours without any pain.
Also, it's compatible with numerous devices and consoles.
Pros
Compatible with various devices
Very comfortable
Great sound quality
360-degree spatial sound
5. Arkartech V1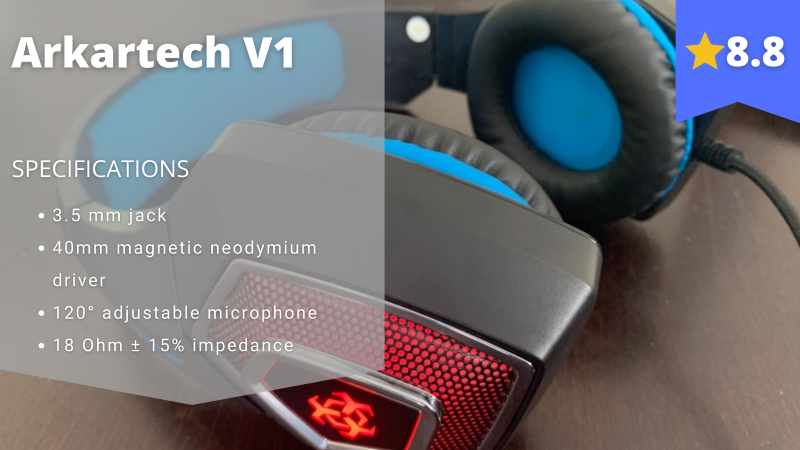 Stefan's Take:
This is a headset you can use for other things besides streaming and gaming. Noise-canceling is superb, and at times, it was even hard to hear my own voice. Plus, they are comfortable.

The only feature I wasn't too happy with was the mic quality – my friend reported several times that I sounded low, so I had to adjust the settings several times to get the best audio.
| | |
| --- | --- |
| Audio Quality | 9 |
| Mic Quality | 9 |
| Noise-Canceling | 8 |
| Comfort | 9 |
Arkartech gaming headsets, such as V1 that I am about to present, are renowned among gamers because of their quality and good noise-cancellation technique.
Who is it best for?
If you want your headsets to be not only your gaming friend but also your working, studying or chatting buddy, Arkartech V1 can be a good option for you.
These are also suitable for people of various ages since they are comfortable. Also, if you are looking for a headset with good and clear sound you may find V1 suitable because of its well-performing mic.
Key features
This gaming headset brings powerful and clear sound with rich details and deep bass. Its 120⁰ microphone offers a clear voice and reduces noise.
The headset is extremely lightweight and skin-friendly and offers comfort even when you wear them for a long time. The headband can also be adjusted to fit various head sizes.
What is special about this headset is its fashionable design with 7 changing LED lights.
The device comes with an audio jack and a USB jack. The inline controller and mute button are attached to the braided cable.
Just like the previous headsets, the Arkartech V1 is compatible with various devices. But if you have an older version of Xbox One you will need an extra Microsoft adapter.
Pros
Lightweight design
Good mic quality
LED lights
Cons
External power source for LED lights
6. Logitech G633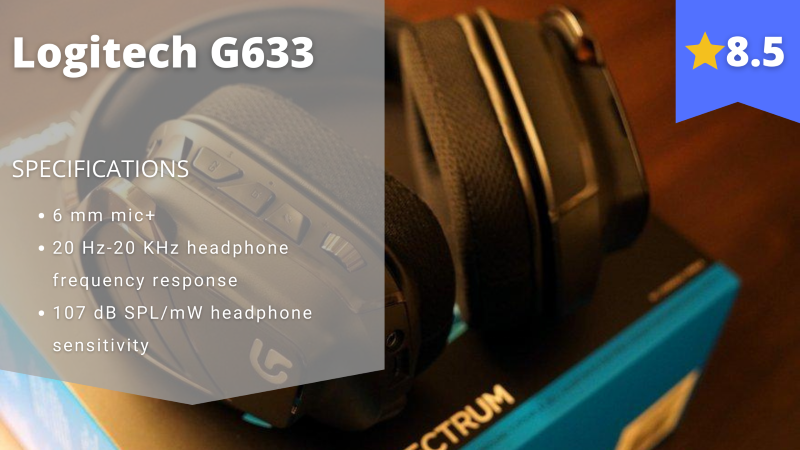 Stefan's Take:
The surround cloud feature is the main reason I wanted to test these headphones. And when I put them on and started playing Battlefield 4, I was quite happy I picked up this pair! The audio is decent, the equalizers work fine, and the headset was comfortable to wear for several hours.

However, setting up the software wasn't a walk in the park.
| | |
| --- | --- |
| Audio Quality | 9 |
| Mic Quality | 8 |
| Noise-Canceling | 9 |
| Comfort | 8 |
G633 Headset is among the most expensive products on my list. But it is also one of the best wireless microphone headsets on the market in their price range.
Who is it best for?
G633 Artemis Spectrum headsets are perfect if you are looking for a combination of excellent sound and a nice design.
This headset offers you excellent sound for games and music. Customization and extra features are perfect for users who are looking for a product tailored to their needs.
Key features
With advanced sound technology G633 produces crisp surround sound. Their advanced Pro – G drivers and On-Board Equalizers can get you customizable audio.
The sound that comes from gaming earbuds is loud and clear thanks to the advanced Pro-G hybrid mesh and anti-distortion drivers.
One of the advanced features of this device is two plug-in devices: 1 USB and a 3.5-millimeter connection that offer you to play music or talk without interrupting your game.
This is one of the best specs of this device. The fact that these two plug-in devices can be used simultaneously really changes the whole user experience.
Any gamer would love to have a customizable experience, and G633 Artemis Spectrum offers that with their Logitech Software. The software offers streamers to choose light colors, audio EQ and program  G-keys with game macros.
You will need to set up the software. Some of the essential settings that need customization are bass and treble balance, backlighting, buttons, mic settings, and equalization.
The boom microphone is flexible and it also includes LED lights that allow you to know when you are muted. The headsets are also compatible with various devices.
Pros
Offers customization
Advanced technology
Quality of the sound
7. The Turtle Beach Stealth 600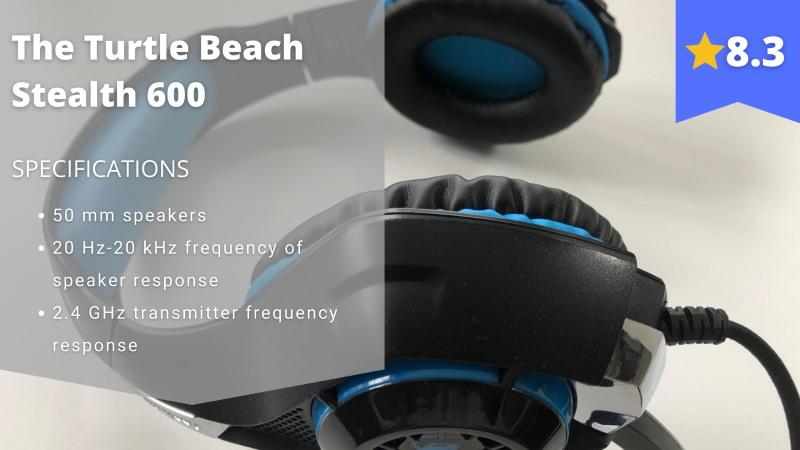 Stefan's Take:
I already tested a pair of earbuds from The Turtle Beach, so I knew what to expect. I liked the audio – great bass, and you can hear different tones clearly and the design. They work fine for gaming, but it's not so easy to tell which direction the sound is coming, so it's not ideal for FPS games.
| | |
| --- | --- |
| Audio Quality | 8 |
| Mic Quality | 8 |
| Noise-Canceling | 9 |
| Comfort | 8 |
Stealth 600 is one of the latest additions to the company's collection of headsets for gaming on PS5 & PS4.
Who is it Best for?
Streamers that look for something that will work on different platforms do not have to look further than Stealth 600.
If you are looking for a headset with a long-lasting battery, the Stealth 600 is a perfect option. The battery of this headset lasts up to 15 hours!
Also, consider this gem by The Turtle Beach' if you are looking for something simple and easy to use but affordable at the same time.
Key features
The wireless USB feature that comes with the device offers a wireless experience and allows users to move, sit, stand, or even jump during gaming.
Users can enjoy deep and extraordinary audio sound while playing games, listening to music, or chatting with a friend. Speaker frequency response goes from 20 hertz to 20 kilohertz and transmitter frequency response is 2.4 gigahertz.
The standard stereo sound can be turned into a virtual one. The Super Human feature offers streamers to hear every detail while playing a game.
The ear cushions are glasses-friendly since the Unique ProSpecs design removes the pressure from gaming glasses. 
The Turtle Beach's high-sensitivity mic can be flipped up to mute. The mic volume controller is inside the headset and it can be adjusted easily.
This headset can be integrated with the Microsoft Xbox pairing protocol. You do not need a cable to do this since you only press the pairing button.
Pros
Comfort
Sound of a good quality
Good battery life
Settings that can be adjusted
Cons
Max volume may be too low
8. HyperX Cloud Stinger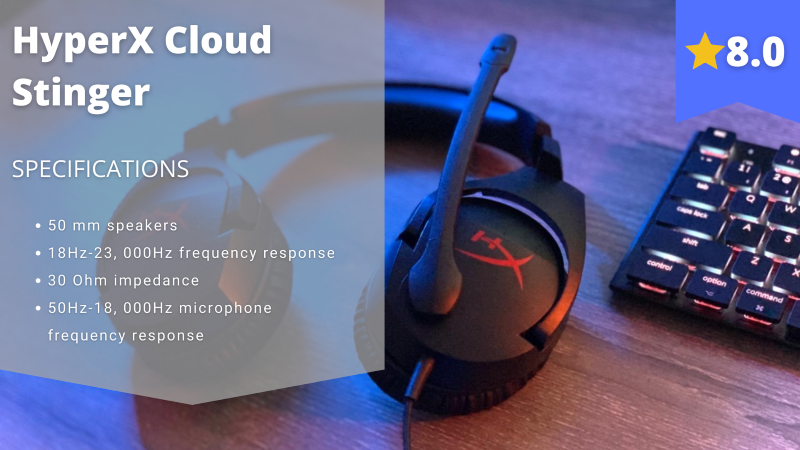 Stefan's Take:
The sound quality of HyperX Cloud Stinger is great. I really liked the flip—to-mute feature and onboard controls – it made adjusting the sound during the stream super easy. However, I was not too fond of the NGenuity software and the build quality.
| | |
| --- | --- |
| Audio Quality | 8 |
| Mic Quality | 8 |
| Noise-Canceling | 8 |
| Comfort | 8 |
Since 2002, HyperX delivers top-performance products and is the first choice for many gamers and tech enthusiasts over the world.
Their Cloud Stinger was first launched in 2016 and is among cheap headsets with a mic.
Who is it for?
HyperX Cloud Stinger is ideal for streamers that are looking for comfort, quality, and convenience.
This headset is convenient for wireless or long gaming sessions and for gamers that are looking for an affordable product of good quality.
Key features
Just like any other headset, Cloud Stinger is compatible with various devices such as PC, PS4, Xbox One, Nintendo Switch, and more.
What is new is the 90-degree rotating ear cup that adjusts to the user's neck and provides comfort and flexibility.
Weight is also one of the key features of this set. With only 275 grams of weight, this headset is perfect for long gaming events. You can also bring them with you wherever you go.
The audio technology with 50 mm drivers lets the sound directly into the ear.
Headsets come with a swivel-to-mute technology that allows you to mute the microphone by flipping it vertically against your head.
The earpads are also very comfortable and the adjustable head slider is made out of steel.
While primarily a gaming headset, Cloud Stinger is a good option to listen to music too. The tone it produces is clear and the boom arm keeps the mic away from a mouth so it doesn't pick up any unnecessary sound.
Pros
The microphone is easy to mute
Super comfy
Sound of a good-quality
Cons
The mic can be rough to move
9. Nubwo N7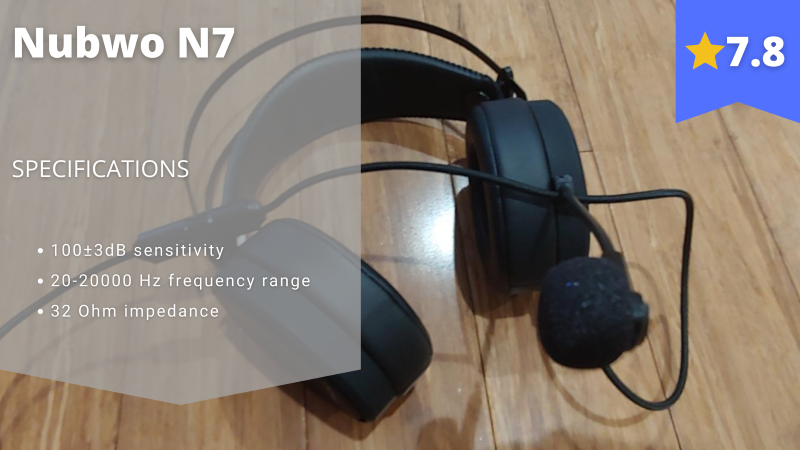 Stefan's Take:
This is the first Nubwo device that I have ever tested. N7 was comfortable to wear, and the audio quality was satisfactory, even for FPS games. On the other hand, the mic quality was poor. So, for streaming, you might also need to buy a mic.
| | |
| --- | --- |
| Audio Quality | 8 |
| Mic Quality | 8 |
| Noise-Canceling | 8 |
| Comfort | 7 |
I was quite excited to try Nubwo N7 headset since I knew that Nubwo specializes in making streaming and gaming devices.
Who is it best for?
Nubwo N7 headsets are great if you are looking for headsets with good mic that are affordable at the same time.  The mic on this headset removes unwanted noise efficiently.
Also, this headset is perfect if you are looking for something that you can use for music or conversations.
Key features
The dual 50 mm speaker driver on this headset is specially designed to offer a balanced sound and audio experience for gaming, music, and conversations.
The microphone is omnidirectional and flexible and it eliminates unwanted background noise.
The noise-canceling option is efficient and it blocks most of the unwanted noise.
The in-line audio control makes this headset easy to use. The technology makes it possible to easily adjust the volume or mute the mic.
The design of the headset is very simple yet functional. Soft leather cups and a padded headband are perfect for long gaming sessions. Designed to meet the needs of every streamer, N7 headsets are compatible with various devices.
The convenience of this headset is also good and the headset is easy to use. Without any complicated settings, you can very easily adjust the volume and mute or unmute the mic.
Pros
Clear voice
Omnidirectional mic
Perfect for various purposes
Comfortable
Cons
Poor noise-canceling function
Things to Consider When Buying Gaming Headsets
Since you are a passionate streamer, you know how it is important to have the best streaming headset with a mic.  
A good gaming headset is important not only for you but for other people around you because they may get annoyed by constant sounds, beeps, and murmurs coming out of your headset.  
And, since you spend so much time streaming, you need something that will meet all of your needs. That is where the most important characteristics of a gaming headset come into place.
First of all, you need something comfortable for longer use that won't hurt your head.
Besides that, you need something that will block outside noise and provide a good-quality sound.
At the same time, the perfect headset needs to prevent the sounds from your device from disturbing the people around you.
When you consider all of this, it is not easy to find a good gaming headset. To help you, I listed some of the most important things you need to consider when buying a gaming headset.
1. Quality of the sound
This is one of the most valued qualities of a headset. The headsets that provide good-quality sound are very important because they allow streamers to enjoy gaming and hear important sounds.
The quality of a sound is determined by drivers and surrounding sound. Since the surrounding sound is explained in detail, later on, we will focus on drivers here.
Headsets with good drivers will offer crispy sound and deep surrounding sound.
Gamers and other users can choose between Stereo, Virtual Surround, and 3 Dimensional Sound drivers.
Stereo sound headsets pick up a sound and distribute it through audio channels. Most of the stereo headsets have a 3.5mm jack which makes them compatible with various devices. The headsets with this type of driver are mostly suited for music and entertainment.
Virtual Surround Headphones, on the other hand, use software and specific algorithms to simulate 7 sound channels. These headphones offer better clarity of sound. This technology gives the ability to find the direction from which the sound is coming.
Last but not least, 3 Dimensional Sound headphones offer more precise sound because the sound processes through various software.
These headsets provide a realistic listening experience. For gamers, this means that you can hear your opponents walking above or below you.
The only drawback that these 3-dimensional headsets have is that they are not supported by all games.
2. Comfort
Comfort is a very important characteristic of gaming headsets. Since you will spend hours and hours wearing them, it is very important they fit the shape of your head.
When it comes to comfort, consider how headsets feel around your ear and on your ear. The headsets should be lightweight and built out of top materials that will provide comfort and long-lasting use.
Ear pads and headband have the highest impact on the comfort of your device. For pads, make sure they are made out of pure foam, velour, or leather.
Avoid headbands made from plastic and go for ones that are made out of metal with foam, velour, or leather around it.
3. Quality of the mic
The microphone is also a very important feature of every gaming headset. A good microphone should block noise, provide good sound and have a good mute option.  
Depending on your preferences, you can choose headsets with a built-in microphone or with a microphone that is attached to your headset.
Many companies do not have any reason to include an omnidirectional mic and prefer to install a unidirectional mic.
Also, omnidirectional mics can pick up the noise from all directions and unidirectional mics reject off-axis sounds better.
Also, some headsets come with a boom mic that moves with the user's face.
4. Noise isolation
Noise coming outside of your headset can be annoying. That is why the headsets should have a good feature to block outside noise.
When it comes to this property, you will probably hear two terms – active sound isolation and passive sound isolation.
Active noise isolation, commonly known as noise cancellation means that your headphones have one or more microphones built in the headset that detect external noise. Noise is then blocked with electronic signal processing and the listener is left with clear sound.
On the other hand, passive voice isolation is known simply as noise isolation. With this technique, the sound is blocked only by the physical design of the device.
Noise isolation is better in blocking the higher-pitched sounds and sound cancellation is better if the sound is of a lower pitch.
5. Wireless or wired
Choosing wireless or wired headsets is one of the most common dilemmas of every streamer.
Wireless headsets need to be charged and this can cause you a problem if you are playing for hours.
Wireless headsets often need an hour to get completely charged and their battery mostly lasts up to 7 or 8 hours. Also, wireless headsets can be expensive due to the additional technology that is used for their production.
Also, with wireless headsets, you have better portability.
There are few chances for wireless headsets to get damaged and they are easily connected to your gaming device with a USB.
But on the other hand, wireless headsets can lose connectivity and have a sound of a low-quality.
Wired headsets, on the other hand, do not need to be charged and are, because of that, perfect for PCs.
But be prepared to sit for hours in front of your gaming console since with this type of headset you cannot move easily.
6. Price
The price you are ready to pay for the gaming headset varies upon the fact if you are a professional or casual player. However, you can find pretty good budget microphone headsets.
There is no need for you to spend more than 200$ on a good headset unless you want something extraordinary. If your budget is under 100$  you can choose wired headsets since wireless ones are pretty expensive.
Most of the headsets recommended above are in this, cheaper range so you can check them out.
7. Customization
Since not all headsets are compatible with all devices it is very important to check customization before the purchase.
Some of the headsets aren't compatible with all devices and this can cause lots of pain and additional costs. To prevent this, research a headset you wish to buy and make sure that you do not need any additional adapters or cords.
Conclusion
Given the fact that there are many good products that really do their job, it was a hard choice to pick the best headset with a mic.
Here is a quick overview of my top three choices:
Pacrate H-11 as the best noise-canceling,
SteelSeries Arctic 1 as the best for Nintendo Switch gamers,
Pacrate GH-1 as the best mic quality.
If you choose any other option from the headsets mentioned above you cannot go wrong.
Frequently Asked Questions
Are earbuds better than headphones?
Headphones are a better option because they do not deliver music directly to the ear and they provide a buffering space between the sound and the ear canal.
Earbuds deliver music directly to the ear but they are subtle and more compatible than headphones. Still, headphones offer better sound.
Are headphones bad for your brain?
The biggest concern about headphones is that they can damage your brain.  Even though the brain is not directly affected by headphones, unhealthy headphone habits can cause ear problems.
The too-high sounds that headphones produce can cause damage to the ears. Sometimes, long usage of headphones can be damaging too. But only in these cases, ears cells can lose the sense of vibration.
What are the best headphones to buy?
The best headphones to buy, according to the site TechRadar are Sony WH-1000XM4, 1More Triple Driver In-Ear Headphone, RHA S500u, Bowers & Wilkins PX7 Wireless Headphones, Plantronics BackBeat Go 810, Sony WF-1000XM3, Lypertek PurePlay Z3 (Tevi), NuraLoop headphones, Bose Noise Cancelling Headphones 700, AKG N60NC, Grado SR60e, Jabra Elite 45h.
What is a boom mic headset?
The boom mic headset is the mic attached to the end of the boom. Boom mic perfectly positions mic in front of the user's mouth and provides the sound of the best-quality. The advantage of the boom mic headset is that it moves with the user's face.
Can I plug a microphone into the headphone jack?
TS, TRS, and TRRS all refer to different connectors that transmit the audio signals between various devices. TRRS stands for the tip, two rings, and a sleeve.
TRRS supports stereo sound and microphones simultaneously. Most modern devices have this type of connection so the microphone can be plugged into the headphone jack.