Twitch View Bot or Twitch Viewer Bot is the software whose function is to increase the number of views on your channel and to generally help you grow on Twitch.
Therefore, the best Twitch viewbots, like BoosterGod, will create an impression that your channel is getting more viewers than it is, and thus, even more people will watch your content and check out your channel.
---
What Are Viewbots?
Twitch view bots are small add-ons that automatically increase the view count of your Twitch channel, creating an impression that your channel is popular among viewers. That way, other people would also be intrigued to check it out. But because of this ruse, view bots are not allowed by Twitch policy.
Best View Bots For Twitch
If you decide to use the viewbots, here are my picks:

1. BoosterGod (reliable and safe) – 🏆 Winner!
2. ViewerGod (ok pricing and reliable support)
3. Media Mister (not too pricy and has good customer support)
4. Viewer Boss (efficient and cheap)
5. Stream Chaos Bot (very cheap)
6. Streambot (reliable)
7. GetAFollower (safe)
8. TwitchBooster (specialized)
9. Views4Twitch (simple to use)
---
Best Twitch Viewbot
Reviews
1. BoosterGod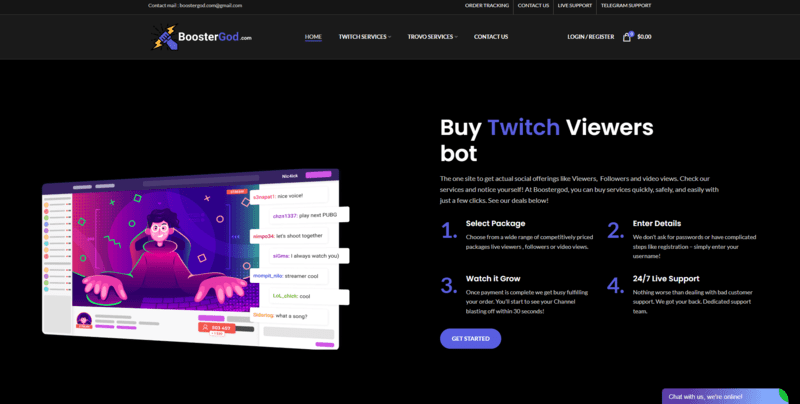 BoosterGod offers fast and reliable Twitch viewer service. It's simple and intuitive to use, similar to ViewerGod.
Simply click on the "Buy Viewers" button, and you will be presented with the choice of 8 different packages.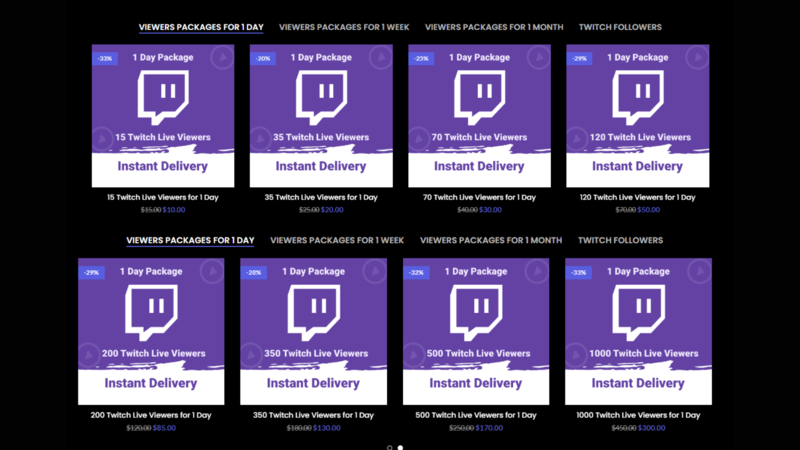 The price starts at $10 for 15 viewers and goes up to $300 for 1,000 Twitch viewers. Keep in mind that these prices are per day.

You can also get viewer packages for 1 week or 1 month, as well as buy Twitch followers for your channel.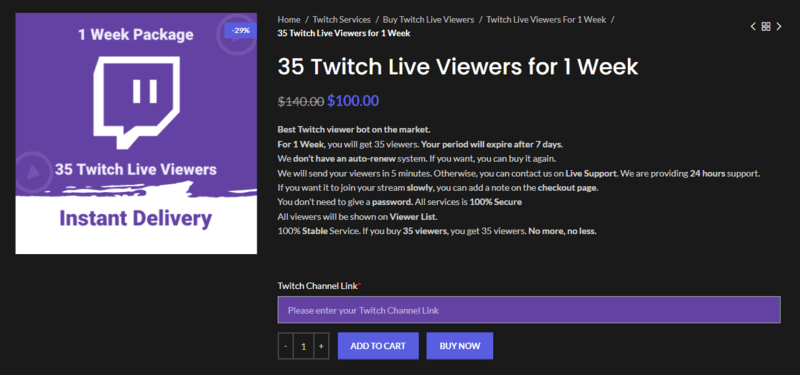 After you've chosen the package, simply click on it and insert your Twitch channel link before clicking "Buy now".
Apart from Twitch viewers and followers, BoosterGod also offers the same services for the Trovo streaming platform.
What I liked about BoosterGod, apart from nice pricing, is its customer support. There is live chat if you need some help or information, or you can even use Telegram to contact them.
However, one thing that I didn't like is instant delivery of viewers. I never liked this as it seems scammy to have a big flow of viewers to your channel all of a sudden, as I said before, but some users prefer this way of growth for their channels.
Best features:
1. Decent prices
2. Simple to use
3. Reliable customer support
2. ViewerGod


ViewerGod is a great company you should try out for your Twitch growth. They are safe, they are reliable, and they have shown great final results in improving your visibility on Twitch.
Let's take a look at buying Twitch followers first. There are 8 different packages to choose from, and you can buy from 100 to 5,000 followers in a package. Prices range from $3.95 for the smallest package, to 75.90 for the largest one.
When it comes to live viewers., there are several different options. First of all, you can get daily live viewers, which come in 4 different packages.
You can get from 20 to 200 daily live viewers, with the prices ranging from $15 to $85, depending on your needs.
Next, you can choose to buy weekly viewers, which also come in 4 packages. The prices for those start from $90 for 20 live viewers every day for one week, and go up to $450 for 200 live viewers every day for one week.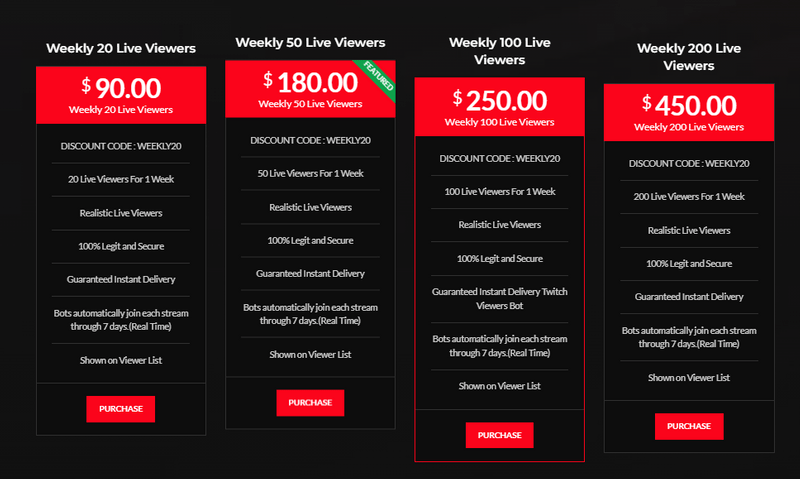 And the third option is the monthly option. The cheapest monthly option is $360 for a total of 20 viewers per day for 1 month. If you got some spare bucks, you can go full whale, and spend $1700 for 200 live viewers per day for 1 month.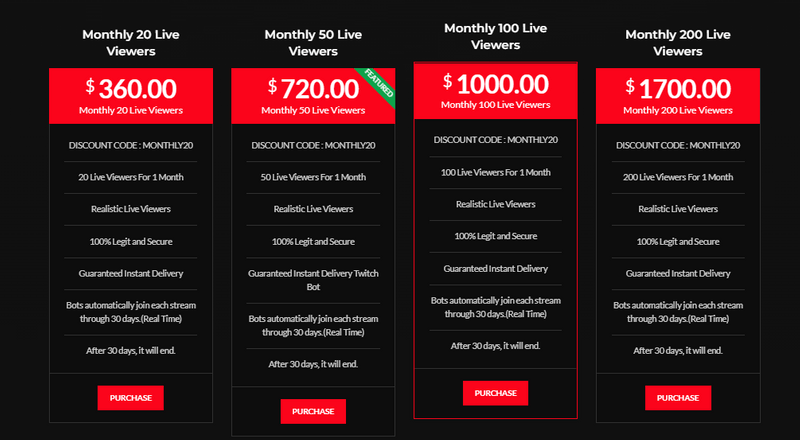 Last but not least, ViewerGod offers a gradual increase in views.
Namely, viewers join your stream gradually (not all at once), which, if you ask me, is the best deal for these kinds of viewers.
What's the reason for this? Well, imagine if you had 0-5 viewers for weeks, and then thousands of viewers came to your Twitch channel in an instant. Seems scammy, right?
But when you have other users and viewers come to your channel gradually, that's something else!
Best features:
1. Trustworthy
2. Good price-quality ratio
3. Viewers come to your channel gradually
3. Media Mister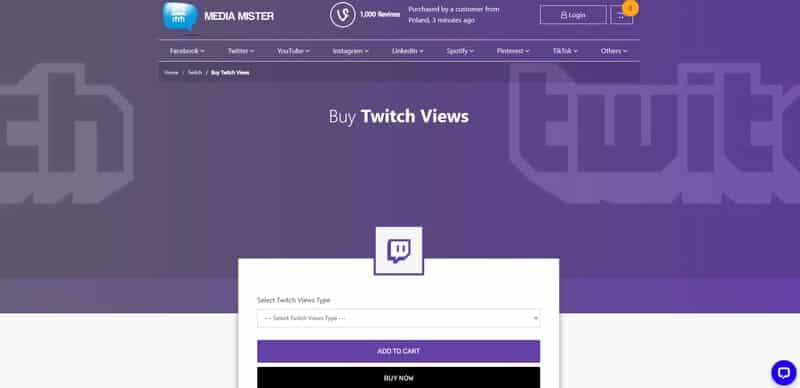 Media Mister has been in the business for a long time, so their main trait is experience and one of their biggest concerns is clients' satisfaction.
One of the main reasons I love Media Mister so much doesn't have that much to do with Twitch, but it sure helps – it's their customer support. Whenever, whatever you need, the customer support is there to help.
Which, to me, is extremely important, no matter the product I use.
Besides that, Media Mister are very thorough and offer growth services for Twitch, but also Instagram, TikTok, YouTube, Spotify, Twitter, and so on.
However, they don't only offer services for multiple platforms, but also multiple services for one platform, so for Twitch, you can choose between:
video views
live video views
channel views
clip views
They are very transparent about their prices and you can find all of them on the website, very easily.
They will depend on the type of views you want and the number of views as well, so, for example, you will have to pay $2 for 100 channel views (the smallest package) or $595 for 100.000 channel views (the biggest package).
For video views the smallest package is priced the same, but the largest package for 100.000 vies goes for $1497.
For live video views, you don't only get to choose the number of viewers but also the watch time, so the price system is too complicated for me to give you all the options.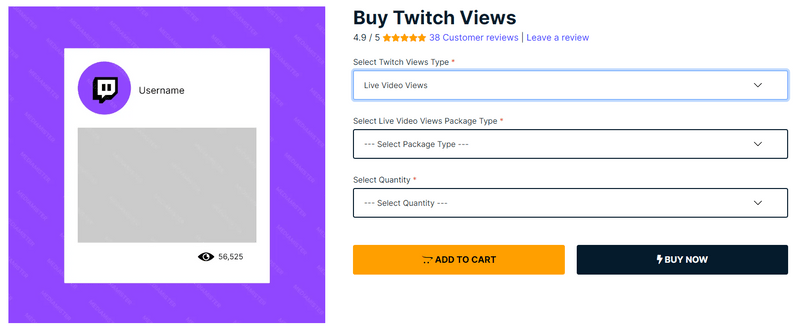 You see what I mean when I say they're thorough?!
The prices for the biggest packages might seem a bit steep, but considering that you're getting real live viewers and not bots, it is worth it.
Best features:
1. Experienced
2. Numerous options and packages
3. Good customer support
4. Stream Chaos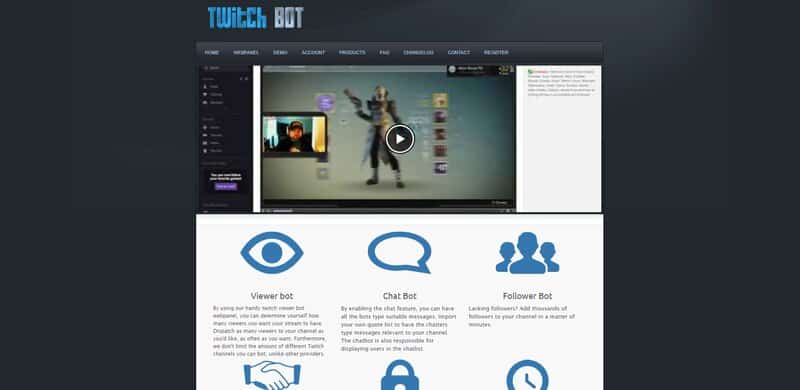 Stream Chaos Twitch bot offers viewer, chat, and follower bots to help you advance your Twitch accounts.
The website, even though it looks quite dated, was extremely simple to use. All the important facts are presented on the home page, and there's no wasting time on finding the right piece of info.
You simply scroll down, pick your package and you are good to go.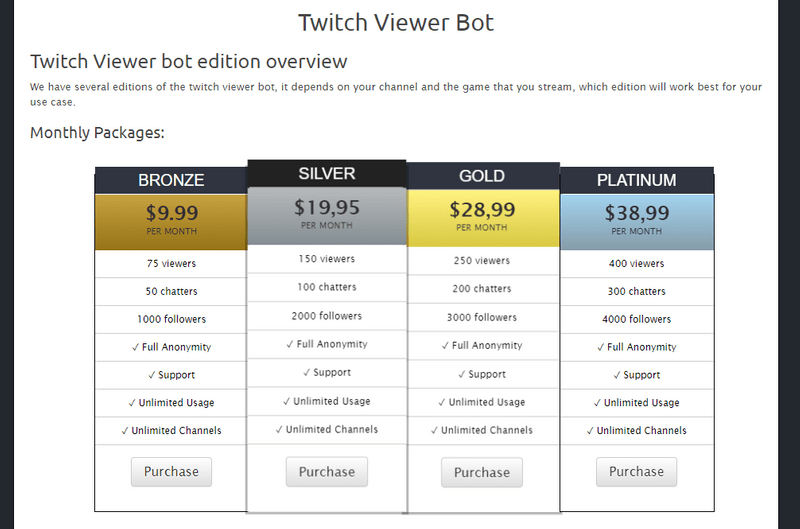 As for the packages, you can choose from 4 monthly packages, each adding from 75 to 400 viewers, 50-300 chatters, and 1,000-4,000 followers to your Twitch channel. The price range is also pretty good and it ranges from $9.99 for the cheapest option up to $38.99 for the Platinum package.
Again, the website does look a bit dated and makes you think if it is the right option, but I haven't had any issues whatsoever.
Best features:
1. Very cheap
2. Easy to use
5. Streambot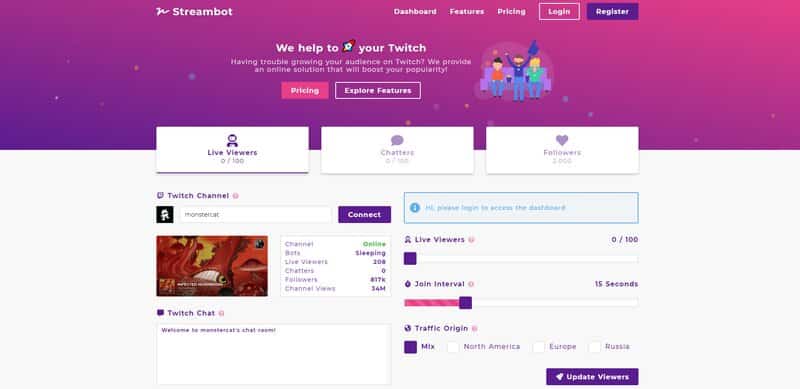 Streambot is another Twitch viewer bot that has a good price-quality ratio.
The first thing you notice is how beautiful the website is. Honestly, after Stream Chaos, it felt really refreshing. And, it's also very simple to use.
As for the services, you can choose between live viewers, chatters and followers, and then simply drag the slider to the amount of viewers you want, the interval at which they should join your stream and which general region they should come from.
When it comes to the pricing, there are 3 main and one trial plan. Trial costs $10/week or $25/month, and offers just 10 realistic viewers, without rest of the package, like join interval and origin of viewers.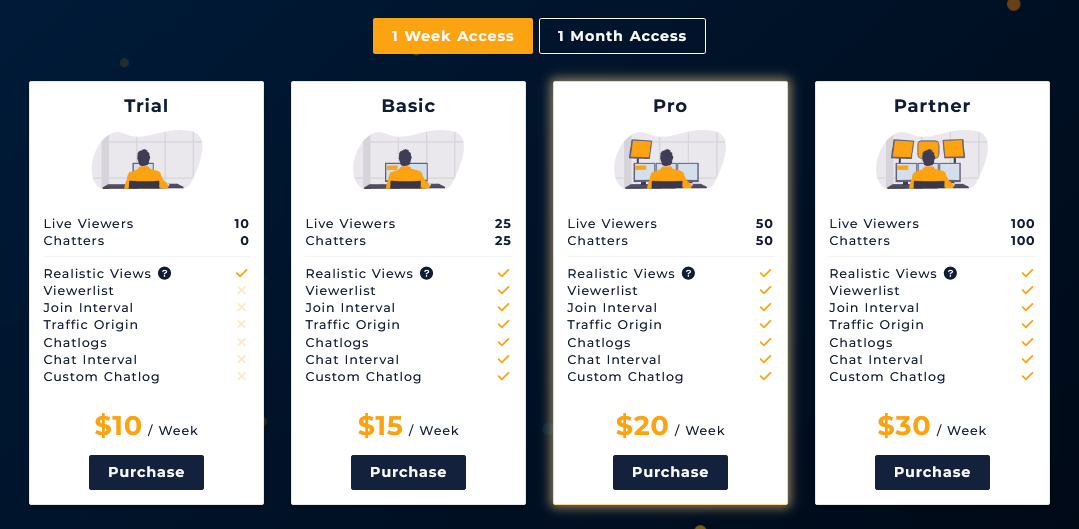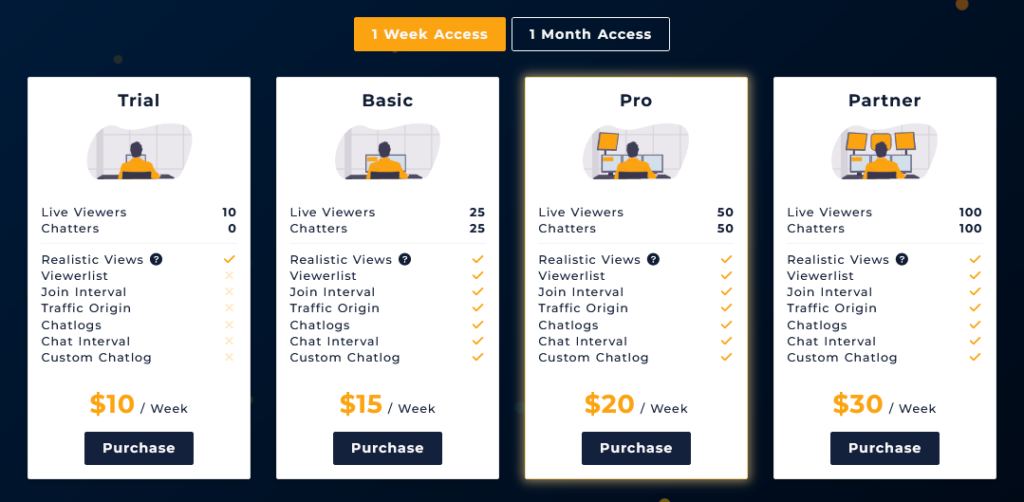 The other 3 plans, starting with Basic unlock every available feature. I tried out the Basic plan, which gave me 25 live viewers and 25 chatters. The price per month is $45 or $15 per week, which is fine if you want to try out all features.
The most expensive plan gives you 100 live viewers and 50 chatters for the price of $30/week or $90/month.
They also offer multiple Twitch channel support.
Best features:
1. Affordable
2. Reliable
6. GetAFollower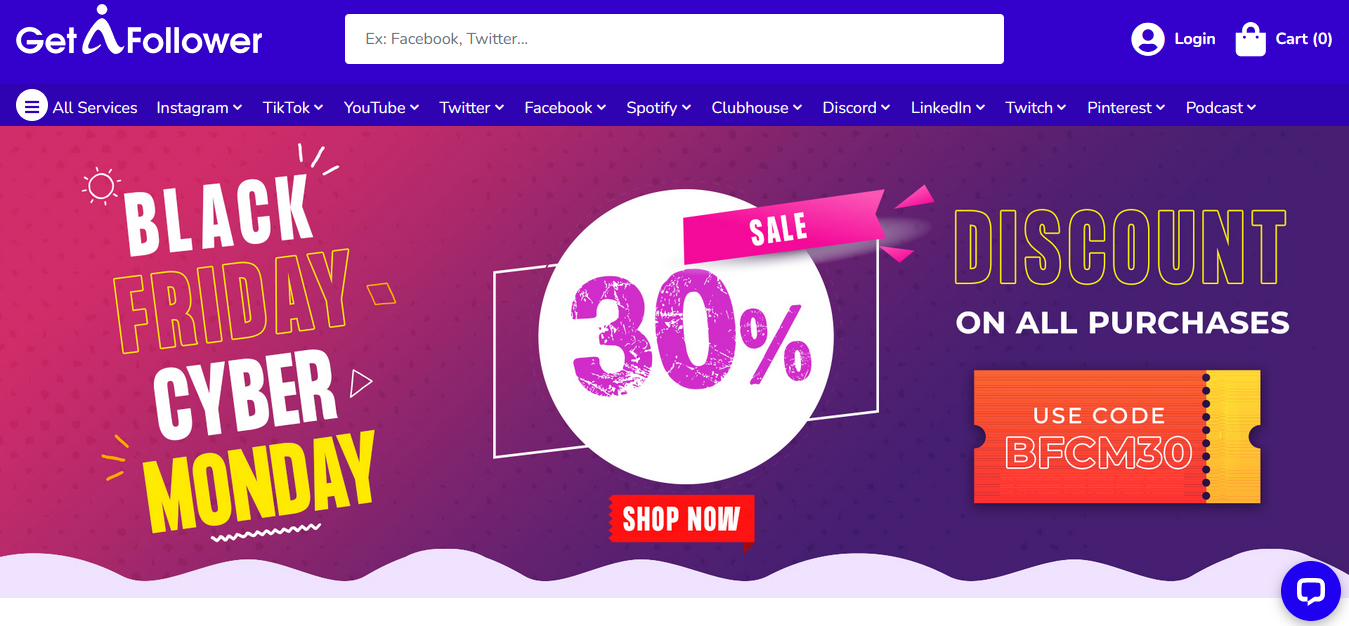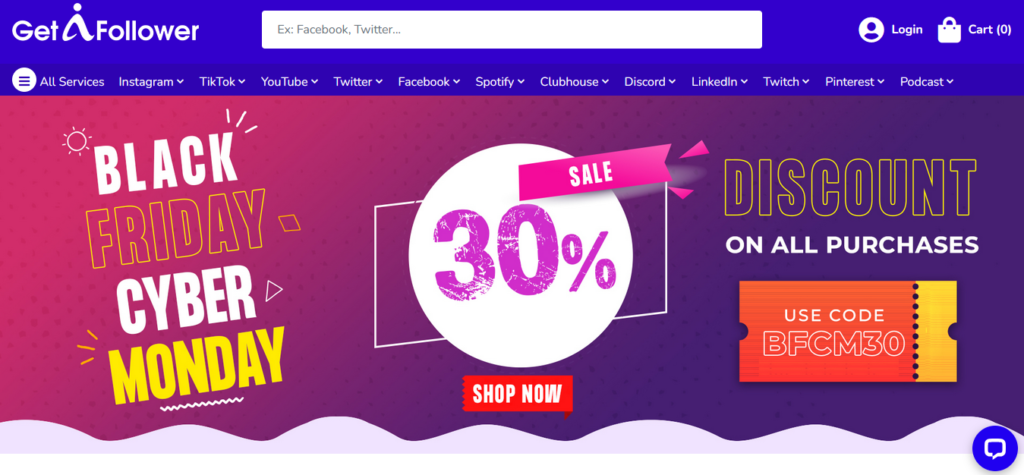 GetAFollower is another one of my favorites when it comes to buying Twitch viewers.
They have rich experience in the field, they have great customer support and most importantly, they have real viewers, but not just any viewers.
What makes GetAFollower stand out is that they send targeted viewers your way, so not just anyone will land on your streams, but people who are actually interested in what you have to offer.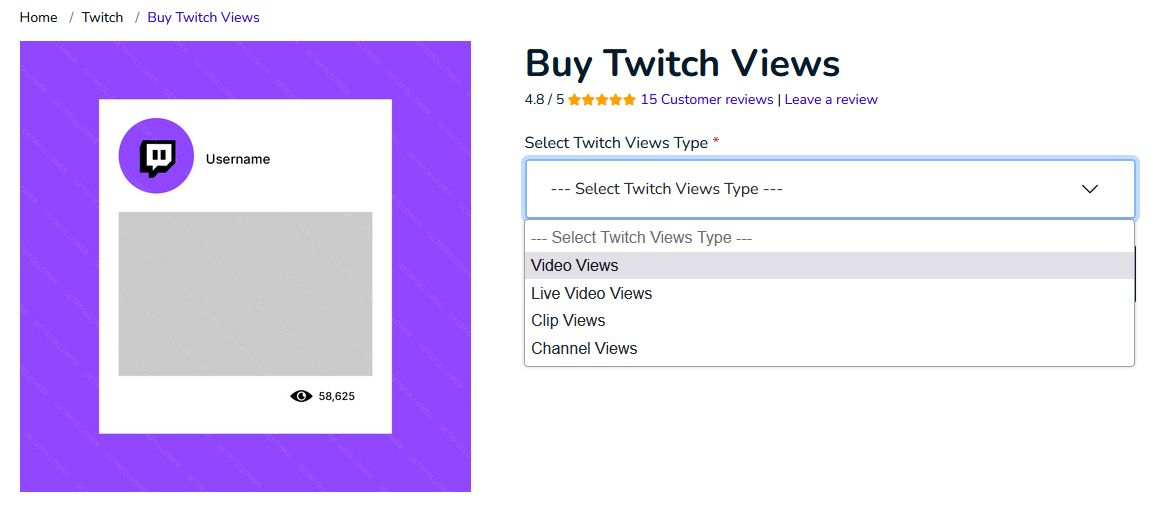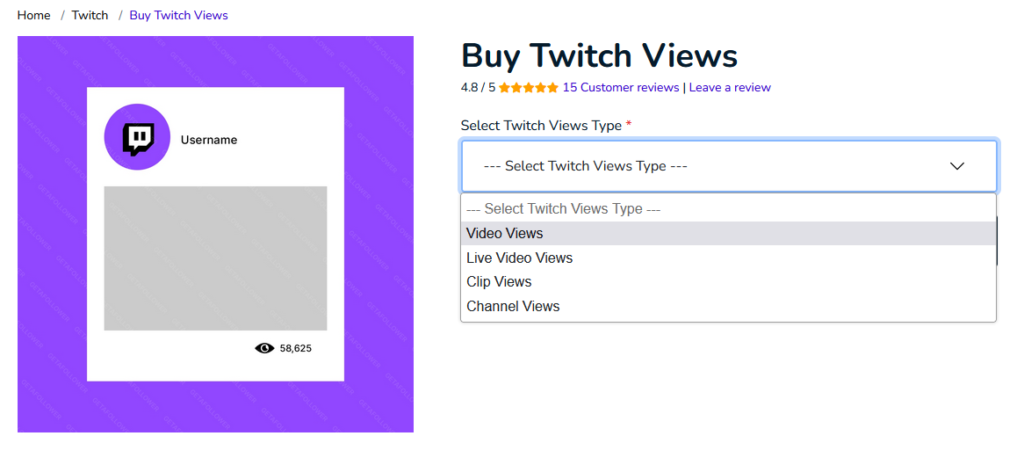 GetAFollower has similar offers to MediaMister, and you can buy:
video views
live video views
clip views and
channel views
You can buy from 100 to 100.000 views for all 4 of these packages, and depending on the size of the package you choose, they will be delivered to your channel in 1 to 10 days.
If you've been following along, you know how much I appreciate this feature. Having 100.000 viewers come to your page all at once doesn't seem natural at all, but if they come over several days – that's something else completely!
7. TwitchBooster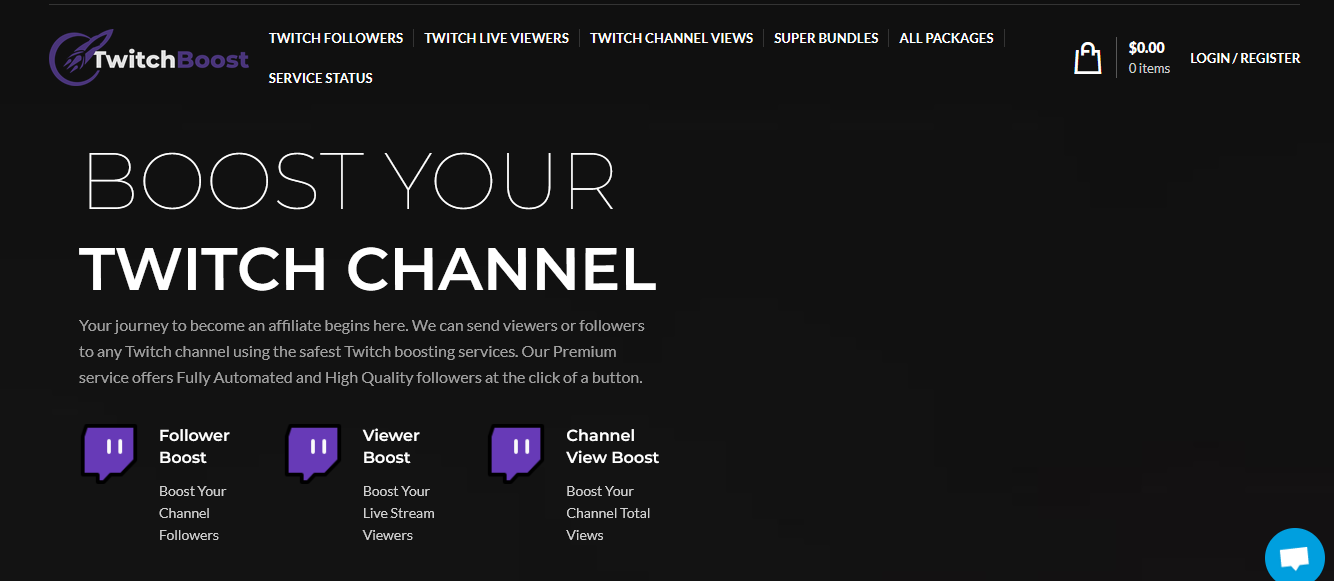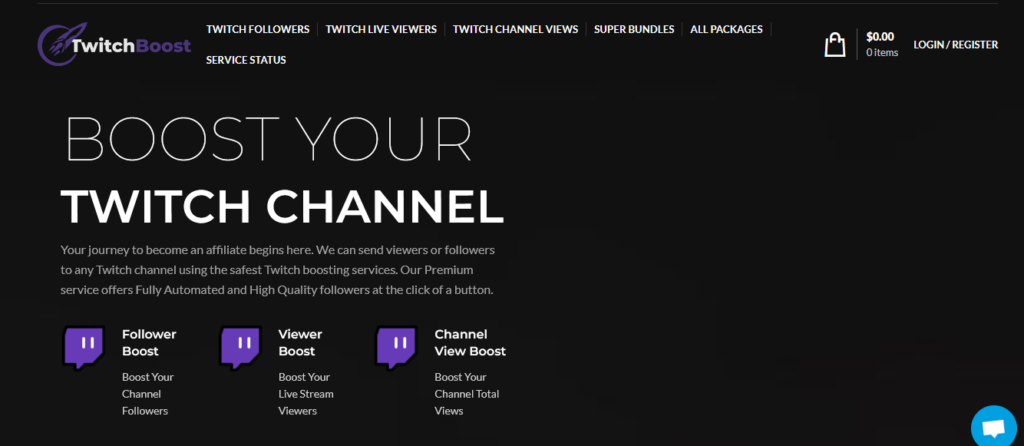 Who better to call for aid than the service specialized in boosting your Twitch channel?
TwitchBooster offers live viewers, channel viewers, followers and everything you will ever need to grow.


The process is very simple, straightforward and safe. You just choose a package, enter your details, and wait for the magic to happen.
The good thing about this service, and that not a lot of others offer, is that you can buy a one-time package and be done with it. Most of the others will renew your plan the next month, but with TwitchBooster, you can sleep soundly if you choose the right plan.
For Twitch live viewers, there are 12 options in 3 categories:
daily plan
weekly plan
monthly plan
When we're talking about daily plans, the lowest package is 20 viewers for $15, the next one is 50 for $30, then 100 for $50 and the biggest one is 200 live viewers in a day for $85.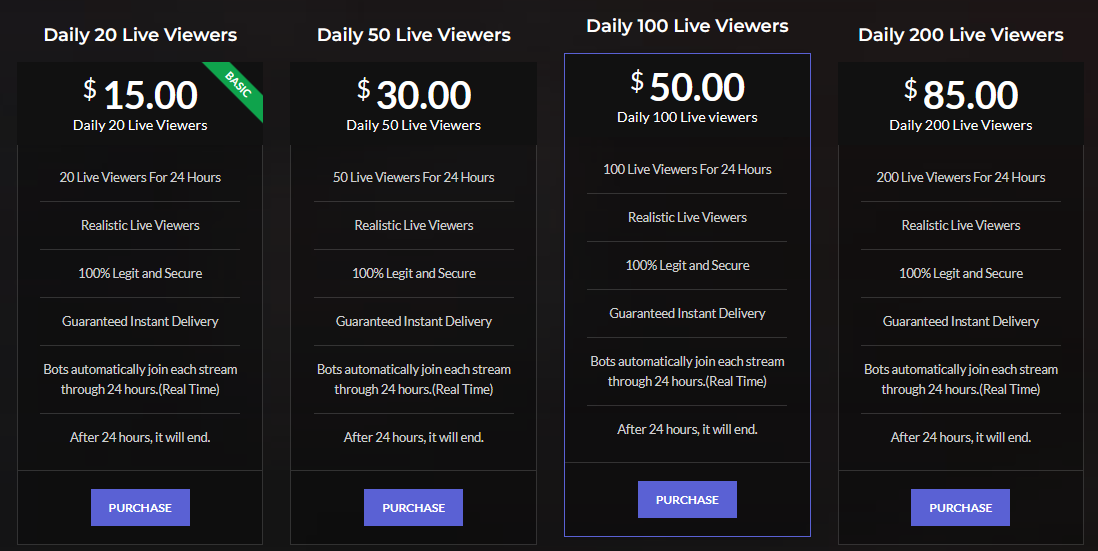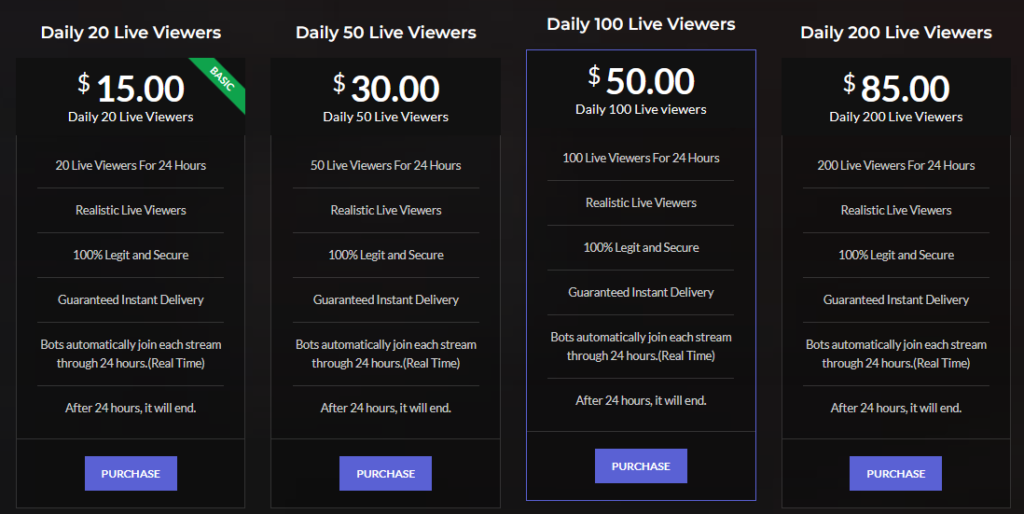 Next up, weekly plans that are priced at $90 for 20 viewers, $180 for 50, $250 for 100 and $450 for 200 live viewers every day for a week.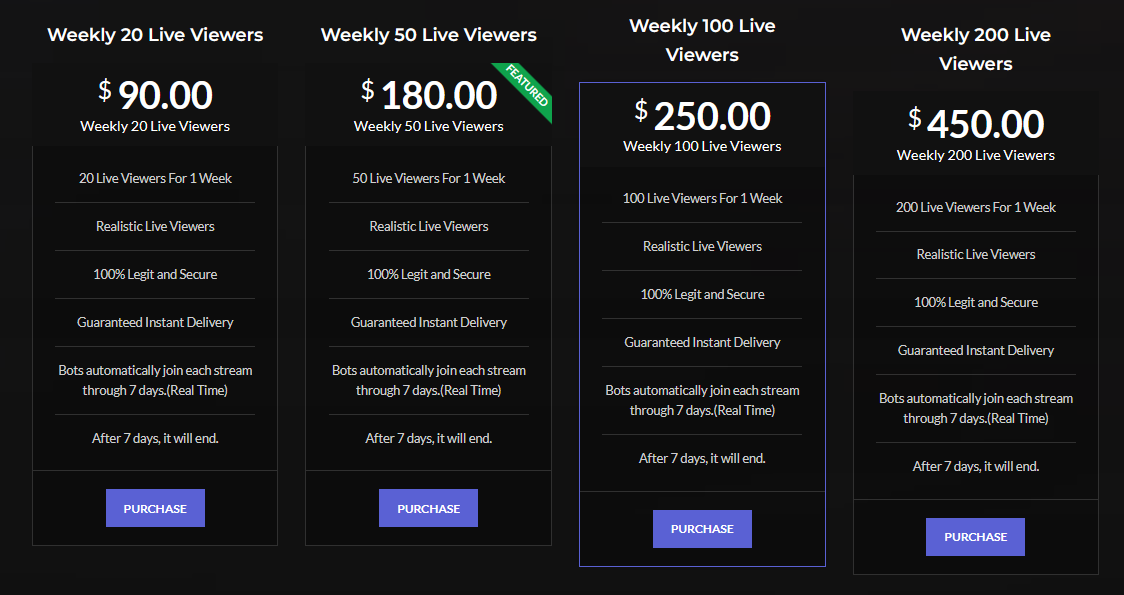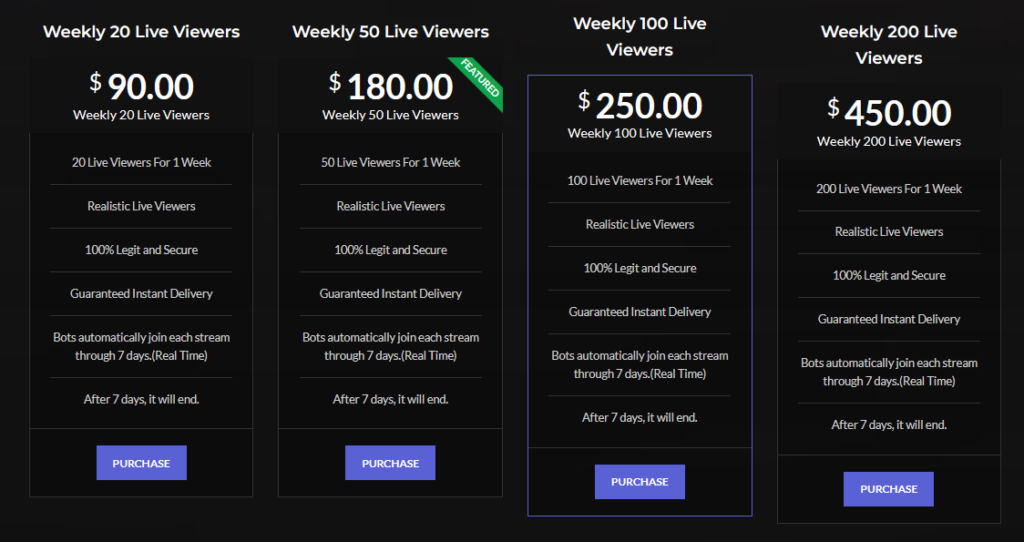 And finally, monthly viewers – $360 for 20, $720 for 50, $1000 for 100 and $1700 for 200 live viewers every day for a month.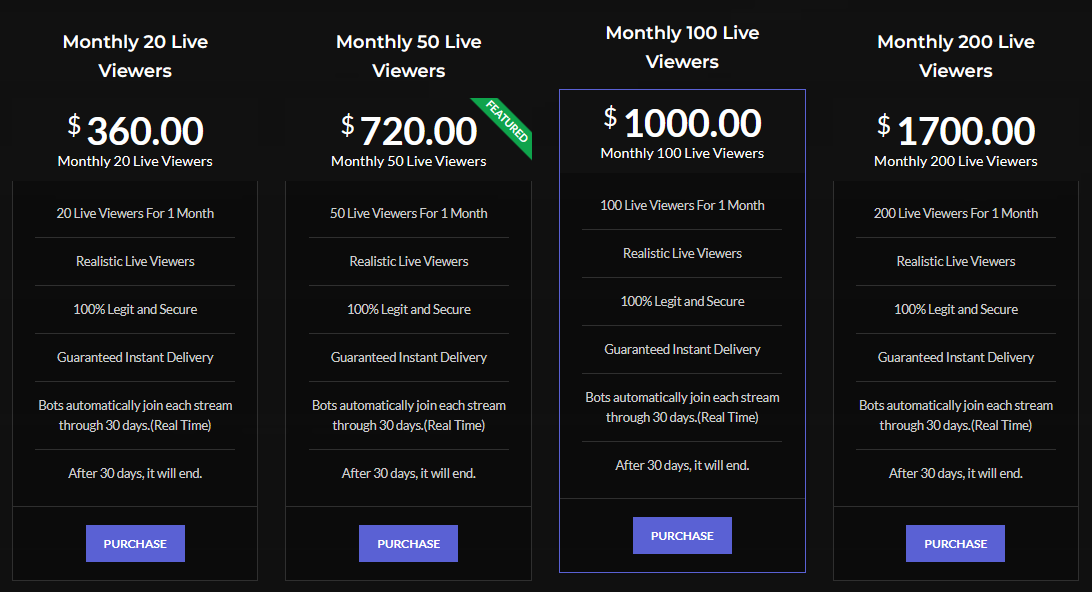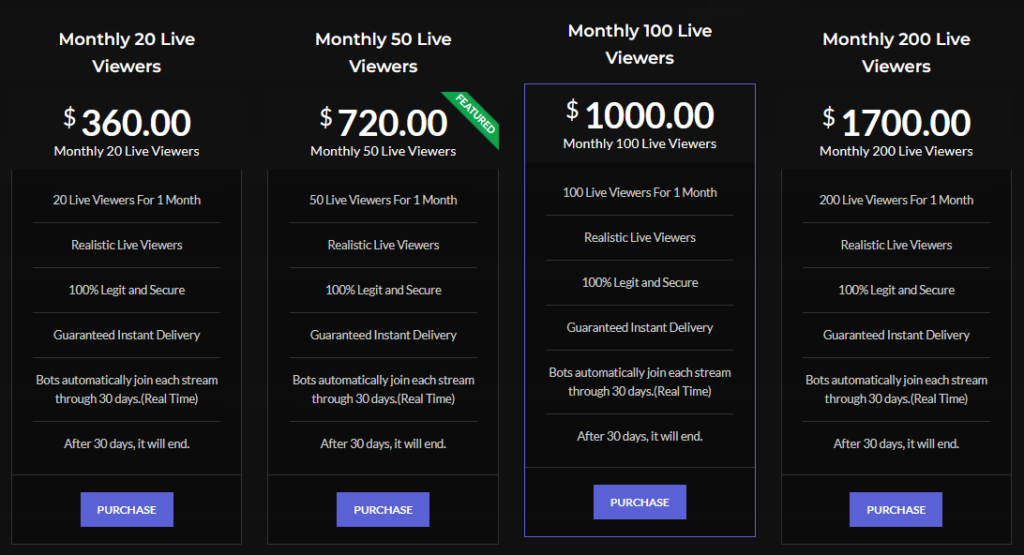 As for channel views, you can get from 1000 to 50.000 views and pay from $9.90 to $349.90.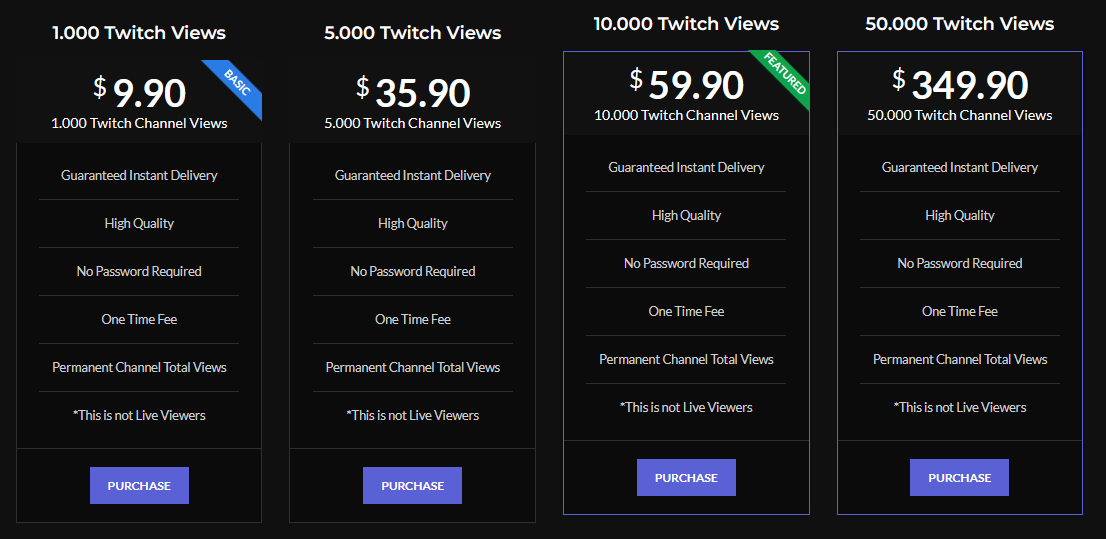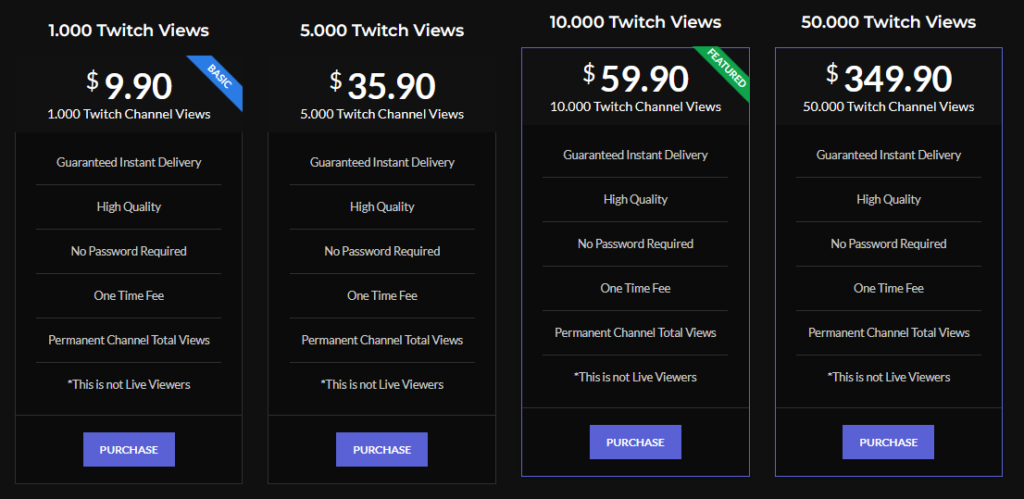 TwitchBoost is a reliable service that sends real viewers your way, and above all else, they specialize in Twitch and growing Twitch channels, so if you don't have other social media you want to grow – give them a try.
9. Views4Twitch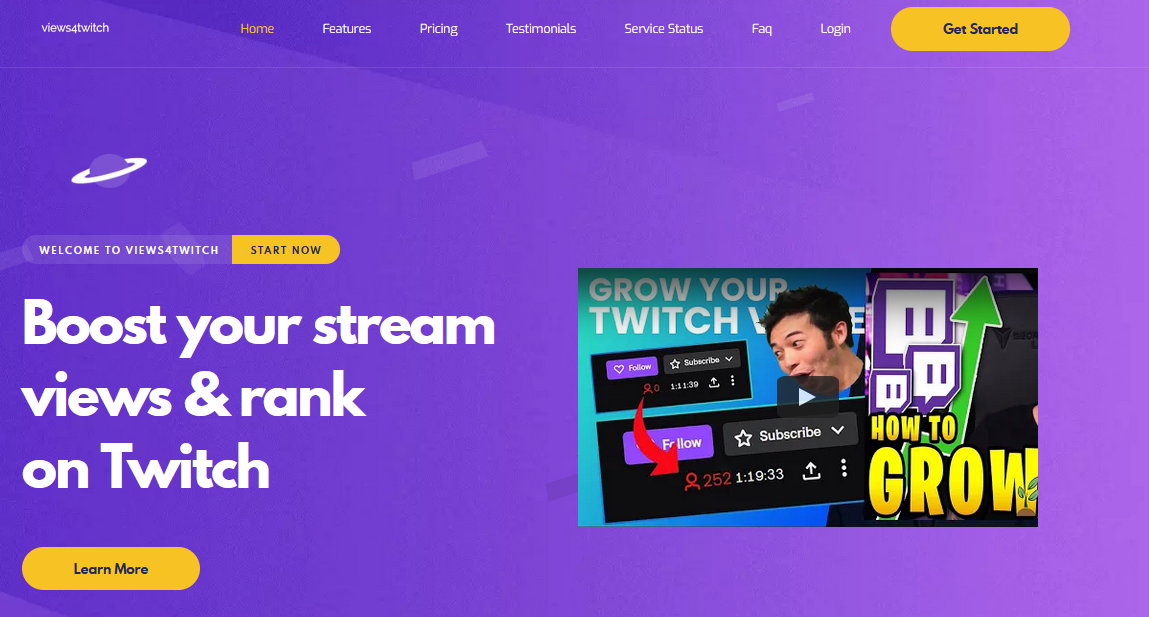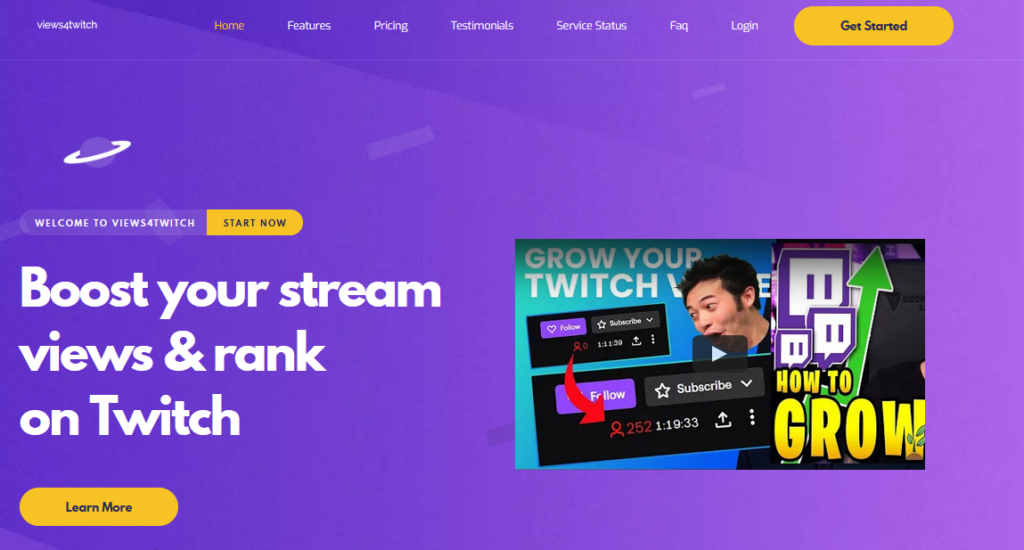 Here is one more specialized service that you should try out if you don't want to grow any other social media but Twitch.
The website is extremely simple to use and the basic package comes at the price of $1.99 for 20 viewers for 3 hours.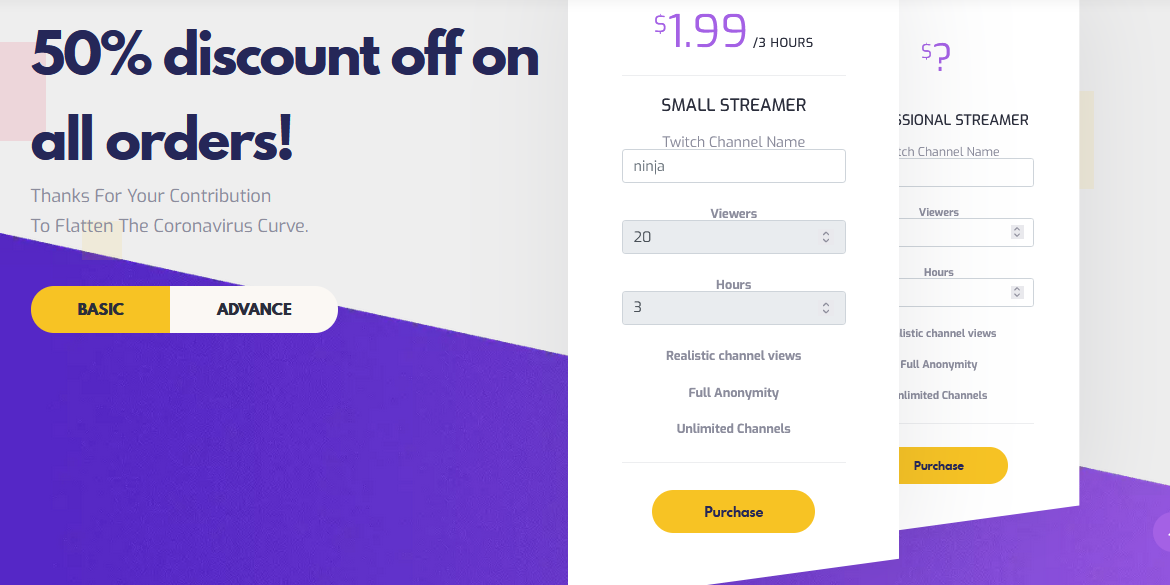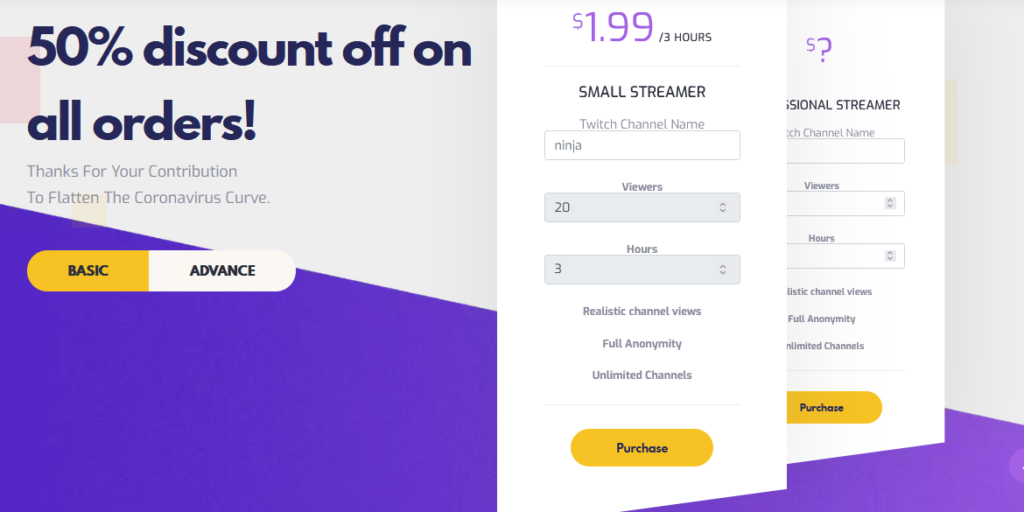 With the advanced package, you can choose any number of viewers above 20 and any number of hours above 3, and the price will be calculated accordingly.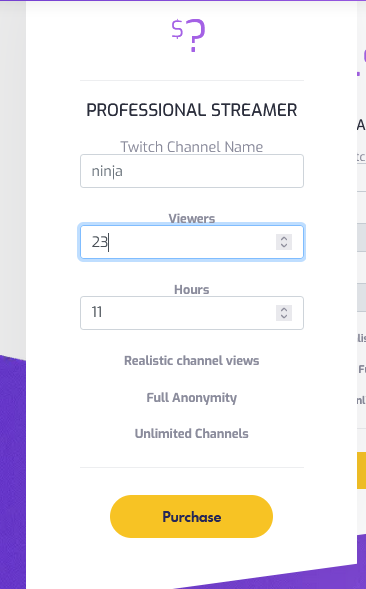 The downside is that you can't subscribe to a certain package, so if you want, say, to get 20 viewers every day for a week, you can't pay once and then have the views delivered to you, but you will actually have to come and buy views for every day separately.
Apart from that, the service is clean and user-friendly, simple and save, and what more can we ask for!?
Related: Best Twitch Bots
Is Using Viewbots Really That Good?
Even though Twitch viewer bots can give you immediate results, from my point of view they can't guarantee you permanent success.
If you want to develop a strong Twitch channel that will be a success, you will have to take real actions, i. e., create good and high-quality content and stream regularly in order to create your audience.
If you use one of the Twitch viewer bots, especially those not tested, and at some point get banned or suspended, or even if you are only suspected of using viewbots, it will be much harder for you to progress and grow your channel.
So, for permanent results, nothing serves purpose better than investing time and effort in creating the content people will want to watch.
The only purpose of view bots is to give you a little push or boost of confidence, but what you really need to do is to learn how to grow on Twitch organically, so check our guide for some tips!
Frequently Asked Questions
Is viewbotting allowed on Twitch?
As I mentioned in the text, viewbotting is not permitted on Twitch because it is considered a fake engagement, and Twitch is fighting against it by banning and suspending people who use them.
However, if you don't mind the risks you can start using them and hope not to be caught. And if you don't want to get caught, stick to viewbot companies that I mentioned in the text, because they are the most reliable and the safest ones you can find.
How can you tell if someone is viewbotting on Twitch?
There is no way that can 100% guarantee that someone is viewbotting. If they don't admit that or if there is no real evidence, it almost cannot be proved.
However, if somebody's channel is suspicious in terms of the number of views, comments, or followers, it is possible that they are viewbotting.
For example, if someone has a sudden increase of viewers or if there are a lot of viewers and only a few messages in the chat, then that streamer might be viewbotting.
Can Twitch tell if you are viewbotting?
I partly answered this question in the previous one. Twitch cannot tell for sure that you are viewbotting but can always preventively ban you if you are suspicious.
Additionally, some viewers who think that you might be viewbotting can also report your Twitch account and cause you trouble.
Can you get banned for viewbotting on Twitch?
Twitch can and will ban you if you are caught using a Twitch viewer bot or accused of viewbotting. Therefore, all your hard work will be in vain and lost, and with that hard work, all potential financial good will be lost as well.
So, I always say that viewbotting can be beneficial, but also detrimental at the same time.
Conclusion
Now that you have an idea of what viewbots to use, I can only wish you all the best in your streaming career.
If you need a little boost of confidence, viewebots are just fine, but in the long run, only your hard work and good content can get you long-lasting results.