Having more visitors and interactions on your Twitch profile is what each gamer on this platform seeking. Therefore, you should know how to write Twitch bio.
---
Are you interested to know how to write a Twitch bio? There are 3 important things to keep in mind.
Think of an Interesting Twitch Bio
Twitch bio is important if you want to attract more viewers. People will want to get to know you, so make sure to plan how your bio will look like, from what you write to customizations you want to use.
Fill Out the Twitch Bio Template
There are different things you can include in your Twitch bio, such as personal info, social media channels, rules, contact info, and more. To get an idea what to include, check out the categories below.
Customize with Twitch Bio Panels
You can use different websites and tools to find interesting and unique Twitch Bio panels. Some of the most popular ones are Own3d.tv, Placeit, Nerd or Die, etc.
---
The more information you add, the more viewers you get every day. However, it isn't enough just adding information. It is crucial how you add bio details, too.So, if you want to improve your Twitch bio, continue scrolling and learn more about it in the following text.
What Is a Twitch Bio?
Before any explanation of what Twitch bio really is, you should know that Twitch is one of the biggest live-streaming platforms in the world.
If you are a gamer, you've probably known everything about using Twitch and all about its advantages. But if you have never heard about the Twitch platform before, you certainly will after this guide.
You are free to use Twitch even if you are just You Tube's lover. On Twitch's platform, you can make live videos with some interesting content, get a decent number of viewers, and much more.
Adding a Twitch bio on your profile makes you a pretty good streamer. And, a good streamer must have a good Twitch bio.
A twitch bio is a place on the platform where you add details that can help other viewers to learn more about you as a streamer. There are many options you can use to make a perfect Twitch bio.
More about available options you can read in the sections below.
Why Is a Twitch Bio important?
Writing a Twitch bio is very important for all Twitch users. Twitch is an online live streaming platform that has spread fast and worldwide since its launching in 2011.
The ability to transmit all kinds of interests among people is a unique and fascinating thing that Twitch offers to all of its users. 
A Twitch bio is a sort of a profile presentation to those who visit Twitch channels. That is the best way to introduce your brand product to people who have decided to visit your Twitch profile.
It resumes what they could see and expect from a streamer on the channel they are visiting at the moment.
A good Twitch bio can help you to get a large number of viewers.
It can even help you to earn or donate some money, too.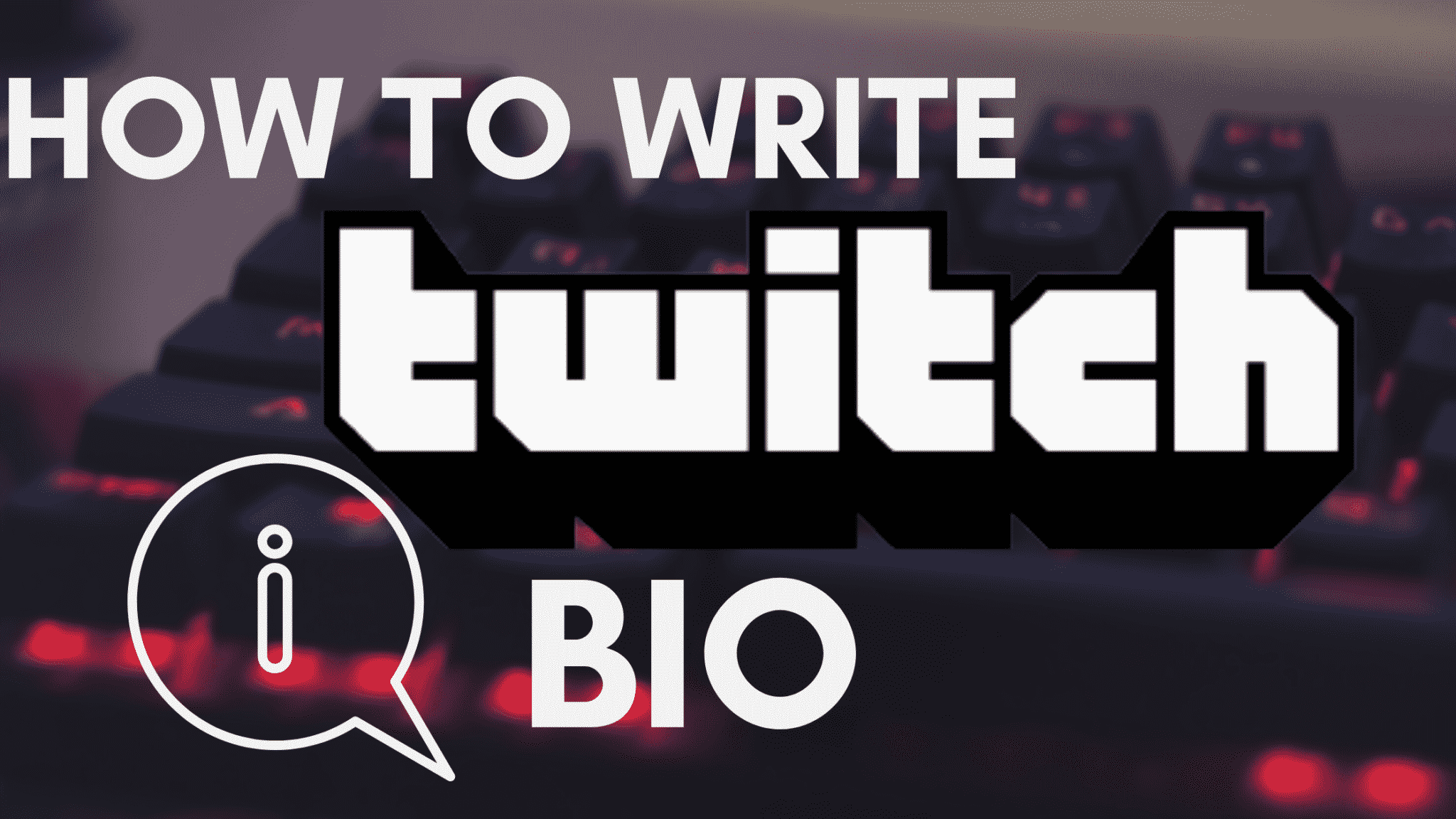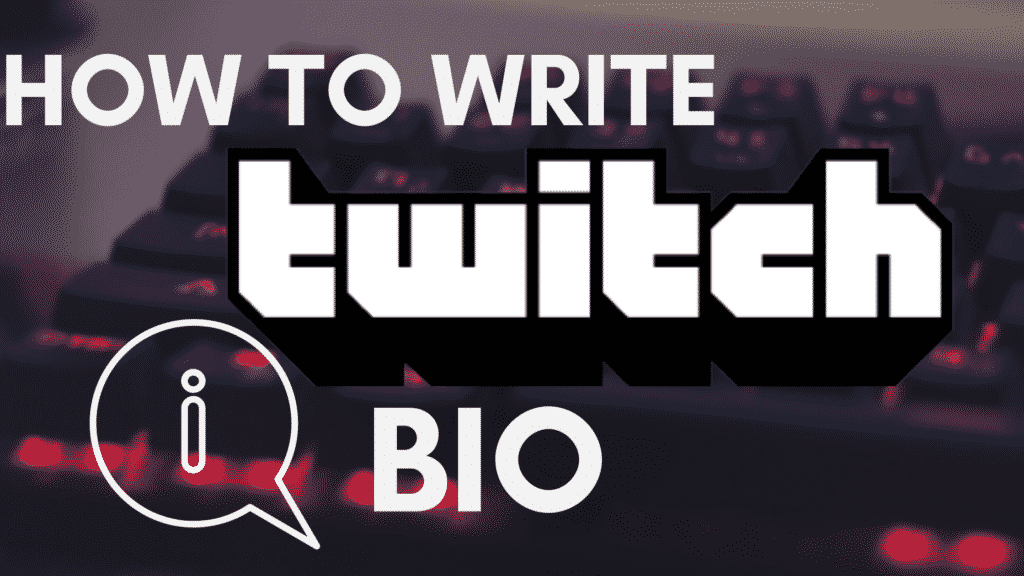 What Is a Good Bio for Twitch?
When you write a Twitch bio, it is really important to follow some basic steps and to give the answers to some basic questions.
For example, let viewers know who you are. Then, let them know more about your Twitch activities. If you are a gamer, tell people more about the games you like to play and why you are playing them at the moment.
Another important thing is to talk about your streaming goals. Underline your goals and ask others about their goals, too.
At the end of your Twitch bio, ask viewers to some action, like following your Twitch channel or playing games together.
Taking some action together with other viewers is a great way to make them interested in what you do, and it is a great way to make a good interaction with them.
How to Write Twitch Bio?
The crucial thing about writing a Twitch bio is to give some basic and personal information about you.
It doesn't have to be anything unusual or specific.
If other viewers learn everything they want to know about you in your Twitch bio which can help them to make a second move and to follow your channel. And in that way, many other possibilities are opened.
Take a quick look at one of the well-made Twitch bio examples. It can maybe give you some interesting ideas.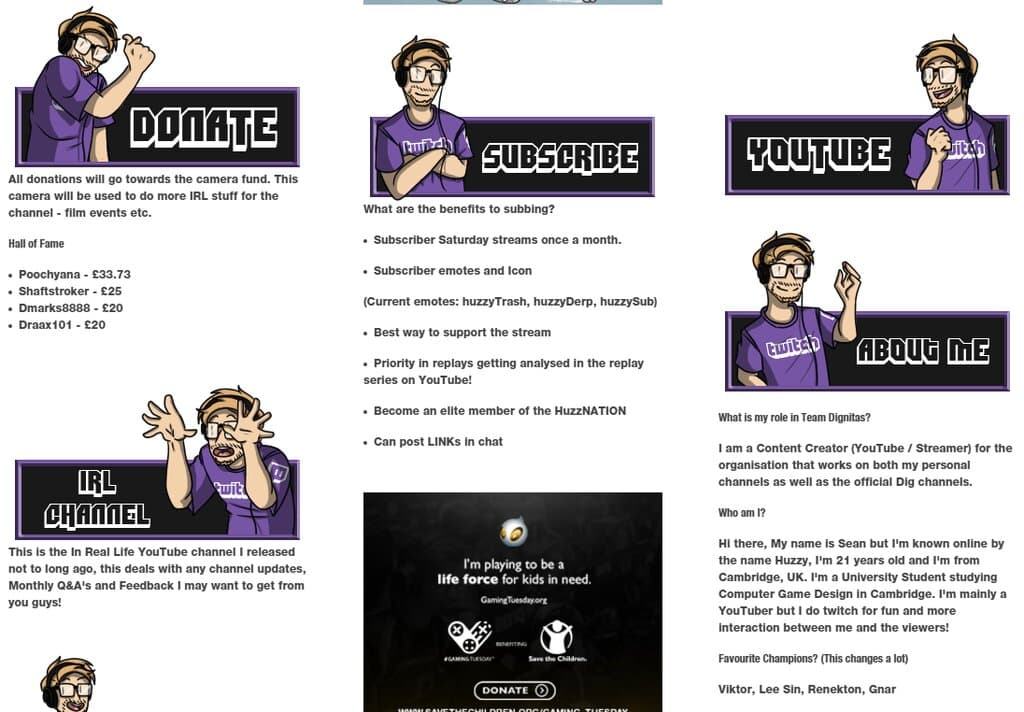 Twitch Bio Template
As soon as you start writing your Twitch bio, many different templates will help you write it right.
Be free to use as many templates as you can because it will definitely help a lot, and they can serve as a writing bio guide that makes your next steps much easier than you think.
Here the list of templates that Twitch offers.
General Streaming Info
Twitch About Me section
Sub Rewards Info
Twitch Donation Template
Available Social Media Profiles
Stream Schedule
Contact Template
Chat Rules
Artist Link
PC Specifications
Channel Goals
Chat Commands
Shared games/servers
Twitch Loyalty Point Rewards
Community Discord Information
Channel Game Template
Song Lists
1. General Streaming Info
In this section, you can add your general streaming information and you have to underline what makes you different than other streamers.
For example, you can first mention why you stream at all, and what you usually stream.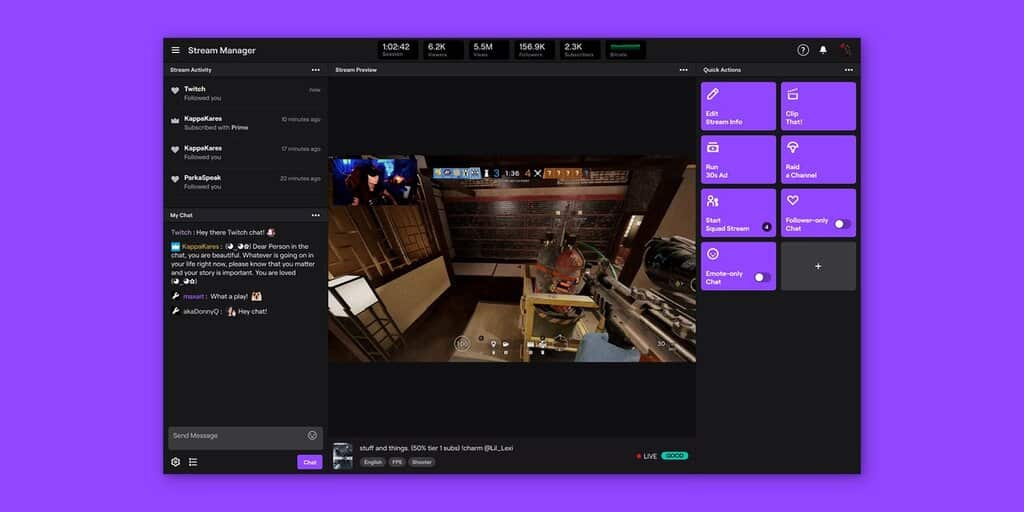 If you are a gamer, you can add what games you play, why, and with who you play. If you are a team player it would be good to say who you like playing games with. Then, mention people from your team.
Any extra info about your streaming life can be valuable for other viewers.
2. Twitch About Me Template
In this About Me Twitch section, give some brief info about your lifestyle, and who you really are.
Besides the basic info such as your name, ages, and family status, add other things to your About Me Twitch panel. For instance, add hobbies you like to practice, where you spend your free time and who you spend your time with.
You can write things like where you usually go on holidays, have you got a pet or two, and you can start having an interaction with other streamers.
Follow this advice – don't put sensitive info that can ruin the interaction with other Twitchers.
Don't have either a negative attitude that others can handle it. Be positive, and the Twitch world will gladly open its doors for you.  
Here is one of the Twitch about me examples.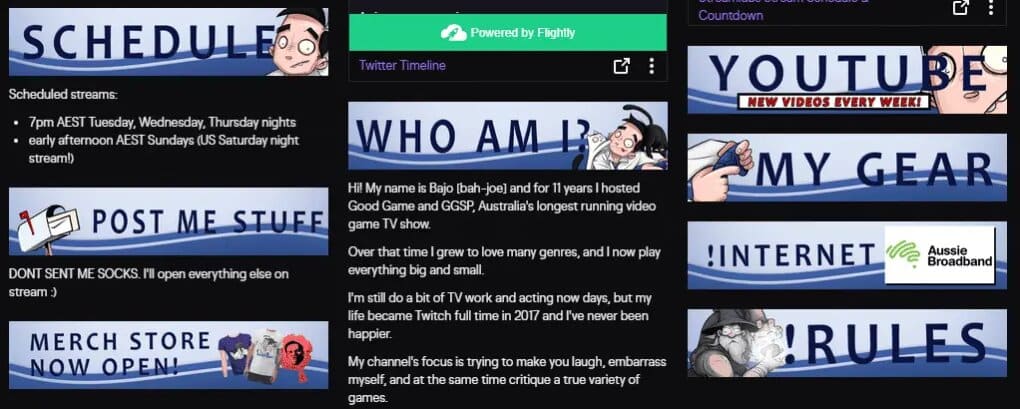 3. Sub Rewards Info
If you want to have many subscribers on your channel, then it would be fair enough that those subscribers have to know what they can expect from you.
You can use this template to explain to them what you have to offer.
No matter what it is, it would certainly be a smart way to call more people for some action.
Different streamers offer different things. For example, they offer many rewards, free games or songs downloading, etc.
4. Twitch Donation Template
Twitch donations are something that can help you to upgrade your channel, and that can place you on the top of the live streaming hill.
If you decide to use donations, you should be thankful to each one of your donators or potential ones, and you should write it in your Twitch bio, too.
You can set up stream alerts for donations. It means that you can set up a specific amount of money that people can pay through your PayPal account.
By setting it up, make the amount list that will be visible to all your channel visitors.
The final step you can do is optional but still worth posting on your channel. That final step is the list of your top Twitch donators.
Other viewers always like when you appreciate help no matter how big that help it is. For them, it is a sign that you can be thankful, and being thankful doesn't cost a thing.
5. Available Social Media Profiles
If you use other social media like Youtube, Twitter, Instagram, or TikTok, link them to your Twitch channel.
While visiting social media you use, people can learn more about you and maybe decide if they want to continue supporting you or not.
6. Stream Schedule
This template can help you with your streaming organization. It facilities interaction with your viewers.
Arranging your stream schedule allows other people who love you to see when you are streaming again, so they can join you and be your biggest support.
If someone is not in the same time zone, the stream schedule can be a very useful template.
The most important thing about this template is that all the visitors can see this post anywhere and anytime.
7. Contact Template
In this section, you can edit the contact that can help other viewers to connect with you quickly and safely.
You can leave the email address that you will check regularly. It can be your main email address, or it can be an email address that you will make, especially while you are using your Twitch account.
One way or another, this section will allow you an open and sincere conversation with visitors who like your content or who want to offer you cooperation.
8. Chat Rules
Naming your own Twitch Channel Rules shows that you have the right attitude about your future and a successful job as a Twitch streamer.
It also shows your personal opinions of what people can or can't do on your channel.
Write clearly your chat rules that will be understood by everyone. Don't use long sentences, and don't write confusing sentences either.
Check out this chat rules template.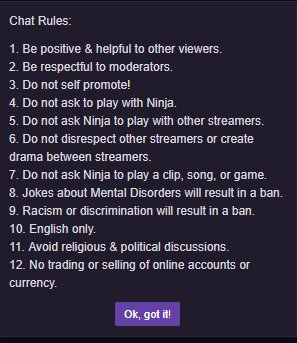 9. Artist Link
An artist link is there if you want to promote your channel and the content your channel offers. Speaking about live streaming, channel promotion is always an excellent idea.
10. PC Specifications
People who want to start a business with you sometimes take a look at your PC specifications information. They want to learn more about your streaming tools, what device you usually use for streaming, or you use some extra gadgets.
Except for these basic specifications, people sometimes can be interested in your video and audio specifications, too.
They want to know what kind of camera and microphone you use, what lightening is the most convenient, and much more.
11. Channel Goals
Setting up a goal you want to accomplish is the best way to get the goal.
Many viewers can help you reach that goal, but they first need to know what goal is it.
It isn't enough just to add the goal to your list, it is also very important to track its progress. By tracking your goal progress, you will get the inspiration for moving forward, and put a bigger goal in front of you and in front of all your followers.
12. Chat Commands
This template has to be filled with all information that is related to your streaming.
But, if you want to see more viewers on your channel from day to day, add some chat commands that can be fun to use together with your followers.
These commands will offer viewers to stay on your channel as long as they can.
Show as much interaction as you can take it, and you will notice a huge number of subscribers at the end of the day.  
13. Shared Games/Servers Template
If you want to share your favorite content with your followers, write a brief explanation of how it is possible to do that.
Let them know about the rules you have chosen, what time they can play with you, and who can join you in your game.
If you have suggestions about what different servers your followers can use and what servers are the most appropriate for them, leave the links in your bio.
14. Twitch Loyalty Point Rewards
This option is usually connected with your Twitch account, and it is always underlined in Twitch bios.
When you give a name to this section, always name by associating it with the content you offer to other viewers.
If there are types of commands related to point rewards, put them on your channel, and make them visible to everyone.
15. Community Discord Information
That is one of the optional templates that can help you to grow your community and the brand your community represents. Besides, many people can make new and long-term friendships thanks to this section.
To use this template, you have to build your Discover Server first, and the rest is quite simple.
16. Channel Game Template
To make closer contact with your followers, consider adding a game channel to your twitch bio layout.
If you have doubts about what games should be on your bio list, you can choose strategic games where everyone can participate.
Be careful when you choose a game because it is very important to choose games that will be interesting for all followers, male and female ones.
17. Song Lists
If you use some music to promote your brand, or you play an instrument, you can make a list of your favorite music that you regularly use on your channel.
You can even post some videos where people can see how you play an instrument.
Twitch Bio Panels
The top advice from this review is to use always Twitch bio panels. You need to use them because they will keep your channel look more organized, and it will give your channel a kind of personal mark.
When you use Twitch panels, choose them in modern design. Make sure that your Twitch panels are all in the same color. In that way, your channel will be unique and organized with style.
Here is the list where you can find the best panels for Twitch. 
1. Own3d.tv
*Use code STREAMMENTOR for 50% discount*
If you are looking a real virtual satisfaction for your Twitch channel then this company can offer you everything you have ever wanted.
It represents a truly virtual experience for all Twitch lovers' eyes and soul.
But, that isn't all this company can offer you. You can use its templates even for YouTube channels and the whole platform.
You can choose between different overlays like office banners, webcam panels, many alerts, logos, and avatars.
The most popular product is the ultimate package that offers you everything we've mentioned before. What you can get in this package are animated graphic designs that you can use in four different colors.
If you cannot decide what color is the most appropriate for your channel, you can mix all the colors that this package offers to you.
What has to be underlined is the fact that the camera resolution is super high, and it makes you a real professional streamer.
2. Visuals By Impulse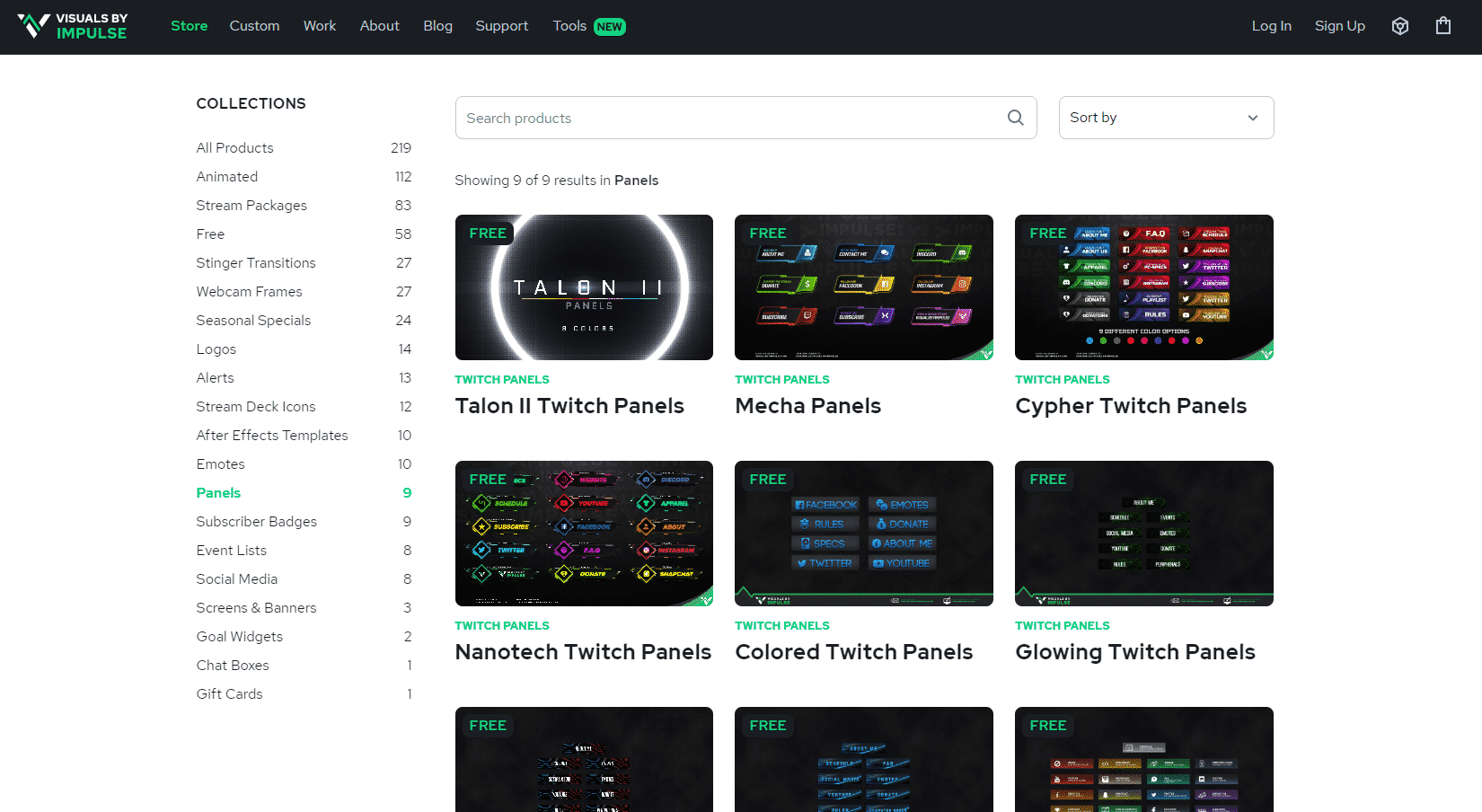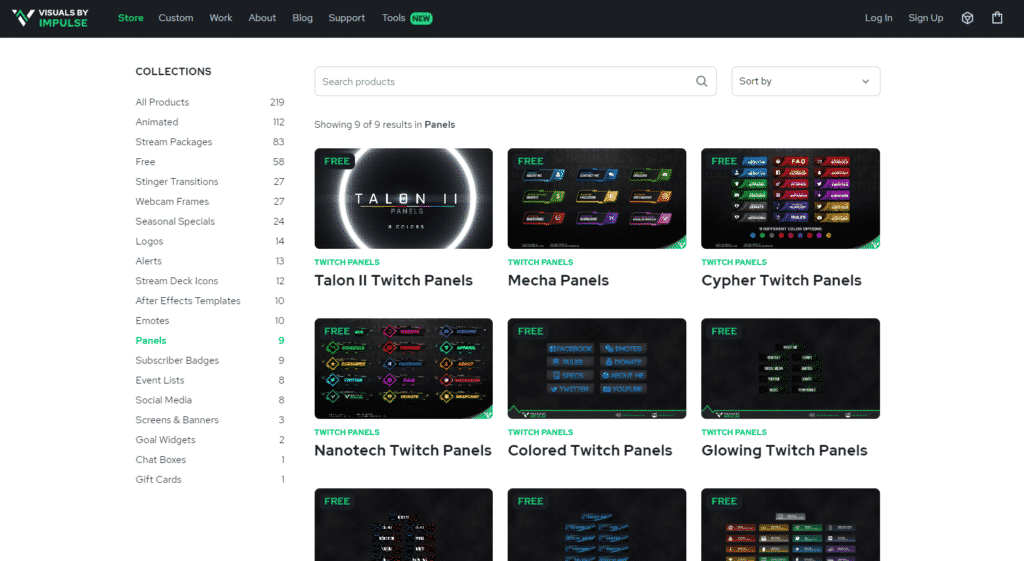 This company offers to all live streamers hundreds and hundreds of free templates for Twitch channels. People can also use design services in a case to upgrade their channels.
Visuals' target populations are gamers and people who are 24/7 live streamers. That's why this company allows them to download and try many graphic designs for free.
Extras that make Visuals so popular among streamers are compatibility with other platforms, logos, different overlays, and alerts.
3. Twitch Overlay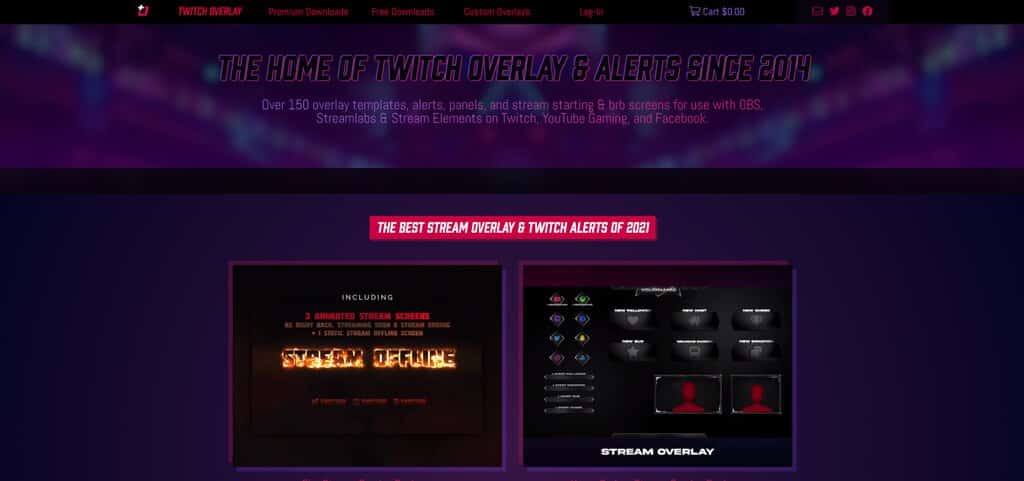 This provider is in the first place among the companies that are tightly specialized for Twitch panels.
It offers a great variety of many different Twitch panels.
Twitch Overlay can help you to choose perfect backgrounds, animations, and different kinds of styles for your Twitch channel.
One thing is sure -you won't regret it at all!
4. Zerging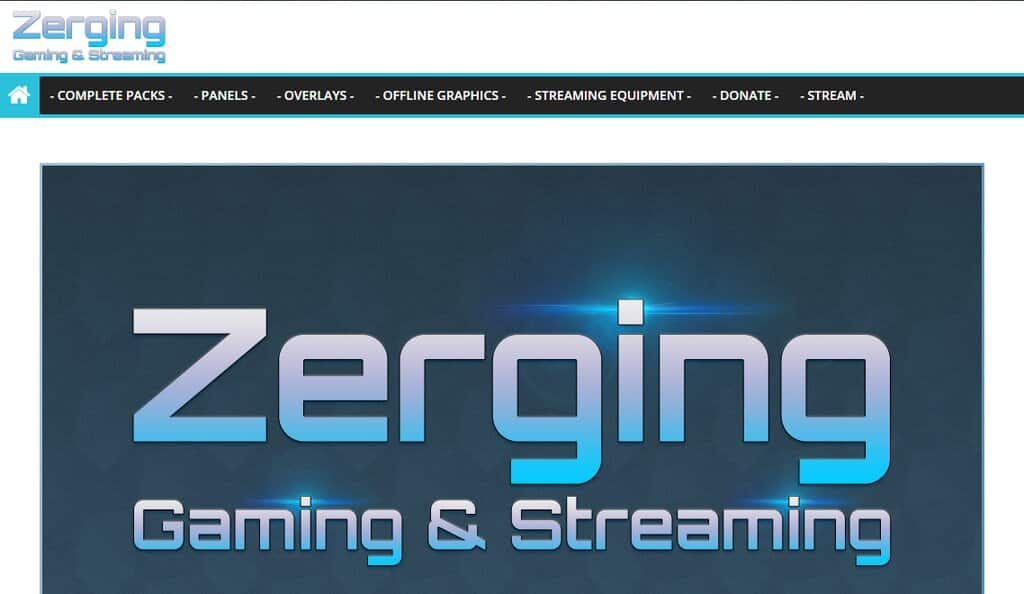 Choice number two for all Twitch users is definitely the Zerging Company.
This provider offers you all its panels to use for free. Its site is well organized because there is no too much text on it.
On the other side, the site is full of different panels that you can use on Twitch or another similar platform like Twitch.
You will find many different and modern designs in many colors and many graphics.
5. Nerd or Die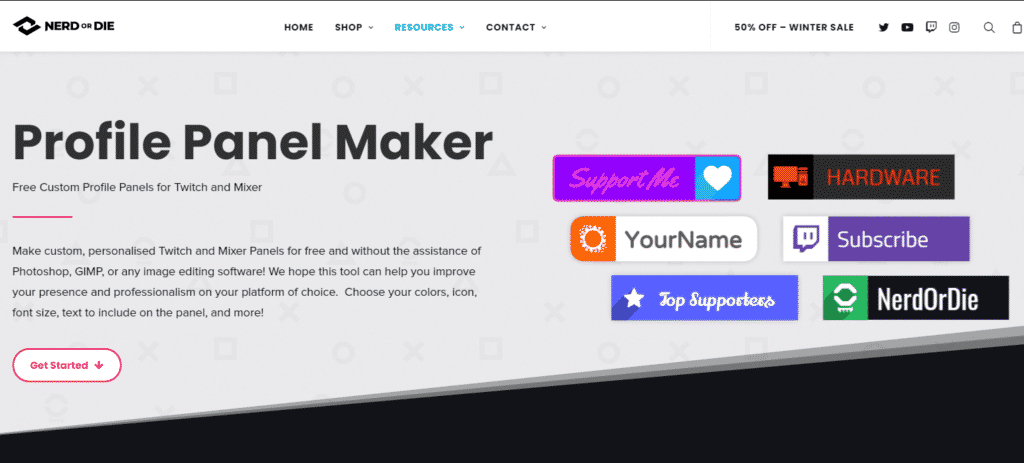 If you are looking for futuristic and modern panels, you will find them on Nerd or Die.
This company started its journey just for the YouTube platform, but during the time it has developed and started to make a product for many other live streaming platforms.
Nerd or Die panels are very easy to use and operate with. They are classy, simple, and elegant in the same way.
You can choose between many colors, languages, and styles.
6. Streamlabs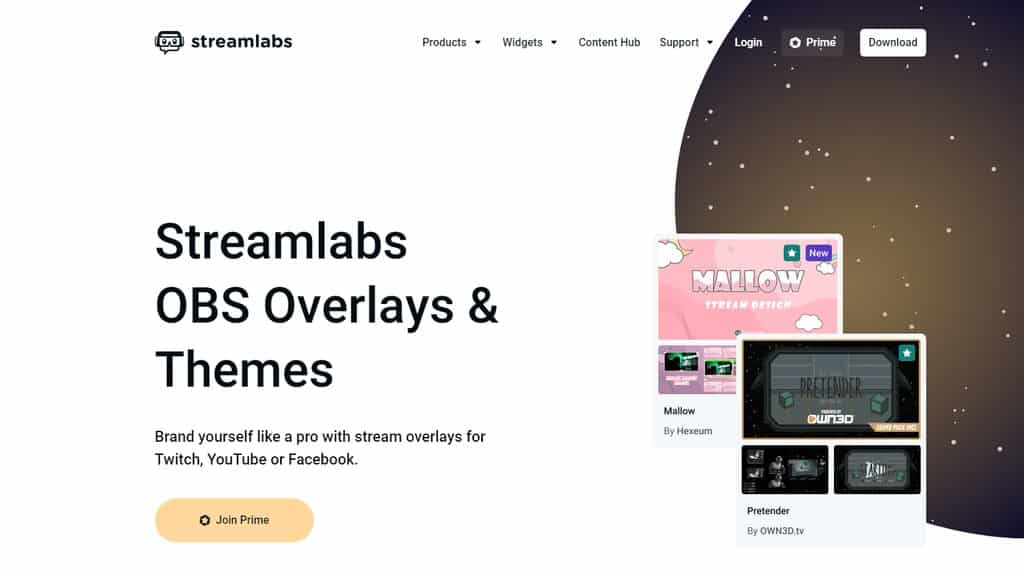 This company is the last, but not the less important on the list.
As a matter of fact, more than 80% of Twitchers use its products. Its panels are the most used panels on the Twitch platform, and you can use a wide range of Streamlabs settings to customize your channel.
Streamlabs has a large specter of free Twitch panels that work for other live streaming platforms.
What makes a big difference among all other companies in the panels' world is that Streamlabs is highly recommended and specialized for serious gamers. It is very popular among gamers who like to play Fortnite.
The most used package is the Fortnite Overlay package. You can use this package for free.
However, if you want to upgrade your Fortnite level for less than six dollars, you can get a full package of Fortnite equipment that will make your gaming status more professional than it has ever been before.
Conclusion
As a Twitch user, it would be great for you to use and follow all the pieces of advice from the previous sections.
However, it isn't necessary to use all these templates to create your Twitch bio. You can choose between the templates you've liked the most so far.
Don't forget that your bio needs to be short and limited by characters so all Twitchers can easily read it on other devices. And remember to be honest and funny.
We hope that these suggestions will help you to make envious progress in the streaming world, especially that one that is related to your Twitch channel.
Somebody just can't wait to find more about you on Twitch!