Just like Twitch panels, stream overlays are equally important for Twitch streamers which is why it's of vital importance to pick the right one. We all know that the ultimate goal is to make your stream look visually-appealing and professional, but which of so many can help you achieve so?
Nerd or Die, Own3d, Placeit – you have probably heard these names when exploring the best twitch overlays, and they are truly among the best ones. We have investigated a bit and have discovered a couple of more brands that deserve your attention.
Our insightful guide will help you find the ultimate twitch themes and will tell you what to look for when exploring overlays for streaming. Stay with us and find out how to become a pro streamer!
Best Twitch Overlays
Reviews
Having these practical directions by your side, you will surely narrow down your quest and find what you need much faster. Without wasting time even further, let's discuss about all suggestions.
1. Own3d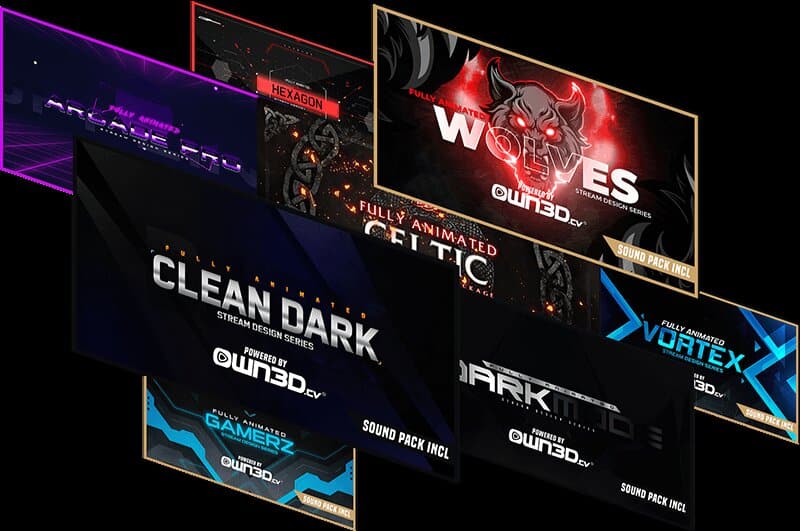 *Use code STREAMMENTOR for 50% discount*
One of the greatest things about them is that they offer top-quality packages at more than affordable rates. This is particularly important to those who are just getting started, as they usually have a bit modest budget.
In their full sets, streamers can find different types of Twitch overlays, such as static and animated ones. It is possible to browse the items by their style, as well as finding different colors that might suit you. Simply find a deal that seems to fit you the most. They cooperate with highly skilled designers so have no doubts that they are a great choice for both newbies and pro streamers.
Let's take a look at all variants of overlays this website offers:
Static and Animated Overlays

– they have cool features, such as displaying the names of your most recent subscriber, or even information about the top donator, amongst other things.

Webcam Overlays

– are those which look like a picture frame. They surround the entire screen and separate the streaming content from your webcam panel. You can also find them in static and animated versions.
Talking Screen Overlays – they are used for displaying the chat on your monitor, so you can keep track of what viewers discussed on playback. 
It is possible to buy each of these separately, but in our opinion, bundles are a much better choice as they all come with the same design. This provides you better continuity, without having to brainstorm whether those you will purchase separately, later on, look good or not.
On top of that, aside from Twitch, these overlays work with YT Gaming and Fb Gaming, as well as with StreamElements, OBS, and Streamlabs OBS.
What about freebies?
If you are looking for a great assortment of free stream overlays, you could be disappointed- they don't offer many of those. Taking a closer look at the assortment, you will notice that they are of very minimalistic design. Plus, they mostly rely on the aesthetics of specific games.
On the positive side, if you know how to use GIMP, great. You can use that knowledge to modify them. You can adapt them to your brand, as well as to your artist name, or even a social media profile and page. Have no worries, instructions are included!
Any other solutions?
Overlays aside, these guys have other useful gadgets that can make your channel look superb. They offer panels, Animated Stream Transitions, versatile Stream Packages. Furthermore, you can also find Giveaway banners. There are also quite a good amount of static and animated Stream Alerts and Starting, Pause, and Ending Screens.
2. Kudos.tv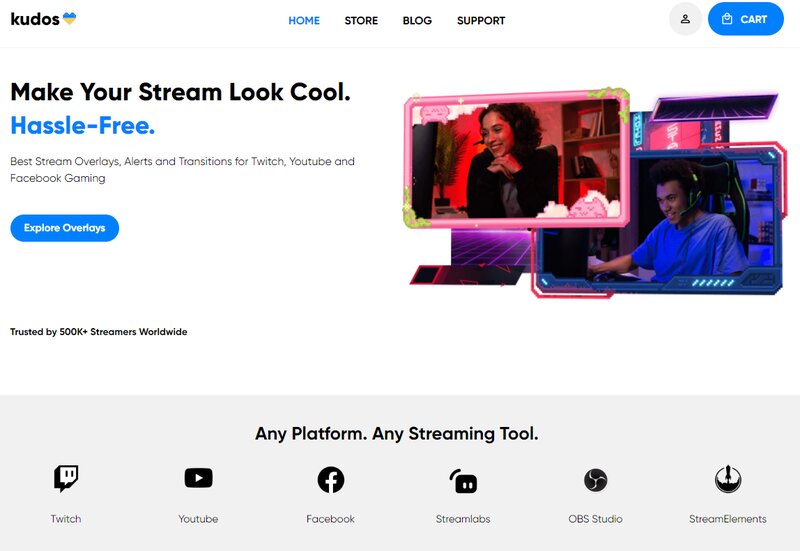 Kudos.tv may be perceived as newcomers in the stream design industry, but they have been providing our fellow streamers with high-quality overlays for more than three years as Wight Visuals studio — you've probably seen their designs if you ever visited Streamlabs Theme Gallery. Now they decided to open a separate store to offer even more options than before.
Their main products are static and animated full stream overlay packages that include stream screens, overlays, chatbox, alert widgets, stinger transitions, labels, and Twitch panels. Their library offers a wide variety of design styles — from kawaii anime-styled overlays to brutal packs with Viking aesthetics and everything in between.
You can buy each of these assets separately, but we think their full packs are no brainer of a choice. First of all, you'll get a consistent style across your streaming channel, which is a significant benefit for your personal brand. Secondly, buying assets separately will cost you more money unless you want to wait for a sale and hope that other assets from your pack are discounted.
Another important aspect is that their packages are preconfigured for use with any imaginable streaming platform and software — Twitch, Youtube, Facebook, Trovo, OBS Studio, Streamlabs, StreamElements, and any other platform you may think of.
Do they have free twitch overlays?
Absolutely! You can find a few full stream packages with all the assets that are present in their premium packs free of charge. Also, you can download a free neon webcam overlay pack that can fit almost any streamer's style and a small bundle of matte transitions to add some visual interest to your stream look.
3. Fiverr as an Option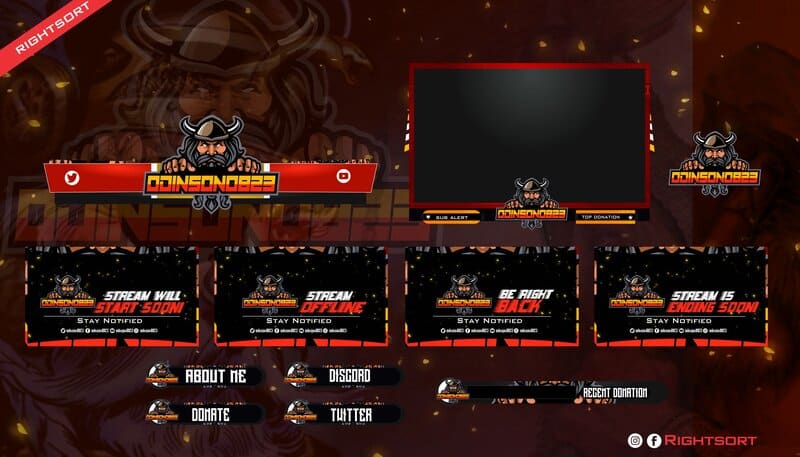 This gigantic marketplace is an excellent resource for designers and other freelancers, which opens plenty of possibilities. Each one of so many creative heads has his/her own style, so chances to find someone that will help you bring your vision to life are enormous.
One of the best things about Fiverr platform is that the price range is really wide, and what's more than important- the majority of options are more than affordable. So, you can have your very own unique overlay, created especially for your channel at more than a reasonable price, but you'll just have to explore a bit. If you are lucky enough to encounter designers which are specialized in other accessories for Twitch as well, you can also discuss panels, animated emotes, alerts, and other tools as well.
How to find those designers? Quite simply, just make sure that you know the exact style you are looking for and get down to exploring the directory. Prepare as many details and instructions, so that your potential associates can be clear on what is it that you are looking for.
On average, they make up to two revisions before the deal is finalized. But the more precise you are with your wishes and desires, the less you will wait.
You are now probably at ease knowing that there's so much to choose from, but that's not where the list of surprises from us ends. We have something else for you, so stay with us!
4. Nerd or Die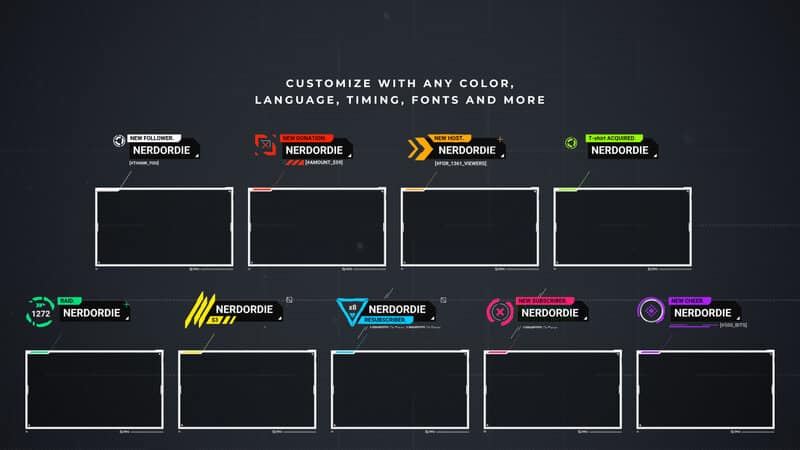 Like the previous brand, they also hold the reputation of top-notch providers of supreme tools for serious streamers. Aside from supreme-quality designs, they also host a free overlay maker which allows you to create free twitch themes and panels which resemble their solutions. At the time being, they bolster no less than 40 versatile sets that have overlays among elements.
Here's which solutions are seen in their packages:
Overlays

– available as both animated and static, they can easily display the names of the most recent follower, a top cheer, and others.

Webcam Overlays

– also done in Static and Animated format, they work as a stream frame.
As for the compatibility, these are also functional on FB Gaming and YT Gaming, and they also work with OBS, Streamlabs OBS, Streamlabs, StreamElements, and XSplit.
Do they offer a free twitch overlay template?       
Yes, they do have freebies in their assortment, which is excellent. It's also cool that their solutions come with a suggested price. This way you can adjust the budget, pay as much as you can, and end up with more than great solutions for your stream.
What else is out there in this creative workshop?
There's a wealth of powerful solutions among which Sound effects, Stream Deck key icons, panels for Twitch, Looping backgrounds, Stream transitions along with animated and static Stream alerts.
On top of that, if you have some ideas and visions- you can get in touch with them, and see what are the options. Perhaps you can arrange some cool deals and end up with overlays designed exclusively for you.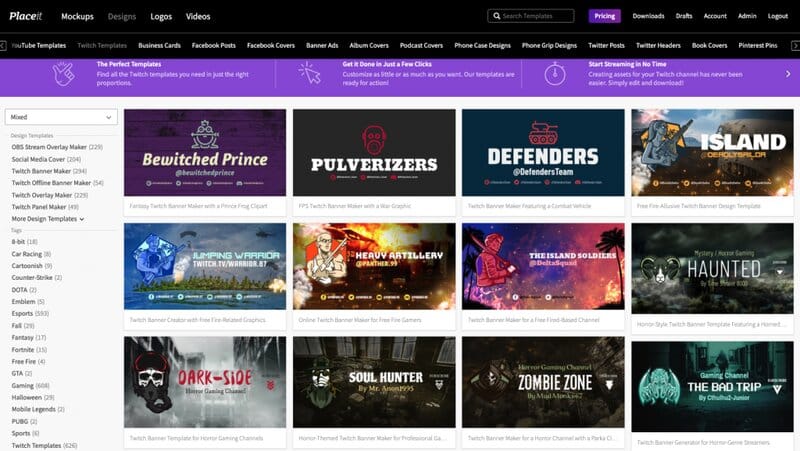 One of the greatest virtues of these graphics is that they are universal. None of them is crafted for a specific brand or game, so you can adjust them easily to fit your concept. Plus, the fonts can be modified as well.
As for purchase, there are multiple options. One of them is to purchase a single theme for a set price. The other is a monthly or yearly subscription, which costs $14.95 or $99.95 respectively.
They offer Static overlays, and Webcam Overlays (Static and Animated).
Compatibility won't be among concerns, as they work flawlessly not only with Twitch but with OBS, Streamlabs OBS, and XSplit as well. Plus, they are fully functional on both FB and YT Gaming.
Do they offer other tools?
Absolutely yes. Banners and Panels for Twitch, Screens, and Logo Designs. It's important to stress out that the majority of them come in packages. Moreover, their assortment of products includes post templates for Fb, business cards, book covers, banner ads as well as a mockup generator. All these solutions are meant to assist you with all the challenges that come with proper branding.
6. Visuals by Impulse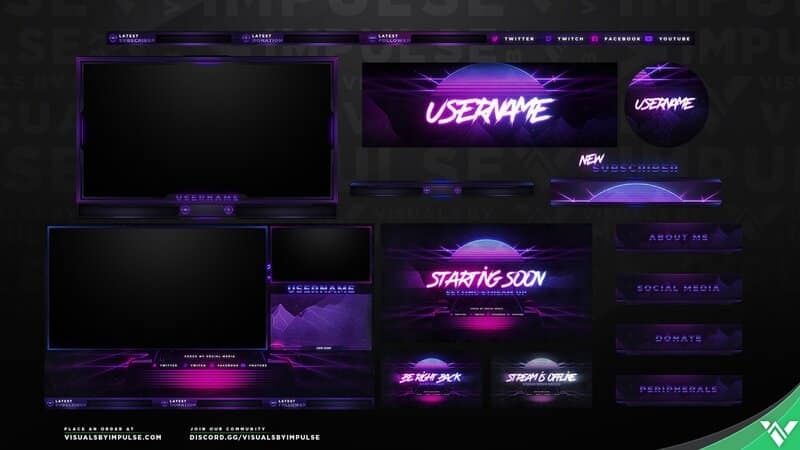 These guys offer a multiverse of versatile graphics. The great thing about Visuals By Impulse is that they are available either as an individual or in packages. In their catalog, streamers can find static and animated versions of numerous images that can easily be branded. They have both pre-arranged graphics and custom-made.
Here are the variants of overlays available:
Static and Animated Overlays

– display the names of your most recent follower, your top cheer, and so on.

Game Overlays

– in charge of giving a distinctive visual identity to the game for your followers, to make it look more dynamic and engaging

Static and Animated Webcam Overlays
You will have no worries about compatibility either, because just like the previous suggestions, it is entirely functional not only on Twitch but on OBS, Streamlabs OBS, Lightstream, XSplit, as well as YT and FB Gaming.
When it comes to costs, the range is more than generous. Their free twitch overlays look more than decent. Moreover, they do custom orders and they are more than willing to cooperate and come up with solutions and designs that will make both sides satisfied, and what's even more important, help you position your stream well.
Is there anything else they can offer to streamers?
Of course, there's plenty of useful gadgets such as Emotes and Badges, static and animated Stream alerts, as well as Deck key icons and transitions for the stream. Also, they have panels, Screens along with Logo design.
7. Twitch Overlay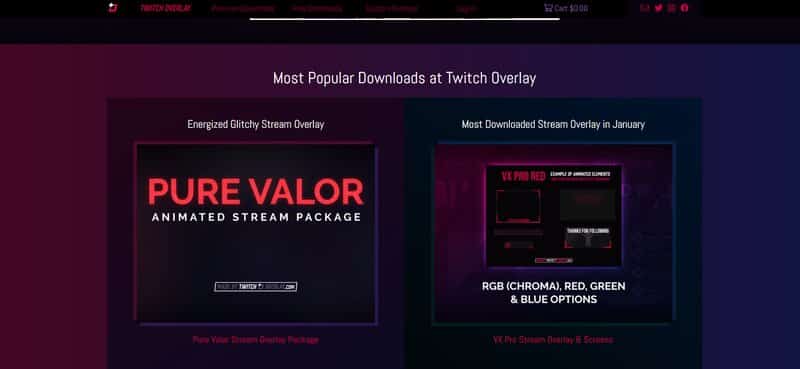 The name explains everything, there's nothing to confuse you. One of the most prominent things about them is that they pay lots of attention to diversity. Their products are appealing to various profiles of streamers, and they are adjustable. In addition to this, their accessories are available either in packages or separately. You can purchase them but you can also find them as free versions. Let's not forget to mention that fonts are among freebies.
Worth adding is that their items are comprised of multiple parts, so each streamer can adapt them to his/her specific needs. Furthermore, they offer graphics that rely on the aesthetics of some popular games.
In case you want some unique twitch template, they can help you with that as well. They also create concepts via custom orders, but you need to check first whether they accept new clients. The price list is available on their official webpage.
Aside from static and animated overlays, they also have Game Overlays, as well as static and animated Webcam designs. In terms of compatibility, they work with OBS, Streamlabs OBS, and XSplit. And Twitch, of course.
Anything else in their portfolio?
Like the majority of competitors, these guys offer additional tools for broadcasters. Those include panels, banners, avatars, alerts, and screens. There's a possibility to purchase a couple of products together- as a pre-arranged set. This way, you not only save costs, but you get yourself plenty of tools that have the same visual identity. That means a lot for proper brand positioning.
8. Streamlabs Prime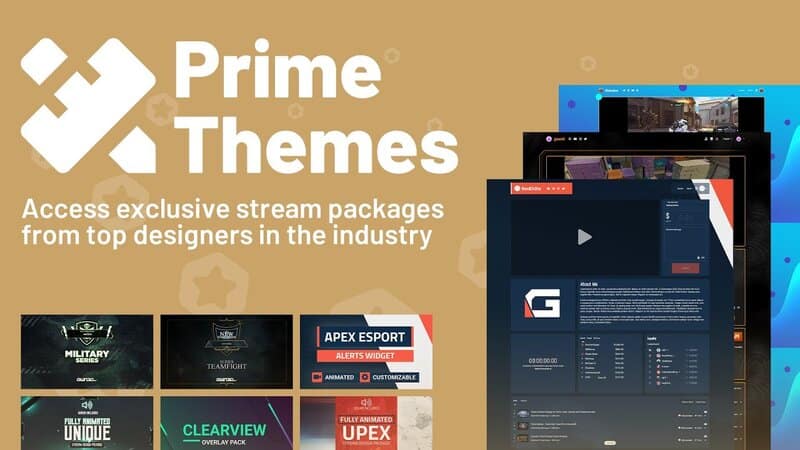 If you are familiar with Streamlabs OBS or the Streamlabs cloud bot, then you have probably aware that they offer a premium overlay platform as well. What they do is lease overlays from third-party associates and allow their subscribers to modify the look of their channel whenever they want.
In case you want free OBS overlays for your Twitch, they are not the right choice because there's a monthly fee. On the other hand, if you observe things from a wider perspective, and you are willing to invest a bit, you can get a lot in return.
For the costs you pay, there are plenty of perks you get in return, and the best part of all – you can even monetize your stream. On top of that, they offer excellent margins on merch, engaging widgets, and plenty of other great accessories.
9. Strexm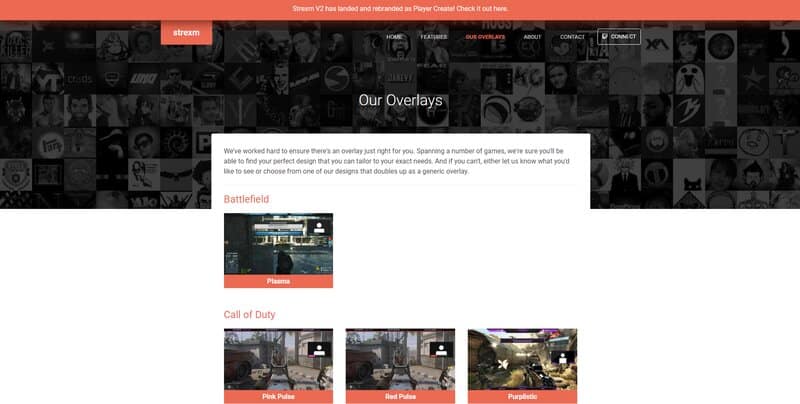 Here's one more fine website where you can find twitch overlay free designs compatible with Twitch, YT Gaming, OBS, Streamlabs OBS, and XSplit. Aside from generic templates, they also offer items that are developed with a specific game in mind.
Their assortment comprises 200 graphics, which means plenty of options to choose from. All of them feature integrated alerts and widgets that can be modified. This is an excellent choice for broadcasters whose budget is not immense, but want to get something that looks satisfactory.
In their portfolio, users can find static Overlays (they don't offer animated), Game Overlays (for numerous popular games such as CoD, Battlefield, LoL, Overwatch, and plenty of others).
At the time being, the twitch overlay template is the only product they over (in various variants), they don't offer panels and other accessories. As we said, you don't have to buy to get their products, but what you can do is donate and support them.
10. StreamShark Graphics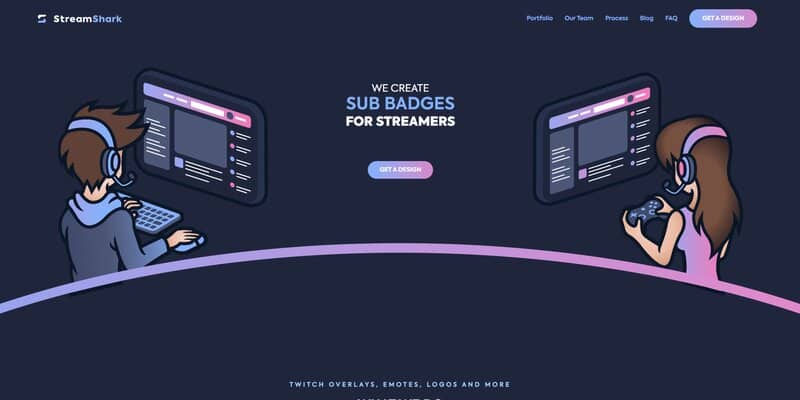 This is a team of designers dedicated to developing custom graphics for Twitch channels. Aside from overlays, panels, alerts, and even manufacture logos for games. They have plenty of experience cooperating with streamers, which makes them a trustworthy resource.
Best Free Overlays for Your Specific Needs
What are the Best Free Animated Overlays?
Animations are excellent if you want to add an extra layer of action to your stream. Come to think of a good animation for Twitch, it definitely shouldn't be something that looks too distracting. But it shouldn't be anything too unnoticeable either.
It has to be something that will get to your viewers on a subconscious level. Something that will make them feel great while watching your stream, without realizing what is the "secret ingredient" that makes them feel that way.
Knowing that it doesn't come as a surprise that many of the above-mentioned developers offer not only static but animated overlays as well. Nerd or Die and Own3D are particularly worth mentioning in this field.
The former one offers a multiverse of packages and overlays which are aimed at fans of shooters and competitive gaming. The latter one also displays plenty of different overlays with excellent animations which can at those special vibrations to your channel. 
Who Offers Good Free Stream Overlay Templates?
If you need something that will give you enough room to change and modify components, then Placeit is a good choice for you. A template itself provides plenty of room for modifications and allows you to design an overlay that meets your channel's needs. You have the freedom to change up to several elements and come up with something satisfactory.
Who Has the Finest Free Overlays for PS4 and Free HUD for Xbox?
If you belong to streamers who broadcast from this console, you might want to put a bit more effort to end up with visually pleasing content. Something that looks good to you and your viewers.
Own3D is the winner once again, and they have something that can set your stream apart and position it above the competition. They have special graphics that display PS4 branding designed for this console exclusively.
Just like with PS4, Xbox requires a bit more effort than with Twitch, but be sure that it will pay off. And Own3D and their cutting-edge products are your "friend in need" here.
Are You Looking for Free Overlays for OBS or Streamlabs?
OBS is a standard streaming software with a multitude of options available through extensions and plugins. That's why it's of vital importance to find a good streaming overlay that will perform fine with it.
As you could assume, Own3D and Nerd or Die are among the best choices for those who use this software. With the former one, you will get a wide spectrum of graphics at your disposal. They work flawlessly and they are easy to install, and check this out- customizable! The other developer is aimed at those who broadcast first-person shooters or competitive gaming.
One more popular streaming software, Streamlabs, is a favorite choice for those who are newbies in the streaming business. Their products are easy to set up and use. Just like with OBS, Own3D and Nerd or Die have the right solutions for you. Thoroughly explore what both of them have to offer and be sure that you won't regret your choice.
Does Free Overlay Maker Sound Good to You?
If you feel like experimenting a bit, an overlay maker is a thing you need. Unlike pre-made templates, here you have the freedom to change and adapt the elements as much as you want. That's where Placeit steps in, with its maker and multiple adjustable platforms. Let your imagination flow and take advantage of their excellent maker to breathe life into your ideas.
Are You Looking for Free Overlays for Gamers?
You have probably noticed that a couple of developers offer overlays that rely on the design of a specific game. They are built with gamers in mind, taking all their needs and requirements into account. Keeping the audience interested is not an easy task, but, don't worry you are not alone in this mission.
Allow us to present you a couple of "associates" you can rely on- Nerd or Die, Own3D and Placeit. Each of them is equipped with numerous practical solutions that are meant to make gamers happy. Even the most demanding streamers won't complain, as they can find after effects graphics (Nerd or Die), separate products or packages (Own3D), or even build something unique (Placeit).
Own3D and Nerd or Die can offer a lot to those looking for Free Overlays for Fortnite. Their solutions are of the best quality and very engaging, and that's what can keep people coming to enjoy your streaming sessions.
Related: Best Games to Stream in 2021 (For New and Experienced Streamers)
Are There Any Free HUDs for E-Sports?
Yes, absolutely, and what a surprise- Own3D and Nerd or Die has got you covered once again. Both of them are simple to use and they work perfectly with all major platforms for streaming. Their style and design are extremely appealing to various gaming communities, which is why they ended up as top picks in multiple categories.
Good branding is also important here because esports are particularly recognizable for that. That's why your viewers will enjoy your channel even more if the graphics are the same. You know how those true fans can be demanding, so give them what they want and watch your viewership grows at the speed of light.
What to Pay Attention to When Picking Twitch Overlay?
When selecting any product, you need to be familiar with its functions, roles, and accompanying features to be able to pick the one which fits your demands. Twitch overlays are certainly not an exception from this.
As far as the "official" definition says, this is a graphic located above the game capture window and a webcam. It can be either border or take up the whole frame. Think of it as some sort of mask or make-up, as you wish. An overlay is the uppermost layer of your stream, which explains why it deserves such special attention.
When the time comes to choose one, it would be wise to take the following aspects into account:
Design Quality
The twitch stream overlay you select needs to be compatible with your project and overall idea. Its design needs to have similar vibrations and atmosphere as your stream. That's the only way to maintain integrity, and that's of essential value for good brand positioning.
Diversity
Even if there are dozens of channels streaming the same game, none of them is the same. Each streamer has its own vision, and that's where a good overlay steps in, helping him/her present that vision in the best way possible. None of those overlays has the same functions and options, so you'll need to take a closer look at the entire set of features that come along.
Speaking of, is overlay the only thing you are looking for, or perhaps you need a panel, alerts, banners, screens, and whatnots? It would be wise to purchase or download all those from the same developer, just to make sure the design will be the same.
Brand Compatibility
If your stream is dedicated to some pinkish and fluffy characters, you'd surely want to find a stream overlay that doesn't look too dark and obscure. Then again, you can always pioneer some new ideas and trends. The point is to find something that will bring your vision to life the way you want it to look in the eyes of viewers.
Compatibility
Are you looking for something that's meant for Twitch only, or you need a product that can work with other channels as well? The good news is that majority of developers from our list build products that work well with YouTube and Facebook Gaming, and they also support StreamElements, OBS, Streamlabs OBS, and others.
Affordability
We are all aware that a good and reliable product is worth every cent, but sometimes we simply cannot afford it. It's so cool that many of the brands offer free twitch overlay, so even newbies with a modest budget can find some cool tools and get their stream started.
Later on, as the viewership grows, one can consider those paid solutions. Upgrading a channel step by step is also a smart strategy, and easier to handle in terms of money. For those with a limitless budget, custom-made and exclusively designed products are probably the best solution.
Final Thoughts
We truly hope you enjoyed our lengthy and insightful guide on twitch overlays. As you could see, the possibilities are immense, you just need to be clear about what is it that you are looking for.
There are plenty of static and animated overlays compatible with numerous streaming platforms, and some of them even allow you to modify the elements yourself. Own3D and Nerd or Die are leading names, but all other developers are equally good (otherwise we wouldn't include them on the list).
On top of that, if you have a couple of extra bucks, you can opt for some unique overlays designed exclusively for you. We mentioned Fiverr as an option, but there are other communities where you can get in touch with designers who can craft an overlay and other tools for you.
Now that you have all these bits of info, wait no more, get down to equipping your channel with some cool overlays for Twitch!
Frequently Asked Questions
Where to look for free twitch overlays?
Own3d and Nerd or Die offer downloadable packages of free animated or static overlays for broadcasting. These two companies have the best solutions for various profiles of streamers, both beginners and pros. Their palettes of products encompass panels and other useful accessories.
How to design an overlay for a twitch stream?
If you are skillful with GIMP or Adobe Photoshop or any other program for design, you can craft a simple static overlay for broadcasting. While you can design it as a PSD file, you will have to export them in some other format, for example, JPEG or PNG. Then you can upload that masterpiece of yours to the streaming software as an element and locate it wherever it suits you.
Where can you get overlay templates?
Placeit is the place to visit if you need good templates. They allow you to adjust the overlay until you are satisfied with the design and layout. Once you finalize it, you can download the graphic and upload it to the streaming software.
Who designs the best HUD maker?
If you don't feel like crafting an overlay from the ground up, but you need some foundation to get things started, Placeit can help you. Their templates give you plenty of room for modifications, so you can experiment as much as you want until you get something you truly like.
How to put an overlay on streaming software?
It's nothing complicated at all. What you have to do is upload the file with the overlay as a source to the broadcasting platform you use. Once you do so, you can resize it and modify it until you are satisfied with the overall appearance.
Is it possible to get a Twitch chat overlay in-game?
Yes, it is possible to get Twitch chat overlay in-game. If you incorporate chat by using a certain side-software, such as Restream, that will certainly let you see the chat on the monitor while streaming. While this program is commonly utilized to broadcast to multiple platforms at the same time, it does have an option that allows you to keep track of your chat as well.
Are overlays compatible with all streaming platforms?
It depends on one developer to another. All of them work with Twitch (naturally), and the vast number of them is compatible with YouTube and Facebook Gaming as well. Plus, a great number of them work fine with OBS, SLOBS, XSplit, and many others.