Nowadays animated GIFs have become an integral part of online communication and this kind of animated emotes can be found anywhere online.
However, Twitch was one of the rare platforms that used regular non-moving emotes only.
Since many Twitch users weren't satisfied with the fact that animated emotes didn't exist, they have recently been added.
Therefore, since June 2021, users have gotten the opportunity to use Twitch animated emotes in their chats and, thus, to improve communication with their viewers and favorite streamers.
Animated Twitch Emotes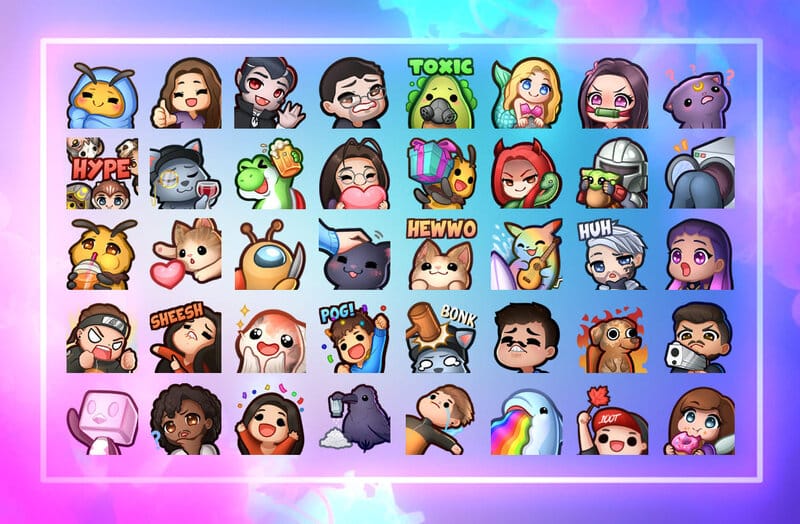 The introduction of animated emotes brings several improvements to Twitch.
First of all, the quality of the conversation between content creators and their audience will be on a much higher level.
Namely, standard non-moving emotes are fine, but every internet user will tell you that animated emotes are level up compared to standard ones.
Additionally, animated emotes can move and, therefore, can help Twitch users express themselves in a much more precise way.
Not to mention that the conversations will be much more interesting and fun since animated Twitch emotes, are definitely level up compared to standard emotes.
The other improvement that we're going to mention is the fact that things are now less complicated than before.
In other words, before June 2021 and this change introduced by Twitch, if you wanted to use animated emotes, you needed to install some extension and that was the only way.
So, extensions like FrankerFaceZ (FFZ) and BetterTTV (BTTV) were installed by many Twitch users who wanted to enrich the communication with other users.
But now, these emotes will be automatically included in Twitch chats, so the extensions won't be necessary and, thus, the whole process will be much quicker and easier and won't include any complex installations.
Finally, we are sure that animated emotes will help you deliver and maintain the services you provide to your viewers on a high level.
And although it might look like the Twitch channel cannot be influenced by things like emotes, that's not true.
However, not all Twitch users, at least in the beginning, will be able to use this new option.
Who can use this innovation?
Just like most new things that Twitch introduces, in the beginning, only Twitch Partners will be honored with the chance to use this option.
Afterward, they will gradually become available to Twitch Affiliates and then, probably, to the rest of the streamers.
So, to sum up, Partners will be able to instantly activate animated emotes for themselves and their viewers.
Nevertheless, there are also rules regarding follower emotes, or let's say, which users can apply animated emotes to their chats, and not all of them will have this capability.
So, in terms of follower emotes, although all other Twitch users can make use of regular emotes, animated emotes, at least in the beginning, will be accessible solely to subscribers.
This way, Twitch has managed to motivate more people to become subscribers, given that these animated emotes become part of the list of benefits that you can get if you become a subscriber.
But, of course, they will have the chance to use animated emotes, only if the channel they are subscribed to, has previously unlocked this option.
At this point, it's not clear whether regular unsubscribed viewers will be able to use animated emotes and when is that going to happen.
Twitch Animated Emotes Requirements
Users can upload these emotes, but only if certain conditions have been met.
Those emotes that you create can be based on your personalized content and ads since that way it will be closer to your community.
Additionally, you will certainly improve your services and develop new ones using animated emotes.
So, if you have a Twitch Partner status and want to surprise your Twitch community and subscribers with specifically designed emotes, you need to keep these rules in mind if you want to upload animated emotes.
1. Format
GIF format or GIF images are the only format that comes into consideration.
So, no photos and non-moving pictures, and even though we are sure that most of you were aware of this rule since it's quite logical, we have still decided to mention it just in case.
2. Size
Regardless of the size in which you upload your GIF images, they will be transformed by Twitch to the size that's necessary.
However, the biggest size in which the file can be uploaded is 4060×4096 pixels.
Additionally, the file you upload cannot be larger than 1 MB.
3. Shape
Another thing to keep in mind when uploading a file is that it needs to be used in a square shape, so watch carefully how the GIF you want to upload looks because it could happen that this square shape changes the way it looks or some important feature of it could end up cut out.
4. Number of emotes
As Twitch announced, at this point, the maximum number of emotes that can be uploaded by one user is 5.
However, even though we cannot tell for sure that this number will, eventually, become higher, we are pretty sure that Twitch will continue improving this feature, and increasing the number of emotes that can be uploaded would definitely be a perfect improvement.
But in our opinion, although 5 is not a huge number, these 5 emotes will certainly spice up your Twitch chat.
How Can Someone Obtain Animated Twitch Emotes?
First of all, the number of options for getting animated emotes is small because this feature is relatively new.
Because of the limited number of options, we will present you two ways of obtaining animated Twitch emotes, and depending on your settings and personal preference you will opt for one.
1. Easy Animate tool
Easy Animate is a new tool that Twitch has created specifically for users who want to design their personal animated emotes.
Now we will break down how this new Twitch tool works.
Well, with this tool you can pick some of your existing emotes (png images) and add them, pre-made animations, and, thus, make a GIF from a picture, or, let's put it this way, make an animated emote from an ordinary one.
Of course, this tool hasn't been maximally developed yet but in our opinion, it's a nice solution for starters.
There are 6 pre-made animations that can be added:
Even though, as we said, they are not fully developed and there are not many of them, we are sure that these animations will bring your old boring emotes to life.
2. Custom emotes
Apart from this, probably a temporary, solution, Twitch users can, as well, use custom animated emotes that you prefer.
In case you opt for this option, you won't be obliged to use Twitch's pre-made animations.
Instead, you can simply use your imagination and think of what you want your custom emotes to do.
And what's best, there are no limits, so they can do whatever you want.
Conclusion
Most Twitch users couldn't wait for this to happen and for Twitch to include animated emotes.
From our perspective, this will be very beneficial for Twitch as its current users will have the chance to enjoy an improved experience.
However, we are also sure that this new feature will attract new users and that Twitch will become even more popular.