Streaming a game happens over several hours in one go. The gamer certainly needs some time before, during, and after the game to take a break. There are several stream screens that are used for these purposes: a starting soon screen, a be right back screen, and a stream ending screen respectively.
They inform the viewers that a streamer is not offline and that they will be back soon (or that the stream has ended, in the case of a Twitch stream ending screen).
You can create your stream ending screens, have someone design one for you, or buy it. Here is a list of the best online places where you can find excellent graphics for your end screen.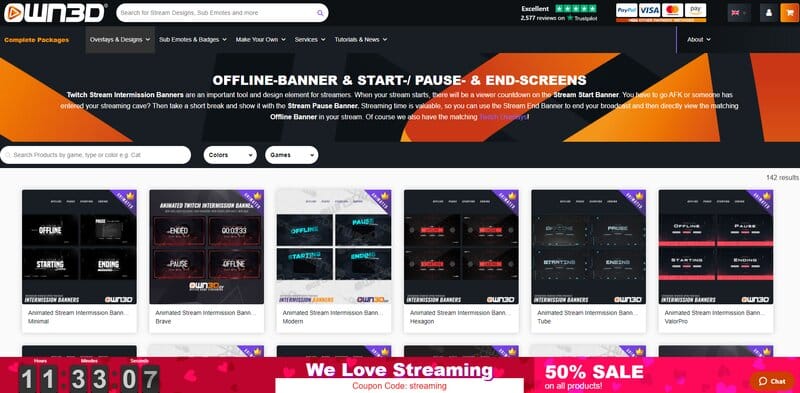 *Use code STREAMMENTOR for 50% discount*
Own3d is the best site to find everything gamers need to edit the visual aspect of their channels. To stay on the topic, this site offers a wide array of screen sets: Twitch Stream Intermission Banners. They include stream start, stream pause, stream end, and offline banners, as well as matching Twitch overlays. Most of them are animated.
The offer includes dozens of designs, so if you choose this website, you will most probably find something good for you.
Though they don't offer free products, they have them in a range of prices so you will probably be able to fit some into your budget. You can choose from the premade products or those that are custom-made.
Follow the latest posts to see what is new in their offer.
Own3d has an experienced workforce. The designers work hard to create the best designs and the programming tech staff are there to edit them so that they can be used for any gaming and streaming platforms out there.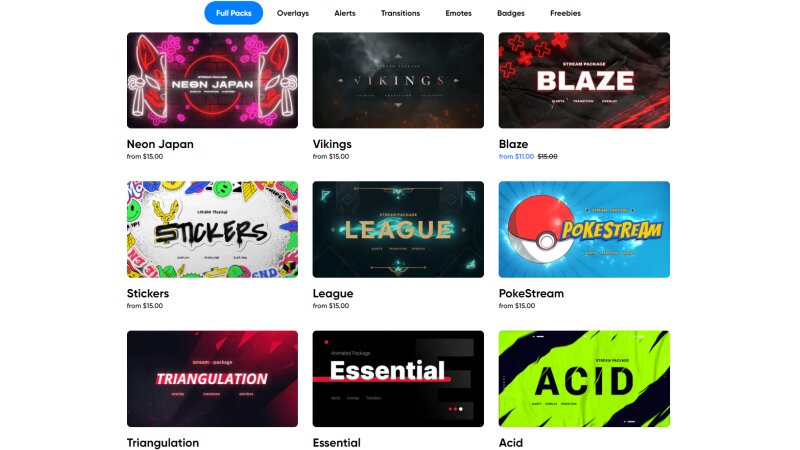 kudos.tv aims to help everyone make their streams look cool with an extensive library of free & premium overlays, alerts, transitions, and other essential visual assets.
Their full stream packages have static and animated options for $15 and $30 respectively. They include Ending Soon Screen, Starting Soon, BRB, Intermission, Offline Banners, Overlays, Panels, Stream Labels, and much more.
However, you can purchase some assets separately from the full packs for a lower price. For example, you can get a stinger transition for $5 or less and preconfigured stream alerts for about $10.
Also, they offer free stream packages and other assets that have everything from the premium packs for you to try out.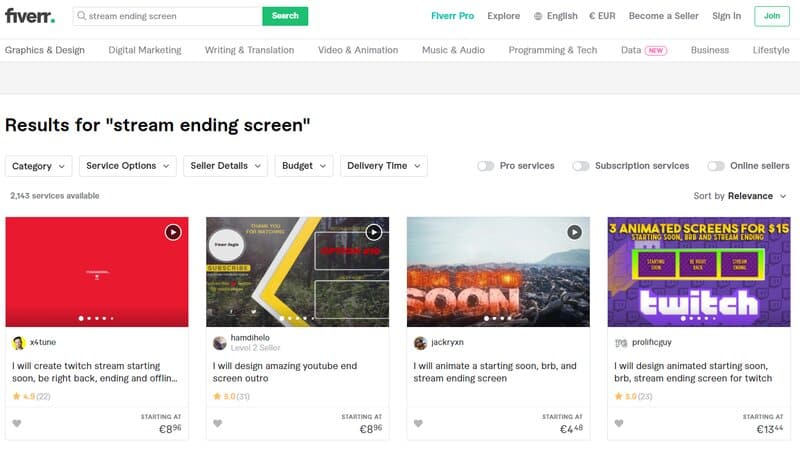 Fiverr is a place where plenty of freelancers offer their services. There are many talented artists and designers there. Most of them are still not famous in their field of art, but you can find many people who do high-quality work.
You can select one of the categories to find the right kind of product for you. Needless to say, there are no free products here. But the prices have a wide range so something can surely be found for both low and high budgets.
You can see some of the artists' published work and find someone whose style fits your brand. Be sure to check out the written comment section of past customers to get the feel of the artist's skills and quality of collaboration.
Also, when you start arranging the deal, make sure that you explain in many details what you want. The more precise you are, the better the screen (or screen package) will be.
Also, it would be good for you to have a revision or two before the final purchase so that the graphics match what your viewers might find the most attractive.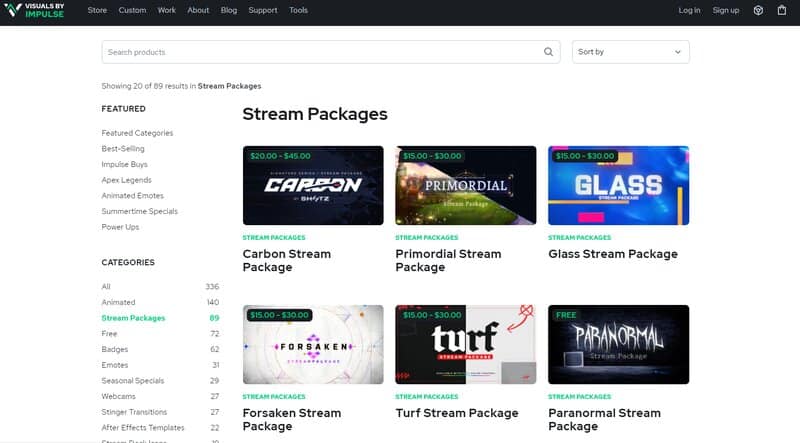 Visuals by Impulse aims to help streamers get excellent designs for their channels, from small ones to pros.
The creator of this company is a former gamer who played under the pseudonym 'Impulse', hence the name – Visuals by Impulse. Being a streamer himself, he understands how to interact with an audience and represent your personality through visuals.
The company offers several designs for free and several are paid for. Also, they offer custom-made designs for those who need them. Their designs are compatible with all the OBS platforms and customer support is available throughout the day.
The idea behind the company was to help streamers get the best possible designs for an affordable price.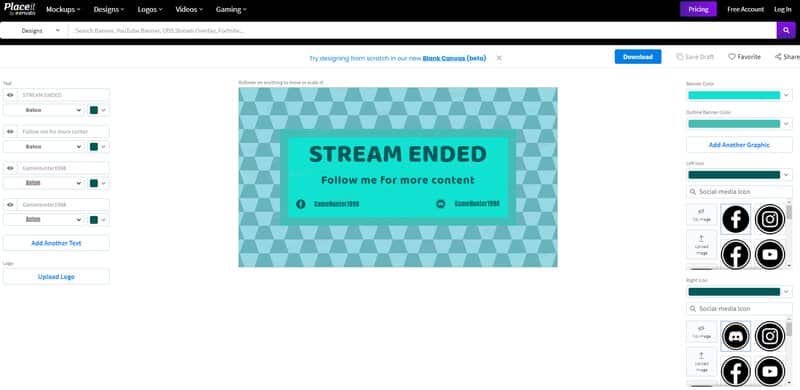 Placeit gives you an option to make your own banners. There are options that are available and you can combine them to get the design that represents your brand best.
To use Placeit, you should subscribe to the site, as it is not free. However, once you do that, you will have unlimited access to all the template mockups, designs, and logos. Using all those, and the collection is ever-growing every week, you can make a stream ending screen that you will love.
You can choose an animated or static background. This implies selecting colors and editing the text to write your nick, stream name, or anything else you wish.
You can create a Twitch starting stream or AFK screens as well, to have everything fit and match each other.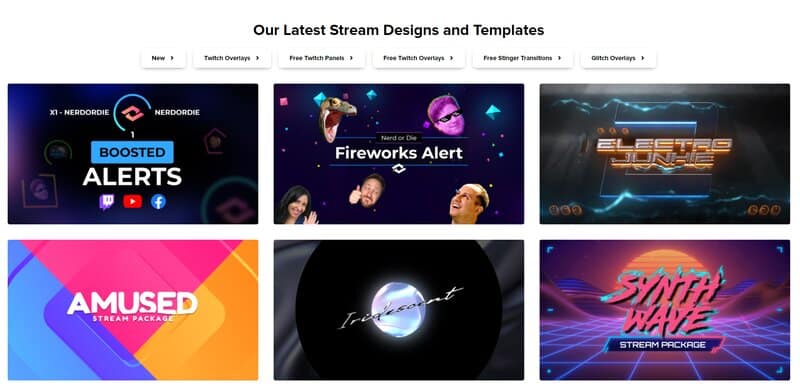 Nerd or Die is another great place where you are very likely to find exactly what you need for your stream overlay designs. They have a very wide offer of both premium and free stream animated screen designs.
Is it a place with high-quality products that are appreciated by many streamers, a place that has offers even for those with a lower budget.
Their products can be used not only for Twitch streams but also for other social media channels such as Facebook, Mixer, or YouTube.
You can get a Twitch stream package that includes stream starting, be right back, and stream ending screens.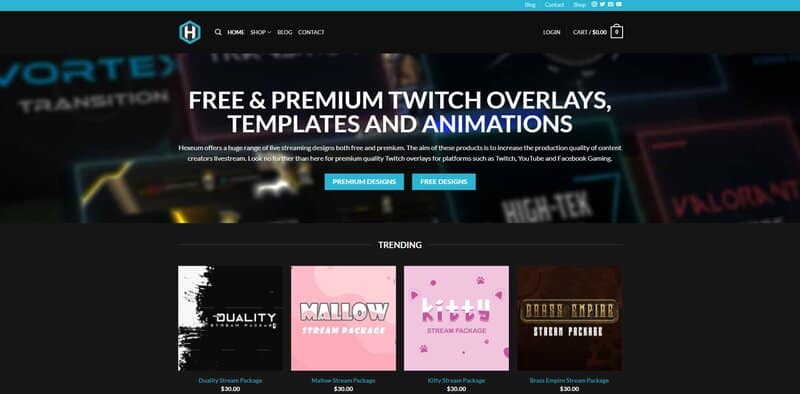 Hexeum has visually appealing packages that cost only 30 USD. They include quite a lot of stuff when purchased, and here are just several of them: 22 channel buttons, animated screens (Twitch starting screen, BRB and intermission screens, and stream ending screen), offline banner, webcam overlay, alert box, goals, chatbox, and more.
This package is definitely worth checking out. With it, your channel will be completely set on the visual side. They have free and premium designs.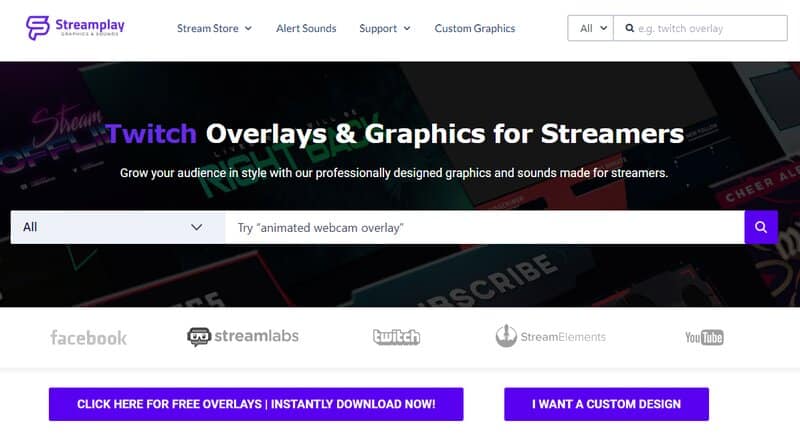 Streamplay Graphics has many different styles, from minimal to visually exciting ones. They offer individual stuff, such as panels, alerts, webcam overlays, scene transitions, but they also sell packages with everything you need to set up your channel visually.
You can access their website and save some products you think may be a good fit for you and supported by your streaming software. Then, when you see whether the design matches what you want for your channels, you can purchase the set for an affordable price.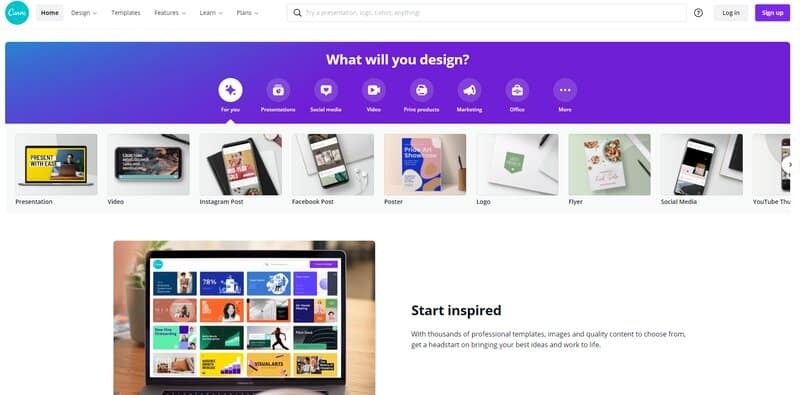 Last but not least, Canva is another online tool for you to use if you have the skill to create and edit your own Twitch screens by adjusting the features on the premade template modes that are available on the website.
When you set up an account on Canva, you can create artwork not only for your Twitch stream but also for various other purposes: logos, T-shirts, presentations, social media visuals, etc.
To use the Canva tool, you cannot use just your browser, but need to download a small app. There are free, pro, and enterprise versions with various templates available.
Why Should I Have a Stream Ending Screen?
It is much more logical to have a stream starting soon and be right back screens. But what is the use of a stream ending screen?
Think of it this way – if movies didn't have the credits at the end (even though most of us aren't interested in watching them), it would seem like the movie was just cut off mercilessly at the end, wouldn't it?
This screen is one way for you to maintain an interaction with your audience after your stream has ended. You can offer some information about your channel (logo, slogan, future content, etc.).
You can promote your website, YouTube, or other social media channels; or you can advertise a brand you are affiliated with. Or you can put only a timer and let it go from 0 to 2-3 minutes before everything ends.
The viewers need a sense of closure, perhaps a minute or two to cool off from an exciting game, to gather impressions, or to end an unfinished chat.
Enabling this screen will show you as one of the serious streamers who want to invest in growing their brand.
Related: Twitch Starting Soon Screen – Guide and 13 Best Websites
Frequently Asked Questions
Why does my stream keep ending?
When a Twitch stream keeps ending or restarting, that is the signal that there is an internet connection problem. The internet connection may be slow or without enough bandwidth. You can contact your internet service provider to deal with this issue.
Also, the internet equipment may be problematic: damaged or outdated. One more thing you can try is closing all the other apps and pages in your browser that is open and removes any other devices that are currently using your modem or router.
What is an intermission screen on Twitch?
An intermission screen is what streamers enable for a Twitch stream when they need to make a short break in the middle of their streamer time. That is a way to give notice to the viewers that the streamer isn't offline and that they will come back soon and continue playing.
An intermission screen is usually purchased together with Twitch stream ending and starting screens. It is also known as a pause screen or BRB (be right back) screen.
Conclusion
In conclusion, having a stream ending screen has many benefits. Utilize it and have a great time choosing or designing the one that fits your brand perfectly.
Anyone man or woman watching your Twitch stream will appreciate good visuals, during both games and breaks.