The separate monitor for Twitch Chat will help you stay on top of the latest news and messages, and make it easier to engage with your audience
My top monitor for Twitch Chat is an Eyoyo 12-inch because of the sharp and vivid picture, multiple port options that make connecting to another device easy, and plethora of other features, like built-in speakers.
If you would like to find an affordable but good monitor that will help you with your performance, read on to see my top seven choices.
QUICK OVERVIEW: Best Twitch Chat Monitor
VGA and HDMI ports
170 degrees wide angle

AV, HDMI, BNC ports
1280×800 resolution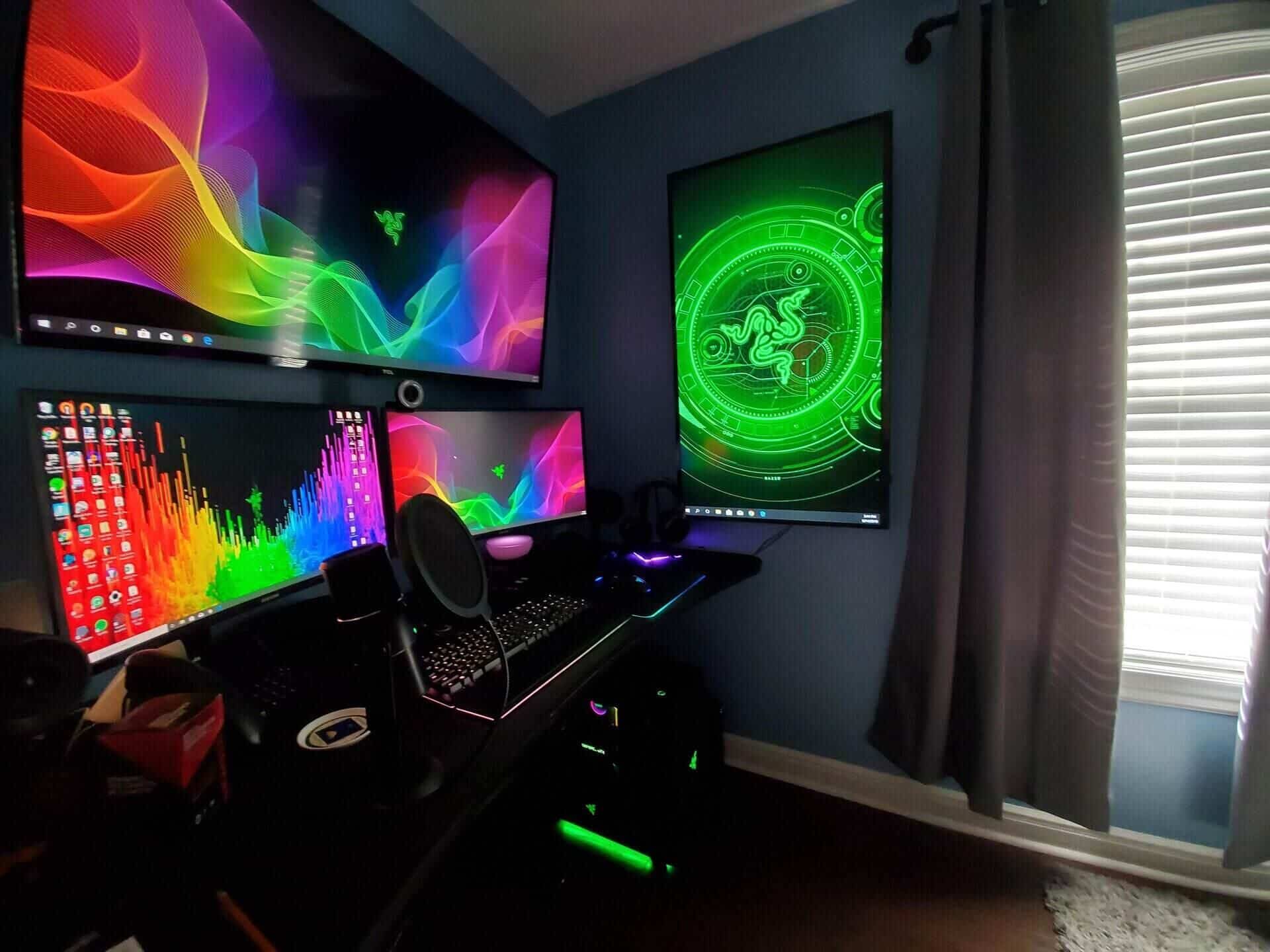 Best Monitor for Twitch Chat
Reviews
When you are live streaming with only one display, your access to other tools is pretty limited.
This way you can't see the chat and can't interact with your audience, which can affect your performance and reach on Twitch.
It also means that some notifications or events might be popping up on your screen all the time, not allowing you to focus on the game.
Having a separate monitor for Twitch chat can help you engage with your audience better and gain more viewers, and buying an additional piece of equipment doesn't have to cost you a fortune.
I have been using a variety of different monitors during the last few years and here are the 7 monitors that I believe are the best to use for Twitch chat.
1. Eyoyo 12 Inch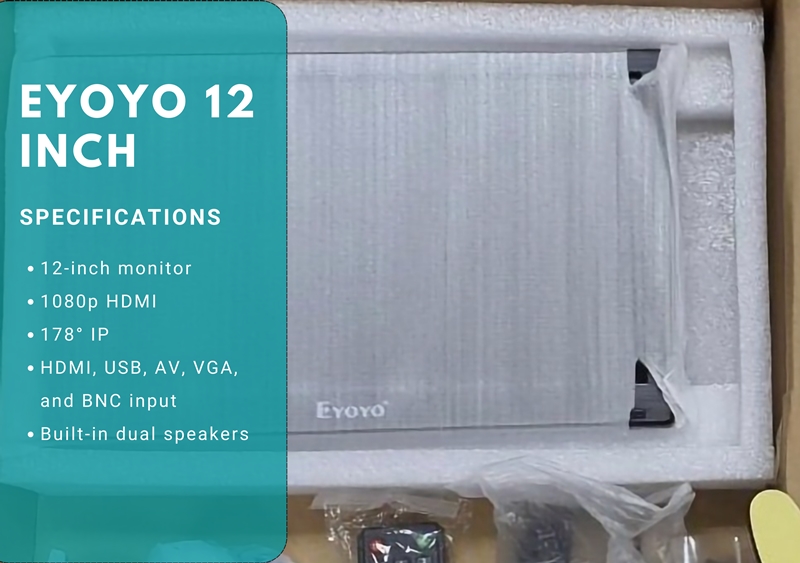 Stefan's Take
The monitor that is now a part of my streaming setup is this Eyoyo model. Three different ports are a big advantage of this screen, as I can easily connect the monitor to other gadgets I use.

Also, the remote came quite in handy, and I was pleasantly surprised when I found out it has built-in speakers.

But the feature I was most amazed by was the resolution and 178 degrees viewing angle. There isn't a monitor on the market that could beat the vibrancy and sharpness of this model.
The amazing LCD monitor will provide you with clear pictures of the highest resolution, allowing you to use your Twitch without any obstacles.
Who is it best for
Since it is a monitor of medium price range this Eyoyo screen can be used for a variety of stuff.
While I do recommend it for everyone that needs it for Twitch chat since it is easily connected to your computer or laptop and its VGA interface makes it suitable for streaming, I believe this monitor can also be used for other things, for example, security cameras.
The fact that it is easily connected to gadgets like PCs, TVs but also cameras, and gaming consoles makes it a perfect investment and the reason why it's my top choice.
Key features
My opinion is that its VGA, HDMI, and BNC ports are its most valuable features. It amazed me how easily it connects to all the different gadgets and that I can use it for basically whatever I want.
It has a 1920×1080 resolution that will give you a very clear picture whether you are streaming, chatting, or just playing games with your friends. The clarity of its picture is impeccable.
I also appreciate that it has a wall bracket which makes the whole setup process way easier, since finding the right way to set up your monitor is quite often unsuccessful.
The remote controller also comes in the package with this monitor which makes using it way more convenient.
An honorable mention is also its 178 degrees wide viewing angle which will provide you with a very colorful picture at all times.
It also has built-in speakers which will save you some money and provide you with quality sound at the same time.
With 12 inches this is a pretty huge chat monitor and I believe this Eyoyo one is the best product.
Pros
Clear and sharp picture
12 inches
Versatile ports and use
Built-in speakers
Wall bracket
2. Elecrow 10.01" Raspberry Pi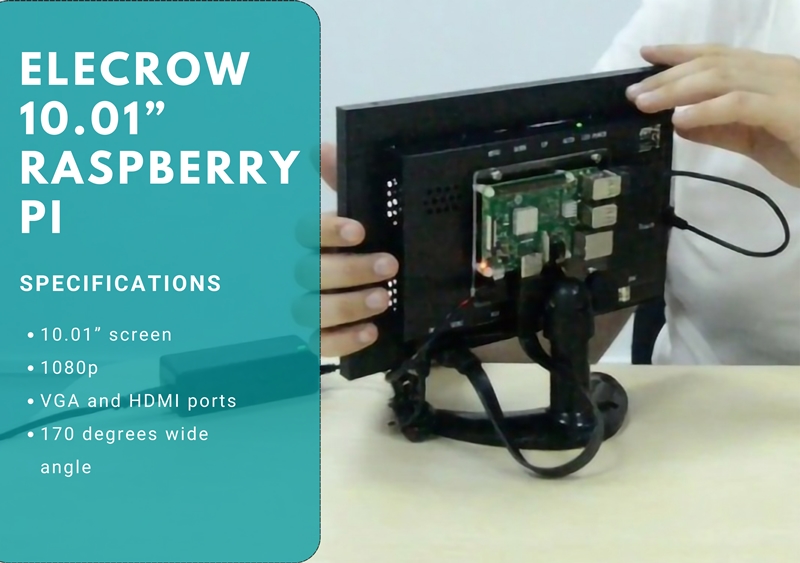 Stefan's Take
The monitor with the best picture quality is hands down, this Raspberry Pi model. Once I tested it, I liked how easy it was to set it up, navigate, and the quality of the picture. 1950×1080 resolution created a vibrant and sharp picture that I could use this monitor as a single.
The Raspberry Pi 10.01 inch screen was one of my impulse Amazon buys last year, but I have to tell you I never regretted getting it. This amazing 10-inch screen accompanied me on many business trips always providing me with a bright and sharp picture.
Who is it best for
This certainly is a product of high quality that was very useful for me many times because it is so easy to navigate.
If you are new to Twitch chat or are just at the beginning of your Twitch experience, I would always choose this Raspberry Pi monitor because it will provide you with an amazing quality picture and allow you to navigate through it with ease.
Key features
This Raspberry Pi monitor is very easy to navigate, as I have already mentioned above so its features are pretty simple, but yet enough to fulfill all of your Twitch chat needs.
Like most monitors, it will provide you with a 1950×1080 resolution that is a guarantee for a sharp and colorful picture.
What makes it special in comparison to other monitors in this price range is its Flicker-Free technology which helps eliminate all the flicker from your screen while providing you with a safe blue light filter at the same time.
Pros
Easy to navigate
Flicker-less technology
Blue light filter
Portability
Cons
May be too simple for professionals on Twitch
3. Eyoyo 7 Inch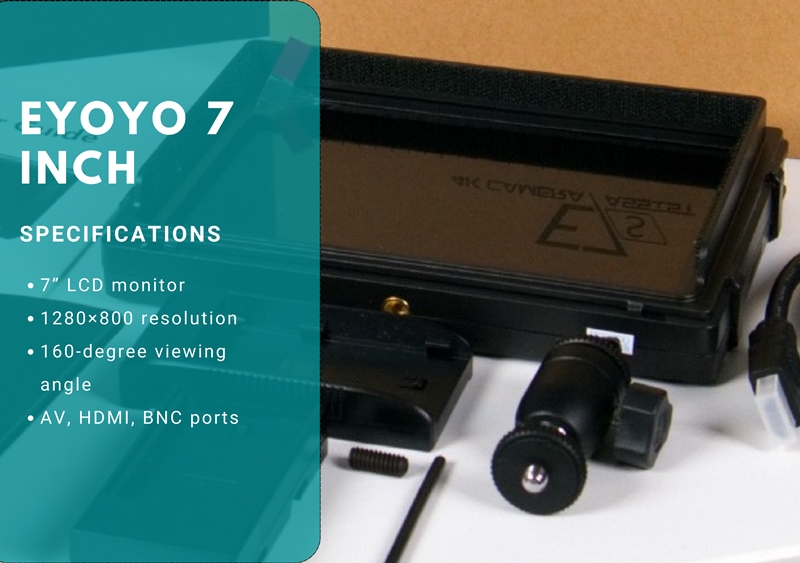 Stefan's Take
This is my recommendation for streamers on budget. I was quite amazed by the sharpness of the picture, vibrant colors, and 160-viewing angle. Also, since it's a pretty small monitor, it is for streamers on the go.
This 7-inch small monitor is a great choice for all Twitch beginners that are on a tight budget.
Who is it best for
Coming at a price of only 70 dollars this is a very cheap yet very high-quality monitor.
For all the people that are just starting out on Twitch and platforms similar to it, I would recommend purchasing this one. It is easy to use and will give you a high-quality picture for a small amount of money.
Key features
Coming with a 1280×800 resolution this product will give you a vibrant picture not much different than those on way more expensive monitors. Its 160-degree viewing angle also makes the picture sharp and clear.
It comes with an HDMI port which means it can easily be connected to your computer or laptop, but also game consoles and security cameras.
Unfortunately, even though it comes with a BNC port, my experience has shown me that it can't connect with newer cameras that provide HD resolution, so that's where I would give it a minus.
What I do find very convenient is that all the ports are at the side of the monitors, which makes connecting way easier.
Portability is also one of its big advantages, which I believe is very important for everyone that intends to use it for Twitch.
Pros
Portability
Medium price range
HDMI port
Ports at the side of the monitor for easier set up
Cons
Can't connect to some gadgets
4. Eyoyo 10 Inch Monitor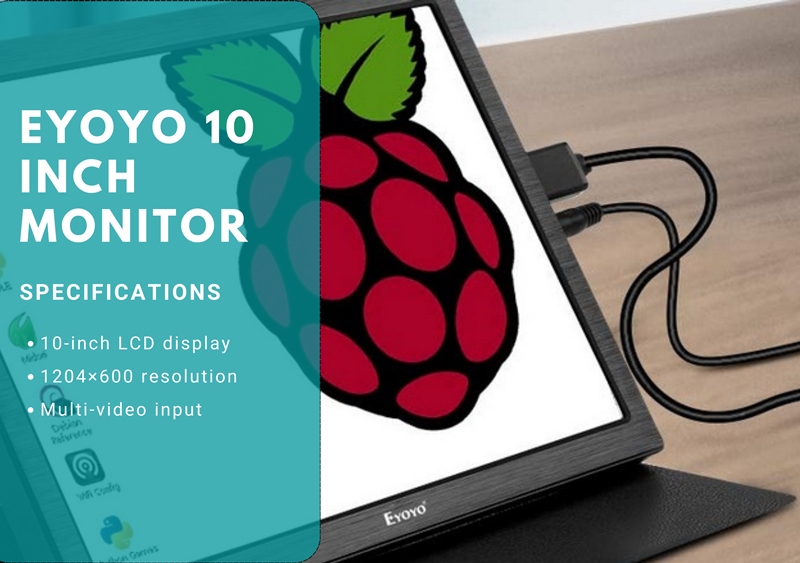 Stefan's Take
This is another Eyoyo monitor – slightly bigger than the previous one, but with similar features.

I liked how easy it was to connect with other devices and inverse the picture without sacrificing the quality. The resolution is not the best, but I was still quite pleased with the quality, and it works great as a secondary monitor.
Now you will probably think this is some kind of advertisement for the Eyoyo company, but I just really believe in their products and would recommend them to anyone.
This 10-inch monitor is a bit bigger than the previous one and can be very convenient If you want to keep it on your desk.
Who is it best for
This is one of the monitors that I always recommend to people who are looking for a second display. It's definitely one of the best second monitors for streaming.
Key features
Eyoyo monitors are well known for their versatile monitors and this 10-inch display is amazing too.
It has a 1024×600 resolution that may not provide you with the picture of the highest quality but will do an amazing job as a second display.
It is easily connected to your computer or laptop via an HDMI cable. Also, you can easily connect it to your security cameras too.
What I really love about it is how easily it can do a horizontal or vertical inversion of anything on your screen, without damaging the quality of the picture.
A big disadvantage in my opinion is the fact that you can't put any USBs into it.
Pros
Small and portable
Easily connected via HDMI cable
Perfect photo inversion
5. Thinlerain 10.1 inch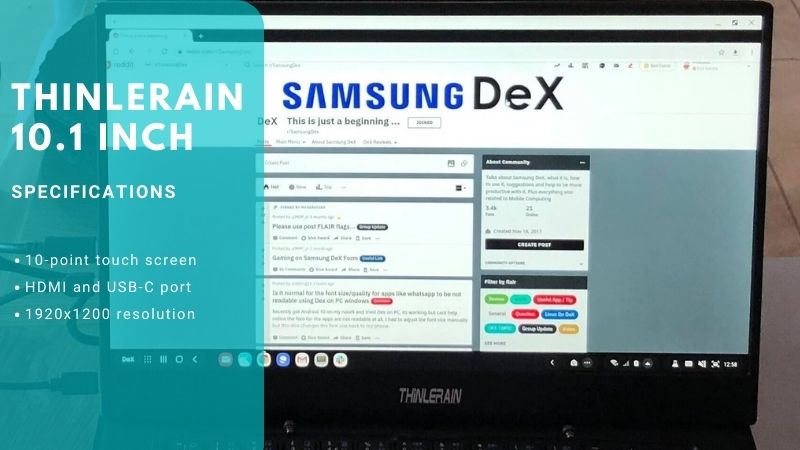 Stefan's Take
Having a touch screen can be very convenient. Thus I had to include this model. I really liked the picture quality, as well as the compatibility of this monitor with other devices. It gives you versatility and a great model if you frequently move around.
This Thinlerain Touch Monitor is something that I have been using daily for months now and is working perfectly.
Its design is beautiful and can fit into any backpack, making it very useful for all the streamers that spend most of their time on the road.
Who is it best for
The 1920×1200 resolution gives you a clear and sharp picture, perfect for streaming.
I was a bit skeptical at the beginning, as I didn't test too many Thinlerain gadgets before. However, it didn't disappoint.
In my opinion, this is a great standalone and secondary monitor, depending on what you need.
Key features
The gamechanger feature in this Thinlerain display is a 10-point PCAP touch screen, which made it easy to adjust specific stream settings while I'm live.
The touch feature works smoothly and lag-free.
It has HDMI and USB-C ports, so it was easy to connect it with a PC and laptop, and it supports different gaming consoles, which was a big plus in my book as you know, I like to switch between other devices.
The feature that amazed me the most was resolution. 1920×1200 resolution with a 178-degree wide viewing angle truly creates an immersive visual experience.
I have to note that I did use a stand since the cover wasn't too stable.
Pros
10-point PCAP touch screen
Compatible with different devices
Great resolution
Cons
Pricier than other models on the list
6. Haiway 10.1 Inch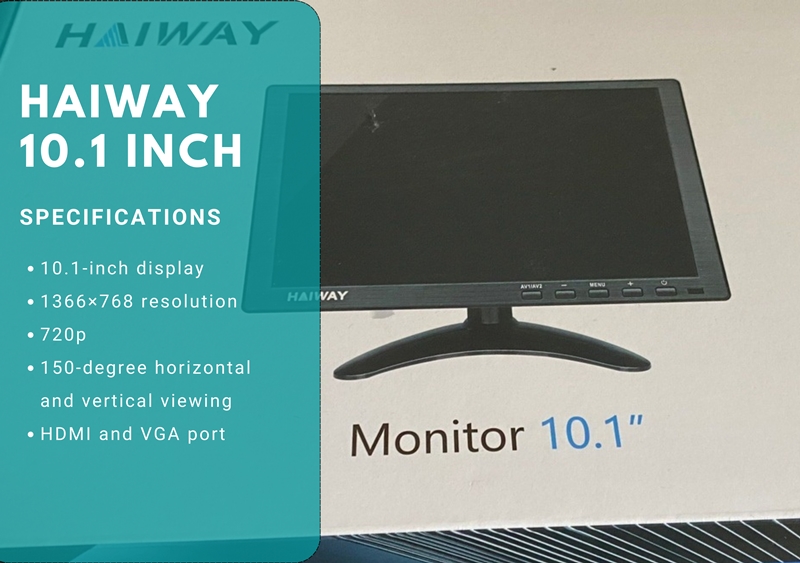 Stefan's Take
The biggest advantage of this monitor is its portability – it's a perfect choice for streamers on the go.

It's lightweight, and the accessories that came with it came quite in handy. I was slightly disappointed by the resolution, and it worked the best as a secondary monitor.
My first experience was purchasing this 10.1-inch security monitor which was claimed to be the perfect option for traveling because of its portability.
I also loved their multi-language menu which is very rare to find among tech gadgets in general.
Who is it best for
Like I have already mentioned, this monitor is recommended for people who are always on the move and need a gadget that is convenient for traveling.
On the other hand, I wouldn't recommend using it as the main display unless you really need to.
Key features
The Haiway monitor comes in a package with many useful things like an adjustable stand, an AC adapter, and many different cables which is something you don't find often.
I'm sad to admit I wasn't really satisfied with this monitor since its 1366×768 resolution couldn't provide me with a clear and sharp picture, and the screen also used to freeze very often.
It is very light and is certainly a great option for traveling and people that are always on the go, but If you are not that kind of person, I would suggest investing your money into a different product.
I had no problem with its ports and I found that it is able to connect pretty fast.
Pros
Portability
Light design
Many useful features
HDMI and VGA ports
7. Hikity TFT LCD Monitor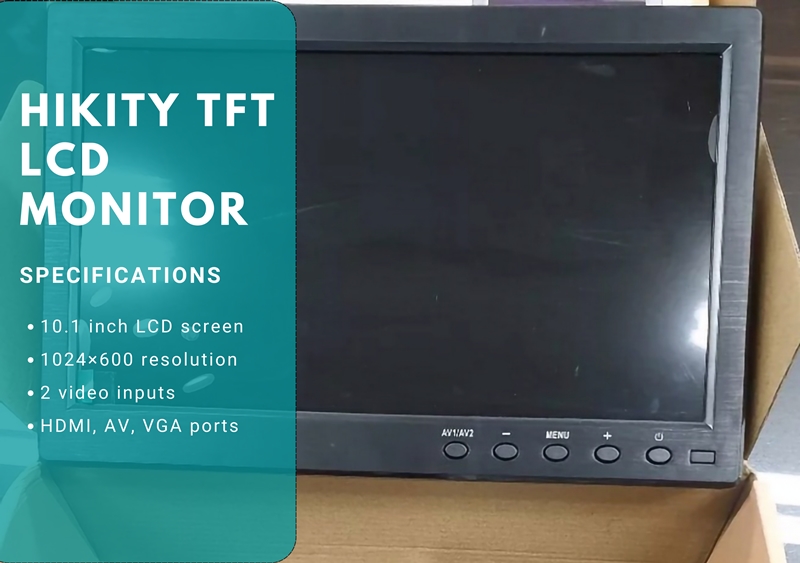 Stefan's Take
What I liked the most about this monitor was its versatility – it was first a part of my car backup system before I tested it for streaming.

I can connect it with different devices thanks to the three different ports, and the picture is vivid and sharp that I used it as a single monitor when streaming.
Last but not least, this 10.1-inch Hikity display is one of the first displays I have ever used.
Its versatility, adjustability, high resolution, and simple interface make this product worth the money.
Who is it best for
This is one of my favorite monitors I have ever tried because it is so cheap and versatile and anyone can learn how to use it.
Most of the time discounted to 70 dollars, this display is a must-have for every streamer, but also for everyone that is searching for an adequate security camera monitor or car backup.
Key features
The 1024×600 resolution might sound bad to you, but the picture of this Hikity monitor is so vivid and sharp, that you can see every single detail in a picture.
I have used it both as the main and as the second display and I believe it does an amazing job either way.
Its biggest feature is definitely its versatility. I first used it in my car backup system, and then as a streaming gadget.
I have 2 of these monitors at home right now – one that I still use for streaming and the other that is connected to my security cameras.
HDMI, AV, and VGA ports all function perfectly and I find that this is the monitor that connects with different gadgets the fastest.
A multilanguage menu is also something that is worth a mention. You can use this monitor in English, French, Chinese, Japanese, Italian, Spanish, and German.
Pros
Versatility
Sharp picture
Functional ports
Multilanguage menu
Things to Consider When Buying Monitors for Twitch Chat
Here are some suggestions which will make the process of buying an adequate monitor way easier and much more successful.
1. Resolution
The first thing you should pay attention to is the resolution of your monitor. Don't let the prices fool you.
Some very expensive displays can have a very bad resolution, but their price will remain huge because they are the product of a well-known company.
Also, the fact that something looks very cheap to you doesn't necessarily mean that the product is bad.
As you could see above, there are many great monitors for less than 100 dollars that you probably wouldn't even check out.
Resolution is the key to a high-quality picture and a monitor with great resolution will certainly give you more recognition on Twitch.
2. HDMI Port
As you could see throughout my article, there is a variety of different ports – from HDMI to BNC ones.
The HDMI port is the most important one because through this port you will be connecting your display to your personal computer or your laptop.
In case a monitor you are looking at doesn't have an HDMI port, skip it. This rarely happens but you should still pay attention to it.
3. Portability
In case you are a person that travels a lot or you often switch places you are streaming from, it is crucial your display is portable.
If you are always on the go, make sure you purchase a light and well-designed display that will easily fit into any backpack and that will easily connect to another computer or laptop.
Related: Best Streaming Monitor
Conclusion
I believe I managed to give you a brief and thorough explanation of all the products mentioned.
Finding an adequate display within your budget can be quite a tricky thing, especially for people who are beginners in the streaming world, but I believe I made this process a bit easier for you.
Here are my top three choices:
Eyoyo 12 Inch as the best overall,
Elecrow 10.01" Raspberry Pi as the best picture quality,
Eyoyo 7 Inch as the best on budget.
I hope you will be happy with your new Twitch Chat monitor. Happy streaming!
Frequently Asked Questions
How many monitors can my laptop/PC support?
The number of monitors your laptop or personal computer can support depends on the number of ports on your device. New technologies allowed our laptops and computers to have both VGA and HDMI ports at the same time, which means that you can connect a maximum of 2 displays to your device at the same time.
I wouldn't recommend connecting more than 2 displays at the same time because it can negatively affect your device causing it to shut down or restart. However, there are many computers and laptops on the market today.
Can dual monitors affect FPS?
This is a question that is very often discussed in the gaming and the streaming community. While opinions vary from one person to another, the general conclusion is that having dual monitors can affect your FPS.
However, how it will affect FPS and how it will affect your gaming and streaming experience overall can vary from many factors. I find that depending on the type of your laptop or personal computer, what graphic card you are using, the type of displays that are connected to them, and your general internet connection the effect on FPS can be quite different.
In case you have dual monitors connected to your device, but you're not doing anything on one of them, the FPS probably won't be affected. But, when you are performing actions that require a lot of power, your streaming and gaming performance can be easily affected.
It probably won't harm your FPS much, but will cause some stuttering or freezing during streaming or gaming, especially if you are chatting with other people at the same time.
How can I hook up dual monitors?
Dual monitors can easily be connected to your laptop or PC via cables you get with them, or maybe already have at home. Your device should have both a VGA and an HDMI port so you can connect both of them at the same time.
In case you don't have these two ports, you won't be able to connect two monitors to your device. Connect the cable to your first monitor, put it into one of these ports, and do the same thing with your other monitor. Select which monitor you want to be the main one on your device.
This will make the other display secondary automatically. Apply these settings and you can start your streaming process. If you don't have both of these ports, you can find an adapter at every supermarket and connect the other monitor.
Can Twitch chat be slowed down?
Slowing down the chat on Twitch is certainly an option that is highly beneficial and sometimes needed for all streamers that have more than 100 viewers on their streams.
In case you are having a problem with this, Twitch is offering you the option to slow down the chat and limit your viewers' messages. This way, you can limit the number of messages that each viewer will send to only one per 3, 5, or 7 minutes.
For people that have hundreds or thousands of followers, there is unfortunately not a better option available yet and their chat can be moving way too fast even with this extension turned on.