Streaming is not only about picking the right game, turning OBS, and sharing the gameplay.
---
Key Takeaway
The width is set by Twitch and all panels have to be 320px in width, but the height can vary and we recommend anything between 60px and 120px height, though it can go up to 600px.
---
If you want to attract viewers and start earning money by streaming, you will have to invest a lot of time into building your channel. Now you are probably wondering how to make your channel look more professional?
Well, one of the ways is by incorporating Twitch panels.
In this article, I would like to introduce you to these graphic images, mostly focusing on the Twitch banner size, since this is always the trickiest to set up. Let's begin!
The Guide for Twitch Panels Size
Now, let's talk about the most important thing – Twitch panel dimensions.
As you can see, there are different types of panels, and not all of them will be the same size.
So, answering "how big are Twitch panels" is tricky.
Twitch panel resolution will depend on the type of panel you are adding, and in this part of the guide, you can find information about all sizes.
What Size Should Twitch Panels Be?
The universal Twitch panel image size is 320 x 160 pixels.
However, this is not a rule!
The width is set to 320 pixels, but the height isn't, so there is room to change it and adjust it to your taste.
When it comes to ratio, the ideal is 2:1 or 3:1 – depending on your design and of course, on what you like better.
One thing you should always keep in mind when creating Twitch panels is that besides fixed width, Twitch has another requirement – the file cannot exceed 2.9 MB.
In some ways this is good – you cannot add too many elements that are distracting instead of being informative.
File formats that are accepted by Twitch are JPG and PNG.
As said, the dimensions for twitch panels will depend on the purpose of the banner or its type.
Don't worry – you don't have to guess which type should have what dimension. I have created a table that you can use as a reference whenever you are making Twitch banners.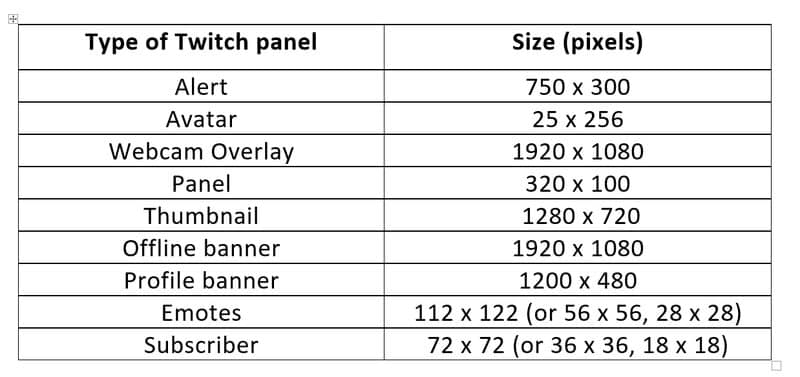 Rules to Follow
Out of seven mention panels, six are mandatory – merch is one panel that doesn't have to be added, since you probably don't still have any merch. However, other panels should be featured on your channel, as they will help your channel to grow.
Panels are used for branding so the design/theme of all panels should be the same. Stick to one color scheme, font, and style. Also make sure that it is matching the other graphics on your channel, such as overlays.
Make sure that information is updated. If you decided to change your streaming schedule, update the panel. Also, if one of the affiliate links is no longer relevant, delete it.
What You Should Avoid
When you are using templates, make sure to change them a bit. If not, you might end up with the same panel as someone else. This is not good for branding and it won't attract viewers.
Don't forget about description – when adding a panel, fill all of the fields. The visual impact is important!
When it comes to affiliate links, make sure that a number of these panels are in balance with other panels. Promote the brand, but also add panels that promote your content.
How to Setup Twitch Panels
Luckily, you don't have to be a graphic designer to have a great panel.
There are multiple websites out there that have a large Twitch panel template database, with an option to customize each template to your liking.
Here I will briefly explain how you can use some of my favorite websites for Twitch panels.
1. OWN3D
My first go-to website for templates is OWN3D.
Similar to Nerdordie (that I'll cover next), it has not only templates for panels, but for other things, you may need (for example, overlays).
What I like the most about these templates is that they are quite creative, without too many elements that could be distracting to a viewer.
As you can see, they have templates for donation panels, social media panels, about me, and any other type you may want to add.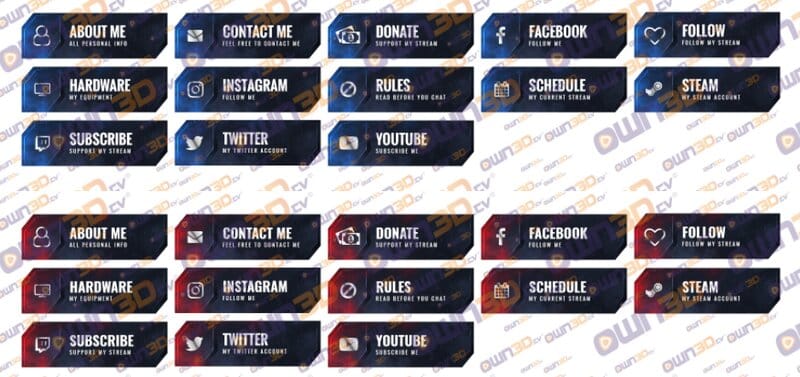 Each can be customized, so you can adjust the color scheme or font to match your branding.
2. Fiverr
If you need something, there is a high chance that someone on Fiverr is willing to do it for you, and not for a high price either.
Photoshop and Canva are fun ways to go about creating your own customized panels and overlays, but designing might not be your forte, and there are only so many templates you can choose from before ending up with the same overlays as someone else.
On Fiverr, you can find a designer whose works you like, and then find a solution with them to make your panels and overlays as customized to your channel as you like.
If you've just started streaming, then this might not make the most sense for you right now, but it might not be a bad option to consider.
In case you're a long-time streamer in need of a refresh, then I think this could be a great option, especially if fiddling in Photoshop and Canva is not something you're fond of.
3. Nerd or Die
I have already talked about Nerd or Die in a few of my previous articles. This website has templates for everything: overlays, panels, chat boxes, etc. to help you create the professional-looking Twitch channel.
When it comes to panels, here are some templates for the About me panel. On the website, you will find even more styles.

Once you select the template, you can customize it.
There are tools for changing the background color, the color of the border, as well as text tools such as alignment, size, font, and color.
Also, you can select a different icon from the one in the template and even add padding.
Once you are done with designing, just choose "Save panel image", and the image will be downloaded to your computer.
4. Canva
When it comes to Canva, you can either create the panel from scratch on your own or select the template from the library and adjust it to your taste.
Keep in mind that Canva is not used only for Twitch templates and that the database may not be as rich as OWN3D or Nerdordie libraries.
If you are an amateur streamer, I would suggest choosing one of the available templates.
For each template, you can replace one of the elements, modify it or add even new ones.
Editing the templates is easy, and when you are done all you have to do is choose the file format and download the image.
5. Photoshop
Creating a panel in Photoshop will be the trickiest. I don't suggest using Photoshop unless you have some general knowledge about the program already.
If you want to try it out, here is what you need to do:
Start by choosing the image size. In this case, it should be 320 x 100 pixels.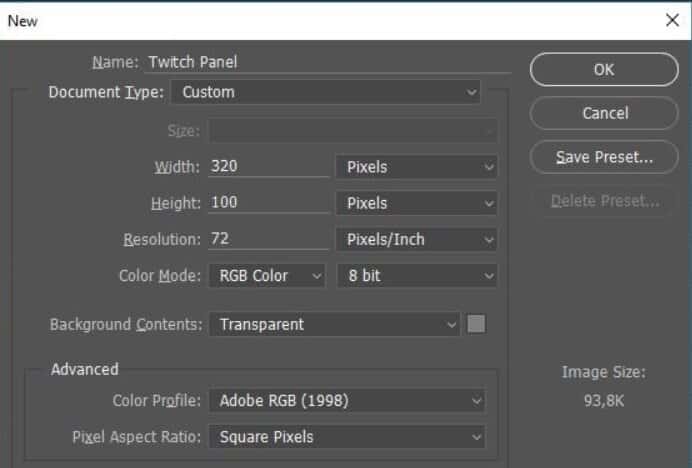 Add two layers and name them "Background 1" and "Background 2". One layer should be colored black entirely, while another should be white.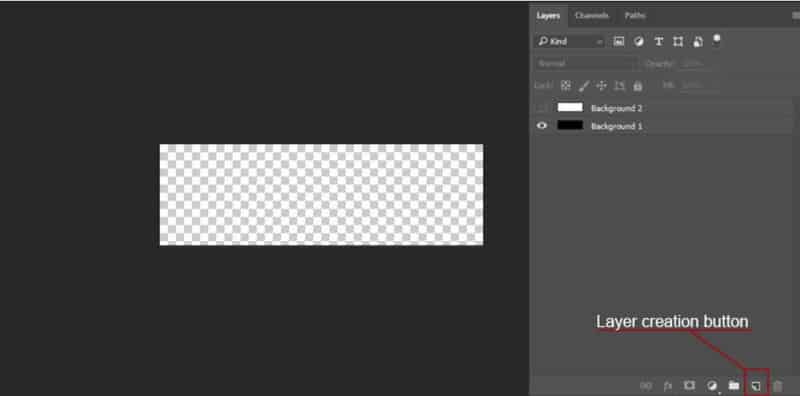 In a third layer, add the elements you need – for example, the shape of the banner, text, or icons.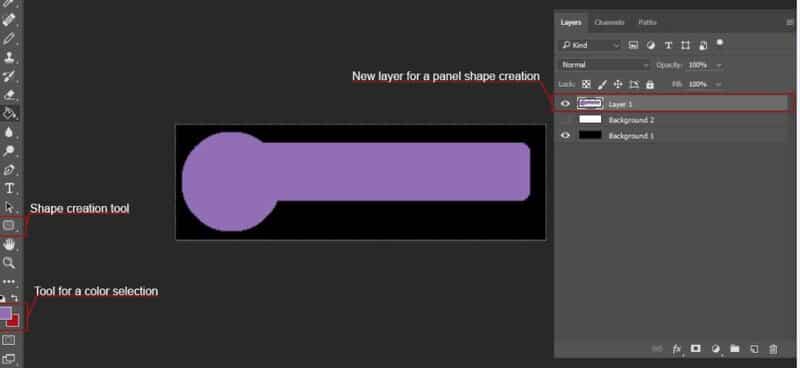 Save the image in PNG format.

How to Add Panels to Twitch
When you are done with creating and designing panels, it is time to add them to Twitch.
To do that, follow these steps:
Go to Edit panels and enable the option.
Then enter the title of the banner, upload an image or add the link for the image, and write a description.
Click on the "Submit button".
Each panel has to be added separately, so to add another one, choose the "+" icon, and repeat the steps above.
Types of Twitch Panels
The most popular streamers have found a way to incorporate Twitch panels the best – for them, these images don't have an only introductory purpose. Each panel has a different purpose, so each image leads to a different action.
If you want to make your channel look more professional, then you should get to know different types of panels:
1. About Me
I already spoke about this one when I was explaining what these panels are – this is the most common type of a Twitch panel and even if you don't want to incorporate any other from the list, this one should be present.
When somebody stumbles upon your channel, they will want to know how you are and what type of channel it is.
That is why you should list all social media accounts on this panel, as well as write a few words about the games you are streaming.
Then the viewer can decide whether your channel is a type of channel they want to follow or not.
2. Streaming Schedule
After an "About me" panel, the Schedule is the most important.
As a potential professional streamer, you should stick to some schedule, so viewers know when to join the stream.
By the use of panels, you can keep the viewers informed.
3. Social Media
As stated, social media can be displayed on the About me panel.
It is also a good idea to create a second one for linking other accounts.
Show the links for Twitter, Instagram, Facebook, and even YouTube if you are streaming on that platform or using it just for uploading highlights or full streams.
Followers on these social media are just as important as followers on Twitch – by sharing your content on other media, your Twitch channel will grow as well.
4. Donations
In the beginning, you will earn most of the money through donations.
Pick a creative Twitch panel that will draw viewer's attention and list websites on which they can show their support.
5. Sponsorships
After some time, you will slowly start to attract sponsors.
If you don't promote their products well, they could stop paying you.
That is when Twitch panels step in – you can list affiliate links on panels. Only make sure to separate affiliate links from websites for donation.
6. Discord
Engaging with the audience is of utmost importance. Streamers are advised to incorporate Twitch chat, and Discord is also a good idea.
If you want to get to know your viewers more (and let them get to know you better), create a discord channel and share the link via the panel.
7. Merch
It will probably take some time before you start making your merch, so this panel doesn't have to be added straight away.
Once you do start selling items with your logo, catchphrases, etc. do not forget to share the info with the viewers!
Conclusion
Twitch panels play a big role in the branding of your channel, which is why it is important to learn how to make them and use them to reach more viewers.
Pick the style that suits your channel and you the most, and share important information with your viewers via great graphics.
Related: Twitch Overlays – 9 Best Overlays for Twitch
Frequently Asked Questions
What size should Twitch panels be?
This depends on the type. For example, Twitch offline banner size should be bigger than the one for an avatar. There is a table with some recommended sizes for each type you can use as a reference during the design process.
How long can Twitch panels be?
Twitch does have some limitations or requirements, so when it comes to Twitch banner size, specifically width, the maximum is 320 pixels. For height, there are no restrictions, but you should always pay attention to the ratio. 3:1 and 2:1 are the recommended ones, for an avatar, you can use even a 1:1 ratio.
Why are my Twitch panels blurry?
Twitch will compress any image you upload, to make the size of the file smaller. If the problem is repeating with any panel you upload, compress the file yourself before uploading.
How do you get big Twitch panels?
Unfortunately, Twitch has some restrictions when it comes to the size of the file and the resolution of the image. You can set the height, but the width should be 320 pixels. Furthermore, 2.9 MB is the maximum size of the file for the panel. In case you are adding the bigger file, Twitch will compress it, which will result in a blurry image.
Can Twitch panels be animated?
If you are using OWN3D, you can create animated panels. This website offers this extension, and all you have to do is follow the instructions on their website when you are making the panel. Keep in mind that the database of animated templates is smaller – still, with a bit of customization, you can create fun panels.