Many streamers use them to introduce their brand at the beginning of a streaming video or as a closing scene. Others like to use them to point out game highlights.

Scene transitions make your stream look much more professional and entertaining to the audience!

Precisely because of these benefits we want to show you all the possibilities for free download or purchase of stinger transitions and significantly improve your twitch streaming channel.

Here are the best web locations for custom, premium, and free stream transitions!
---
Where To Find The Best Stinger Transition
1. OWN3D.tv
2. Kudos.tv
3. Fiverr
4. Visuals by Impulse
5. Placeit
6. Nerd Or Die
7. Streamplay
---
Best Stinger Transition
1. OWN3D.tv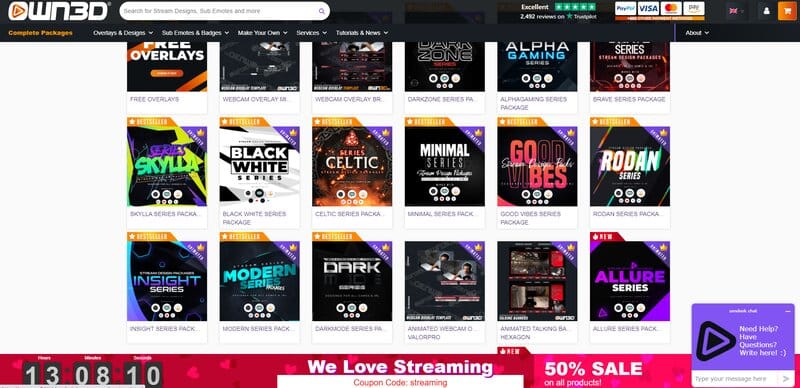 ---
*Use code STREAMMENTOR for 50% discount*
OWN3D is the number one choice for premium twitch transitions as well as free covers, emojis, panels, and alerts for members of the OWN3D community. This website is great for Facebook gaming or any Twitch and Youtube channel.
In an OWN3D online store, you can purchase either a single obs stinger transition or a full design package that contains everything you might need to upgrade your Twitch overlay. Packages are a great solution for young streamers!
We can say that they stick to high quality, and the price of an individual transition is almost $32. It is certain that you will want to change the stream transitions on your channel again after a while, so we recommend that you buy some of the packages they offer. They are more affordable than buying separately.
The basic package costs less than $50, while anyone who wants to start right away with the premium package will have to invest around $80.
If you are on a budget, it would be best to follow the annual sales on their website OWN3D.tv where you can find great products for less money.
If you like to participate in the design, you will find the "Maker" option on the website itself, which offers templates for customizing logos, avatars, and badges.
2. Kudos.tv
kudos.tv, formerly known as Wight Visuals studio, has been providing the streaming community with overlays for more than 3 years exclusively for Streamlabs Theme Gallery. But now they've stepped up their game and opened a separate store where everyone can get stream overlays and many more assets for their Twitch, Youtube, Facebook, or Trovo streaming channel.
When it comes to stinger transitions, their store allows you to purchase a single transition or a whole stream package that includes it. They provide a wide range of themed stinger transitions, so you'll certainly find something that suits your channel's aesthetic. Their pricing is quite reasonable, with most items costing about $5. However, you may often buy them on sale for half of the price.
Kudos also provides a free version of their matte transition package, which includes ten really cool transitions for your stream.
3. Fiverr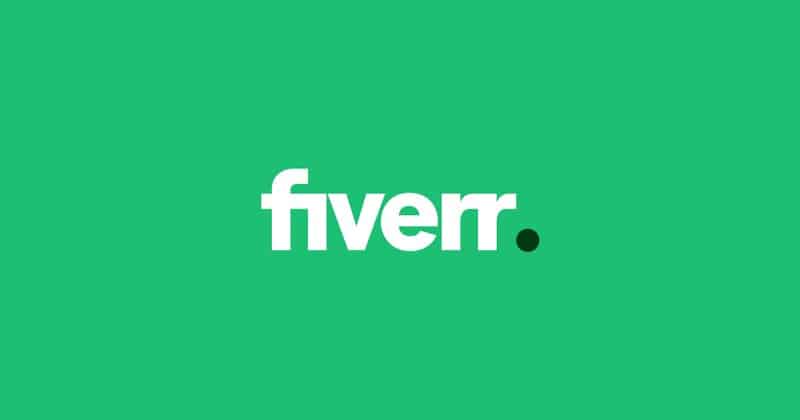 Another great website for making affordable custom stream stinger transitions is definitely Fiverr.

This website is focused on creating a custom twitch transition design. There is a large selection of freelancers who can carry out your ideas for as much as $5. Of course, you also have designers who have higher prices. It is only important to find a freelancer that suits your brand and has enough experience.

Before you schedule a designer, first look at the portfolio and description that particular designer has posted about their experience and skills.

The good thing is that you can request more services from one designer or you can also schedule someone else. The options are unlimited. Once you find a freelancer that suits you you can hire him to work on other elements on your stream as well.
4. Visuals by Impulse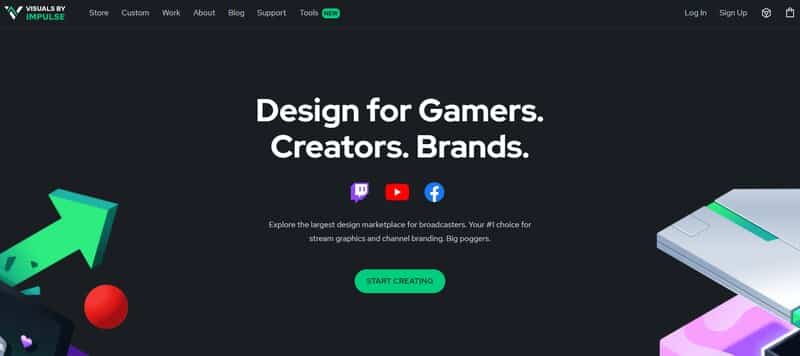 Visuals by Impulse is another website that offers several amazing free Streamlabs transitions for beginners. You can try up to 10 different free stinger transitions using this package!

Their website is designed to make searching for stream elements easy and fast. You can find quality designs for very affordable prices.
It is a great platform for all streamers who just want to add a new transition animation because of the affordable prices. You can get a Twitch stinger for only $8. In addition to quality, you will also receive a wide range of colors and graphics.
Premium package prices range from $10 to $30. It all depends on what you are looking for! But the best thing is that they have adjusted their offers to both beginners and well-established streamers.
Visuals by Impulse do not lag behind in the range of stream elements. You can find countless free or paid individual elements like new panels, event lists, and alerts.

You can transform your twitch streams for just $5 with these tiny changes. Whenever you get bored of the look of your stream this is the right place to find fun replacements.
If you are looking for custom design services, Visuals by Impulse offers you a team of professional designers. They can customize the design according to your brand, whether it is a business look or cyberpunk madness.

This service helps you to implement all your ideas in your stream and impress your audience with quality and originality.

But, they also gave the opportunity to all users to create custom stingers without any previous experience or skills. Stinger Transition maker allows you to pick any template and design it using your brand colors, and logo. Animation templates have both free and premium options.
5. Placeit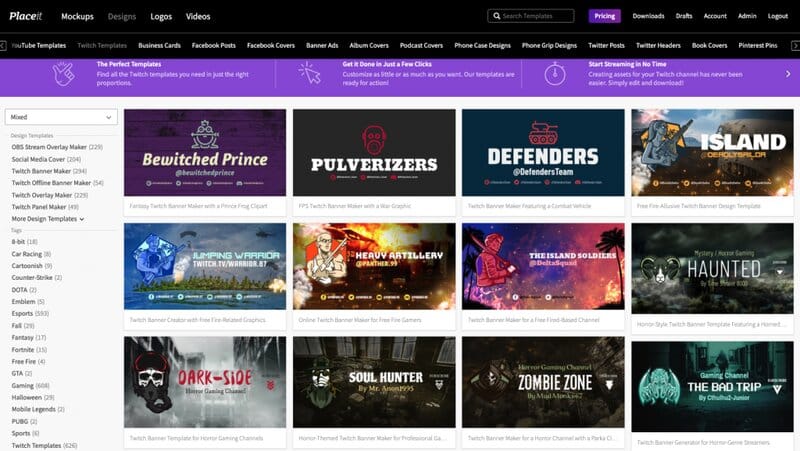 You've probably heard of the Placeit as well, which is focused mainly on custom stinger transitions. They offer great templates that can be further adjusted and edited.

It is up to you to choose the template and with the help of great tools on the Placeit website, you will learn how to make a custom stinger without a tutorial!
You get all these amazing opportunities if you subscribe to Placeit on a monthly or annual basis, depending on whether you have long-term goals or you would just want to try your hand at custom design.
6. Nerd Or Die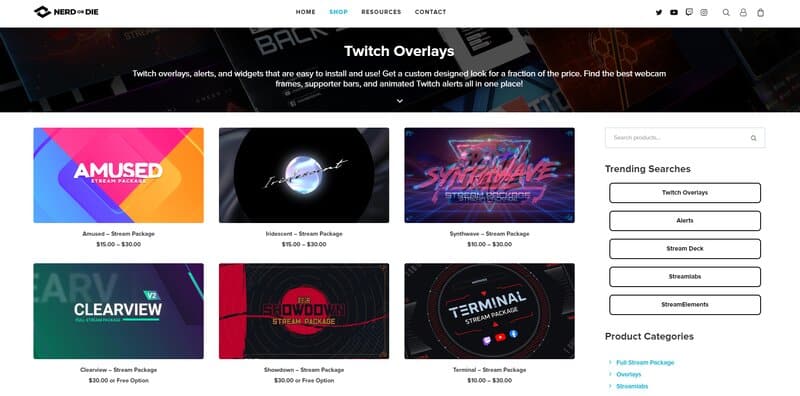 Nerd or Die is known for offering streamers some of the best free twitch stinger transitions. Among streamers, this is the most popular source for stingers, covers, and many other elements.

So what does this website have to offer?

For starters, you can make a purchase of an overlay package for just $10. This is not a full twitch stream package, but it meets the basic needs of streamers. If you want a full package, you will have to pay $20, while custom themes cost around $ 30.
For Streamlabs transitions, you will need to purchase a "Cover" package. For other stream elements, Nerd or Die has provided smaller packages, for anyone who wants to upgrade their stream overlay a bit.
However, we are all interested in the stinger transitions free options. Nerd or die offers many free stinger packages. While they're not advanced as the premium ones, they are worth trying!

They also offer a lot of quality sound effects that will take your live streaming to a whole new level!
In addition to its online store, this website has developed an interesting concept "Name Your Price. Basically, you can download free twitch transitions and themes. You need to evaluate the quality of the design user experience. Then, you donate as much money as you think it deserves.
We have to mention that Nerd or Die stands out for the information they offer on their website to all young streamers. You can find a lot of useful instructions on how to set up your channel and improve live streaming.
7. Streamplay
Streamplay, unfortunately, does not have free options like some of the mentioned websites, but you have the most freedom in custom design.

That may be the reason why you will not find too many twitch transitions, but only a few basic ones, at very affordable prices of $ 6.
Designers can personalize each stinger according to your wishes, to add your branding logo or name. They are trained to work with clients and meet all suggestions, and you get the service for only a $2 surcharge. Amazing, right?
About Stinger Transitions
The origin of animated transitions comes from the live broadcasts of sports matches. You have definitely watched highlights of a match or replay a particular player move. Then you already know what they are!

Have you ever watched a twitch stream that was as exciting as a live sports game broadcast? Many well-established and popular streamers use scene transitions to take their streams to the next level and add more fun!
These transitions are very important in the gaming world because they can be added to live streams. You can get the free obs stinger transitions, premium, or custom-made.

Custom twitch transitions allow you to add a logo and many other graphic effects that will make your streaming stand out from the competition.
The few free stinger transitions obs studio offers are not diverse enough. So, if you want to enhance your live streams, don't rely just on Streamlabs obs transitions. It's best to download free or premium stingers from the internet or have someone make you a custom transition point.

If you want to make custom scene transitions yourself, you will need previous experience in one of the video processing software, because the transitions are actually short video files. Adobe After Effects is a great choice, as is HitFilm Express.

Until you are trained enough, it may be better to choose the free obs transitions download option!
Related: How to Make a Twitch Overlay
Final Thoughts
Animated stream transitions can be quite different, some have transparency that allows the audience to see the flow of events in the stream, but also to highlight something else. They can also be bright in order to draw the viewers' attention to the brand logo!

The possibilities are endless and stingers are truly an addition worth your money or time. Be creative and make any millisecond transition point smooth. Those animated transitions will certainly not go unnoticed by your audience and new viewers!

Whatever topic you are dealing with, be it entertainment, gaming, or something else, you will take the entire live streaming to a next level and thus ensure a successful career.
This guide thoroughly explains the advantages and disadvantages of all platforms, it is up to you to choose what suits your brand and how much you are willing to invest.
Related: Best Overlays for Twitch