Solely starting a Twitch game without any intro for the viewers who come to your channel earlier may be somewhat off-putting. An interested viewer may come to think that you have forgotten about your live stream.  They may leave before your stream starts. 
The solution is simple – a Twitch starting soon screen viewers can see as an announcement that your game is about to begin. It is usually initiated between 5 and 15 minutes before the beginning of the Twitch stream.
How to Set Up a Twitch Starting Soon Screen
Setting up a Twitch starting soon screen on your main or secondary monitor follows the same procedure as that for the BRB screen (you can even use this guide to make a short stream ending screen to use for a few minutes after you have finished with your live stream).
Since most gamers use the OBS studio software, this guide will show you how to set up this screen in OBS and Streamlabs OBS, as the steps are the same for both. If you are a visual type and feel better when watching a guide, you can find video tutorials online.
There is another way to add a stream starting soon overlay. This method doesn't require you to create a new scene but only a new source for one of the existing scenes. Follow steps 3 to 7 above. Make sure that it is on top of all the other sources. When you do that, next to the starting soon source, you will have a little eye icon that you can use to toggle between visible and invisible, as per your need.
What to Put On a Starting Soon Screen?
As with all the stream graphics added to a Twitch channel, there are many options and an infinite number of designs. You can design them yourself, have someone do that for you, or buy a pre-designed stream package. 
It is important that this screen, just like all the other Twitch panels, is compatible with your brand. Logo and colors are some examples that should be the same, or at least, similar to those on other overlays seen on your channel.
In this section, you will see some ideas of what you can include in the starting soon Twitch overlay. You don't have to, better yet, you shouldn't, include all the following elements. Remember not to overcrowd this screen. You can create different screens for individual sessions and see which ones work best for you and your audience.
You can even create a mockup screen and add a poll or vote, which would be a great way to attract more viewers and get excellent feedback. That way, you would entertain your followers and get valuable information about their likes and dislikes.
Static Elements
Animated/Video Elements
Best Sites to Get Twitch Starting Soon Screen
If you are not skilled enough to create your own stream will start soon overlay in Photoshop (or any other image or video maker), there are many pre-made or custom overlay templates of offline banners to get online, both free ones and those that are paid for.
The next section will lead you through some of the best choices.
1. OWN3D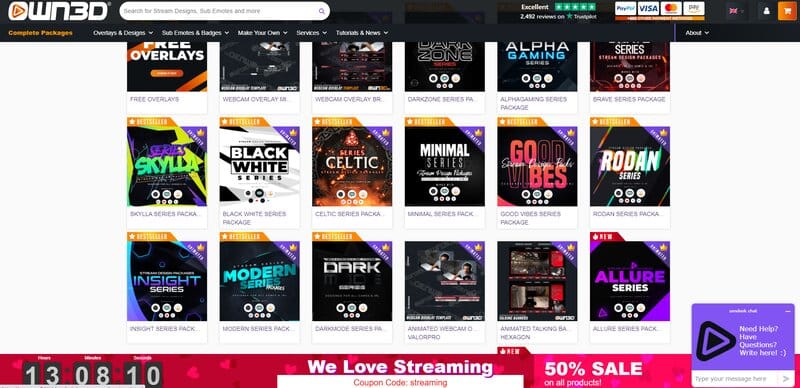 ---
*Use code STREAMMENTOR for 50% discount*
Own3d is one of the top names in the area of stream graphics. They help streamers design their channel in just the right way.
They offer excellent sets of banners (offline, starting, pause, and ending), both static and animated. They complement one another, so getting one package will get you covered for all. The sets can be universal or themed by a specific game.
2. Kudos.tv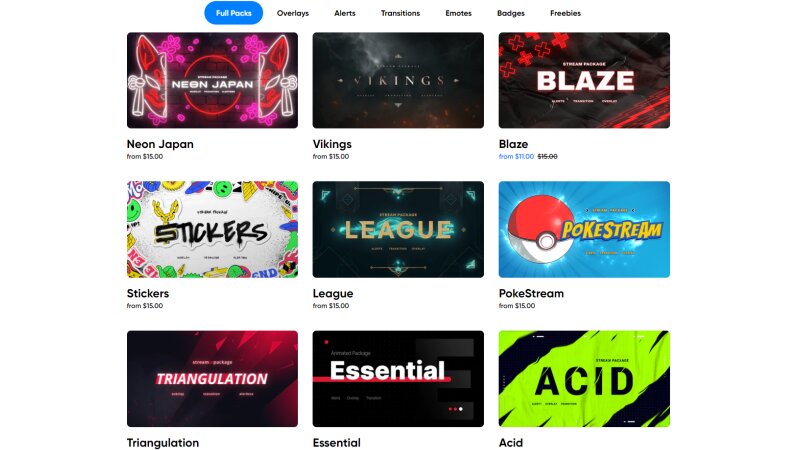 Kudos is another option to consider as your stream graphics provider. They offer many free and premium design assets that you can purchase as a package or separately.
However, instead of getting a separate stream screen or overlay, it's better to get a full pack straight away for consistent style across all of your streaming channels.
3. Fiverr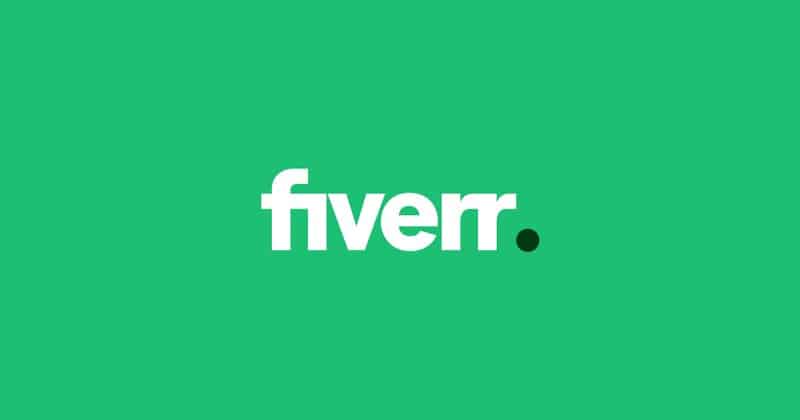 Fiverr is one of the options where you can find designers and artists with strong gaming interests and excellent skills. The offers are various – static and animated stream coming soon screens and other graphics digitally created and drawn by hand. 
The requested prices have a wide range – you can find prices that start at about €3 to those starting at as much as €160. Most of the offers there start at about €9.
4. Visuals By Impulse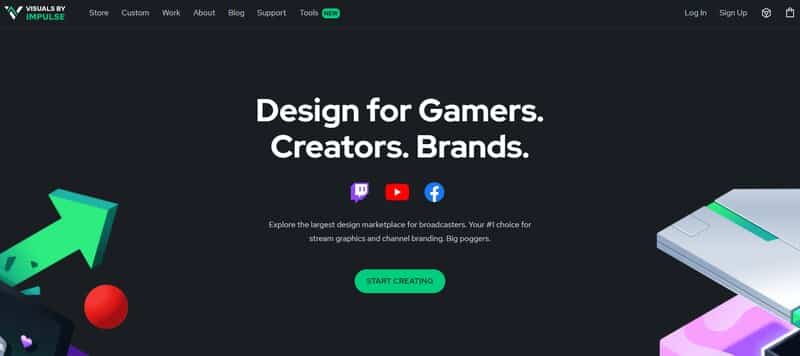 Visuals By Impulse is yet another name that you must have come across if you are searching for Twitch starting soon and other screens and graphics for your channel.
There are hundreds of templates to browse there and new ones are added every week. The themes can be sorted by online or offline games, artistic styles, or colors. You can also edit them to get precisely what matches your brand. 
Some of them are free and the prices of others start at $5.
5. Placeit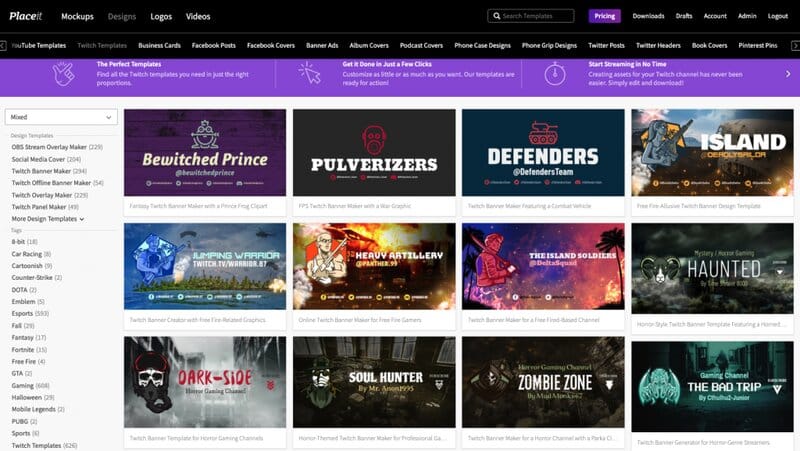 Placeit is another name very well-known to streamers of all kinds. For a subscription, you get an enormous base of templates and access to designs and a video maker, with the chance to create your unique product.
Using their video maker, you can design your stream starting soon animation so that your creativity and brand design style are truly yours.
6. Nerd or Die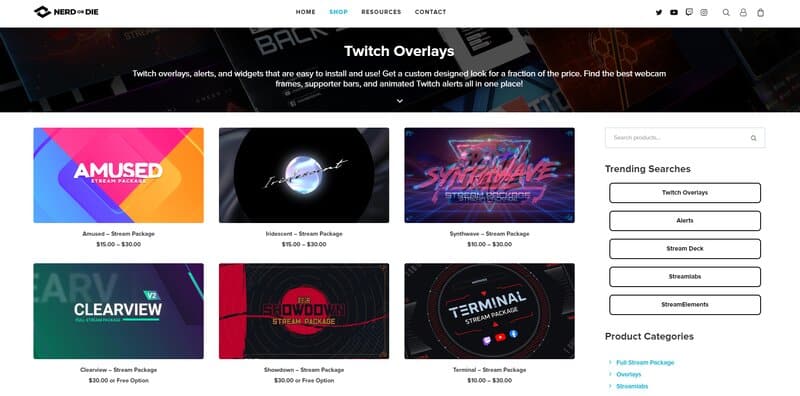 Nerd or Die is another famous name with excellent products for streamers. They started their business by offering streaming tutorials, then expanded their offer to free Twitch overlays and a panel maker. With time, they became a respected and widely used website.
Now there are both free and premium resources in their vast supply of streaming resources. You can get one product or a set.
7. Twitch Overlay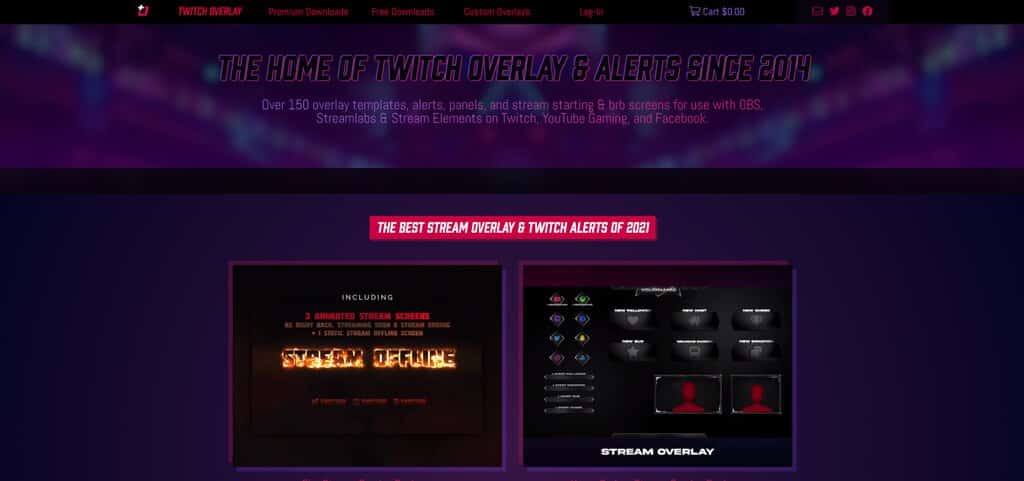 Twitch Overlay has been in business for half a dozen years. With competent designers, they provide various streaming graphics, both free and premium. They don't have a large team so if you contact them twice, you will reach the same person.
Since they offer over 150 starting stream soon and be right back overlays, they also have a guides section on their website to help their users find the right design.
8. Streamlabs Prime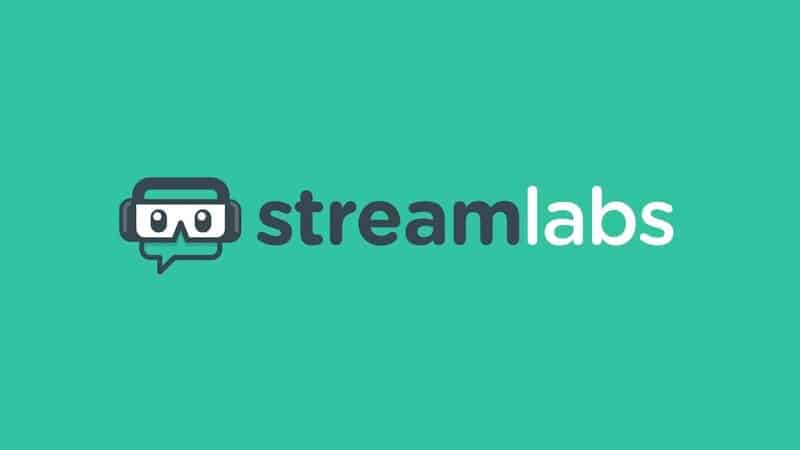 With this Streamlabs subscription, you get access to an immense library of professional stream overlays. This toolkit comes not only with streaming graphics and screen overlays but also with many more things such as multistream and even sponsorship opportunities. 
If you are an experienced gamer and have the means to join this program, you will certainly have many benefits.
9. Canva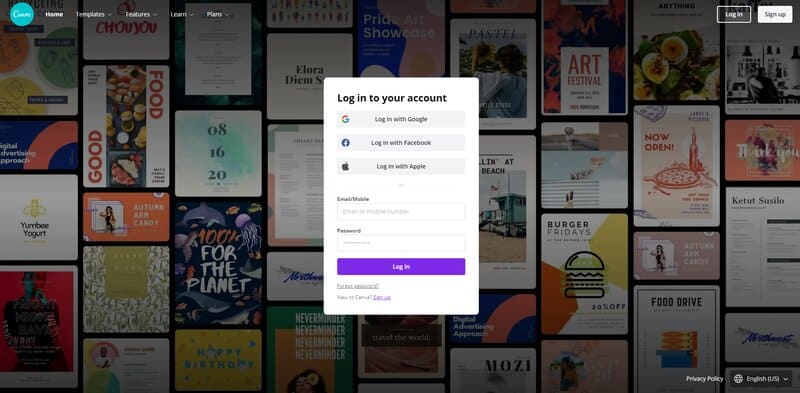 Canva is a place on the internet where you can find free and paid designs not only for streamers but for anyone needing them. 
Canva free offers many templates, fonts, and photos. Canva Pro, as a paid and larger resource, has a free trial period for anyone to have the feel of all that they offer. It may be a good place to try and find a design that fits your stream offline needs.
10. Mattovsky Design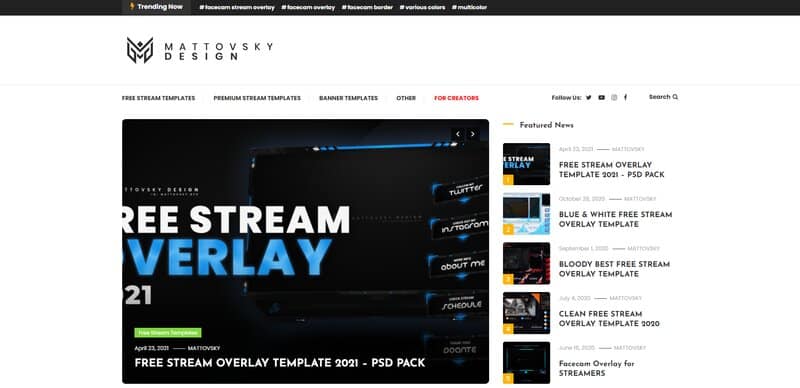 Mattovsky Design is, according to the URL link, a Poland-based website. The number of designs is not very high, so we can guess that it is only one person doing all the work. 
They offer various templates for streamers, such as webcam overlays, game-themed banner templates, and many free and paid stream overlay templates. Most of their products have the option of changing colors, so they can suit each user's needs individually.
11. StreamSpell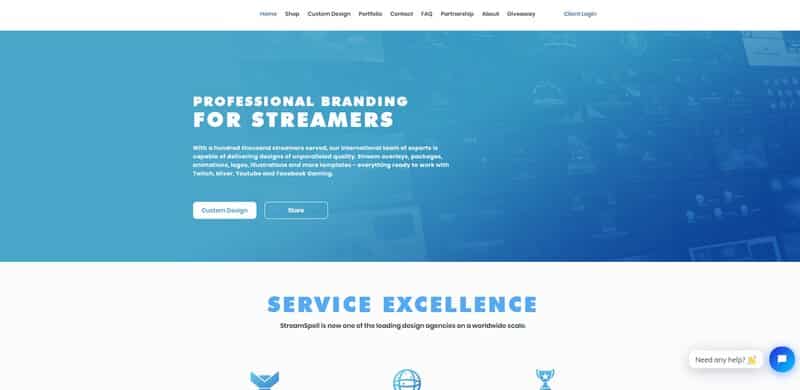 StreamSpell is a young company, founded in 2017 to create templates, overlays, animated emotes, badges, logos, and other graphic items that streamers need.
They offer custom designs that match your established brand and pre-made templates for instant download. They have interesting stream starting soon animations. They are new, but they may be worthy of checking out.
12. Tactical Lion Designs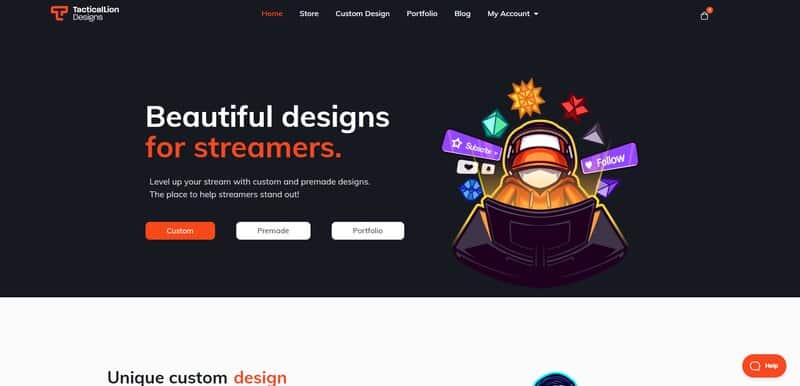 Tactical Lion Designs offers unique designs that they make for each paying user. They provide animated custom designs that can be used on all platforms. There are also pre-made packages that can be downloaded instantly.
Last but not least, there are overlays that are free as well, with designs getting uploaded regularly.
13. Streamplay
Streamplay is a team consisting of gamers and designers who create overlays, templates, and Twitch banners of excellent designs. 
In their offer, you can find free stream overlays and premium Twitch overlays. Among those that are paid for, there are pre-designed and custom-made for the needs of individual users.
14. Etsy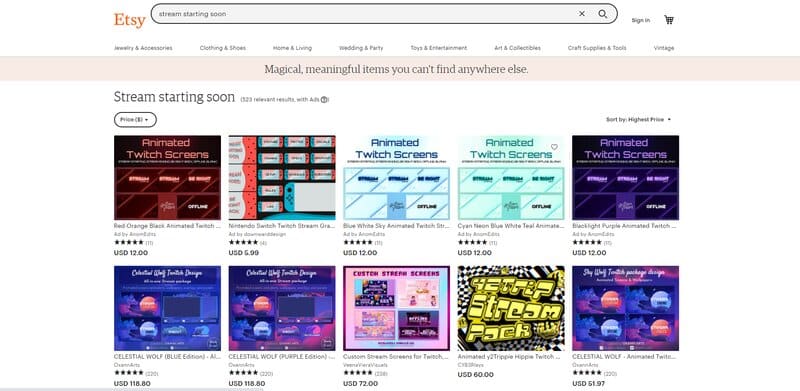 Etsy Inc. is a unique online market where one can find all sorts of goods to buy. They especially value people who make their own products, be it handmade items or digital products. 
You can buy here the streaming products this text is about – Twitch stream starting soon screens. There are over 500 independent artists to find here. The prices are various – $5, $30, $50, and even more than $100.
Frequently Asked Questions
Should I have a starting soon screen?
Definitely yes! You should invest in every aspect and detail of your channel if you want to be seen as a serious streamer.
A starting soon screen used before a session and a be right back screen used during intermissions show viewers that they can rely on you to appear after some time and that they are not waiting in vain.
How big is a starting soon screen for Twitch?
Most offline screens and webcams have a 16:9 ratio. The dimensions for offline screens are 1920 x 1080. It is an appropriate size for starting soon and be right back screens.
When you purchase or design an image or animation for this purpose, you should set the size to these dimensions at the beginning of the process and get the best result.
Why do streamers have a starting soon?
The stream starting soon screen has a useful purpose, though it is not obligatory for gamers. It gives the waiting viewers the certainty that the game will start and it builds anticipation.
Also, there is time for everyone (the gamer, mods, viewers) to prepare by getting drinks, snacks, and whatnot and be there for the beginning of the stream.
How do you make a starting soon screen in After Effects?
When you use Adobe After Effects, you can make a custom Twitch starting soon screen from your chosen overlay and video/animation.
Open a new composition, choose the wanted resolution, and then add the image and video. You need to drag them from the project panel to the comp panel, taking care of the order of layers. After that, you can do any adjustments you want.
Conclusion
When you want have stream offline screens, there are plenty of possibilities, in terms of ideas, designs, and places to find them. They are a useful addition to anyone's Twitch channel because they are a way to immerse viewers into what is going to happen shortly. For streamers, they can serve as a way to promote their social media accounts or give information about the upcoming stream.
Related: Stinger Transition – 6 Best Free and Premium Twitch Transitions