When you put yourself in their shoes you can only assume that even you as a viewer, on this particular streaming platform, would like to watch the best quality Twitch streams. If you cannot provide them with that you can only guess what is going to happen. They will go and look for good quality entertainment elsewhere.
---
I'm going to show you, the broadcaster, how to run a Twitch test stream, so you can ensure the best possible quality of your streams.
1. Go to inspector.twitch.tv and click on the purple button on the right side named "Run a stream test";
2. In your Twitch Dashboard, copy the stream key by clicking the "copy" button;
3. Open Streamlabs settings and go to the Stream tab;
4. Click on "Stream to custom ingest";
5. Check the warning message;
6. Put the copied stream key in the inspector.twitch.tv tool;
7. Go live by clicking the green button in the bottom left corner;
8. In the Twitch inspector tool, click "Stream manager" on the right side;
9. Here you will see that your stream is actually not live, which is good!
---
Below I am going to lay out a simple tutorial for you to follow so you can run your Twitch stream test without any major problems.
Where to Run Your Twitch Test Stream
So, the main site that you definitely want to use for this is inspector.twitch.tv. The thing that you will be able to do here is to make sure that your upload bitrate and your setting are going to be good for streaming on Twitch and that you don't run into any major problems ideally.
When you do a stream test one of the ways you would know you ran into an issue is: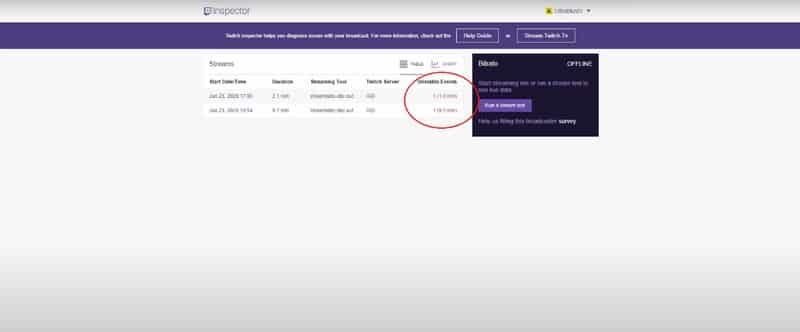 If after the test, unstable events pop up, you can click on it and then you can use the information here (from the screenshot below) to identify some of the problems with your stream.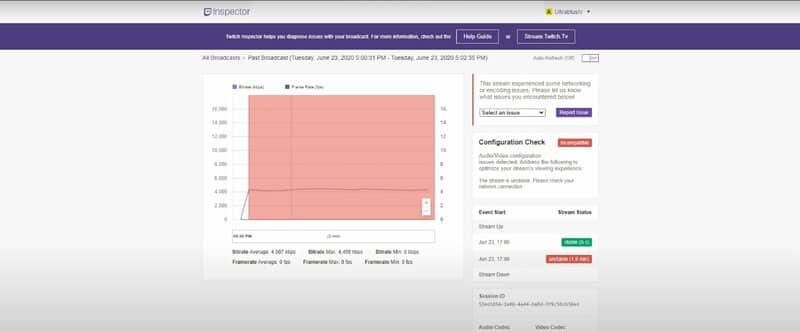 For instance, when I did this test Twitch stream I was trying to stream at 6000 kbps. But as you can see here that the average kbps came out to 4000 and the max came out to 4500.
So, if you try to stream at 6000 and you come in here and it looks like that, you will have to do some troubleshooting to figure out what is going on with your internet. Maybe it's too slow, maybe it's just really unstable right now (you can check your internet speed by running a simple speed test on your browser).
If that is the case, you might need to lower your setting or actually switch to a better internet connection if you really want to start streaming high-quality videos on your Twitch account.
How to Test Your Twitch Stream?
Maybe I went a little too far ahead, let's go back and let me lay out a few simple steps on how to test stream on Twitch.
1. Run a Twitch Test Stream
So, on inspector.twitch.tv you can find this purple button right here on the right side of your screen that says "Run a stream test". That is going to be your first step in your learning journey on how to test Twitch stream. When you click on that it's going to ask you to get your stream key from your Twitch dashboard.
This here basically lays out 3 simple steps that you need to follow in order to optimize your stream and also know to run a proper stream test.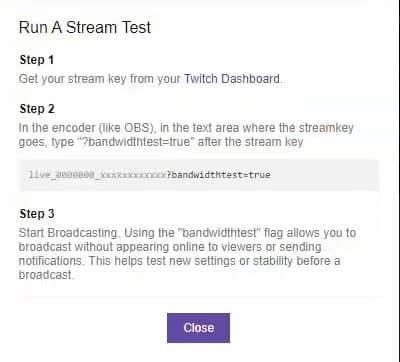 So, to get the stream key just go to the Twitch dashboard (you can right-click on it and open it in a new tab), which will bring you to your channel settings.
2. Copy Stream Key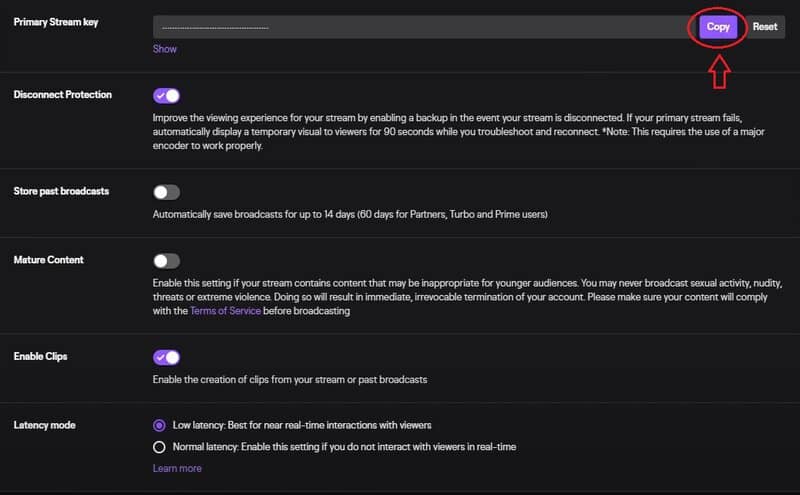 The next thing you will need to do is copy this number (Primary Stream Key) over to Streamlabs. Thus, when we click on Streamlabs, we can click on the "settings" and then we go to the "stream" button that appears when you open settings. And on this tab, you would want to choose "stream to custom ingest".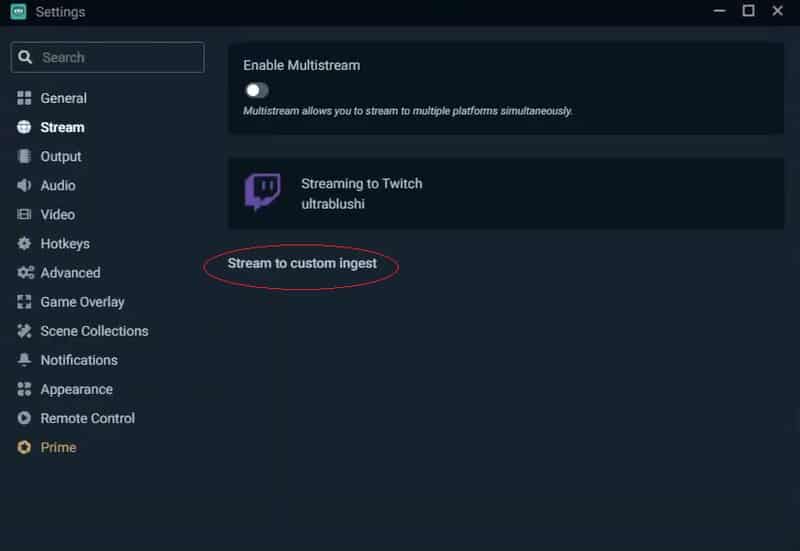 3. Check the Warning
When you click on that at the top you can see a warning that basically says if you do a customize setting rather than using the defaults in Streamlabs OBS test stream, it may kind of mess things up. So, after you are done here you are going to switch back to recommended Streamlabs settings, but that is for later.
4. Insert Stream Key
Now the next thing you are going to do in order to successfully run a Twitch test stream is to put in the stream key. But that's not all, you will need to go back to the Twitch inspector and copy this.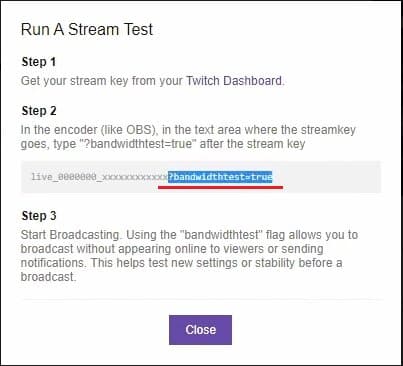 When you copy this, you will need to go back to the Streamlab setting again and add the copied part to your stream key.
And that's going to be all when it comes to the settings part, just for the sake of certainty click on the "show" button next to the stream key and make sure that it matches your stream key and the bandwidth test got pasted in there properly. When you are done with all that you can go ahead and click on the "OK" button.
So, now that we get to go live and start streaming it will begin to send the data out to the Twitch servers. But don't worry because it's not going to publicize your stream onto your Twitch page.
5. Go Live!
Now on the bottom left corner, you can see the green "go live" button. When you click on in the stream info box will pop up on your screen, and that isn't really relevant right now because you are not really streaming.
Just click on "confirm" and go live so that the Twitch server can start receiving the data.
6. Check Stream Manager
When you have finished all that you are going to go back over to Twitch inspector and on the right side of your screen you will see the "stream manager" option beneath the "home" button.
You are going to hit that button because you're going to want to show that, although you are sending data to the Twitch servers it's not actually making you go live.
Therefore, as you can see on this screenshot right here it should stay offline.
Otherwise, there wouldn't be much point because it would just be live streaming anyway.
7. Data Received
After all that is finished, we are going to go back to Twitch inspector, and there we can see that it has started to receive the data.
And that should be the last step on the subject of how to test stream Twitch. Below, you can see how you can observe the frame rate and other specs of your stream.
My Stream Test Twitch Specs
So, for 29 seconds here it's saying that it's stable at 5900 kbps. That is much better than the other stream tests that I ran, the idea if we pop open stream Labs OBS is that our output upload bitrate should be close to our setting.

The settings that I used for twitch.tv are 6000 kbps, if I open the settings, here we can all see that.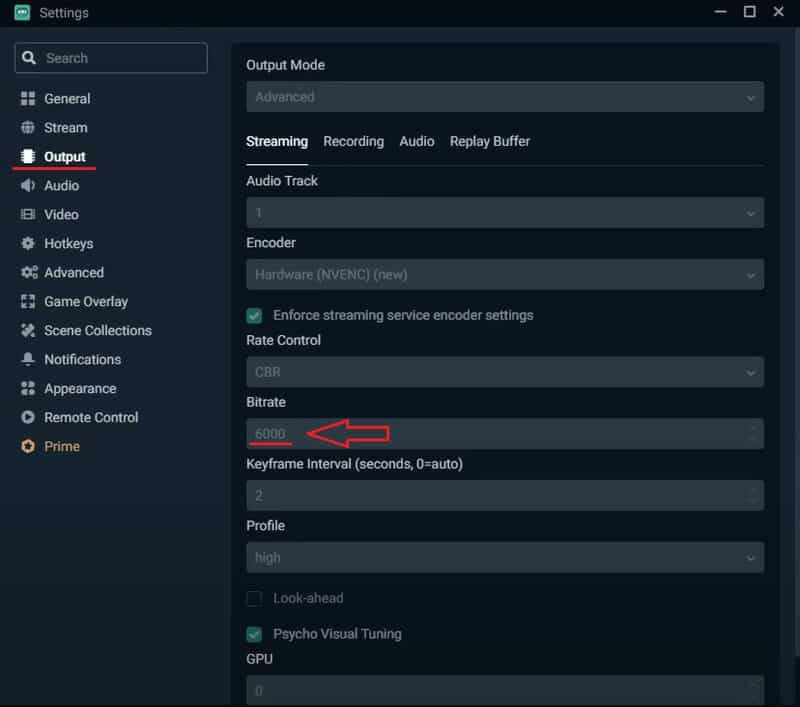 Right now my settings are actually looking pretty good I'm not getting any frame drops the fps are good the CPU usage isn't too high, you can also go back on Twitch inspector and confirm that everything is looking good.
On the stream manager, it's still showing that we are offline and this is exactly what we want. So, by doing this we are able to do our stream test without showing any information to anyone who might pop in on our Twitch channel.
Now that we are pretty much done here, we can go ahead and end the stream. When we go back to Twitch inspector and refresh the page we can see that I apparently still ran into a minor event here where the kbps dropped off a bit, as you can see on the screenshot below.
So, basically, ideally what you would want to see here is a flat line at the preset bitrate for your upload speed. If you didn't run into any unstable events as I did, you will be good to go, otherwise, you'll have a little bit of troubleshooting to do.
Frequently Asked Questions
How do I test stream audio?
The answer to this question is quite simple, all you need to do is go to OBS and hit record (not stream). When you've done that just run the game that you like to play.
Talk into the mic for a couple of minutes, and the best part is that you don't even have to start up your webcam. When you have finished with the recording just simply play the audio and the test will be complete.
How can I test my live stream?
Obviously, the answer to this question is this whole text. But here I will try to put it as simple as possible and dedicate a few sentences to it.
The quality of your stream on any given streaming platform will mostly depend (besides the quality of your webcam) on your internet connection.
So, to test your live stream, first, you'll need to test your internet speed and check the signal strength. Therefore, if your internet speed is good the quality of your stream should also be good.
Conclusion
So, at this point, you should know how to test stream on Twitch Inspector without actually going live on your Twitch channel. I hope you enjoyed the content and that you have learned something along the way.
If I was able to help you in any way I am grateful, many thanks, and best of luck to all of you future streamers out there, and I also wish that you'll all have the best possible experience on Twitch.