One of the perks of using SLOBS is that you have access to many widgets, so there is no need to turn to third-party apps.
---
Today, I will be talking about the SLOBS countdown timer.
1. Enable Cloudbot on your Streamlabs profile on the website;
2. Click on "Add Timer";
3. Name your new timer;
4. Write the Response message for your viewers to see;
5. Set the message interval;
6. Set up the line interval;
7. Click "Save";
---
The timer is quite practical for announcing the stream and notifying the viewers about when you plan on going live.
Without any further ado, let's begin with this Streamlabs countdown timer guide!
What is the Streamlabs Timer Widget?
Streamlabs OBS countdown timer is a message that is automatically displayed at the scheduled time.
Streamers use this widget to either countdown the start of the stream or for announcing when they will be back (for example, if they take a short break during the stream).
The SLOBS countdown timer is one of the most popular widgets and this time, I will be talking about how to add it to your stream.
How to Add a Countdown Timer to Streamlabs OBS?
Adding Streamlabs countdown widget is a quite straightforward process – even if you are just getting to know how the program works, you will easily manage to implement one into your live streams.
These are the steps:
1. Enabling Cloudbot
The first thing you will need to do is visit the Streamlabs webpage.
Put in your log-in data and then open Cloudbot tab.
Enable this feature.
If it is already turned on, you can just continue to the next step.

2. Add timer
Now, find the "Add timer" button and click on it to create a Streamlabs timer.
A pop-up window will appear on your screen, with several settings.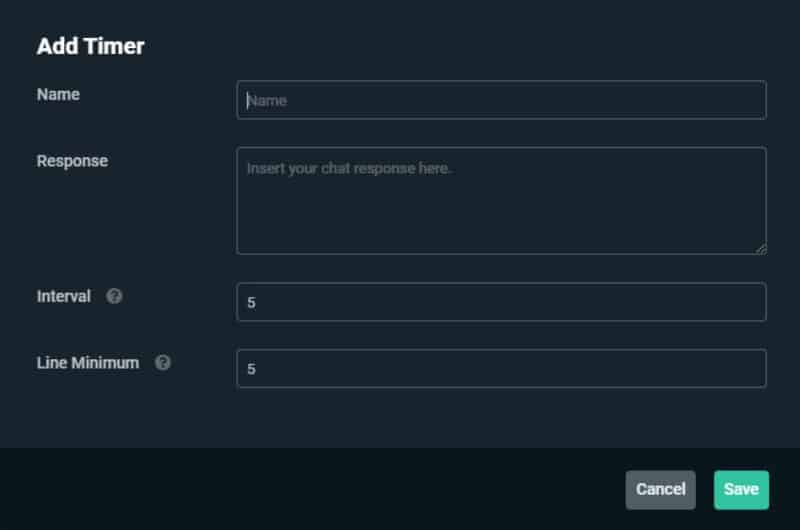 Here is the meaning of each one.
Name
Firstly, you have to name the timer.
It is best to choose the name that implies the timer's function (for example, stream start), especially if you plan on using more than one Streamlabs OBS timer throughout the stream.
Response
Response is a message for the viewers displayed on the screen.
Keep in mind that it has to be short – you can use only up to 500 characters.
Also, you can add different parameters. The meaning of each can be found on the official website.
Interval
The interval will determine the frequency of the messages shown on the chat. This helps you slow down or speed up the chat, depending on how many people you have watching and interacting in chat.
The message can be displayed every five minutes, 15 minutes, or even every hour if needed.
If you are adding more than one timer, make sure that they aren't overlapping – this can happen if the interval time is too low for each.
Line minimum
This setting refers to a number of messages displayed in the chat before the SLOBS timer goes off.
When more timers are added, adjust the line minimum a few times if needed, to avoid overlapping of the timers.
Conclusion
In today's streaming guide, I've been talking about SLOBS countdown timer. We've learned what it is, how to set it up, and how to efficiently use it.
I hope you liked this guide, and that it will help you to improve your streams. If you have any other questions, check our frequently asked questions below. Or, if you have something specific in mind, don't hesitate to leave a comment and let us know.
Related: How to Add Music to Streamlabs OBS
Frequently Asked Questions
How to turn on Cloudbot?
This feature is placed on the sidebar navigation. To turn it on, just click on the toggle.
What is the recommended setting for the interval?
In case you have multiple timers, it would be best to use these intervals: 5/7/9/12. Also, make sure to adjust the line minimum accordingly. You will find the best setting by trial and error.