Every streamer will agree that his life has changed the moment he got a second monitor for streaming, and since most streamers simply can't live without one, it's simply a streaming setup must-have.
My personal favorite for the best secondary monitor for streaming is Acer SB220Q because it fits perfectly. It's not too large and offers great features and performance for the task.
So today I am going to look around the Internet and see the best dual monitor setup for streaming and later I will answer your question – do you need 2 monitors to stream?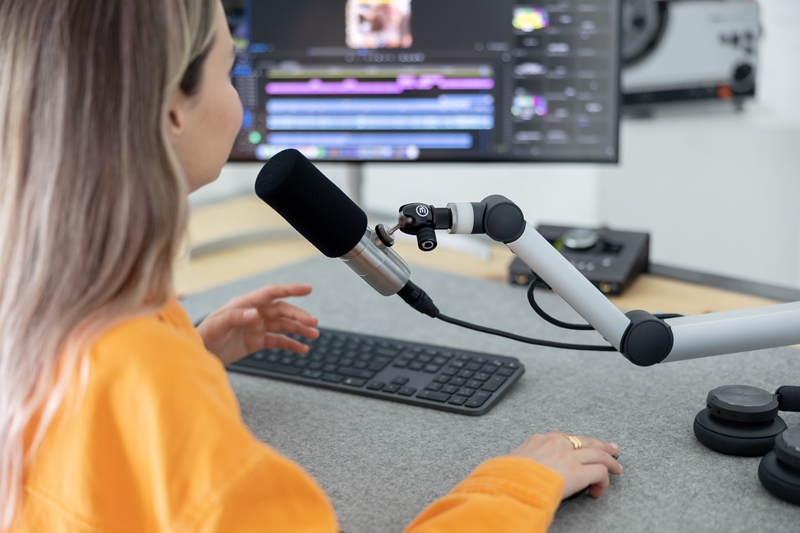 Best Secondary Monitor for Streaming
Reviews
Here's a list of 8 good second monitors I've prepared that are definitely worth your money, and there's something for everyone that will fit each budget and needs.
So let's not waste any time and see what these monitors are all about!
QUICK OVERVIEW: Best Secondary Monitors
Radeon free sync
HDMI and VGA ports

DCI - P3 wide color
2.1 channel speakers

27" LCD display
280 Hz refresh rate
1. Acer SB220Q
Best Secondary Monitor Overall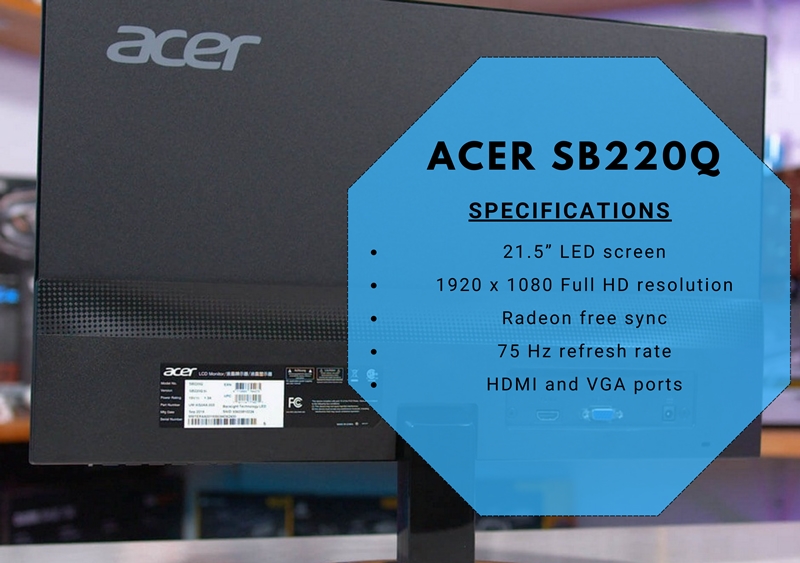 Stefan's Take:
As a secondary monitor, I use it to keep track of the chat on stream or to have some web pages open.
It comes with a pretty decent refresh rate and solid resolution for a secondary monitor.
It's quite a great pick because for this price point you won't find a better one.
The first monitor on my list is the Acer SB220Q that's quite clean build-wise and for under 100$, it's a great choice for anyone who wants a cheap second monitor that will perform quite well.
There are lots of features on this monitor to check out so let's jump straight in!
Who is it best for?
In terms of value, this monitor is the best secondary monitor if you're on a budget. It doesn't have the premium color and contrast on its LED screen.
However, it does have a 75 Hz refresh rate that makes this monitor quite snappy.
So if you're someone who just needs a secondary monitor to assist you in basic actions, then you can consider this monitor to be a steal.
Key Features
To start off, this monitor has full HD resolution with the standard 1920 x 1080 pixel dimensions so it's perfect for watching most videos on any platform.
The 21.5" screen is quite large and because it has IPS, you won't experience glaring when viewing the screen from an angle.
Next, the Radeon free sync is quite great for having this monitor as a secondary one because it smoothens out choppy graphics and bugs.
Even though it's not a great gaming monitor because of graphics and resolution, the 75 Hz refresh rate is amazing. So if you just want a second monitor for simple tasks, you won't notice a thing.
Finally, the monitor supports both HDMI and VGA cables, but your safest choice is to use the HDMI cable which you'll have to buy separately. At least I didn't get it in the box sent for testing purposes.
Pros
Affordable
Snappy
Has IPS
Wide viewing angles
Thin and lightweight
Cons
Doesn't have a VESA mount
2. BenQ EW3280U
Best for Professional Streamers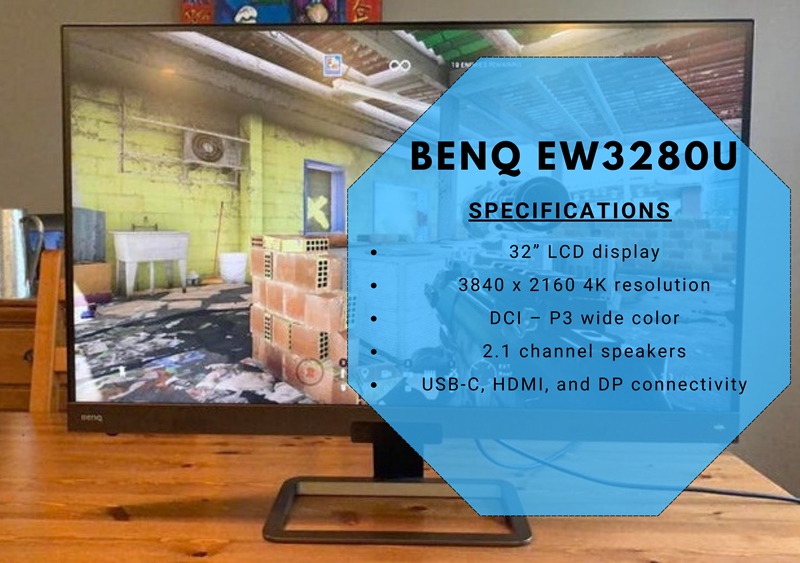 Stefan's Take:
What I think is great is that you have the Brightness Intelligence technology that makes the brightness and contrasts on the screen much more manageable for long screen exposure because the screen adapts to its surroundings.
This means that you won't get headaches or eye strain if you sit in front of the screen for hours.
Overall, I have to say that this monitor will suit your purpose no matter what you use it for because it's just that user-friendly and powerful.
Up next is the BenQ EW3280U which is the most expensive secondary monitor on my list and for good reasons.
This is clearly a monster of a monitor and has lots of features that not only make it a good side monitor but a great gaming monitor as well.
So for all of you, premium monitor lovers out there, let's dwell right in the specs.
Who is it best for?
The monitor is quite versatile in terms of who is it best for.
The specs say gaming, the features say podcasts and streams, and the quality says premium. Because this is quite a well-rounded monitor, you can even use it for your main one.
However, because it has a remote controller, using it as a secondary monitor is the way to go.
Key Features
First things first, this monitor has 4K ultra HD resolution which is one of the best on the market, and with the 32″ display, the amount of colors and contrast on this thing is amazing.
Second, it has a 95% DCI-P3 color gamut, you'll be able to see colors you didn't even know existed on a computer monitor.
Third, this monitor has its own speakers and they are actually 2.1 channel speakers that even have a 5W subwoofer which makes them much more powerful than your laptop speakers.
You can even control the volume with a wheel under the right side of the screen.
Pros
Amazing color quality
Great connectivity
User-friendly
Versatile
3. ASUS TUF VG279QM
Best for Versatile Use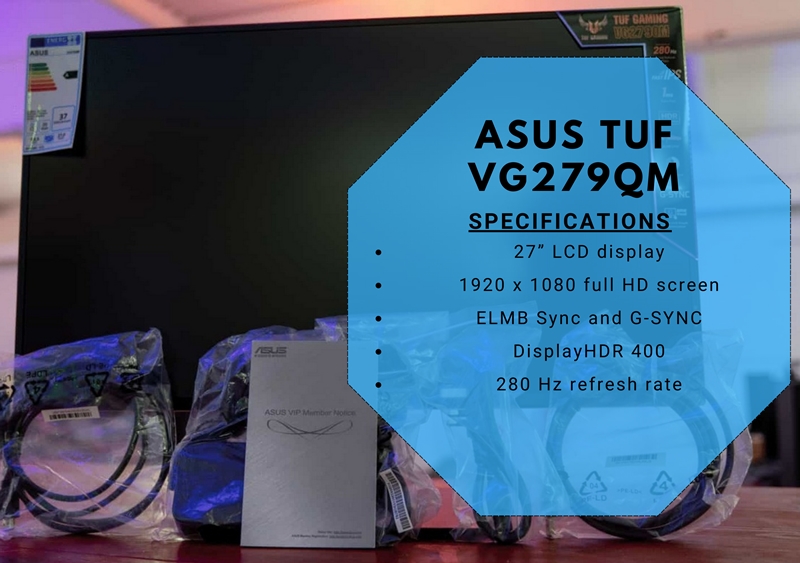 Stefan's Take:
What I liked about this monitor while testing it is how versatile it is. Despite being reviewed as a secondary monitor, this model can also be used as the main monitor, due to its performance and overall quality.
It has an amazing refresh rate, and response time is pretty decent too, so I had no issues while using it both as a secondary monitor while editing videos and as the main one while playing the game.
A monitor that'll definitely match anyone's needs if they're looking for a mid-range secondary monitor is the ASUS TUF VG279QM.
Who is it best for?
Obviously, this monitor is meant for gaming and is advertised towards that group of users.
However, since gaming monitors can go up for thousands of dollars, it's one of the best choices for a secondary gaming monitor.
Sure, you can use it as your primary monitor, but if you already have an expensive gaming monitor and need one for your stream, this is a great choice for a secondary monitor.
Key Features
The key feature that simply sticks out from the rest is the 280 Hz response rate which is one of the fastest response rates you can find in this price point.
Accompanied by such a high response rate is the 1ms GTG response time meaning motion blur is a thing from the past.
Also, if you have an NVIDIA GTX 10 or an RTX 20 graphic card, this monitor will display colors you didn't know were possible to produce on a full HD 2K resolution display.
Furthermore, the DisplayHDR 400 makes those colors really come to life, and there is even a Cinema mode for watching movies.
If you need some assistance while gaming, the GamePlus hotkeys on this monitor will be your best friend. Lastly, the ASUS Blue Light technology protects your eyes during those long hours of gaming.
Pros
Amazing color performance
Great quality graphics
Good connectivity options
User-friendly features
Cons
Can be overkill on slow computers
4. ASUS VG279Q
Best for Radeon Graphics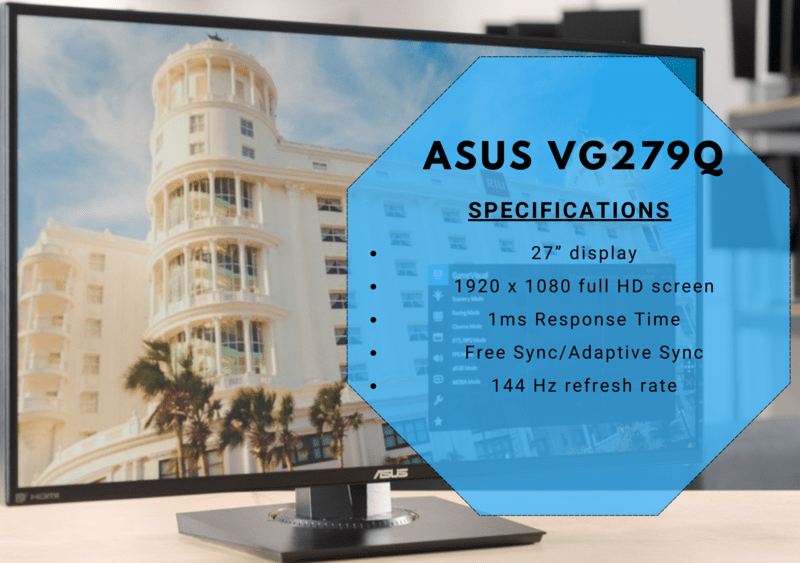 Stefan's Take:
I simply can't miss out on talking about the 144 Hz refresh rate because it simply is the best feature this monitor has.
Just imagine having a 1ms MPRT response as well. Oh, wait. The monitor also has that.
This made my testing more enjoyable, since having two 144Hz monitors was a blast both for gaming/video editing and streaming.
So if you need a fast monitor as your secondary one, and you aren't worried about spending nearly 300$, then you're going to love this one.
Let's check it out!
Who is it best for?
First of all, this is a gaming monitor and a good one as well. Sure, it isn't anything fancy as the previous monitor on the list, but it has some great features.
You can buy a bezel-free kit that allows you to attach this monitor to your other monitor.
So you can essentially buy 2 of these monitors and complete your entire setup.
Therefore, if you're a gamer/streamer who's looking for a mid-ranged monitor, you should definitely make this monitor come into your top 5 list.
Key Features
It's not fast as its cousin I've previously reviewed, but it's the second-best thing, and for the price point, it's practically a steal.
On top of that, the monitor has FreeSync which makes the graphics run smoothly.
If you're using a Radeon GPU then you'll have the best experience overall. What's really great is that the screen can rotate 90° in each direction and can pivot 90° as well.
It can also tilt +33° to -5°. These features are highly desired by streamers (I know this firsthand), because it allows them to adjust their setup more so this monitor could actually be the best second monitor at least for gamers/streamers.
Pros
Quite fast
Rotatable
Good gaming monitor
Many connection options
Smooth graphics
5. Acer EB321HQU
Best for Connectivity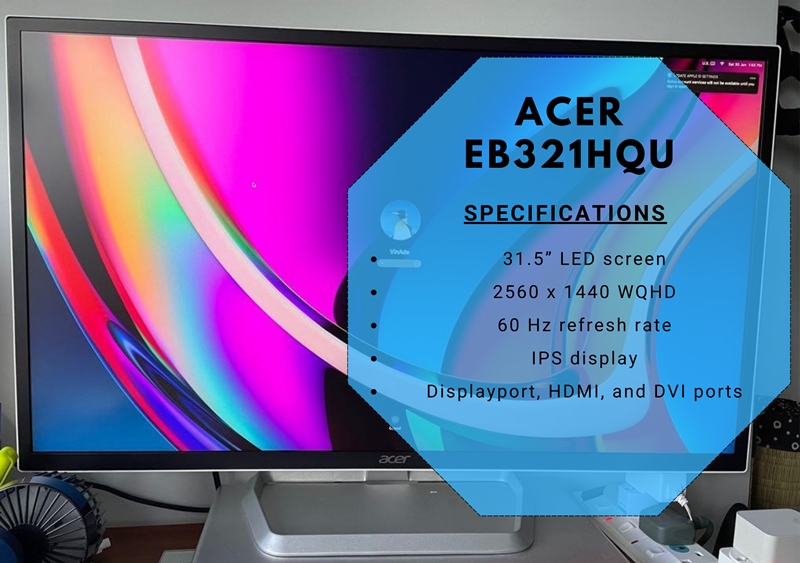 Stefan's Take:
When it comes to using it as a secondary monitor, this one is decent enough for the price.
However, with a 4ms response time and just a 60Hz refresh rate, I wouldn't recommend using it as your main monitor for gaming.
I used it as a 2nd monitor while I was editing videos, and I was pretty happy with it. Overall, it's a decent choice, not terrible, not great, but somewhere in between.
So another budget secondary monitor on this list is the Acer EB321HQU that you can get for a good price and it's actually a solid secondary monitor that'll match the needs of most streamers.
Gamers, unfortunately, aren't going to lean towards this monitor, but podcasters, entertainers, and vloggers will definitely love it.
Who is it best for?
Because this monitor is a low to mid-ranged monitor price-wise, you can expect that many streamers who just want a second monitor to monitor their streams or view the chat would gladly get it just for the price itself.
However, for the price, you actually get a solid monitor that can even be used as a primary one because of the good graphics quality and the widescreen.
Key Features
First of all, the widescreen 31.5" display has 2560 x 1440 full HD resolution that really makes the graphics come to life.
The widescreen also supports picture-in-picture mode that lets you perform multitasking with ease.
The 4ms G2G technology makes the response time of the monitor as quick as some gaming monitors in the same price range. But it is still just 4ms so it is not great.
What's great is that the IPS switching works magic across the whole 178° widescreen so you don't get those irritating pixels as you would in lower-budget monitors.
Lastly, the monitor has a 60 Hz refresh rate, which isn't the best but for performing everyday tasks, it's solid enough to be a good choice if you need a secondary monitor for streaming.
Pros
Great resolution
Widescreen display
Powerful
Good price
Cons
Not the best build quality
6. Dell S-Series S2719DGF
Best Monitor Design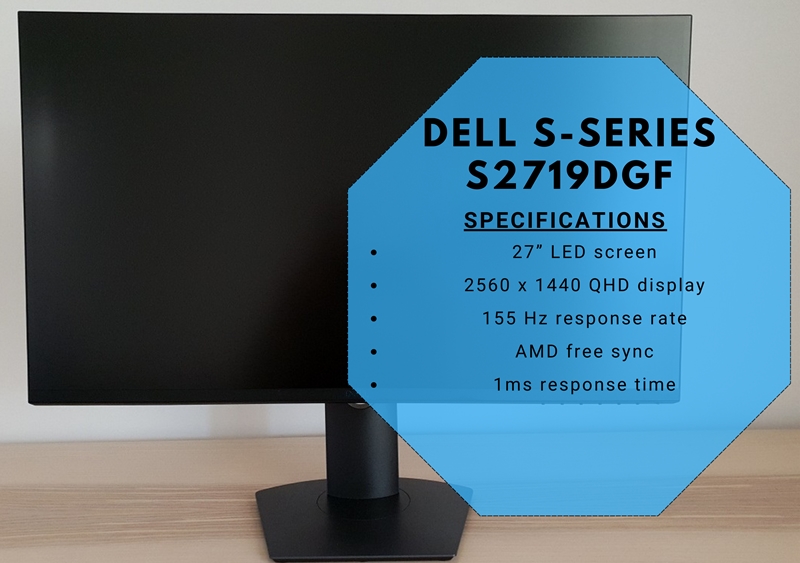 Stefan's Take:
Up next I present the Dell S-Series S2719DGF which, in my opinion, is the best-looking monitor on the list because it has quite a slim and clean design.
The features such as the audio port, rotatable screen, lots of connectivity options, and high-end graphics and resolution got me when I was testing it. I think Dell did a really great job at constructing this monitor in such a way that a TN panel could actually work with such high resolution and colors.
However, I do think it is a bit pricier to be used as a secondary monitor, but if you have a buck to spend, it's a decent choice.
Who is it best for?
The price definitely matches the quality and once you see this monitor in person, you can already tell that it has a very nice design.
So if you have a bit more money to spend on a secondary monitor then look no further as you're going to love this one.
Key Features
Let's first talk about the 155 Hz response rate as it makes it a suitable monitor even for gaming.
The 27" LCD screen is just about the right size for a secondary monitor and comes with a 2560 x 1440 QHD display.
It has a pixel pitch of 0.2331 mm which means the screen has more than 3.68 million pixels, so when you view an image or a video, it feels like the object is right there in your room.
What's great is that you can turn the monitor to 90° so you can use it in portrait mode which is quite useful when streaming because you have more room for your setup.
You can even tilt the monitor to around 15° which's quite useful in some situations.
Now, the big elephant in the room is the panel this monitor uses. Most monitors on this list use an IPS panel, and this one uses a TN one.
The IPS panel is a bit better because you don't get that glaring effect when you view the display from the side.
However, even though this monitor uses a TN panel, there's really no difference between the two panels on this model.
Pros
Fast and responsive
Rotatable screen
Lots of connectivity
Outstanding graphics
Cons
Uses a TN panel instead of IPS
7. LG 27UL500-W
Great for Multitasking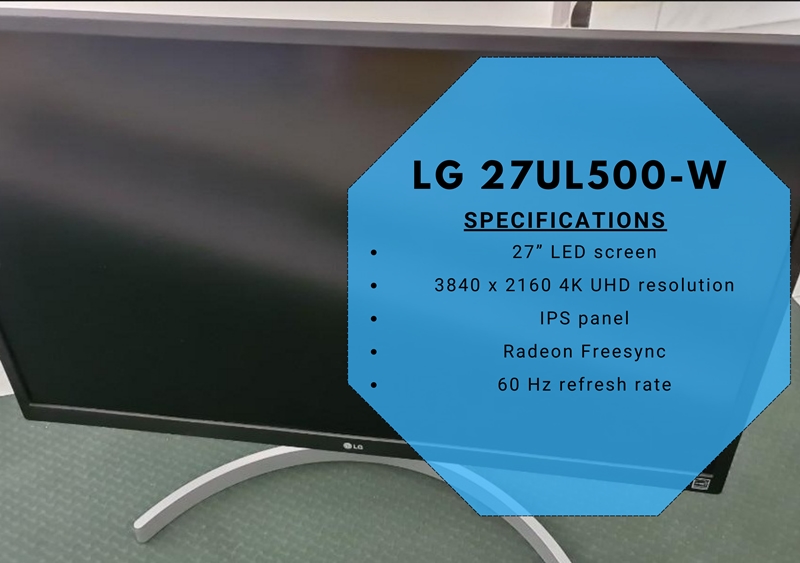 Stefan's Take:
In my opinion, this monitor from LG is great for multitasking. I personally used it for some time.
Furthermore, I was able to see my stream on one side of the screen, while having all the stream options on another side.
It was organized and simple, just how I like it. The lower refresh rate didn't bother me much, but it is this monitor's biggest flaw.
Who is it best for?
This LG monitor has 4K resolution and costs less than half of what the BenQ monitor costs.
So if you want that 4K resolution in your secondary monitor then this is your safest bet. Still, this monitor won't be appealing for gamers even if it has gaming features, as it only has a 60 Hz refresh rate
It also isn't as snappy as some of the other monitors I've reviewed, but for other streamers, it's pretty much a steal.
Key Features
I know I am getting bored by emphasizing the 4K resolution, but on this 27" display monitor, it's something to talk about.
It's like even though this monitor is standard-sized, the colors really come to life not only because of the resolution but also because of the 98% IPS panel that makes the glaring from any angle non-existent.
The Radeon Freesync is also great for reducing tears and that annoying choppiness, but of course, to fully enjoy it you have to have an AMD Radeon graphic card.
It also has lots of connectivity options such as 2 HDMI ports, one DisplayPort, and a DC port. The screen can be rotated 90° in each direction which comes in handy when you're setting it up for your streams.
Pros
Powerful
True-to-life colors
Great quality screen
Good price
8. LG 27QN600-B
Great Coloration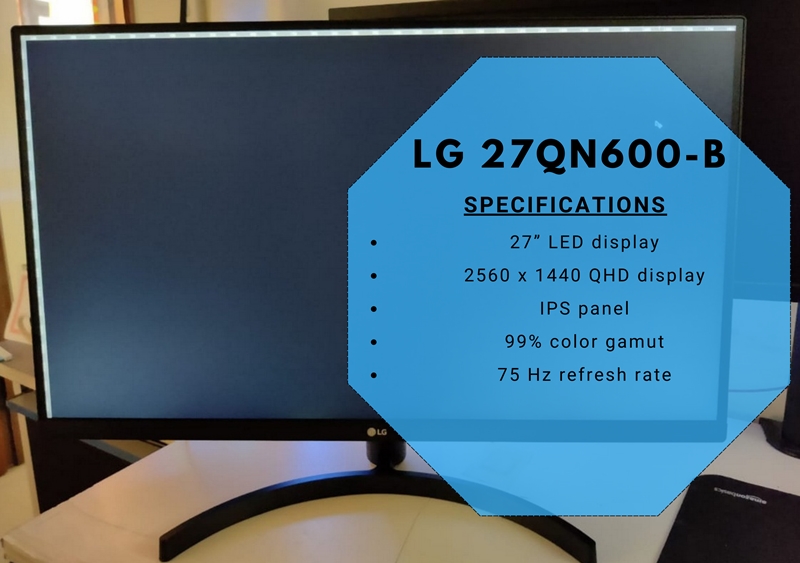 Stefan's Take:
This model is quite similar to the 4k LG I reviewed earlier. One major difference I liked is that this one has a 75Hz refresh rate.
However, its downside is 2k resolution compared to its 4k cousin. Nevertheless, using this monitor was decent enough.
I didn't have any major issues, and I have to say that I very much enjoyed the screen coloration of this model. It felt very natural.
Last but not least I have another monitor by LG called the LG 27QN600-B which is a bit different than the previous LG monitor I've reviewed as it's a bit faster, but it doesn't have such a high resolution.
Who is it best for?
This LG monitor will be suitable for most gamers/streamers and of course for regular streamers who need a solid secondary monitor.
It has good graphics, the speed is okay, and the features are cool – so what else would you ask for?
Knowing this, for the price you're getting a high-quality and versatile monitor that'll cater to your every need and even a bit more.
Key Features
A unique feature of this monitor is the almost bezel-less screen that makes the screen appear far wider than 27".
Unlike the previous LG monitor, this one only has 2K resolution, however, it has a 99% color gamut meaning you're basically seeing colors on the screen as you would in real life.
There are multiple gaming features such as the Dynamic Action Sync (DAS), black stabilizer, and the AMD Freesync that make for a perfect gaming experience.
What's great is that you can tilt the screen for up to 45° and can even detach it from the stand with just a push of a button if you want to mount it on the wall.
Pros
Snappy
True-to-life colors
Versatile
Outstanding quality
Things to Consider When Buying a Secondary Monitor for Streaming
A secondary monitor for streaming isn't a necessity like a good laptop, a mic, a camera, or streaming lights.
That's why I've made a few suggestions about things you should consider before you go out and buy a secondary monitor.
This way, you'll know what to look for and you'll make the right choice and spend your hard-earned money on a quality monitor.
1. The Size of the Monitor
The size of your second monitor is quite important because you need to make sure it can fit on your desk and not take as much room as your primary one.
Of course, if you have the room to fit in a 30″ secondary monitor then have it at it.
Now, the ideal width of your secondary screen should be around 21" to 27" give or take as are most standard monitor screens on the market.
This size will fit most setups and monitors that come in this size are great for using them as additional ones.
2. Resolution
Sure, you don't want to spend as much money on your secondary monitor as you would on your primary one except if you like to have two of the exact same monitor.
That's why most of the time your secondary monitor won't be as good as your primary one.
The one thing that won't be as good as the resolution. There are a lot of monitors under 100$ you can buy today that don't have full HD resolution.
Don't buy them even if they are the last monitors on the planet.
You want to have at least 2K resolution which means you want to get a 1920 x 1080 resolution monitor. Imagine not being able to view a YouTube video in 1080p. That should be illegal.
Jokes aside, you want to get the best resolution possible in your secondary monitor especially if you're going to stream because you need good graphics whether you're an entertainer or a gamer.
3. Refresh Rate
The topic of refresh rate is somewhat controversial because having a high refresh rate doesn't necessarily mean that you have a high-end computer.
For example, the BenQ monitor I've reviewed only has 75 Hz but is a high-end monitor because it has amazing graphics and 4K resolution.
On the other hand, some of the monitors I've reviewed have a high refresh rate but don't have a 4K resolution which doesn't mean that they don't have good graphics, it's just it's not 4K good.
That being said, a high refresh rate is mostly sought after by gamers, which makes sense because even though it's a secondary monitor, you still want to be able to game on it.
And since nowadays many video games allow players to use 2 or even 3 monitors, getting a good secondary gaming monitor is a must for gamers who stream their gameplay.
On the other end of the specter, we have entertainers, podcasters, vloggers, and even make-up artists who love streaming and also use secondary monitors to track the audience's responses or to help them out with simple tasks during streams.
This group of people won't need a high refresh rate but rather need solid graphics and resolution so that their secondary monitor isn't just a garbage one that they can only use for one thing.
Knowing this, it's quite easy to make your choice. Are you going for features and graphics or are you going for speed and power?
Conclusion
I've come to an end in my top 8 best secondary monitors for streaming review. To summarize, these are my personal top 3 choices:
Acer SB220Q as the best overall choice;
BenQ EW3280U as the best choice for professional streamers;
ASUS TUF VG279QM for its versatility;
I hope that I've helped you make your choice if you're searching for a secondary streaming monitor and I just know that you'll be happy with what you get.
Frequently Asked Questions
Why do streamers use 2 monitors?
Streamers use a dual monitor setup because it allows them to focus on the content they're showing their viewers on the one screen (gameplay, tutorials, entertainment, etc.), and control their stream and chat on the other. Yes, you can do all this on one screen, but having 2 screens makes your life a whole lot easier.
Can I have dual monitors with only one HDMI port?
If your computer has only one HDMI port, which is mostly the case if you use a laptop, you can connect two monitors with two HDMI cables using a switch or display splitter. Whatever route you go, just know that they aren't expensive and will get the job done.
Do you need 2 PCs for 2 monitors?
No, you don't. Most modern PCs can support both of your monitors so you can plug in 2 monitors without a problem. Just make sure that you have either an NVidia or an AMD graphics card as they are the most powerful on the market.
Does dual monitor affect FPS?
The short answer is yes. Two monitors will definitely put a strain on your graphics card and the performance will suffer a bit. The long answer is that it depends on your graphics card.
If you have the newest NVidia GeForce GTX or the GeForce RTX,  or the AMD Radeon RX 6800 you won't have any problems with your dual monitor setup.