---
In 2020, the pandemic has surely changed the way businesses work. Not only that, it has changed the way people are earning their paycheck. Most of us are currently working from home. Among other things (such as online shops, for example), streaming platforms are going viral, for two reasons. The first reason is – people are falling into boredom, and some gamers, artists, and creatives want to help us feel better at home. The second reason – streaming on certain platforms has become a lucrative business.
I am guessing there are a lot of you who are eager to discover how much do Twitch streamers make? Theoretically speaking, professional streamers earn between $300 and $30,000 a month on Twitch. In reality, their salary range is between $2,500 and $6,000.
If you want to know more specifics, stay with us and find out!
How Much Do Twitch Streamers Make?
In order to shine a positive light on this question, first, we need to talk about how much do Twitch streamers make per sub.
When streamers reach Affiliate status, they will be paid per each sub individually.
Now, the monthly subscription costs 4.99$, of which 50% goes to streamers, and the other 50% to the platform.
There are other ways to earn on the site, aside from the regular Twitch money per sub.
Users can pay monthly contributions to the channels they like.
The contribution goes from 9.99$ to 24.99$ each month.
In theory, if a channel has a thousand monthly subscriptions, Twitch streamers' salary would be 2500$ monthly or 30 000$ annually.
Also, don't forget about the ads and the revenue they bring!
Let me thoroughly introduce you to all the ways you can earn money on Twitch:
1. Earning Through Donations
This is the oldest way to earn money and be supported by your viewers.
The platform uses its own currency – Twitch 'Bits'.
Each one brings a penny to the streamer.
You can get bits on Twitch in several different ways. The most common is simply by spending some money, through buying animated emotes you can use while chatting.
The streamer gets one cent for every GIF and emote used in chat on their channel..
Of course, there are ways to receive direct donations from the viewers, as well.
There are different methods to receive the money this way, through various platforms, such as Streamlabs.
This platform is pretty favorable since it doesn't have any charging fees.
2. Earning via Ads
The streamer gets paid for every ad viewed on their channel.
Still, placing ads can be a little tricky.
You have the freedom to put an ad at any part of the video, but you have to be careful not to over-do it.
Too many ads mean the followers will get bored pretty soon.
Also, an ad always appears at the beginning, as soon as you start streaming.
If you have been lucky enough to be involved in a promotional push, two ads may appear at the beginning of your stream.
Still, we don't really know how much money do streamers make on ads because they aren't allowed to share that information.
Also, keep in mind that there is an 'Ad-block' option available for viewers, so we are guessing that the streamers can't make much money on ads.
(Still, they are being apprehensive, so they tend to ask the viewers to watch the commercials at the beginning of the stream.) Another thing – you can't earn from Ads before you become a Partner.
CNBC states that the commercial fee is 250$ per 100 subs!
On the other hand, there are CPM (cost per thousand) prices, as well.
They depend on the time of the year and other similar factors.
They can go from 2$ to 10$ per 1000 views.
Still, these fees are the highest in June, October, November, and December.
Nonetheless, the platform has individualized contracts with every streamer, and confidentiality is highly required.
3. Making Money from Subscriptions
As I have already stated, as a viewer, you can be on track with everything that is going on on the platform by just following the channels for free.
Still, if you want to subscribe to a certain channel, you'll have to pay a small fee.
The subscriptions renew automatically.
1 Subscriber Point will cost you 4.99$ monthly
2 Subscriber Points are worth 9.99$ monthly
6 Subscriber Points can be bought for 24.99$ each month
Even though the platform takes 50% of the streamer's earnings, successful Partners can get better deals, and hold on to even 70% of their subscription fees.
It is even said that some streamers get to take 100% of their subscription income!
Also, since the subscription is being charged every month (automatically), the viewer will have to stop it manually, giving the streamer bigger chances to earn than if the subscription was renewed manually by the subscriber each month.

Pay Attention: Twitch doesn't announce how many subscribers the channels have. The numbers at the profile (at the top) doesn't represent the subscribers' number, but the number of followers (who are there for free, as I have already explained).
4. Earning via Sponsorships
Sponsorship works the same as on any other platform – companies will pay for promoting their brands if they find you sooting for the role.
Of course, since the platform is mostly dedicated to video games, many companies will pay for playing and promoting their games.
This is called a sponsored stream.
Of course, how much a particular streamer will earn from the sponsor, depends on his popularity.
In general, the rate goes between 1 ¢ and 1$ hourly, per one viewer.
This, of course, means the more viewers = the more money.
In addition, all the other equipment, such as earphones, chairs, computers, etc., can be sponsored, as well.
The rate for these is usually a private deal between the streamer and the company.
Thus, we aren't familiar with how much an average streamer could earn from this.
5. Making Money from Customized Merchandise
This also works the same way as it does with influencers on other platforms.
It is quite 'simple' – be good enough (meaning have enough subscribers and followers willing to buy your gear), and earn money by selling customized Twitch merch.
6. Earning by Winning Championships
Of course, skillful players can earn money through streaming while playing games and championships they win.
How Much Do Streamers Make in Reality?
Estimated Earnings of the Most Popular Streamers
Twitch lets us know some numbers, though.
There is a list called 'Twitch Subs Count & Stats', where you can roughly count how much does a Twitch streamer makes (at least some of the most popular streamers out there), judging by the number of current subscribers, and some other parameters.
Wallet Hacks has made a list of rough numbers – how much the most popular streamers make monthly.
Here are some numbers:
NICKMERCS – 64 990$ a month
MOONMOON_OW – 43 371$ a month
DRLUPO – 42 836$ a month
GAMESDONEQUICK – 39 360$ a month
SHROUD – 36 107$ a month
What Small Streamers Can Expect?
The answer to this question depends on what you imply under a 'small streamer'.
People who have channels with 100 views, for example, can earn between 300 and 700$ a month, without the affiliate deals.
On the other hand, niche streamers earn even twice more, from 900 to 2100$ monthly, and more.
Still, as a niche streamer, your income depends on the particular deal you make.
How to Receive the Twitch Affiliate Program Application?
If you want to start earning, you must be a Twitch Affiliate.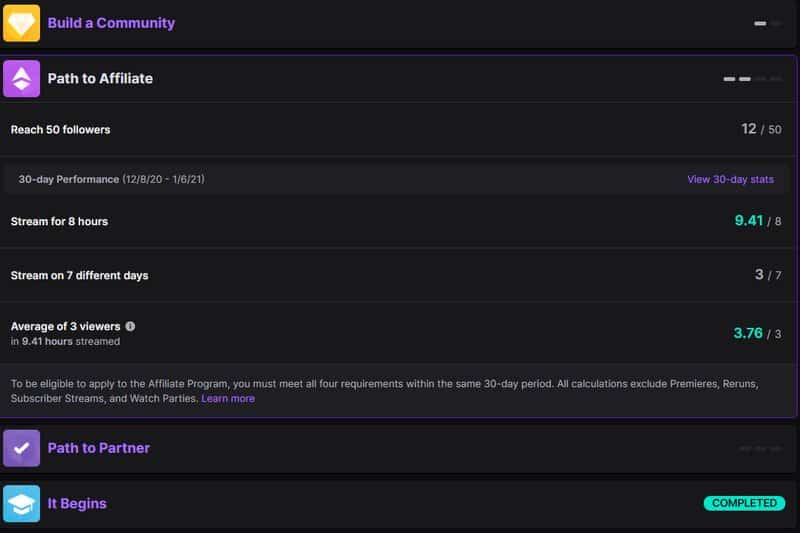 If you keep on rocking and prospering, they will invite you to upgrade to a Twitch Partner.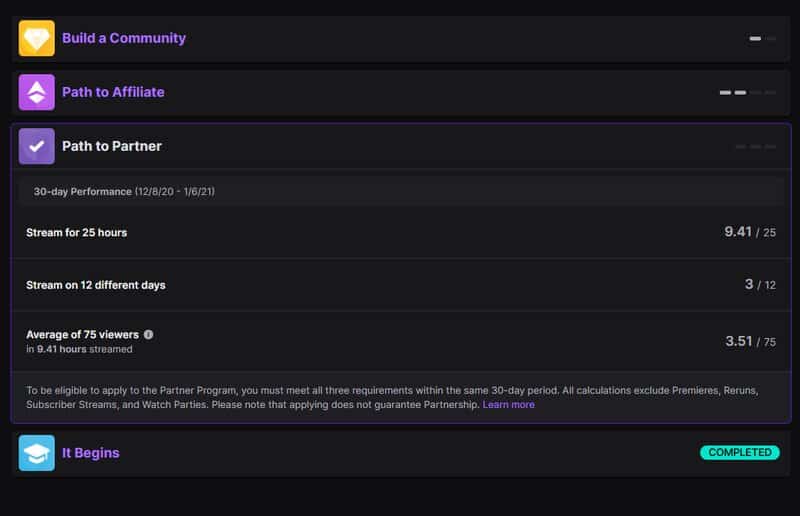 Still, you won't be able to monetize your account until you become a Partner and get Twitch verified.
There are several conditions you must fulfill before you come as a Twitch Affiliate:
500 or more broadcasted minutes so far
No less than 50 followers (during the last month – 30 days)
 7 unique broadcasting days (during the last month)
No less than 3 concurrent viewers on average (during the last month)
If you fulfill all the conditions, you can expect an email from Twitch within a week or two.
Still, in the meanwhile, stay active on the platform.
Here is what you should do to upgrade to a Twitch Partner:
25 streaming hours (during the last month)
12 unique streaming days (during the last month)
75 average viewers (during the last month)
When you are finished applying, you will be waiting for a response for up to 7 working days.
Here is the difference table between Twitch Affiliates and Twitch Partners:
The Top 10 Twitch Streamers
Ninja – 16.5 million followers
Tfue – 9.8 followers
Shroud – 8.6 followers
Rubius – 7.5 followers
Myth – 7.1 followers
Pokimane – 6.8 followers
Auronplay – 6.4 followers
Sodapoppin – 6.0 followers
TimTheTatman – 5.9 followers
summit1g – 5.7 followers
Key Twitch Statistics
There are over 1.5 million active users at any time on Twitch, and sometimes up to 4 million viewers in peak hours!
There are over 3.3 million monthly broadcasters.
81.5% of users belong to the male gender.
55% of users are young to grown gamers, between 18 and 34 years old.
Where to Learn How to Use Twitch to Make Money?
In the 21st century, I believe there isn't a thing that can be taught.
You don't even need to go anywhere, as there are millions of online courses regarding pretty much anything.
If you are new in the world of Twitch and don't exactly know how you could use it to make money, don't worry, because there are people who not only know how to do it but will gladly teach you!
There are tons of courses to take online!
For example, Udemy (a well-known online learning platform) offers numerous courses concerning Twitch: Introduction to Twitch TV Video Game Live Streaming, Ninja's Guide to Streaming: Grow Your Channel (2019), Learn how to Live Broadcast on YouTube & Twitch, or The Complete Twitch Streaming Course – 4 Courses in 1.
Frequently Asked Questions
Do I have to pay anything to use Twitch?
In general, it is a free platform, and you can sign in for free.
Still, although you can follow as many channels as you want to, subscribing to them costs money.
To put it shortly – you can use the website for as much as you want to for free, but if you want to own an account there, you'll have to pay.
What percent does Twitch from subs?
In the beginning, the platform takes about 50% of what you earn from subs.
How much does a Twitch streamer make per sub?
Each subscription brings another 2.49$ to the streamer.
How much does Twitch pay and when?
You need to earn a minimum of 100$ to get paid.
After the end of each month, streamers wait for 45 days to get paid.
Still, if you don't earn at least 100$ in a year, the platform has the right to end your affiliate status.
---
Conclusion
Although it may seem like an easy job to some, being a well-paid Twitch streamer is far away from that!
The average payment goes anywhere from 300$ to a couple of thousand dollars each month, depending on your working hours at the content you are providing.
There are several ways to earn money on the platform, whether through donations, subscriptions, ads, or sponsorships.
Of course, you will indirectly earn money also by winning championships or selling customized merchandise.
It isn't hard to apply for the Twitch Affiliate program, but it does require some hard work.
You'll need to stream regularly and fulfill some other conditions, like enough views and streaming hours, to be eligible for the Twitch Affiliate.
If you do good there, you have a chance to improve your status by becoming A Twitch Partner.
Still, judging by some of the twitch stats, hard work on twitch can pay off, considering the fact some streamers make more than 30 000$ each month!
Of course, years of hard work stand behind these, I will call them businessmen.
If you are still at the beginning of your streaming trip, you can always take a course on how to use and make money on Twitch.
The bottom line is pretty much the same as in any other business – work hard, earn hard.