If you are a Twitch regular or someone who has just started browsing the platform's massive selection of streams, you definitely have come across the term "bits" quite often. You might be wondering what they are and how you can get more of them.
In short, you can get bits by:
As Twitch slowly takes its place as one of the leading de facto online communities where you can crack open a cold one and enjoy thousands of different streams, from gaming to music, as much as you like, yet there is a fierce competition going around!
The reason for this occurrence is because streamers want to amass their following to be as large as possible in order to increase their chances of, you guessed it, getting as many bits as possible.
These animated icons are the bread and butter of the entire Twitch community, representing virtual goods that viewers award to their favored streamers that can then be transferred to real money!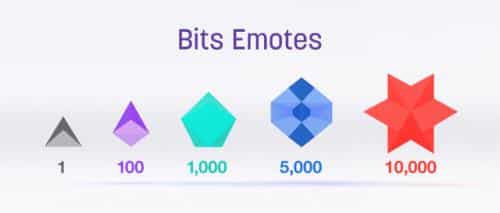 In this guide, you will learn all you need to know about the innovative Twitch bits system's exceptional online economy in all the possible ways!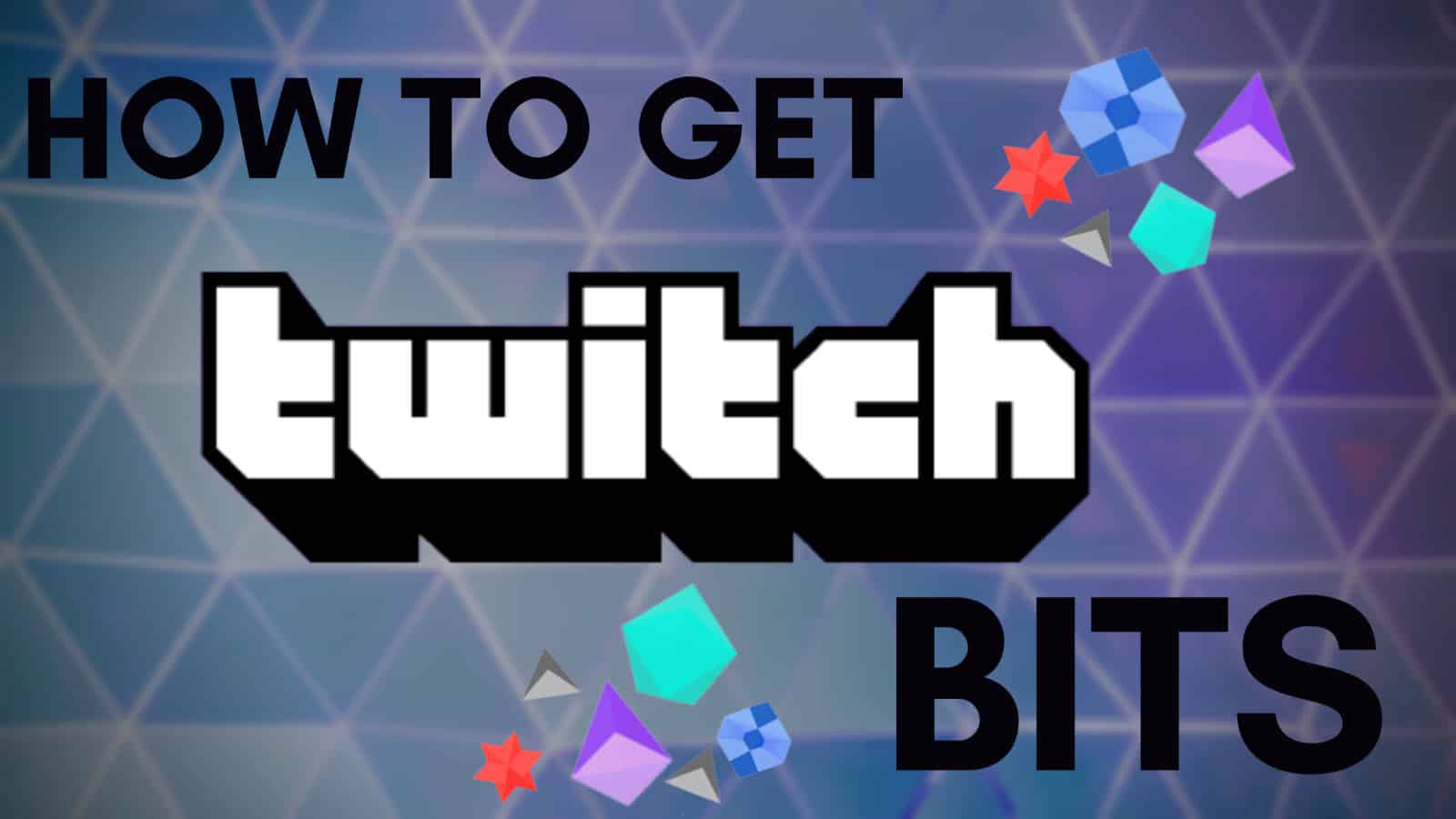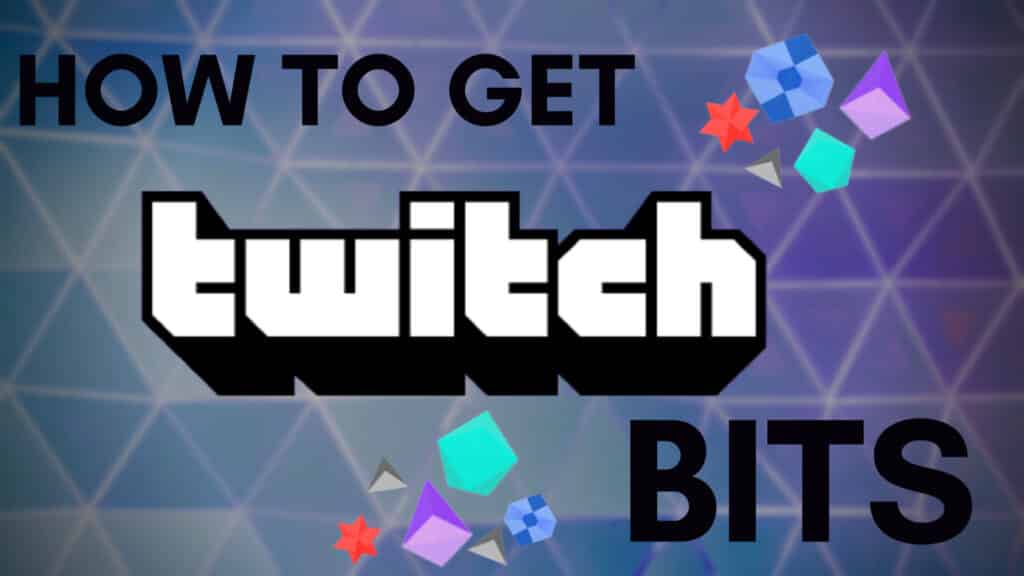 How to Get Bits on Twitch – an Overview
The central role of bits is to serve as a digital currency that you can use to support your favorite streamers on the platform by "cheering them" with bits.
The worth of one bit equals 1 cent (USD) in transfer value, so you can deduce the value of any amount of Twitch bits by putting a decimal on the last two digits of any value you come across, so it should look something like this;
1 Bits = $0.01 USD
10 Bits = $0.10 USD
100 Bits = $1.00 USD
1000 Bits = $10.00 USD
10,000 Bits = $100.00 USD
Streamers recognize the value their viewers bring to the table and will go head over heels in a majority of cases to encourage this behavior, just as the basic law of economics goes, "what behavior you subsidize you will get more of it."
It's safe to say that you will notice a vast variety of ways cheerers are motivated to keep supporting their favorites through leaderboards, VIP statuses on their favorite channels, and subscription benefits.
You can get bits on Twitch without investing a single penny. A ton of  free Twitch bits can be yours by participating in surveys, but large quantities of this currency have to be bought, usually with discounts on larger quantities;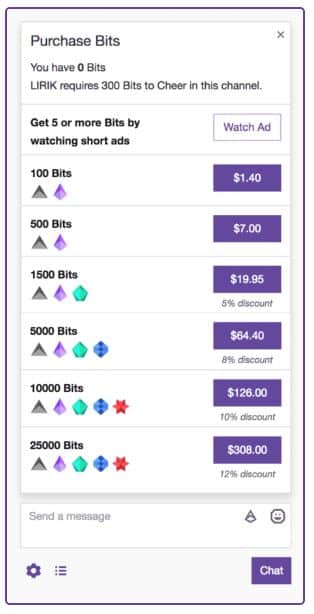 1. How to Get Bits on Twitch by Watching Ads
Want to get yourself a fair amount of this digital currency within a few minutes? There is no better way to get bits on Twitch for free than by spending some time watching ads. You can collect a substantial amount of bits in no time.
To ensure you can start racking some good gains, you need to enable ads, which you can do like this:
1. If you have any sort of Ad-blocker active during your usage of Twitch, it needs to be turned off. Running the platform on your browser usually extends the effects of all your Ad-blockers over Twitch unless it is turned off, or if it made an exception, you could turn most off like this;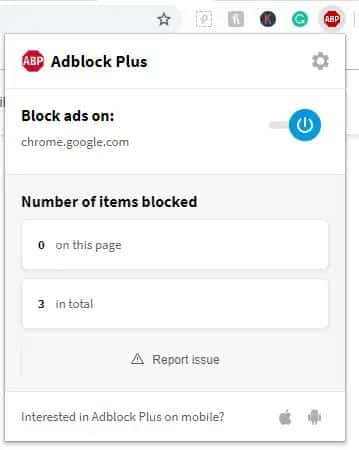 If you don't use Ad-blockers, you can just skip this step.
2. Once you gain access to a stream of your choice, look for a purple icon that symbolizes a value of bits (usually the smallest value);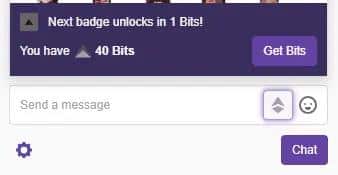 3. Click on the purple button that says, "Get Bits," and choose the option to "Watch Ads."

4. Watch and earn. You won't make many bits (usually just a few cent's worths). Still, it does add up over time, remaining an excellent way for you to experiment with the site's features and economy before deciding to invest large amounts of money or time into making bits.
Watching ads on your mobile device
If you enjoy streams from your mobile device, you also have the option of stacking some extra bits by investing 30 seconds of your time into watching a few ads, and it is effortless to do so;
1. Start the app and, same as before, choose a streamer you would like to watch
2. From the chatbox,  hover over and pick the option to"Get Bits."
3. Wait for the ad to finish. Take note that your earnings will typically amount less if you decide to take advantage of the ad system on your mobile device when compared to your desktop. Nonetheless, it's one of the more mainstream methods on how to get bits on Twitch completely for free.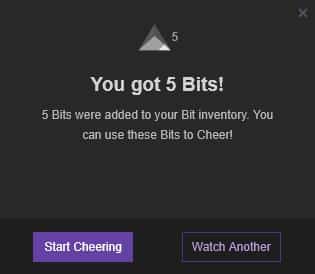 You need to know that your ability to earn free bits by watching ads is location dependant. This means that you cannot watch ads in other countries unless you have a US proxy due to the system applying its ads through US laws and regulations.
2. How to Earn Bits on Twitch through Twitch RPG
If watching ads for hours just to get bits on Twitch for free isn't your thing, then you are in for quite a surprise! The second way you can invest your time is by filling out surveys on Twitch Research Power Group!
Before you begin with this method, you should know that engaging with the Research Power Group (RPG) holds a lot more weight than just marketing products and apps associated with ads in most cases.
Twitch actively looks to improve its service and use the most of its potential to transform itself into a real online haven for content creators of all kinds. Your contribution can go so far as to help decide upon a new type of emotes and services that can change the entire experience for everyone on Twitch!
But there is a far more expansive list of benefits that you can get by being a participant at RPG, as it includes the following;
1. Time-sensitive surveys – often, there is a limited window for the more critical surveys that don't deal purely with general information. This is why the window for you to jump in is often limited by the timespan Twitch has set up in order to sample a random number of participants.
The upside to these surveys is that they can reward you with a hefty amount of bits, sometimes going so far as to provide from 100-500 bits per survey! A fantastic reward for investing a couple of minutes of your spare time!
This is how a sponsored survey with a closing date seems like;

2. Video-related questionnaires – This is yet another kind of email you might receive that contains a link to a streamer's performance. Your job would be to watch the video and provide honest feedback for research purposes, mainly around how well you perceive the displayed streamer and if the content is to your liking.
Tips on Farming Free Bits – a Guide on How to Get Bits on Twitch by Watching Ads
Let's be honest- no one likes watching ads too much, let alone seeing an hour's worth of ads just so you can earn a few extra bits. While it would be disastrous to go through that tiresome process, you can speed it up by employing a few techniques:
Play the ads but on a second screen and mute them so you can use your computer while the ads play out
On your phone or on your pc, start up a random ad and busy yourself before the process is finished
This is a great way to stack up your earnings while avoiding those pesky ads as much as possible!
3. Paying for Bits and Making Donations
You can get bits on Twitch easily for free, that is true. However, if you want to get your hands on a large number of bits, it is a better bet to invest some cash into getting a fair amount of bits.
You can complete your purchases through either PayPal or Amazon Payments, in quantities from 100 to 25,000.  You can see for yourself how much cash you need to dish out to get some bits;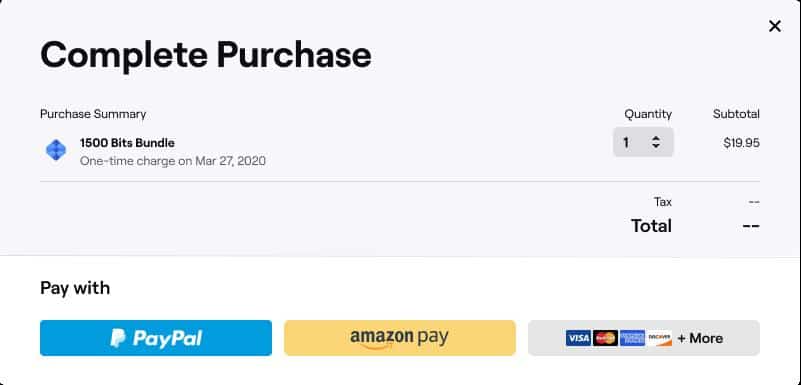 100 bits=$1.4
500 bits=$7
1,000 bits=$10
1,500 bits=$19.95
5,000 bits=$64.4
10,000 bits=$126
25,000 bits=$308
Whenever you cheer on one of your favorite streamers, you accumulate points towards earning a badge that displays how much you contributed to a channel, as seen below;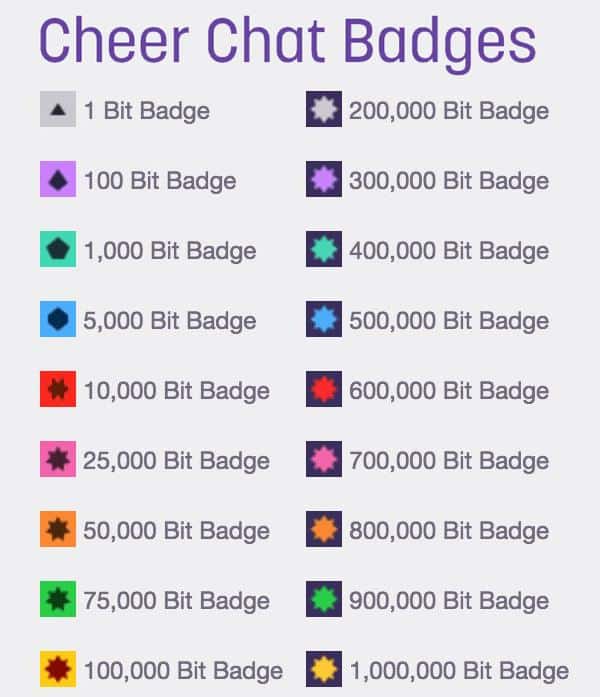 Another upside is that you get to use a wide range of animated emotes whenever you donate with bits, usually in quantities of 1,100, 1,000, 5,000, and up to 10,000. Combined with the Cheer Chat Badges that you earn based on how much you donated to a particular channel, it is an informal way for both the streamer and the viewer to distinguish each other based on donations.
Whenever you do want to donate, just type in "cheer (insert any amount you wish to contribute, for example, 500), and you can add anything else after that.
A textbook example would be "cheer100 Love your stream";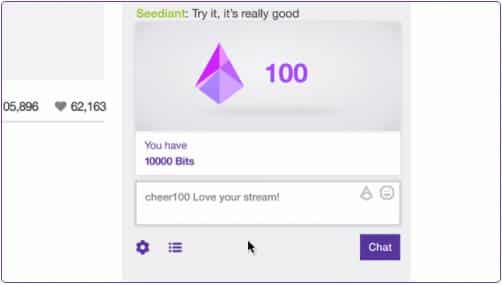 However, this is not the only way to support your favorite content creators, as Twitch does take a cut out of transactions. To remedy this, you can make donations by using your credit card or PayPal balance that goes directly to the streamer's wallet.
This is a preferred method of payment within a particular streamer's inner circle of viewers and subscribers. As it does not qualify you for any kind of badge or direct benefit from the system itself. It is often reserved for already distinguished regulars to the channel.
There are three main differences between donating and cheering with bits:
Twitch does not take a cut – as this is a direct transaction between two parties, the entire sum that you wish to donate goes to the streamers, which excludes costs set in by Twitch. If you ever want to be more directly involved in financing a content creator on the platform, this is the best way to do so.
It is reversible – when you cheer someone, you do get five seconds to rethink your decision (just in case it was a type, as you might enter "cheer 5,000" instead of "cheer 100"). After that, the transaction is final.
Cheers are intended to be reactive – when the Twitcher makes a fantastic play or manages to impress his viewers with an astonishing display of skill, this is when he racks up bits the most. Donations are the complete opposite- you can use chargeback to take back the money you invested in your desired streamer. Donations are often deal with more abundant quantities of cash, and donators reflect on the real value a streamer makes towards them as viewers as a result.
Frequently Asked Questions
As this guide covers up everything you need to know about the bit economy and a few alternatives, this section will briefly cover the most common questions regarding how to get bits on Twitch.
1. How many free bits on Twitch can you earn by watching ads?
Realistically speaking, not much.
Going by the fact that you will most likely earn about 5 bits for a 30-second ad (and one bit is worth $0.01), you can watch for about 5 ads per day and make a meager $0.40 for those few minutes.
It might not be much but, if you are engaged in watching streams and want to contribute small amounts at the start, it is indeed an excellent way to start off. Persistence can pay off as well, as the quantity can stack up over time (if you don't get your hopes up, a month of watching 5 ads a day amounts to $12, so it is not at all that bad).
The average amount of bits you can earn increases if you use your desktop computer, especially if you interact with the ad (the payout goes from 5 to 100). The ads refresh at midnight (in Pacific Standard Time), which counts as a "Twitch Day."
2. What about surveys? Is it viable to get bits on Twitch for free by signing up to RPG?
Absolutely, as the benefits, aside from making the community better by giving your honest input, includes a nice amount of bits that payout at 500 on average.
They tend to be active on a limited timespan, so be sure to check out your inbox often so you don't miss out!
3. How are bits paid out?
Twitch utilizes a Net-15 system for sending payments to their streamers. The system converts your earned bits into money using their transfer fees (which you can check out in detail on the official fees and payment page).
Everything you have amassed will remain will have to wait for at least two weeks before Twitch sends your earned cash to your Bank account, Wire, Paypal account,  eCheck, or a regular check.
Affiliates need to amass $100 before they get paid. If their monthly income does not hit that sum, it is transferred over to the next month.