Twitch has been the most popular live streaming platform almost from the moment it was launched in 2011.
It was originally created for streaming games and it is still the most widely streamed content, by far. Still, there are other things you can stream and watch on Twitch – chat shows, reality content, arts and crafts presentations and tutorials, and more.
The number of streamers and viewers on Twitch grows almost, if not daily. Let's take a look at the impressive numbers for 2022!
Twitch Growth in 2023
Even though the rise of Twitch has been organic and constant, the pandemic that hit us in 2020 increased the number of Twitch users significantly.
Let's take a look at the numbers and compare the now and the before the pandemic.
October 2022:
2,510,709 average concurrent viewers
88,699 average concurrent channels
1,754 million hours of watch time
7,132,621 active streamers
67,284,116 hours streamed
And these are numbers for only 1 month!
Here are the numbers from Twitch Tracker directly:


Before the pandemic – January 2020:
1.3 million average viewers
1.3 million average viewers
52,875 average channels
2,615,401 active channels
39,286,864 hours streamed
Check out SullyGnome statistics:


As you can see, between January 2020 and October 2022, the number of average viewers almost doubled with about 1.2 million more viewers per month.
There are 30.000 more active channels streaming now, and 27.997.252 more hours of watch time per month!
That's quite a growth in less than 3 years, I think you'll agree.
Twitch Demographics
When talking about Twitch statistics, we have to talk about demographics as well.
Here, I will show gender, age and language distribution of Twitch users as it is currently.
Gender Distribution of Twitch Users
If you have assumed that there are more male than female users on Twitch, you're not wrong.
According to SimilarWeb, almost 80% of users are male, while only about 20% are female.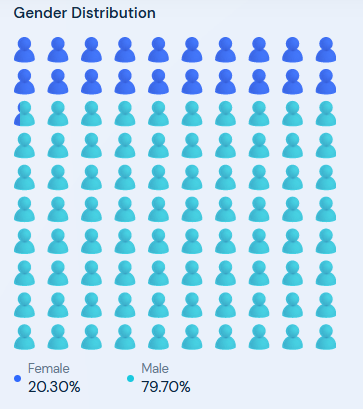 This gender distribution is pretty constant throughout all age groups, however, with younger generations taking the stage, more and more females are starting to stream and we might see a shift in the gender distribution in the next months/ years.
Age Distribution of Twitch Users
If you have assumed that most Twitch users are people around 20 to 25 year-olds, again, you wouldn't be wrong.
The biggest age group are those aged 18 to 24, however, statistics for people under the age of 18 isn't available but there certainly are younger users.
If you're wondering how old you need to be to stream on Twitch, you need to be at least 13, but from 13 to 18, you need your guardian's permission.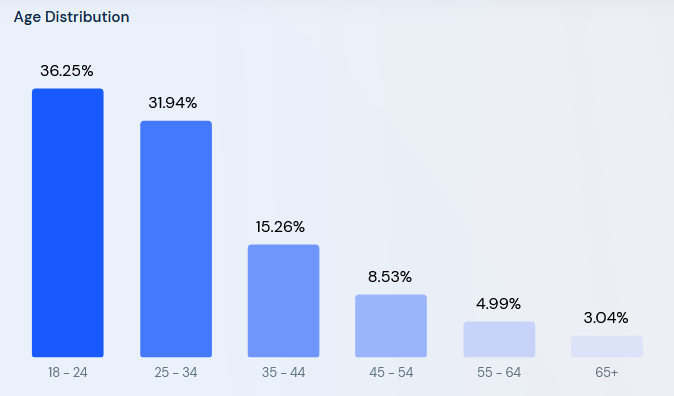 According to SimilarWeb, the age distribution of Twitch users looks as follows:
36.25% – users aged 18-24
31.91% – users aged 25-34
15.26% – users aged 35-44
8.53% – users aged 45-54
4.99% – users aged 55-64
3.04% – users aged 65+
Language Distribution of Twitch Users
Again, it comes as no surprise that English is the most used language of Twitch with 44% of users speaking it.
Here are the TwitchTracker statistics for the last 7 days: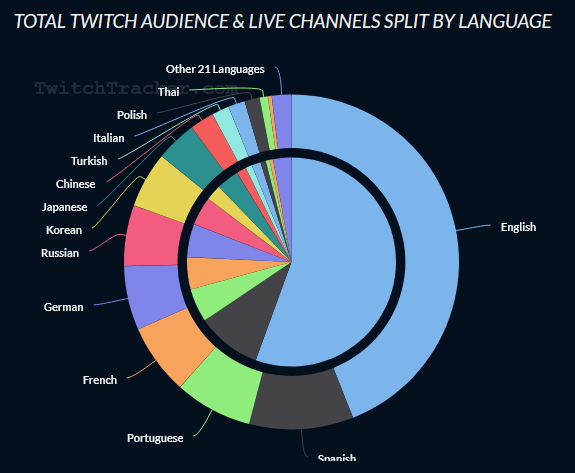 English – 44.01%
Spanish – 10.06%
Portuguese – 7.52%
French – 6.83%
German – 6.18%
And if you want to see that in number of viewers and channels, it looks like this: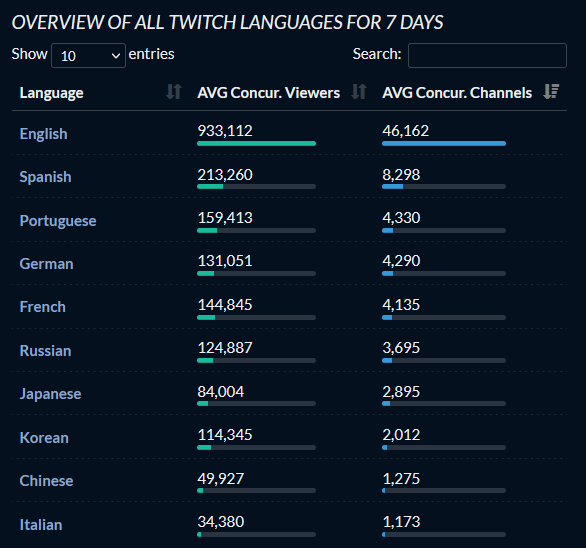 The rankings for languages and average number of viewers is the same. However, there's a slight difference in the number of channels for French and German.
While there have been almost 145.000 viewers for French and a bit over 131.000 for German, the number of channels in German is higher with 4.290 compared to 4.135 for French. A slight difference, almost unnoticeable, but it's still there!
| | | |
| --- | --- | --- |
| Language | Average Viewers | Average Channels |
| English | 933.112 | 46.162 |
| Spanish | 213.260 | 8.298 |
| Portuguese | 159.413 | 4.330 |
| French | 144.845 | 4.135 |
| German | 131.051 | 4.290 |
Countries That Use Twitch Most
The country that uses Twitch the most is, expectedly, the USA, but there are some surprises on the list:
US – 20.46%
Germany – 6.91%
South Korea – 5.32%
Russia – 4.56%
France – 4.27%
These 5 countries take up over 40% of all Twitch traffic, but it's clear that the US has the most users and will probably stay on top as long as Twitch exists.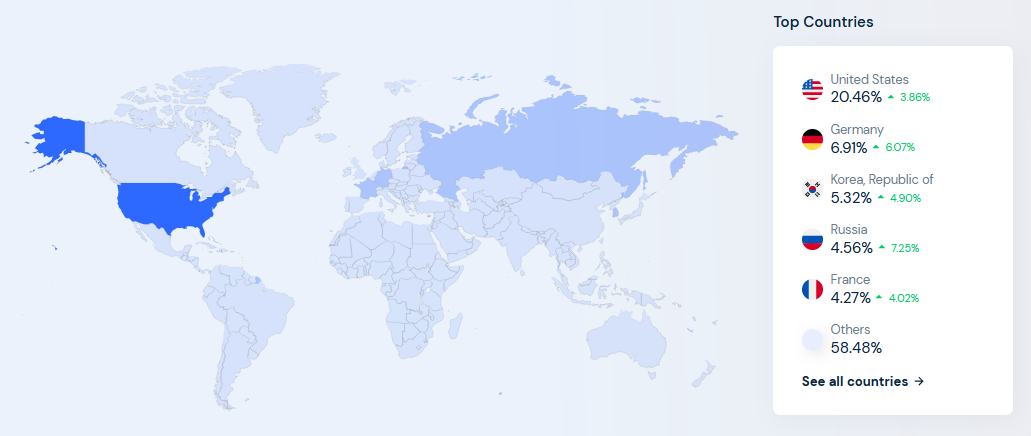 Most Popular Games on Twitch
What are gaming statistics without a list of the most popular games?
Here is the list of top 10 most watched games on Twitch for October 2022, as shown by the SullyGnome.
League of Legends – 159.646.745 hours
Overwatch 2 – 139.453.660 hours
GTA V – 96.510.973 hours
Dota 2 – 83.032.166 hours
VALORANT – 70.045.411 hours
FIFA 23 – 61.232.435 hours
CS:GO – 56.602.588 hours
Minecraft – 43.572.213 hours
WoW – 33.151.997 hours
Apex Legends – 33.058.700 hours
There's also a list of the most streamed games, based on the number of streaming hours. Here are the top 10 for October 2022:
Overwatch 2 – 4.110.313 hours
VALORANT – 3.399.059 hours
Fortnite – 3.099.016 hours
Apex Legends – 2.481.687 hours
League of Legends – 2.036.314 hours
GTA V – 1.893.089 hours
CoD: Warzone – 1.657.641 hours
CoD: Modern Warfare II – 1.500.394 hours
Minecraft – 1.363.609 hours
Death by Daylight – 1.274.977 hours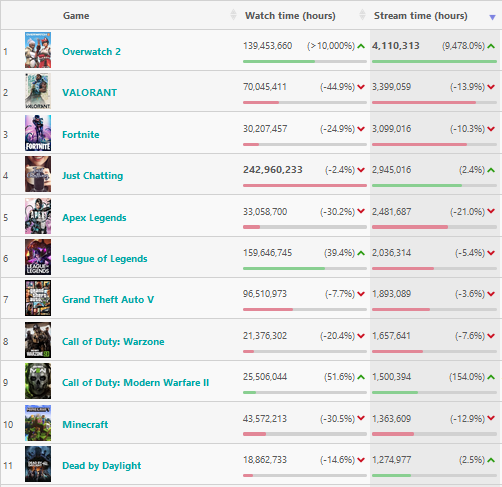 Twitch VS Other Platforms
When it comes to other platforms used to watch live-streamed video games, Twitch is, by far, the most popular one.
As it is reported on Statista for the third quarter of 2022, Twitch had 5.712 millions of watch time, while YouTube live gaming, that is on the second place, had only 1.176 million hours!
According to some estimations, Twitch is expected to grow to about 190 million monthly viewers by 2023. When we see its rise until now, we can see that this number, though very high, is not impossible to reach.
Infographic