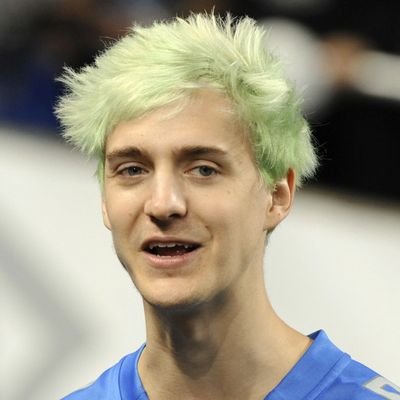 | | |
| --- | --- |
| Full name: Richard Tyler Blevins | Education: Grayslake Central High School |
| Date of birth: June 5th, 1991 | Height: 6′ 0″ / 183cm |
| Place of birth: Detroit, USA | Weight: 136lb / 62kg |
| Current residence: Chicago, Illinois | Estimated net worth: $60 million |
Who Is Ninja?
About, History, and Net Worth
A massively popular streamer and a true businessman, Richard Tyler Blevins, better known by his online alias Ninja, has created an entire empire around his internet personality, with multiple channels and sources of income.
Naturally, being at the head of such a successful phenomenon allowed him to quickly amass a ton of wealth.
But how much is Ninja net worth, exactly? Let's find out!
Ninja's Early life
Born in Detroit, USA, Ninja moved to the Chicago suburbs with his family as an infant. He has shown an interest in video games from a young age.
He also played soccer until graduating high school in 2009, at which point he decided to become a professional gamer. It is this decision that was the beginning of his great success.
Ninja Net Worth
Ninja's net worth is estimated to be around 60 million USD, which is far more than what even Ludwig, the most subscribed Twitch streamer in history, has accumulated.
This is mostly because instead of focusing on just one game or platform, Tyler Blevins has tried to get a piece of as many cakes as possible, exponentially increasing his income.
Ninja's Twitch Channel
Originally started his stream in 2011 on a platform known as Justin. Ninja started Twitch streaming shortly after the platform was released in 2011.
He stayed on Twitch until 2019, amassing over 18 million followers and over half a billion channel views.
His astronomic rise began in 2017 when the massively popular Fortnite battle royale was released.
Every kid in the world wanted to play this newly released epic game hit, and Ninja capitalized on it heavily.
Already familiar with the battle royale concept from his previous gaming experience and willing to share tips with his viewers, he soon became the undisputed number one Fortnite streamer.
This led to epic games signing a partnership with him and releasing a Ninja-themed skin for their game, one that sold for 10.000 units every day at the height of its popularity.
The success of the game also allowed Ninja to break the platform's record in terms of concurrent viewers.
He did this with three other popular streamers, Travis Scott, Drake, and JujU Smith Schuster.
His channel continued to grow throughout 2017 and 2018. Eventually, however, he decided to move to the Microsoft-owned platform mixer.
His wife and manager, Jessica Goch, claimed that he felt like he wasn't progressing anymore, and the decision to leave Twitch directly resulted from that.
However, he went back on this decision in 2021, signing an exclusive multi-year deal that had him return to Twitch once more and greatly improving his already excellent financial situation.
Ninja's Youtube Channel
With over 24 million subscribers, this American streamer is one of the most popular gamers on Youtube. Youtuber Ninja also holds the number 1 spot among all the Fortnite battle royale-themed channels, a fact that has led him to get many endorsements and sponsorship deals, as well as a lot of income from ads.
Ninja also joined Youtube gaming in march 2020, beginning to stream on this platform after Microsoft's streaming platform, Mixer, was shut down.
This only increased his popularity overall, and though we aren't privy to the exact figures of his YouTube channel-related income, it is certain that Ninja earns hundreds of thousands of dollars every month from this platform alone.
Ninja's Esports Personality
While Tyler ninja Blevins is primarily a streamer nowadays, he originally got into the gaming world as an active esports competitor.
He began his esports career as a professional halo player all the way back in 2009, being a part of large organizations such as Cloud9 and Renegades.
He also played for Team liquid and luminosity gaming in more recent times.
Furthermore, Ninja participated in quite a few online competitive tournaments as well as Fortnite promotional ones organized by epic games, winning a couple of esports awards along the way.
Most importantly, however, these successes made him even more famous than he already was, with Fortnite tournaments becoming an essential part of his streaming career to the point where he even began organizing his own.
Ninja's Endorsement Deals
Ever since Ninja started streaming, he has gained a reputation as a very business-oriented person, which is reflected in a large number of brand deals that only increased in value as his popularity grew.
The first of these massive brand deals was the Fortnite Ninja skin sale, which allowed the streamer to become embedded in the game's history.
Furthermore, he has also signed a deal with red bull esports as well as NXT tower cases.
Lastly, the deal that led him to move to Mixer before the collapse of that platform is reported to be worth 30 million USD, an unprecedented amount for a streaming contract.
In addition to these large deals, Ninja has also been contracted to promote apex legends and participate in many smaller or one-time events.
Conclusion
Ninja's net worth is quite high, mostly because not only he has a massive number of followers across all his streaming platforms, but also because he made the best out of all the deals he was offered. 
It is all but a certainty that we will continue seeing him on the scene for a long time to come.
FAQ
How much is Ninja worth in 2022?
Ninja's net worth has been estimated to be around 60 million USD at the beginning of 2022, but this number will continue to rise as the year goes on, so the current figure is unknown.
Who is the richest gamer?
While it is unknown what his exact net worth is, it is almost certain that the richest gamer and streamer is PewDiePie, with his incredible 97 million followers on YouTube.
How much money does Ninja make a year?
With an average monthly income of about half a million USD, it is estimated that Ninja earns $6 million yearly, not counting any large donations he may get.