When we talk about taking your brand to another level, it's important for Twitch streamers to have a way to further connect with their viewers.
That's why it's a great idea to have your merch store, not only because you can make more profit other than from Twitch streaming, but also because you can expand your business across the globe and bring attention to potential viewers from different countries.
---
If you are famous enough on Twitch, you can create your unique brand and set up a merch store. Here are the tips on how to start.
How to Make Money on Twitch with Merch Store
Create your brand with a unique logo, name, symbol, or any other distinctive feature
Decide what you will sell (clothes are the best option for a start)
Set up a sales website (you can also use premade solutions like Sellfy, Streamlabs, or Spreadshirt)
Don't be too pricy, but keep track of your costs (cost of goods, production costs, shipping costs, marketing costs, etc.)
Start advertising your store on social media and during your streams
---
So today I'll make a step-by-step guide on how you can create your Twitch merch store and how to attract potential viewers to buy your products.
Planning Is the Key
Before you even start creating your merch online store, you need to know exactly what you'll be offering for your viewers to buy.
The most basic items sold in merch stores are clothes, and even though it might sound generic, it works. You can also sell backpacks, hats, patches, mugs, and anything that comes to mind and that you know your viewers will enjoy.
But if you're just starting with your brand, you do want to stick to clothes such as shirts, shorts, and hoodies, making sure they're all top quality.
Creating Your Merchandise
It's needless to say that you need to know what products are you putting up for sale. And this won't be a walk in the park as you need to come up with a logo that is memorable and that will be recognized by the community.
As I already said, your safest bet is to sell clothing as these items are easy to ship. A hoodie or a shirt can just be folded and shipped nearly anywhere.
You can add products, but let's just stick with the basics so once you get paid from your followers, you can further expand your product list. But before you do that, you need to make a quality logo.
Unique logo
You want to make a logo that represents your Twitch content, and also something that your viewers can easily search up or identify on a shirt or a hoodie.
Your logo should also be of good quality, so hiring a professional to make it is always the way to go if you want to get some profit from your Twitch merch.
Of course, it's your branding so you can be creative, but try to stick with something recognizable, or just search up logo ideas and decide what you like.
Twitch hoodie and shirt merch
The most popular Twitch merch is definitely hoodies and t-shirts not only because they're quite easy to find in large quantities for print, but also because the sizes are more or less the same by different clothing companies which make them.
There's no difference in logo placement for t-shirts, as long as you don't use large formats on the back as the print tends to make the clothing uncomfortable to wear.
You can also print your Twitch stream channel ID on the inside of the collar which only your fans who bought the shirt or hoodie can see.
Miscellaneous merchandise
For this type of merch item, you want to aim for something that's directly associated with your channel, whether it is gaming-related, or anything your content is known for other humans can relate to and not just your friends.
Mugs are one of the most popular options as they are easy to print on and you can fit a lot of text and logos on a mug so your creativity won't be cut off. For gamers, you really can't go wrong with hats, cups, or even stickers with your branding.
To summarize, anything you would buy someone as a last-minute gift could be a potential merch item so be creative but also follow what other people are doing as you do want to make money.
Creating Your Merch Store
To create your merch store you need to use a website or set up your website. If you already have a website, you can optimize it to have a store for your products.
But since there are several sites such as Streamlabs, Spreadshop, and so on, it's a good idea to use these sites as they are easy to use and offer quite a few perks.
Sellfy
If you are looking to create an eCommerce website to promote your Twitch merch, then Sellfy is a pretty good option to start with. It offers a decent print-on-demand service, allowing you to fully customize different types of products.
Amongst the products, you can choose from their clothing, hats, bags, home decor, and phone cases. You can add your logo, custom art, or customized text to any of these products.
You can try Sellfy for free, with the 14 days free trial. After that, you can choose between 4 plans, one of which is free. However, the Free plan has some limitations, but you can choose one of the other 3 if you are really serious about making streaming your career.
Note that in order to use Sellfy you don't need to have a website. You can create your own e-store with Sellfy. Depending on the plan you chose, you will have different options available to you, as well as different limitations.
Streamlabs
On Streamlabs besides tracking your streaming data, you can also create an online market for your merchandise. If you already have an account on Streamlabs, just log in and you'll see the merch shop button below. And if you're new to Streamlabs, setting up an account takes only a few minutes.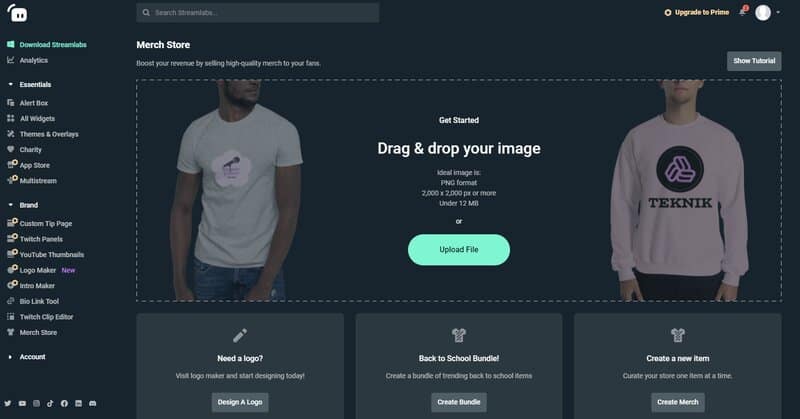 As you can see from the picture you can easily add a new product, and even make a back-to-school bundle.
When you want to add a product, click settings and here you can select from a wide range of product groups what you want to add, and here you can set the price, shipping, number of products in stock, and checkout options.
Once you're done, you can even edit your logo designs right on Streamlabs so you can see how your merch will look without even having the product in hand.
All in all, Streamlabs is an excellent site for putting items for order and they also have good customer support on the site if there's any problem with the order so they've got your back.
Spreadshirt
Spreadshirt is one of the major online marketplaces lots of gamers, streamers, and other content makers use to sell their merchandise to fans.
What's great about Spreadshirt is that anyone can set up an account and start selling merchandise. All of the clothing is printed in the USA, so it means that you don't need to get your stock of shirts, hoodies, sweats, and so on, but rather have it all printed out for you ready to sell.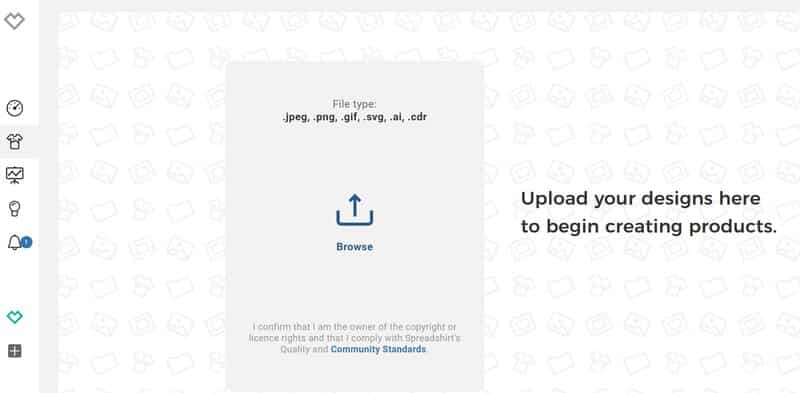 Once you set up an account, you can upload a logo, image, or any design and then edit the placing on the piece of clothing and that's pretty much it.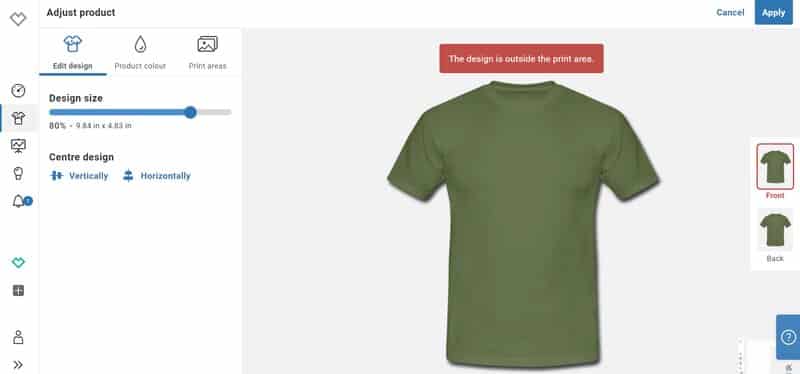 Spreadshirt is great because you can easily customize your shirts and search for different designs, and also set up how your customers are going to pay for the product.
All of the clothing is of premium quality, and once you make an order, it'll be made in about 24 hours. Your only job is to advertise your products on the site and set up how you want your products to be delivered.
Things to Consider Before Making Twitch Merch
You can learn from your mistakes, we are all humans, but these tips will surely help your merch sales reach satisfying numbers and your customers ready for checkout.
Pricing
When talking about pricing, you need to consider how much you're spending for a product to be created, and then the price of your merchandise so your investment doesn't get lost. Usually, you want to profit at least twice what you've invested.
Shipping Costs
The next tip is aimed at shipping costs. Now, you generally want to start shipping products only in your state.
If you live in the U.S., then you'll ship all around the country, but if you live in Europe, you want to have a selected number of countries available for shipping.
See which countries view your Twitch stream the most and start from there. Just remember that costs of shipping vary from country to country and even though the customer pays for it, you still want to make sure the pricing isn't too crazy.
Advertisement
To sell a product on the market, you need to advertise it because how else are people going to hear about your brand?
You can set up alerts on your Twitch or YouTube stream, tell your followers you're making a giveaway, see if fellow streamers are willing to offer some shoutouts, tell all your friends, and from this point, anything can happen.
You don't want to hire companies to do the work as ads for merch are easy to maintain and any alerts can attract your audience to shop for your merch.
Content creators and customer interaction
Interaction is quite important and many companies do try to interact with each customer so that they are diverted into making a purchase. Twitch streamers have found out that this not only works but also makes their products purchased a lot more than just hanging up a sign that says "merch for sale.
What you can do is offer something in return for the purchased product, such as letting every 10th customer get a mod on your Twitch stream, or getting access to more content you wouldn't normally upload. You can also add a tip page where people can donate, and in return send them free gift items.
Conclusion
I hope that this article was helpful for you to learn how to set up your Twitch merchandise store and everything else concerning item purchase and profit.