If you are a regular on Twitch, you probably did notice the purple octagonal symbol with a white tick that is most often seen on big-named streamers on the platform. Those marks represent verified streamers who partnered up with Twitch.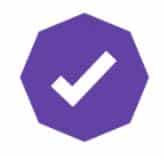 What does it mean to be verified? What benefits does it offer? How to get verified on Twitch?
---
There are 3 simple steps and requirements you need to meet.
Step 1: Reach Twitch Affiliate Status
To reach Twitch Affiliate status, you need to meet 4 requirements:
Stream for 500 hours in the last 30 days;
Do at least 7 streams in the last 30 days;
Have at least 3 viewers on average during those 30 days;
Reach a total of 50 followers.
Step 2: Complete "Path to Partner" Achievement
To get a Twitch Partner status, there are 3 requirements you need to meet:
Total of 25 hours streamed in the past 30 days;
Stream on 12 different days in a month;
Have at least 75 viewers on average during those 30 days.
Step 3: Apply for Twitch Partner Program
Once you meet all the requirements, Twitch Partner status still isn't guaranteed. You need to apply to join a Partner program, and your application will be reviewed by Twitch. Be patient, because it can take up to 7 business days before the decision is made.
---
 Everyone can join by becoming verified and start earning some money doing what they love, and that is what you will learn within this article!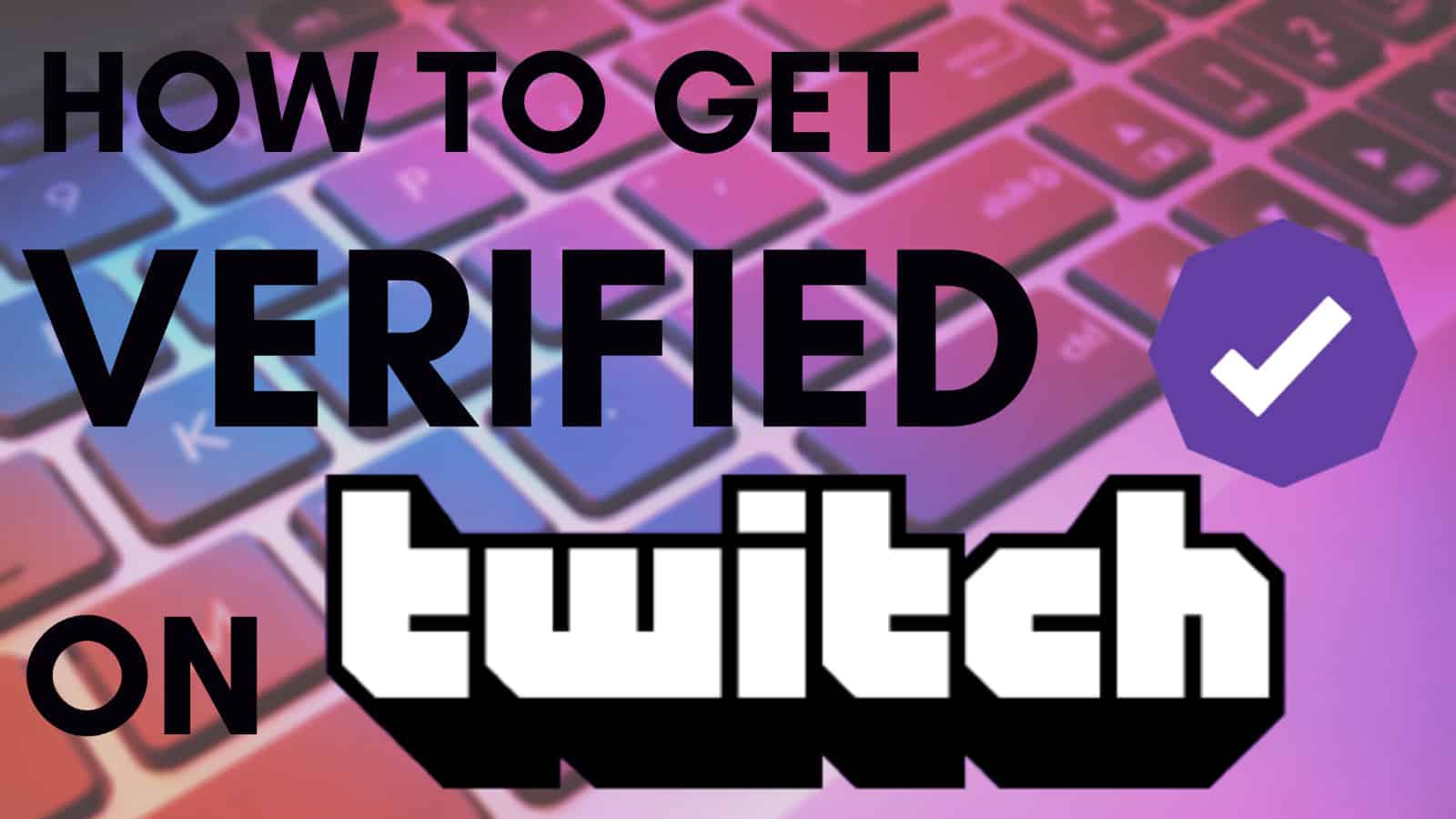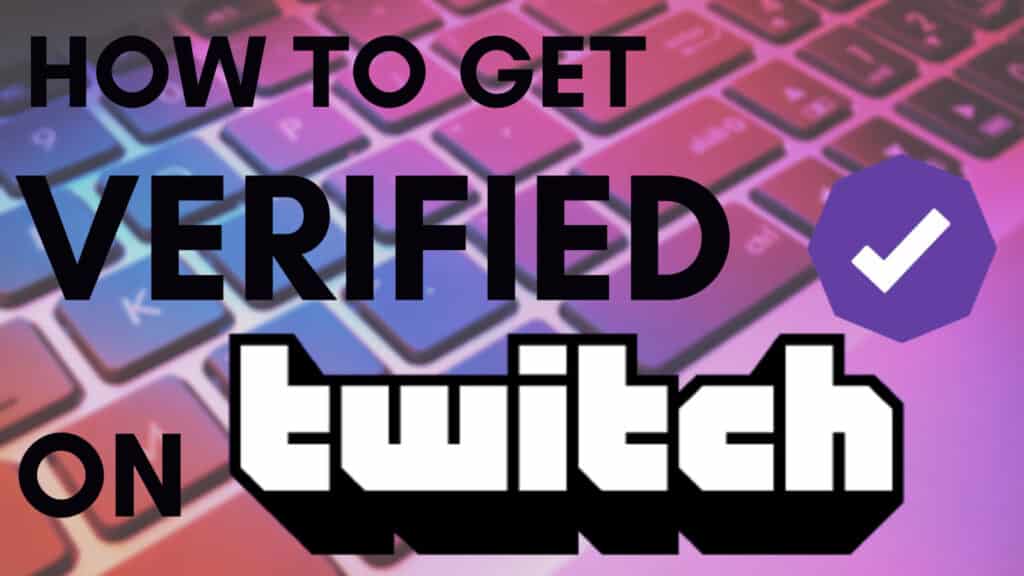 How to Get Verified on Twitch – Basics
First thing's first- you need to partner up with Twitch before considering getting verified.
Before we go any further- you need to become an affiliate before you can partner up with Twitch, and no, it is not complicated to fulfill the basic requirements for both once you get your gig started up.
Based on your level of commitment, you can fall into one of three categories:
Streamer
Affiliate
Partner

The higher you go up, the more involved you will get, and you will need to meet the demands set up by Twitch. In return, you can expect a hefty amount of benefits in terms of popularity and earning potential.
Step 1: Becoming an Affiliate
All the big-named streamers on Twitch had to start from somewhere, and becoming an affiliate is that first step that separates you from the usual streamers. This is the first step towards becoming Twitch verified.
Before joining up this vast community of content creators, you must fulfill a specific set of criteria that will demonstrate you have what it takes to be a cut above the average streamers, and that includes the following:
For starters, your account has to  have at least 50 followers
In the last 30 days, you must have a minimum of 7 unique broadcast days
In the last 30 days, you need to have broadcasts that last for at least 500 minutes total
In every one of your broadcasts, you need to have a minimum of 3 viewers at all times
As you can expect, the biggest challenge is amassing a large enough following, which can be tedious even if you have an original idea that people will love to watch.
To remedy this, it is common to practice among new streamers to buy and reward followers.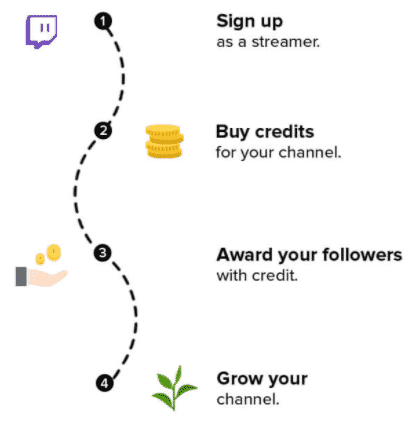 It takes tons of dedication to set yourself apart from the competition, and that is why services such as Twitch Followers are a popular option for anyone looking to give themselves a boost in their following.
After you have taken achieved the foundations for growing a successful streaming channel, be sure to check out your inbox as Twitch will send you an invitation within a week or two to become an affiliate.
Once you enter this phase, you will need to fulfill an administrative task that goes as follows:
Filling out general information about yourself
Agree to the Twitch Affiliate Agreement's terms
Fill out your tax information
Designate where your funds will go (Paypal, Check, Directly to your bank account, or Wire). Twitch can also hold your payment until you decide otherwise
When you get through all of these formalities, you will receive the option of earning revenue through Twitch Bits, Subscribers, and Ads.
The benefits start showing up on your followers as well, who will start earning Channel Points!
While the pros of being an affiliate certainly are excellent, why stop there? The next big step is getting Twitch's attention once more and becoming a partner!
Step 2: Getting to the Top and Being Twitch Verified
Before you ask "how to get verified on Twitch," this is the necessary step you need to take before getting to the final stage before you get Twitch verified.
Applying to the partnership program is a huge step ahead, even for an affiliate, as only the Twitch community elite who demonstrate a passion for their work get to receive the networking and income benefits as you can see below.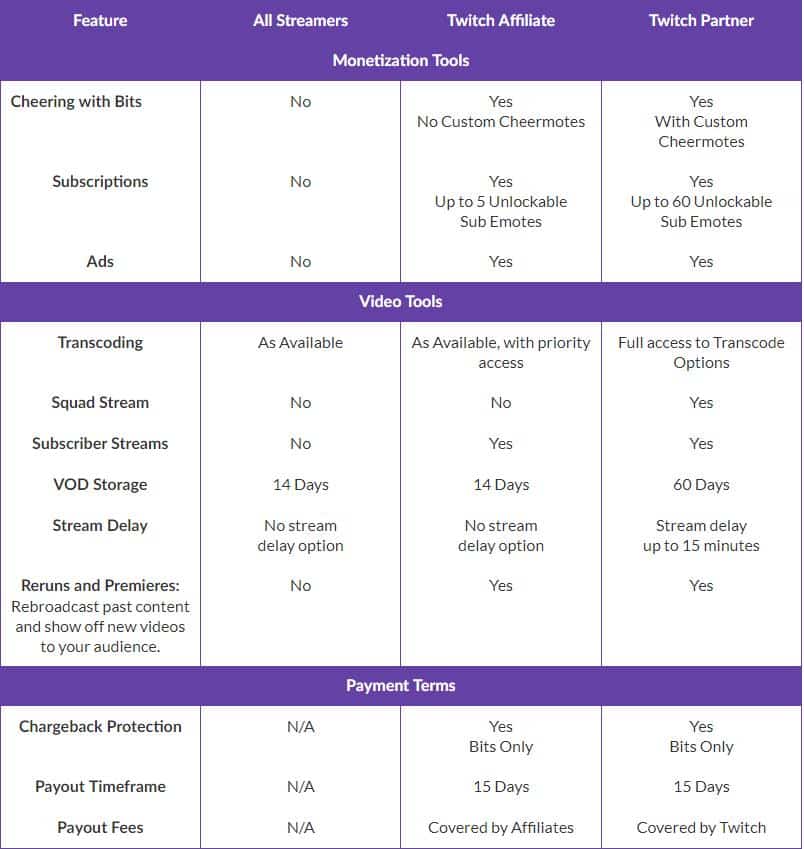 First thing's first – you need to have high-quality content, a loyal viewer base, and an organized output that fits the criteria for being considered for partnership, and that is:
Having dedicated streams on 12 days within the last month
The length of all your outputs must total 25 hours at the very minimum within the last month
Getting yourself popular to the point that every time you start your sessions, you have 75 people watching you on average (higher is always better nonetheless)
Basically, being accepted as a partner to the service is the answer to the question "How to get verified on Twitch, "as having your partnership application accepted means you have reached the community's top echelons.
As becoming a partner ensures you get the VIP treatment on the platform's entirety, you need to keep in mind that, as part of the partnership program you create with Twitch, you cannot stream to other platforms, and you must uphold exemplary conduct.
If, for any reason, you get rejected, don't lose hope! A large number of now-famous verified streamers had to deal with rejections the first and, sometimes, the second time around, so feel free to ask the platform's management what you can improve upon to finally reach your desired goal!
But, keep in mind that you can always earn money without even partnering with twitch.
Getting Twitch Verified – Tips & Tricks
Getting Twitch verified and scoring that sweet badge is a privilege that not every streamer can get for themself. Still, it is far from impossible as most dedicated streamers with valuable content can achieve this badge.
During the verification process of partnering up with Twitch (a necessity towards becoming verified), you and your content have to satisfy several quality standards that revolve around a couple of inquiries regarding you as a streamer:
Do you meet the community guidelines?
What type of content do you deliver?
What kind of value does it provide to the Twitch community?
Is your behavior in line with the moral conduct Twitch promotes?
The already unerring criteria expand upon Twitch considering every case for partnership in detail. Hence, even channels with a massive and loyal audience can stay affiliates for years before their application might be reconsidered.
Tips on How to Get Verified on Twitch and Keep Your Status
1. Be sure to interact with your followers and reward their loyalty.
2. Include worth-while subscription benefits – Happy followers are your most vital marketing asset.
3. Choose a game that is not massively streamed on Twitch – this will set up your channel as a unique niche, and it will make it stand out from the rest while increasing the overall value you bring as a potential partner.
4. Whenever you stream, make sure your behavior stays in line with community standards and exceeds them – as an elite contributor to the platform, you are expected to be a shining example of what kind of community the userbase wants to create.
5. Organize yourself and keep your viewers and followers notified of your future streams – this is extremely useful for building a consistent viewer base, as your organized demeanor oozes a feeling of professionalism.
6. Get to know your fellow streamers – the community is always getting bigger, and communication, be it with all the big-named stars of Twitch or just your average periodic streamer, is always encouraged, so don't ever hesitate to reach out.
7. Constantly strive to improve your content and your channel – a no brainer, the better you aspire to be, the more likely you are to be selected as a partner.
8. Follow the terms of service – while there is no guarantee that you will get accepted even if you follow all the rules and fill all the criteria, your chances are drastically increased if you adhere to them.
---
Take note that, taking into account information from May 2018, the Twitch community measured somewhere about 2.2 million in the total number of broadcasters and 15 million people that were active on the platform, while just 27.000 channels were directly partnered up with Twitch. That should tell you how rare it actually is to be a verified member of this enormous community.
While this might all seem like mission impossible with so many requirements put forth by the platform, how far away you are from getting the Twitch verified badge based on your output.
Twitch has a dedicated and disciplined community that is willing to help you get to the top as long as you have the potential to add value to the growing community. If you invest in your content and your character, you will get the badge in no time!