With so many streaming software available, it is often hard to choose the right one.
Each software has its unique set of features and has advantages that another doesn't.
This time, I will be reviewing OBS vs ShadowPlay – if you were torn about which one to choose, I'm here to help you make that decision.
For both software, I will compare the price, as well as ease of use and features.
OBS
Price, Installation, and Features
Open Broadcaster Software was the first streaming software ever launched.
It is open-source software, so anyone can edit the code and help improve it.
OBS allows both streaming and recording, and it is compatible with all operating systems.
Price
As said, this is an open-source program – anybody can get it for free, no matter where they live.
Updates also don't cost anything, and in most cases, plugins are free as well.
Installation and Setup
The installation link for OBS is placed on the website.
There are multiple links for different operating systems.
The installation is straightforward, and setting up is also super easy.
Once you get the software, you should link it with the desired streaming service.
In most cases, this is done via the stream key.
OBS allows direct linking as well – through OBS log-in to Twitch or other services you plan on using.
Then, you can start with customization.
This software has default settings for both streaming and recording and in most cases, you don't have to alter these settings so much.
The most suitable bitrate, resolution, and FPS are set, so check out whether these settings match your preferences.
If everything looks good, you can connect the webcam (or another camera), and microphone. OBS is great at recognizing these devices on its own, but they do have to be added manually to the Sources and Audio tab.
Lastly, make sure to add all of the plugins you need for streaming.
Features
Between ShadowPlay vs OBS, there aren't many differences when it comes to features.
However, if we are focusing on ShadowPlay vs OBS recording, I would always choose OBS.
This software is suitable for everyone – you don't have to use the latest graphic card or have the best CPU for it to run smoothly.
Also, you get the limitless recording.
Furthermore, OBS has outstanding editing tools – there is chroma key, hotkeys, filters, color correction, and scene transitions.
You can even adjust the sound. The software picks up desktop audio automatically, and if you connect to another audio device, you can easily boost the volume of one device, and suppress the unwanted background noise.
As said, overlays, alerts, and widgets are supported by OBS, but you have to use other programs to create them.
For example, if you want donation alerts, you have to create the alert in another program that supports it, get the URL of an alert, and then link it with OBS.
Related: Twitch Sound Alerts – Best Ways to Get Alerts for Twitch in 2021
Advantages
1. Suitable for numerous streaming services
Just like ShadowPlay, OBS also supports YouTube and Facebook streaming besides Twitch streaming.
But it also supports many other services that ShadowPlay doesn't, so you will have even more options.
2. Files are automatically compressed
There are huge differences in OBS vs NVIDIA ShadowPlay compression.
With OBS, recordings are automatically compressed. Even for longer recordings, files don't take as much space and are easy to upload.
3. Customization
OBS customization tools are numerous.
There is a one-click switching for smooth scene transitions, image masking, audio mixer, and color correction.
Also, you won't have to worry about overloading the CPU – all saved videos are compressed, and upload is super-fast and easy, so OBS doesn't use the CPU so much.
Disadvantages
1. Doesn't support audio files
Even though you can connect audio devices to OBS, you cannot add audio files.
So, if you want to add music to your streams, you have to use a different program.
2. It is often difficult to add plugins
There are numerous plugins for OBS, but adding them is not always the easiest task, especially if you are a beginner.
ShadowPlay
Price, Installation, and Features
If you have an NVIDIA graphic card, you might be leaning more towards ShadowPlay, since this is the gaming software designed specifically for it.
ShadowPlay allows live streaming, recording, and has tools that will make your stream even more entertaining.
It is suitable for different streaming platforms, among which is Twitch.
Price
When it comes to price, there isn't any difference between this software – just like OBS, ShadowPlay is entirely free.
So, if you are on a budget, don't want to invest in the software right away, ShadowPlay is just as good a choice as OBS.
Installation and Setup
Now, let's talk about installation – when it comes to the process of setup, there are some huge differences, and so you should carefully choose between OBS or NVIDIA ShadowPlay.
Firstly, you need to make sure that your computer can support ShadowPlay.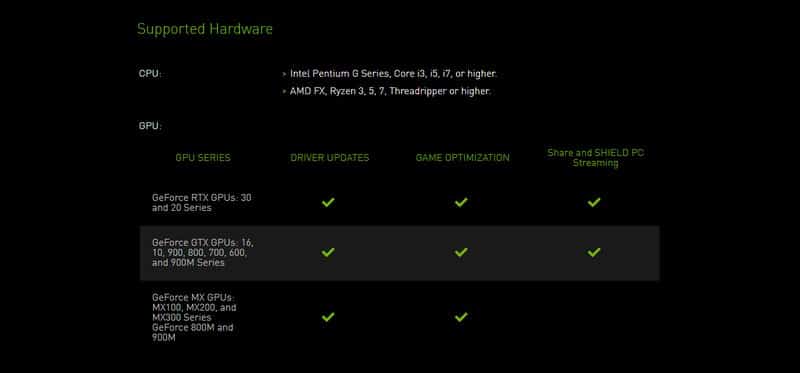 Here are some general requirements:
You are already using an NVIDIA graphic card (either GTX 650 or even better one);
Installed GeoForce Experience (it is already installed for some computers, for example on GSAS and VAST);
Updated GeoForce Experience (always make sure that you are using the latest version);
4  or 8 gigabits of RAM;
Intel i3 – 2100 processor or i7
SSD for keeping the recorded gameplay.
If all requirements are met, ShadowPlay will run smoothly on your computer.
Now, let's talk about the setup.
Between ShadowPlay or OBS, the first software has a bit more complicated setup process.
Before you launch ShadowPlay, open the game you want to record, and minimize the window.
Now, open GeoForce Experience.
Firstly, you will have to enable sharing. This feature can be found in General Settings. When sharing is turned on, you can start customizing other settings.
Choose Open-In-Game-Overlay.
When it comes to audio, you can connect different audio devices, adjust the volume, and turn off and on the Push to talk feature – you will find these settings once you click on the icon for a microphone.
In the same way, you can access settings for the camera – this time, choose the camera icon.
QUICK OVERVIEW: Best Webcams
HD 1080P video at 30Fps/ 720P at 60FPS
Full HD glass lens and premium autofocus

Full HD 1080p video calling
Automatic noise reduction

4k streaming and recording
HD 5X zoom
ShadowPlay should recognize your webcam automatically, but if this doesn't happen, go to General Settings to access the webcam.
Before you start the stream, you should also customize the Hotkeys.
This feature is stored in Keyboard Shortcuts options in the Settings.
For recording, you have two options: Instant replay and Record.
Typically, Instant replay is used only for recording certain moments, while Record is used for capturing the entire gameplay.
For both features, ShadowPlay has default settings, and it is best to keep them because changes often cause the gameplay to significantly slow down.
If you already know which settings software can support without slowing down, then adjust them to your taste.
Features
Is ShadowPlay good for streaming?
Yes, ShadowPlay allows you to share your recordings and live-stream on Twitch, and it supports streaming on other platforms like YouTube and Facebook.
Speaking of recording, thanks to Ansel, all of the screenshots will be recorded in high-quality, and 4k recording is supported as well. Ansel allows 360-degree capturing – a feature that not many streaming software offer.
When it comes to customization, you have a lot of options.
For example, you can create your overlays, change them when needed, and instantly share during the broadcast.
Furthermore, GIFs can be made and added to streams as well, so your content will certainly stand out among others.
I already mention Instant Replay – these are short recordings of gameplay. The maximum length of these recordings is 20 minutes, and this feature enables you to save the best moments.
If you forget to turn on Instant Replay at some moment, don't worry.
ShadowPlay has integrated Highlights and records and saves these moments automatically. Keep in mind that this feature is available only for some games, so make sure beforehand that the feature works for a chosen game.
Advantages
1. High-quality videos
NVIDIA has amazing graphic cards and this software is built to produce videos of outstanding quality.
With ShadowPlay you are getting 4k recording, as well as 360-degree capturing, and high-detailed screenshots.
2. Easy to stream on any platform
Versatility is of utmost importance, and ShadowPlay can be used on multiple streaming platforms.
If you decide to ditch Twitch streaming and switch to another platform, you won't have to learn another program.
3. Easy to create Highlights
Streamers love to show their best moments on their profiles, and creating highlights is often a time-consuming task.
However, creating this compilation of the best moments is quite easy with ShadowPlay because they are automatically recorded.
Disadvantages
1. Lack of editing tools
Even though ShadowPlay has GIFs and custom overlays, when it comes to editing, there aren't many options.
The number of these tools is quite limited, so you might often have to rely on other programs.
2. Compatible only with NVIDIA graphic card
If you don't use the NVIDIA graphic card, you won't be able to use ShadowPlay.
As stated, this software has a few requirements, and the type of graphic card is one of the most important ones.
3. Requires high bandwidth rating
ShadowPlay will allow you to compress a file, but only to some extent – in most cases, the size of the file will still be large and a high bandwidth rating is required.
OBS vs ShadowPlay
Conclusion
So, who is the winner?
Well, this depends on the equipment you are using.
If you have a powerful computer and have already invested in a good NVIDIA graphic card, ShadowPlay will allow you to create videos of outstanding quality.
This software has some unique features that will make your content stand out.
However, if you want more versatility and customization tools, OBS is the better program.