Whatever you're doing, you need the best tools for the job, and the same goes for live streaming. It's becoming increasingly popular, so the high-quality sound is mandatory to ensure stellar success and separate you from the pack.
The USB mixer could help you boost the sound quality, and the best USB audio mixer for streaming is Mackie ProFX12v3 because of its amazing phantom power and multiple sound effects and features.
I've compiled a list of the very best USB audio mixers on the market. Pick any of them and see the popularity of your streams grow.
QUICK OVERVIEW: Best Mixer
24-bit/192kHz A/D resolution
2 x XLR-1/4″ combo (mic/line/Hi-Z), 2 x XLR

48v Phantom Power
Supports various mic types

16-bit DSP effects engine
Multi-voltage support 100-240V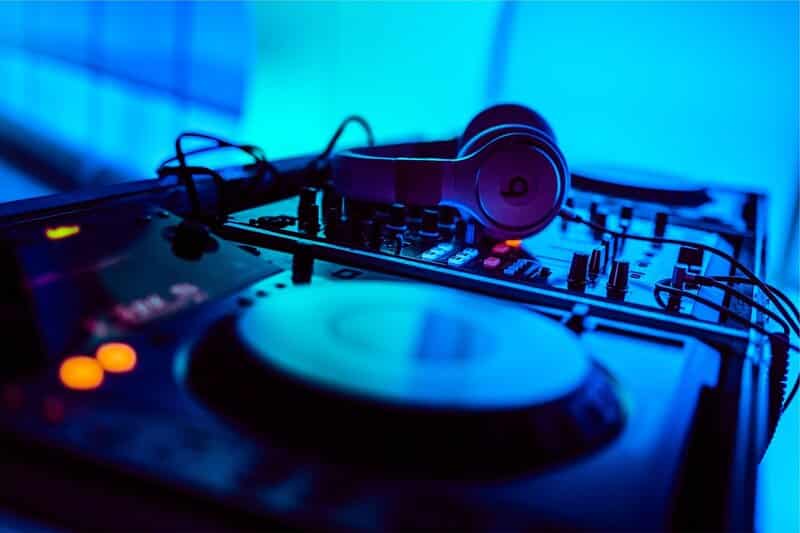 Best USB Audio Mixer for Streaming
Tested & Reviewed
The best USB mixer for streaming combines professional sound and editing features with the convenience of recording audio files directly into your computer.
However, with so many models on the market, choosing the right USB audio mixer for streaming is no simple task. 
Luckily, I've scoured the internet and the best online audiophile stores in search of models to test that will give you the biggest bang for your buck. This is what I've come up with.  
1. Mackie ProFX12v3
Best overall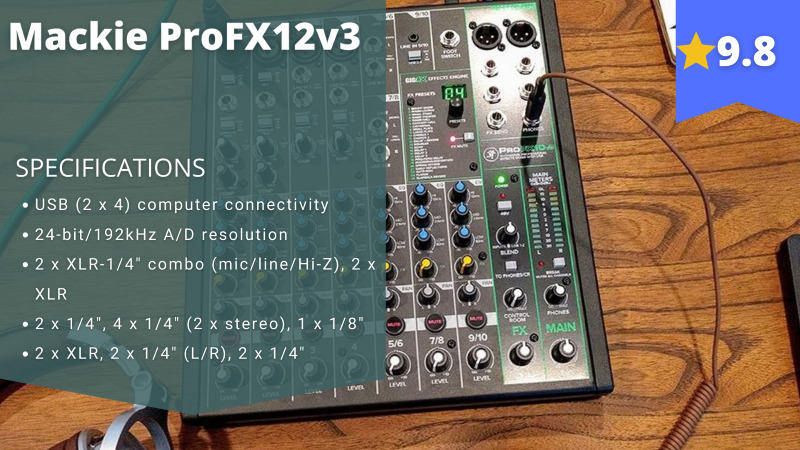 Stefan's Take:
Mackie ProFX12v3 is the best USB mixer, in my opinion, for several reasons. Firstly, because of the versatility.
Moreover, it's one of the most powerful mixers I have ever tried: amazing phantom power, multiple volume controls, and 60 dB of gain.
The sound quality was truly astonishing, and now it's a standard part of my streaming setup.
| | |
| --- | --- |
| Number of Channels | 10 |
| Controls | 10 |
| Sound Quality | 10 |
| Construction Quality | 9 |
If you're looking for the best all-around USB audio mixer for streaming, this just might be your best choice.
Why do I think Mackie ProFX12v3 is the best among these?
A mid-range priced model, it nevertheless provides versatility and uncompromising quality of sound, which makes it comparable to pieces in higher price rank offered by the competition.
Mackie, a renowned American company was founded in the late eighties in Seattle. Since then, they had dedicated themselves to creating pro-quality, yet ultimately affordable audio equipment. Mackie ProFX12v3 stands as a true testament to their mission. 
Who is it Best for
When it comes to this particular model, versatility is the key. That means that it can be easily used both by professionals and by amateurs. 
However, thanks to its affordability, solid design, and intuitive interface, it is actually ideal for at-home usage, particularly for different types of content creators and live streaming.
Key Features
Mackie ProFX12v3 comes with a plethora of useful features.
The first that's eagerly advertised by the Mackie company itself are famed Mackie Onyx mic preamps – 7 of them to be exact.
Their role is to ensure a clear and crisp signal, filtered of all unnecessary noise and other imperfections which can be detrimental to the quality of your sound. They also deliver up to 60dB of gain.
GigFX effects engine is another neat feature since it'll instantly provide you with no less than 24 different effects, such as choruses, delays, distortion, auto-wah and reverbs, among others. They are ideal to enrich the audio quality of your live streams and ensure that wow factor. 
The overall design of this particular model isn't only easy on the eyes, but it's genuinely solid and durable.
Of course, that goes not only for the steel casing but for internal components as well. Whether you'll use it as a stationary device for your home streamings, or you'll take it on gigs, Mackie ProFX12v3 will stand any beating.
Finally, if all that isn't enough, things such as 48-volt phantom power for mic channels, independent volume control for headphone output, 3 Band EQ and 100Hz low-cut filter, or Pro Tools software should tempt you to consider buying this model.
Pros
Includes effects processor
Delivers clear and crisp sound
Durable construction
1/8″ stereo jack for plugging mobile devices
2. GoXLR Mini
Best for small spaces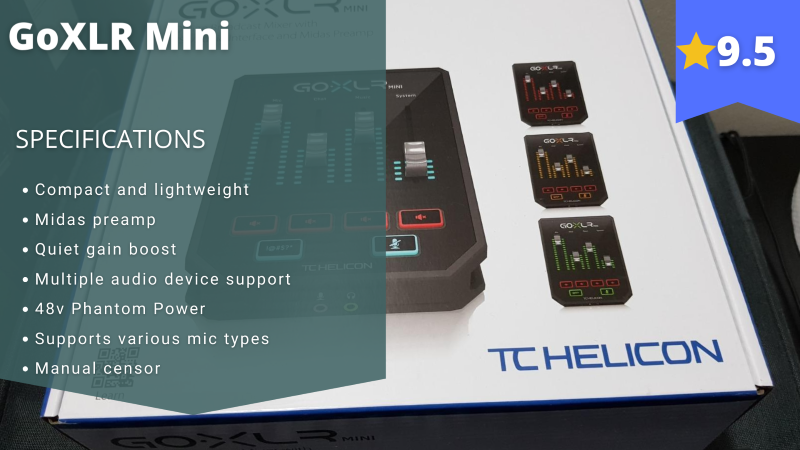 Stefan's Take:
I have pushed GoXLR Mini to its limits to see just how well such a small mixer would work. And a few features stood out.
The amplifier will make even the cheapest mics sound amazing! It is simplified but offers basic controls that are just enough to add some sound effects, improve quality, and instantly mute the streams.
My favorite feature was the sampler creator – I was able to record multiple audios and edit them as desired.
| | |
| --- | --- |
| Number of Channels | 9 |
| Controls | 10 |
| Sound Quality | 10 |
| Construction Quality | 9 |
With an intuitive user interface, multiple input options, GoXLR Mini will provide you with a smooth workflow and uncompromising control over everything you do.
Created by TC-Helicon, one of the leading companies in the field, GoXLR Mini is specifically designed to streamline your user experience, without cutting the quality of your broadcasts.
On top of everything, its efficient, compact and admittedly adorable design makes it one of the very best USB mixers for all your streaming needs. A real powerhouse in small packaging. 
Who is it Best for
With a mixer such as this, there are simply no restrictions in terms of who can use it. It's a well-thought-out, high-quality device, designed by a renowned company.
Simply put, If you're one of those live streamers, broadcasters, or content creators who expect a simple, no-fuss user experience, paired with superb quality, then you certainly check out GoXLR Mini. An affordable, professional-grade device for everyone. 
Key Features 
First of all, don't be fooled by its small packaging – GoXLR Mini combines a mixer, voice changer, audio interface, and a sampler, all in one device.
As an audio interface, it supports multiple USB devices. It's also equipped with a famous MIDAS preamp, which will deliver you crystal-clear audio, making the tone of your voice sound natural, crisp and full.
The other neat feature is manual censor, or the so-called cough button, which lets you instantly pause your stream. 
For all of you who like to use the full potential of your mixers, GoXLR Mini is capable of creating multiple audio devices on your computer, which is equivalent to having up to 12 sound cards at the same time.
Unfortunately, GoXLR Mini isn't Mac compatible, but that exclusivity just makes it one of the best USB audio mixer pc solutions.
Pros
Easy 3-step setup
3-year warranty
Easy connecting with PC and other equipment
Simple interface
3. Pyle PMXU83BT
Best for beginners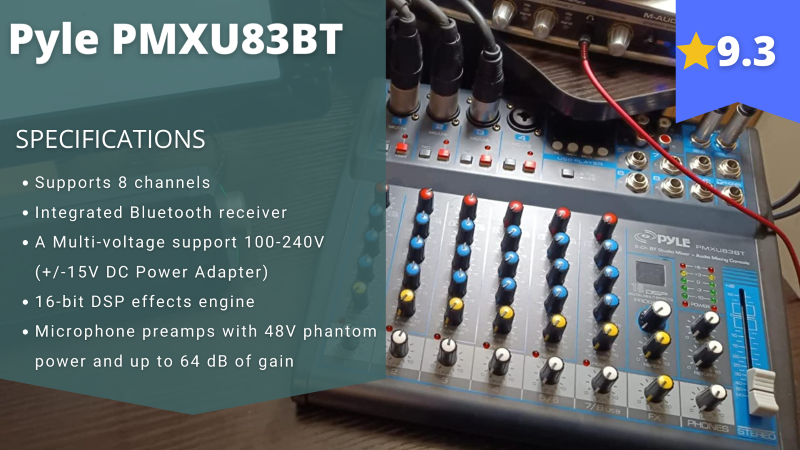 Stefan's Take:
In my opinion, this is one of the most versatile mixers. I could connect it to almost any device, and multiple channels are a big advantage.
Even though the different controls might feel overwhelming, I was surprised by just how easy it was to use it – add a sound effect, mute, boost the bass, pause, skip, etc.
| | |
| --- | --- |
| Number of Channels | 9 |
| Controls | 9 |
| Sound Quality | 10 |
| Construction Quality | 9 |
For many, the name Pyle Electronics is synonymous with a wide range of budget audio equipment and home electronics.
However, their take on the audio mixer actually represents a pleasant surprise and – might I add – a welcome refreshment in the sea of more expensive models.
Although a low-end model when it comes to price, Professional Audio Mixer PMXU83BT still has a lot to offer and manages to hold its own. That makes it a strong contender for the best cheap USB mixer.
Who is it Best for
Despite its humble price, Pyle Professional Audio Mixer PMXU83BT certainly has a lot to offer to users of all levels, from professional DJs and streamers to enthusiastic amateurs. 
However, since its affordability is certainly one of its key selling points, PMXU83BT is actually best suited for entry-level users, especially if you're on a tight budget. They will certainly enjoy many of its features and will have an opportunity to experiment and create high-quality content, without breaking the bank.
Key Features
PMXU83BT comes with a solid metal casing, equipped with a multitude of rotary adjustment knobs and inputs neatly packed on the surface of the board.
However, it's still very compact, which makes it an extremely portable device ideal for various gigs and other events, as well as for home-usage. 
It's compatible with a wide variety of external devices, from PCs to Bluetooth, mobile phones, and flash readers, which enhances its versatility. 
Besides a bunch of standard features such as quality preamps or 1/4″ stereo main outputs, its 16-bit DSP effects engine with 16 presets represents a nice addition to an already very useful device. 
Pros
Affordable price
A nice array of features
Solid construction
Portability
Easy connection with external devices
Cons
For that price range, not much
4. Pyle PMXU43BT
Great budget option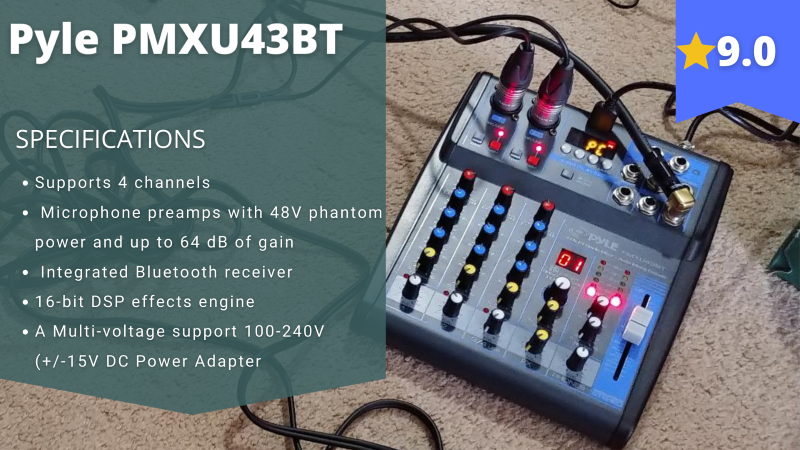 Stefan's Take:
I did notice much difference between this model and the previous one, except that this one is smaller and therefore cheaper.
When it comes to features, it's more or less the same – similar audio effects, navigation, options, and design. The difference is the number of channels, but from my experience, four channels should be more than enough.
The sound quality is superb and relatively easy to set up and use.
| | |
| --- | --- |
| Number of Channels | 9 |
| Controls | 9 |
| Sound Quality | 9 |
| Construction Quality | 9 |
Another budget audio mixer from Pyle, PMXU43BT, essentially offers more of the same as its big brother PMXU83BT I had the opportunity to review in the previous section – but even for the lesser price.
Although, as can be expected, this cost reduction comes with a few minor drawbacks, PMXU43BT manages to establish itself as one of the best USB mixers for entry-level users.
Who is it Best for
Just like PMXU83BT, Pyle Professional Audio Mixer PMXU43BT is an all-purpose mixer that meets the needs of different categories of users.
From my experience, PMXU43BT is suitable for pro DJs, musicians, and audio engineers, whether as a supplementary or even as the primary device.
Of course, entry-level users will benefit the most from this ultimately affordable yet solid and capable audio mixer.
Key Features
Pyle Professional Audio Mixer PMXU43BT rocks a similar blue-gray design, with rugged metal casing, equipped with an assortment of intuitively arranged rotary adjustment knobs and inputs. 
Again, just like PMXU83BT, Pyle PMXU43BT boasts a bunch of features such as ultimate compatibility with different external devices, plug-and-play installation, and an intuitive interface. 
This cheaper version of our previous model also includes – among other things – a capable 16-bit DSP effects engine, equipped with no less than 16 presets. This feature alone can elevate the quality of your live streams, gigs, or broadcasts. 
However, it also has "only" 4 channels, which means that you'll be able to mix up to 4 different instruments at the same time.
Of course, excluding the most advanced users, most others will find 4 channels to be more than sufficient, especially since I recommend it as an entry-level device. 
Pros
Great value for the price
Sturdy construction
Plug and play
Fuss-free integration with external devices
Supports Bluetooth
Cons
No manual censor
Preset effects are known to be glitchy
5. Alesis MultiMix 8
Best for professionals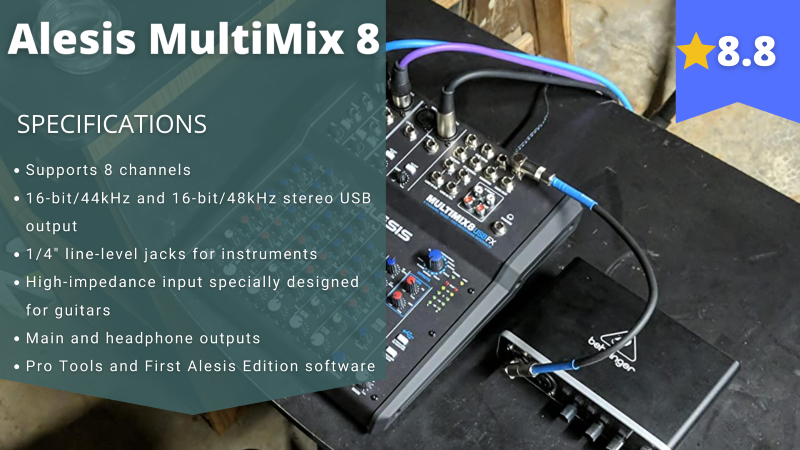 Stefan's Take:
I used Alesis MultiMix 8 as both an audio interface and a USB mixer. I liked that it features several channels, and I could connect my microphone and instruments to dedicated ports.
This USB mixer gives you plenty of options for controlling the sound level, adding effects, managing tracks, and muting the stream, and it has very low latency, which is ultimately one of its strongest suits.
| | |
| --- | --- |
| Number of Channels | 9 |
| Controls | 9 |
| Sound Quality | 9 |
| Construction Quality | 8 |
Alesis certainly holds a position of considerable renown in the world of audio equipment – and for a good reason too.
After all, this trailblazing American company is responsible for introducing several innovative technologies that helped redefine the industry. 
Alesis MultiMix 8 USB FX is their attempt to recap some of the best features that made them famous and present them in one solid, reliable, multifaceted, and budget-friendly piece of equipment.
Who is it Best for
Alesis MultiMix 8 USB FX is simply packed with neat features, which make it ideal for several purposes – from recording multiple vocals and instruments, through mixing and post-processing, to broadcasting and streaming. 
In practice, that means that almost every class of users will find MultiMix 8 USB extremely useful.
Sure, the most demanding, professionally-oriented users will probably find its effects library, as well as some other features a bit lackluster. However, all others won't find many flaws in MultiMix 8 USB.
Key Features
Equipped with 8 channels, with microphone, line, and guitar-level inputs, MultiMix 8 USB FX is a great device for multitasking. It actually can be used as an audio interface for streaming, as well as a mixer, which allows you to record and mix independently or simultaneously, as occasion decrees.
The designers of MultiMix 8 USB FX had obviously tried to cater to different types of users. Hence the features such as XLR inputs with exchangeable phantom power for dynamic or condenser mics. 
MultiMix 8 USB also comes with an internal effects engine, which will give your performance an additional oomph.
Unlike some other mixers on the market, this particular device is instantly compatible with both PC and Mac, without the unnecessary fuss with drivers and cumbersome installations. 
Pros
Intuitive interface
Solid construction and design
First-rate EQ
Great compatibility
Low latency
Cons
Low USB output
Noisy headphone jack
6. Allen & Heath ZEDi-10FX
Best hybrid mixer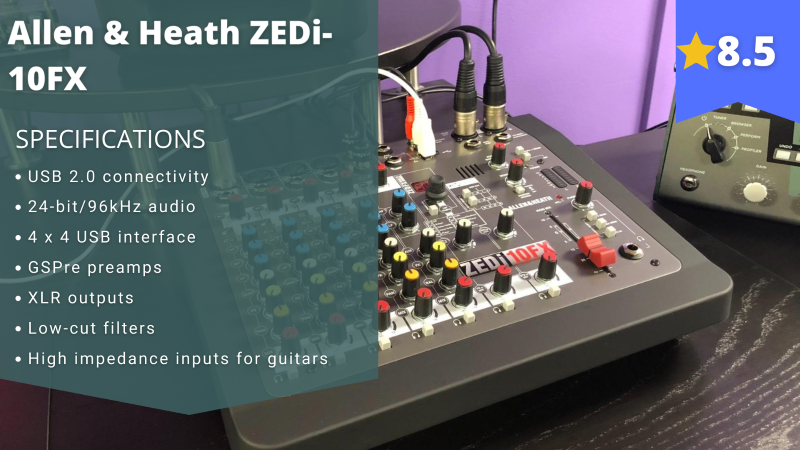 Stefan's Take:
I ordered ZEDi-10FX because I wanted to test a device that is simultaneously serving as an audio interface and mixer. And I was more than happy with its features.
Its built quality is superb, and editing the tracks is quite easy. I think it gives you the most versatility out of any hybrid mixer out there. I have tested mixers with a higher resolution before, but 96 kHz is more than enough to get solid audio quality. 
| | |
| --- | --- |
| Number of Channels | 9 |
| Controls | 9 |
| Sound Quality | 8 |
| Construction Quality | 8 |
Most likely the first thing that draws the attention when you look at the title of this British-made mixer is the word hybrid.
Indeed, this sleek-looking device successfully doubles as an analog mixer and 4 x 4 USB audio interface, which greatly increases its usability. 
Coming from Allen & Heath, an acclaimed British company specialized in the production of high-end mixers, ZEDi-10FX allows you to make your own streaming history.
Since there were reported some problems with macOS, this is probably the best USB audio mixer PC owners can get in this class.  
Who is it Best for
Both professional users and keen amateurs will highly benefit from this device. Its main selling point – the fact that it doubles as an analog mixer and audio interface – makes sure that users of all levels and profiles will find it extremely useful. 
Key Features
Unlike some other popular streaming mixers, Allen & Heath ZEDi-10FX supports 24-bit/96kHz hi-res audio quality. Whether you'll use ZEDi-10FX for sound recording, podcasting, streaming or some other task, this all-important feature will give a greater dynamic range to your recordings, providing you with a true studio-quality sound.
Another great feature is that ZEDi-10FX actually doubles as an analog mixer and USB audio interface. This combo allows you to efficiently record, mix and post-process audio in one compact device. 
When it comes to recording quality, ZEDi-10FX is equipped with truly superb GSPre preamplifiers. They will guarantee that anything you'll record – be it musical score or vocals – will possess warmth, depth, and clarity. Thanks to this feature, ZEDi-10FX is potentially the best usb mixer for recording on our list. 
All guitar or bass players will be glad to hear that ZEDi-10FX eliminates the need for DI or direct injection boxes which are used for converting the high impedance signal. ZEDi-10FX simplicity is the key, so you'll be able to connect them directly into your analog mixer/audio interface.
Last but not the least, ZEDi-10FX boasts the signature Allen & Heath rugged design, which makes it suitable virtually for all conditions and environments.
Pros
Great sound quality
Sturdy design
Versatility
Integrated FX Engine
Multipurpose
Cons
4×4 feature works only without the effects
Not compatible with the latest versions of macOS
7. Phenyx Pro USB Audio Interface Mixer
Great choice for under $100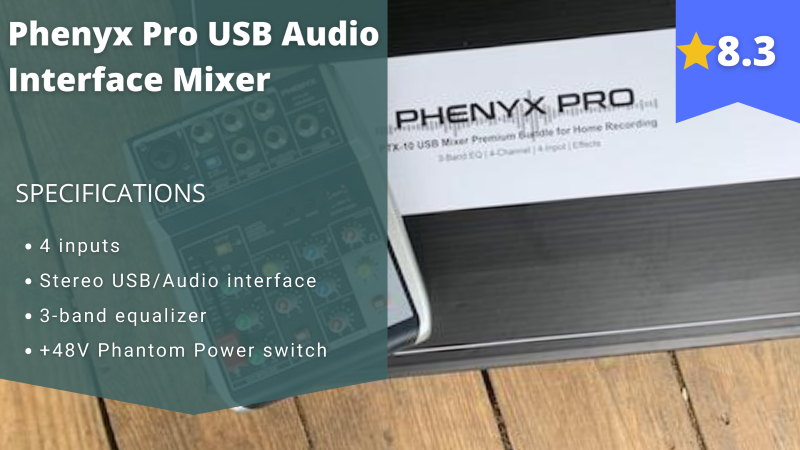 Stefan's Take:
In my opinion, the biggest advantage of this mixer is its size and portability. The manufacturer even includes a carrying case, so if you're on the go, it will be easy to take it with you.
When it comes to other features, it doesn't stand out from the rest: multiple channels, +48V phantom power, clean sound, and compatibility with different devices. It works fine, but it isn't superb.
| | |
| --- | --- |
| Number of Channels | 8 |
| Controls | 8 |
| Sound Quality | 8 |
| Construction Quality | 9 |
Phenyx Pro represents a new player in the competitive industry of audio equipment.
This San Francisco Bay Area-based company is determined to offer a wide range of cost-competitive audio equipment, without compromising the quality of their products.
Phenyx Pro USB Audio Interface Mixer represents their breakthrough in the market of budget-friendly audio mixers and is one of the cheapest items on our list.
Therefore, some of the more advanced features were understandably omitted from Phenyx Pro USB. 
However, what it lacks in sheer "firepower", this nifty little mixer compensates in a thoughtful interface and solid design. 
Who is it Best for
With its compact and somewhat minimalistic design, Phenyx Pro USB Audio Interface Mixer doesn't shy away from the fact that it's an entry-level mixer. That means that novice streamers, podcasters, musicians, and others will find it the most useful. However, even advanced users will certainly benefit from having this compact, reliable, and sturdy device in their arsenal. 
Key Features  
Phenyx Pro USB Audio Interface has 4 inputs that can be used for connecting various external devices, mics, or instruments. In fact, channel 1 has combo inputs for microphones and instruments.
Thanks to its USB/Audio interface, this mixer can easily be connected to a wide array of devices, such as PC, Mac, and even PS4. It is also compatible with different software for audio recording and editing.
Thanks to its sturdy construction, Phenyx Pro USB Audio Interface is extremely light and portable, which makes it ideal for travel.
Finally, it also includes a basic set of built-in sound effects. 
Pros
Nice sound quality
Solid construction
Portability
Budget-friendly
Great customer support
12 months warranty
Things to Consider When Buying the Best USB Mixer for Streaming
1. Type 
Normally, there are two general types of mixers – analog and digital. Since we're in the field of USB mixers that are best suited for streaming, digital mixers will certainly be your preferred choice. 
They will provide you with extra control over channels, and will also allow you to use different apps and other software.
2. Number of Channels  
The more channels a particular mixer has the more instruments, mics, and other external devices it supports. Of course, the more is not always the better.
Professional audio engineers and musicians will highly benefit from devices with multiple channels. For regular users such as streamers or podcasters, a professional studio-grade mixer with up to 96 channels will certainly be overkill. 
However, most streamers will find just a couple of channels to be more than enough.
3. Controls
Controls are another all-important aspect of every audio mixer. Mixers with elaborate controls will allow you to fine-tune effects, gain, and other available features with ease and efficiency. 
That's why you should always consider this aspect, as well as the overall quality of knobs and sliders.
4. Size and Construction Quality
Larger, professional-oriented mixers tend to be built like tanks, with the size to match. However, if you're a streamer, who works at home in relatively limited space, then you'd probably economize a bit, and consider acquiring a compact model. 
Conclusion
The list I've compiled serves as an overview of currently the best USB audio mixers on the market. Although I've focused my attention primarily on streamers as a target audience, many featured models are also great for podcasters, amateur or professional musicians, and others.
Here is the summary of the top three picks:
Mackie ProFX12v3 as the best overall,
GoXLR Mini as the best for smaller spaces,
Pyle PMXU83BT as the best choice for beginners.
As you can see, they come in different price ranges and with varying sets of features and technical specifications. However, the one thing they all have in common is uncompromising quality and functionality.
Therefore, I'm sure that whichever you choose, you won't be disappointed. Happy streaming!
Frequently Asked Questions
What are preamplifiers and why are they important? 
Simply put, preamplifiers serve to amplify signals from external analog devices such as XLR microphones or guitar pickups. However, their purpose isn't merely to convert these signals into output signals, which then can be further emitted or additionally processed.
Can I use multiple microphones, instruments, and other external devices in one mixer?  
That depends entirely on the number of inputs available on your mixer. The more inputs, the more different sound sources the mixer supports.