Streaming on Twitch is continually becoming more demanding in terms of hardware, as keeping up with the latest trends requires top-notch equipment.
As a fundamental piece of any streamer's production kit, having the best graphics card for streaming guarantees a lag-free, HD streaming experience that can handle any trendy taxing programs and games. You can get all of that with GeForce RTX 4090.
This article will also show you other options you can get for your money that excel in gaming and other highly-tasking activities.
QUICK OVERVIEW: Best GPU for Streaming
2520MHz core clock speed
24GB GDDR6X

16GB GDDR6
WINDFORCE Cooling System

16GB GDDR6
Minimum System Power: 950W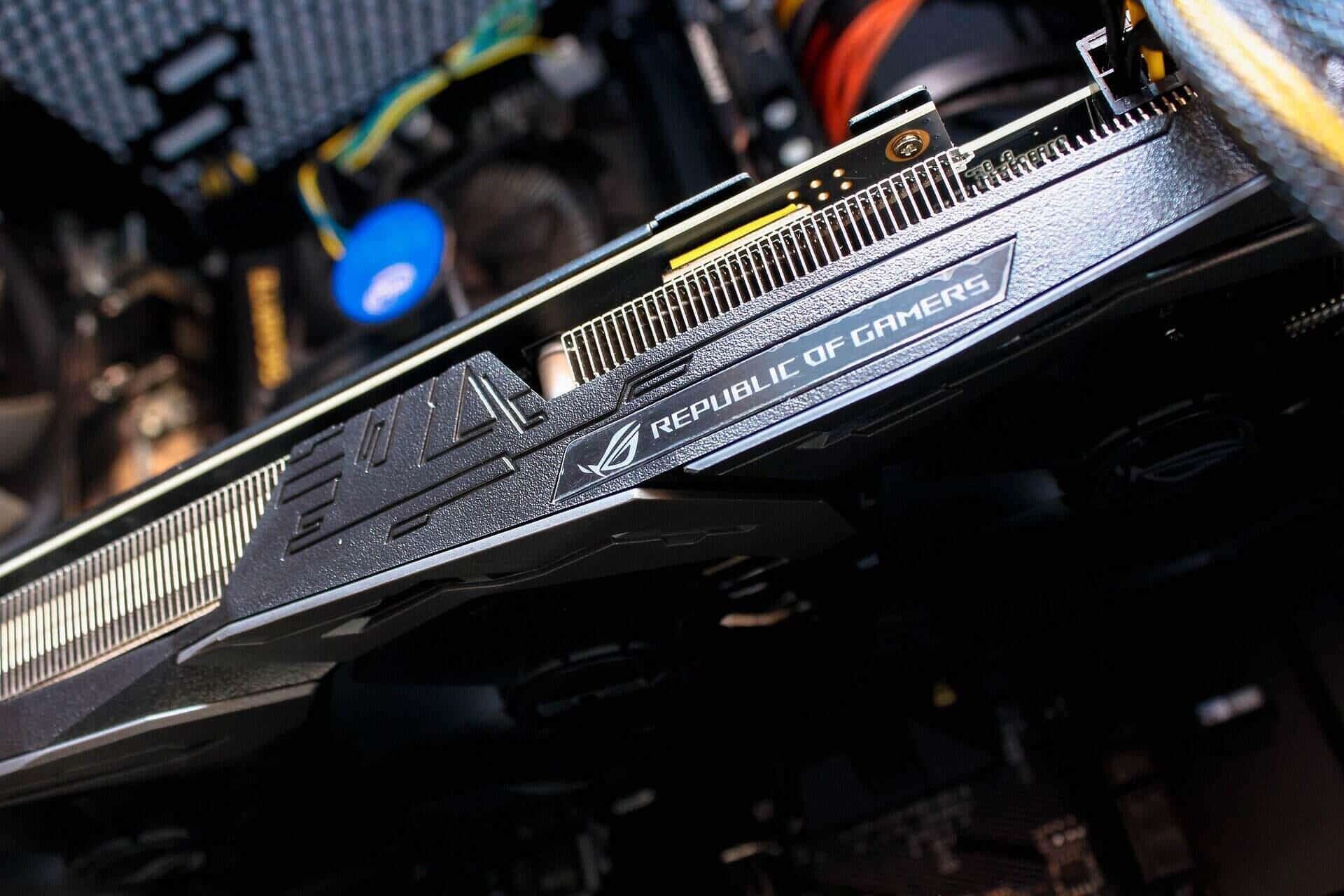 Best GPU for Streaming
Tested & Reviewed
1. NVidia RTX 4090
Best GPU Overall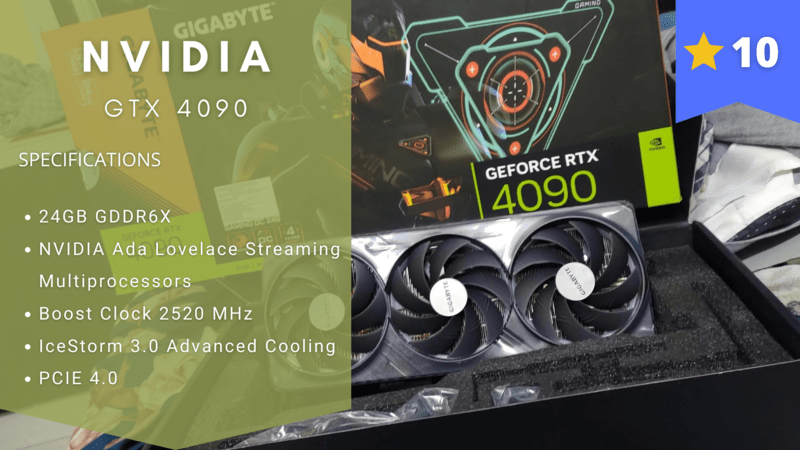 Stefan's Take:
You might have already seen this GPU being called the best-performing GPU in the current market, and that is not at all a wrong statement, as 4090 can run native 4K, even on a high FPS count.
This GPU can work great if you are a streamer since all these features make it possible to have an excellent performance, especially when your footage is edited and rendered. It comes in handy for getting those stream highlights ready, doesn't it? It was certainly enough to satisfy my streaming and recording needs.
| | |
| --- | --- |
| Overal Performance | 10 |
| Memory & Clock Speed | 10 |
| Cooling System | 10 |
| Price | 10 |
The first noticeable thing about NVIDIA's RTX 4090 is how it's significantly stronger than the last gen's flagship GPU, the 3090 Ti.
A few advanced features make that possible, the main one being the 16384 Cuda Cores – which is 50% more than the previous one.
Other great features of this GPU are the 512 Tensor Cores, 128 RT Cores, and a stunning 24GB GDDR6X VRAM.
One of the very important things you want to be sure of before getting a GPU is how good the clock is, both the base and the boost clock, and with this one, the base is at 2.23 GHz, while the boost clock can reach up to 2.25 GHz.
Compared to its predecessor, the 3090 Ti, this is a 30% higher clock.
Another feature that's great for people who work with video content is the AV1 encoder and decoder. 
If you didn't already know, AV1 is a new video codec expected to take over video broadcasting platforms like YouTube and Twitch. The benefits of this codec mainly mean that you will be able to have videos of greater quality while saving around 30% of the bandwidth compared to current codecs.
It's also great that it supports things like DLSS 3.0, Nvidia's upscaling, and AI Frame generation Technology.
Overall, these advanced features make this GPU have a significant performance gain compared to the last generation. 
One of the things that might not be the best is the power draw, which is pretty massive at 450 W TDP, however, it does check out since the GPU itself is very energy efficient.
The card is also very big physically, so that will be important to consider when building your PC.
Unfortunately, it doesn't support PCIe Gen 5, and neither does it have the DisplayPort 2.0, making it impossible to have a 4K monitor run on a refresh rate over 120Hz and with a $1600 GPU, you would expect that to be something that you're able to have.
Finally, a downside that you should be aware of when it comes to this GPU is that there were several cases where the power connector caught fire because of the Nvidia power adapter's poor quality that wasn't able to handle a high power load.
Pros
Significantly more advanced features than the last gen's flagship
Great performance for working with video content 
Has AV1 encoder and decoder
Cons
Poor quality of the power adapter
2. GeForce RTX 4080
Great Alternative to 4090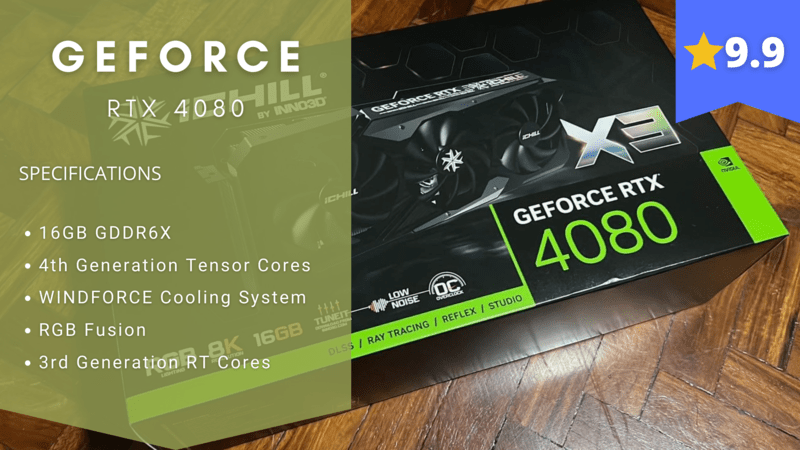 Stefan's Take:
Even though the price of this one is lower than the 4090, this is still a very expensive GPU, and even with the impressive performances, it's still questionable whether that price is worth it – mostly, the answers are leaning toward no.
However, even with that in mind, I still very much enjoyed this GPU. It provides fast gameplay, smooth streaming, and decent overall performance when doing other things, such as recording or graphic design.
| | |
| --- | --- |
| Overal Performance | 9.5 |
| Memory & Clock Speed | 10 |
| Cooling System | 10 |
| Price | 10 |
If you were a fan of everything you've seen online about the RTX 4090, but the price point was too high for you, then the RTX 4080 can be the choice to go for you.
Faster than everything the last generation's flagship had to offer, the 4080 comes with a 256-bit GDDR6X memory interface, a memory speed of 22.4 Gbps, and a memory bandwidth of 716 GB/s. Even though these numbers are slightly lower than what the 3080 had to offer, the architectural improvements mainly make up for that.
The VRAM is 16 GB, which gives you a lot of 
Some of the key features include the 9,728 CUDA cores that are organized throughout 76 streaming multiprocessors.
Regarding the cores, it has 76 RT cores, 304 TMUs, 304 Tensor cores, and 112 ROPs.
Like most of the newer Nvidia GPUs that have increased clock speeds, this one has its clock speed at 2.25 GHz.
The power of this GPU is 320W, making that a quarter lower than the power consumption of the 4090. However, the 4080 still uses the same cooling solutions as the ones made for the 4090, which resulted in the 4080 running way more quietly.
Obviously, with the 4080, Nvidia kept the trend of this generation's GPUs having fairly better performance than those in the last generation.
Because of the lower power consumption and the high-quality features, this GPU is very energy efficient, which can also be seen from the low temperatures continually measured on both the GPU and the memory.
Same as the 4090, the 4080 has an encoder and decoder for the AV1 codec, so you will be ready to keep up with all of the innovations coming our way when it comes to video content.
Another thing that's similar to the 4090 but is more of a downside is the size of this GPU, which is on the larger side.
Also, a DisplayPort 2.0 is not included, which limits your options when it comes to 4K monitors.
Pros
Performances compatible with RTX 4090 at a lower price
Very power efficient 
Supports AV1 codec
Cons
Overall, an expensive GPU
3. RX 6950 XT
Best AMD GPU for Streaming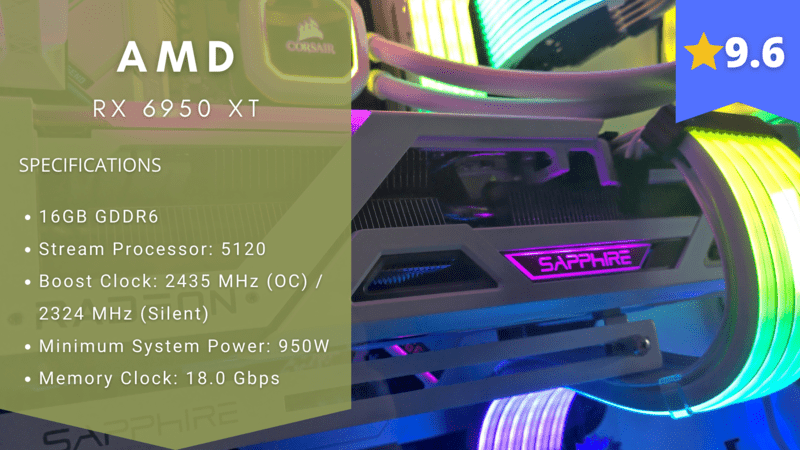 Stefan's Take:
When AMD's GPUs are taken into consideration, there always comes the point of comparison with what NVIDIA has to offer. For the most part, this one is pretty comparable with the performances, and the price is much lower than most of NVIDIA's models.
Even though high temperatures and loud noises would be something that's expected from a GPU with a performance like this, it's still reasonably quiet, and the temperature levels that it achieves are very good.
| | |
| --- | --- |
| Overal Performance | 9.5 |
| Memory & Clock Speed | 10 |
| Cooling System | 9.5 |
| Price | 9.5 |
The main thing that made people curious when Radeon introduced this GPU was the claims regarding its power consumption, with the 335W typical power board. 
A claim like that promises high power efficiency, which is something that hardcore GPUs made for gaming and streaming usually lack.
As this card was made with gamers and maxed-out PC settings in mind, it comes as no surprise that they decided to increase engine clocks and have them be at 2100 MHz. 
Besides that improvement, the memory speed is also upgraded to 18 Gbps.
This then made it possible for the bandwidth to be 576 GB/s, which is an increase of 12.5% when compared with the 6900 XT.
While staying on the topic of comparison between these two cards, their designs are also pretty similar, except for the color scheme, and even the two 8-pin PCIe power connectors are the same.
However, AMD still falls short when it comes to ray tracing due to the architecture of their GPUs.
The excluded hardware makes it impossible to have that, as dedicated hardware is needed for it. Ray tracing isn't the main feature that you should be looking into anyway, so not having that won't affect your experience too much.
One of the things that are not as powerful as many might've been hoping for is the overclocking abilities.
When faced with high levels of overclocking, this GPU didn't have too stable clocks, so if you need to go further than just mild overclocking, this could be something that changes your mind.
Pros
Better performance than the 6900 XT
Stays quiet even during hardcore gaming
Very energy efficient
Cons
Not great with overclocking
4. RTX 3090 Ti
More Powerful 3090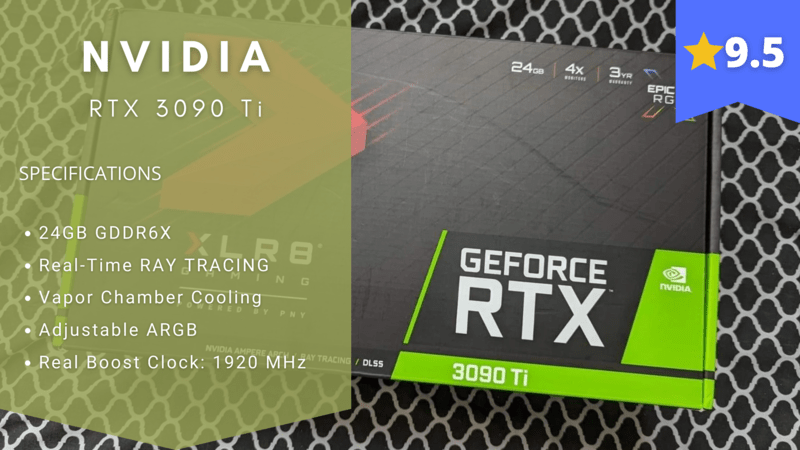 Stefan's Take:
Including the 10,752 enabled GPU cores, all of the key features of this GPU are more advanced than those of the 3090.
However, the real-life experience of testing the 3090 Ti isn't that much different from the 3090.
Besides the high price, the main disadvantages include the high power consumption and the heat output, as well as the loud noise it makes.
| | |
| --- | --- |
| Overal Performance | 9.5 |
| Memory & Clock Speed | 9.5 |
| Cooling System | 9.5 |
| Price | 9.5 |
The RTX 3090 Ti is the upgraded version of the RTX 3090 that was well-loved back in the day when it first came out, so once NVIDIA dropped this Founder's Edition, everyone wanted to know what the improvements were.
It is quite an expensive GPU, so it's only to be expected that questions and curiosity will be raised.
Firstly, the memory speed was upgraded to 21 Gbps, which makes the memory bandwidth go higher than 1TB/s.
Another significant improvement can also be seen in the board power limits, which were once at 350W, while the 3090 Ti s at 450W, and this increase makes the 3090 Ti able to reach a much higher clock speed.
Having the power consumption be that much higher meant that the connectors had to be changed from the 8-pin PCIe ones, and NVIDIA decided to go for the 16-pin AIC power connector that has been brought to perfection in the last two years.
When it comes to its build, the 3090 Ti looks identical to the previous model of this kind, except for the connector, which is significantly more powerful.
The memory amount is also the same and stayed at 24GB, with chips having double the capacity compared to the predecessor, meaning that there are half fewer of them.
When it comes to speeds, the 3090 Ti clocks at an 1860 MHz boost, and the memory ticks at 21 Gbps.
One of the things where the 3090 is better than the 3090 Ti is the heat output, which is much higher than the previous model, so you will need way more resources to cool your PC down.
Pros
Impressive advanced performance
Very sleek design
Supports ray tracing
Cons
Very high power consumption
5. RTX 3090
Great Ray Tracing Performance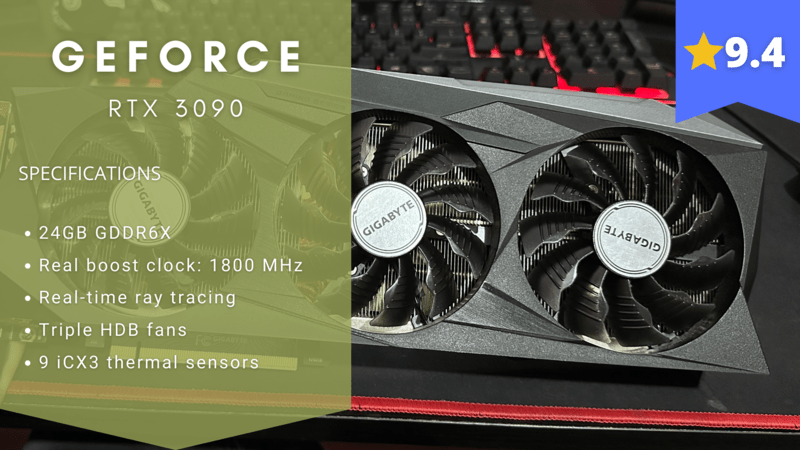 | | |
| --- | --- |
| Overal Performance | 9.5 |
| Memory & Clock Speed | 9.5 |
| Cooling System | 9.5 |
| Price | 9 |
This GPU is the flagship of this generation of NVIDIA GPUs, and because it's still relevant in the world of gaming and streaming, it made its way to this list.
The main revolutionary thing this GPU came with is the GeForce Ampere architecture that implements the NVIDIA path-breaking RTX technology, and that's exactly what made NVIDIA able to have such good performances when it comes to real-time ray tracing during gaming.
They also came out with a statement that this GPU will be able to handle an 8K resolution for gamers.
While monitors for something like that still have a long way to go, it's good to know that GPUs for that high of performance are getting ready.
An important thing that should always be considered is the power supply, which gets that through three 8-pin power inputs, and it works with 350W.
The overclock works at 1860 MHz, and the memory is at 19.5 Gbps.
Regarding the VRAM, it's at 24GB, which is a really good number and also something you probably won't even need.
As this was something that came after the RTX 3080, it's inevitable that comparisons are going to be drawn between these two GPUs, and overall, with all the improvements that were made between them, the RTX 3090 was shown to be 19% faster than the model behind it.
This one would be good for someone who is streaming or gaming, or both, because it can reach 4K resolution easily while keeping a stable 60 FPS frame rate. Of course, this is something that you would expect from a GPU that is supposedly able to run 8K resolution.
One aesthetic advantage is that it's designed with adjustable RGB lights.
However, the price of this GPU is still high, and with many new models, it can be questioned whether this is the best that money can buy, but in case you run into it at a discount, it definitely is something worth looking into.
Pros
Very big VRAM of 24GB
It easily has a stable 4K resolution with 60 FPS
Has PCI-Express 4.0
6. RTX 3080 Ti
Great GPU for Gaming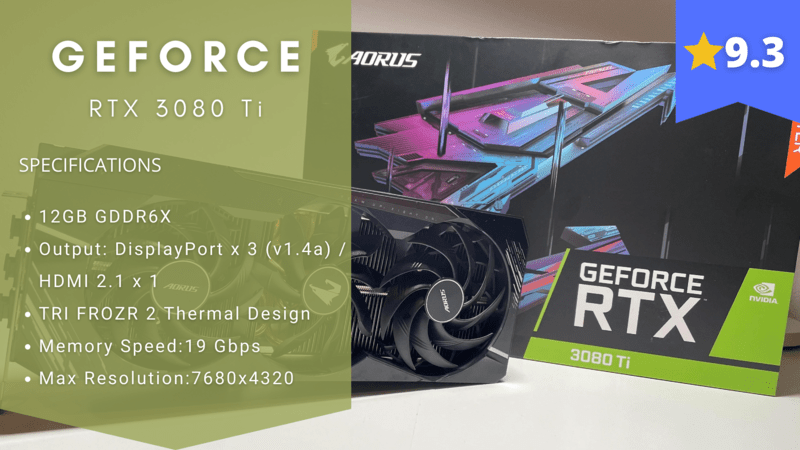 Stefan's Take:
Even though the 3090 was already out when this one came, the difference is that many find the 3080 Ti better for gaming and quasi-professional use. And I would agree with that. I had a blast while using 3080 for gaming and recording.
The performance this GPU has shown when compared to the 3080 is 10% better, which, in many cases, can mean a lot.
| | |
| --- | --- |
| Overal Performance | 9.5 |
| Memory & Clock Speed | 9 |
| Cooling System | 9.5 |
| Price | 9 |
Similarly to the RTX 3080, the Ti edition focuses on providing you with the best gaming experience possible.
The first improvement that can be seen compared to the initial 3080 is the CUDA cores, as there are many more – 10,240 across 80 multiprocessors, as well as 320 TMUs, 112 enabled ROPs, and 320 3rd Gen Tensor cores, which are there for accelerating DLSS and AI.
When it comes to memory, the 3080 Ti comes with 12 GB of VRAM and a 385-bit memory bus.
It runs fast at 19 Gbps and has a memory bandwidth of 912.4 GB/s.
The overall design is very similar to the 3080; some would even venture to say that they look the same.
Because of these features, this GPU is a great choice for someone looking to build a good gaming PC. As it also has the AV1 encoder, it will also work well for dealing with video content.
Another important thing to consider is power efficiency.
What the 3080 Ti has to offer in this department is similar to what the 3080 has, and it was also shown to be better than the 3090, as that one has a much bigger RAM that needs a lot of power to work.
However, the 12-pin connecter is placed in a very inconvenient place, which makes that a downside of this GPU.
Pros
Great performance with 4K footage and games
Supports both HDMI 2.1 and AV1 decode
12 GB VRAM
Cons
Unknown levels of supply and market prices
7. RX 6900 XT
Great Cooling System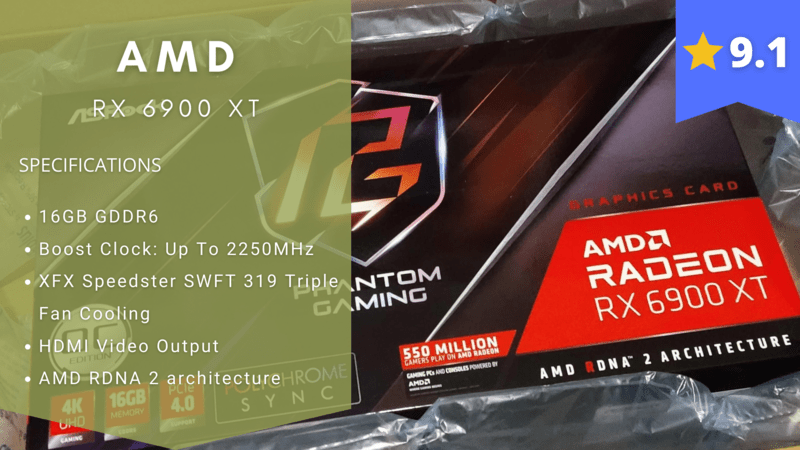 Stefan's Take:
Back in 2020, this was the flagship product that AMD came out with, and even though many GPUs have come out since then, this one is still relevant and could be a great choice, especially when found at a lowered price.
The 6900 XT is a very power-efficient GPU – it uses only 300W when gaming, which is so much more efficient than the cards from NVIDIA has to offer.
| | |
| --- | --- |
| Overal Performance | 9.5 |
| Memory & Clock Speed | 9 |
| Cooling System | 9 |
| Price | 9 |
As the architecture of this card is based on the RDNA2 graphics architecture, it's clear that the main thing this one is made for is gaming.
In case you didn't know, this is the GPU architecture that is used for PS5 and Xbox X/S, which proves all of the statements that are centered around gaming.
With that in mind, it's no surprise that you will be able to have a 4K experience when gaming and also have the GPU stay completely quiet while doing so.
Speaking of how things will look on your monitor, it's important to note that this card comes with two connectors that are the DisplayPort 1.4 kind, one HDMI 2.1, a USB 3.1 Gen 2, and a USB-C with a DisplayPort, so you will have a lot of options when it comes to choosing a monitor.
There's also an AV1 encoder, so working with video content won't be a problem.
Another great thing about this one is that the cooling system works amazingly well, and it's the same as the one the 6800 XT has, which also gained a lot of good reviews.
The maximum overclocking power is limited at 3 GHz, but when used, it topped at 28 GHz.
It's a bummer that there needs to be a power limit increase whenever overclocking occurs, so that would have to be one of the bigger drawbacks, as well as having that artificial memory overclocking limit.
When this card came out with a price point of just under $1000, it caused a lot of surprise among many people, as that was more expensive than what AMD usually offers.
This is a good choice, but if you have the budget to go for something newer, that could be a better choice.
Pros
Great performance for 4K gaming
Very quiet
Extremely power-efficient
Cons
Has an artificial memory overclocking limit
8. MSI Gaming GeForce RTX 2080
Great GPU for Streaming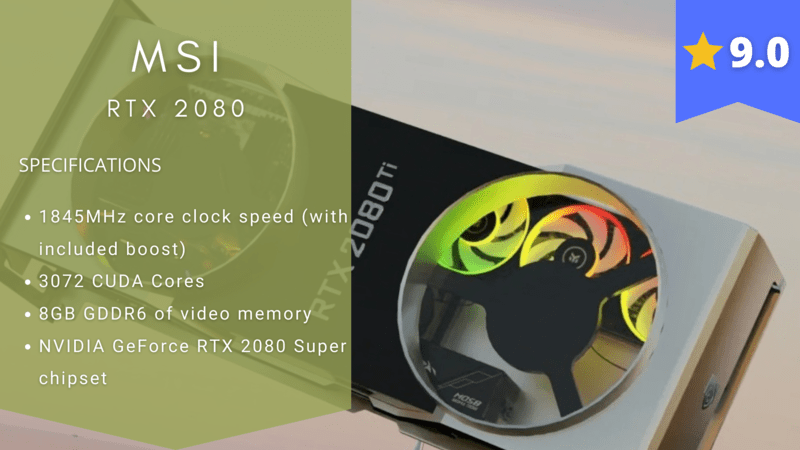 Stefan's Take:
As a trusted and reliable manufacturer with international coverage, MSI makes big promises and manages to deliver results well above those promises. This brand's reputation guarantees consistent quality in all products that are favored by hobbyists and professionals alike.
As a dedicated streaming video card, this product brings immense power and value to every user who wants top-notch performance.
| | |
| --- | --- |
| Overal Performance | 9 |
| Memory & Clock Speed | 9 |
| Cooling System | 9 |
| Price | 9 |
Why do I think MSI Gaming GeForce RTX 2080 is the best among these?
It is because the sheer power this card brings gathers the most attention from hardcore gamers and veteran streamers alike. While it is geared toward the gaming market, this card's value goes far beyond this kind of use.
It performs admirably in a plethora of different activities that include, but are not limited to, video editing, cryptocurrency mining, and lightning-fast loading times.
While the price might be steep, this graphic card brings all the essentials you need for perfect streaming.
This innovative card is a product of countless resources spent researching and improving the RTX series. It is 25% faster than the previous RTX 20 Series graphic cards and about 6 times faster than the last generation 10 Series GPUs.
It comes with MSI's widely vaunted overlocking software named "Afterburner" as well as NVIDIA Turing Architecture.
With this product, overheating is a thing of the past, as it comes with ZERO FROZR technology and strong fans. The GPU temperature is constantly monitored and, to ensure power preservation, the fans aren't active unless the temperature passes the heat threshold.
Pros
Excellent performance
Fantastic heat dissipation
It has beautiful RGB
9. Red Devil AMD Radeon RX 5700 XT
GPU with the Best Cooler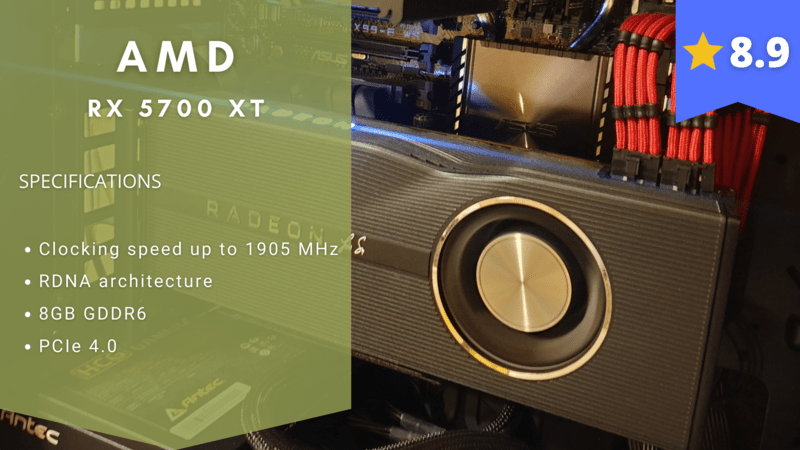 Stefan's Take:
Many people highly praise Red Devil AMD Radeon RX 5700 XT due to presenting videos at the highest possible resolution and for not stuttering at any moment during use.
If you need true greatness in the world of GPUs, this is one of the best streaming graphics cards you can find on the market at a reasonable price.
| | |
| --- | --- |
| Overal Performance | 9 |
| Memory & Clock Speed | 9 |
| Cooling System | 9 |
| Price | 8.5 |
This card is the epitome of perfection when it comes to playing demanding games in 4k resolution without going under 60 fps at the moment!
The card is no slouch when it comes to aesthetics. It is styled entirely in elegant black color and has beautiful RGB light effects that give it a modern feel.
You will notice the famed RDNA architecture, one HDMI, and three display ports. It encompasses fantastic connectivity throughout its design.
The 1905 MHz game clock speed is ideally suited for prolonged heavy-duty use. Radeon image sharpening ensures your images and crystal clear and detailed in 4k resolution.
The triple-fan design offers superb cooling capabilities that aren't too loud during the operational time. Whenever the card is under 60°, the fans will automatically conserve power and remain inactive.
The components are well organized and structured, with DrMOS High Polymer Capacitors giving it a sturdy build. The RGB produces a soft light, which gives adds to its elegant overall aesthetic.
Alongside 5 copper heat pipes and an extended cooler heatsink, it is superior in terms of heat dissipation in almost every way compared to the average graphics card.
Pros
Best card for heat management and dissipation
Fantastic overall performance
Almost entirely silent
10. MSI GAMING GeForce RTX 2070
Decent Gaming GPU
Stefan's Take:
The RTX 2070 VENTUS is an excellent GPU for streaming if you want consistent quality for a more modest price. It is a reliable choice for anyone who wants to run the latest games and software with optimal efficiency.
The best part of this deal is you get a high-quality product at a lower price and an option to return it within 3 months if you aren't satisfied or it stops working- it's an offer that's hard to refuse!
| | |
| --- | --- |
| Overal Performance | 8.5 |
| Memory & Clock Speed | 9 |
| Cooling System | 8.5 |
| Price | 9 |
As anyone who has been on the market will tell you – GPUs are expensive, and many options that are available on the market might not suit your needs.  If that is the case, Amazon has you covered!
This amazing product works perfectly well as a streaming video card due to its power, including Multi-View Rendering, Variable Rate Shading, and even VR support.
The best part? Despite the fact that you are getting a real bargain when comparing the product's value to the selling price, you also receive Amazon's guarantee that the product is in excellent working order.
If you are not satisfied for any reason, you can get a replacement or a refund within 90 days with no questions asked!
Backed up by the highly praised Turing architecture, this card is as relevant as any other market competitor in no small part due to the inclusion of all the features that you can find in the latest graphics cards while also including one HDMI 2.0 and three DisplayPort 1.4 outputs.
With the dual TORX 2.0 fans, you won't have to worry about your graphics card overheating, even if you are running demanding programs. The fans can effectively direct airflow to the heat sink without issue.
Whenever your fans are working to disperse heat during everyday use, the MSI ZeroFrozr technology will minimize the noise they produce, effectively allowing them to function in nearly complete silence.
Pros
Excellent, high-grade specs
Less expensive than most graphics cards in its class
It can be returned within 90 days if you don't like it
11. MSI Gaming GeForce GTX 1660
GPU with the Best Customization Software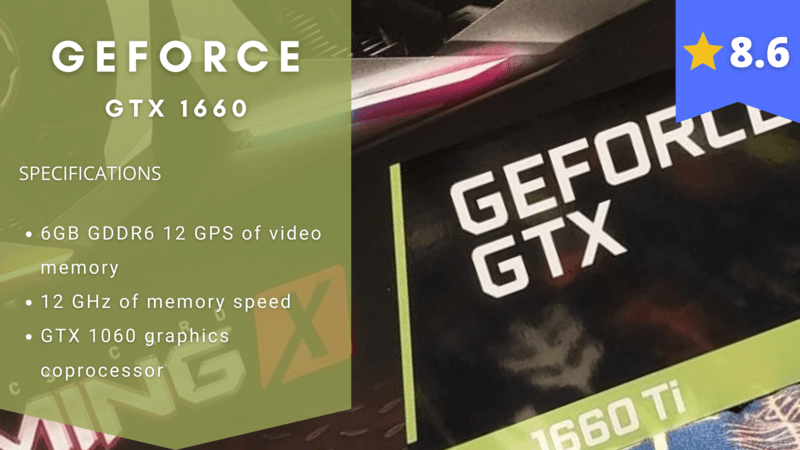 Stefan's Take:
If you need one of the best graphics cards for streaming HD video in your arsenal, this high-grade card gives you a high-quality output.
It comes with next-generation specs designed to handle the growing demands of an ever-expanding user base- all for a fantastic price that allows you to get your hands on a truly remarkable product.
| | |
| --- | --- |
| Overal Performance | 8.5 |
| Memory & Clock Speed | 8.5 |
| Cooling System | 8.5 |
| Price | 9 |
This powerhouse is specially optimized for highly-demanding games and programs. The sheer quality of this component allows it to meet the demands of almost any kind of user.
Despite being a vaunted universal piece of equipment, it is correctly marketed as a component created to meet gamers' demands first and foremost. It supports plenty of features, including VR support.
It works exceptionally well under intense use, making it well suited for long hours of service that would otherwise damage or, at the very least, heat up a graphics card to the point that continued use might result in damage.
It will also satisfy people who want to customize their product to create the best streaming graphics card, as the included software allows for thousands of different customizable settings to choose from!
Overall, this product aims to please and offers its potent configuration at a modest price.
The GTX 1660 TI chipset is a unique model that can go toe-to-toe with many recent models, such as the GTX 1070, due to the quality design and power implemented into this configuration.
Users will be immensely pleased to know that features such as adaptive shading, unified memory architecture, and the MSI FROZR thermal design are all integrated within this graphics card.
The brand new TORX fans 3.0 are a marvel of computer engineering, combining small size and efficiency that allows the card to operate for prolonged periods with no trouble.
All of the aforesaid components are wired by multilayered electric highways located underneath the printed circuit board. This Pascal-powered product promises high-end performance for almost any kind of use for a relatively low price.
Pros
The thermal design and fans ensure low all-around temperatures
It can be customized in many different ways easily
Offers great overall value for a modest price
Cons
The card lacks support for DLSS and RTX
12. Sapphire Radeon RX 580
Great for Streamers on a Budget
Stefan's Take:
If you are looking for a good graphics card for streaming, this option is very close to an ideal choice. It is affordable, powerful, and very durable, possessing all the good graphics card hallmarks.
If you are in the market for an upgrade that won't break the bank but is within the high-end class, this easy-to-connect card is fantastic as a dedicated GPU for streaming and many other activities.
| | |
| --- | --- |
| Overal Performance | 9 |
| Memory & Clock Speed | 8 |
| Cooling System | 8 |
| Price | 9 |
The high-polymer construction of Sapphire Radeon RX 580 guarantees superb durability and reliability compared to most other graphics cards.
The capacitors are made out of high-quality aluminum, ensuring the product's long service life.
This card was often used to upgrade Mac computers or older machines and transform them into formidable machines for entertainment and work-related purposes.
All of this comes within a very affordable package compared to other options for increasing your computer's power.
This 8GB RAM card runs at 1750 MHz, which gives it an admirable position right from the start. Sapphire collaborates with AMD to bring you the RX 580 graphics coprocessor, a high-grade component worthy of any modern machine.
While it may get heated due to prolonged use, the advanced dual-fan technology ensures that such moments are rare and never a hindrance for you. If you ever get annoyed- they can also be turned off.
The video output interfaces allow for different options for establishing a connection which includes two HDMI, DVI, and two display ports. 
The tremendous amount of variety in this card pack is supplemented by relatively low power consumption.
Pros
Fantastic value for the money
Very durable and reliable
Extremely silent fans
Cons
Has problems running AAA games
13. EVGA GeForce GTX 1070
The Best GPU for Overclocking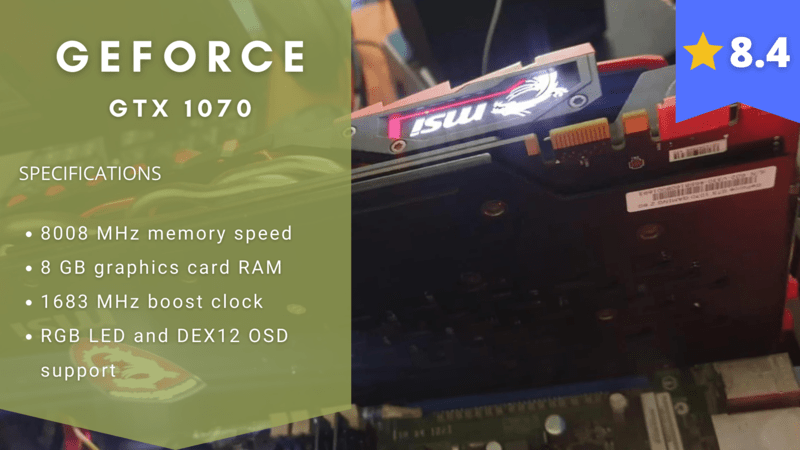 Stefan's Take:
This card comes with an impressive set of features and specs that set it apart from the rest, making it a viable option as a dedicated streaming video card.
Alongside the dynamic overlocking optimization systems, you can utilize your card's full potential, making it one of the best GPUs for streaming in terms of power and versatility.
| | |
| --- | --- |
| Overal Performance | 8.5 |
| Memory & Clock Speed | 8 |
| Cooling System | 8.5 |
| Price | 8.5 |
EVGA GeForce GTX 1070 is elegantly built and easy to install while bringing a lot of value to the table.
The EVGA Precision XOC software applies automatic overclocking based on your current needs, saving you time and effort by doing everything with the click of a button!
This card packs the standard 8GB of RAM and silent fan operation technology that is often attributed to high-end graphics cards. Yet, there is far more to this card than meets the eye.
The input lag and screen tearing have been all but eliminated due to NVIDIA G-SYNC. The SLI HB bridge doubles the transfer rate compared to NVIDIA's previous Maxwell architecture.
With NVIDIA Surround, the display accuracy is upped exponentially. Simultaneously, the next-gen VR features allow for an unparalleled experience, bringing you life-like graphics within VR simulations.
One of the great things about this reputable brand is that it places an extra amount of attention on the quality of its products and thus gives a 3-year warranty and 24/7 technical support.
Pros
Can run most AAA games on high settings without issues
Features automatic overclocking
Advanced VR performance
14. XFX Radeon RX 570 RS
Best GPU for Crypto Mining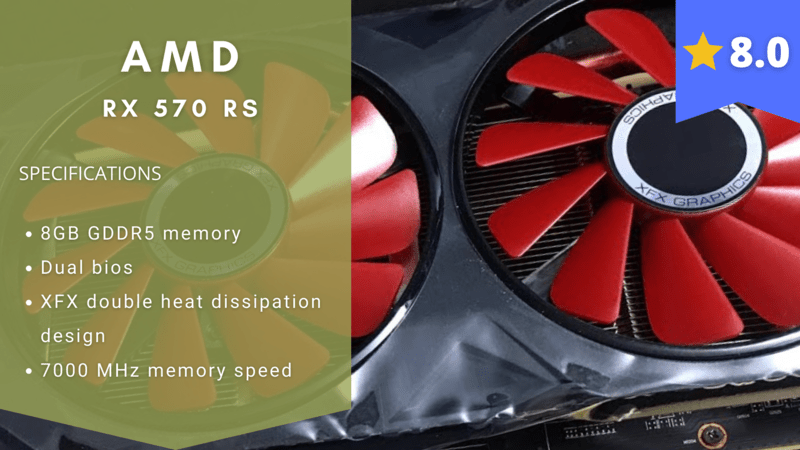 Stefan's Take:
It is immensely popular as a graphics card for streaming. Radeon has shifted its focus on providing superb software to suit the needs of consumers who need the best graphics card for streaming.
The massive investments made into constructing this pristine graphics card speak volumes of the value the company places upon it while still keeping the interests of the customers in mind.
| | |
| --- | --- |
| Overal Performance | 7.5 |
| Memory & Clock Speed | 8.5 |
| Cooling System | 8 |
| Price | 8 |
With the capabilities this card brings, it is easy to see why it has positioned itself as a mainstay within the gaming and crypto-mining community.
The dual bios configuration allows you to set your card's settings into action based on planned usage. Most modern games, including triple AAA titles, can be played on maximum settings with no issue.
It is almost entirely silent as the fan does not activate unless the card reaches a specific temperature, so you won't even notice it operating unless you use graphics-heavy programs.
It comes with XFX True Clock software that will optimize your hardware to run at its maximum efficiency. After you test the factory-set overclock speeds on your hardware, you can proceed to additionally customize the overclock settings to get the most out of your card.
The upgraded VRM cooling technology allows for temperature reduction by up to 30'C and noise reduction of 5%.
Pros
Multipurpose, customizable graphics card
Extremely fast and powerful
Dual BIOS
Great for mining crypto
Things to Consider When Buying GPU for Streaming
GPUs often tend to be one of the most expensive parts of a configuration; your expenses will almost always depend on the use, but here are a few things to always consider when deciding what to get for yourself.
1. Memory and Bandwidth
Whether we are talking about integrated or dedicated GPUs, the RAM is one of the critical figures crucial to determining overall performance.
Most graphics cards are produced with memory spanning from 2GB to 12GB. While the larger memory size is intuitively better, it is often more expensive and should match the GPU's speed.
Bandwidth goes hand in hand with memory, as it determines how fast the RAM can be accessed. If you plan to use high-intensity applications such as triple AAA games, both factors should be high.
2. Clock Speed
Most consumers often scroll down the list containing a graphics card's specs and often overlook this number. Yet, it is one of the core attributes of a good GPU.
The clock speed determines how quickly a GPU processes information and enables 3D engines to work, often creating marvelous and life-like images if the graphics card is powerful enough.
It is also essential to look at the number of cores a particular graphics card has, as both dictate the operational efficiency and congruence with the RAM of a GPU.
This is as important as the number of cores in the CPU.
3. Cooling
As you might already know, demanding programs can overheat an ill-prepared GPU and even cause damage! For this reason, picking a product that has suitable cooling measures is a must-have.
A card with many fans might do the trick. Yet, you might have to compensate for the effects of multiple fans with additional housing space and power, so it's a situational trade-off in some cases.
If you plan on picking up a good graphics card for streaming that is gaming-oriented, heat-resistant materials and high-quality heat sinks alongside a set of fans might be an excellent option to consider
4. Integrated and Dedicated Graphics Cards
Integrated graphics tend to get a bad rep because they are almost always weaker than dedicated graphics cards, yet this is not as black and white as it might seem.
As a high-quality graphics card for a serious gaming PC might cost as much as 40% of your total allocated budget for building a computer from scratch, integrated graphics are more affordable and allow for the implementation of both a CPU and GPU inside a single chip.
They are ideal for those streamers that might plan on streaming games that are light on the GPU or something else that might not need much GPU power. In these cases, an integrated card is fine.
However, a dedicated GPU is a better choice for anything above those mentioned above. Not only will you be able to experience fantastic graphics and play most modern games in 4k resolution, but you can also split the workload between your GPUs and double your power!
5. Price
This is probably the most nerve-wracking category, yet pretty much all decisions are based regarding computer hardware are based on the available allocated budget. In this case, long-term thinking is vital.
It is a good idea if you are worried about preparing enough money for a high-end PC to save up and then invest in a high-quality streaming video card that will serve you for a long time.
Conclusion
All in all, choosing the best GPU for streaming can be a tough decision, especially with so many options on the market that often specialize cards in one specific aspect that gives it a situational edge.
However, as high-end GPUs with universal utilization go, we would recommend that you take a good look at these cards:
MSI GAMING GeForce RTX 2080, as it is a tried and tested candidate for the best graphics card for streaming,
Red Devil AMD Radeon RX 5700 XT, because of its excellent performance and heat management,
MSI GAMING GeForce RTX 2070, as it gives you a great price-to-performance ratio.
When picking out the best streaming video card for your needs, many factors can come into play, but it will always come down to what you plan to do with it.
Frequently Asked Questions
Can I play triple AAA games on an entry-level graphics card?
If the card in question is a budget-class GPU that costs around 50 dollars and has low to low-average specs, it will probably struggle to even start a modern game, let alone play it on high settings.
However, if you happen to invest in a card within the 150-300 dollar range, you can expect quality gaming to be within your reach.  Cards within this cost range can run many demanding games in mid to high settings, making them ideal for streaming.
For pro gamers and streamers who want the absolute best graphics card for streaming HD video, the expensive range of graphics cards that usually go from 800 dollars and up are ideal choices.
Is a single fan graphics card better than a dual fan?
GPUs feature one, two, or three fans in their designs. The most significant differences between them are price, power usage, and cooling. While single fans might lower the card's price and take up space, they are most commonly used by casual gamers and light PC users.
If you plan to overclock your card and expect your activities to generate a lot of heat, multiple fans are a must; just be sure to provide enough space and power for their operation.
Can I overclock my card, and is it dangerous?
You definitely can, but you first need to know what you are doing. Every GPU has a different overclocking potential, as some can offer a minuscule performance increase of 5%, while other graphics cards can enhance their performance by up to 40% with adequate overclocking. 
Find out more about the GPU you wish to purchase and ensure you have adequate cooling and tools to help you overclock.