So, you finally took that first step, and you made your Twitch account. You even did a few streams! 
But, now, with that out of the way, you realize that you have a lot to learn because you want your streams not to be good as well.
Don't worry. It's normal for that to take time, but thankfully, you've come to the right place! I'll share with you a handful of easy tips that will improve your future Twitch streams.
10 Easy Tips for Better Quality Twitch Streams in Video Form
Audio (podcast) form for those of you on the go
Easy Ways to Improve Twitch Stream
Some of the tips will need you to get a bit technical with your equipment, but others will help with the overall quality of your performance.
You can include all of them in your next stream, pick and choose, and see what works best for your content and your viewers.
So, without any further ado, let's jump right in!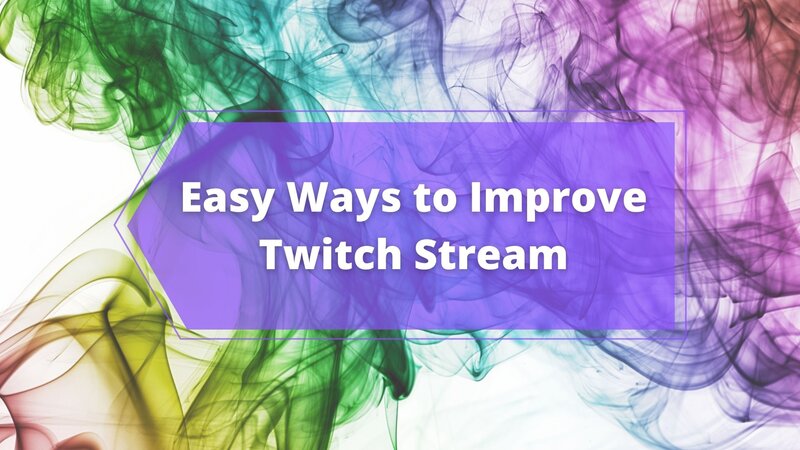 1. Focus on the Quality Content
First, let's acknowledge that besides getting your viewers to click on your streams, you will have to do something that keeps them there and makes them come back.
Because of that, the first tip I have for you is to focus on the quality of your streams rather than the quality.
Yes, if you stream a lot, you will have more chances to get a high watch time fast, but that's not how you make a substantial streaming career, is it?
This doesn't mean that you shouldn't stream if the conditions aren't perfect, but make sure that your audio and video quality is good and that you have an excellent overlay that's relatable to your content.
It's also important that you don't think you have to get some fancy equipment to start. 
You don't!
Having high-quality content depends mostly on you and the effort you put in and trust me when you do, your audience will be able to see it and love it.
2. Make Sure Audio Quality Is Top Notch!
The second tip I have for you is a bit more technical.
I know that streams might seem like primarily visual content. Still, it was proven repeatedly that the audience would take good audio quality over good video quality any day.
We all can get over a few less sharp visuals, but dealing with quiet and echo-y audio? I don't think so.
That's why you need to set your microphone settings to be just right,
Before you buy a mic, make sure to research what people think about it, and you can even find videos where people test said mic to know precisely how you would sound to your audience.
Once you get it, fiddle with the settings until you hit the sweet spot, and don't forget to test how you sound before starting the stream.
3. Get a Green Screen
Getting a green screen can be a fantastic thing if you are a gaming streamer.
Just think, isn't it irritating when you watch a stream of your favorite game, and the facecam is blocking a part of the view? I love this streamer, but I do not need to see what is on your shelves in the background.
Green screens aren't expensive, and you can find a variety of options on Amazon, so just find the one that fits your needs and your budget, and you'll be all set.
4. Use Stinger Stream Transitions
Maybe you know what I'm talking about and already have some set, but if you don't, then this is your sign to consider them.
Stinger transitions are the transitions that appear when you change between different scenes in your stream, so they will automatically add some excitement to your stream.
Doing such things will keep your viewers' attention high.
No matter how funny you are, our brains can sometimes wander off searching for something new, so it will be a genius move to give your audience that new thing within your stream.
5. Add Stream Alerts
As the name says, stream alerts are sound alerts that occur when something important happens during the stream.
So, when someone gives you bits or subscribes, a sound will go off to notify you.
Isn't that fun? People like your streams, and everyone will be able to hear that!
The thing I love the most about custom stream alerts is that you can completely customize them to fit the vibes of your stream.
Are you playing The Sims? Wouldn't it be great to greet each new subscriber with a "Sul, Sul"?
Adding alerts can be done through your OBS, and it's pretty easy to do it, so this is truly an effortless way to improve your stream!
6. Show Your Face
The sixth option may be something you're already doing, but you also might be someone who needs to be pushed out of your comfort zone a bit.
Showing your face is probably the single best way to make a deeper connection with your audience.
Now, I know that you might have valid reasons to avoid this, and if that's the case, you can always go for an avatar. 
We both know that hundreds of successful streamers out there have never shown their faces.
But, if the main reason why you're hesitating is a bit of a lack of self-confidence, then that can be easily powered through.
Your viewers that keep coming to your streams will probably just feel more connected to you, and if someone comes and starts being hateful with their comments, well, that's what the ban button is for, and you shouldn't be afraid to use it!
7. Plan Your Content
If you are a bit of a chaotic creative, you might not like what I will say next, but planning your content is a great way to improve the quality of all your future Twitch streams.
While making a full script of what you're going to say won't do you good, it will probably just confuse you. 
You should always have the key points you want to talk about in your mind.
Always come to the stream knowing what game you're going to play and how long you'll be there.
Not only will that make your job easier, but your audience will also appreciate it because they'll know what they're signing up for.
A great thing that Twitch has is the stream schedule, so you can let everyone know what you're doing and when.
This could increase your views by quite a bit since people will be excited to come to things they enjoy.
You don't have to schedule things too much in advance, but a week in advance will be a great point to start with.
8. Prioritize Communication
Yes, they have come to your stream to watch you play your game, but it's not the game that they're there for. 
It's you.
There are probably a lot of streamers that stream the same thing you do, but they don't do it the same way as you.
So, showing that you care for them will do wonders for the quality of your streams.
Try your best to stay on top of whatever's going on in the chat, and answer any questions that might appear.
While narrating what you're doing in the game can be fun and helpful, trust me, it will be even more fun for everyone involved to have an engaging conversation with you.
To make everything really interesting, you can maybe add a segment at the end of each stream for doing a fun Q&A.
This is the easiest way to connect with your audience and have them meet you a bit better.
9. Try Your Best to Be Consistent
When viewers know what and when to expect from you, they will be more likely to come, and more importantly, they will be more likely to enjoy your streams.
Besides showing up, it's also important to be consistent with what you show up with.
While changing things up from time to time just for fun, it's best to stick to a specific game to stream and make it your niche.
Playing Fortnite for weeks and then suddenly appearing with Animal Crossing unannounced probably won't go well, won't it?
Whenever you wish to change things up, just be sure that your audience is aware of it.
A great idea would be to decide with them what will be the game to play when you want to change it up.
Trust me, and they will love it!
10. Create Social Media Accounts
Finally, the tenth way to improve your streams will include you going a bit beyond Twitch and your streams.
While connecting with your audience during streams is excellent fun, making sure that your audience will come back and make all of your future streams fun is to communicate through social media.
This might be a controversial opinion, but I actually enjoy Twitter for this but an even better way to stay in touch with your audience is to have your own Discord server.
If you're talking between streams, the next time you pop on stream, it will feel like you've come to hang out with your friends the next time you pop on stream.
This means that everyone will be more relaxed and will have more fun, which is probably the most important thing when it comes to streaming and building your community.
Final Words
And that's it!
Those are the top 10 ways to improve your Twitch stream. Hopefully, you'll use them and start growing (stonks) like a real streamer and member!
If you want to learn more, here are some more Twitch streaming tips!