Green Screen
If you need to find other streaming gear, make sure to look at our Streaming Gear page. Here, you will find everything you need!
Post 3 of 5
If you are on your way to becoming a professional streamer you will need an adequate green screen in order to provide your viewers with the best green screen streaming experience.
Even if you are just a beginner and don't have much money to throw around, you should find a green screen with a decent price-quality ratio.There are numerous factors to consider when picking a green screen.
In this article, we will provide you with a review of the green screens we find are the most suitable for streaming, and we will highlight all of their ups and downs.
Post 3 of 5 in the Green Screen
Best Green Screen for Streaming
Reviews
Not everyone can afford the best high-end green screens, but a decent one will also do a good job if you put some effort into it. Below, you will see our list of the best green screens currently on the market, based on thorough research and recommendations from professional streamers.
QUICK OVERVIEW: Best Green Screen
<!—INSERT CODE BLOCKS BELOW—>

58.27 x 70.87 inch; 64.76 x 4.13 x 4.53 inch
100% polyester

9 x 15 Ft
4.5-inch durable and strong clamps

9 x 15 ft
3 spring clamps included
1. Elgato Green Screen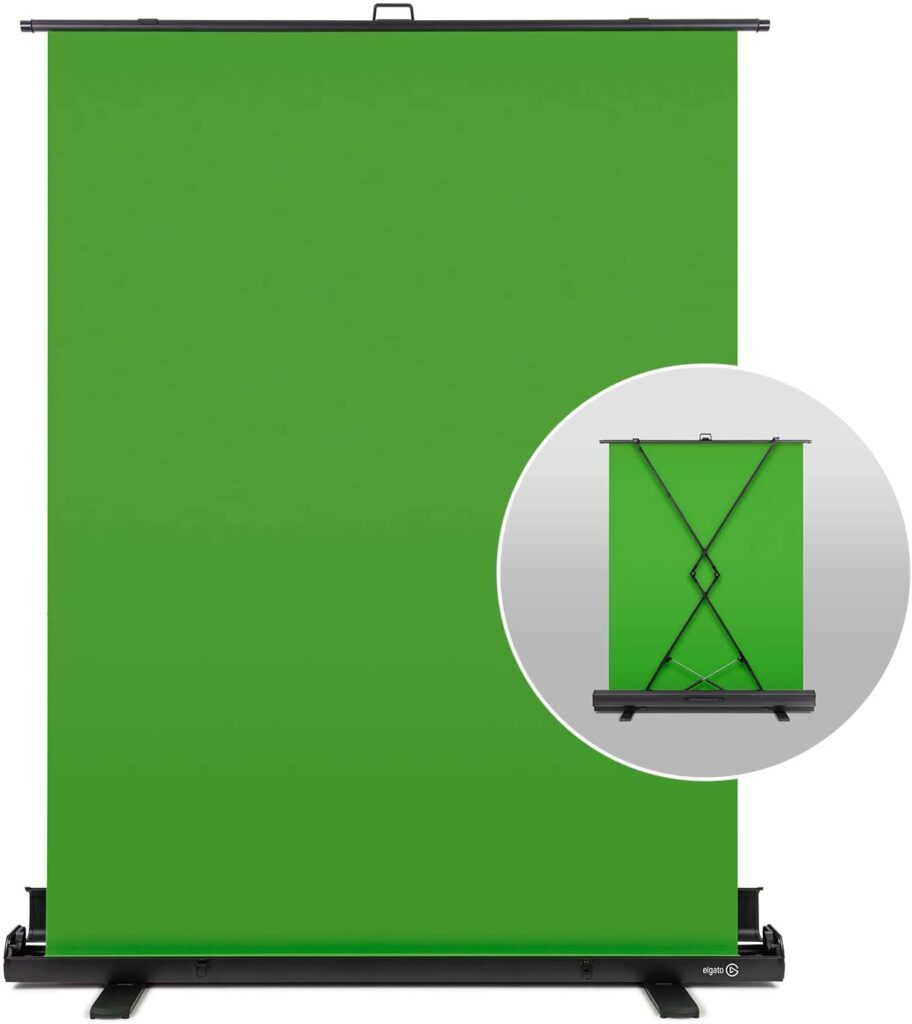 Perhaps the most popular green screen currently on the market is the Elgato Green Screen. This is the model that most professional streamers that are generating revenue are getting. It's expensive but it's worth every dollar.
There are a bunch of reasons behind its popularity and now we are going to explain them so you know all the facts before purchasing it.
Who is it best for
If you are a professional streamer or on your way to becoming one, then this just might be the green screen you are looking for. If you are ready to spend a bit more money on your product, there aren't many green screens that can compare to this one. You won't have to waste your time with fabric hangers or oddly sized stands.
Key features
This model is essentially a collapsible Chroma key panel with an elegant and pneumatic x-wing design. You can open it and set it up very quickly, and in a matter of minutes, you will be ready to start streaming.
You can just flip open the aluminum case, pull up the handle, and the green screen will hamper into place. It is composed of a crease-free polyester named Dacron, built by DuPont.
You can also clean it easily with a damp cloth because you can tuck it away neatly. If you happen to have a problem with the camera or software you don't have to panic because you get a 1-year warranty.
---
2. LS Limo Studio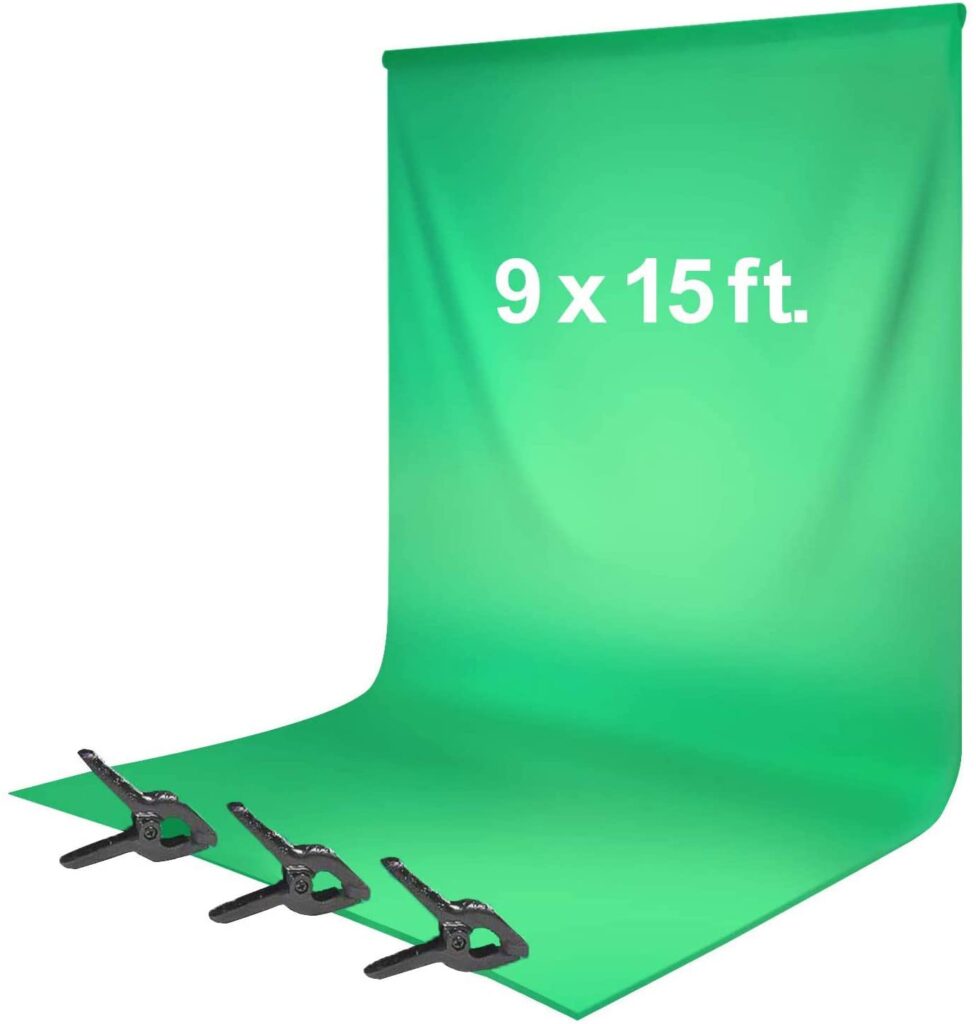 The LS Limo Studio is one of the most budget-friendly green screens on our list. But don't let the price fool you, this green screen can get the job done very efficiently and give a professional look to your gaming studio. Compared to green screens in a similar price range it's a worthy competitor.
Who is it good for
The Limo Studio can't be placed in the high-end green screen category, but it can do a very good job when it comes to streaming. If you are a beginner or aren't making too much money off of your streaming, then you should list this cheap green screen as a good alternative option.
Amateur photography and videography users also love this model due to its price-quality ratio. Overall, it's an excellent green screen at a more than reasonable price.
Key features
The LS Limo Studio is very tough, and its polyester backdrop is wrinkle-free. The material of which it's constructed off is particularly bulky, and it comes with a pre-stitched loop that you can insert through the hanging rod.
You should know that it's a standalone backdrop. This means that you will need to purchase, build, and construct your background support. However, it's pretty durable and it's well-built so you can be stress-free that it will survive all of those long streaming marathons that you might occasionally take.
The best thing about this model is probably the price. It's very hard to find a model in the same price range that can compare to this one when it comes to the features it can offer. If you already own a solid support or some kind of frame for the green screen, it makes the purchase a whole lot easier.
---
3. Neewer Green Screen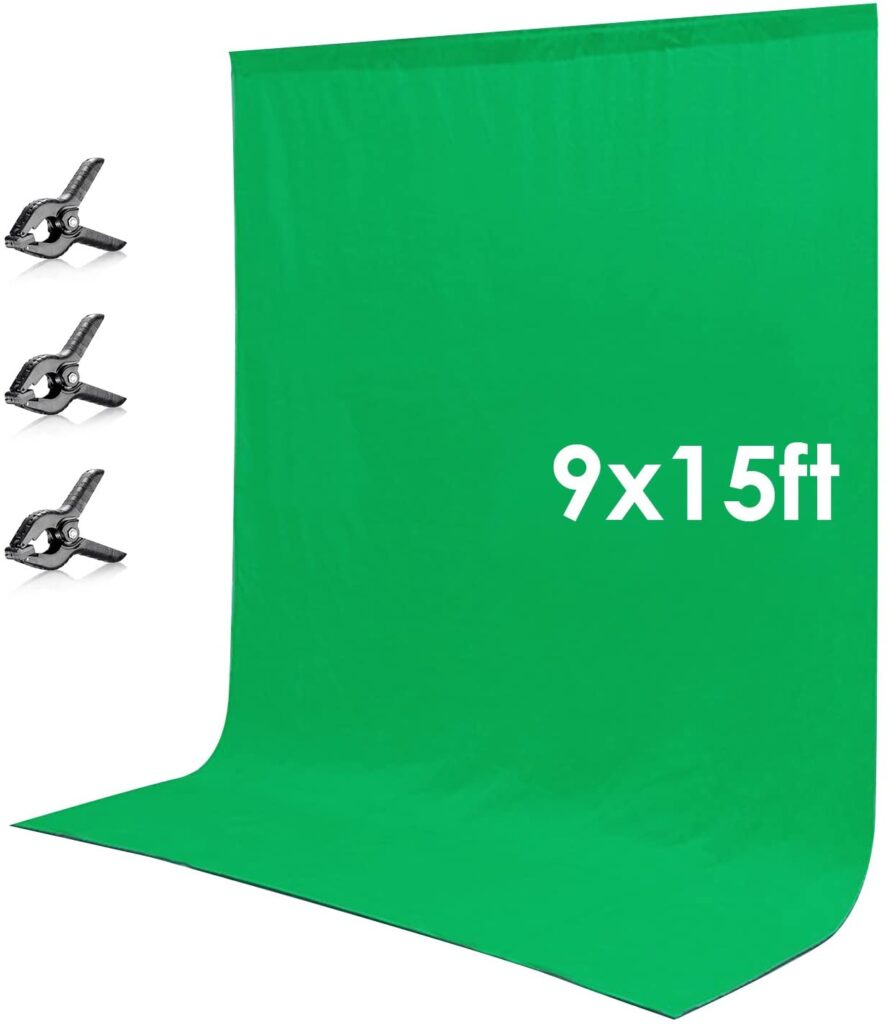 The Neewer green screen is another cheaper model on our list, but also very efficient. One of the biggest advantages of this green screen is the series of clips that come with it. They are there to help you hang or drape your Chroma key backdrop in any way you see fit. Let's take a closer look at this model and explain its specs and features.
Who is it good for
People who aren't expecting to generate larger income should find this model suitable for their streaming. A huge number of both beginner and amateur streamers opt for this green screen on their streaming journey. The price-quality ratio is respectable and you can definitely get a ton of value for the price tag. The color and quality combination is pretty neat and you will be able to easily delete the background of your stream audio.
Key features
This green screen can offer a somewhat reflective surface and it's mainly designed for general Chroma key use cases, not only gaming and streaming. Aside from streaming, you can interview someone with an alluring background behind you or even emit a gaming tournament that may need a larger screen area.
This model is composed of a seamless single-piece design and it can provide you with a consistent color throughout the material. Also, it will still be very simple and easy to clean up. It's very lightweight and it has a thick muslin fabric and a strong Chroma key which makes it good for any amateur streamer. A great addition is the thick texture that makes it almost impossible to get wrinkly.
Unfortunately, it doesn't come with a stand, but you will get 3 clips. This way, you can hang it onto something that you already have, such as a stand or curtain rod.
---
4. Emart Green Screen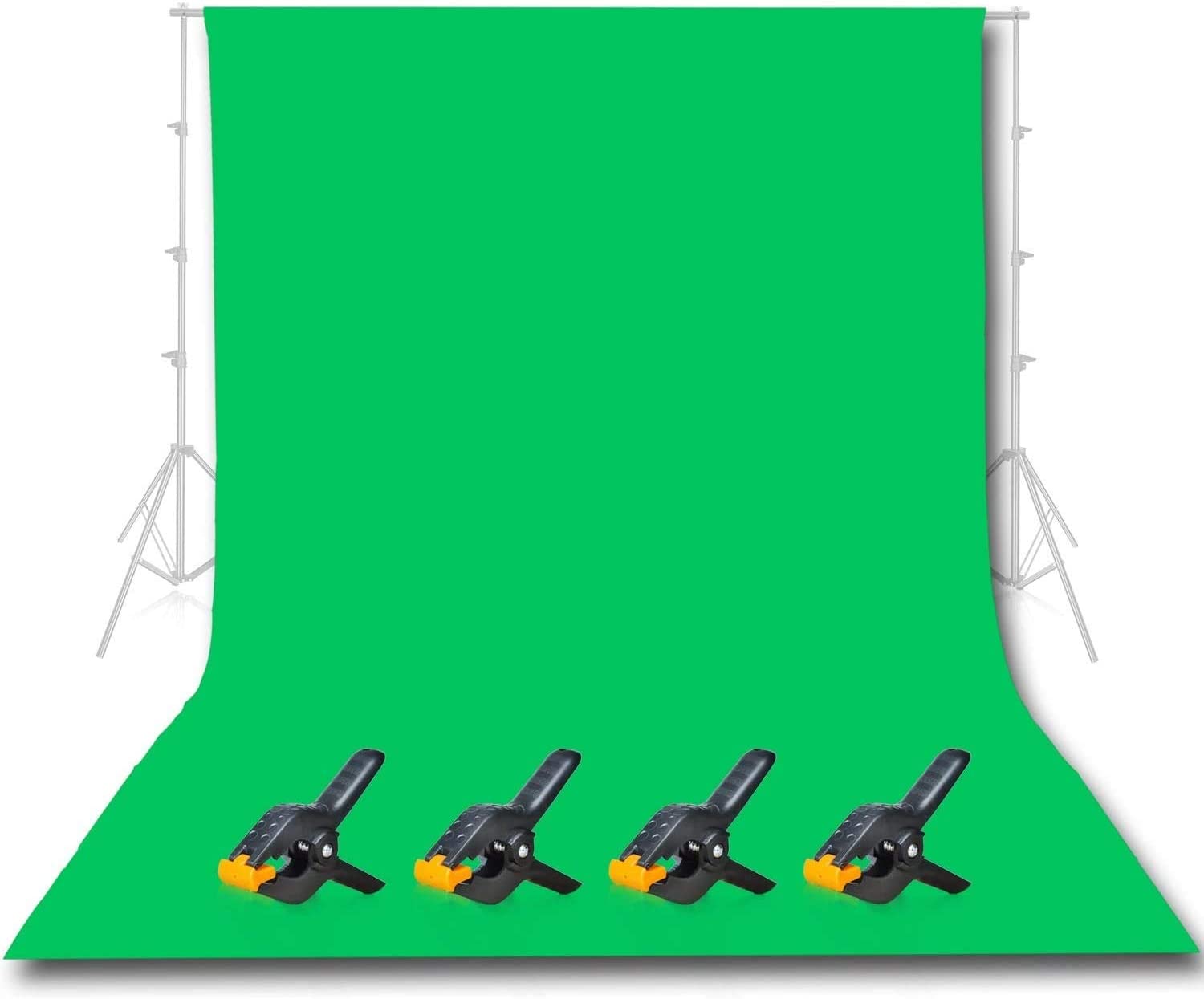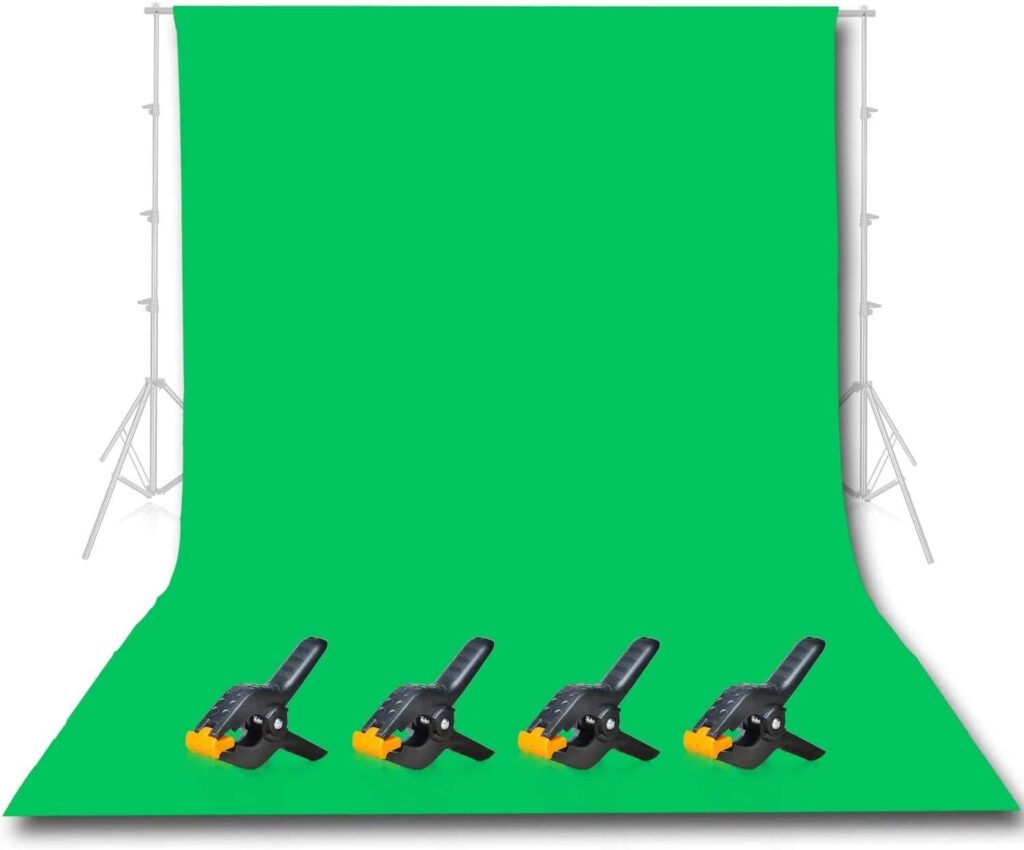 At only 36$, this green screen is both affordable and capable to support your Twitch streaming. Emart is one of the biggest names when it comes to putting out quality green screens on the market, and rightfully so. All types of gamers and streamers are very fond of their models due to positive past experiences.
Who is it good for
Most streamers who are looking for a solid green screen that's not expensive as hell usually opt for this model. Almost every streamer out there tends to make their Twitch streams look as professional as possible.
Aside from the content, brand strategies, and gaming abilities the technical equipment is one of the most important components of a good streamer. The Emart Green Screen can provide you with the professional and elegant look that your studio will need in order to gain more viewers on the Twitch stream.
Overall, if you are looking to get a good green screen without spending a huge amount of money, you should definitely put the Emart into close consideration.
Key features
This backdrop is of very good quality and it has cool uniform coloring, and no stains, fading, or discoloration. It's also pretty large so if you have a bigger studio it should be the perfect fit.
When it comes to the best material for green screens, cotton is usually regarded to be the best. A high thread count, tight weave green screen could minimize glare and reflections much better compared to other textures. The Emart green screen is known for making these high-quality green screens out of cotton and this model is no different.
The Chroma key screen functions pretty well and you will be able to easily replace the green background with the gaming video that you are looking to stream. Wrinkles are probably the biggest downside to this model since they may occur more frequently compared to other models so you will need to iron it more often.
---
5. FUDESY Green Screen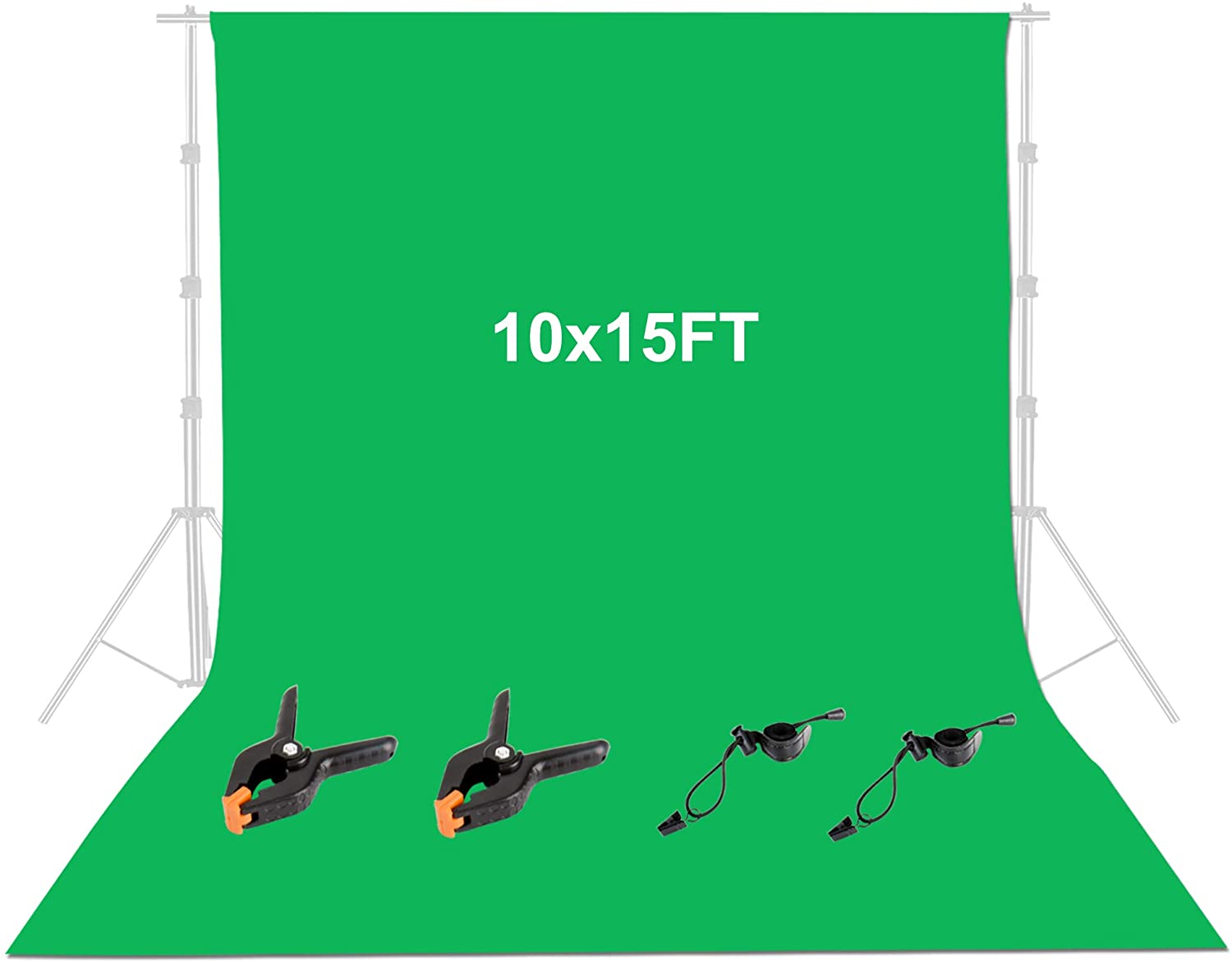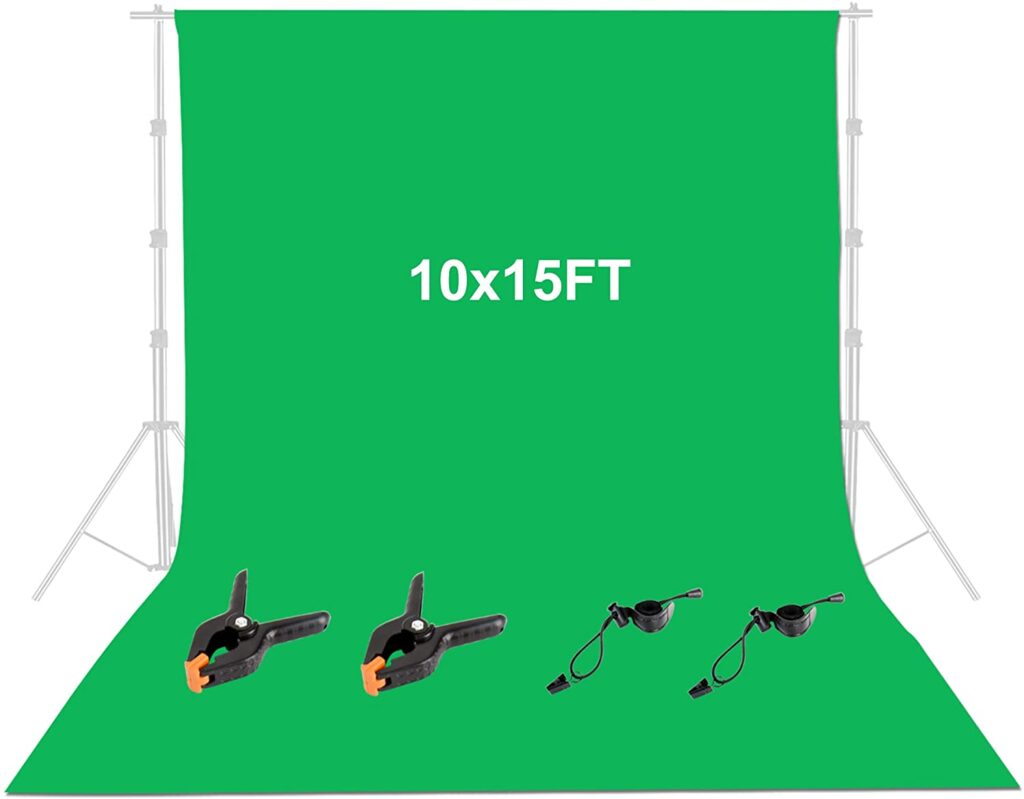 This backdrop is very similar in a lot of ways to the previous model on our list. However, we still chose to include it here because it has its own advantages compared to other green screens.
It's very lightweight, durable, easy to set up, and has a good vertical sense. You can also fold it up pretty easily in case you have to store it. If you have a photo studio where you do some work outside of streaming it can serve you pretty well.
Who is it good for
If you are one of those people who prefer the weight to be adequate for temporary or portable installations then you won't find a model much better than this one. People who use the backdrop for things aside from streaming (photo and video editing) will also find it very useful. It's also pretty thick so you won't have to worry about your viewers seeing through the green screen while you are Twitch streaming.
Key features
The thick and durable material of this green screen makes it more than just a sheet you can edit. The two heavy-duty spring clamps and the two backdrop clips that you get will enable you to easily grip the green screen and set it up in any way you want. They are also good for keeping the green screen tight and free of wrinkles.
Since the product is washable you won't have to worry about cleaning it up when the time comes. The neat non-reflective surface provides you with a wonderful color treatment and realistic-looking details. People who need professional photos and videos find it very suitable for these reasons.
The 1-year warranty you get is also a nice touch because you can easily replace it in case something goes the wrong way.
---
6. Fotodiox Collapsible Green Screen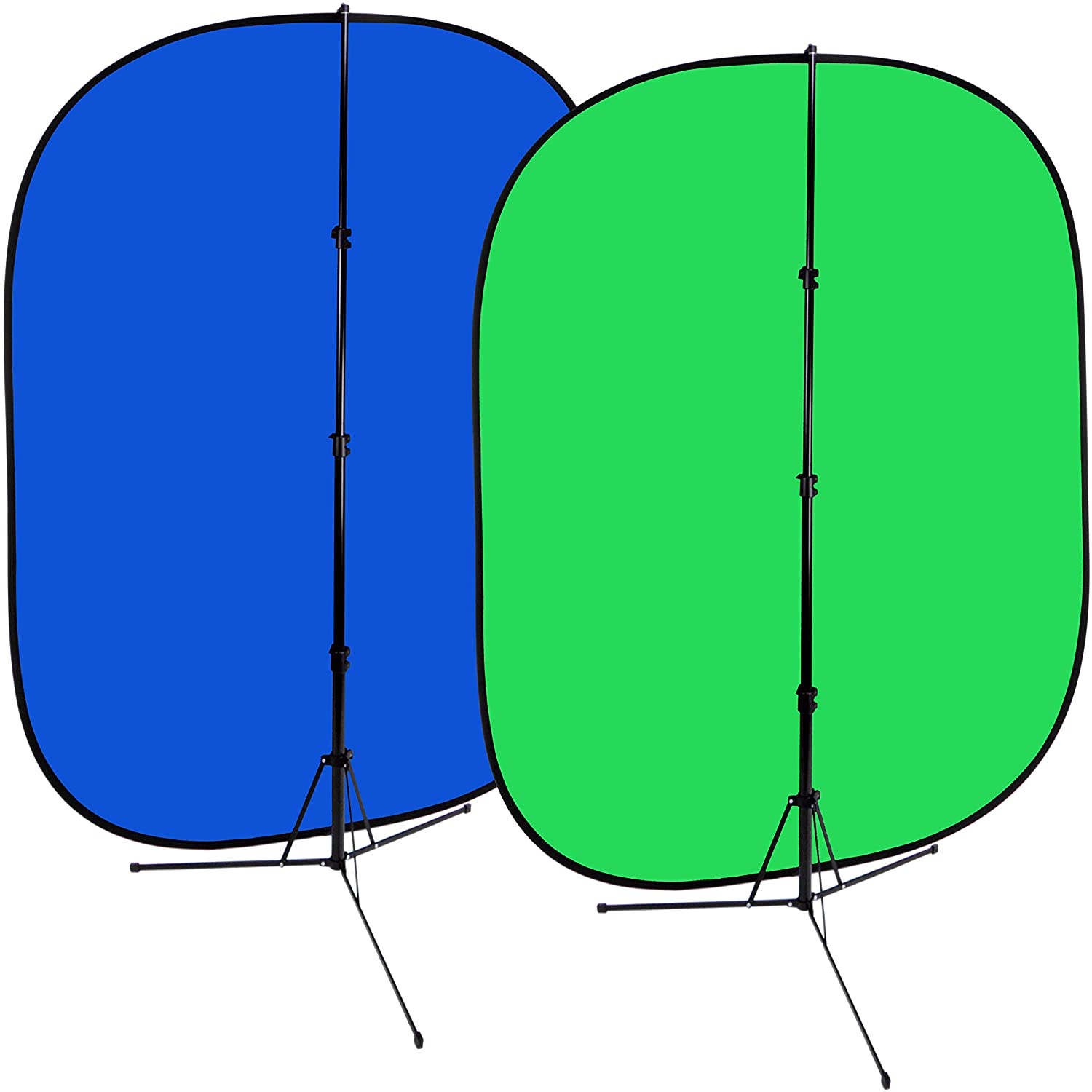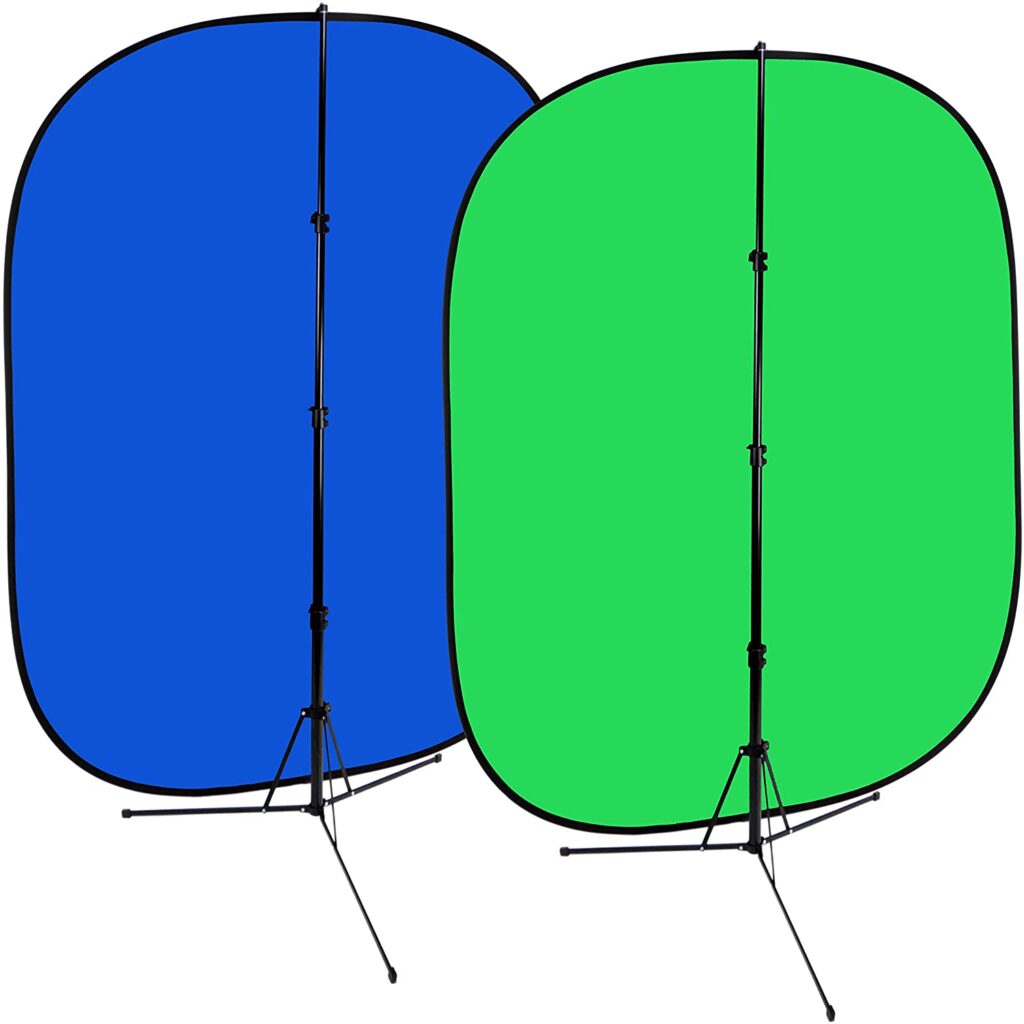 This first two-in-one Chroma key panel kit on our list is the Fotodiox collapsible green screen. It's unique due to the reason that it can provide two-color Chroma key screens that you can choose from depending on the situation.
The perfect background set-up is guaranteed with both the green and blue screen.
Who is it good for
This two-color green screen model is very suitable for both beginner and professional Twitch streamers. If you are used to streaming during the day, the green screen works great with bright lights, and if you are a night owl type of streamer then you can just as easily switch to the blue screen when night comes.
Also, if you have some sort of special t-shirts that you are used to wearing during the stream that have bright colors, the two-color model is great for playing around with the background.
Overall, it's a very cool and efficient green screen that offers you a variety of options when it comes to editing your Twitch streams.
Key features
Aside from being collapsible, this model is also reversible. One of the biggest advantages of this backdrop is the steel spring frame that can maintain an incredibly flat level of texture.
The reason why this is so important is because wrinkles on the fabric may cast shadows in your background, making your Twitch stream less enjoyable for your viewers.
The wire-frame stand that comes with the green screen is also a cool addition. The stand is very portable due to the lightweight and you can set it up easily in a matter of minutes.
You don't need a lot of floor space because it's small in size, so you won't have to worry about it taking up too much space in your room.
In general, this two-color green screen is definitely worth a shot at your money. The stand makes it easy for you to set it up and the foldable screens are great in case you need to carry it somewhere.
---
7. HYJ-INC Green Screen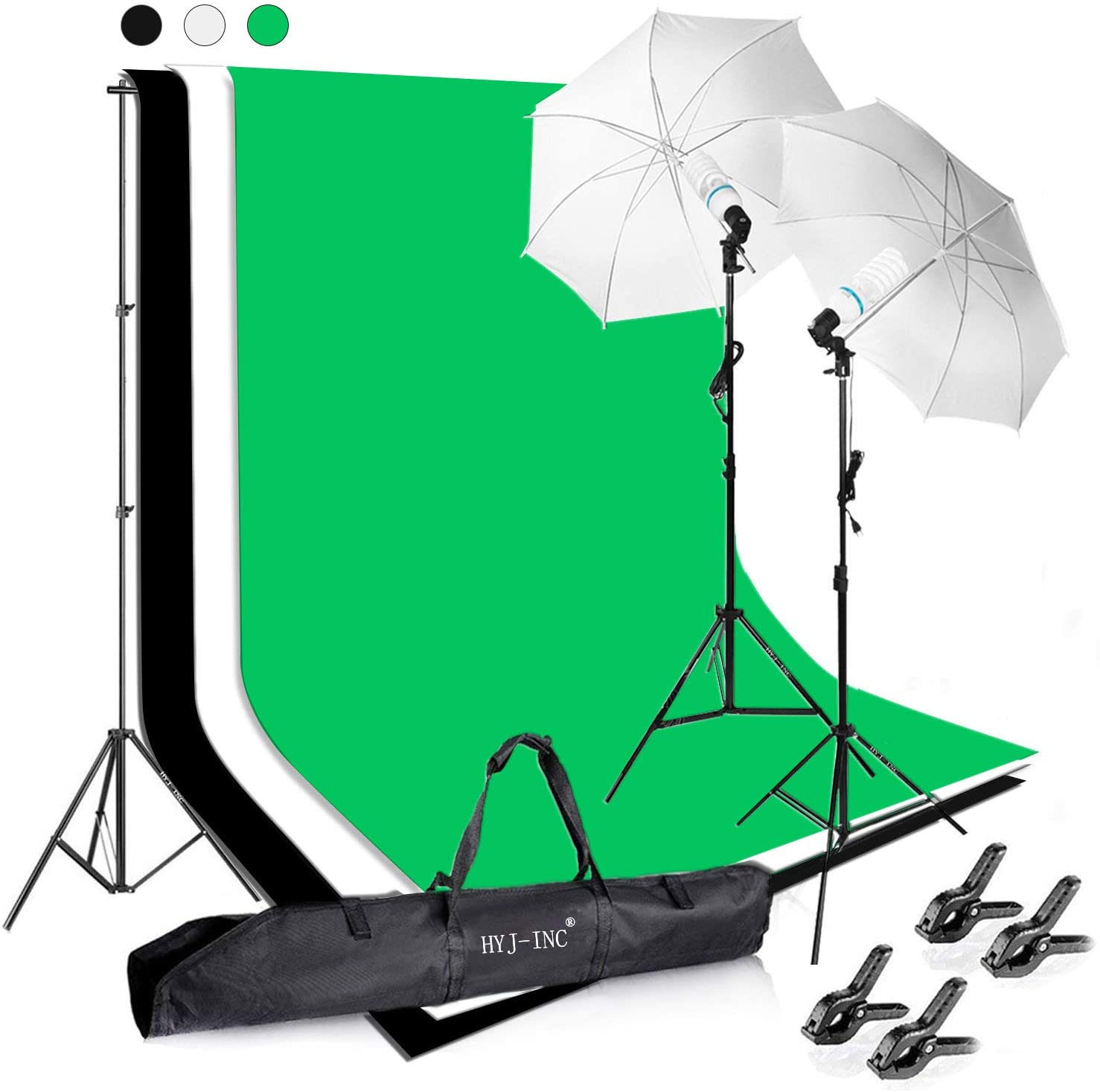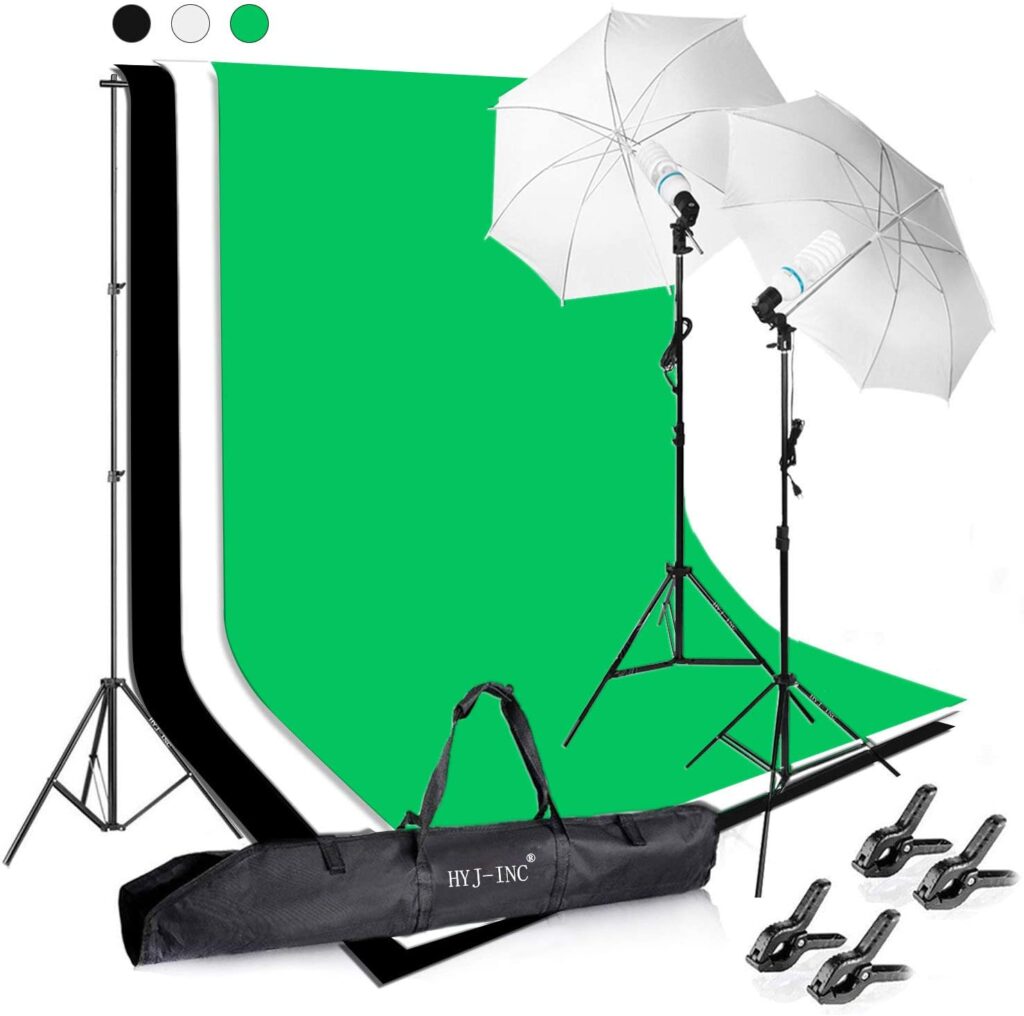 When it comes to video, photographers, and especially Twitch streamers, this is one of the best green screens currently on the market. In the 100$ price range, there aren't many models that can go head-to-head with this one.
It has numerous advantages and features that make it a great buy for any successful streamer. A lot of professional Twitch streamers have even reported using this backdrop for the best streaming experience.
Who is it good for
Although this isn't a high-end streaming green screen setup, it's very close to one. Professional streamers who make a living out of their Twitch streams, but also beginners who are willing to invest some money into their technical equipment should both consider purchasing this green screen for the best results.
Those who multitask and do some form of photography along with streaming can't really find a more suitable option than this one if they want the best of both worlds.
This model will make editing your background run as smooth as possible even if you have zero experience with backdrops. The white photo umbrella reflectors are also a great addition that comes with the purchase.
Key features
The kit should be able to cover all of your needs since it includes a light stand, three muslin screens, a solid frame for establishing the green screen, two umbrellas, securing clamps, and a carrying bag.
Three muslin backdrops are included and all are of a different color. There is a white, black, and green colored backdrop and they are unbelievable when it comes to managing different backgrounds, time, and location during the Twitch stream.
You can also easily wash the texture and you can be sure that this green screen will last a couple of years due to its durability.
The heavy-duty spring clamps are sure to hold the fabric safely and they should prevent any kind of slippage. You can also be stress-free from any wrinkles occurring during your video editing.
Overall, it's a very high-quality green screen for any Twitch streamer or content creator.
---
8. Andoer Green Screen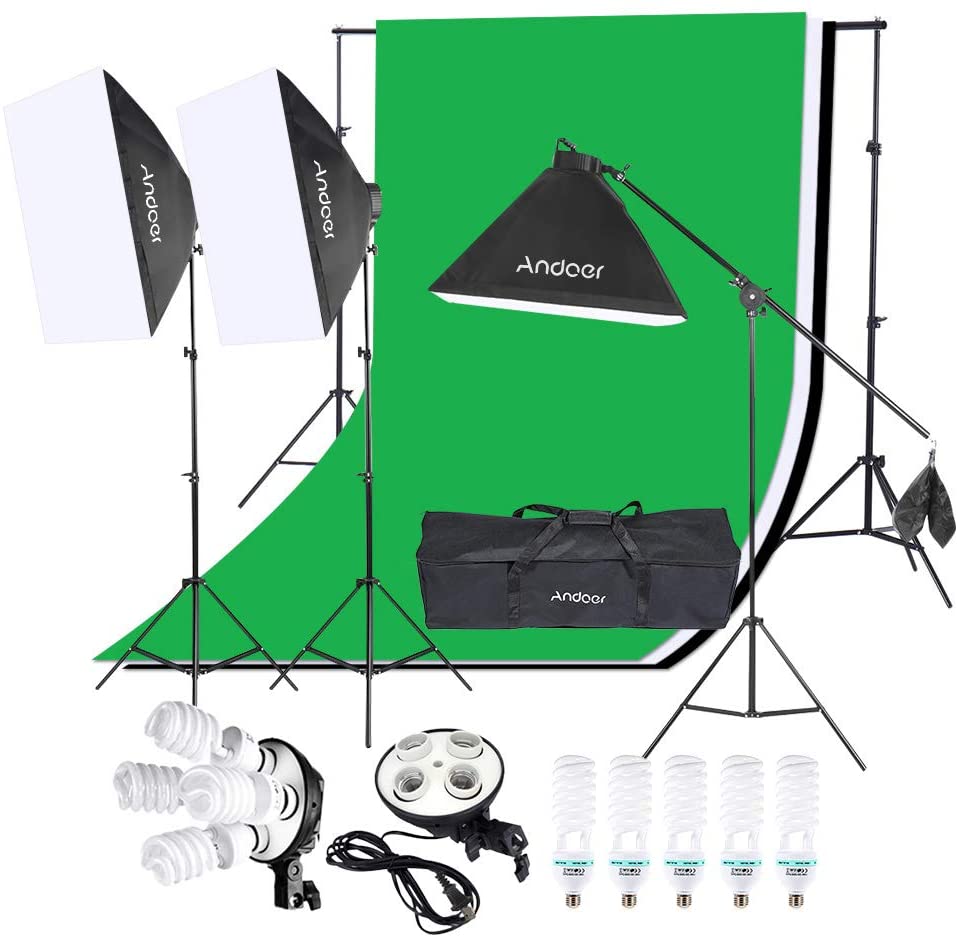 This backdrop green screen setup for streaming is similar to the HYJ-INC model, but it comes with a few more advantages, hence the higher price. Andoer is a very famous green screen manufacturer and most of their backdrops are considered to be high-end.
One unique characteristic about Andoer green screens is that their lights can offer different brightness. The incredible light quality and overall durability of this green screen make it a very tough competitor.
Who is it good for
Photographers, video editors, and all-around Twitch streamers all praise this product and have very positive feedback. It costs around 160$ and it's considered a high-end green screen that can make your streaming experience unbelievable.
Both you and your viewers will enjoy all the benefits that it has to offer. Although Andoer photography and lighting equipment are highly regarded, if you don't need it you can opt to purchase the green screen separately.
Key features
When buying this model there is a variety of different sizes you can choose from. You can measure the exact length and width that you need and order it. The size of the one that we have linked is 1.8m×6m and that is considered an adequate size when it comes to Twitch live streaming or even photography.
The eminently saturated green color feature works wonders for Chroma keying. The screen texture is made out of cotton which makes it extremely easy to clean up and you won't have to worry about any wrinkles appearing.
The backdrop is also backed up with an aluminum alloy stand that keeps the backdrop steady and offers you a great shooting atmosphere.
Finally, those who need a professional-quality light and backdrop should definitely make the purchase of this green screen a priority. It might not be as affordable as the other models on our list, but the quality it provides is worth every buck.
---
9. Julius Studio Green Screen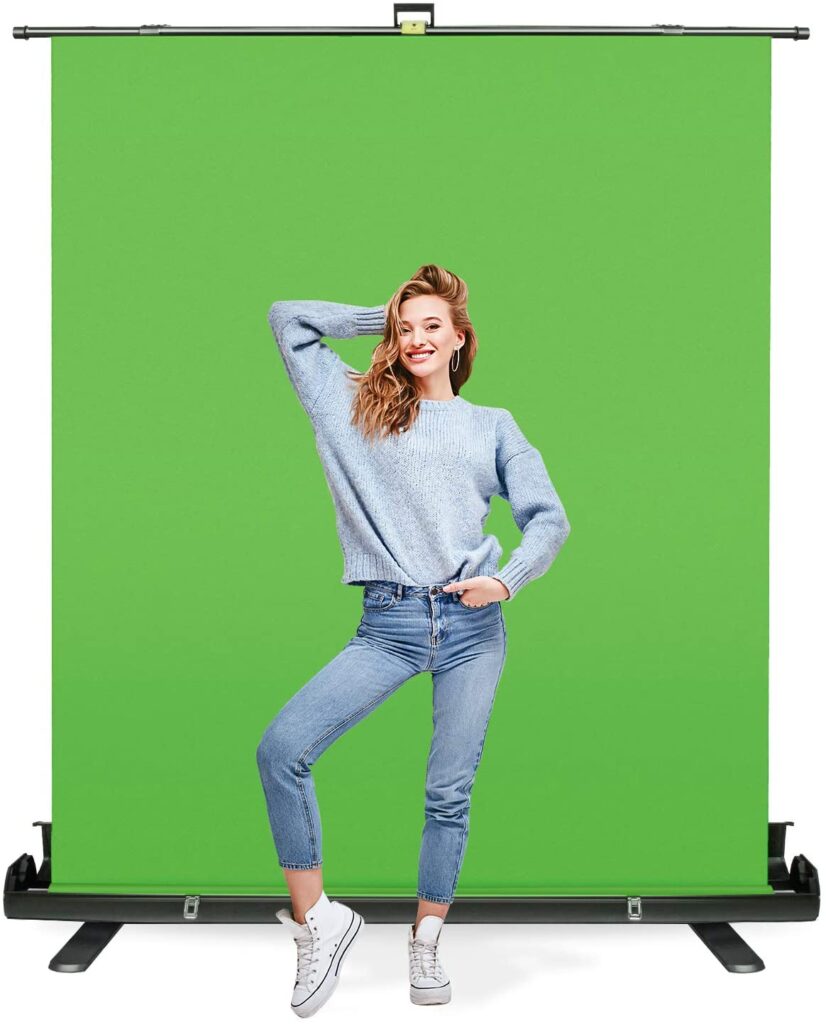 This is another high-end green screen on our list that has some serious features to offer. Streamers and videographers both love this model and find it very suitable for all of their needs. Aside from being collapsible, it's also very durable and easy to carry around in case it's needed.
Who is it good for
The Julius Studio Green Screen is most popular among streamers who do some photography and video jobs on the side. Professional Twitch streamers speak very highly of it and recommend it to everyone who is looking to invest some money into their Twitch account.
You can be sure to attract a lot of new viewers with the professional-looking background this green screen can help you create. It's also quite easy to operate, so even if you are still a beginner you should get the hang of it rather quickly.
The biggest downside is probably the high price, but if you are expecting to generate larger income through your Twitch streams, it's very likely that it will pay off.
Key features
The Chroma key screen is rather easy to store and carry around. It's very unusual how the Chroma key screen collapses itself, it's a very cool addition.
There is an X-frame that supports the Chroma key screen and it allows the green screen to stay steady. Like most high-end backdrops, it's wrinkle-resistant so that's one problem you can cross out. You can adjust the frame in order to secure the height you want.
It's also fairly easy to set-up. After unboxing it, it assembles itself in the right position with only a pull of a handle.
The material is very high-quality and it can last for years. The only downside might be the dull tone of the material, which may cause some difficulties when editing.
Overall, whether you are a professional Twitch streamer or a beginner who is looking to invest in his equipment, you shouldn't overthink buying this green screen considering its quality.
---
10. Webaround Big Shot Green Screen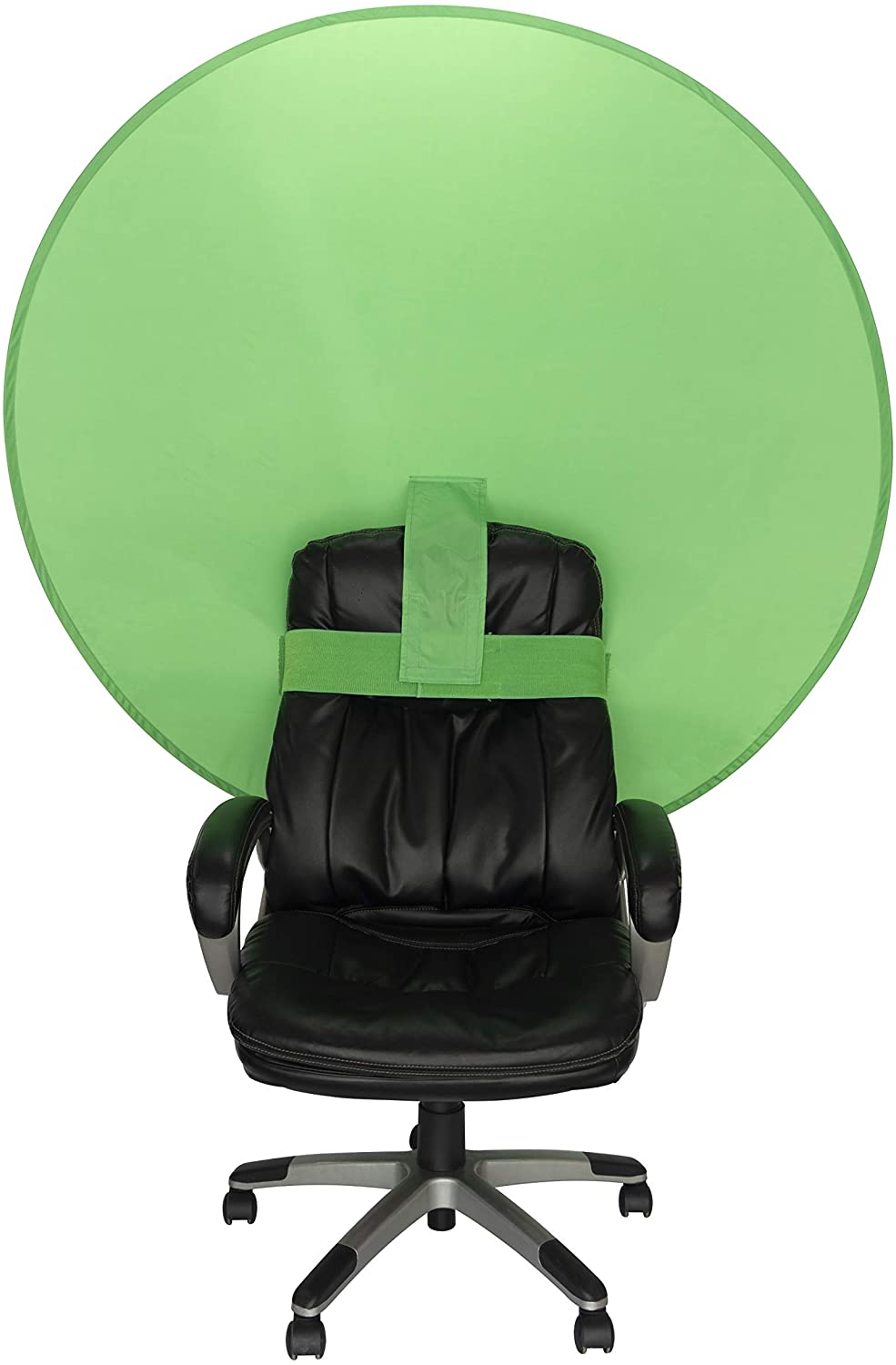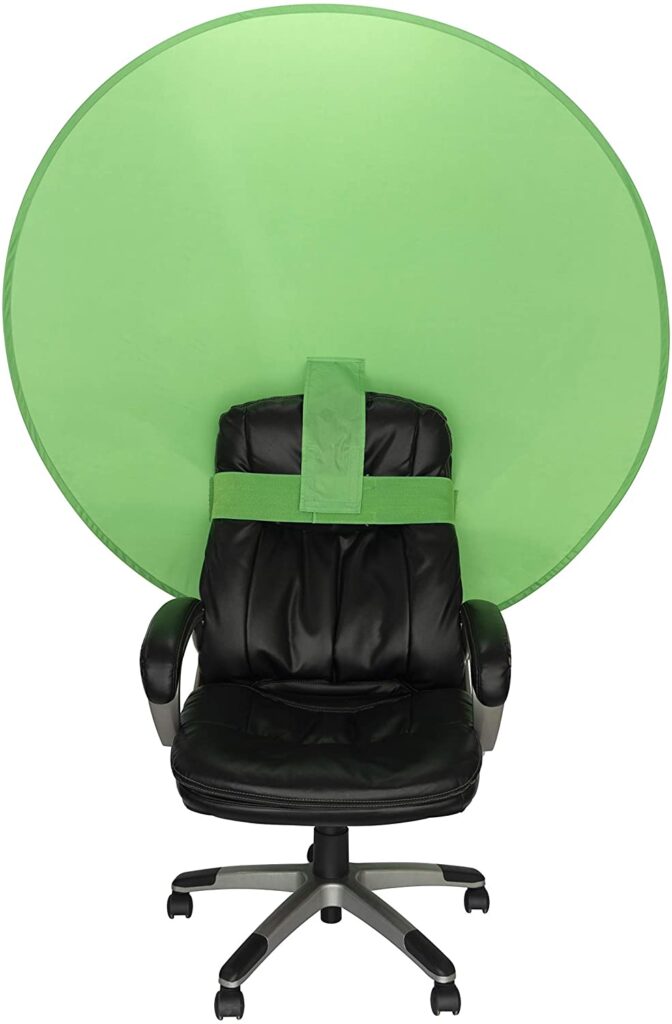 The Webaround Big Shot Green Screen is a very unique model and it's different than the other products on our list. It's not your everyday kind of green screen instead it's attached to your gaming chair.
This way, you will have a green background following you as long as you are sitting down. It's considered a minimal set-up due to the simplicity of the model.
Who is it good for
If you have a small studio and every bit of space counts, then this green screen might be the best option for you. Due to the design of the green screen, you won't need a stand, just a gaming chair to which you can attach it to.
You won't need any kind of specific chair model since it should fit almost any gaming chair out there. The size is 56 inches so it should be able to cover the viewing angle from your camera, worst-case scenario is that you might need to zoom in just a bit during your live stream.
Key features
Apart from being able to save you up some space, this green screen is great at camouflaging any disarray behind you in only a few seconds of work.
It's very portable and easy to transport because it uses a steel spring frame that you can press if you want it to pop up and fold down with ease. Also, the adjustment straps use the "Velcro" fastening tape which has proven to be very efficient.
Considering its purpose, it's very well-designed and constructed. Some people may worry about the sturdiness of this green screen, but there wasn't any negative feedback from the users regarding this.
A huge plus to this model is that the Webaround Company provides a great amount of tips and tricks on their website that you can look up that will help you get it set up and working accordingly with almost no effort.
---
Things to Consider When Buying a Green Screen for Streaming
Buying the adequate green screen for Twitch streaming could be pretty stressful, especially if you aren't sure what to look for.
One of the things you should check on a green screen is the fabric and material. You don't want a cluttered, plain, or windowed background behind you while you are streaming.
This is why it's important to make sure that the fabric is out of cotton. The screen should also be very thick so no light can go through it.
Another thing to consider is the amount of space you have in your studio/room. You don't want to end up buying a large green screen that can't even fit into your room. Always check how tall and wide the backdrop is. Space management is especially important if you have a large streaming setup with a secondary monitor and other gadgets.
Finally, you should always look for a green screen that's within your budget, and check the weight in case you will need to transport it often.
Related: Setting Up OBS Green Screen in 8 Easy Steps
Conclusion
We hope that after reading our list of recommendations you will understand what to look for in a green screen for Twitch streaming and hopefully find the right one.
Our personal choice for the best green screen would be the Elgato green screen because of all the features and advantages it can provide you with.
Frequently Asked Questions
Is a green screen worth the purchase?
If you are a gamer that plays titles that have a lot going on on-screen, then yes. You will want a clean set-up so you can use your face-cam and avoid all distractions.
Which green screen is best for streaming?
In our opinion, after thorough research, we have found the Elgato streaming green screen is probably the best high-end green screen you can currently find on the market.
Which factors should you consider before purchasing a green screen?
The size, weight, durability, fabric, and amount of space it will take up are some of the most important factors you should consider before buying a streamer green screen.
Join our Discord Group. Ask questions, team up with fellow streamers, share memes, and more!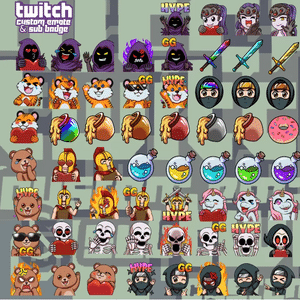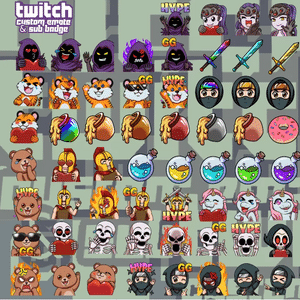 Claim for FREE:
FREE Emote PACKS
A book on growing your audience