Twitch is a large community of people who come together to create entertainment. Streamers worldwide broadcast their gaming skills, artistic talents, sports contests, music, and creative content.
Have you ever noticed how many trending games on Twitch there are? There are probably thousands of Twitch streamers broadcasting the same game. So, how do you get recognized when there is such strong competition, you ask? This is where Twitch tags show their true value.
Today, we will talk about what Twitch tags are and how to utilize them to get yourself viewed on Twitch.
What Are Twitch Tags?
Twitch tags are openly shared elements regarding your content – they let other people discover your streams more quickly. They are probably even more important than writing an awesome bio for Twitch. New tags are regularly added based on users' community feedback.
Tags are displayed beside the thumbnail of the video, game category, and the stream title every time you watch a Twitch stream.
There are three different types of Twitch tags:
Stream tags: The creators or channel editors can apply up to five stream tags per stream. Some tags hold unique requirements to use. E.g., Artists can apply the 'Drawing' tag to the streams featuring drawing artworks.
Category tags: The platform adds category tags to describe stuff like video game genres. They can't be used directly by creators. E.g., the 'MMORPG' tag is added to Massively Multiplayer Online Role-Playing Games – such as the famous World Of Warcraft.
Automatic tags: Twitch tags are automatically added when a stream meets specific requirements. Automatic tags can't be added by streamers. E.g., the 'English' tag is added to a stream recorded in English.
Purpose of Twitch Tags
Many new streamers will oversee the power of the Twitch tags and go directly to F4F in order to attract more other streamers to follow their channel, and although this can be a good thing, be careful because this is against community rules. Follow 4 Follow (F4F) is basically following a channel of other streamers and expecting them to follow your channel in return.
On the other hand, Twitch tags have one and only purpose – to make your life easier! Moreover, they are not prohibited, but Twitch encourages you to use them on every stream. Imagine how difficult it would be if you had to manually browse all through the Twitch platform to find your favorite streamer or someone streaming your favorite video game. With the help of Twitch tags, you can find your desired content or streamer in the blink of an eye!
Viewers search for broadcasts using tags – this makes finding a broadcast they are curious about more straightforward. This makes a streamer recognizable – if a viewer stumbles upon a section of content, a simple tag can make a difference in finding what they like.
As you can imagine, tags also help filter out streams without keywords the viewer searches for. For example, suppose someone searches for the family-friendly tag. In this case, only broadcasts with the tag 'family-friendly' would show.
Twitch tags can be a fantastic addition for new streamers to help them get noticed. Twitch tags will also help you build your own community of followers without much effort.
How Do Twitch Tags Work?
People use Twitch tags because they make finding the desired content much more effortless than anything on the web.
Namely, the Twitch search engine uses a given tag as a search index, relying on the given criteria and the words of the end-user.
So basically, Twitch tags work the same as search filters. For example, if you are trying to find streams featuring a virtual avatar, all you have to do is search for streams with a Vtuber tag and Twitch will show you all relevant streams in less than a minute.
Where Are Tags Shown?
Tags specify your content's features and let people discover your work effortlessly.
You can find tags alongside the stream title, video's thumbnail, and the category or game every time you watch a Twitch stream.

You can find tags on:
Adding Tags on Twitch
Tags can be used on entire categories as well as specific content terms. New tags can be automatically added to the channel when a certain requirement is met.
There is even a comprehensive list of available tags found on the platform.
You can add Twitch tags:
1. Through your streaming software
For instance, if you are using Streamlabs OBS, the software will ask you to make a stream title and pick a category after you click the Go-Live button.
You can add Twitch tags to your stream on the same pop-out window.
Most streaming software works the same way (with slight differences, of course).
2. Through Twitch User Interface
If you would rather prefer using the Twitch UI, no problem!
Simply go to 'Creator Dashboard' and click the 'Edit Stream Info' short action button. Now, you will see a pop-out tab with your category, title, tags, and audience.
In this pop-out tag, you can edit your tags to your liking. Just remember to keep track if you change the streaming content – you should always make your tags accurately related to the content you are streaming.
Choosing Twitch Tags
Suppose you recently started streaming or didn't look up the stream tags until today.
If this is the case, you're most likely making it challenging for new viewers to find your stream if your tags aren't correct.
You should always add tags that accurately represent your stream in one or a few words – tags will make sure more than a few people see your live stream.
Why should Twitch offer English content if a viewer prefers watching videos in Spanish? This shows just how influential tags are.
Your stream will be filtered out from the search if it lacks a specific tag, meaning you're losing an audience that would probably be interested in watching your video.
You should consider possible tags for your stream and check if they are popular (we explain how to find popular tags in 'Where to find Twitch tags').
While searching for the best tags for your stream, remember that you shouldn't only add tags that will boost you in the search engine.
Instead, try describing your stream as thoroughly as possible and add tags (more than one) that best describe your Twitch stream.
If you add tags that are popular alongside those that are not as widely used, there is a great chance of success for any Twitch streamer.
There are tags with many Twitch streamers using them. If you try adding two popular tags together (if not frequently used together), you will most probably reach a popular status.
E.g. if you put the Call Of Duty tag alongside the playing with viewers tag, it will probably double your chances of attracting the audience to your channel.
Finding Twitch Tags
You should know that tags are not trivial at all. Tags can generally describe things like MMORPG or streamers' language; nevertheless, good tags tend to get much more specific.
You are halfway to fame when you understand which tags to use to attract viewers. This is why you must find popular tags that can be applied directly to your stream.
This way, your audience will be able to easily find your channel. You can find a list of all Twitch tags on the Twitch directory page.
If you want to know how many Twitch streamers use that tag feature, just click on the specific tag. This is fantastic because it shows the viewer's point of view. The Twitch platform filters tags relying on the viewer number – the higher the number, the higher the position in that category.
Best Twitch Tags
Tag features you should be using rely heavily on the content of your stream. As we had already explained, you should always use tags relevant to the content of your stream and your channel. But what are the best tags to use on Twitch?
The answer is: trending tags. These tags are on the top of the popularity list, and we have taken our time to briefly mention some of them.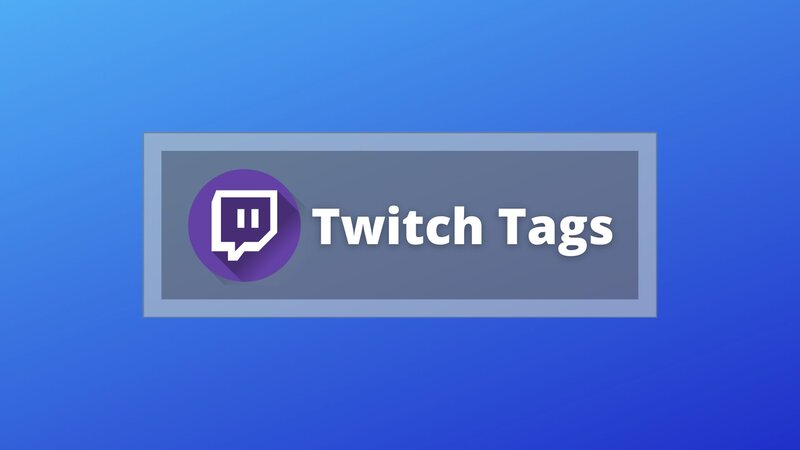 1. Playing With Viewers
This is a trending tag on many multiplayer Twitch categories as a large community of gamers wants to play with popular streamers. If this is something that could be your cup of tea, try tapping into it.
2. AMA
This is a popular tag for pure chatting streams and an excellent way to gain the audience looking for a conversation.
3. Permadeath
This tag is meant for streaming gamers with only one life through the game. Many viewers are keen to watch you trying to stay alive as long as possible. This tag will help viewers easily find this type of stream.
4. Challenge run
The challenge run tag feature is supposed to imprint that you are streaming a game going through difficult challenges. This type of gaming hypes the audience and if difficult challenges are your thing, try streaming videos under the challenge run tag, as this is one of the best Twitch tags for viewers.
5. Speed run
A speed run tag is meant to attract viewers eager to watch you speed running through a video game on your live stream. Speed run holds a large community on Twitch, attracting many viewers with every new stream.
6. First playthrough
Fist playthrough is exactly what it sounds like – you should use the first playthrough tag if you are playing a video game on Twitch for the first time. Viewers often look for a community trying to find out how the story turns out at the end.
7. Art commissions
A number of art streamers tend to do commission work. A Twitch streamer can even achieve a new deal just by putting the art commissions tag on their stream. If your channel has anything to do with art, don't be shy to try art commissioning.
8. Backseat gaming allowed
Maybe the best thing that Twitch has to offer is the mere interaction between viewers and streamers. This tag is used by streamers that allow their chat to improve the viewers' gaming skills while creating an interesting live stream. This is one of the favored specific tags amongst viewers (side by side with playing with viewers)
Conclusion
We've learned what are Twitch tags, how to use them, and what are the best Twitch tags every streamer should know.
Hopefully, this guide will help you to learn more about streaming and grow Twitch channel!
FAQ
Do Twitch tags matter?
The answer is: Yes! Some viewers could be searching for specific things, so when you add tags on Twitch that specify your streaming, you will probably bring new viewers to your channel.
What tags to use in Twitch?
You should be adding tags that briefly specify your work. This way, old and new viewers can find streams they like in less than a minute.
This method will also rule out any audience that wouldn't be so excited to watch your streams but don't worry, Twitch is a large community, so you won't miss out on the fame you are looking for.
How many tags can you use on Twitch?
You can add up to five tags on every stream, although Twitch tags can be added automatically if your stream meets qualifying criteria, such as a language, stream category (music, popular game, etc.), and alike.
Can a mod add tags?
Yes, mods can change Twitch tags. Moreover, they can change the Language settings, Category, Audience, and Title. Still, they need to have the role of the Editor in order to do so.