Instagram is the quickest-growing social media platform, with almost 1.5 billion active users every month, and it is used both for fun and business.
However, this doesn't mean everyone in the world has an Instagram account, and there are still so many people who are thinking about joining it and have no idea how to use Instagram.
If you are interested in joining Instagram but you are not really sure how to do it and what options are there for you on the platform, then our guide is the right article for you.
What Is and How to Use Instagram?
Firstly, let's tackle what is Instagram.
Instagram is one of the most popular social media platforms these days, and it focuses on sharing photos and videos of all types.
With Instagram, you can connect with your friends and family, edit visual content, interact with other users and explore all the possibilities of online communities.
You will be able to like photos, share stories, and interact with interesting people and unique content creators.
If you are creative, like taking photographs, and enjoy playing with colors and creating your own aesthetically pleasing content, then Instagram is the right choice for you.
Instagram launched 12 years ago and has become the leading social media platform today that has evolved drastically from the beginning.
Plenty of new options and features were added throughout the years, but today Instagram is a lot more focused on video formats and direct communication through Instagram stories or reels.
If you want to have fun on the internet and enjoy interesting content, then you should definitely consider joining Instagram.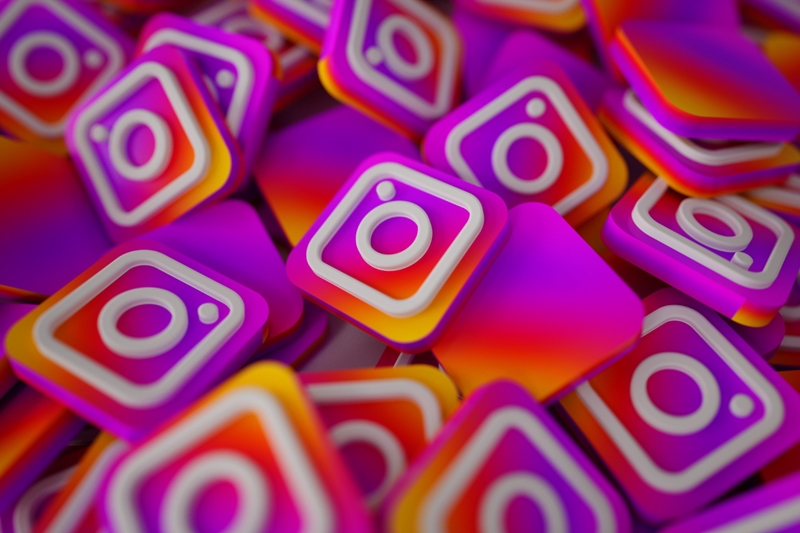 Downloading Instagram
Downloading the Instagram app is very easy, and as long as you have a smartphone, you will be able to complete the process within minutes.
This is what you should do to download Instagram to your mobile phone.
Unlock your smartphone,
Open the Google Play store or App store,
Look up Instagram,
Click Download next to the app icon,
Wait for the process to finish,
Open Instagram in your main menu.
The process is very simple, and the moment the app is downloaded to your phone, it will appear in the main menu, and you will be able to sign up.
Creating an Instagram Account
Creating an Instagram account is very simple; you can register on it just like on any other social media platform.
If you have decided to create your Instagram profile, this is how you can do it quickly:
Open Instagram,
Click Sign up for Instagram – on Android, "Sign up with an e-mail or phone number"; on iPhone, "Sign up."
Type in your e-mail address,
Type in your phone number,
Click Next,
Add profile information,
Click Done.
You don't need to add too much information in the beginning to become an Instagram user, and you can also complete the process by signing up through your Facebook account.
This will save you a few minutes, add all the information to your account and even start connecting you with your Facebook friends on this platform.
Adjusting Instagram Notification
When you install Instagram and create an account, you must make different adjustments to have a satisfying experience.
Notifications will pop up on your mobile phone for everything – when you receive a new like, a new follower when someone you follow has started a live or posted after a while, and you probably don't want to see all of it.
You can choose what notifications you want to receive and modify the settings on your profile easily.
If you want to adjust Instagram notifications to your preference, this is how to do it:
Open your Instagram account,
Click on the three lines in the upper right corner,
Choose Settings,
Tap Notifications,
Choose a category – Following and followers, Posts, stories and comments, Direct messages, etc.
Check off the notifications you want to see on your phone,
Adjust settings for posts, stories, and comments,
Go back to your profile,
You are done!
Adjusting notifications for Instagram posts and stories is pretty quick and simple, and it can save you from those annoying notification sounds.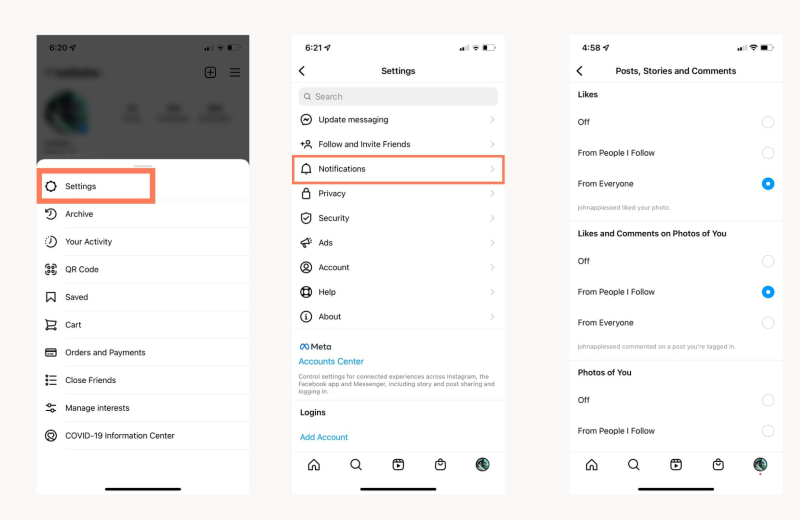 Linking My Instagram Account To Facebook
Instagram and Facebook are a part of the same company, so you can connect these two accounts if you want to have a more enjoyable experience.
Most users choose to do it because it helps them follow people they already know on Facebook without having to look up their usernames.
It also allows you to share the same posts and stories on both platforms, sync your usernames and profile pics, and use the same payment options.
This is how you can connect your Instagram account to your Facebook:
Open Instagram app,
Go to your profile,
Open the three lines menu in the upper right corner,
Choose Settings,
Look for the Meta sign,
Choose Accounts center,
Choose Set up Accounts center,
Follow the guide for logging in to your Facebook account,
You're done!
After you have finished connecting your accounts, you will see both of them in your Accounts center, and you will be able to easily share posts from Instagram to Facebook and vice versa.
How To Share Instagram Posts On Other Social Media?
Your Instagram account can be connected to other social media platforms, so you can share your posts on Facebook and Twitter too.
This is how you can share all of your Instagram posts on different social media platforms.
Open Instagram app,
Open your profile,
Choose the post you want to share,
Click on the three dots in the upper right corner,
Choose Share,
Choose the account you want to share on and check it off,
If you haven't already, sign in to your profile through Instagram,
You are done!
You will need to log in to your other social media account only once, and you will be able to share posts to it in the future just by checking off the dot.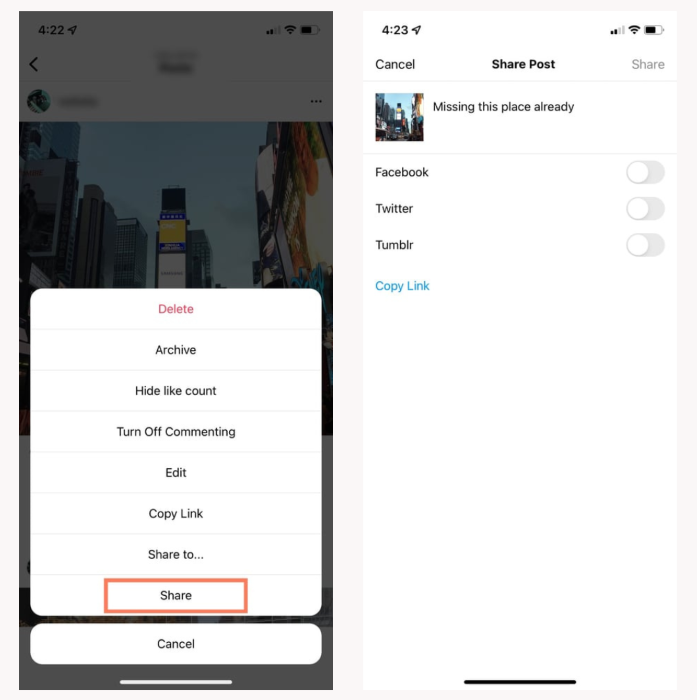 Uploading Posts On Instagram
Photos and videos are the core of Instagram and the reason why you created a profile in the first place, so now you will learn how to do it.
Adding an Instagram post is pretty simple, and all you need to do is:
Click the "+" sign in the upper right corner,
Choose the type of post you want to share,
Choose the media you will upload from your camera roll or take a picture with Instagram,
Click Next in the upper right corner,
Add filters if you want,
Edit the image the way you want – crop it, and adjust the brightness, warmth, and contrast,
Click Next,
Add a caption,
Tag people if you want,
Click the button next to Facebook or Twitter if you want to upload it on these platforms too.
When you're ready, click Share,
Your post is live!
Instagram is an excellent platform for photo enthusiasts who like to take a picture of every beautiful detail in their life.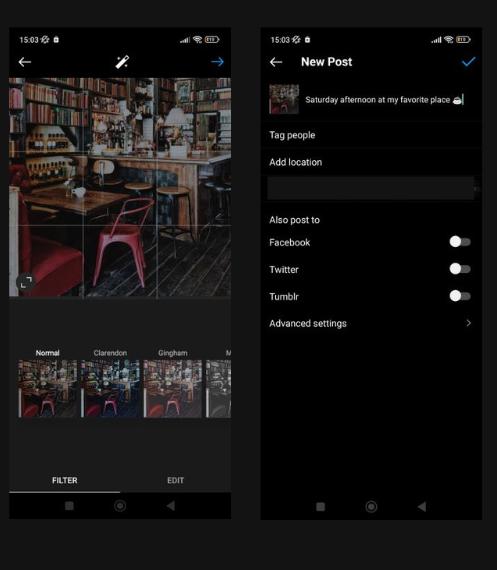 If you love visual content and are always moving around trying to make the unique picture, Instagram is a platform not only for sharing but also for inspiring yourself.
However, you will need to be picky about the photos you are adding because you can add a maximum of 10 photos in one Instagram post, and you probably don't want to overwhelm your followers with dozen posts daily.
The whole process is very fun and enjoyable, and as long as you use your Instagram profile to post and follow things you like, you will be crazy over this social media.
Uploading An Instagram Story
Instagram story is a feature that allows you to upload different photos and videos that will stay on your profile for 24 hours and then disappear.
This feature is very popular among users because it allows them to post several different things throughout the day, which are usually parts of their daily life, and unedited pics and videos.
It is an amazing way to interact with your followers and share what you are up to, so this is how you can upload Instagram stories.
Click on your profile picture in the upper left corner or swipe right on your feed,
Take a photo or video, or add one from your camera roll,
Add stickers, a time and date stamp, or a location tag,
Add filters,
Click on "Your Story" or "Close friends" to publish the story.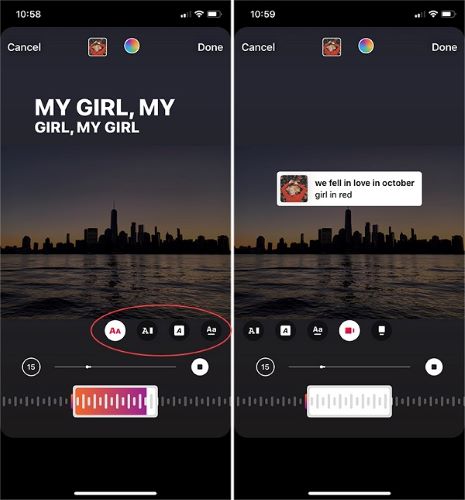 Instagram allows you to create a close friends list where you will only add people closest to you and post stories only they will be able to see.
This is an excellent tool if there are some parts of your life you like filming and sharing but don't want to share with everyone on Instagram.
You can also film a Boomerang or a short loop video and add different polls or quizzes to help you interact with your followers.
Overall, stories are probably the most exciting part of Instagram at the moment, and they really provide you with a variety of unique options to connect with others.
How To Follow People On Instagram?
If you want to see what other Instagram users are doing and sharing, you will need to follow their accounts to gain access to all of that content.
Finding other users is very simple, and through the Instagram search bar, you will be able to find your friends, family, celebrities, and different brands.
You will also be able to search for specific cities and places and follow all the events in those locations.
If you want to follow someone on Instagram, this is what you need to do:
Click on the search icon in the bottom menu,
Type in the name of a person, a brand, a location, etc.
You can click See all results to see all the accounts or posts related to the keyword,
Open the Instagram account that seems interesting,
Click on the blue bottom that says "Follow,"
You're done!
You can follow whoever you want on Instagram, but keep in mind that there are also private Instagram profiles to who you need to send a follow request.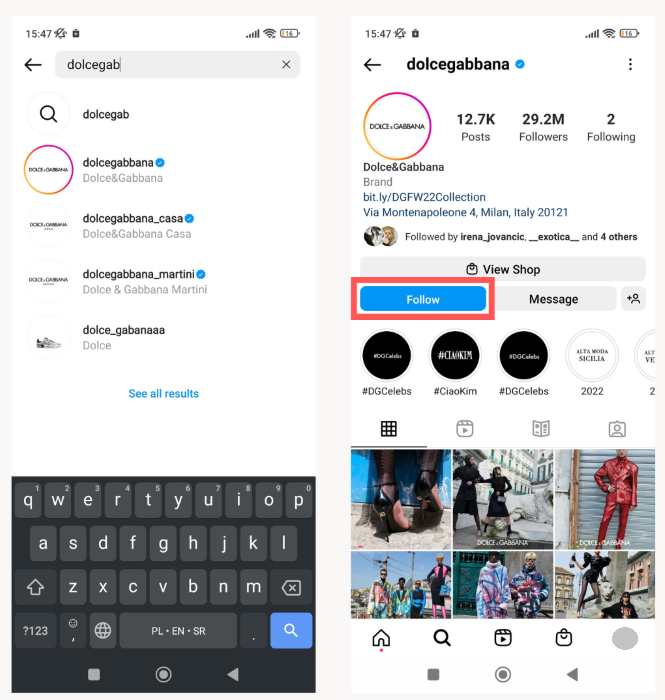 To access their account, they will need to confirm your follow request, which can take a few minutes to a few days, depending on how frequently they check out the platform.
Once you follow someone, you will be able to see all of their Instagram stories, posts, and the things they interact with.
How To Make An Instagram Account Private?
Every Instagram can be public or private, and if you don't want to share your photos and parts of your life with random people on the internet, you can always choose to make your account private.
Most people think they will be missing out on the fun if they make their accounts private, but you will only restrict access to irrelevant people you don't even know, and your experience on Instagram definitely won't be harmed in any way.
If you want to make your Instagram account private and post photos for a chosen circle of people, this is how to do it:
Open your profile,
Click on the three lines in the upper right corner,
Choose Settings,
Choose Privacy,
Check off the dot next to the Private account option.
Your Instagram profile will now be private, and only the social media accounts you accept will be able to see your posts and stories.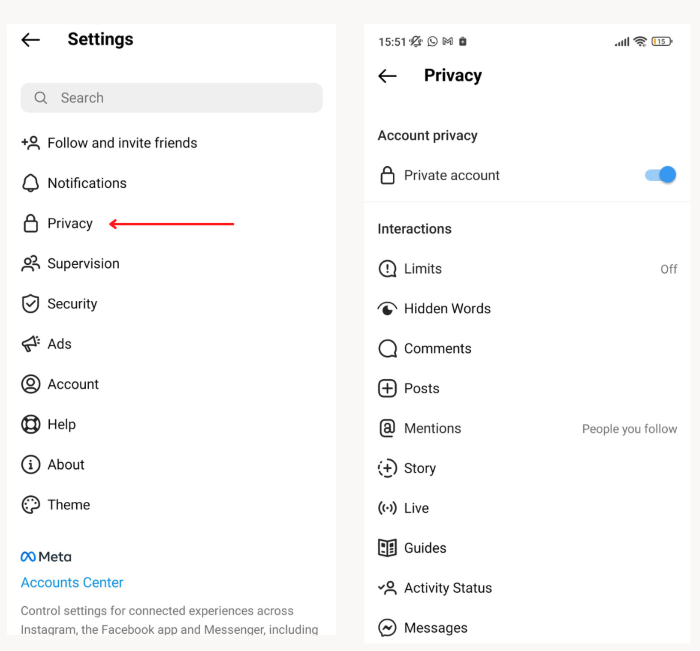 The account will stay private as long as you don't modify the settings, and the process is the same for Android and iOS users.
How To Make An Instagram Account Public?
Your profile can also be public and available to everyone, so if you don't mind to post photos for everyone on the platform to see, then you should make your account public.
Making an account public is also very simple, and all you have to adjust in your settings is:
Open your profile,
Click on the three lines in the upper right corner,
Click Settings,
Choose Privacy,
Choose Account Privacy,
Slide the dot next to Private account to the left until it isn't blue anymore,
Click Change on the pop-up menu,
Go back to your profile.
The process is similar to when you are making your account private, and everything can be finished within a minute.
Starting An Instagram Live
The Instagram live feature was recently added to the platform, and it allows you to start a live stream through your account.
All of your followers will be able to watch it and comment on the live, so it is a great way to interact with your following, especially if you have a lot of people in your community.
If you want to go live on Instagram, follow these steps:
Open your profile,
Swipe right to open the story section,
Choose Live in the bottom menu,
Add a title, sticker, or any photo you may want,
Schedule the live or click on Start Live.
Instagram Live is an amazing option to interact with your Instagram followers, especially if you have created a close community of people who love your aesthetic and enjoy your content.
Adding Instagram Reels
Instagram Reels is a format similar to the TikTok video that lasts up to 90 seconds and can be uploaded to your Instagram feed.
You can record a video on your mobile phone because it is much quicker, and then you can edit it on Instagram with its features and filters.
You will upload your Instagram Reels just like any other post by:
Opening the app,
Clicking on the "+" icon in the upper right corner,
Choose the video from your camera roll,
Add filters,
Edit the video,
Add caption,
Tag people,
Choose whether you want to share it on Facebook and Twitter,
Click Share.
Reels are pretty fun, and people seem to be filming a lot of them these days because they can reach a larger audience with this format.
If you like filming videos and watching Reels of other Instagram accounts, then it's the right moment to try to make your own.
Switching to an Instagram Business Account
Instagram is a social media platform, but it also has unique account options for those who want to promote their business or sell things through their account.
If you have your own company or are working as an influencer, then you will choose one of the professional options on Instagram – creator or business profile.
Creating a business Instagram account is simple; you must have a basic Instagram profile first.
Once you have created a regular Instagram account, this is what you need to do to switch to a business profile:
Tap on the upper right corner,
Choose Settings,
Choose Account,
Choose the "Switch to Professional account" option,
Click Continue,
Choose Category – Creator or Business,
Click Done,
Click Confirm,
You are ready to go!
After creating Instagram for business, you will have access to various options like analytics, insight, advertising, and shopping features.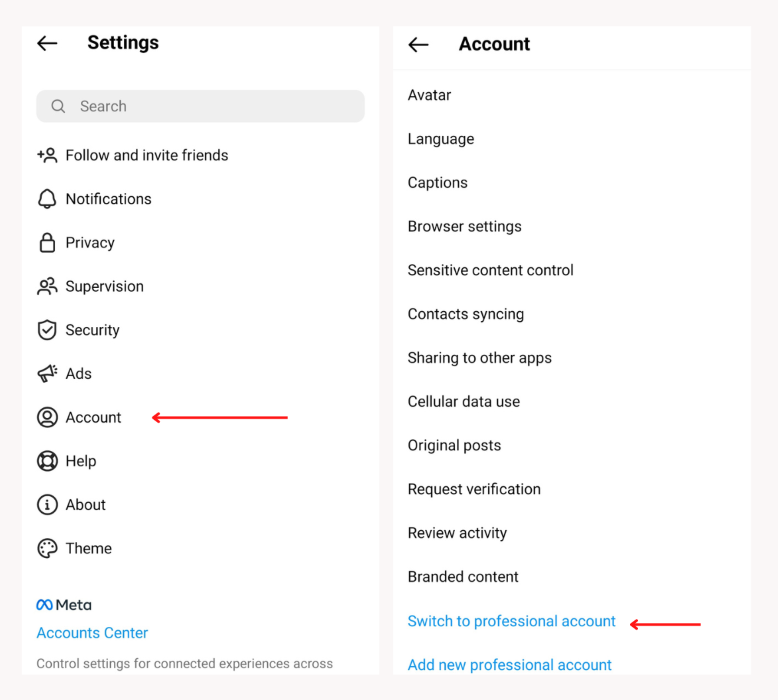 Options like this are crucial for people trying to grow and promote their businesses on Instagram, and you don't have to pay anything to get a business profile.
All of the features are made to help you promote your products, and the platform even allows you to sell through it, which makes the whole process much faster and easier.
Conclusion
Instagram is a very fun social media that gathers almost 1.5 billion active users every month, and social media profiles on here tend to be active every day, providing you with new content all the time.
If you enjoy high-quality visual content and like taking photos and sharing them with people, then Instagram is a platform you should consider joining.
You don't need to be an expert to enjoy it, and by following different creators and looking for inspiration, you will definitely have a fantastic time using it.
Learning how to use Instagram is quick and easy, and you will enjoy time spent on this social media.
FAQ
What are the basics of Instagram?
Instagram is quite simple: you follow your friends, family, and accounts that seem interesting, and people follow you back.
You can share photos, videos, and reels of your everyday life, work, hobbies, and things you're passionate about, and others interact with your content by liking it, commenting, or reposting.
What is the main purpose of Instagram?
Instagram is marketed as a free app to share photos or videos. Something like a virtual photo album. Your followers can like, comment, or repost your shared content, and you can do the same.
Can people tell if you look at their Instagram?
No, others cannot see if you viewed their account. However, they can see if you have viewed their Instagram story.