It doesn't matter which profile page category you choose on Instagram, you will get certain perks for the development of either your business or your personal digital identity on the Instagram app.
Switching either one or numerous accounts on the Instagram app to a business account can be a total hit for reaching your desired goals, but you also might as well realize you would like to view your digital persona in a more casual way.
If you are curious in regards to how to turn off business account on Instagram, I can make it super simple for you and guide you through the whole process.
How to Turn Off Business Account on Instagram?
---
Key Takeaways
Open Instagram and click on your profile picture;
Click on the three horizontal lines in the top right;
Go to Settings;
Tap "Account";
Click on "Switch Account Type";
Choose one of the two options;
---
So, you have made up your mind and want to switch account type back to the basic personal account or maybe even to a similarly upgraded creator account, allow me to show you a super easy step-by-step guide:
Let's start – please open the Instagram app. Upon having opened your app, you can tap on your profile icon at the bottom of the bar, which will lead you to your profile page.

OK, now you should be able to see your entire profile page. At this point here, you can tap on the three horizontal lines which will be visible in the upper-right corner.
Upon having tapped on the hamburger menu, you will be presented with more features. Here, you can now tap the settings button.
Alright, from here, upon having tapped on settings, you should now be able to simply tap on the account button.
From this specific account button, you can see offered a new set of menu choices. Please scroll all the way down. By the end of the page, there are two blue highlighted buttons. Tap on the blue text for the button in order to Switch the account type.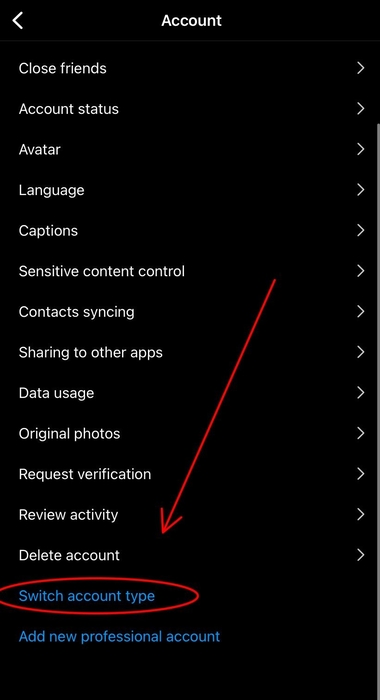 Now, at this point, you should know that there are three unique choices you can opt for among the Instagram type category: a business account, a creator account, and finally the basic personal account.
If you already are a proud owner of a business account, you will be presented with the opportunity to switch account types, and from this point, you can choose to go back to having a personal account or a creator account.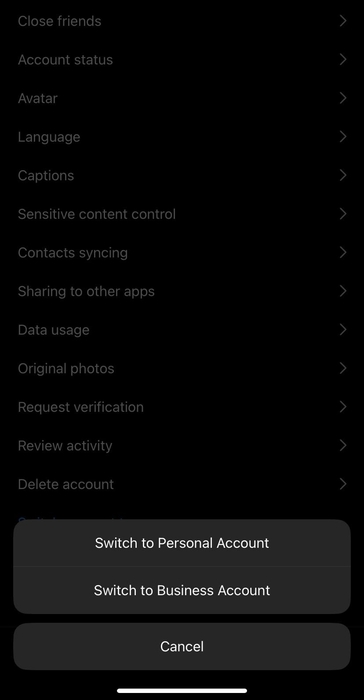 Delete Your Business Account
If you have a question that is not related to how to switch back to a personal account on the app, but you just feel a great need to take a break whilst already having ownership over a business account, let me show you an alternative way that might work for you.
Let's start with opening the app and going to your account on Instagram again.
From the profile page, please tap again on the three horizontal lines which you can spot in the upper-right corner.
From the menu you are given at this point, tap on settings to proceed.
Now, from the new set of options, you will be able to see the account button, so tap on it now.
Now tap on the Account button, and you will be shown yet another type of menu. From here, scroll down to the bottom of the shown page, until you see the Delete account button. Now tap on it.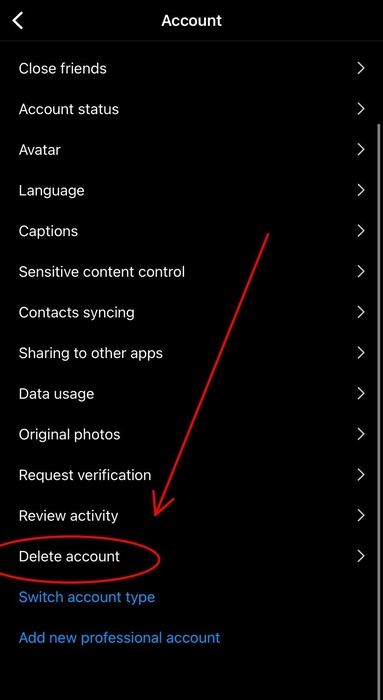 Once you have tapped on this Delete account button, get ready to make a crucial choice. Pick between two similar buttons – Deactivate account or Delete account on Instagram.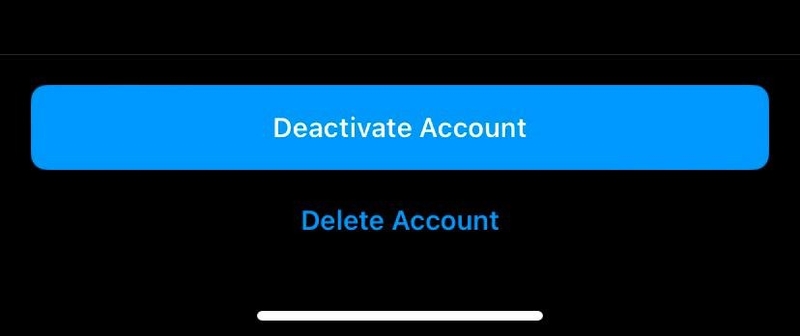 So, how exactly do these two buttons differ?
The Deactivate Account button is great if you are feeling a little overwhelmed by social media or if you find Instagram to be too much of a distraction.
This is a way to temporarily disable account usage, but with the option to return to using it once you feel you're ready to join your socials again.
On the other hand, if we are talking about the Delete Account button on Instagram, it should be taken a little more seriously. You have absolutely every right to remove your digital persona from the Instagram app.
If you have definitely made up your mind about leaving the platform for good and that this is what you want, let me also tell you that this type of deletion is indeed permanent.
By tapping on this button, you are sending a request to Instagram. Your profile still might be visible to other users for a few more days. It takes up to 30 days to complete this kind of deletion of your account.
After having purposely consented to have your account permanently deleted, every bit of your data, including photos, videos, direct messages, and account data will be forever deleted, and remember that there is no way of restoring this kind of data.
Conclusion
The Instagram business account most definitely can feel like a lot of work and effort or be utterly overwhelming, especially if you are a beginner, so you might want to understand how exactly to switch back to a personal account on Instagram.
There's absolutely no reason to panic since you have an open option to get back to your personal Instagram account with just a few taps.
Enjoy the perks of using a personal account, a creator account, but also of the business account as you see fit. You can always change your account type depending on your needs and preferences at the moment.
FAQ
Can I sell products with a personal account on Instagram?
See, this is not going to be possible. The business account has been specifically made for this purpose.
Only by using a business account will you be permitted to make the most of your digital store and sell your products.
Switch to a business account to have the full experience of an online business.
Is a creator account better than a business account?
You should find the very best fit for yourself, based on your needs and preferences, which means that both categories might be the right fit for you.
If you are advertising your business or selling goods on the Instagram app, a business account is perfect for your needs.
If you fall into the category of artists, musicians, influencers, or simply content creators, you should definitely go for the creator's account option.
Can you convert your business account to a private account on Instagram?
If you are trying to keep a low profile for any imaginable reason, you can switch to a private account.
For this, simply tap on the settings button, and from this point, you can tap on the Privacy button. Here, you will be able to see the necessary switch that will hereby make your account private.
Do I still keep my ads if I switch to a personal account?
Sadly, no. No advertisement, tagged products, and any other given features of the business account can be visible post having the account switched back to your personal account on Instagram.
Therefore, I suggest you not to make any harsh decisions. Re-think your attempt before you switch your business account to a basic personal account.
The same rule of losing, at least some of your features goes when you make the switch from the creator's account to the personal account.