Instagram is often considered an irreplaceable part of our daily lives, allowing us to share photos and videos and communicate with other users wherever we are.
But what is Instagram exactly, and does the definition change depending on who you ask?
---
Instagram is a social media app founded in 2010 in San Francisco, USA. It was supposed to be an online photo album but has become much more – for some, it's even a full-time job. You can use the app to share videos, 24-hour stories, and reels.
---
The story of this platform is lengthy and interesting and provides much insight into how our modern world functions.
That being said, here is all you need to know about Instagram.
What is Instagram?
The best way to define Instagram would be as a social media platform designed to help you keep photos and videos in one place. It allows you to upload photos and videos, easily create albums that contain multiple images, and facilitate user engagement.
Originally launched in 2010 as an IOS app, Instagram was later brought to desktop and became available to PC and Mac users.
But how exactly does it all work? Let's take a look at Instagram's most important features.
Top 4 Instagram's Features
1. Photo sharing
Photo sharing is the first and most important feature of this social media platform and its associated app. The very name Instagram comes from the ability to upload media for the public to see instantaneously.
This makes it a great way to keep the other users interested in your life, called "followers," informed of your daily activities.
2. Video sharing
In addition to uploading photos, you can also upload videos to your Instagram page. Furthermore, you can also create video albums by adding several videos to a single Instagram post, allowing you to upload longer footage than would be possible otherwise.
3. Instagram stories
Another way to share your videos is through Instagram stories. These temporary uploads last 24 hours (or until you take them down) and can be viewed by your followers on top of their feeds.
In addition to that, if your profile is set to public, anyone who visits your profile by using the search or explore options will also be able to see them simply by clicking on your profile picture.
Finally, some of these moments can be saved on your profile as permanent stories, viewable by anyone who visits it.
4. Reels
The newest upload feature added to the Instagram app, reels are 15 to 30 seconds long videos that allow for the creation of short but attention-grabbing content.
These reels can be further enhanced with various video and audio effects provided either by Instagram or by all sorts of third-party apps.
Instagram's History
Now that we have explained some of Instagram's base features and how they work, we will take a look at this platform's beginnings, its founders, and its road to success.
Who founded Instagram?
Instagram was originally founded by Kevin Systrom and Mike Krieger, two American IT developers who had been working on the platform for several months before launching it as an independent enterprise.
The platform was first optimized for iPhone, but it was expanded to include Android devices as well a few years later.
When did Instagram come out?
Instagram's two founders originally launched the platform on October 6th, 2010, after working on it for some time. The platform was at first usable only with iPhone devices, as it had no Android support at the time and iPad wasn't yet compatible with it.
That being said, the platform saw immediate success, largely due to iPhone's popularity in the US at the time, leading to its value skyrocketing over the next two years.
Does Facebook own Instagram?
Astounded by the platform's success over the first two years of its existence, Facebook decided to purchase the platform, eventually striking a deal with its founders in April 2012.
Ever since, Instagram has been owned by Facebook, though Facebook CEO Mark Zuckerberg claims that he has allowed Mike Krieger and his team to continue developing the Instagram app independently.
The deal was worth $1 billion in cash and stock, instantly providing the company with a much larger budget to work with, as most of the money was funneled into Instagram itself.
Integration with Facebook messenger and Android release
Shortly after Facebook acquired Instagram, the integration of the two platforms began, bringing Instagram more in line with other social media platforms, which were beginning to get integrated at the time.
First, the ability to use your Facebook messenger account as your Instagram account was added, followed by the application's incredibly successful Android release.
In fact, the app registered over one million registered users downloading their Android devices in less than one day, which was unprecedented at the time.
Funded by the enormous profits of its parent company, Facebook, Instagram continued to attract new users and take over the social networking market.
Full integration with Facebook and the creation of the desktop App
When Facebook inc purchased Instagram, some feared that it would be the beginning of the end for the platform as Facebook began to take over and stifle its development.
This wasn't the case at all. Despite the fact that the two social media platforms became more and more integrated, Instagram continued to grow, eventually reaching over a billion users in 2018.
Along the way, the platform underwent a number of changes in accordance with the desires of Instagram users, from cutting the size of the app in half to make it easier to install to launching a massive visual redesign that allowed users to fit more photos on their screen and made the news feed a lot more functional.
These aren't the only changes that this photo-sharing app introduced.
In April 2016, a Windows app was launched, allowing desktop users to download and use Instagram on their computers without the need for an emulator, opening the platform to an entirely new user base.
Finally, a month later, on May 11th of the same year, Instagram released a massive update that completely altered its visual appearance, UI, and icon.
This is considered to be the largest update in the history of the app and one that has had a great contribution to its rapid rise.
Modern era
Instagram app and website continue to get frequent updates as time goes on, from Live TV to video sharing during a call. On top of these features, things such as the virtual reality market and Oculus VR are also being considered.
That being said, the company is facing more challenges than ever before. With the social media market growing constantly and new platforms being released worldwide, Instagram will have a tough time keeping its users entertained and loyal to the platform.
How to Get Started on Instagram?
After that bit of a history lesson on Instagram and its origins, let's explain how to make the best of the platform as an everyday user. Here are the steps:
1. Creating an Instagram account
To begin your Instagram journey, you must create an account. This can be done either in the browser by visiting the website instagram.com or by downloading the app from your device's store.
For Android, you will need to use the Google Play store, while IOS has the app store. Here is how the account creation screen will look.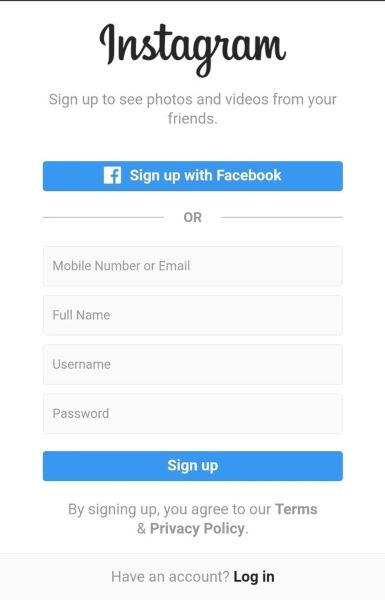 2. Getting started
Once you create your account, it will be empty. You will have no posts or followers, nor will you be following anyone. These things should be the next steps on your to-do list.
First, if you have used your Facebook account or a phone directory on your mobile device, Instagram will offer to connect you automatically with people found within. This integration is an excellent tool if you want to get in touch with your friends quickly.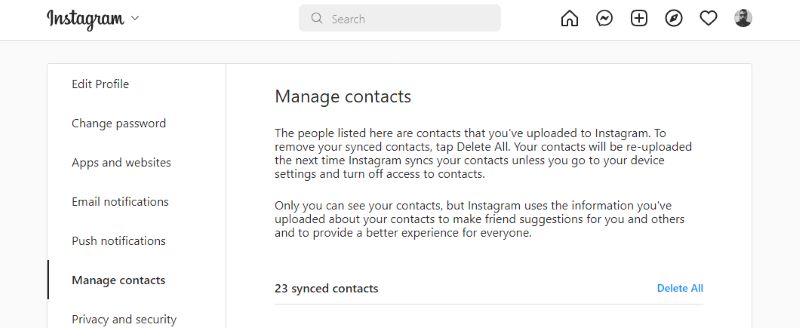 If you want to follow more people, such as celebrities, business pages, or other users of interest, you can do this by using the search and explore tabs. Let's explain how:
3. Finding people to follow
After downloading the app and creating the account, you will need to find people you wish to interact with. Looking for other Instagram users can be done in two main ways:
The first is to use the explore page, which can be accessed through a button at the bottom of your screen.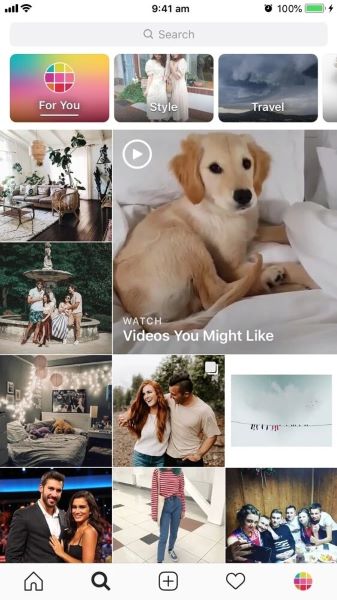 In addition to this, you can also use the Search bar that can be found on top of the explore page to look for a specific user by typing their username. If you don't know the full name, type a part of it: Instagram's algorithm will do the rest.
4. Explore the options
You cannot become an expert on using Instagram overnight. The best way to get familiar with the platform is to use it yourself. Try out all the different features, post photos and videos, and comment on other users' posts. You will get the hang of it in no time!
3 Benefits of Using Instagram
The main reason Instagram became so popular as it provides a way to generate an instant presence for yourself or your business on the global market.
With its video-sharing ability and the number of young people that spend the majority of their time on it, Instagram is also a great way to advertise different products and services.
Here is a list of benefits you can gain by having an active presence on this platform:
1. Your content gets a greater reach
Instagram is incredibly popular, both worldwide and with different age groups. Furthermore, many established businesses have a significant presence on the platform, making it an excellent place to find new customers for whichever product or service you offer.
2. It makes it easier to keep track of all the news
Because of people's tendency to follow trending content and the fact that Instagram's algorithm often puts it on top of your explore tab, this platform offers a quick and easy way to follow both local and global news without the need to watch TV or read a newsletter.
3. It serves to preserve important moments
In a way, Instagram can also be used as a personal or family photo album that is also available to the public. The photos are secured on Instagram's servers and easily accessible, protecting them in case your devices get damaged or stolen.
What Issues is Instagram Facing?
Instagram owes a large part of its massive user count to the fact that it was the first social media platform of its kind, facing no real competition for several years thanks to Facebook's enormous budget.
As time went on, however, and the social media platforms became more numerous, Instagram's advantage began to shrink. Nowadays, partly due to the shift of generations as Gen Z users replace millennials, Instagram is starting to be seen as an outdated platform, even if that isn't the case.
Finally, how the app is integrated with Facebook slows down the update frequency somewhat, as the developers need to ensure they don't break the integration package when they release new features.
3 Tips and Tricks for Using Instagram
1. You can make your Instagram private
If you want to control who can see your photos and videos, the best way to do so is to make your Instagram account private. Not only that this will make it unavailable to the public, but anyone wishing to follow you will first have to send a request much like the one on Facebook.
2. Promote your account to get more followers
If you are using Instagram for business purposes or just want to brag about having a ton of followers, you can promote your account through the app or third-party websites. You can also link to your other social media if you want.
3. Keep the account active
One of the main issues with young people today is that they have short attention spans. Because of this, if you want to make good use of your Instagram account, you will have to post regularly.
Conclusion
As one of the first true social media platforms focused on photo and video sharing, Instagram has had a huge head start in this business, and it keeps its popularity to this day.
Easy and simple to use, this app is available on various devices, provides access to news and trending content, and can be used as an online photo album to keep your memories.
Finally, the app is owned by Facebook, a company with a long and stable history, ensuring its continued success in the future.
FAQ
What is the main purpose of Instagram?
While more and more businesses and influencers are coming to the platform, its primary purpose is to be a public photo album available to anyone, allowing you to share moments of your life with friends and family. However, that purpose has been heavily expanded, and nowadays, Instagram is also used as a news outlet, a way to follow trends, etc.
Is Instagram owned by Mark Zuckerberg?
Meta, the owner of Facebook, whose majority shareholder is Mark Zuckerberg, purchased Instagram for 1 billion USD back in 2012, taking over from its original founders. Thus, we can say that Mark Zuckerberg is the majority shareholder of Instagram.
Who was the first Instagram user?
The first person to register on the platform and make a post on it was one of its founders, Mike Krieger, back on October 6th, 2010. Since then, the platform has had several billion unique users.