Creating Instagram content is not an easy task. After a while, you run out of Instagram post ideas and struggle to create posts that will keep your audience's attention.
If you struggle with what to post on Instagram, I have a few tips and some great Instagram post ideas for you to try.
Check out some of the suggestions from the list below and find inspiration for new and creative Instagram posts!
What to Post on Instagram to Get More Likes
In this case, quality is much more important than quantity. If you don-t know what to post on Instagram, try to think of it from your perspective.
Ask yourself, what would I like to see on my Instagram feed?
While you think about that, here are some Instagram post ideas guaranteed to gather more engagement and likes.
1. Share Your Background with Followers
Introduce your followers to a person behind the business or Instagram account. Do some storytelling!
Make a throwback Thursday post, tell your audience more about you, how it started and why? What was your motivation? What was your main idea when you started this?
2. One Day in Your Life
Behind the scenes are always interesting to the audience. Share your daily routine with them.
Add a personal touch to the story you're telling. With permission, show some people from your everyday life and your interactions with them.
3. Post your Product or Service
The whole point of your Instagram account is to promote your business, so why not use it in the best way possible?
Showcase your product or service, take a photo, or film a reel of it. It would be best to use photos or video posts that depict using the product or service in a fun and cool way.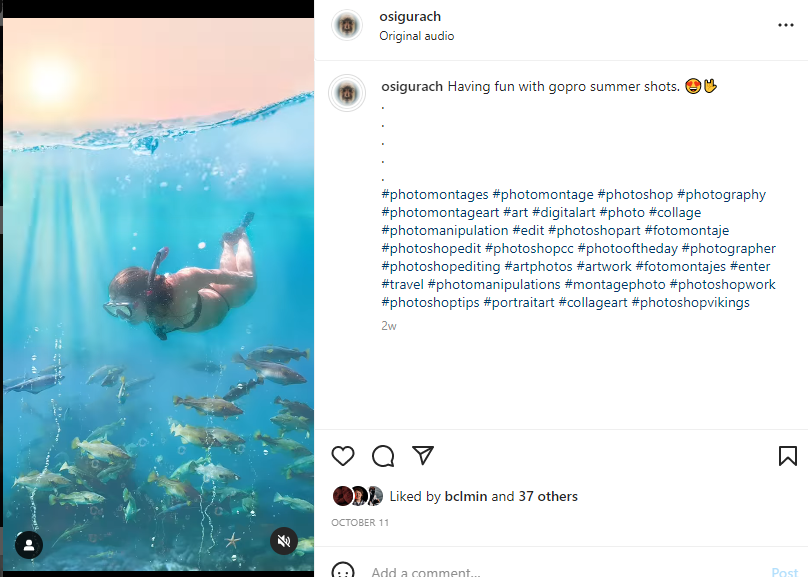 This is an opportunity to make your brand what you want it to be. Is it for people who like the outdoors, is it elegant?
It can be whatever you want it to be and this content is going to help you market it to that kind of people or those who aspire to be those people.
4. Don't Forget to Tag Products
Posting pictures of your products also gives you the option to tag them directly, enabling potential customers to purchase products instantly.
Use this feature to your advantage and make the best of it.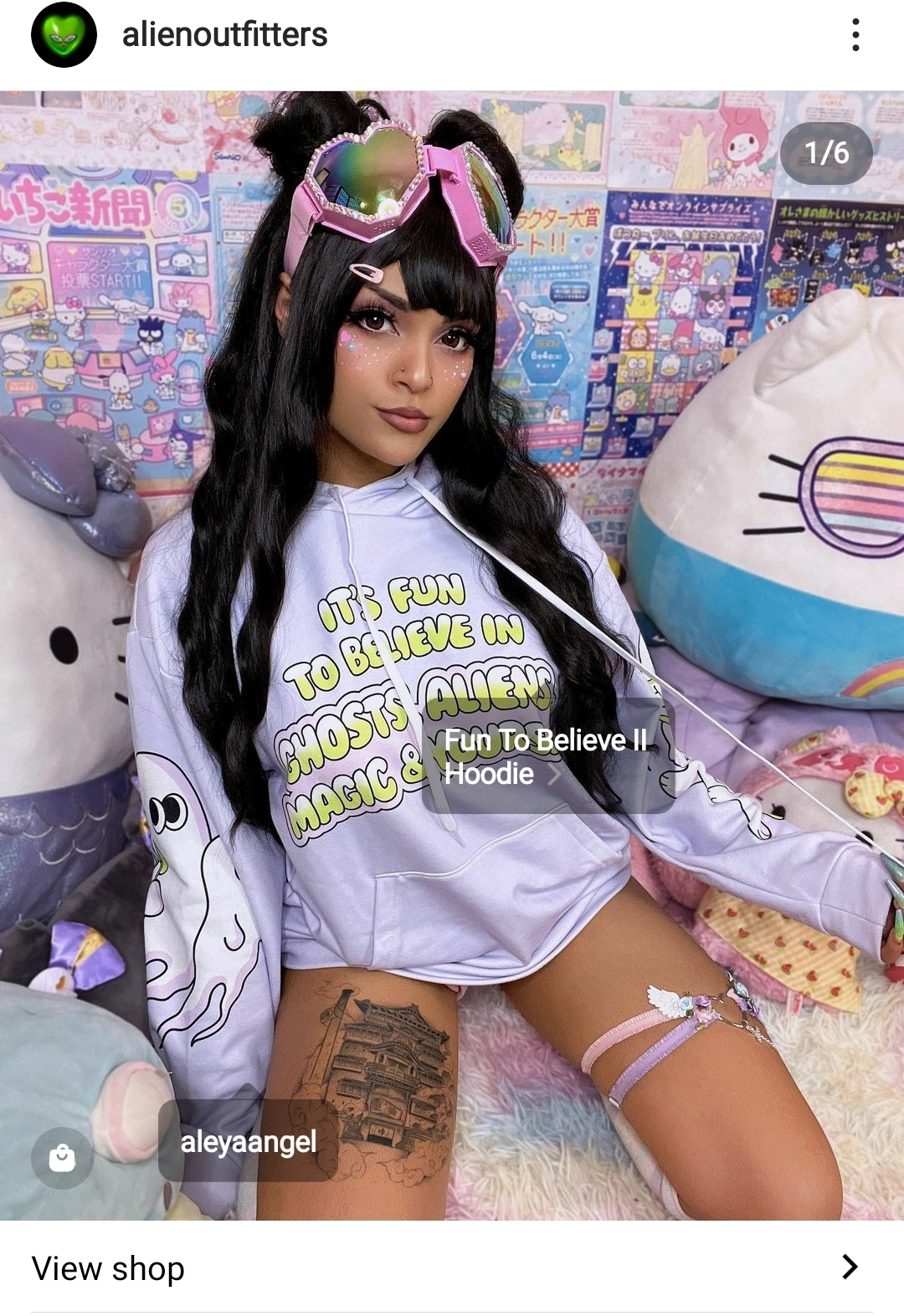 Try tagging as many different products as you can on your posts, so the buyers have the opportunity to see everything you have to offer right there and then.
Product tags are also a great way to notify your audience when a sale or special offer is available.
5. Present a Client
Do you have a faithful client for many years? Now it's time for them to shine!
Do a short story about your loyal client, have them send you a picture of them using your product, show them using your services, or film a video interview with them, and let them tell their story as to why your brand is their number one choice.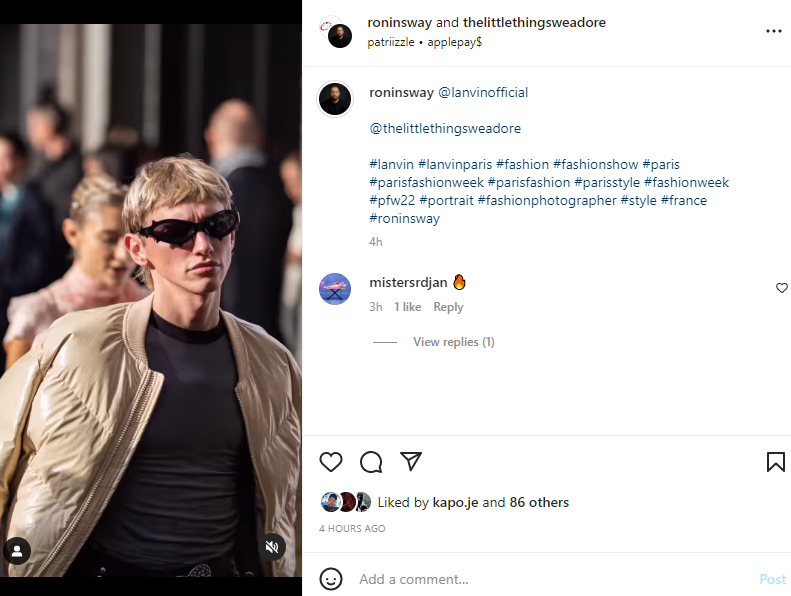 This is a great way to confirm the authenticity of your brand, emphasize your brand values, and make your loyal customers feel seen and heard, and is also a great way to generate more followers and customers.
6. Go for Behind-the-Scenes Shots!
Every business can have nicely done photos and videos, but what makes a business stand out is being real behind the scenes.
Let your followers get to know the real you. Give them a sneak peek into what it looks like to work at your business.
If you have a team, film their everyday situations, if you work by yourself, show where the magic happens.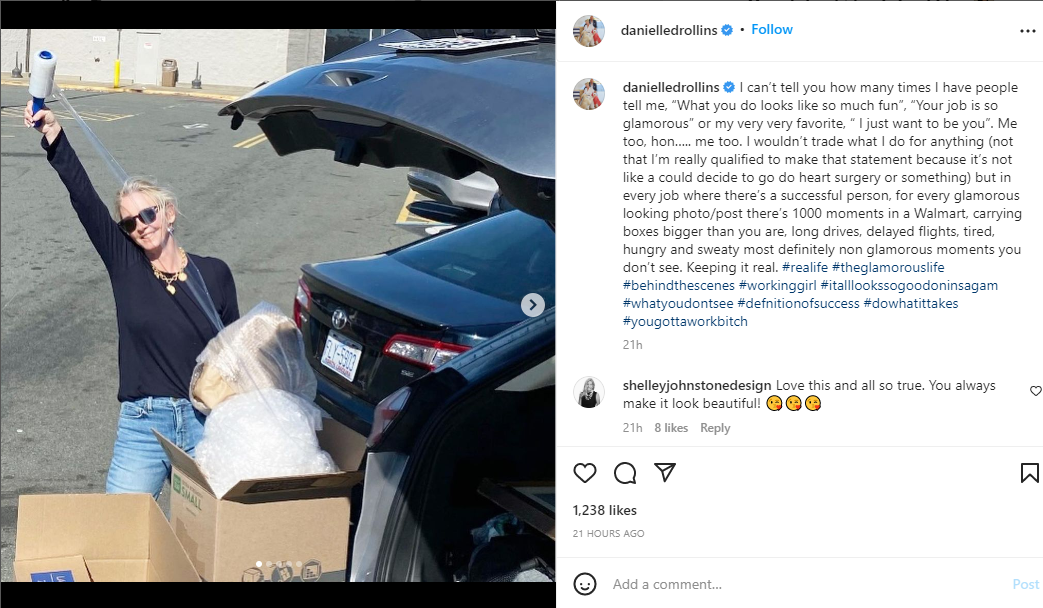 Show the space you're working in and what it looks like before all the edits and thoughtful planning.
Show them that you're not just a business owner, but a real person trying to make it all work.
7. Show Off Your Employees
What is a business without its employees?
Showing behind the scenes of a company is great, but if you want to go a step further, let your followers get to know the people who work there.
Make little introductions for each of your employees, you can take some interesting photos of them, with items that present them the best, or surroundings, or even short video posts in which they answer some questions about themselves.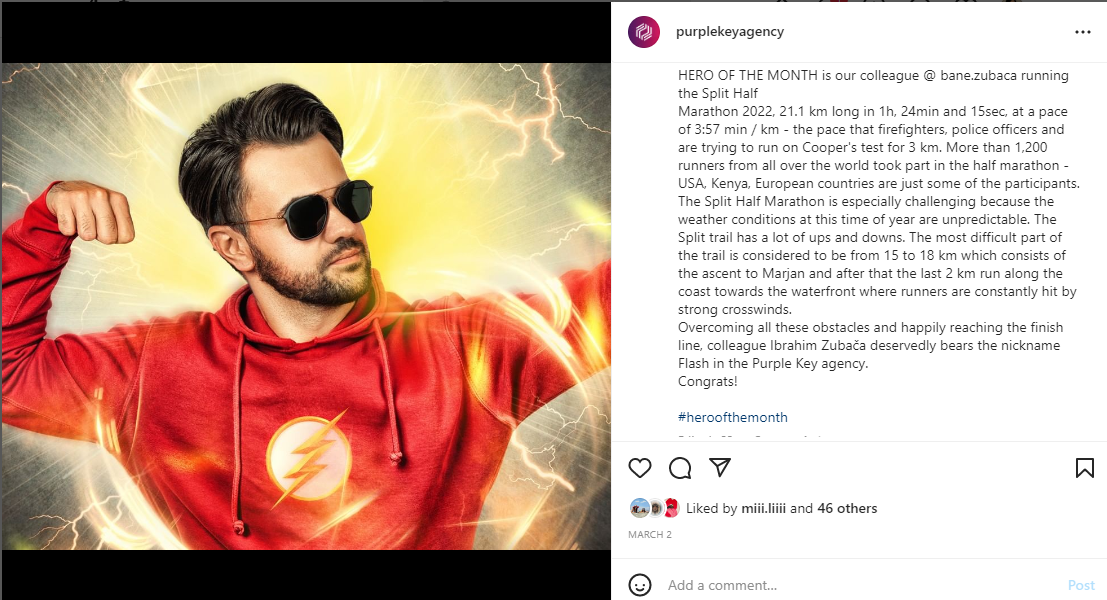 You can also film them in their places of work and show what each one of them does.
Be creative, let them be who they are, and the audience will appreciate the sentiment and honesty of real people trying to improve their day.
8. Repost User-Generated Content
Sometimes all you got to do is repost on Instagram. User-generated content is generally very well accepted, as people love to see real people like themselves use and enjoy products.
So this is a great opportunity for your business and it requires almost zero effort from your side.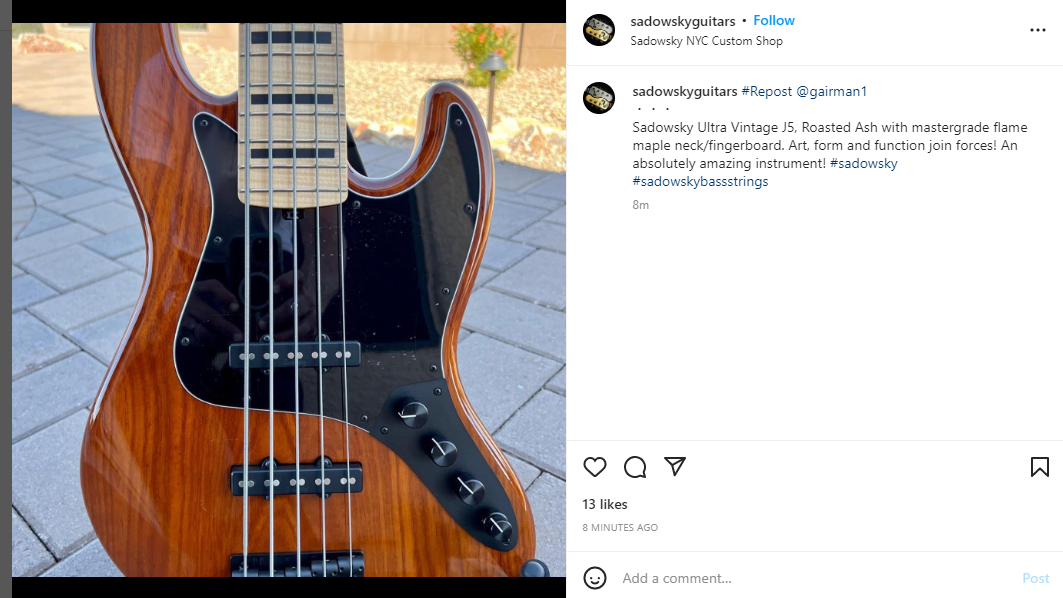 Repost posts from your users, they will be glad that their favorite brand has reposted them and you will have a great commercial without any hassle.
9. Share the News with Your Followers
Whether it's a new product coming, a change in business policy, or even an important milestone, you should share it with your audience.
This helps to create a family-like environment where your audience feels like they are a part of your business.
Keep them updated and they will surely stay.
10. Ask Your Audience for Their Opinion
Another great example of bonding with your Instagram followers is right there in the comment section.
Ask your followers for their opinion on new products, and new ideas but don't limit yourself to only posts about your business.
As your goal is to keep them on your Instagram page, you can discuss everything with them, ask their opinion on current subjects and world events and even ask them directly what kind of content would they like more of in the future.
11. Share a Tutorial
Make a step-by-step how-to manual on your Instagram feed. Show the followers how to use your product, what else can it be used for, or a clever way to clean or store it.
Make it easy to follow and clear enough so you don't confuse your audience.
12. Share a Few Lifehacks
Everybody loves a nice lifehack. They are great as one simple life hack can make life easier, and if it's a good hack, it reaches an unbelievable engagement and share rate in no time.
Of course, it should be something related to your field f expertise but it can also be something similar to it, as lifehacks are generally well accepted no matter the source.
13. Inspire Your Audience
Inspirational quotes are a fun way to increase engagement. They generate the most shares as they resonate with a larger audience than the one your brand has on its own.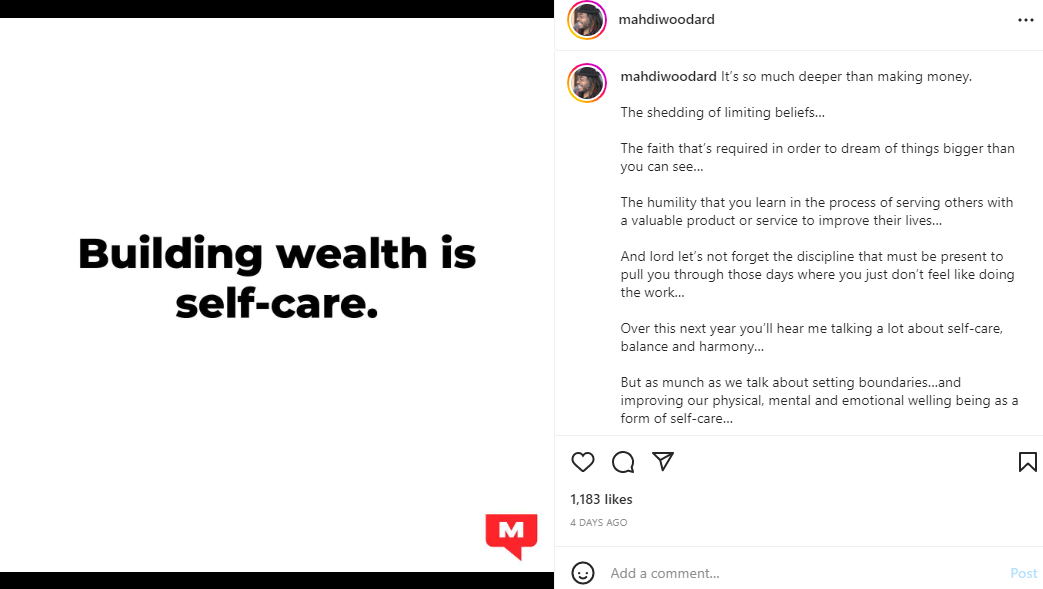 Share a motivational quote that aligns with your brand values and business principles, and make it into an interesting image that is visually appealing so it's memorable for everyone that comes across it.
14. Make a Giveaway
Giveaways are a tried method to increase engagement but also to increase Instagram presence greatly.
Make a giveaway, make the participants tag friends on your post and attract prospective customers by giving away some of your brand merchandise.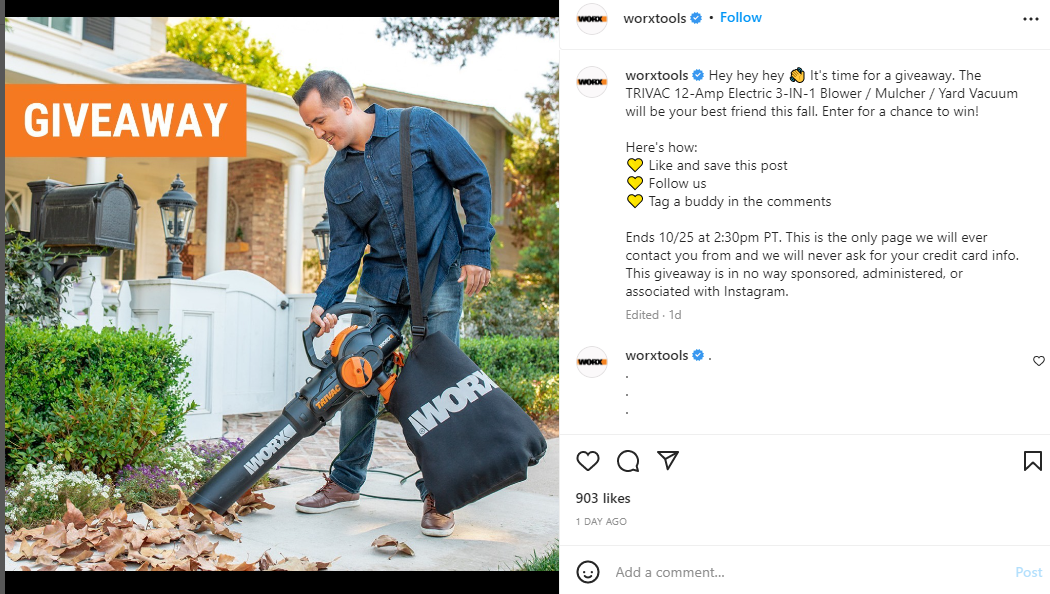 This way you know that the people who enter the contest are genuinely interested in that kind of product and have bigger chances of staying on your feed even after the giveaway.
15. Pay Attention to Current Events
Pay attention to the current season, and events that are happening soon and use it for post inspiration.
This way, you will get not only new post material but also increase engagement with relatable content.
Use every opportunity you have for a seasonal post, but also for posts that are related to your business.
For example, if you're a photographer, make sure to make a post on the national day of photography, etc.
Include holidays as well, make good use of days like Halloween, and Black Friday, but try to avoid religious holidays if you must include them, make sure to include them all so none of your audience will feel excluded.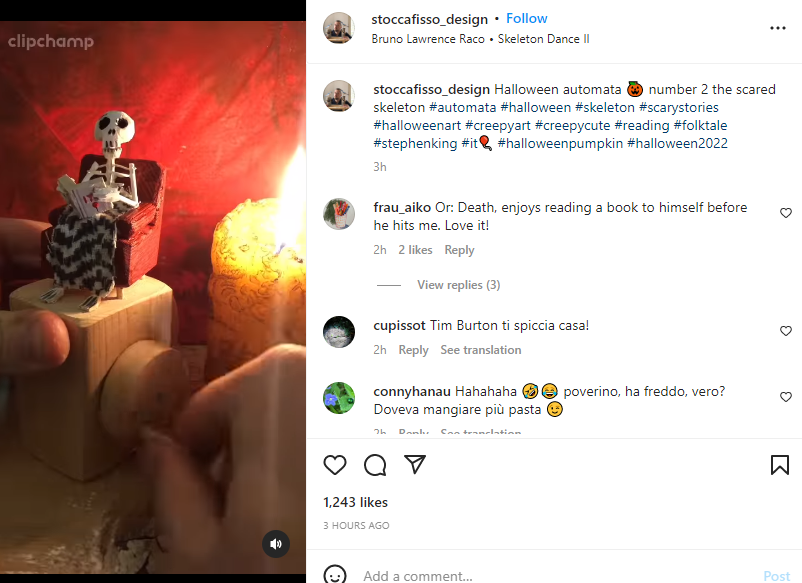 This is a great opportunity to include trending hashtags too as many social media accounts pay attention to these hashtags during seasonal events so your posts will reach the broader target market.
16. Share What Inspires You
As a creator, many people are bound to look up to you or to be interested in your sources of inspiration and knowledge.
Share these things with your followers. Tell them more about the podcast you're listening to, the book you're reading, or even about some of the most interesting things you watched at the beginning of your career.
A good recommendation and a few tips will help your audience, but also contribute to your image and show that you're not selfish about your knowledge.
17. Mention Your Favorite Apps and Tools
Those who are a bit more experienced and educated have probably read the same literature, so go a step beyond, and share some of the best apps or tools that you use in your daily work.
If those are already well-known apps, you can show some new features that most people don't know about.
Plus, tag those apps' social media profiles for some bonus reach and collaboration options.
18. Have Your Followers Tag a Friend
Instagram users love to feel connected, and what is a better opportunity for them to feel this way than presenting their favorite social media account to their friends?
Make this easy for them, with relatable posts about everyday things, and ask them to tag their friends.
There are plenty of options, you can put a meme and tell them to tag their friends who will find it funny, or post things from your office like "we all have that one coworker that always does this, do you? Tag your coworker that does this".
This should be used sparingly, as too much content like this gets boring easily and starts feeling like spam, so use it with caution and only sometimes, to engage your audience a bit.
19. Present Community Service to the Community
If you do any kind of community service, feel free to share that in your Instagram posts, and if you don't do community service, start!
Just kidding, you don't have to, but this is a great way of helping the community, while also being present and earning the trust of your customers.
Some people feel like doing good should be done in secret, and while that may be true in most cases, there is nothing bad in showing that your business has heart and soul and that you're not just another mindless business owner who cares only about the profit.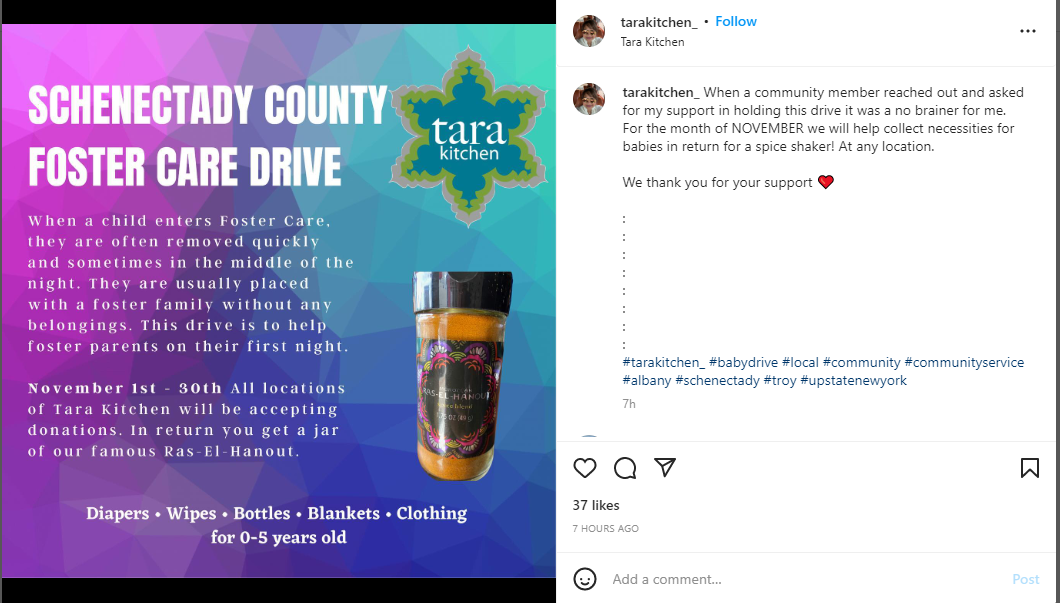 People like warm stories and love to see this type of content across their Instagram and other platforms.
20. Include Influencers in Your Posts
As every social media marketer knows, in today's world you can't plan a good marketing strategy without including influencers in it.
The influencer's field of interest must correspond with yours, so if you have a sports store, you will look for an athlete or a fitness influencer. If you do photography, you will want to find a model or an art influencer, etc.
Partnership with influencers is great because of many reasons, but one of the is the fact that it's their job to know what is currently trending content and trending hashtag. plus they know how to incorporate it into their posts.
So if you don't have any more content ideas, they will help you spice up your Instagram feed and create good Instagram content.
Working with influencers is an affordable way of promoting your business and getting to their audience.
21. Show Your Sense of Humor
Instagram is an overall relaxed platform, and its users show great appreciation for funny things, as they usually get the most shares, likes, and comments. So why not use this to your advantage?
Make a funny meme about your job, or even repost one that you find relatable, show your Instagram followers that you don't take things too seriously, and let them know that they can relate to your feed posts in more ways than just strictly business.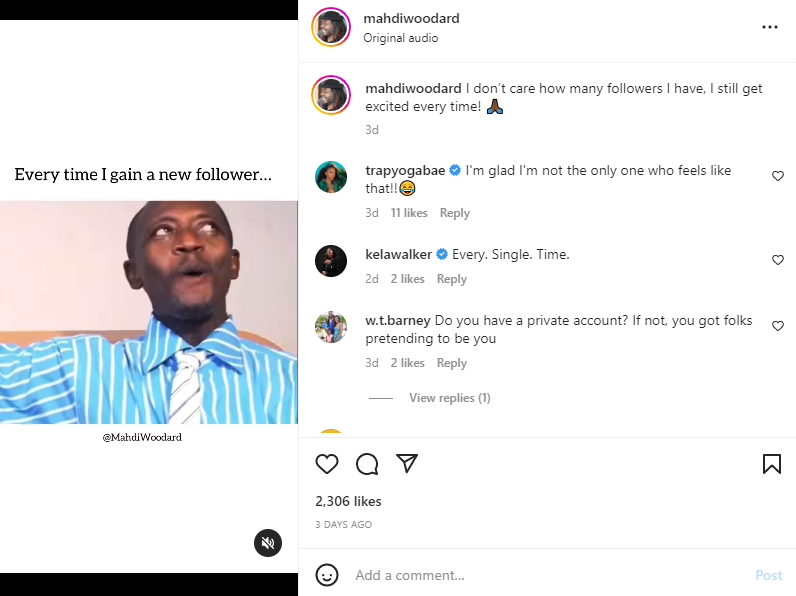 Your jokes shouldn't be offensive to anyone and you should refrain from posting Instagram content that some may consider inappropriate.
22. Share Your Success Stories
Showing where you started and what obstacles you have to face to get to where you are now is a wonderful story to share with your followers.
This will make them appreciate you and your work more if they know that it didn't happen overnight. It's also a great inspiration for those young entrepreneurs who are just starting their business journey.
Don't be afraid to make a feed post in which you document all the difficulties but also all the great moments that happened along the way.
23. Post About the Events You're Attending
Events are a big part of every big business's marketing plan. They are a live platform for creators to present their ideas and make connections.
Whenever you attend an event, post at least one image from it. Whenever you get invited to an event, announce your attendance on Instagram earlier.
This way your audience can come and see you live, and also potential audience will be notified that they can meet you and ask any questions they might have. Additionally, the event's hosts will almost always repost your posts or Instagram stories in which you mention them.
When you go to an event, you can also turn on the live video option to enable your followers to attend the event with you.
24. Go for Video Content
You're posting high-quality images, and have a developed visual identity, but always wonder if you could shake it up a little bit and are looking for more tips on what should your next post be?
Then it's time to start creating Instagram video posts!
In the last few months, videos are the hottest content on Instagram, With so many options available, such as Instagram reels, hyper-lapse videos, and live videos, it's no wonder why.
Videos generally attract more audience and as Instagram is mostly a visual platform, it's perfectly understandable.
Almost every one of these tips above can also be done in video format if there is enough content for a video.
Film everything, your work process, work environment, DIY projects, the use of your projects, and everything else that comes to your mind.
Then after a few days, go through the footage and think about the things you like to watch on Instagram. Then select those recordings and make your video post.
A perfect video is short, easy to understand, and visually appealing, so aim for that kind of content.
If you don't have much to film, you can always share videos that you like and find interesting at first.
25. Carousel Post Makes Instagram go Around!
Carousel post on Instagram is an option that enables you to post multiple photos or even videos in one post.
You can use it in many innovative ways, such as making a blog post on your feed, promoting different products from the same brand, making short tutorials and how-to videos, and even combining photos and video content.
They are interesting to the audience as the curiosity makes everyone swipe through all the slides, which gives you the chance to present more things in one post or even to make a presentation of one product in just one Instagram post.
Conclusion
I hope that these tips helped you find ideas for your next Instagram posts and that you no longer have to think about what to post on Instagram for a while.
This variety of options is exactly what makes Instagram such a successful social media platform, and allows you to grow your business with it. Use it wisely, and keep searching for new methods to get to your target market.
Good luck!
FAQ
How do you get noticed on Instagram?
To get noticed on Instagram, you must provide quality content, know your audience and create engaging content such as carousels, video posts, and live broadcasts and use every opportunity to tag influencers, brands, and people you work with.
What posts get the most likes on Instagram?
The format of posts that gets the most likes is carousel posts, but good video and photo posts also generate lots of likes, so it's more about the content than it is about the format of posts. Try your best to have engaging content and the likes will follow.
What type of content is most popular on Instagram?
It mostly depends on who is your target audience, but generally, eye-catchy posts, funny images, tips and tricks, quotes, and product images have the greatest engagement rates across all demographics.
What to post on an Instagram story?
You can use stories to interact with your audience, ask them questions, make quizzes, let them vote on different topics, and much more.
You can also use them to promote posts that you published. The advantage of stories is that they feel much more personal to a viewer as they don't see anybody else's interactions with the brand on the stories but their own, so it's a great opportunity to close the deal.