Becoming a vtuber has never been easier and there is free software that can help you along the way. Yet, the most important thing whose importance I cannot stress enough is a good webcam.
And for this purpose, I'd recommend using the NexiGo N60 model because, for the price you pay, it gives the best value. It's simple to use and overall it is a great choice whether you are a new or experienced streamer.
Let's talk about the best camera for vtubers you can find on the market! These are my personal choices!
QUICK OVERVIEW: Best Cameras for VTubers
Built-in microphone
110° capture length

Software support included
Autofocus

Ultra 4K HD resolution
3 fields of view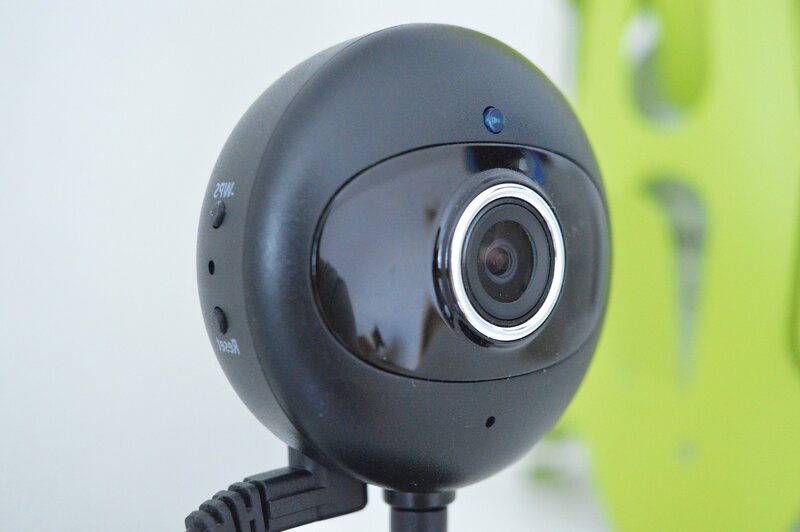 Best Camera for VTubers
Reviews
The name says it all. Within this list I compiled all choices that overshadow the specifications of most webcams, thus allowing you to use the full extent of your vtube streaming software.
Alongside creating high-quality videos, these cameras often come with additional features that will supplement your streaming quality to a whole new level!
With that in mind, let's get to the matter at hand giving you a first-class selection of the best webcams for your own avatar!
1. NexiGo N60
Best Price-Value Ratio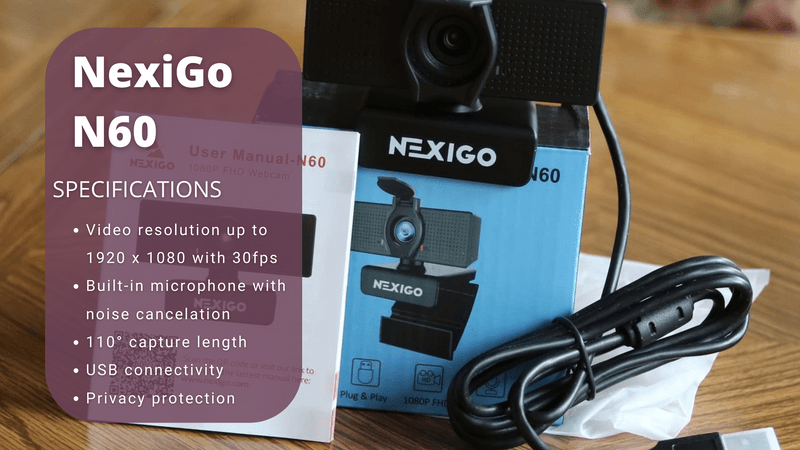 Stefan's Take:
In terms of price-to-value ratio, this is perhaps the best webcam to start recording with If you want a webcam that won't leave a dent in your wallet but also want a high-end product.
Above average resolution, fantastic focus, phenomenal picture quality – all of this is included within this customizable and yet very affordable bargain!
| | |
| --- | --- |
| Field of View | 8 |
| Resolution | 9 |
| FPS | 8.5 |
| Value | 10 |
Key features
This is one of the best webcams when it comes to overall popularity within the vtuber community.
This webcam's features consist of two-MP CMOS FHDs, and its 3.6mm glass lens can produce phenomenal image quality. Its optimization is between 19.6 inches to 13 feet, ideally suited for indoors.
The noise cancelation and practicality make it ideal for users just getting into the world of streaming. For vtubers, it can capture and, with the right software, re-create facial expressions accurately.
What's also a major advantage is that it is entirely beginner-friendly, as you don't need any additional software or add-ons to get started. I used it with Skype to talk to my family abroad, as well as for gaming and streaming, and it was quite ok.
The N60 webcams integrate with your PC's settings instantly. If you want a camera that will start recording at the moment it is plugged into your PC, the N60 is a decent choice!
Pros
The crowd favorite
Affordable with great specs
Easy to install
2. NexiGo N930AF
Best for Software Support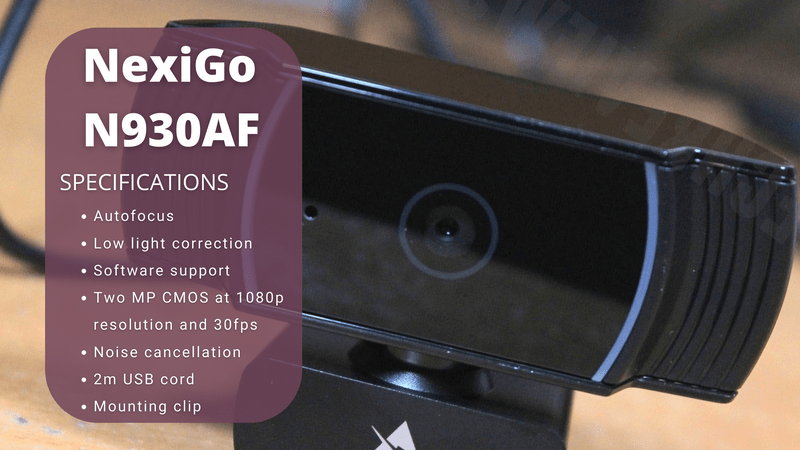 Stefan's Take:
Out of all the webcams on the market, this is one of the more decent ones that comes with integrated software controls. This is what got me the most, to be honest.
Apart from that, it offers great video quality, even though it's limited to 30 FPS.
With a great rating, alongside three innovation awards at CES 2022, purchasing this webcam is always a hit and never a miss for every upcoming content creator.
| | |
| --- | --- |
| Field of View | 8 |
| Resolution | 9 |
| FPS | 8.5 |
| Value | 9 |
Key features
This is a step-up, but also a more expensive webcam choice from the N60 series.
The N930AF webcam series is equipped with the best traits of the N60 series with additional features. Its capabilities are well suited for almost any background environment and for software such as vtuber maker.
This webcam's automatic focus low light correction software is very customizable and adaptable. You can adjust them manually or automatically, which is immensely handy during gaming sessions.
However, while it is more than ideal for a beginner or intermediate virtual YouTuber, it has a 65° field of view, making it inadequate for capturing bigger backgrounds or streaming with more than one person.
Overall, it's one of the more affordable webcam models if you want to achieve a high level of production quality without having to pay a fortune to outfit your PC with the necessary hardware.
Pros
Upgrade from the original N60
Consistent quality
Ease of use
Universal USB A connectivity
3. Logitech Brio 4K
Best Video Quality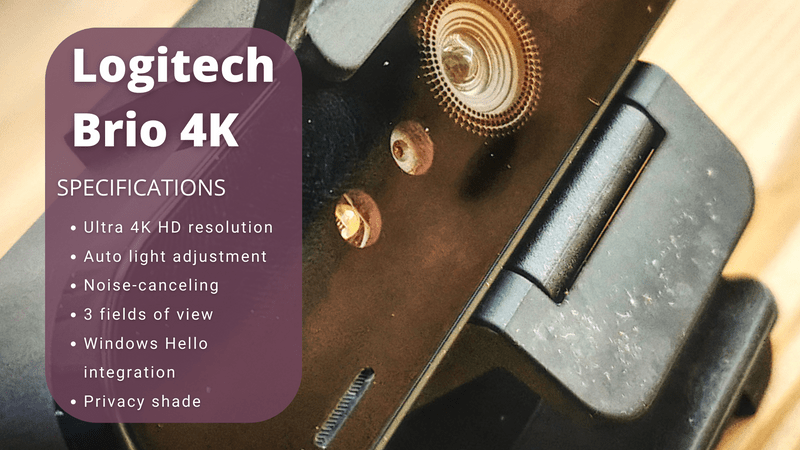 Stefan's Take:
If you're searching for the best of the best for your stream equipment, Logitech brio might just be what you are looking for!
I've personally been using it for quite a while, and it works well in all conditions, including almost completely dark environments.
Plus, it is a 4K webcam with the ability to capture video in 30 or 60 FPS.
| | |
| --- | --- |
| Field of View | 7 |
| Resolution | 10 |
| FPS | 9 |
| Value | 8 |
Key features
The first attribute of this 4k camera for streaming that you will notice is the resolution that comes with a 5x HD zoom.
Yet that is merely the tip of the iceberg. RightLight 3 software utilizes HDR tech to automatically adjust its settings to changing light conditions, eliminating barely decent lighting backgrounds as an obstacle.
It has dual omnidirectional microphones with background suppression technology that outfits your computer with a decent microphone.
It supports a 65/78/90 °  field of view with one of the highest refresh rates in the industry – 90 fps.  The image quality is quite good and it integrates flawlessly with even the best vtuber software available.
Pros
Compatibility with Vtuber Maker
Critically acclaimed as pretty good
Highly customizable features
4. Razer Kiyo Pro
Great for Low Light Conditions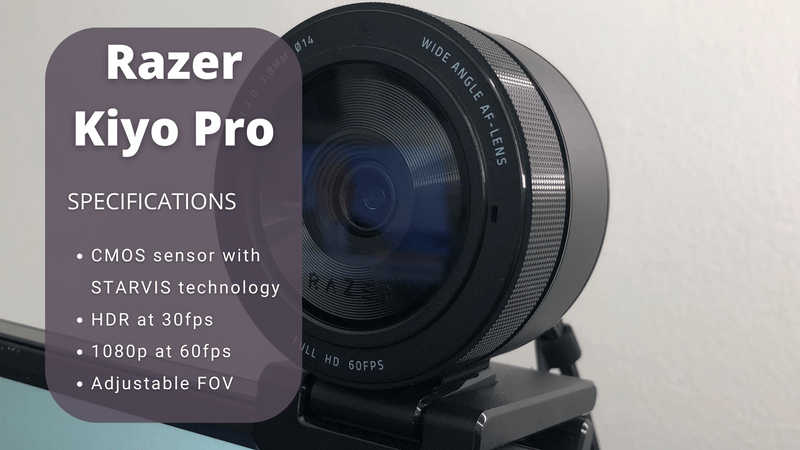 Stefan's Take:
This is a pro-grade webcam, that can come with an optional ring light to boot.
I tried and tested it with the popular paid version of Facerig, the massively popular software that you can use to create your personal avatar.
The results were pretty decent and I was satisfied with how well this camera works even in low light conditions if you are not just using it for VTuber avatar.
| | |
| --- | --- |
| Field of View | 7 |
| Resolution | 8 |
| FPS | 10 |
| Value | 8.5 |
Key features
Good lighting is always a plus, yet it is not necessary as the adaptive light sensors allow you to capture your best stream moments even in the absence of good lighting.
The Razer Kiyo Pro webcam offer an additional purchasing variation – these webcams can come alongside a ring light, built specifically to accommodate this camera.
Whether you plan to create quality content for your Youtube channel,  capture your awesome plays for your stream, or find a webcam that excels in every possible category, Razer Kiyo Pro is a relatively good choice.
Pros
High-quality specs
Works with any kind of software
Good performance
Cons
Somewhat lacking autofocus feature
5. eMeet C960
Best Versatile Vtuber Webcam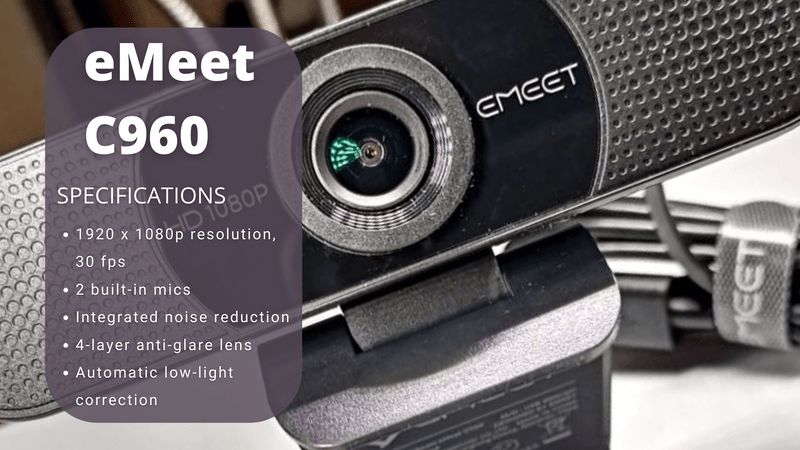 Stefan's Take:
For a minimalistic price tag, the performance offered by this camera is nothing short of impressive for Zoom conferences, vtuber avatars,  and content creation.
This is why I included it on this list. I enjoyed how versatile it is. I could easily swap from VTubing to Zoom calls, or to making a new video without any hassle.
It's quite affordable too, so I recommend it, especially to new VTubers and content creators.
| | |
| --- | --- |
| Field of View | 7 |
| Resolution | 8 |
| FPS | 9 |
| Value | 8 |
Key features
eMeet provides an innovative solution; a webcam with above-average focus, image, and video quality. This camera can help you achieve a satisfying recording quality at a quarter of the price of most professional webcams.
The icing on the cake is the auto low-light correction technology that extends the value of this purchase even further; helping you capture the best plays on your PC's screen while providing crystal-clear picture quality.
It works well with any device and specialized software such as Vtuber maker. You can create your avatar and use it within moments just after plugging it into your PC.
Pros
Very affordable
Impressive upper-mid tier specs
High-grade low light adjustment technology
Cons
Larger picture frames can look washed out
No facial features installed
Conclusion
Hopefully, this article helped you pick your vtuber camera! To summarize, these are my top 3 personal choices:
NexiGo N60 because it offers the most value for the price;
NexiGo N930AF for the best software controls;
Logitech Brio 4K for its amazing versatility;
And if you are still unsure if these cameras should be your choice, and you want to level up your game, maybe it's time for a DSLR camera that people use to stream.