QUICK OVERVIEW: Best 4K Camera for Streaming
<!—INSERT CODE BLOCKS BELOW—>

Sensor type: APS-C
ISO: Auto

SLR Mirrorless style
Max resolution: 5568 x 3712

ISO: 400 and 3200
Weight: 898 grams
If you're on the search for the best 4K cameras for live streaming, you came to the right place. Streaming on popular platforms like YouTube Live, Twitch, and Facebook has become increasingly harder recently with thousands of creators competing for viewers. In such an environment every detail counts, let alone an important thing such as the camera.
In order to stream successfully, you will need a top-notch camera that won't make your face look like a Minecraft character. Here I will take a deeper look at some of the best 4K streaming cameras and help you choose one that suits your needs.
Post 17 of 18 in the Webcams/Cameras
Best 4K Camera for Live Streaming
Reviews
Your everyday webcams can help you have a Zoom video conference with your colleagues, but in order to create quality content for your audience, you will definitely need to find a better camera for streaming.
I looked into a dozen of cameras for streaming and researched which cameras the world's famous streamers use, in return I came up with the following list.
1. Sony Alpha A6600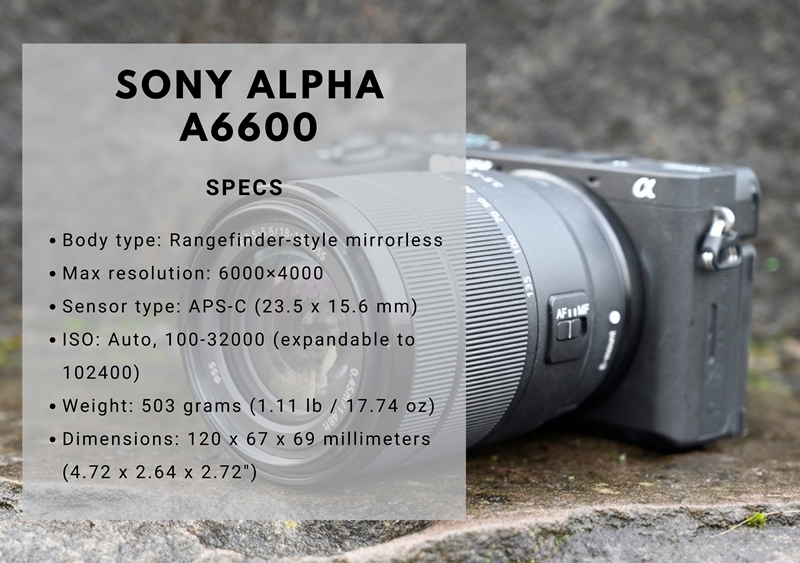 You don't have to pay thousands of dollars on heavy DSLR cameras & lenses anymore, because the camera that I am going to present to you, is small and practical but it doesn't lack any of the bigger camera features.
This camera is Sony's top-of-the-line APS-C camera with 4K video capture. A powerful camera such as this one won't lose focus if you intend to move around during a live stream because of its world's fastest AutoFocus at 0.02-sec w/ real-time AF & object tracking.
Who is it best for
Considering the fact that live streaming can be a very lucrative business depending on how many viewers your stream has, having a good and smooth video quality is a must-have.
The Sony Alpha A6600 Mirrorless camera is on the more expensive side of my list but that doesn't mean that it's not worth looking into it. If you're thinking about starting your own live streaming channel but you also like to travel and take some nice photos while you're away, this small yet powerful camera is the right choice for you.
Key features
At first glance, this model may look like many other Sony's A6000 series models, but don't judge a book by its cover-that applies to cameras as well. Sony A6600 has a much bigger battery and better build quality than its relatives.
It further alters itself from others by having in-body image stabilization, which is still not common among APS-C cameras. Combined with the best autofocus tracking making it the best crop-sensor video shooter Sony currently offers.
If something happens to your microphone right before you start your stream Sony has you covered with a built-in microphone, but I don't recommend using it on a daily basis.
2. Nikon Z50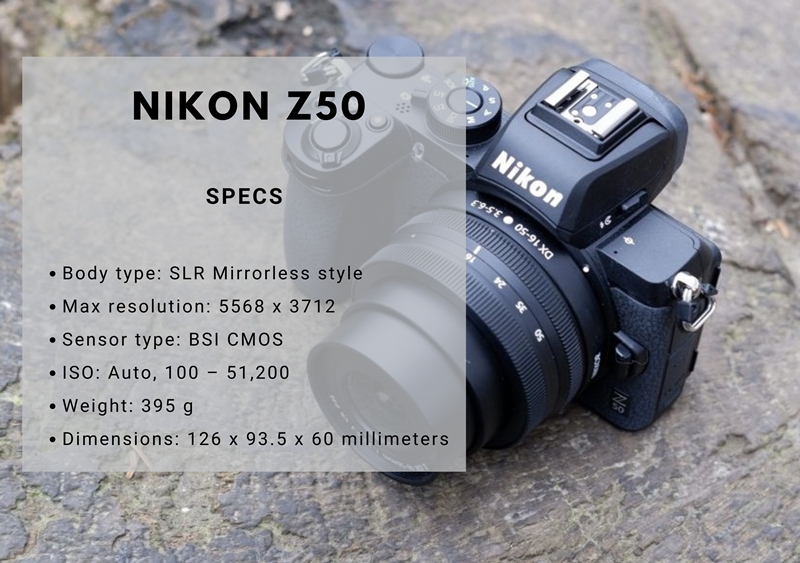 Nikon Z50 is one of the first cameras that the company designed for users that don't primarily see themselves as photographers.
This camera is perfect for hobbyists, and for beginner streamers. With help of the camera's compact design and 4K shooting capabilities, this Nikon model will make your live stream look like you have a professional camera crew behind you.
Who is it best for
Okay, so who is this camera made for? While it was primarily marketed as a camera for beginners, it's not exactly a small investment for a beginner's camera. Same as the previous camera on my list, this one is also small and portable.
But to be honest, portability is not your biggest concern in the live streaming world. If you're a streamer, and also a vlogger or a video maker then this camera is not a bad choice for you. Considering that you can buy Nikon's specially made Creator's kit for this camera.
But if you want the best camera for streaming and nothing else, I am sure you can find a better choice on this list. My biggest concern is the lack of AC power input on this camera. Which would make a huge problem for day-to-day usability.
Key features
Nikon Z50 doesn't have IBIS or in-body image stabilization, so the lenses launched with it, have NVR or Nikon's vibration reduction. Apart from that, the specifications are impressive.
With its new 20.8MP APS-C format sensor combined with Expeed 6 processing engine. These specs allow a sensitivity range for stills of ISO 100 – 51,200. Meanwhile, the video range is 100 – 25,600.
Z50 proved itself a worthy video shooter. Instead of shooting a cropped version, Z50 shoots 4K across the full sensor width. With the help of the Expeed 6 processing engine, it is capable of shooting up to 11 frames per second with autofocusing and exposure metering.
3. Blackmagic Design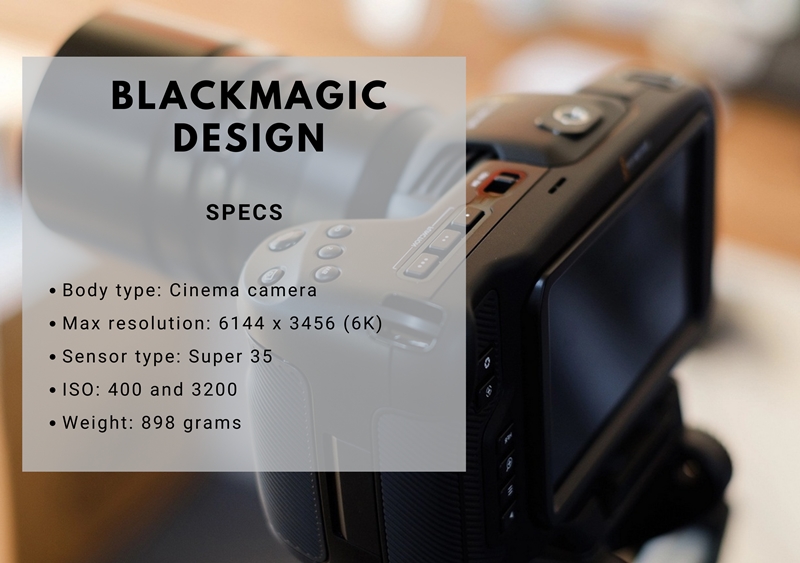 The next camera on my list comes from a company called Blackmagic. It came out of nowhere at the start of 2020.
Like the first two cameras on my list, this one is somewhat similar to a mirrorless camera. But it is also a fully equipped filmmaking tool.
Unlike others on this list, Blackmagic Pocket Cinema comes with the capability to shoot 6K videos. You probably won't need it for live streams, but it makes the 4K stream look even better.
Who is it best for
Let's see whose needs this camera is going to suit best. This camera shines at shooting 4K and 6K videos. That is because what manufacturer wanted it to become the best entry-level film camera.
So, if you are a professional filmmaker and want to become a live-streamer and earn extra money on the side, this is the camera for you. But, if you don't own a filmmaking company and that doesn't interest you, I think you should probably skip this one. Simply because of its high price point.
While Blackmagic Pocket Cinema 6K is an extraordinary camera and would perform brilliantly in live streams, it is simply too expensive for what you get.
Don't worry, my comparison list is not over. I am sure everyone will find a live stream camera that suits their needs.
Key features
Features of the Blackmagic Pocket camera are endless. So, let's start with the obvious one. It can shoot 6K, which is rare at this price point. You might ask yourself why do I need 6K for streaming? The answer is simple.
4K video downsized to Full HD looks better than native Full HD. The same goes for 6K to 4K. It features a capacitive touchscreen. Combining high responsiveness and Blackmagic OS beats the competition.
With one flaw, it is fixed in place, which is not ideal for live streaming.
The Pocket has two built-in microphones. And also two 3.5mm jacks. One for headphones out and one for microphone in. It also has a USB-C port.
This means that if you have an android or iPad Pro you don't need another cable at your desk. After all, cable management is important for a live streamer.
4. Canon EOS 90D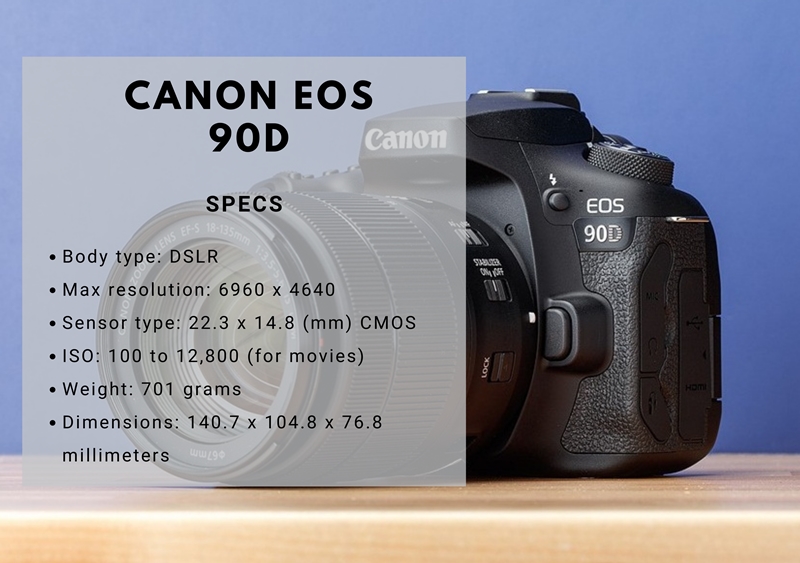 Here I come to the first Canon camera on my list. It is basically a midrange DSLR, that replaces its predecessor EOS 80D. With its great autofocus and 4K shooting abilities it makes a great camera for live streaming.
It is the first choice for a lot of advanced streamers today. Mainly because of its versatility, it is a great 4K camera for streams, but also a superb beginner's photography camera.
Who is it best for
This is a no-brainer. This DSLR will suit the widest range of customers' needs. That was Canon's intention, after all. It makes for a good stills shooter. Especially for wildlife with its good image quality and high maximum shooting speed.
On the other side, it is very good for live streaming too. If you don't intend to record your live streams you can just plug in a cable in clean UHD output and you are good to go.
Based on the user's ratings, the screen gets a high rating. It can be fully articulated mixed with crispy clean images and a 3.1" inch screen size. Which can be helpful if you don't have a second monitor to see your image.
EOS 90D shines at autofocus too.
In conclusion, I highly recommend this camera for beginner streamers but also for advanced ones.
Key features
Okay, let's dive into a more detailed look at Canon's 90D features. As previously mentioned, the built-in screen is very good for this price range. The advertised resolution is 1.04 million dots, which is more than enough for live streaming.
Screen's max brightness is 633 cd/m2, which is more than enough even in direct sunlight. The battery is another area where this camera shines. With tested battery life in a video is 168 minutes, which is much higher than what competitors offer.
If you move a lot in your streams, this is the camera for you. Its AF system does a magnificent job at tracking moving objects.
Another area where 90D beats out its competition are resolution. It has 32.5mp, which is the highest resolution on any APS-C camera money can buy.
5. Panasonic Lumix GH5S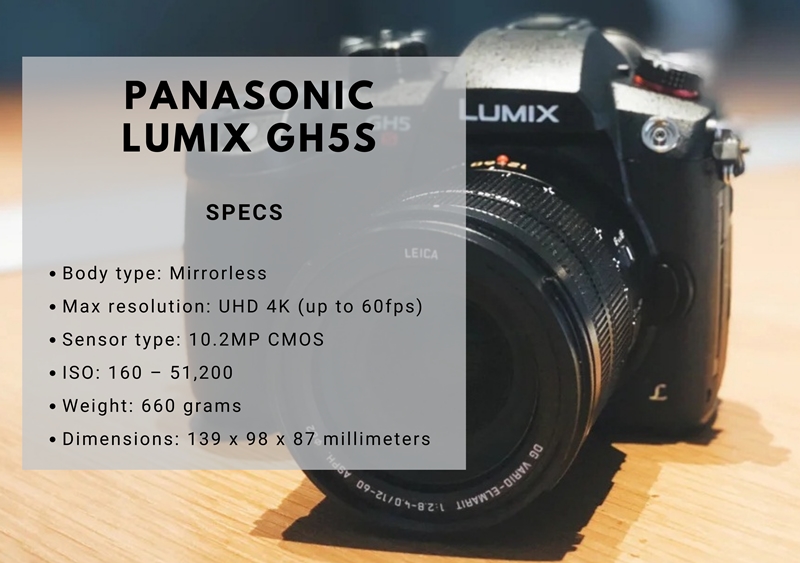 Lumix GH5S is a perfect example of how to create a good hybrid camera. It can be used both for photography and video recording. But with priority given to 4K video recording.
And that is a good thing – considering the fact that live streamers don't usually just focus on live streaming. More often they do occasional photography on the side or other types of content.
Who is it best for
Ten years ago, you could have streamed with a webcam that costs 15 bucks, and that wouldn't be a problem. But as live streaming became more and more popular, expectations from creators went up. And 4K streaming slowly became a standard.
That's exactly where Lumix GH5S shines. So, if you want a compact design and extraordinary performance – GH5S is definitely worthy of looking into. 10.2mp sensor is not ideal for stills, but it's excellent for videos and live streams.
There were complaints about Lumix's AF abilities, so if you plan on streaming Yoga or any kind of stream that involves moving around you can probably find a better choice on my list. But if you're a gamer that sits in a chair the whole stream, or on the floor in PewDiePie's case – you are good to go.
Key features
Let's start with the sensor. A high photoreceptive surface per pixel and 10.2 mp sensor give you an ultra-wide dynamic range, resulting in crispy clear video quality.
Shooting in low light is not a problem for Lumix because of its dual native ISO providing extremely low noise video. Another thing Panasonic pointed out as a contribution to brilliant low light performance is lower and consequently bigger pixels. GH5S features a multi-aspect sensor.
That gives you a choice of multiple aspect ratios without losing resolution. It also comes with an HDMI port, which means you can simultaneously record your stream to an external device.
One bad side of GH5S is the lack of stabilization, but as streaming is almost always done by using a webcam tripod that shouldn't be a problem.
6. Canon XA 55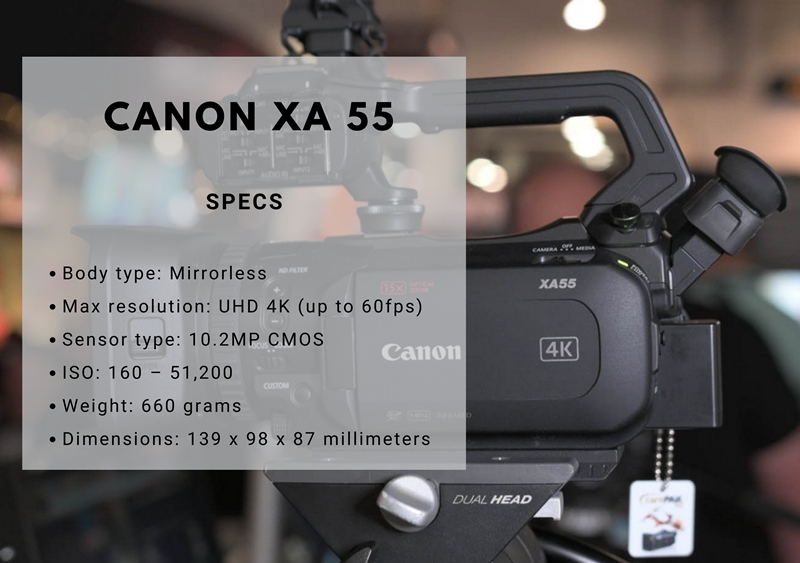 Canon is the worldwide trusted brand when it comes to photography and videography. They offer a wide range of products that range from beginner's cameras to the cameras used by professionals.
And the XA 55 is not a beginner's camera. Rather, it is a full-on professional camcorder that comes from Canon. Camcorders are not usually used by streamers mainly because of the SLR-style compact design.
Who is it best for
For many years, the XA range from Canon has provided professional videographers with the tools that provide stunning full HD footage. XA 55 brings a range of improvements to the XA range, including 4K recording.
With that said, my opinion is that this camera is not for everybody. Simply because when compared to the many SLR-style cameras, XA 55 comes with less usability and a much bigger size. So if you want a more compact design and the ability to shoot some nice photographs you should skip this one.
However, if your goal is to have absolutely the best 4K image quality and you are ready to make some compromises – keep reading.
Key features
1.0 type CMOS sensor is about 6.8 times larger in size compared to the usual 1/2.84. That brings higher sensitivity and lower noise levels even at low brightness conditions.
Another advantage of the larger sensor is that it can also produce a beautiful bokeh effect using a shallow depth of field that only a larger sensor can deliver. It also features a 4K 15x optical zoom lens.
For image stabilization, XA 55 offers a 5-axis DSLR stabilizer. This substantially reduces image distortion even if you are shooting handheld.
The camera also features Canon's unique Dual Pixel CMOS AF system that uses a unique CMOS sensor structure to deliver one of the best AF you can find on a camera today. The touch panel focus control offers the capability to choose and track the subject focusing with a simple touch.
7. Sony RX 100 VII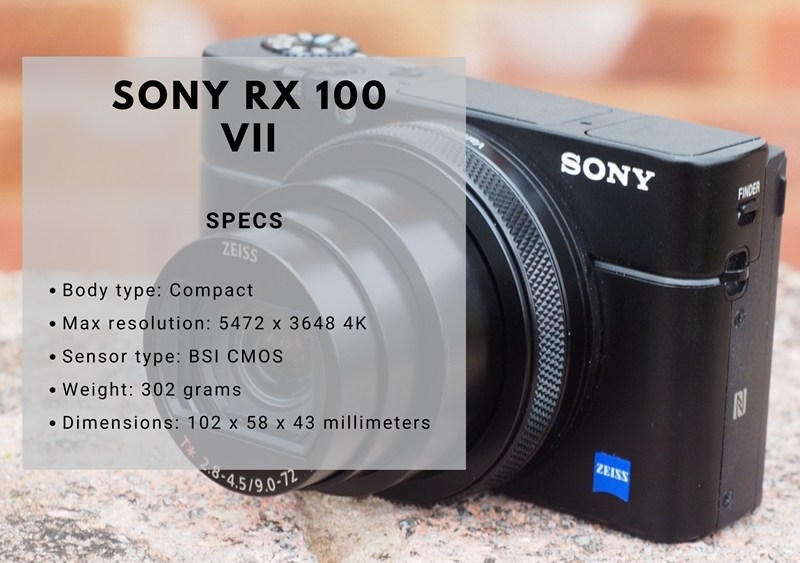 Sony is a world-renowned tech company based in Japan. The company operates as one of the largest producers of consumer and electronic products.
The company holds 50 percent of the image sensor market in the world. With that taken into consideration, it is not a surprise that it is the first-choice camera for many people around the globe.
As you already guessed, the next camera on my list is from tech giant Sony. It comes in a point-and-shoot style, which makes it a perfect choice for some people.
Who is it best for
Cameras built into our phones have come a long way. Fifteen years ago they were basically useless but today you can shoot some very high-quality videos and photos. Consequently, point-and-shoot cameras are on the endangered list in the digital camera world.
But they are not quite dead yet. The new Sony RX 100 is a compact design camera capable of some surprisingly high-quality 4K video considering its size.
So is this camera for you? Well if you're a live streamer, but you also like to vlog for your audience from time to time RX 100 may be the best choice for you. Sony will give a solid quality for your streams and also the portability of a point-and-shoot camera.
RX 100 will suit almost everyone's needs with the exception of people who own a filmmaking business on the side or simply want the absolutely highest 4K video possible.
Key features
RX 100 VII inherits the body of its predecessor, with its 8.3 times zoom, flip screen, and pop-up viewfinder. But now also supports a faster sensor and improved movie stabilization. That allows long 4K clips. Mk VII also ads long-awaited microphone input.
This high-end performance does come at a high-end price.
Is it worth it, you might ask? Well, there is no way I can answer that. Worth is a relative term. If you are on the look for a phenomenal compact camera that can perform well for your live streams and also be your travel camera, then it definitely is.
8. AIDA UHD6G-200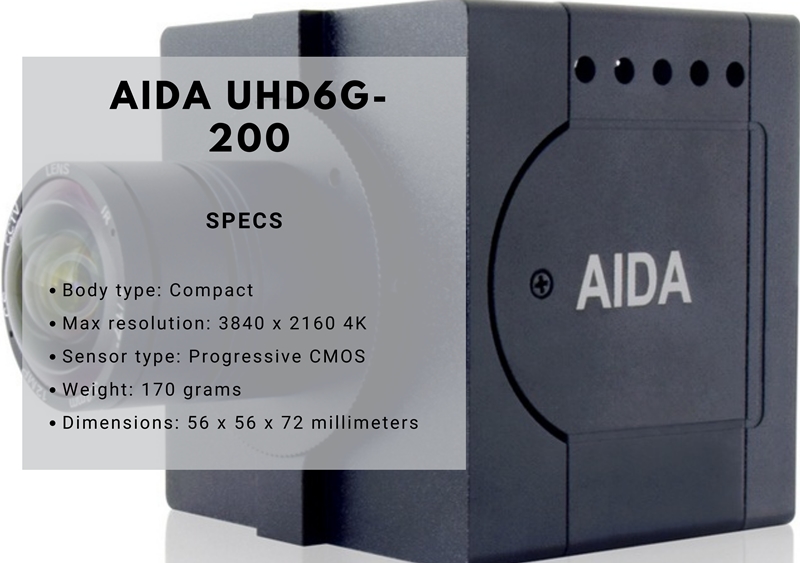 AIDA Imaging is a lesser-known company that comes from the United States. They present themselves as a company that makes robust and high-quality video recorders at a smaller price.
I am going to test whether they justify their words with a UHD6G-200 4K camera. The camera is one of the true 4K 60p POV cameras designed for broadcast platforms and action sports.
Who is it best for
If you are a newbie streamer, who is just starting out on any of the popular platforms for streaming, you probably don't have a large amount of money to spend just on camera. New streamers have to buy a lot of equipment to start out. The camera is just one component.
An important one, but not the only one. In that case, AIDA'S UHD6G-200 might be a good choice for you. Based on the user's reviews, it actually has a pretty good price-quality ratio. UHD6G can also be a good choice if you plan on making podcasts and interviews.
This camera sits in the sweet spot of size, price, and performance. It is considered an entry-level camera but, from my test, I would say that it can do just about anything the mid-range models can.
Key features
UHD6G kept the old form factor and rugged design of the first GEN3G cameras, but It brought a lot of new features and control sets. This camera has a progressive scan CMOS sensor and the resolution goes up to 4096 x 2160 at 25p.
Your every need should be covered with an installed 3.2 millimeters 12 Megapixel 4K lens. AIDA UHD6G is primarily designed for broadcast applications.
The imaging processor will give you a crisp clear and vivid image by using white balance and noise reduction. The 12 mp sensor has been refined and provides good high ISO performance.
9. Logitech Brio Ultra HD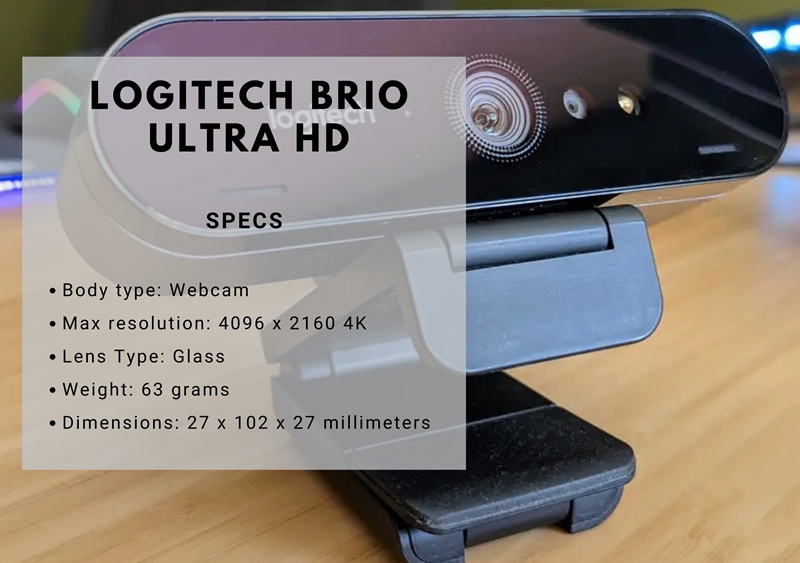 And finally, I came to the last camera on my list. Webcam to be precise. Logitech is a tech company that specializes in PC equipment. To be honest, they really outdid themselves with Brio Ultra HD.
For a price this low, I don't think you can get anything much better. It is mind-blowing how far webcams have come since the Minecraft-looking streams. A perfect example of that is Logitech's Brio UHD.
Who is it best for
This is the camera that will suit almost everyone's needs. You could call it the Volkswagen Golf of live streaming cameras. With its extremely small form factor compared to basically every other camera on my list.
And it possesses a very intuitive system that makes for an excellent camera for every newbie in live streaming, not to mention great 4K quality for a price. Speaking of prices this is by far the least expensive camera on my list. It's ten times cheaper than the most expensive camera.
To sum it up, Logitech Brio Ultra HD makes for a perfect choice for anyone who is just entering the live streaming world and is on a tight budget.
Key features
Logitech has held the title of the best all-around webcam for years now. Logitech Brio is capable of capturing at up to 4K Ultra HD resolution. That translates to 4096 x 2160 at 30 fps. You can also capture 1080p at 30 and 60 frames per second.
It has built-in Autofocus with 5X zoom-in HD and is also HDR compatible. Connection wise there is a USB-C port on the back.
There is a tripod thread on the bottom, which will come in handy if you already have a tripod. This camera is completely plug-and-play meaning that you won't need any drivers to be able to use it.
I highly recommend that you download and install Logitech software to get the most out of this camera.
You can also download the background replacement software, which will help you remove the background from your scene without the need for use of a green screen. The low light capabilities of it are insane and I've never seen a webcam come close to this in low light.
Things to Consider When Buying a 4K Camera for Live Streaming
1. Resolution
This is an absolute must-have, viewers grew accustomed to high resolution in live streams. Your camera should at least be able to shoot in 1080p, anything lower than that and your audience will simply skip to the next live stream. After all, would you spend your free time looking at a pixelated image while playing a survival game?
2. Frames per Second
Another important aspect is of course FPS. For example, you are streaming a video game at 60fps, but your camera is broadcasting at 30fps. Your audience won't know what it is, but they will notice a difference.
3. Field of View
The first two are self-explanatory, but the one is a less known one. Simply put, the larger the view the more the camera can see. The industry standard is 72°, but from my experience, everything bigger gives a much better effect.
Conclusion
I sincerely hope I made it a little easier to pick out the best camera for live streaming, that will suit all of your needs. That is definitely not an easy task in the overflooded market of live stream cameras.
Frequently Asked Questions
Can I use my iPhone as a webcam?
You definitely can use your iPhone as a webcam. You are going to need to download a couple of additional apps to use it. But it is possible.
I wouldn't recommend it for live streaming, though. iPhone has a great camera, but it can't come close to professional webcams and DSLR-s.
Is 4K better than 1080p?
Comparing 4K to 1080p video is the same as if you were comparing 1080p to 480p resolution. It doesn't even come close. 1080p is still the bare minimum in live streams, but in a year or two, it will definitely be replaced by 4K.
Which camera is best for video recording?
That's a tough question to answer. It depends on the type of video that you want to film.
For example, if you want to film sports events GoPro might be good for you. On the other side, if you want to film a time-lapse, GoPro is not an ideal choice.
What kind of camera do I need to live stream?
As I mentioned above, the absolute minimum is that your camera can film 1080p in 60 frames per second and wide enough field of view.
Another thing I would add is that your camera needs to have a clean HDMI out port. That is my opinion on what best live streaming cameras should have.
Join our Discord Group. Ask questions, team up with fellow streamers, share memes, and more!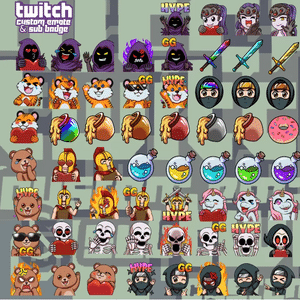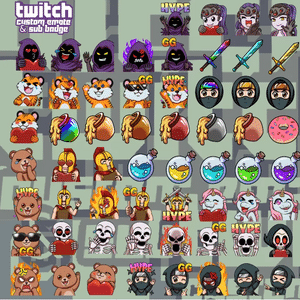 Claim for FREE:
FREE Emote PACKS
A book on growing your audience