Good lighting is crucial when it comes to video quality and streaming – you want your viewers to see your reactions clearly.
So if great video quality is what you're after, I recommend Angetube Streaming Webcam because it has an amazing resolution and ring light with different brightness levels that you can adjust depending on the conditions.
In this article, I will review the best webcams with ring lights, so you can make an informed decision before making a purchase.
Now, let's find you a great webcam!
QUICK OVERVIEW: Best Webcams With Ring Light
Angetube Streaming Webcam

Adjustable ring light
Autofocus feature

1080p resolution
81.6° field of view

Wide-angle lens
Speed capture at 30fps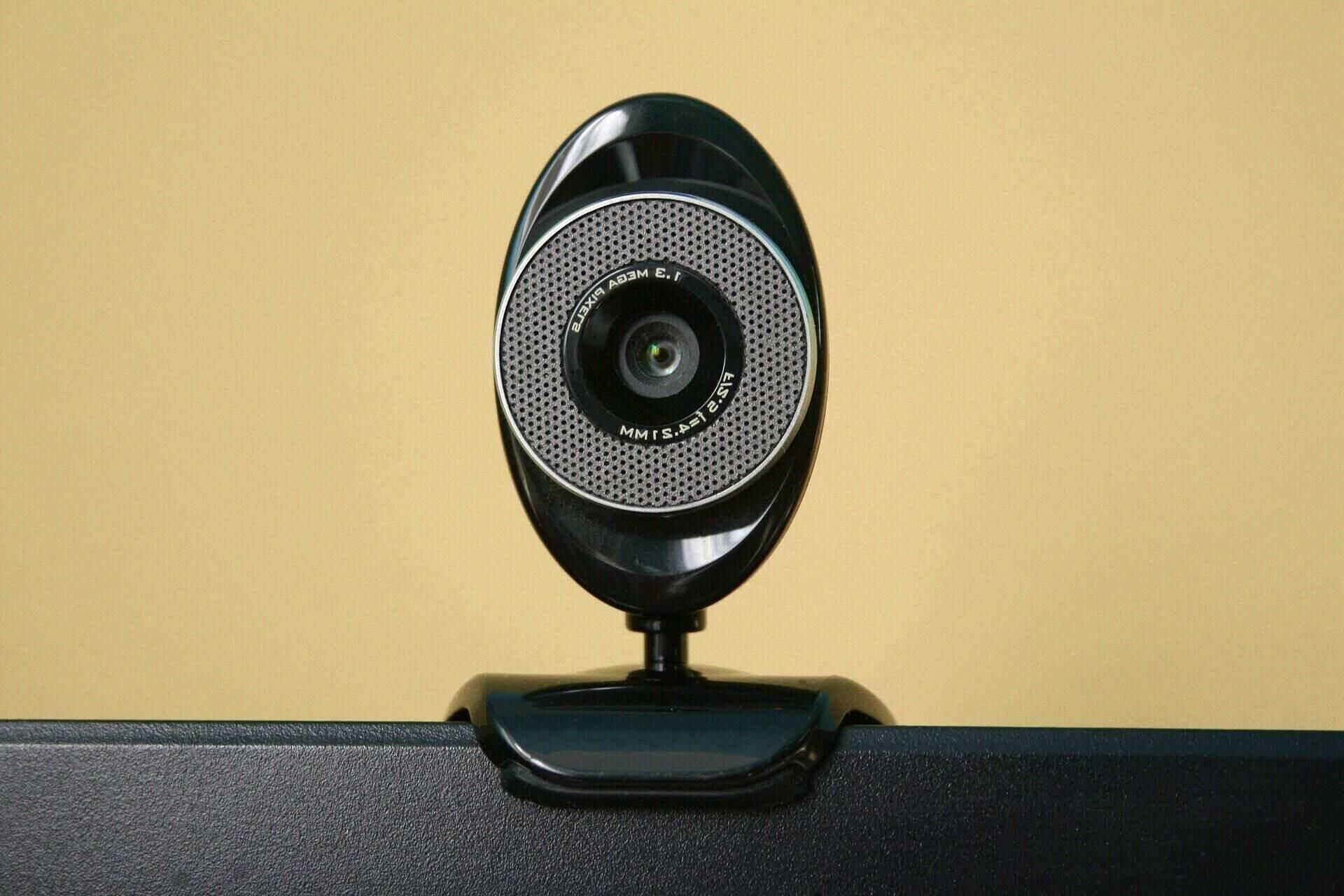 Best Webcam With Ring Light
Reviewed & Tested
If you're frequently streaming, or you're looking to get into it, it's very likely that a traditional webcam won't do much for you.
It goes the same for your laptop's built-in camera, it's just not what you should opt for when streaming.
Webcams with an integrated ring light have been a favorite in the streaming industry for some time now, so naturally, there have been many launched models during this time.
I have researched the most popular webcams, bought dozens of them, tested them, and created a list of the top 8 best webcams with a ring light.
1. Angetube Streaming Webcam
Best overall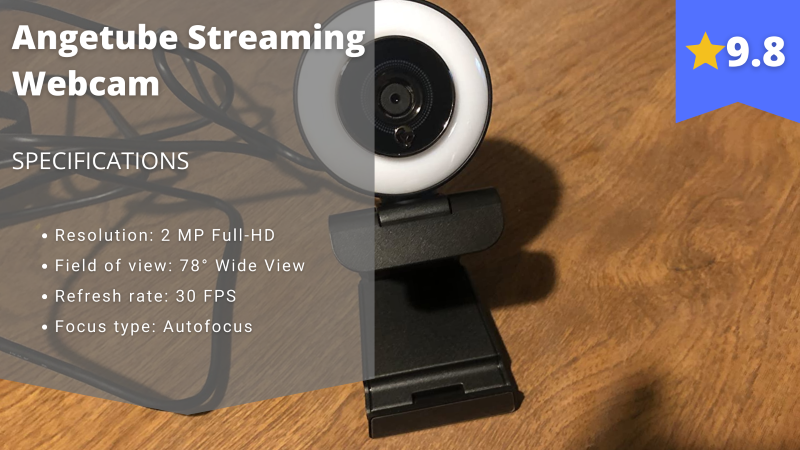 Stefan's Take:
The best webcam on the list is undoubtedly Angetube Streaming Webcam. There are numerous features that I really like, like adjustable ring light brightness, the ability to record in HD, and impeccable auto-focus.

What separates it from other models is a noise-canceling microphone. It picks up your voice quite well, boosts it with an amplifier chip, and removes the background noise, which can be quite unpleasant for viewers.
| | |
| --- | --- |
| Resolution | 10 |
| Frame Rate | 9 |
| Field of View | 10 |
| Low-light Correction | 10 |
Why do I think Angetube Streaming Webcam is the best among these? Because of its design, ease of use, great video quality, and noise-canceling microphone that delivers clear and crisp sound.
Let's dive into its spec!
The first thing you'll notice about this webcam is its sleek design.
It's not at all huge, it's circular and the lens is surrounded by a small ring light – amazing for streamers that don't have much desk space!
This is an accurate representation of what you would have if you had a whole big set up, only reduced in size.
As you would expect, it has autofocus, and it films in full HD, which is quite important, as you don't want to read a bunch of complaints from your viewers about how poor the video quality is.
I tested recording at 30 FPS at 1080p and was amazed by the number of details the webcam managed to pick up.
It's compatible with Windows, Mac OS, and basically any other software you could possibly need it for.
Another interesting feature is the dual noise-canceling microphones with an amplifier chip, and even though it will do the job, it's always better to opt for a separate mic if you want to have overall better video quality and if you're streaming.
Pros
Autofocus and full HD that contribute to better video quality
3 adjustable light ring levels
Sleek design
No fish-eye effect
Motion jitter is not noticeable
Cons
Auto-focus can be easily triggered
2. Razer Kiyo Webcam
Best for low-light conditions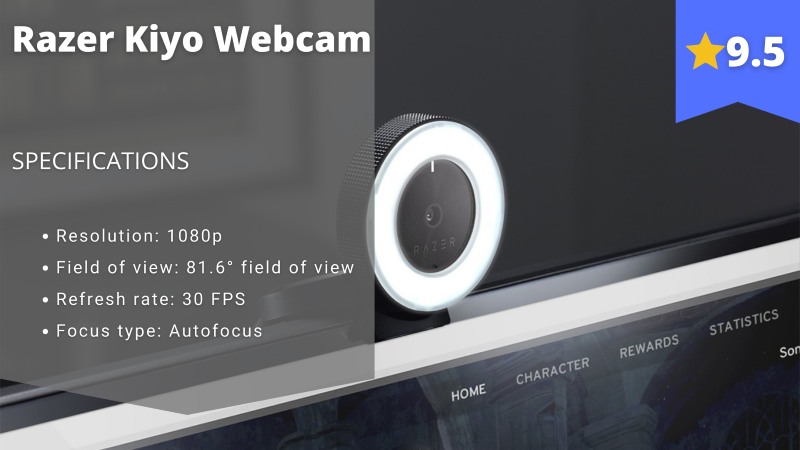 Stefan's Take:
If your main goal is to fix the lighting in your videos, get Razer Kiyo Webcam. In many aspects, it's quite similar to the previous model (30 FPS at 1080p, autofocus, wide lenses), but the light options are unbeatable.

The quality of the video is great even in low light conditions thanks to the completely adjustable ring light, and there are multiple brightness levels, so you can easily adjust the light as needed.
| | |
| --- | --- |
| Resolution | 10 |
| Frame Rate | 10 |
| Field of View | 9 |
| Low-light Correction | 10 |
The Razer Kiyo streaming webcam is very well-known and loved among the streaming community.
So, how does it compare to everything else we have here?
The main reason you're looking at this webcam is the built-in ring light, so let's start there.
The ring light on this webcam is pretty bright, and adjustable, which is important to know as many found it to be even a bit too bright when they start using it.
It's very easy to fiddle with, you just twist the ring and set the level you need it to be at in order to have good lighting.
One drawback is the microphone – the sound is too low, so you do need a separate mic to get decent audio quality.
As with most other webcams, this one films in full HD, with image quality being at 1080p.
Pros
High picture quality and HD video resolution with 1080p and 60 fps
Great image sensor
Enhanced HDR
Great image sensor
Thoughtful design
Cons
The built-in microphone can be very quiet
3. TECKNET Streaming Webcam
Best budget webcam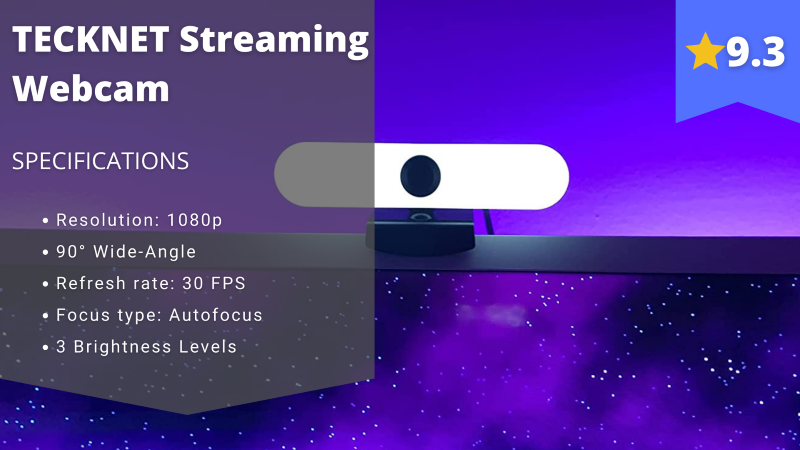 Stefan's Take:
Overall, webcams are quite inexpensive, but if you're on a really tight budget, I suggest this TECKNET model. For around $30, you'll have a decent enough webcam that is compatible with different hardware, can record 30 FPS at 1080p, and with autofocus that works just fine.

The only feature I was a bit disappointed by was the microphone. Like the Angelato model, it has a noise-canceling mic, but the quality of the recorded sound is quite low, and I had to pull out my streaming mic.
| | |
| --- | --- |
| Resolution | 9 |
| Frame Rate | 9 |
| Field of View | 10 |
| Low-light Correction | 9 |
The two main details that you'll notice about this webcam are its design and the very affordable price.
Is it possible to get the best video quality with such an inexpensive webcam?
The TECKNET streaming webcam is designed a bit differently than most other webcams with a ring light – instead of the circular shape, it's more long and skinny.
This could have its benefits, like lighting up more of the room instead of just you.
What's similar to most webcams, is that this one also has a dual noise-reduction microphone, and it claims that is great at not picking up the background noise.
And, again similarly to other built-in mics, it also doesn't pick up your voice that well and it broadcasts it at a very low volume.
However, you're here because of the ring light.
Like you would expect with quality ring lights, this one is adjustable and it goes from a low light level to a high.
Another great thing is the 360° horizontal rotation function that supports angle correction and fixed focus, no matter where the webcam is placed.
Pros
Reliable low light feature
90-degree field of view
The 360° horizontal rotation feature
Very affordable price for a good quality webcam
4. NexiGo N680E
Best webcam for video conferences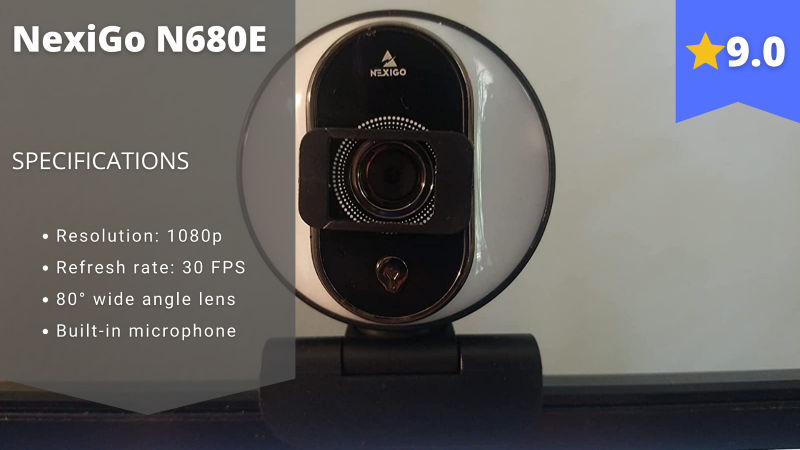 Stefan's Take:
When it comes to video conferences, I like NexiGO N680E. Why? Because there isn't anything, you need to set it up manually. It has the plug & play system that will configure everything for you, so when it's time to hop on to the video conference, you'll be good to go.

The only thing I do mind is the microphone – my voice was too echoey, even after adjusting the setting, which other participants in the video conference will probably mind.
| | |
| --- | --- |
| Resolution | 9 |
| Frame Rate | 9 |
| Field of View | 9 |
| Low-light Correction | 9 |
The first model from NexiGo that has made it to the best webcams list is N680E, so let's see what makes this specific one worthy of that title.
The design is the typical circular one that we see with most of these models.
The price is fairly inexpensive, but it seems like, with this HD webcam, it might be a sign of a drawback.
Even though the ring light is what you would expect from it, it actually isn't very bright.
If you have a particularly low-light environment, then this one might not be for you.
However, if you find most webcams too bright and are looking for something more low-key, then don't look any further.
Ease of use is guaranteed with this webcam. Thanks to Plug & Play it takes only a few seconds to connect it to your computer and it's compatible with Windows, Mac OS, Linux, and Chrome.
Moreover, the mounting clip is designed to be clipped on any flat surface.
In my opinion, it's the most suitable for video calls and conferences, but you could use it also for streaming, with an additional, separate mic.
Pros
The high-resolution image quality in 2K
Privacy shutter
6 brightness modes
Flexible 360° horizontal and 90° vertical rotation
Wide compatibility
Cons
The sound gets too echoey
5. NexiGo N930E
Best webcam for streaming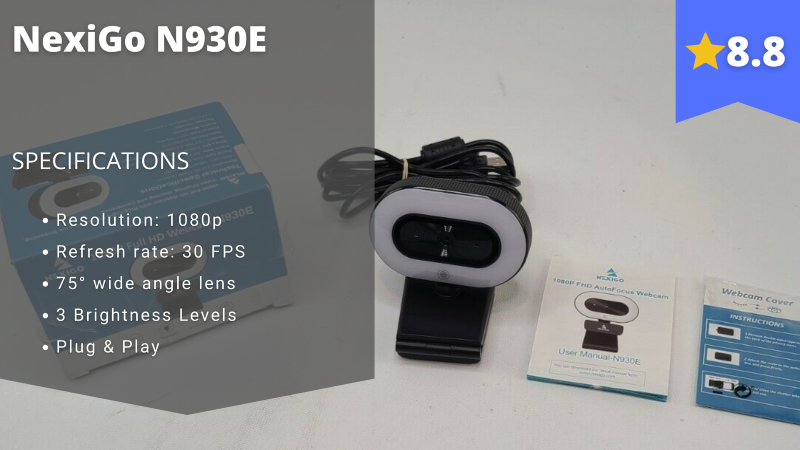 Stefan's Take:
NexiGo has a 75o field of view, which is ideal for streaming as you should be the only thing in focus, with as little background as possible. The autofocus works fine, and the maximum resolution is 1080p, which is ideal for streaming if you ask me.

It performs well in low light, and the only feature I didn't really like was the privacy cover. The build quality was poor, and it fell off quickly.
| | |
| --- | --- |
| Resolution | 9 |
| Frame Rate | 8 |
| Field of View | 9 |
| Low-light Correction | 9 |
This plug-and-play webcam comes with a bit of design innovation when it comes to its shape, so it probably caught your attention.
But, let's see how it works.
If you don't like webcams with too wide angles, then this might be a choice for you, as the field of view of this one is 75°, which is a bit less wide than most.
When you're streaming games, you probably want the focus to be on you, and not what's behind you, so the camera's lens being like this is what you should look for.
Of course, this can be good for video conferences as well.
When it comes to the ring light, like most of the webcams that are considered to be the best webcams on the market, the NexiGo N930E has an adjustable lightning feature.
The low light correction feature is also very good.
As we already mentioned, this is a plug-and-play model, so it's very easy to use and quite foolproof.
It's widely compatible so it can be used for all kinds of video calls and streaming services.
Pros
Great autofocus
Easy to set up and use
The LED light is not too intense, so it won't irritate your eyes
Great image quality
Cons
The privacy cover isn't usable
6. CASECUBE 2K 1080p Webcam
The webcam with the best resolution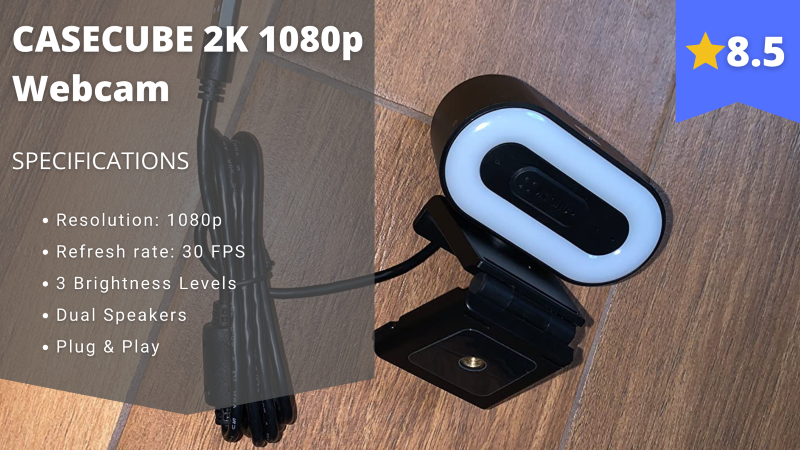 Stefan's Take:
If you want top-notch video resolution, I suggest you get this CASECUBE webcam. In my opinion, nothing can beat 4K recording, but this 2K worked quite nicely, especially considering that it's just a webcam. Also, I liked the accessories that came with it, which made setting it up super easy.

I was bothered by one thing in my videos – the vignetting seemed too strong for my liking.
| | |
| --- | --- |
| Resolution | 10 |
| Frame Rate | 9 |
| Field of View | 8 |
| Low-light Correction | 7 |
This Casecube webcam might look like any other webcam with an integrated ring light. However, it has some benefits that make it stand out from others.
Besides the ring light, another distinct feature of this webcam that ensures better quality videos is the fact that it films in 2K resolution.
Because of that, the picture quality is more clear and crisper, and the light is great if you want something that will nicely correct the light on you, without having the whole room lit up.
Another great feature is the flexible tripod that's included in this purchase.
Even if you don't need it for streaming, and you're looking for a camera only for web conferencing and video calls, a detail like this could be very useful.
When it comes to Zoom calls or any other kind of video conferencing platform, like Microsoft Teams, there is no need to manually adjust anything.
The software settings are all recognized automatically when you plug in the USB cable.
As with any other good webcam with a ring light built in it, this one also has adjustable brightness levels, and there are actually 3 of them plus two color modes so you can use yellow or white light.
You can set it to low, medium, and high, but you can do so in both warm and cool tones.
Like most webcams nowadays, the Casecube 2K has a built-in microphone that can come in handy.
Pros
Low price in combination with satisfying performances
Widely compatible
Easy to use
Has a fairly good built-in mic compared to other devices from the "best webcams" category
Cons
Some people find the ring light not bright enough
7. Vitade 960A
The webcam with H.264 encoding
Stefan's Take:
At first, the H.264 encoding didn't seem like a big deal. However, once I saw how much space it saves and that video quality truly is maintained, I really liked it.

The webcam has plug & play, making it easy to set up; quite a good built-in mic, and records at 30 FPS at 1080p, but in my opinion, you'll need a better one for streaming. The video quality simply isn't good enough for streaming.
| | |
| --- | --- |
| Resolution | 9 |
| Frame Rate | 8 |
| Field of View | 8 |
| Low-light Correction | 8 |
The manufacturer is marketing this webcam as a pro webcam specifically made for streaming, and they claim that that's what it's best for, so let's see does the description fits that claim.
With the basic ring light around the glass lens design, this HD webcam seems like it might be nothing special compared to all the previous models we described.
It's well-priced and highly rated all over the Internet, so it certainly is among the best webcams available.
It's widely compatible, and it has an HD resolution paired with autofocus as the main focus type.
The webcam is extremely easy to set up, and of course, it has 3 different light settings, so whatever you need it for, you most likely won't have any issues with the ease of use.
It has a built-in microphone, and many people find it to be a solid quality microphone.
Will it be good enough for streaming?
Most likely not, since when we're looking for the best webcams we're usually focused on visuals, so that makes sense.
This webcam has a long wire, so it can be safely placed wherever you need it.
The light ring itself is good and does the job very well.
Something that's important to note about this device is that it has an advanced H.264 encoding, which means that it compresses your video files without losing out on the quality, which is why it can be a good choice for streamers.
Pros
The H.264 encoding compression feature is a big plus if you need to store your videos
It has a fairly good built-in mic
Extremely easy to set up and use
Cons
The base is not the best, so it might move around a bit when clipped on a screen
8. NexiGo N960E
Best webcam for recording at 60 FPS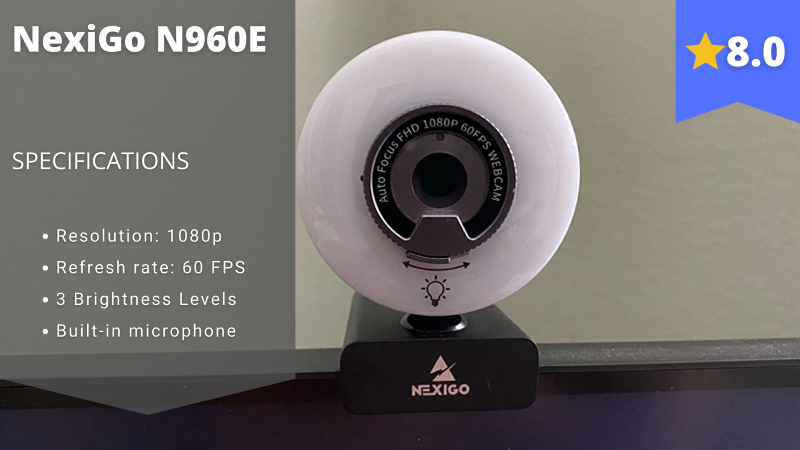 Stefan's Take:
I couldn't wait to test 60 FPS at 1080p on this webcam, and it didn't disappoint. While quality is better at 30 FPS, 60 FPS is almost as good, so if this is a deal-breaker for you, I suggest this model. The built-in mic and privacy shutter are nice additions.

Just keep in mind that you will have to spend a bit more money, and other features are quite average. Therefore, I am not sure if it's worth it.
| | |
| --- | --- |
| Resolution | 8 |
| Frame Rate | 10 |
| Field of View | 7 |
| Low-light Correction | 7 |
With a price point that's around 80 dollars, this HD webcam is one of the most pricey models we have on this best webcams list, so let's check out whether it really is worth that price.
The main difference that stands out about the NexiGo N960E is that it has the ability to film with 60 fps.
If you need 60 fps for the content you make, then this will probably be worth it for you.
It films with a 1080p resolution, and the quality doesn't drop because of the 60 fps rate.
When it comes to the design, it's the most common light ring design that you've seen so far, so that side of the product is good.
When it comes to hardware compatibility, it's great to know that this webcam works with both USB A and USB C, and it comes with an adapter.
Also, the privacy shutter is built-in, and it is a very good privacy shutter at that.
Of course, this webcam also has a built-in mic.
Because of the additional benefits like the ability to film at 60 fps, we can say that if you need it for streaming purposes it will absolutely be worth it to pay the higher price.
But also, there's nothing bad to be the cool 60 fps guy in the digital conference room.
Pros
The ability to film at 60 fps
Good quality built-in privacy shutter
Works with both USB A and USB C
Very bright light with a soft tone
Cons
It's pricier than most webcams on this list
Are Ring Lights Good for Streaming?
Yes, they are.
The point of the ring light is to light up you specifically, and not draw way too much attention to whatever is behind you.
As you, the streamer, are the main point of your stream, this kind of setup makes sense.
Also, these types of lights make the overall quality of the video way better, the image is more clear, and your features become a bit softer, so it also has that kind of a benefit.
Of course, this depends on what type of content you're streaming and whether you even need setup additions.
But most often, people who watch you, come to your streams because of you, so having that kind of an upgrade will probably be very much enjoyed.
Is a ring light good for zoom meetings?
A full-size one might be a bit much, so that's probably where this kind of equipment will come in handy.
Of course, if your Zoom meetings consist of you presenting some kind of detailed material, if you are a teacher or a professor, or a lecturer of any kind, then it can make sense.
However, for daily use, a small one like the ones on the webcam is going to do the job just fine.
This type of product could be especially beneficial if you have a corporate job, and it's very important that you look professional.
Or, if you need something well lit for your child's online schooling purposes, this can come in handy.
And finally, if you have Zoom calls and your computer is in a very bad-lit area, a smaller type of this light is a great choice.
Conclusion
I hope this article has helped you in your search for the best webcam with a ring light. If you're still unsure, here are my top three picks:
Angetube Streaming Webcam as the best overall,
Razer Kiyo Webcam as the best webcam for low light,
TECKNET Streaming Webcam as the best webcam for those on a budget.
Whichever mentioned webcam you pick, you won't make a mistake.
FAQ
Do ring lights on Webcams help?
Ring lights in general help very much with video quality, which is why they have become the main piece of equipment that content creators of all kinds use.
When it is built-in, it gives you all the great benefits the big one does, without taking up too much space (that you probably already don't have). This kind of light ring is probably even more useful for streaming games, as the details of your face aren't the main focus, or mostly aren't.
While the big ones are more powerful, they are a more suitable investment for either bigger productions and highly curated content, or people who make beauty-related content, like make-up videos.
If you stream games or film best tech tutorials, a small one will do the job.
What is the best webcam light?
This highly depends on what your needs are. If the frame per second rate is important to you, then the NexiGo N960E Webcam will probably be the best investment, or maybe the Kyio Razor.
If your needs are mostly related to Zoom calls and Skype, then the Casecube FHD will be just enough for that. The last one could also be a great choice if you're just starting to stream and are not sure what exactly you need.
It makes way more sense to pick up that kind of a model before you decide to invest in something like a Logitech webcam for example.