When you want to support your favorite streamer, one of the options you have at your disposal is Twitch gifted subs, meaning you send Twitch currency that has real-world value to another user.
---
How To Gift Subs
Click on "Gift a Sub"
Pick a Specific Person or Gift Subscription to a Random Follower
Choose the Subscription Tier
Complete the Transaction by Making a Payment
How To Acquire Twitch Gifted Subs
Try to amass as many viewers as you can. Join channels with a lot of subscribers. Be active in the community and schedule some fun events.
Or you can simply ask for gifts if you feel confident enough.
---
As every streamer knows (or is going to find out during their Twitch streaming career), subscriptions offer a stable income and, as such, offer a plethora of benefits to the subscriber, practically enhancing their experience on the channel.
Suppose you are already subscribed to a channel and enjoying the luxuries of being a subscriber and still want to help your favorite streamer. In that case, Twitch gifted subs are a great way to do so!
What Is a Gifted Sub on Twitch?
In a nutshell, gifting someone a sub is an act of appreciation and a contribution to a channel all in one.
If you find a channel with content that you enjoy so much that you soon find yourself becoming a familiar face to the streamer and other followers alike, subscribing to it will grant you access to more exclusive content. It will finance the streamer's production and allow the streamer to earn money on Twitch.
The initial package includes the exclusive ad-free experience on the channel you are subscribed to, alongside a sub-only mode, 1 emote, and tenure badges (among other things).
Streamers often spice up the deal indirectly by investing more time in their exclusive content to satisfy their subs.
Gifting subs allows you to offer additional support and help the channel network by giving the full benefits package to other people.
The recipients can be people close to you or complete strangers- there are no limits when it comes to gifted subs Twitch offers!
Related: How to Set Up Donations on Twitch – Easy and Complete Guide
How to Gift a Sub on Twitch
Giving away gifted subs on Twitch is easy, yet the steps might be somewhat alien to people who are unfamiliar with it, so we can sum it up within a couple of short steps.
1. Click on "Gift a Sub"
When you are already subscribed to a channel,  instead of opting for the same option again, you will be granted an option to extend the benefits of a subscription by gifting it to someone else.
Even if you aren't subscribed to a channel, you can scroll down and find the gift a sub Twitch option.

You also have the option to be an "anonymous gifter" by checking the checkbox at the upper right corner of the gift screen.
2. Pick a Specific Or A Random Person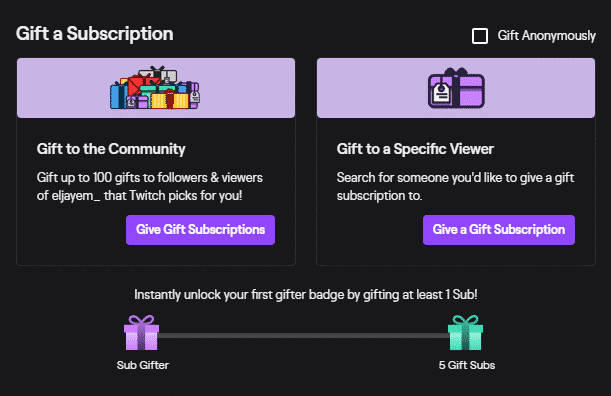 After that's done, you choose between gifting a specific user or a random one. If you opt for the second choice (gifting subs on Twitch to the community), you can choose to pay from 1 to 100 subs.
Your choice will be redistributed to followers within the specified channel community. This will also include the tier.
3. Choose the Subscription Tier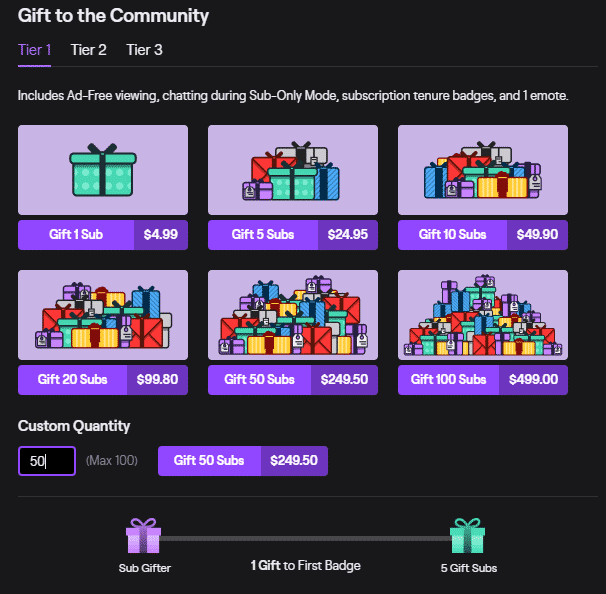 If you opt for the former (gifting a sub to a specific person), you will have to pick a tier and then search up the desired recipient.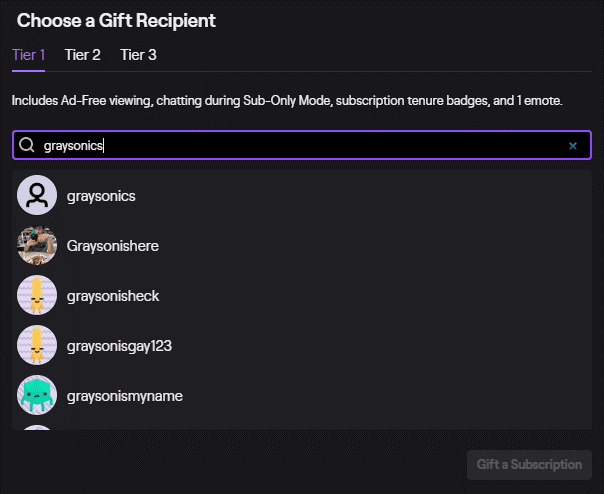 4. Complete the Transaction by Making a Payment
You also have the option of gifting multiple months of subscription time. This option encourages the recipient(s) to be more active within the community.
 It also increases the revenue of the streamer, increasing the positive effects on both ends.
Gifting Extended Subs
You can choose different lengths of subs that go from 1 to 12 months, which can easily be done through the stream's chat.
Once you click on the name of the recipient within the chat, you will see a button to gift them a sub: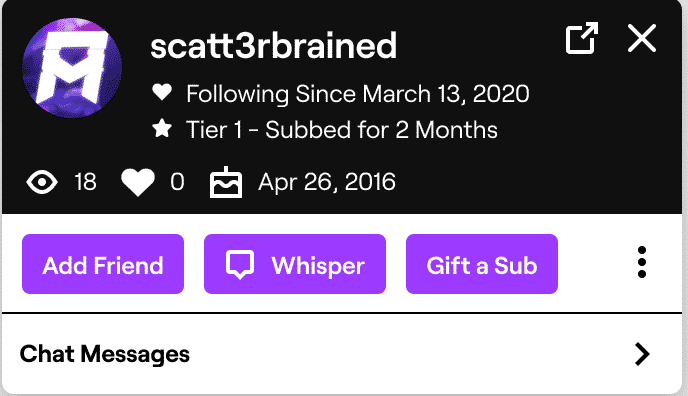 Extended subs are tied to only Tier 1 subscriptions, yet the effects they can have, especially within channels that are genuinely interesting, are enormous.
This is why gifting multiple months of subscriptions to a channel produce interest within viewers/followers.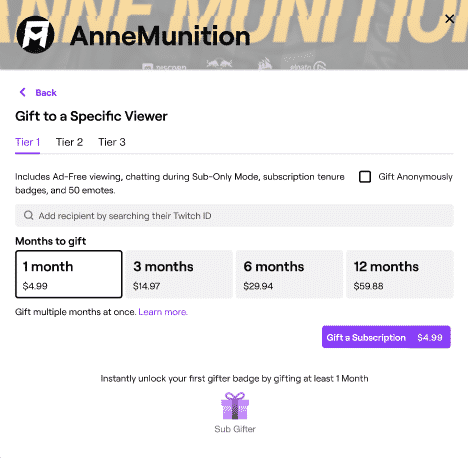 How to Get a Gifted Sub on Twitch
If you want to receive a gift sub, you can do the following.
1. Search up channels that gather a lot of traffic
Many broadcasters come and go, yet some can create waves that attract viewers in waves!
These channels that are characterized by charismatic broadcasters who know how to win over the crowd often expand quite rapidly.
This is why it is no surprise why gifting subs is almost a norm in these situations.
2. Join already established streamers
This is probably the fastest way you can get a sub for free as popular streamers, who have been in the game for quite some time, almost as a rule, possess massive numbers of followers.
Simply following them will get you a good chance of being a lucky free sub receiver from a random contributor to the community
3. Be an active member of a community
Helping out your streamer, communicating with them, offering advice, and constructive criticism are all different ways you can show your support and dedication to a channel.
Not only are such actions noticed by the streamer (who might even offer you additional benefits for your support) but also by the community.
People in the community are often willing to help each other out in building a lasting experience that will ensure a fun time for everyone involved.
4. Simply ask for one
Sounds pretty easy enough, doesn't it? Sometimes you might want to get a sub on a new channel or to renew a recently expired one, yet you don't currently have the money on you.
In that case, being upfront and honest with the community can really help out your situation. In most cases, you will receive a free sub and a potentially new one.
---
Gifted subs on Twitch are a widespread occurrence, especially within communities that are interactive and growing at quite a fast rate while still maintaining a high level of integration.
In most cases, merely being a follower within a specific channel puts you in the lottery of receiving a sub at random.
In most growing channels with consistency and quality, viewers are encouraged and often do contribute to helping out their favorite streamers.
Aside from viewers themselves giving you free subs, being particularly active within a stream that a Twitch partner owns might give you a permanent subscription.
Partners receive a few sub tokens that they can give out to a couple of viewers who they deem worthy of a lifetime subscription.
You can also receive Twitch gift subs from friends and even promoters who wish to integrate potentially valuable users within a specific community on Twitch.
This is an effective networking strategy that is often utilized for viewers who are active contributors on at least one different channel.