Twitch is a perfect place to relax, watch videos and express yourself.
However, if you want to build a successful streaming career, you should be familiar with all the things that can help you on your way.
One of those things that a popular streamer will surely need is a so-called chat bot.
Of course, there are various types of chat bots, but we have chosen to compare Nightbot vs Moobot.
What Are Chatbots?
Before we start, we would like to explain what Twitch bots actually are.
The Twitch chat bots have made possible what many streamers thought of as completely impossible.
With a few clicks and the bot's auto-moderation, you get absolute control over your chat.
Namely, thanks to chatbots, streamers do not have to invest too much power into the moderation of their chats.
Twitch chatbots can do the following for you and your chat:
However, bear in mind that Twitch chatbots serve only as support and that a streamer still has to keep an eye on the chat moderation.
But, of course, you will not waste too much time on that because feedbacks provided by chat bots will do the lion's share of the job.
Moreover, we know how sensitive the Twitch administration is about offensive words that often feature in chat during a live stream.
And, it is well-known that they can often ban a user because of something that someone else has said in his/her Twitch chat.
Therefore, thanks to the trusted chatbot and your chat rules, you can avoid the aforementioned, unpleasant situations where someone might report or ban you, and concentrate solely on your stream.
Nightbot
If you have ever heard of the Twitch bots, then you have heard of Nightbot, as well.
It is a seriously great chatbot that will get your channel to a completely new level.
Namely, according to various users, it is one of the best Youtube and Twitch chat bots.
Its versatility and unique features are definitely its trademarks and the reasons why many people use it.
First of all, Nightbot is cloud-hosted, so you can do whatever you want to do with it via your PC or other consoles.
Secondly, it is user-friendly and easy to handle.
Even a person who is a new streamer and has never before had a Twitch account will be satisfied with the Nightbot and its extra features.
After some time, everybody learns how to create and add custom Nightbot commands.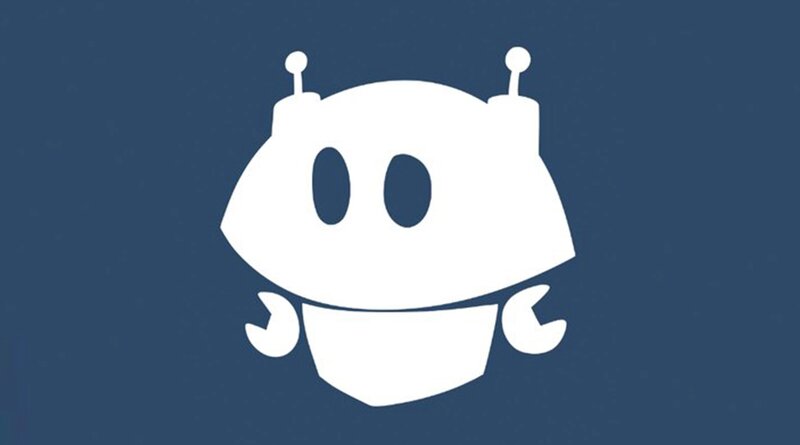 One of the most important and popular Nighbot commands is the one where you create automatic answers to frequently asked questions.
When you create the answers, you will not have to pause your Twitch stream in order to respond to FAQs.
Moreover, if you do not want to be interrupted during a live stream at all, you can create custom messages that will be the automatic responses to every message sent to you.
Certain features, like the one that protects loyal viewers from spam, are invaluable for your Twitch community.
Namely, there are some viewers who often send the same links, inappropriate messages or share unnecessary information in Twitch chats.
And, having people like that around is bad for your stream.
Therefore, in order to prevent the situations where the spammers will bore your audience, Nightbot chat bot need only your command to ban them.
We think that there is nothing more satisfying than banning viewers who do not appreciate others' time and nerves.
On the other hand, you can always see the history of your chat logs and eventually check why someone has been banned.
Another great thing about this chatbot is that it grants access to some of the funny Nightbot commands to the most loyal members of your community.
Of course, it is up to you to choose viewers or followers, from your community, that will have access to special features.
One of the features that they can have access to is your playlist on Youtube, SoundCloud, or Spotify.
If you are too busy playing games or chatting, they can choose songs and be "DJs" instead of you.
That is a nice way of saying thanks to your community and loyal users.
Finally, another Nightbot feature that we really like is that you can check for how long someone has been following your Twitch channel.
Therefore, you can establish a kind of loyalty system and award the most devoted viewers by sending them gifts.
Moobot
There is an ongoing debate about the best Twitch chat bots.
No debate has ever been facilitated without mentioning Moobot.
Therefore, let us introduce Moobot to you.
First of all, this Twitch bot shares some of its features with Nightbot.
It is a cloud-based bot and extremely simple to use, so you will not have problems with creating Moobot commands or using its other moderation tools.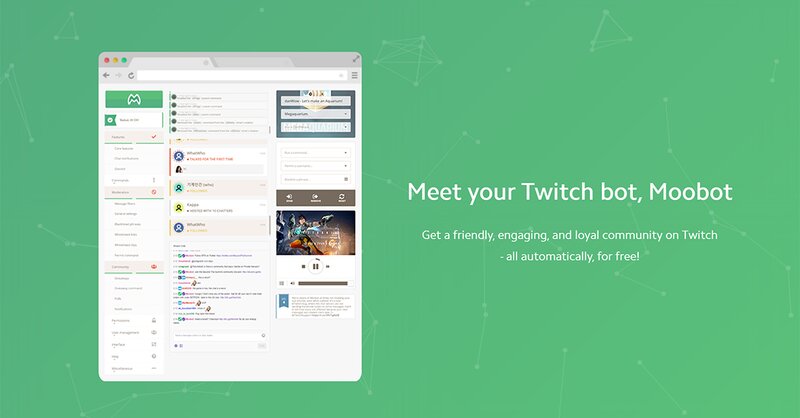 Moreover, it is highly customizable and you can deliver dynamic responses, various commands, or promotions of your accounts on other platforms.
One of its trademarks is the command "!Uptime" which informs members of your community how long you have been streaming live.
Secondly, like Nightbot, it can ban the viewers who use offensive words.
The only thing you need to do is to make a list of words that are forbidden in your Twitch chat.
The great thing about Moobot is that it can notify a streamer whenever viewers donate, raid or subscribe to your Twitch channel.
So, you will not miss a moment to thank your loyal viewers.
Moobot has many features that are integrated into games such as Apex Legends or League of Legends, as well.
Thanks to that it is very popular among gamers on Twitch and Youtube.
According to the Moobot administration, this Twitch bot is used by 60% of Twitch streamers.
Therefore, we can say that the vast majority of Twitch users have confidence in this moderation bot.
It is important to pinpoint that Moobot has been verified and active on Twitch for 10 years, so feel free to try it and see if it is better than other services.
Nightbot vs Moobot
We know that it is tough for new streamers to choose the appropriate "helpers" in the streaming business.
Therefore, we would like to make, at least, a choice of bots easier by comparing Nightbot and Moobot.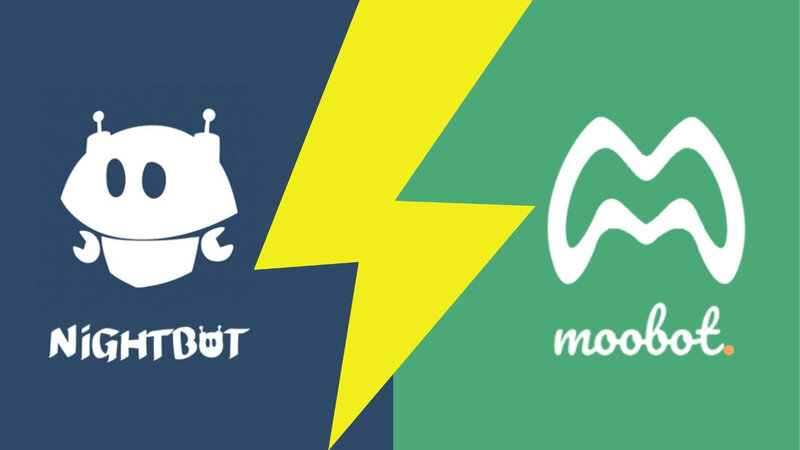 1. Convenience
The first aspect we want to analyze is the bot's convenience because we know that members of the Twitch community do not want to waste their time on something impractical.
And, yes, both of the bots are practical and handy.
Even beginners can use them because both of them are cloud-based and user-friendly.
If you do not stream via your PC, do not worry because the bots can be used via other consoles too.
2. Variety of commands
Streaming is not easy because you have to be focused on various things, from your own stream to the behavior of your community in Twitch chat.
Therefore, the more commands are available, the less time you will waste on "distractions".
Although these bots share some features, it has to be said that Nightbot is absolutely dominant in this aspect.
Namely, its distinct and new features cannot be compared to any other Twitch chat bot.
Furthermore, Nightbot has kept even the old features that are vital for any channel like spam filters, alerts, notifications, timed messages, song requests, etc.
When it comes to the new features, as we said above, its moderation tools allow you to create automatic responses to the most frequent FAQs.
Moreover, you can see your chat logs and organize giveaways that are important for the growth of your Twitch subs and the popularity of your channel.
On the other hand, Moobot has only the old-school features that most bots have, like aforementioned timed messages, notifications, moderation of song requests, alarms…
3. Price
We know that new members do not want to waste too much money on their gear for their channels at the beginning.
Therefore, we are more than happy to say that both of these Twitch streaming bots are completely free.
Moreover, you do not even have to download them, just sign up and follow their instructions.
Afterward, in order to use them, you only need to log in whenever you stream, and that is it.
Conclusion
Overall, we have to say that Nightbot is better.
It is a fact.
However, if you want to discover more about the aforementioned and other bots, feel free to check our article about the best Twitch bots.
There you can learn more stuff about bots like Stay Hydrated, Streamlabs obs chatbot, Own3d, and many others.