Your Twitch channel growing is a great thing, however, having control over the chat might become a daunting task.
---
The main reason to get a chatbot in your Twitch chat is that they make life much easier because you can delegate many tasks to them.
Best Chat Bot For Twitch – My Choices:
Streamlabs Chatbot
OWN3D Pro
Wizebot
Nightbot
Moobot
Phantombot
Deepbot
Stream Elements
Stay Hydrated Bot
---
That's why in this article, I will show you some choices for the best chat bot for Twitch channel, and after reading, you'll know which ones you need to implement in your streams.
Let's get into it.
Why You Need A Twitch Chat Bot
While you're focused on your gameplay, you might not be able to stimulate the conversation in the chat as much, so an AI bot doing it for you can make the experience a bit more fun for everyone involved.
Sending things like mass messages is a bit of a daunting task if you have a bigger community, so you can have a Twitch bot do it for you.
Many chatbots are able to have custom commands implemented in them, so for example, if there's a question that tends to be asked over and over again in your chat, you can have a bot answer it instead, and give you the break you deserve and focus on more important things that are happening at that moment.
They can also help with general chat moderation, and organizing games, or polls when you need them.
However, one bot can't do all of these things, they are programmed to do specific tasks and that's what each will do.
That's why going through an extensive list like the one below will be useful to you because you will see what are all the features and different possibilities that a bot can bring to your Twitch account.
Best Twitch Chat Bots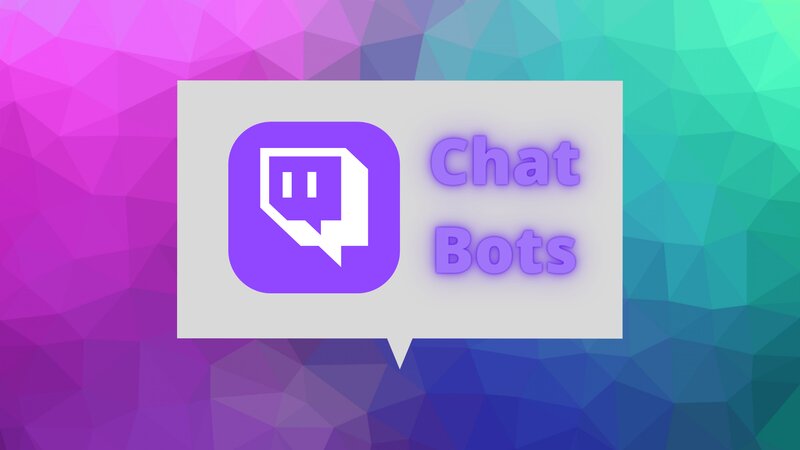 ---
1. Streamlabs Chatbot
No. 1 Pick
---
The Streamlabs chatbot is a chatbot that can be used not only on a Twitch stream but also on YouTube and Mixer channels.
What this one gives you is options for both moderation and entertainment.
Features
---
The "Pro" part of this chatbot's name mostly refers to the fact that this bot focuses on your Twitch account branding.
You get many possibilities with OWN3D Pro one, some basic, and some that really are dedicated specifically to your channel getting the best possible branding for Twitch users.
*Use code STREAMMENTOR for 50% discount*
Features
3. Wizebot
Best for Command Customization
---
The main role of Wizebot is to help you with your channel growth.
It can engage viewers in a natural way, making the whole experience of watching your channel more and more enjoyable.
What Wizebot will do is scan your chat, display notifications, and manage things like subscribers and viewers, and of course, your chat.
Features
4. Nightbot
Most Popular Among Streamers
---
Nightbot is, like most bots for Twitch, made to engage with viewers on streaming platforms and also do some simple tasks that moderate the chat.
Besides being a Twitch chat bot, this one also works with other platforms like YouTube and Facebook.
Features
---
This Twitch chatbot is one that is compatible specifically with Twitch only, so if you stream on some platforms besides Twitch, just know that.
One of the main things that Moobot has to offer is its high level of security, so it might also be a great choice if you're a new streamer.
This is also a cloud-based bot, so you're sure that it's gonna be very user-friendly.
Features
6. Phantombot
Best Open-Source Bot
---
This is probably one of the most interesting Twitch bots out there and for several reasons.
Phantombot can create custom commands, but it goes very deep with that.
This bot is open-sourced, and what that means is that anyone who has had the slightest experience with coding will probably be able to contribute to its code.
When it comes to streaming platforms, this one is only compatible with Twitch, but besides that, it can also be integrated into Discord.
One thing that can be a downside for some is the fact that there isn't a cloud-hosted version of this bot, so you will need to download it on your PC.
Finally, if you are a beginner and new to streaming and advanced commands make you overwhelmed, you should probably start with something else.
Features
---
Here we have somewhat of a hidden gem, as this is one of the Twitch bots that aren't the most popular Twitch bot but are definitely among the best Twitch bots.
Deepbot has an interface that's very nicely built, however, these benefits come with a price as this is one of the paid Twitch chatbots.
This might be the reason why it's not as popular as other ones that are also considered to be the best Twitch bots.
But, if your chat is important to you, and you have the means to invest, here's what you get with this one.
Features
8. Stream Elements
Best for Animations
---
The StreamElements bot is a bot that comes with some great features that a lot of people look for, like being cloud-hosted and compatible with all popular streaming platforms.
It's very well-known and most widely used for the possibilities it gives with animations and overlays.
However, it has many other cool features that you should definitely look out for!
Features
9. Stay Hydrated Bot
Best Meme Bot
---
The Stay Hydrated bot is a very fun bot and many will say that it is also very useful and important.
We've all been tagged in an Instagram post that says "Tag your friends to remind them to drink water", probably several times at this point.
Well, all that this Twitch chatbot does is remind your chat users and yourself that it's time to take a sip.
And let's be honest, it's probably gonna be the first one of the day for many of us.
At first, this might seem stupid and useless, however, it gets the chat going as it's also fun, like I've said, drinking water has truly become a meme, and a big one at that.
Features
FAQ
---
What is the best chat bot for Twitch?
What will be the best Twitch bots for you, depends completely on what are your priorities during streams. As you can see from the list above, there are many different options that Twitch bots have for you.
So, you first must decide whether your main concern is having some more entertainment in the chat, or moderation tools.
If your community is not too huge, I say that you should go for a bot that will take care of simple tasks, and once you get into it, you can always add bots later.
One little fun bot that I find great, is the Stay Hydrated bot.
When it comes to ones made for moderating, StreamElements chatbot one is probably my first choice or the Moobot for beginners. If you are a pro at this, then the Phantombot is where it's at.
Is Twitch bot illegal?
Most popular Twitch bots are the ones that stay within Twitch's terms and regulations, so they are not illegal and can be used freely.
However, there are bots that use commands that are against the terms and violate them, and therefore it wouldn't be good for you to use them.
All the best Twitch bots that I've mentioned above are the bots that are completely legal and safe to use.
Does Twitch put bots in your chat?
Depending on what you use your bots. If you are using the chatbot to regulate the chat while you're streaming videos, then it will have bots that regulate that in the chat.
Also, if you're using it for spam protection, a bot will appear in the chat in order to do the spam protection it should do. However, there are many feature-rich bots that won't have only that.
But overall, yes, chatbots are made to be in your chat, so you will be getting bot messages in it.
---