A twitch moderator assists a streamer in maintaining a respectful, fun, and engaging streaming, chatting, and viewing experience at all times.
As such, a moderator is a crucial actor in the Twitch community and mod team apart from VIPs and Editors. Moderators keep an eye on your chat while you are streaming.
---
If you were wondering how to become a Twitch mod, here are our tips:
1. Get familiar with the mod's responsibilities,
2. Create a positive atmosphere,
3. Be reliable, genuine, and present,
4. Engage with the Twitch community,
5. Try to resolve the issue before banning someone,
6. Promote your broadcaster on social media as well,
7. Ask for feedback from a broadcaster,
8. Set chat rules,
9. Learn mod commands and how to use mod preferences,
10. Manage polls and predictions,
11. Delete offensive posts and spam messages.
---
Read on to learn how these tips can help you become a Twitch mod.
How to Be a Twitch Moderator
As a Twitch moderator, you will need to collaborate and communicate with the broadcaster about the type of atmosphere you want to create and set some key parameters you will adhere to.
You will have a green sword icon next to your name and you will be able to identify other moderators in the same way.
If you want to be an invaluable asset and do a great job as a new mod, here are the best mod practices to adopt.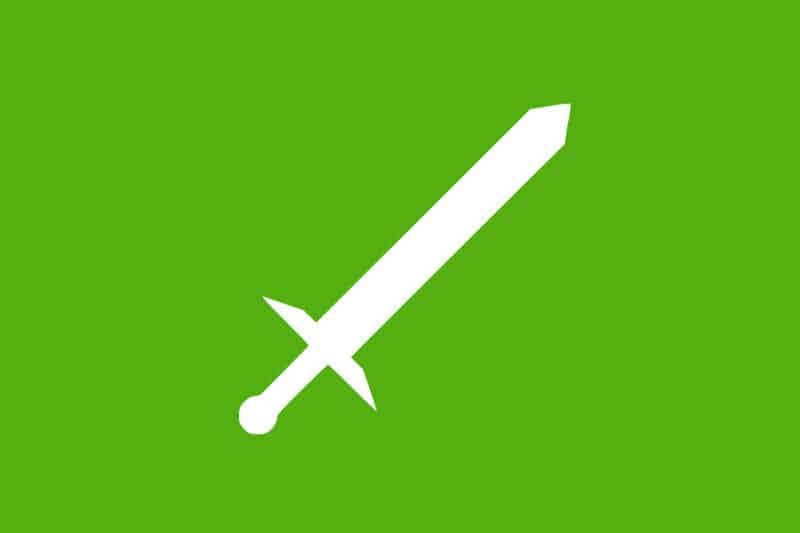 1. Get Acquainted
You don't just assume a new role by instinct and hope for the best, right? You have to do some research about what the role of a Twitch mod implies, watch some tutorials, and read some articles.
You'll need to follow the Community Guidelines and learn some basic mod commands. Those commands will help you streamline your workload.
Learning about the Twitch mods' responsibilities will make you more confident in your role, so you will be less insecure and hesitant.
Twitch mod – responsibilities:
2. Be Kind and Helpful
As a good mod, it is your task to instill an atmosphere of respect and positivity when other users start chatting. You need to set a good example they will follow. Treat people with respect and provide assistance and encouragement to all members if needed.
3. Be Reliable
Show the broadcaster they can rely on you to keep track of what's going on during the stream and that they don't have to worry about anything other than the stream. Your duty as a Twitch mod is to ensure positive and satisfying streaming, chatting, and viewing experience.
Still, if the stream is way too long, it is okay to take a small break to grab a snack or make a coffee. This is easier if there are not many people interacting and way harder if the stream is crowded and lively.
4. Be Genuine
A good moderator doesn't show off, doesn't try too hard to impress everyone, and doesn't think he/she is better than other users. It simply means that others trust you, so be authentic. Let them get to know the real you, your characteristics, and interests.
5. Always Be Present
Truly keep an eye on what's going on at any time in the chat. This involves catching and responding to rude behavior adequately, showing you remember stream members, and encouraging them to use stream commands by using them yourself.
6. Don't Just Ban Chat Members
A good channel moderator doesn't just timeout and bans users. If other members see you're constantly banning other users, they'll start questioning your integrity and take it as an abuse of power.
Rather, try to solve things by diverting the conversation from rude points or sending them a private message. Inquire how they're doing first, don't attack them. Make sure they are aware of the rules on the channel and chat.
However, if a user is repeatedly harassing or discriminating against other members in the chat, spamming, ignoring warnings, and promoting oneself, that's a sure sign you need to timeout or ban them by using /ban username command.
Know when to ban a user and when to forgive them.
7. Talk to the Twitch Community
Make an effort to talk to users, bring up interesting streaming topics, welcome new viewers, encourage them to keep going, and set a good example.
Use insider jokes sparingly, since new viewers might not understand them. Use language that's known and understandable to everyone, not exaggerating in the use of emoticons and punctuation marks. Encourage the use of commands.
Still, don't present yourself as too accessible since you can start perceiving your role less seriously and so might the viewers.
The key is to create a positive environment in which every user will feel valued, respected, and important.
8. Obtain the Streamer's Feedback
The broadcaster's feedback is your best way to improve as a mod. They will tell you what you are doing right and what you need to improve and use for future reference.
9. Don't Put Yourself in the Limelight
In a nutshell, don't seek attention. The focus should be on the streamer and as a streamer, you are an asset, not an attention-stealer.
Further, don't expect anything in return from the broadcaster or the stream community. Moderating is a streaming volunteering experience so be thankful for it.
10. Encourage the Use of Social Media
Remind users to announce they'll go live on their social media to increase the chance that other members will see it and join.
Use social media to promote your broadcaster's forthcoming streaming events. Social media can also be useful to connect with other Twitch users and talk about different topics.
11. It's Not Your Fault
It can happen sometimes that the stream doesn't go as planned. Don't blame yourself and don't think this is your full-time job. Your task is simply to help the broadcaster to deliver a positive streaming experience, but it doesn't depend on you.
Remember to always take care of yourself first and only then can you enthusiastically help others.
12. Build Relationships
Participate in the other chat members' streams and analyze the practices of their mods. This will be a self-reflecting experience that'll contribute to sharpening your mod skills. Besides, this strengthens the bond with other members and increases the likelihood they'll come back.
13. Promote Other Platforms
Expand the community outside the stream to other platforms such as Discord server, because it is essentially the same thing. Connect to other channels and medium apps.
Regularly check social media to see where other streamers gather their audience, be those smaller channels or medium work.
14. Enforce Chat Rules
The most important task you will have is to make sure Twitch chat rules are successfully applied. This means promoting an atmosphere that's:
It is not too much to ask for, yet it brings you even more in return. Nothing good comes out of typing mean things to someone, showing disrespect, and discriminating against people based on their race, religion, race, culture, or sexual orientation.
The practice you adopt will also inspire other twitch mods to do an equally good job or show active mods if they are doing something wrongly.
15. Learn Chat Commands
Chat Commands offer you a wide array of commands to manage chat preferences such as setting follower-only or subscriber-only mode, slow mode, and similar.
Here is a detailed list of chat commands. You can print them out and always have them at hand and by using them in the chat you'll also promote other viewers or new mods to use those commands.
You are likely to see a command inside curly brackets on various websites, but you should type the command without them.
16. Manage Polls
Channel mods can use the poll command to create and manage polls in order to get other streamers' reactions and preferences as to what game to play next. Other members will then be able to vote and provide valuable feedback in that way. You can learn how to create and manage polls here.
However, polls are an exclusive feature available only to partner or affiliate channels.
17. Manage Predictions
Mods can also cast predictions, though this feature is exclusive to Twitch Partners & Affiliates.
Predictions are a fun and useful tool to engage the community by setting an event and the possible outcomes and users should predict the final result before the submission time is over. Those who guess win get a reward – a share of the Channel Points pool.
This is how you can cast predictions on Twitch.
18. Use Mod Preferences
Moderation Preferences are useful tools designed to help you moderate a Twitch channel smoothly and efficiently, while also minimizing your work. These tools include:
To access the Mod Preferences tool, go to your Dashboard->Settings->Moderation.
19. Use Mod View
Channel mods can also use Mod View to make it easier for them to simultaneously keep an eye on the Twitch chat and stream. With this function, you can move or resize widgets and customize it to suit your needs.
If you have not used this command before, don't panic. When you click the Mod View for the first time, you will see a short tutorial guiding you through the basics of this function. You will be able to access it any time you need it, by clicking the What's New and Feedback icon->Rewatch Tutorial.
This brief guide will help you get the hang of the Mod View function.
Alternatively, you can use the Stream Manager on your dashboard.
20. Remove Offensive Posts
A broadcaster has a number of options to manage harassment in the chat room, including using the ignore feature, blocking or banning users, using the timeout feature, or appointing moderators.
Your task, then, will be to promote a respectful and safe environment by removing offensive posts from the chat. You can do that by time outing or banning users as well.
21. Remove Distracting Spams
The broadcaster should communicate to you what they find to be unnecessary spam. Spam includes longer messages, copy-pasted text, links, capitalized paragraphs, repeated punctuation, emoticons or symbols within the same message, and similar. Many streamers prefer to avoid spam of this kind and you might be asked to delete messages and keep the chat room free of those.
22. Communicate with the broadcaster
Good communication is crucial for being a good moderator. You will have to consult the broadcaster about various matters, including what they find offensive, how they define spam, what kind of atmosphere they wish to have in their community.
Then, you will work towards achieving that. You will remove certain messages, promote active engagement and respect, and similar. Define what's acceptable and desirable, and what is out of the question.
This is, in a nutshell, a lesson in cooperation and the ability to follow instructions.
Frequently Asked Questions
Do mods get paid on Twitch?
Sounds ideal, I know. But no, mods don't get paid either by Twitch or by the broadcaster. It is more like a voluntary job, so you have the right to decline or quit at any time. However, if you still choose to be someone's mod, do a good job or don't do it at all.
How do I become a moderator?
If you want to get someone to mod you, you need to make other mods and chat members notice you. How do you do that? First, you need to be present. Be present in the streams and chat rooms of the broadcasters you wish to mod you.
Connect with the community. Write good messages, use commands, and let the broadcaster know you want to be their mod asset. Next, you need a good reputation. Show your kind, friendly, authentic, and respectful side, but don't fake it. Your personality will shine through and you will be appointed as a mod.
Conclusion
A Twitch moderator is your right-hand man during busy streaming events so you don't get to feel pressured. I have no doubt you will excel in that role if you follow the tips described in this article.
Learn at least some basic mod commands, answer questions, don't misuse log user data, and ensure every person feels respected and safe. This will set an example for all the moderators to follow.
Bear in mind that if a user wants to appoint you to be their Twitch mod and you don't feel they share the same values as you do, it is okay to refuse the role.
It is also okay to quit your role as a mod if you no longer enjoy it or have other priorities. Moderating experience should be a fun one and not tiring, boring or exhausting.