If you are looking for tips on how to make your Twitch page look good or how to make your Twitch channel look professional, then look no further.
In this article, I will be helping you improve the quality of your Twitch channel page.
Being a successful streamer on the Twitch.tv platform is not just about what game you play. It is also not all about who you are. One of the key factors to having a successful Twitch channel is representation.
---
Take Care Of Visuals
Create a brand that will differentiate you from other streamers. If you are unsure how to do that, you can use templates and customize them to your ideas. Try to make your brand design personal and unique to your Twitch channel.
Also, carefully choose your channel picture and Twitch banner, as those are the first things people see when they visit your Twitch channel.
Make Use Of Twitch Functionalities
To have a great-looking Twitch page try implementing these into it:
Widgets for interaction and visualization
Overlays (what your viewers see on their screens while watching your stream)
Twitch alerts (you can customize their sounds
Create a catchy panel
---
Twitch Profile Design
In my experience as a member of the Twitch streaming community, I have noticed that most people tend to focus on visual design the most.
This is because discovering and creating your visual brand can be a lot of fun.
This allows you to explore and create digital content that can best describe what you are about and what viewers can expect.
But don't get me wrong, while it may be fun, it is still a journey.
There really isn't a wrong answer when you think about how to make your Twitch channel look good.
But there are some dos and don'ts that you might want to pay attention to.
The first thing I want to talk about when it comes to how to make your Twitch profile look good is the process that I go through while finding a design I like.
I am always constantly changing my designs, adapting them, and tweaking the work that I do.
When I start working on something, I'm throwing ideas at my screen.
Ideally, this way I am looking for things that I can connect with and things that work best for me.
I am trying out different shapes.
I am looking at different color palettes and looking at new techniques.
But, what I am also doing is looking at other streamers, brands, and companies that do a really good job at designs to get some ideas.
I then look at all these different influences and then I determine what I want inside of my own design.
Create Your Own Designs
When I get into the work and start designing, going through that creative process, the concepts and ideas that I had, to begin with, might not be the final finished project that I deliver.
This can be a challenge for many people because it is quite daunting to be staring at a blank canvas in a graphic design program to try and come up with something unique and personal.
However, there is something you can do and it is pretty simple!
That is grabbing a template and just using that as your base and your springboard.
Build on it, change it up, and make tweaks and customizations that will make the finished product something you like.
You want to avoid using generic and oversaturated designs because they can be quite boring for your viewers.
Try to make your design something personal and unique to your Twitch channel theme and your target audience.
You have probably heard of the saying "The clothes make the man".
This can be applied to your Twitch channel while thinking about how to make your streams look professional.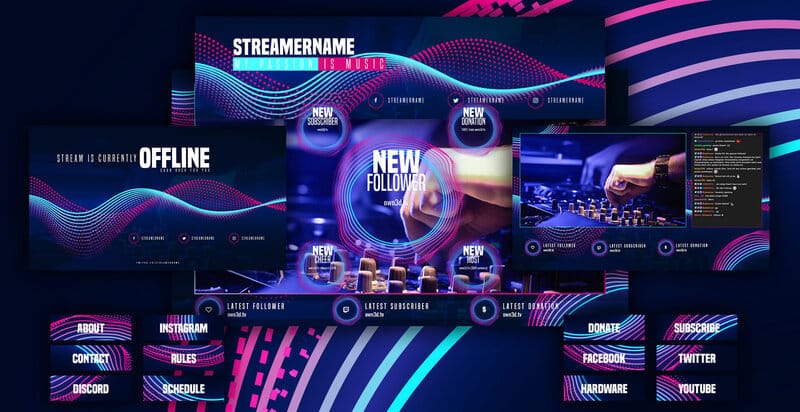 Think of it as a way to get your creative mind going and come up with some really great ideas!
Another thing you can do, and the thing that I have personally done, is look at some of your favorite streamers.
You can take inspiration from the different elements that they have on their stream.
However, I will say, do not let this be the norm.
Figure out your style and use these influences to make your design choices and come up with something unique and original.
These influences should not be used as your crutch, but rather as your guide.
You can use them as tools to improve and make better creative design decisions.
So, feel free to get inspired by your favorite streamers when you are starting out.
Putting Ideas to Life
Then, take that forward and take those ideas to improve your brand and your creative designs.
And finally, this one is pretty important, but make sure you are following the creative design trends.
There has been a massive evolution of design on Twitch over the last few years.
From boring and unprofessional design to just over-the-top, loud, big things that had every kind of detail you could possibly imagine.
And now, we are settling into this era of clean, simplistic design that focuses more on the content at hand.
This is what design should do.
Your designs, your overlays, and your branding should compliment your content.
Your design should not be your content.
Unless, of course, you are not an art streamer dedicated to graphic design.
In that case, the design is all the content your Twitch channel should promote!
There is one little phrase that I like to keep in mind while working on any of my designs and it is "KISS".
KISS is an abbreviation that stands for "keep it super simple" or "keep it simple, stupid".
Whichever one you prefer should do the trick as long as you remember it!
Widgets
Let us talk about widgets.
Widgets are one of many things that you need to think about when you are deciding on how to make your Twitch stream look professional.
Widgets are the thing that brings your stream to life.
They allow your viewers to interact with your stream in real-time.
There are a handful of widgets that you can get for free on the internet.
A good place to start would be OWN3D.tv!
*Use code STREAMMENTOR for 50% discount*
Here you can find a lot of free tools, overlays, banners, and widgets to help you in your decisions on how to make your stream professional.
One of the widgets that are available for download completely cleans up your overlay.
It rotates all of your metrics so you do not have to have all of your metrics stacked up.
Another interesting one is a sub-train or a bit train.
You can add your own little animations to it or even just have a very minimal bar look.
There is also a brand new "now playing" widget.
This widget will connect to your Spotify.
This way, if you are using StreamBeats, which is the leading website with playlists of music that are copyright-free, the names of the song will pop up on your screen.
Because of this, you do not have to have your chat asking you over and over again what song is playing.
They will be able to see it on your twitch stream.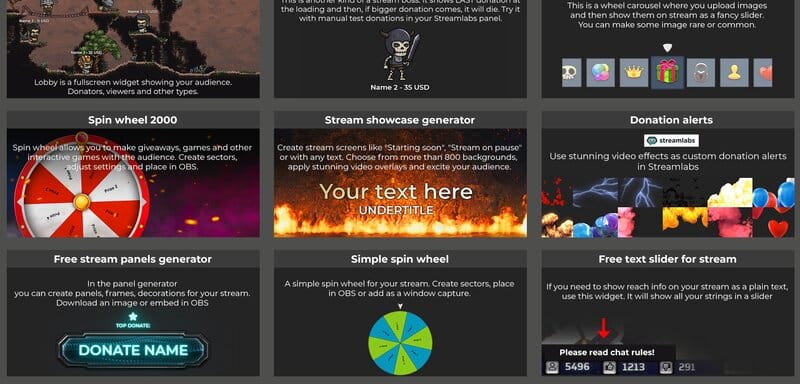 Widgets like these are a really cool feature to integrate into your streams and integrating them has never been more simple.
It adds a professional element to your Twitch stream.
One thing I would recommend you to do is find a way to incorporate these widgets into your stream design in a way that feels cohesive.
Most widgets today are just browser sources.
You put in your info, you copy the URL (link) and you throw them in OBS.
I recommend adding at least one widget on your Twitch stream.
Add one that is not too distracting from the content you are trying to stream and make it interact with your audience.
Twitch Banners and Profile Pictures
The first thing viewers and visitors will see when viewing your offline channel is your Twitch banner and your twitch profile picture.
The Twitch banner, also known as a cover picture, is what will pop out the most.
It is recommended that the banner is between 1280px x 480px.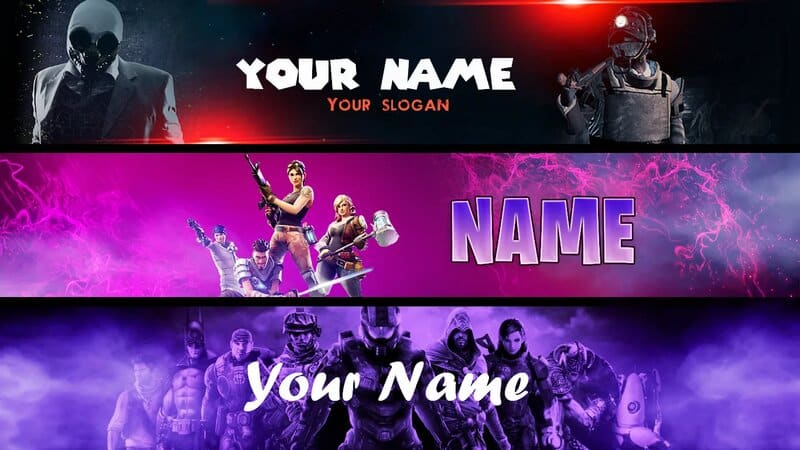 You want to make sure that your Twitch banner is displaying important information that is relevant for the viewers.
This can include information about your streaming schedule, your social media accounts, or your partnerships and sponsorships.
It is the correct place to explore your creative side and create a unique banner.
This will greatly improve your streaming experience because it will attract more viewers.
You might even want to research a bit about color psychology so you can assess how colors impact people.
Whether it's subconsciously or consciously, this can have a great effect on how you attract and maintain viewers.
For your profile picture, most streamers use a photo of their face, so that the viewers know whose profile they are looking at.
It is recommended that the size of the photo does not exceed 10Mb.
Twitch Overlays
This is where you are going to have to put on your serious thinking cap.
Twitch overlays are what your viewers see on their screens while watching your stream.
This is the single, most important, part of your Twitch channel design, and definitely the part on which you should focus the most.
While in the past it was a trend to make your overlays busy with information, streamers have nowadays begun to reduce the amount of clutter on their screens.
This way the viewers can focus more on the content that is being presented to them.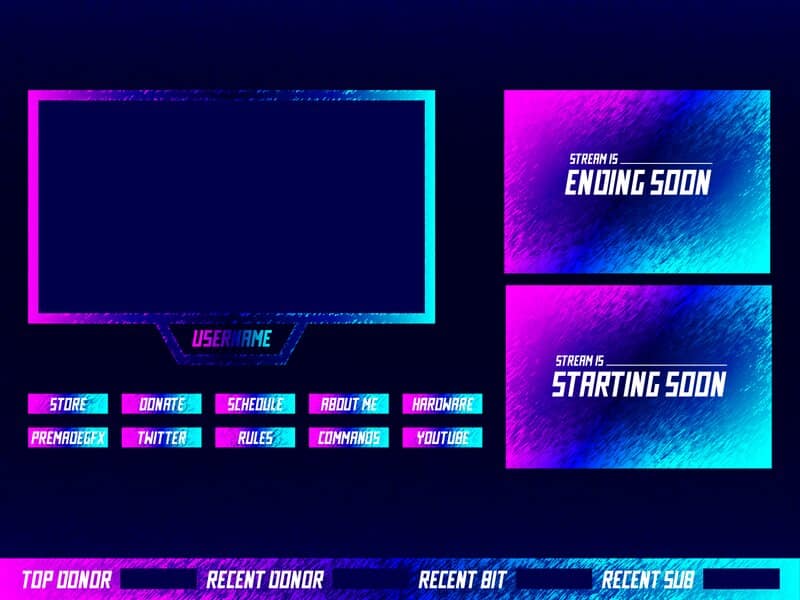 These trends regarding Twitch stream overlays are something that you should keep up with.
You do not want your Twitch stream design to be perceived as outdated and old-fashioned.
This does not mean that you have to create a completely new design every now and then.
That would be too much work even if you hire someone to design your channel.
However, consider making small tweaks and customizations to keep up with the trends in your unique and personalized way.
What Should Be Visible?
Now we come to the question of what should be visible on your overlay?
There is no right answer for the topic in mind.
Depending on the type of content that you will stream, different types of information will be required to appear on your stream overlay.
Getting this right can greatly impact how your Twitch stream is perceived by viewers.
It is one of the key factors in how to make your stream look better.
So, while there is not a correct formula on what you should display on your Twitch stream overlay, here are some recommendations that will only help you.
Use a Webcam
It has proven to be a fact that people enjoy watching streamers who have their face cam enabled.
It is always nice when you can match a voice to a face. This makes the viewers more comfortable with watching your streams.
You can even include a webcam border to style it up and make it more cohesive with the content that you are presenting.
QUICK OVERVIEW: Best Webcams
HD 1080P video at 30Fps/ 720P at 60FPS
Full HD glass lens and premium autofocus

Full HD 1080p video calling
Automatic noise reduction

4k streaming and recording
HD 5X zoom
Including Recent Events
This can include things like your most recent donation, your latest subscriber, or any new followers that you might acquire.
This can positively impact your audience as it adds a layer of interactivity between your stream and your viewers.
It can also motivate your viewers to subscribe and donate more often. Who wouldn't want their name shown on a big-time stream on Twitch?
I know I would!
Branding Your Channel
This is a no-brainer.
You want all the marketing that you can get, and this is one of the easiest ways for you to get recognized.
Make sure to include your branding in your overlay. This can include things like your logo or your name.
Try to avoid big and flashy designs because they can distract your viewers from the content that you are trying to share with them.
Remember that cute little phrase I taught you? Keep it super simple!
Including Pop-ups and Alerts
We will talk more about what alerts are and how to customize them in this article later.
But, always have your alerts show up on your Twitch stream overlay.
This means that every time you gain a new follower, or a subscriber, your viewers will see a pop-up alert announcing the executed action.
There are many different types of overlays for you to use. Take your time while making this creative decision for your Twitch channel.
You want to find the perfect balance of informative and non-distracting. In the end, your content is the thing that should be captivating your audience.
Twitch Alerts
Twitch alerts is another little creative space where you can let your creativity shine. They are a cute and fun way to breathe life into your Twitch stream.
A twitch alert usually consists of a small pop-up image or GIF accompanied by a sound effect.
But do not forget that you have complete freedom over customizing your own OBS Twitch alerts.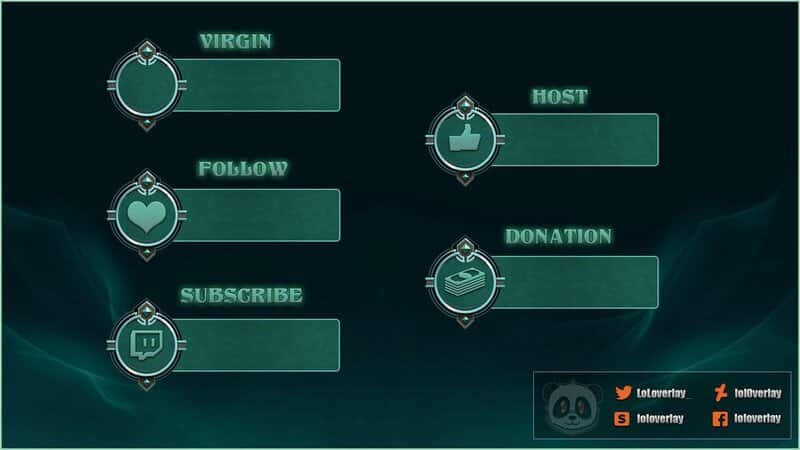 While the visual representation of the alert is important, do not forget the audio aspect. It is equally important.
Most streamers are using generic free sound effects for their alerts so this can be your chance of creating something unique and personalized.
Why not try using your own voice even? Try not to make these alerts too long.
Consider the time interval in which you get new followers or subscribers on your Twitch channel.
You do not want your stream to be spammed by never-ending strings of sound effects.
This can negatively impact the viewer experience and can even negatively impact your streaming experience.
Twitch Panels
Twitch panels are located on your twitch channel page.
Twitch panels are visible when you are online and when you are offline with your stream.
They are usually used to display additional information regarding your stream.
There is no wrong answer for what information you should put on your Twitch panels, but they should go along some of these lines for example:
Add "About" Information
It is always nice if you introduce yourself to newcomers and explain to them what you are all about.
Try to make this short and clear. Nobody really wants to read your whole life biography.
Books serve those purposes.
Add Social Media Platform Links
You can't go wrong with publicity.
Even if you have duplicate information on your banner or offline image, you should put all the links to your social media accounts that you have.
Add Which Games You Play
A quick explanation of what your streams are generally about is a nice way to quickly attract your target audience.
If you are not playing your games, explain to your viewers what you are doing on your streams so that they know what they are getting into.
Add Chat Rules and Community Values
Remember, this is your creative space, and you have the freedom to create the community that you desire.
Having chat rules and personalized community guidelines will help you remove toxic people from your stream.
Toxicity can negatively impact your streaming experience, but most importantly it can negatively impact the viewer experience, and that is the last thing you want.
Add Equipment
Viewers like to ask streamers which pieces of equipment they are using to create their streams.
You can make a list of all of your equipment and put it in your twitch panel.
This way, viewers won't have to spam you with the same questions over and over again, and you will be able to focus more on the content you are sharing.
How to Make Your Twitch Page Look Good – Conclusion
I hope that this article helped you find some solutions on how to make your twitch channel look good.
As I mentioned before, this is your creative space, and don't be afraid to experiment with different things.
There is not a single correct formula to being a successful streamer on the Twitch platform.
Pay attention to the trends and try to follow them with your personalized tweaks.
Good luck!