Whether you're a streamer in the making or don't want to spend a lot of money, we can all agree that a good mic is a must, but it can be an expensive accessory.
And if you search for microphones under 50$, you'll get tons of results, but how do you know which is the right one? The best streaming and gaming mic under 50, in my opinion, is the Tonor TC-777 USB Gaming Mic because it sounds like a professional microphone.
I have a list that will show you other great choices under $50. So let's not waste time and jump straight in.
QUICK OVERVIEW: Best Mic Under $50
100Hz - 16kHz
Cardioid pattern capsule

Frequency response: 40 - 18 kHz
1 Condenser capsule

Frequency response: 20 Hz - 20 kHz
Bit Depth: 16-bit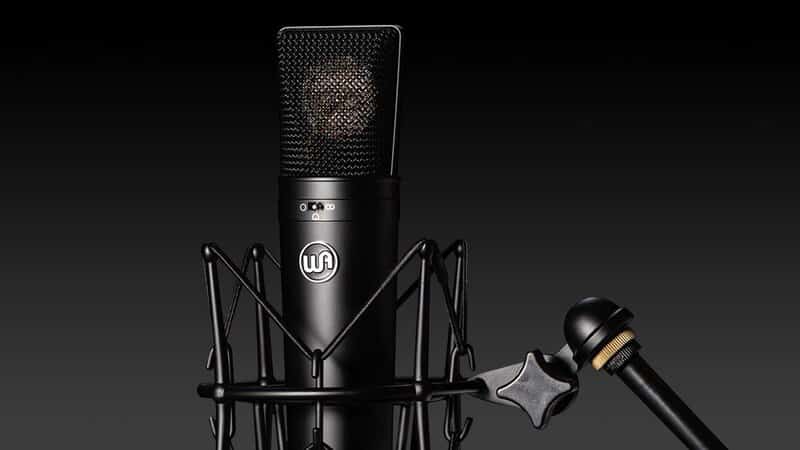 Best Streaming and Gaming Mic Under 50$
Tested & Reviewed
I've done the work for you and searched the Internet to find and test the best mics under 50$.
This is the point where quality meets the price, and hopefully, you can find something of your liking which will last you for years and not make that big of a hole in your wallet.
1. Tonor TC-777 USB Gaming Mic
Overall best microphone under $50
Stefan's Take:
What stood out about Tonor TC-777 is its versatility. In my opinion, it's a mic for everyone: gamers, podcasters, vloggers, video calls and conferences, etc.
The tripod and pop filter are great accessories that will improve the sound quality and make setting up the mic easier. Moreover, I liked that it's compatible with PC and PS4, as I like to game and stream on both.
Overall, for a good price, you're getting a multipurpose device that will transfer sound impeccably.
| | |
| --- | --- |
| Audio Quality | 9 |
| Sensitivity | 10 |
| Compatibility | 9 |
| For Streaming | 10 |
To start off my review, I'm going to talk about this beautiful Tonor TC-777 gaming mic which even comes with its own tripod. Along with the tripod, you also get a pop filter and an adjustable shock mount.
Why do I think Tonor TC-777 Gaming Mic is the best among these?
It's a great plug-and-play mic that doesn't need any additional software to be installed, just a plain USB 2.0 data port that is found on any PC.
In addition to being so easy to mount, it's also quite lightweight, so carrying it from one place to another won't be much of a hassle.
Who is it best for?
The Tonor TC-777 is the best USB mic for under 50$ you can find online because of all the features you get in this compact yet powerful mic. This mic is generally made for gamers because it's compatible with both PC and PS4.
However, you can also use it for podcasting, streaming, online chatting, Skype, etc. And, because of its compact size, it won't take up too much space on your setup.
 So if you're someone who wants a great, low-budget mic that'll do the job quite nicely, you should definitely check out the Tonor TC-777.
Key Features
The Tonor TC-777 has a set of some pretty cool features, such as the tripod, the pop filter, and the shock mount. But that's just the mic's main components.
What really makes this mic stand out from the other microphones in this price range is the cardioid capsule inside the mic head that, alongside the pop filter, has a great pickup and reduces the noises in the background significantly.
Also, even though it's not the most powerful mic, as it has a fairly decent frequency response between 100 Hz and 16 kHz, it's still quite a well-rounded gaming mic that most streamers will surely enjoy.
Pros
Adjustable tripod and shock mount
Lightweight
Crystal-clear sound
1.5 m/3 feet cable
No software is needed
Cons
Not suitable for iPads, Xbox, and smartphones
2. Blue Snowball iCE
Best audio quality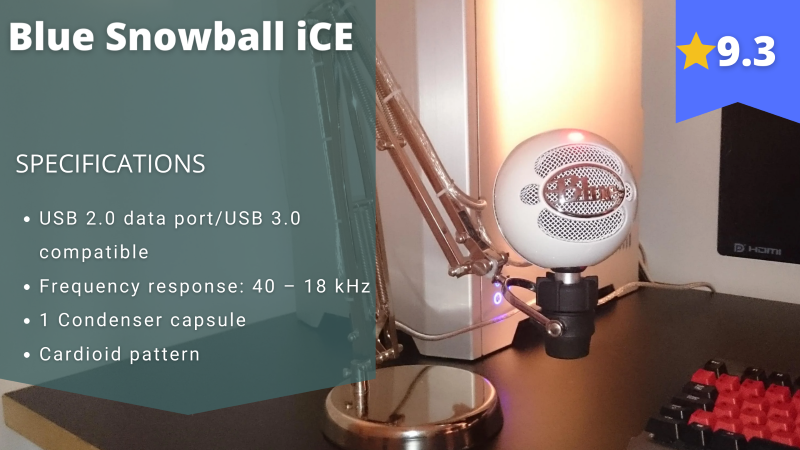 Stefan's Take:
Blue Snowball iCE provides smooth audio with little-to-no background noise. You do have to know how to adjust the mic to get this sound quality, but with a bit of practice, you'll easily get there.
Another big advantage is a tripod and portable design, so you can easily stream and record your videos even on the go.
This mic also has a wide frequency range and is really easy to connect to your PC.
| | |
| --- | --- |
| Audio Quality | 10 |
| Sensitivity | 9 |
| Compatibility | 9 |
| For Streaming | 9 |
Next up: the Blue Snowball iCE, named that way because, well, it resembles a snowball. Jokes aside, this is surely one of the best condenser mics under 50$ I have on this list.
It's lean and compact, comes with a built-in foldable tripod, and because of its small size, it won't take up any space on your desk, so it's suitable for most setups.
But don't get fooled by its size, as it's quite a powerful mic that will satisfy most users looking for a microphone under 50$.
Who is it best for?
Because of its components, the Blue Snowball iCE microphone is generally marketed toward common users who need a good mic at a low cost.
It's great for streaming, online chatting, and podcasts, and it even provides decent music recording.
With no software needed and the fact that you just plug it into your PC, Laptop or MacOS, I would say that this mic is for anyone who wants a decent mic that not only looks good in any setup but also makes the streaming experience more enjoyable for both the streamer and the viewers.
Key Features
The first key feature of the Blue Snowball iCE is that it has a built-in tripod which is quite convenient for transportation and doesn't require an additional microphone stand.
Second, this mic has a condenser capsule inside the head, so your voice isn't going to be distorted by background noise.
Also, the sound pick-up pattern is both cardioid and unidirectional, which works quite well with the condenser capsule.
Besides, the frequency response of this mic is from 40 Hz to 18 kHz, so there's a lot of leverage to go around.  And, if this wasn't enough, it only needs a USB 2.0 or 3.0 port to be plugged in, and the mic is ready for use.
Pros
Compact and lightweight
Crystal-clear sound
Built-in tripod
Compatible with PC, laptop, and macOS
No software is needed for the installment
3. Samson Go Mic
Best price-to-value microphone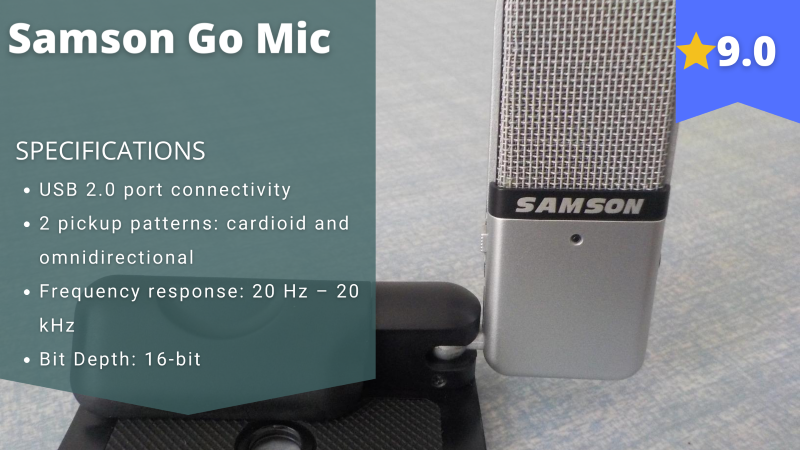 Stefan's Take:
The reason I got Samson Go Mic was a rotatable clamp – it gave me more options for setting it up than a tripod. I was also pleasantly surprised by the fact that this microphone has two pickup patterns.
The frequency response and sampling rate are great, considering this microphone's size.
Also, it's portable and a great choice for those that are frequently traveling.
| | |
| --- | --- |
| Audio Quality | 9 |
| Sensitivity | 9 |
| Compatibility | 9 |
| For Streaming | 9 |
Another condenser mic on this list is the Samson Go Mic. This small, portable mic with a multi-purpose design ensures high-quality voice recording directly to your PC or laptop.
While the other mics I've reviewed in this list have a tripod, this one is unique as it actually has a rotatable clamp that clips to your screen or table and, that way, takes up barely any space at all.
You just need to plug it in, and you're ready to start recording. No software is needed.
And, if you're wondering how it sounds because it's a condenser mic, you can be assured that your voice will sound crisper than ever.
Who is it best for?
The Samson Go mic is actually one of the best microphones under 50$ you can buy as it's placed in the 25# spot for best condenser mics.
So because it's so popular, you can imagine that it's used by quite a diverse group of people.
From gamers, streamers, and even musicians and vocalists, the Samson Go mic can satisfy pretty much anyone who wants a solid microphone for less than 50$.
Because the mic produces a nice, crystal-clear sound while chatting online, skyping, VoIP, and webcasting, it might as well be the mic of your choice if you want a professional-sounding mic right at the start of your streaming career.
Key Features
Who would've thought that a 6 x 1-inch mic could offer features such as dual-pickup patterns, a 20 Hz to 20 kHz frequency response, and a sampling rate of 44.1 to 48 kHz.
Surely, the best features out of the bunch are the 2 pickup patterns.
On the one hand, you have the cardioid pattern, which can pick up full 360° surround sound, which is ideal when streaming Vlogs, Podcasts, and online chatting.
On the other is the omnidirectional pattern, which picks up sound based on the direction in which the mic is placed.
Lastly, I have to mention the fold-up design of the mic because it's such a great feature to have, and once you buy this mic, you'll want to take it everywhere with you.
To sum it up, I would say that this is the mic with the best price-to-value ratio: affordable but the plethora of features that streamers, podcasters, and vloggers will appreciate.
Pros
Attachable clamp design
Compact and portable
Versatile
Professional sound
Plug-and-play
Cons
More PC friendly than Mac OS friendly
4. TrophyRak TR-Pro-057
The most versatile microphone
Stefan's Take:
TrophyRak TR-Pro-057 features a 20 Hz – 20 kHz frequency response and cardioid pickup pattern, so it's a good choice for podcasters, streamers, gamers, and vloggers.
What is more, you'll get a boom arm and pop filter to complete your audio streaming gear. It was easy to install the boom arm and connect the microphone to the PC, which is a big plus in my books. 
| | |
| --- | --- |
| Audio Quality | 9 |
| Sensitivity | 8 |
| Compatibility | 9 |
| For Streaming | 9 |
And now, I present to you the TR-Pro-057. This mic comes with its own adjustable arm stand and pop filter, and it's also one of the most versatile microphones on this list.
The mic is quite easy to install, just plug it into your computer, and you're ready to go. It also offers a warm and clear sound when using it for gaming, chatting, streaming, etc.
Who is it best for?
Although it's marketed as more of a gaming mic, the majority of users use it for live streams and podcasts because not only does it look professional, but the mic also sounds that way.
People generally wonder if a 50$ microphone sounds good, but the TR-PRO-057 can easily compete with even higher-priced mics because of its power to make your voice sound much clearer and cancels almost all the background noise.
The TR-PRO-057 is so easy to set up because the arm can be adjusted 360°, making it ideal for any desk setup as it won't go in the way of your other components.
So if you're someone who wants a mic that looks and sounds professional, then this may be the best 50$ microphone you'll find.
Key Features
Where do I start?
First things first, I have to talk about the sound quality of this mic.
With 20 to 20 kHz of frequency response, this mic is so diverse in its ability to capture the sound that with the right tuning on your computer, you'll be shocked at how loud and clear your voice sounds.
Second, because the TR-PRO-057 has a cardioid condenser capsule, along with high SPL, you can practically sing on this thing from your bedroom, and it'll sound like you're in a music studio.
Also, the fact that you can detach the mic from the arm stand and speak directly into it offers a wide range of options, so you're practically buying 2 items in 1.
Pros
Professional sound
No background noise pickup
Adjustable arm stand
Easy plug-and-play setup
Compatible with both PC and Mac OS
5. Behringer Ultravoice XM1800S
Best microphone for podcasts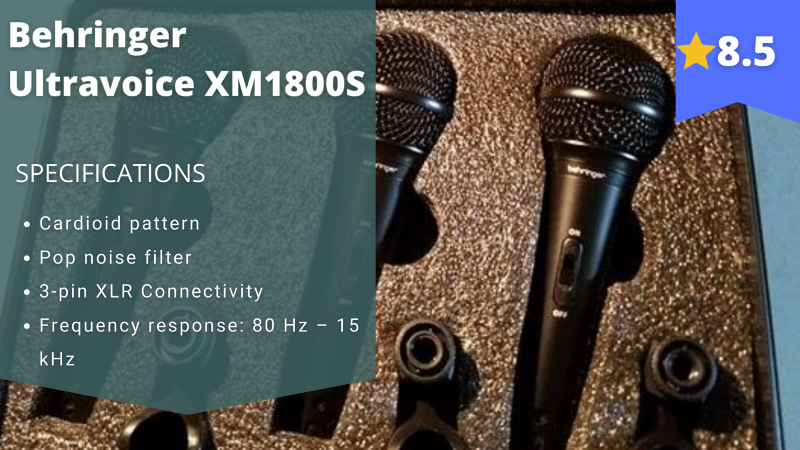 Stefan's Take:
What I liked about Behringer Ultravoice XM1800S is that it can be connected via the provided cable or wirelessly.
The frequency response is good, it doesn't pick up much of the background noise, and the pop filter is a nice addition.
I didn't need two backup microphones, but podcasters that have guests will appreciate the two extra mics.
| | |
| --- | --- |
| Audio Quality | 9 |
| Sensitivity | 9 |
| Compatibility | 8 |
| For Streaming | 8 |
Next on the list is the Behringer Ultravoice XM1800S which comes in a set of 3 mics. All the mics are the same, but they have some pretty cool features that I will talk about later.
Right off the bat, you can see that this mic is mainly used for recording music vocals.
However, it still has the potential to be a great streaming mic because of its cardioid pattern.
Although it isn't a plug-and-play mic like the others on the list, it's still a solid choice for the best budget microphone.
Who is it best for?
As I already said, this is a music recording mic, but because it can be both wireless and connected via XLR cord and does come with stand adapters, it can serve its purpose as a podcast and streaming mic you hold in your hand or put on a mic stand near your setup.
It's a solid pick if you're just looking for a mic that'll do its job until you get something a bit more powerful and if one mic malfunctions, you have 2 others as backups.
So, if you're someone who's just looking for a mic that'll get the job done, then you can opt to buy this set of 3 mics, and surely you won't have any problems until you upgrade to something a bit better.
Key Features
The first feature is that you get 3 mics for just under 50$ which is quite rare in the microphone market.
You also get 3 separate stand adapters that can be fitted to any mic stand. However, sadly you don't get an XLR cord, so you'll have to buy it separately.
Now, the sound quality of the mic is not too shabby.
It has an ultra-wide frequency response which offers quite a transparent-sounding voice.
Also, the cardioid pattern will block out most of the background sounds, so there won't be much disturbance during recording.
Lastly, the integrated wind and the pop filter will allow you to speak into the mic more freely and won't get that crunchy sound of low-end mics.
All in all, it's a solid, well-built mic that'll probably last you a few years without a problem.
Pros
Set of 3 mics in the pack
It can be used wirelessly
Quality transparent sound
High signal output
6. Shure SM48-LC
Great microphone for professional streamers
Stefan's Take:
I enjoyed recording with Shure SM48 because of the background noise blockage feature. It's a great choice for those that work in a louder environment.
The setup is quite simple and requires just an XLR cable. Additional accessories like boom arm or pop-filter aren't included, so you would have to get them separately.
The audio quality is great, and this is a mic I could imagine in a music studio.
| | |
| --- | --- |
| Audio Quality | 8 |
| Sensitivity | 9 |
| Compatibility | 8 |
| For Streaming | 8 |
Similar to the previous mic, next on this list is another vocal mic called the Shure SM48-LC. It's a unidirectional dynamic mic with lots of gains and perfect sound quality.
Because of its robust build, this mic can sure take a beating and will certainly last you for years to come and give you the results you want sound-wise along the way.
It's also quite user-friendly, and you only need an XLR output cord which you can buy cheaply for just a few bucks.
Who is it best for?
Once again, this is a mic mainly for recording vocals, but you can still use it for your streams because it really packs a punch.
It has all the features needed to become a great podcast and streaming mic, and with a bit of calibration on your computer, you can achieve crystal-clear sound.
If you want, you can quickly mount it on a mic stand, and it'll make things much easier. It may not be the best desktop microphone for under 50$, but it's still a great microphone for the price.
So if you want a solid mic to start streaming, you should check out the Shure SM48-LC.
Key Features
To start off, let's talk about the unidirectional pattern, which works quite great with the cardioid capsule because not only does it block more noise from the back and the sides of the mic, but it also makes all the sound from the front more enhanced and louder.
The 55 to 14 kHz frequency response is quite good for voice recording, so when you actually do some adjustments on your computer. You can either create more echoing or block it out if you want to.
The built-in pop filter is also a great asset to the whole construction of the mic, so you won't be getting that annoying crunches or hissing when you speak into it.
Pros
Wireless connectivity
Shock-mounted cartridge
Lightweight and compact
Long-lasting lifespan
Cons
Not really a streaming mic
7. JLab Audio Talk Go
Best frequency response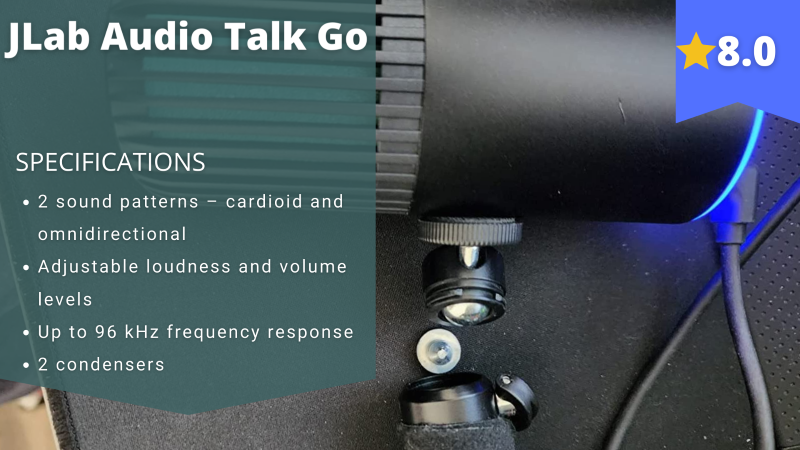 Stefan's Take:
I picked JLab Audio Talk Go because of its outstanding frequency response of up to 96 kHz. The two pick-up patterns ensure outstanding audio quality, so you forget that you're recording on a budget microphone.
I also liked the control buttons for volume, as they make the microphone handier. However, I was slightly disappointed by its ability to filter the background noise.
| | |
| --- | --- |
| Audio Quality | 8 |
| Sensitivity | 8 |
| Compatibility | 8 |
| For Streaming | 8 |
Last but not least is the JLab Audio Talk Go. This mic is quite a treat as it can be connected both to a USB port and a 3.5 mm jack, so it's quite versatile in that regard.
Also, this is the most powerful mic on the list as it has a 96 kHz frequency response, but that's just one of its features which I'll talk about later.
The mic is also smartly designed to be foldable and is perfect for streaming on the go. You just lock the tripod legs into place, and you're ready to start speaking.
Who is it best for?
Well, this mic is mainly marketed toward streamers, podcasters, ASMR creators, business people, gamers, and so on.
This is because it has 2 sound patterns and is quite versatile. With a bit of adjusting, you can make this mic sound like a professional one.
What's also great is that you can control your recording by adjusting the volume and loudness levels at the back of the mic, and because it's so user-friendly, this mic is virtually for anyone who wants to have a great mic for a fairly small price.
Key Features
The first key features are the 2 sound patterns.
You have the cardioid pattern, which is great for calls, gaming, streaming, podcasting, and vlogging, and you also have the omnidirectional pattern, which is great for business calls, group streaming, multi-person podcasting, and so on.
Second, the frequency response on this mic is 96 kHz, so it's quite a powerful mic, and your voice will sound clearer than ever when you speak into it.
The adjustable volume and loudness levels at the back of the mic are also great because you're not required to do all the adjusting on your computer.
It's PC, laptop, smartphone, PS4, and macOS compatible and can be plugged in by a USB port and a 3.5 mm jack, which is the versatility streamers and gamers are looking for.
Pros
Both USB and 3.5 mm jack connectivity
Compatible with most computer and phone devices
Portable, lightweight, and compact
Powerful and quality built
Cons
It can only be mounted on the tripod that comes with it.
Things to Consider When Buying a Microphone Under $50
It doesn't matter how much you spend on a mic, but rather what you get for the price. In the sound equipment world, money doesn't always guarantee quality and you have to know exactly what you're looking for so that you don't get up disappointment and lose a lot of money.
Thankfully, I've created a list of things to watch out for when buying a mic, so when the time comes to narrow down your choices, you know what to look for and hopefully, you'll find just the right mic.
1. Sample Rate
Of course, this is the first thing on my list because sound quality is a must.
Don't get blinded by fancy accessories but rather see what the mic has to offer in terms of how your voice will sound on it.
The quality of the sound is determined by the sample rate of the mic which is measured in kHz.
Normally, the more kHz your mic has the better. Knowing this, you should look for mics that have a 44.1 to 48 kHz as they're the best for recording vocals, audio, and typical online chatting.
Going too little, for example, 22 kHz sample rate, might not get you the result you need as these types of mics won't be able to pick up your voice entirely and the audio will then sound clustered and not very clear.
Also, going for some insane sample rates, such as 96 kHz, won't do you any justice as these mics might distort your voice.
Not to mention that a higher sample rate takes up more memory on your computer and can reduce its performance so you do want to stick to an average amount of kHz.
2. Frequency response
The frequency response of your mic is essential when recording any type of sound, especially voice. It represents the input and output ratio of your mic.
Because humans can only hear up to 20 kHz, even if you've found a mic that says it has a frequency response of, per se 25 kHz, your listeners won't even be able to hear the sounds the mic has picked up.
20 Hz – 20 kHz is the optimal amount of frequency response, but that doesn't mean that you shouldn't settle for less, for example, 20 – 18 kHz mics are still good.
To make things clearer, 10 Hz to 1 kHz is the typical value of most musical instruments.
Over 200 Hz is where our voice is placed and the more kHz your mic has the clearer your voice will be. Over 5 kHz is where the "s" when speaking is heard much clearer and your voice will also come to life more.
3. Sound Pattern
There are 3 different sound patterns you should know about when you go shopping for microphones.
First, we have the cardioid pattern. In this sound pattern, the front of the microphone head is more sensitive to sound and the rear is completely ignored, while the sides are less sensitive but bring volume to your voice.
As you can see, all mics on our list have a cardioid pattern as it's the best pattern for recording audio and speech.
Next is an omnidirectional pattern, which some mics do have along with the cardioid pattern capsule as well.
This pattern picks up sound from all angles so it's not quite ideal for recording speech if there's a lot of background noise, but it's a great mic for recording ASMR.
Lastly, we have the figure-8 pattern which picks up sound from the front and the rear of the mic.
This pattern is quite outdated and since the combination of the omnidirectional and the figure-8 pattern leads to a cardioid pattern, not a lot of mics use this kind of pattern.
So, if you're a streamer, you should definitely stick with the cardioid pattern mics because they'll block out most of the background noise and make your voice the star of the show.
Conclusion
There you have it: top 8 microphones for streaming and gaming that won't cost you more than $50. Here is a quick summary of my top choices:
Tonor TC-777 USB Gaming Mic as the best overall,
Blue Snowball iCE with the best audio quality,
Samson Go Mic with the best value for money.
I hope you liked my reviews, and good luck finding your perfect mic!
Frequently Asked Questions
What type of microphone is best for streaming?
Without getting too much into microphone specs, you do want to get a cardioid pattern microphone and something lightweight and compact that won't take up too much space on your desktop.
Is a headset mic good enough for streaming?
Well, it depends on which type of headset you have. If the sound is clear, then go ahead and use it, but things are generally much easier when you have a separate mic for streaming, and the sound quality is also significantly better.