If you've wanted to get into streaming for quite some time now, you probably know that there are a lot of streaming software options out there to choose from, and you might not be sure how to choose the best one for you.
That's why I'm here!
In this article, I'll help you find the best streaming software and streaming tools for you, so here's what we'll go through:
Let's get into it!
Post 1 of 11 in the Software
Best Streaming Software For All Live Streaming Platforms
No matter what live streaming platform you decide to stream on, and you will be able to find the right option for you here.
1. OneStream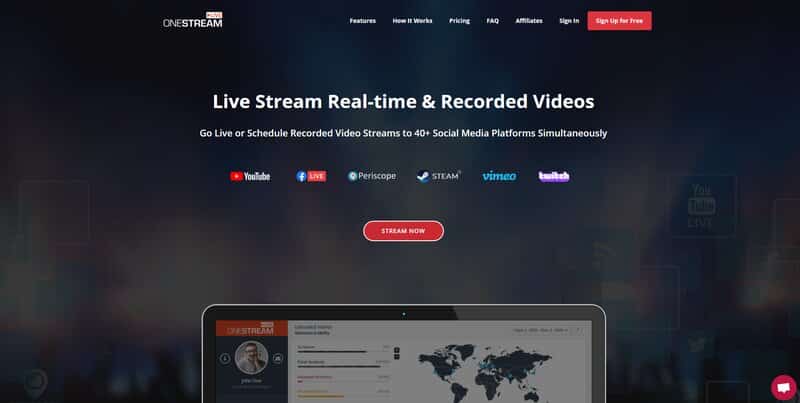 This is very robust streaming software, and it lets you stream on over 40 streaming platforms. It is overall a very handy streaming tool to have.
As you would expect, with this streaming software, you'll be able to stream and record videos that are pre-recorded and then publish them.
When it comes to publishing pre-recorded content, you can schedule the upload 60(!) days in advance, which is great if you're an organization junkie that wants and needs everything to always be perfectly organized.
If you need this tool for multicasting, it is a great option because it can be coupled with other streaming tools, and you can have all the control you need.
While this one has all the fun features that you would want streaming software to have, its main deal is scheduling pre-recorded videos.
To do this, you only need to upload your video file, set your preferred time and date for posting, and which platform you want it to be posted on.
Key Features
Here are the most loved key features of this streaming software that will enhance your live stream every time:
Prices
2. XSplit Broadcaster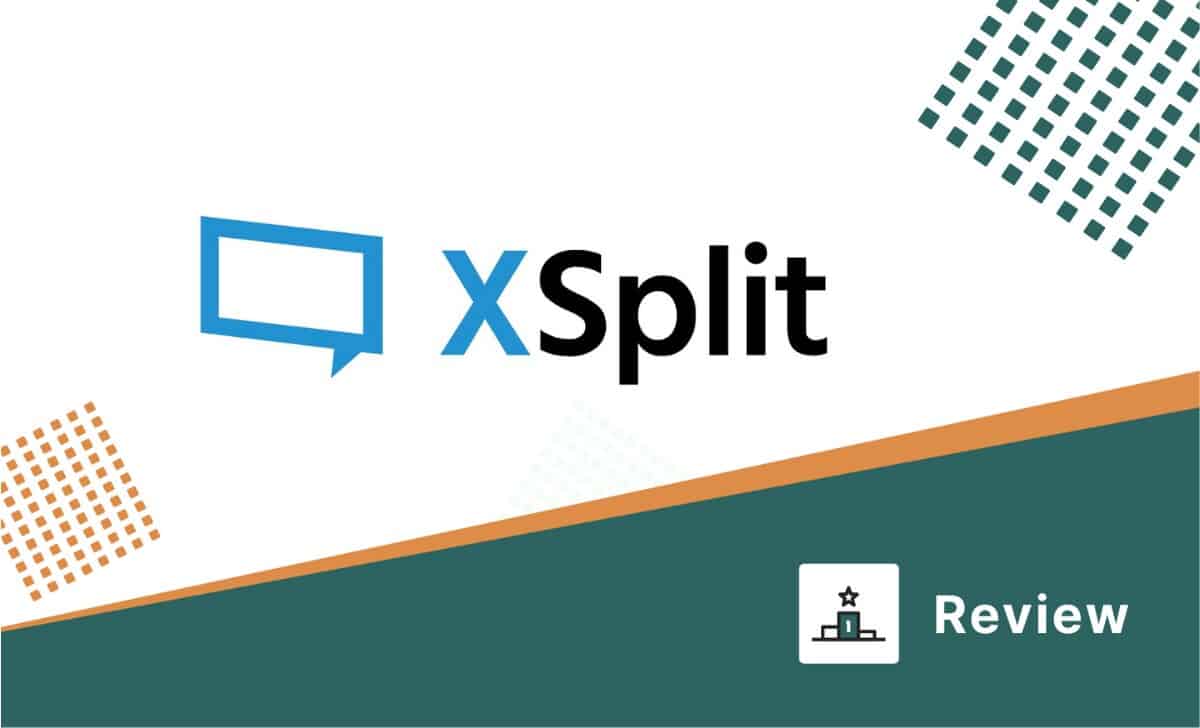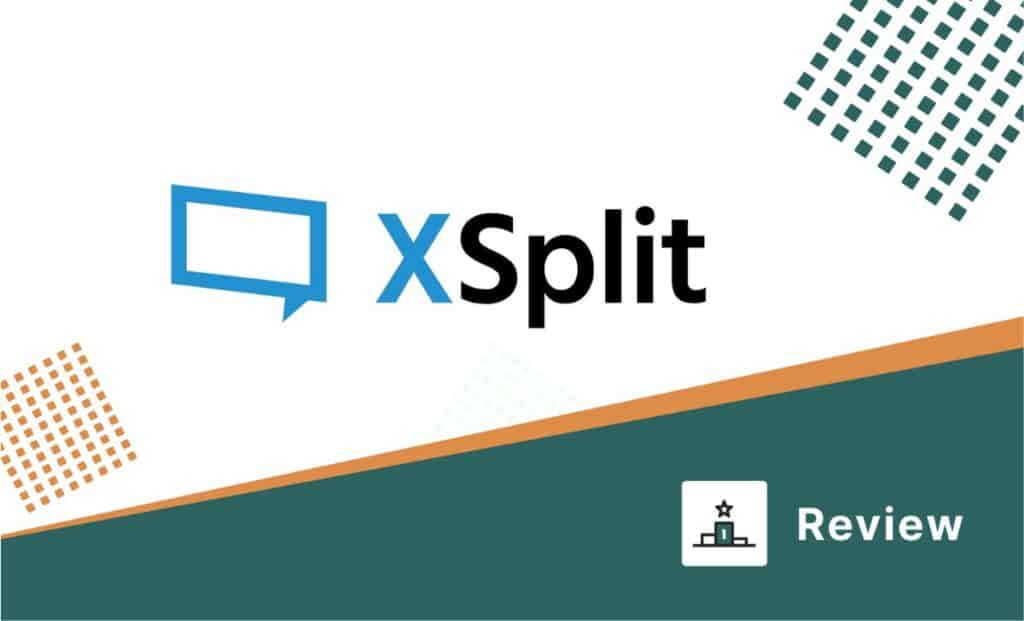 The XSplit broadcasting software is the best one to go for if you need to stream and record gameplay content from consoles.
It's also a great option for those who are beginners in the gaming live streaming world.
You can use XSplit to live stream and record from any kind of device, but when it comes to console gaming, it is simply the best there is.
Here, you have an in-game control HUD, which is very helpful for a lot of different things.
It makes it easy for you to interact with your Chat, easily stop and start each broadcast you do, and keep an eye on your stats, so you know what it is that you have to do to increase your engagement.
A great feature it has is the Projector Mode, which is used to display what you do on multiple devices and screens that are connected to your computer.
This streaming software also has a software encoder that automatically deals with everything related to that, meaning that it will bring your content to the highest possible output quality without you having to think about it much.
You deal with all of the settings and controls only from a single screen.
Key Features
Prices
There are 2 options to go for with XSplit:
3. Restream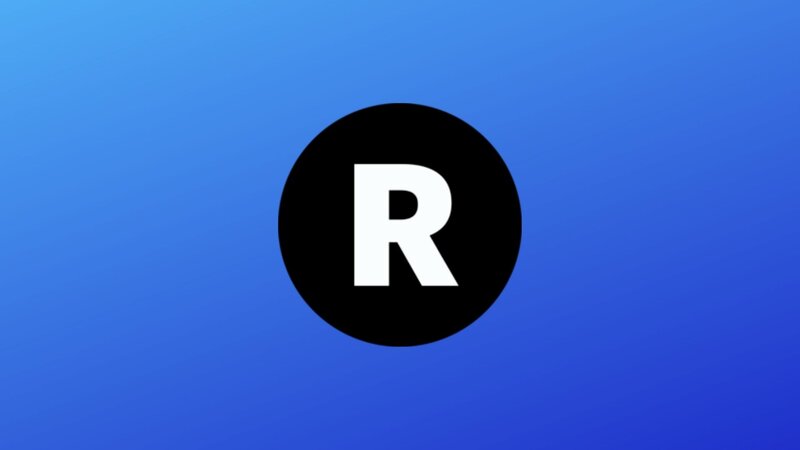 Restream is a streaming software that usually gets called the overall best streaming software to go for.
One of the reasons is that you could easily broadcast your content to multiple platforms and a lot of streaming tools that can optimize your live streams, things as video transcoding and live chat support.
Also, on Restream, you can schedule when some pre-made content can be uploaded and create different live events.
Another reason why people seem to really love this streaming service is that it is a cloud-based service.
On it, you can stream your content on over 30 streaming platforms, and that course includes the most popular platforms like Twitch, Facebook, YouTube, and so on.
The Real-time Platform and Channel Toggling feature is a feature that this streaming software has, but a few other streaming software services don't.
This feature is here to edit and add more channels during the stream, so while you're still on the air.
Usually, you would have to exit your stream and restart your encoder, but that's not the case here.
If you like to have analytics of your streams readily available to you, you will love the fact that Restream provides you with many different tools that help analyze and promote your content.
Another great feature that you should definitely make the most of is the Restream Events feature.
This feature is what you use to schedule and announce any of the future streams you have in plan.
This is an amazing way to build up the excitement around your stream, meaning that there's a chance that more people will come, and when they do, they'll be even more excited than usual.
One downside with that feature is that it is available only for Facebook Live, LinkedIn, and YouTube – but that's only for now.
As I've said, Restream is great for getting your stream analytics and stats, and it can actually measure the overall success of your stream.
You can check that for different platforms, but do it from a single dashboard so that everything will be in one place.
To be precise, you can see things like the most popular part of the stream, the peak time, and the final number of viewers that visited that stream, and you can also see all of your watched minutes, but sorted by platforms. Neat, isn't it?
You also have the option to add chat overlays and customize them during the stream, choosing from about 20 different templates they have.
Key Features
So, what are the key features that do this streaming service as loved as it is? Let's see!
Prices
You can go for a free streaming software option on this streaming software, but you can also choose from different paid plans if you want more features.
4. Lightstream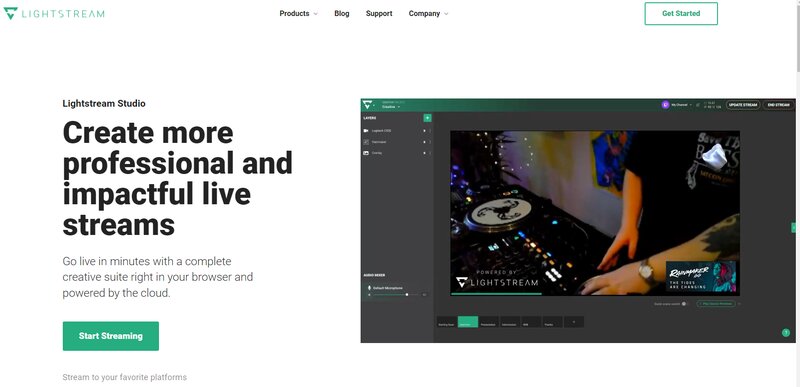 This one is a cloud-based studio, so if you're one of the people who have that as a priority, then this might be the best option for you.
The way it's built will enable you to be very creative, as everything is done with a drag-and-drop tool, and that's how you do all of the edits.
This means that everything will be very easy, even for people who are just starting with this.
You can also include third-party integration to help you with the engagement.
Other things that you can do include having guests, organizing events like panel discussions, interviews, obviously podcasts, and lots more; you really have unlimited options.
Besides you sharing your screen, the guests that you bring to the show will also be able to share theirs.
Key Features
Prices
Depending on what you need, you can choose from 2 different options:
5. StreamYard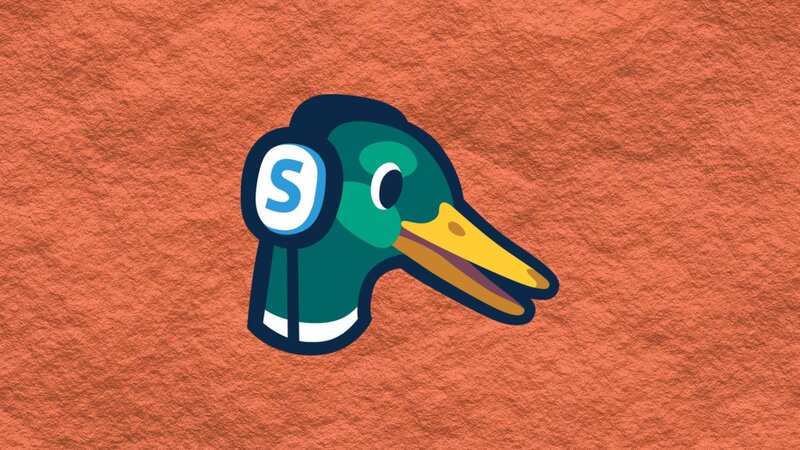 This streaming software is a browser-based tool that is mainly made for social broadcasting.
You will be able to stream everything directly from your browser, which is a very practical option for you.
It's easy to set up, and you're even able to have up to 10 guests during the stream, and all of them will be able to share their own screens.
You can try multistream on all of the popular streaming platforms and a custom RTMP.
Besides that, you have the ability to make custom graphics for your stream, like the logo, the background, and so on.
Prices
There are a few different options to choose from payment-wise:
6. Wirecast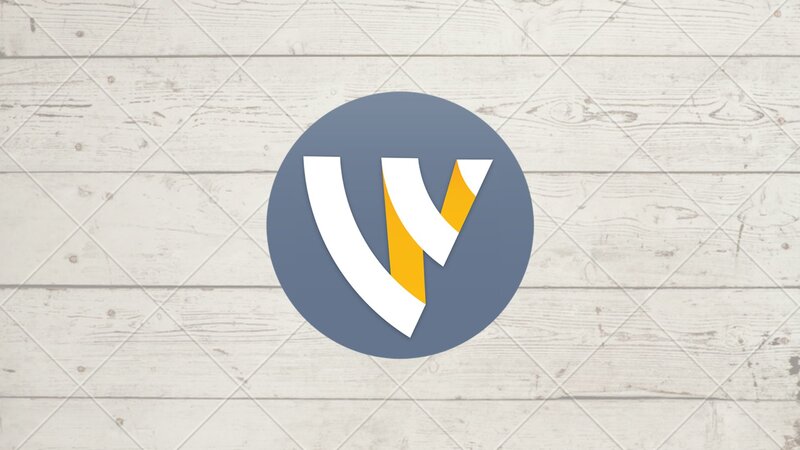 If you need professional-grade streaming software, then Wirecast might be your best bet and the best streaming software option to choose.
In short, this live streaming software will give you the ability to get video footage from multiple cameras at a time, share your screen with the audience, and add different kinds of graphics and titles.
This live streaming software is developed by Telestream, and that actually tells you a lot.
Live streams done with Wirecast are usually live streams that look really professional and like it's a TV production or one of the on-demand broadcasts.
Even though it is overall professional, it is very easy to work with, the UI is so user-friendly, and you'll have no problems with customizing your feed to be exactly like you want it to be.
Wirecast also does the encoding automatically for you, and it can deliver your content anywhere at any scale.
You can also do any kind of live stream event you want, like live sports and television and news broadcasts.
Another great thing that makes this streaming software a very good broadcasting software is the free iOS camera app that you can use on the go from your iPhone.
Your video content and live video streaming can have embedded live captions, which is definitely a huge deal.
Of course, you can stream to multiple platforms and destinations, even any type of custom RTMP streaming destination.
Key Features
So, let's see what exactly makes this streaming software professional-grade and what are the best key features.
Prices
There are two different pricing options that you can go for with this live streaming setup:
7. Dacast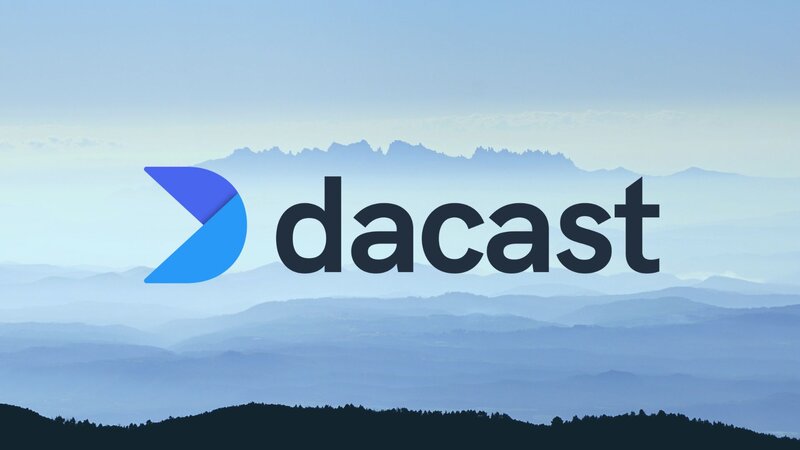 This one is a great option for all of you whose priority is making Twitch and YouTube your main sources of income; this is definitely one of the live streaming tools that you have to check out.
This streaming software is made for hosting, live streaming, and also managing all sorts of professional broadcasts.
Their main feature to look out for s definitely their very secure and powerful video hosting, as it has a special system made for storing all of your content, live and recorded alike.
The reason why Dacast is so great for monetization purposes is that it automatically converts currencies that are usually behind a paywall, and they easily reflect the cost of streaming to the viewer.
Key Features
Prices
There are 4 different pricing plans with Datacast, and here's what they are:
To get a little bit more insight into the prices, you can look into this: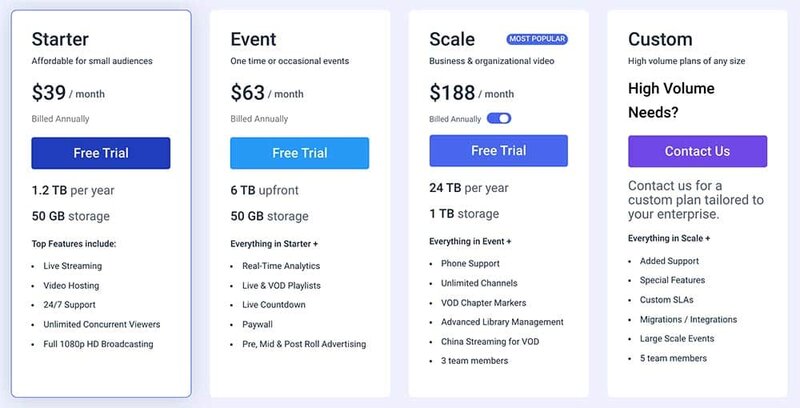 A great thing they have going on is the fact that you can get a free 30-day trial, where you can test out how all of the features work for your specific situation.
8. Streamlabs OBS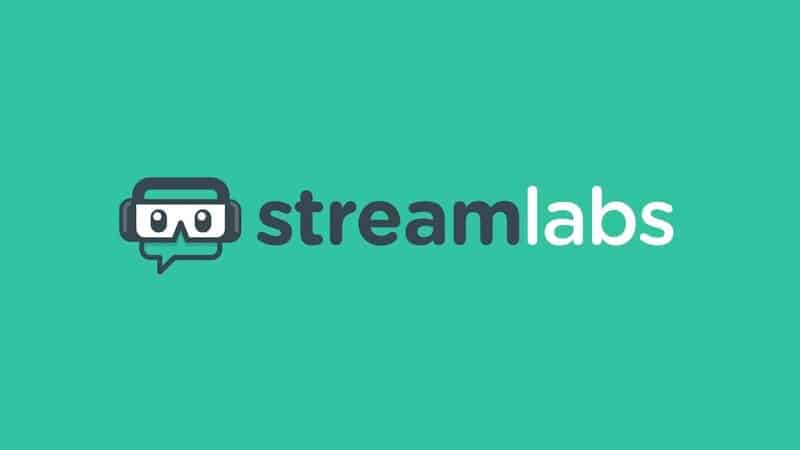 Streamlabs OBS is probably one of the most well-known live streaming software, and the reason why is because it is free streaming software that's also open-source software.
With it, you can stream on Facebook, YouTube, and Twitch, so it covers the main popular live-streaming platforms.
With it, you can edit your stream in detail, using a lot of different overlays, templates, and assets, so you really are able to customize things to the max,
Streamlabs OBS also has its own app store, where you can find 46 free streaming app solutions that will each help with different aspects of your stream, so you can pick and choose what your priorities are.
With the said apps, you can do lots of things, like improve the automation, get in-depth analytics, provide different ways to have interactions with your audience, and also make it possible to post on multiple platforms simultaneously.
You can also have a lot of things embedded, like what are your goals, the alert box, as well as things made for dealing with bad cases of background noise.
Key Features
Prices
Streamlabs OBS is free streaming software and an open-source streaming solution, but besides that free version, they also have a premium toolkit that's meant for professionals.
9. OBS Studio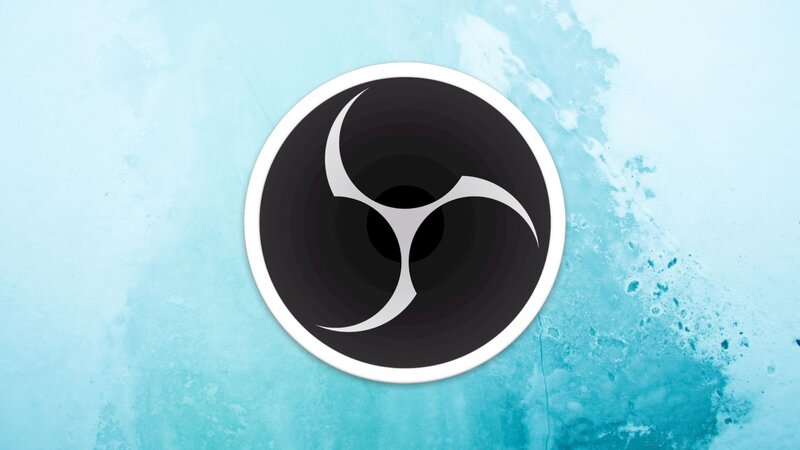 Here we have another open-source software that can be used for streaming across multiple platforms, as well as cross-platform streaming and recording.
With it, you can edit everything related to your live stream and video content.
Some of the possibilities include making customized scenes and having multiple sources for them, so things like text, images, capture cards, and browser windows.
During your live stream, you can have an unlimited number of scenes and switch up between them however you want with your custom-made transitions.
OBS studio also has a really good audio mixer that has great filters that will enhance all of the good things on your audio and fix whatever is not the best.
Key Features
Prices
10. Twitch Studio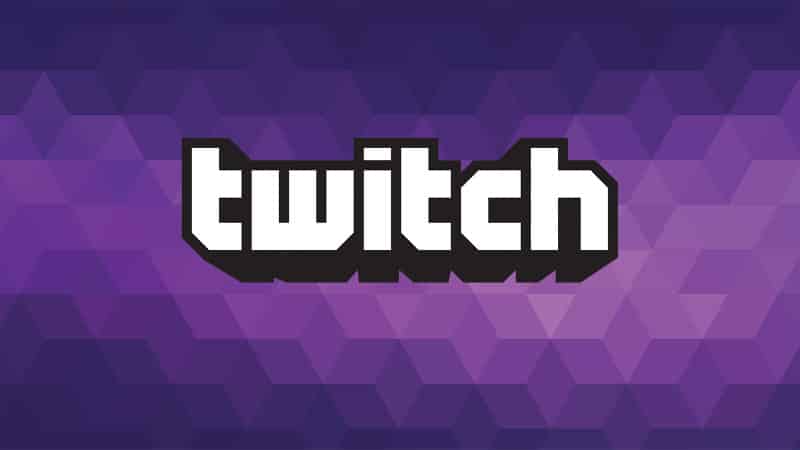 If the only platform you stream on or plan to stream on is Twitch, then just going for its studio could be the best deal for you.
This is an easy and practical option since you will stream and do all the edits from the same platform.
This one is mainly geared towards people who stream gaming content.
The streaming setup you get from Twitch streaming software is streamlined, so it ensures that everything will go smoothly no matter how complex your setup might be.
The stream will look high-quality and professional with minimum effort on your part, so that's why this seems to be the best choice for people who are practical above all else.
When it comes to personalization, in Twitch studio, you can deal with starter layouts, overlays, and multiple audio sources, and you can also use the built-in feature for sharing your desktop audio to the stream.
Key Features
Prices
11. vMix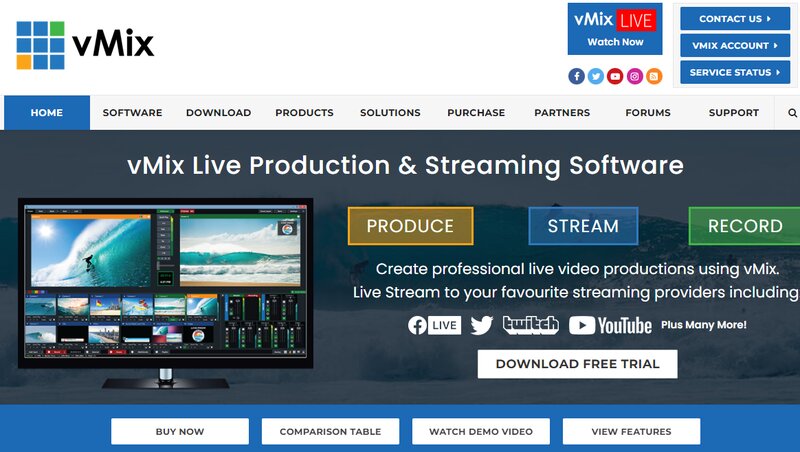 If you need to have an exceptionally good vision mixing software, then this actually might be it.
Besides mixing videos, you can stream and broadcast and record videos that range from SD to 4K when it comes to quality.
It supports all video formats, so you won't have to worry about that, and you can use it for simultaneous recording, streaming, and output.
You will have access to 13 different kinds of transitions, and you'll also be able to make very professional-looking videos no matter what kind of a PC you're working on.
You will also be able to have up to 8 guests on each broadcast.
Another great feature is the Reference systems feature, which helps you with the hardware and also helps you build your whole setup while staying cost-efficient.
Key Features
Prices
There are 5 different options to choose from:
Everything stated above are one-time payments you make, but it's great that before you decide to go for it, you're able to have a 60-day free trial.
What To Look For In A Live Streaming Software
There are many different live streaming software options nowadays, and a lot of them are very good ones.
However, how good a streaming software truly is, depends solely on what you as a streamer mostly need.
But, besides that, there are some features that every software you go for should have, no matter what your exact needs are.
Here are the most important streaming software features:
Live Chat
It's very important to be in contact with your audience, mainly because that's how your engagement will grow, but besides that, you'll be able to see in real-time what your audience likes the most and what not so much, and that's how you'll be able to work out what to do with your future content
Preview editor
Having the ability to preview your content before sending it out to the world and not having that can sometimes be the difference that can make or break your career. You never know what little mistake you might've left in without noticing.
Themes and templates
Having a personalized layout is something that people like to see from their favorite content creators, so it will be a major plus to have all of that included with your software of choice.
Multiview feature
Being able to see all of your cams in one place just makes your life so much easier; that's reason enough to have that feature as a priority.
Analytics in real-time
Being able to see who your new followers are the moment they come can be a great thing as you're showing your audience that everyone is welcome in your online space, and also, with real-time analytics, you'll be able to know when it's time to change things may be up a bit.
Social media integration
Having this will help you stream simultaneously on various platforms, which is always a great addition to have on hand so that you don't put too much burden on your setup.
Customer support
Having good customer support on hand can truly make a world of difference when it comes to your streaming experience. When it comes to technology, things sometimes just do not work, no matter what you do, so having someone whose job is to deal with said software can save you a lot of time and a lot of nerves.
Budget
Besides knowing would you be able to afford some kind of software, you should always consider whether the additional paid features would be something that's worth it and that makes sense overall.
FAQ
What is the best live streaming program?
Overall, it is either OBS studio if you need something free or Restream if you need something a bit more professional. What you will like the most and what will be best for you mostly depends on what kind of content you're streaming.
What software do most streamers use?
Most streamers use OBS studio, as it's free and open-source, and it's available to everyone. It also has most of the important features and it's very easy to work with, so it remains the most popular one.
Join our Discord Group. Ask questions, team up with fellow streamers, share memes, and more!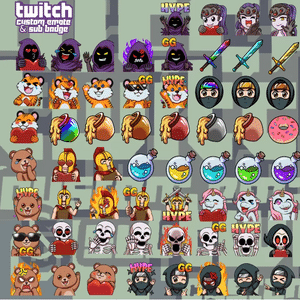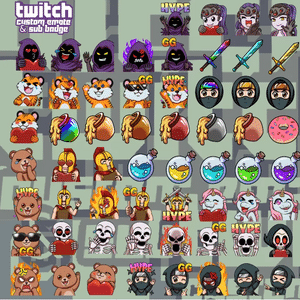 Claim for FREE:
FREE Emote PACKS
A book on growing your audience