A large number of people are curious whether or not their hardware is capable of streaming their favourite show on Netflix or their favourite game on Twitch. Streaming games on Twitch and other platforms turn out to be a very competitive sport.
---
Key Takeaway
Depending on what you're going to stream, you will need 16 to 32GB RAM.
For example, for games like CSGO, 16GB should be enough, but if you're going to play some more demanding RPGs, you can't go wrong with 32GB RAM.
---
In that kind of environment, you must have adequate resources to manufacture the best video quality for your viewers. But streaming at such outstanding quality requires a lot of juice, Graphics card VRAM and system RAM especially.
The days of poor video quality streaming are long gone. Your viewers want to watch you play CS:GO, COD Warzone, and lots of more Multiplayer games in higher quality such as 1080p or even 4k.
In today's guide, I'm going to answer the question "how much RAM do I need for streaming" and present some of the best RAM for streaming.
How Much RAM Do I Need for Streaming?
4GB RAM clearly won't be enough for streaming games. If your goal is to stream movies and other content rather than streaming games, then it will be okay. But even if you want to stream that kind of content you can't expect the best video quality. If you ask me 4GB of ram is out of the question either way. 
If you are not looking for the best video quality when it comes to streaming games 8GB RAM will be enough for you but who wouldn't want their stream to look good.
Some games for streaming suggest 8GB of RAM memory to even start the game (Fortnite, CS:GO and so on). Therefore if you assign most of your memory to start the game the rest of the memory that you need to run your stream will insufficient.
This can lead up to a couple of unpleasant things such as distortion, frequent lags, and a drastic frame drop. If you are looking to use your RAM for streaming content on Netflix at HD quality then it will get the job done.
If you are aiming at something your viewers are going to enjoy and first of all you, then you should definitely get 16GB DDR4 RAM.
With that kind of RAM power, you will be able to stream games at high quality such as 1080p. However, if you are aiming for the best and when I say it I really mean the best 4k quality then you will definitely need 32GB.
In reality, you really can't go wrong when it comes to this stuff, I mean who wouldn't want their stream to go in 4k, so for the best performance I must suggest going for 32GB.
Best RAM Memory for Streaming
Reviews
When you are done with setting up your other components the next thing you need to think about is your RAM memory.
We have done the homework, checked out the most recommended RAM memories, and researched what RAM memories the most popular streamers use.
Here we are going to present to you the ten RAMs that we have tested and reviewed so you have a better idea of what to look for when purchasing.
QUICK OVERVIEW: Best RAM Memory for Streaming
Capacity: 16GB
Memory Speed: 3200 MHz

DDR4 SDRAM
Memory clock speed: 667 MHz

Number of Pins 288
Computer Memory Size: 32GB
1. Corsair Vengeance RGB PRO


If you are looking for something flashy but also reliable Corsair Vengeance RGB PRO is the RAM memory for you.
With this new PRO memory, you get ten addressable RGB LEDs throughout your entire case which allows you to get much cooler lighting effects that you can change through Corsair ICUE software. 
This 16GB kit, which comes with two 8GB kits that can go up to 3200MHz can easily be paired with multiple processors/boards to get the full power/speed of your RAM.
Who is it best for?
If you like bling and want your pc to look stunning, this is the perfect product for you. As I have mentioned earlier the new PRO memory has 10 addressable RGB LEDs that you can play with easily through Corsair ICUE software.
If you rather want to match your lighting with your other components or just simply want your RAM to glow like a rainbow, it doesn't matter, cause now you can do both.
Also, it's compatible with Intel 100/200/300 Series, Intel X299, AMD 300/400 Series, and AMD X570 so if you possess any of these models let Corsair Vengeance RBG PRO fall into consideration.
Key features
To me, the most beneficial asset that this company brings with their RAM memory is their LIMITED LIFETIME WARRANTY so in other words, you can sleep well at night knowing your RAM is safe.
As I have mentioned before, the most unique thing about this item is its VIBRANT LED LIGHTING that you can modify and change to your liking.
The newest modern ALUMINIUM HEAT SPREADER that manages the heat even when overclocked is one more awesome feature.
Just when you thought there can't be more, comes the XMP 2.0 SUPPORT with a single BIOS setting that's going to optimize your memory to its recommended settings in order for you to experience the best performance.
---
2. Corsair LPX 16GB

I'm presenting you with the first DDR4 member of the Vengeance line. Unlike the previous model we showed you, this piece does not have fancy LED lights.
But other than that it has pretty much the same features, so if you don't have a problem with this small difference in lighting, you should be fine going for this model, especially since it's a bit cheaper.
It's operating at a standard 3200MHz two 8GB kits as mentioned above. The timings of these kits are 16 20 20 38 which is quite decent if you ask me.
Who is it best for?
The relatively cheap price, decent specs, and overclocking design make this Corsair Vengeance a very attractive model for those who are building a powerful pc within a certain budget.
The LPX model has smaller heat spreaders which means you can easily fit them into more compact setups.
Although the smaller heat spreaders may affect the overclocking, the low voltage nature of the DDR4 should be more than able to make up for this.
So, if you are looking to build a budget-friendly jet powerful pc that you can use to stream mid-end titles for your audience on Twitch, you should definitely consider getting this RAM.
Key features
When it comes to key features there is not much more I can say about this product that I haven't already mentioned in the previous product review due to the similarities between these two products.
When they were designing the Vengeance LPX memory they were extremely focused on the high performance overclocking. The heat spreader is made of pure aluminium so that it can provide a faster heat drain for the users.
Then you have the standard Corsair XMP 2.0 SUPPORT which allows you to automatically set your Vengeance kit to the best safe speed (you can solve almost all of your problems with just one click).
Also, the kit comes in various colours so before you buy it you can choose the most adequate colour to match your setup.
Even when it comes to testing the product, Corsair did the fain job that included testing performance and compatibility on multiple motherboards (only a few failed).
---
3. Corsair RGB Pro 32GB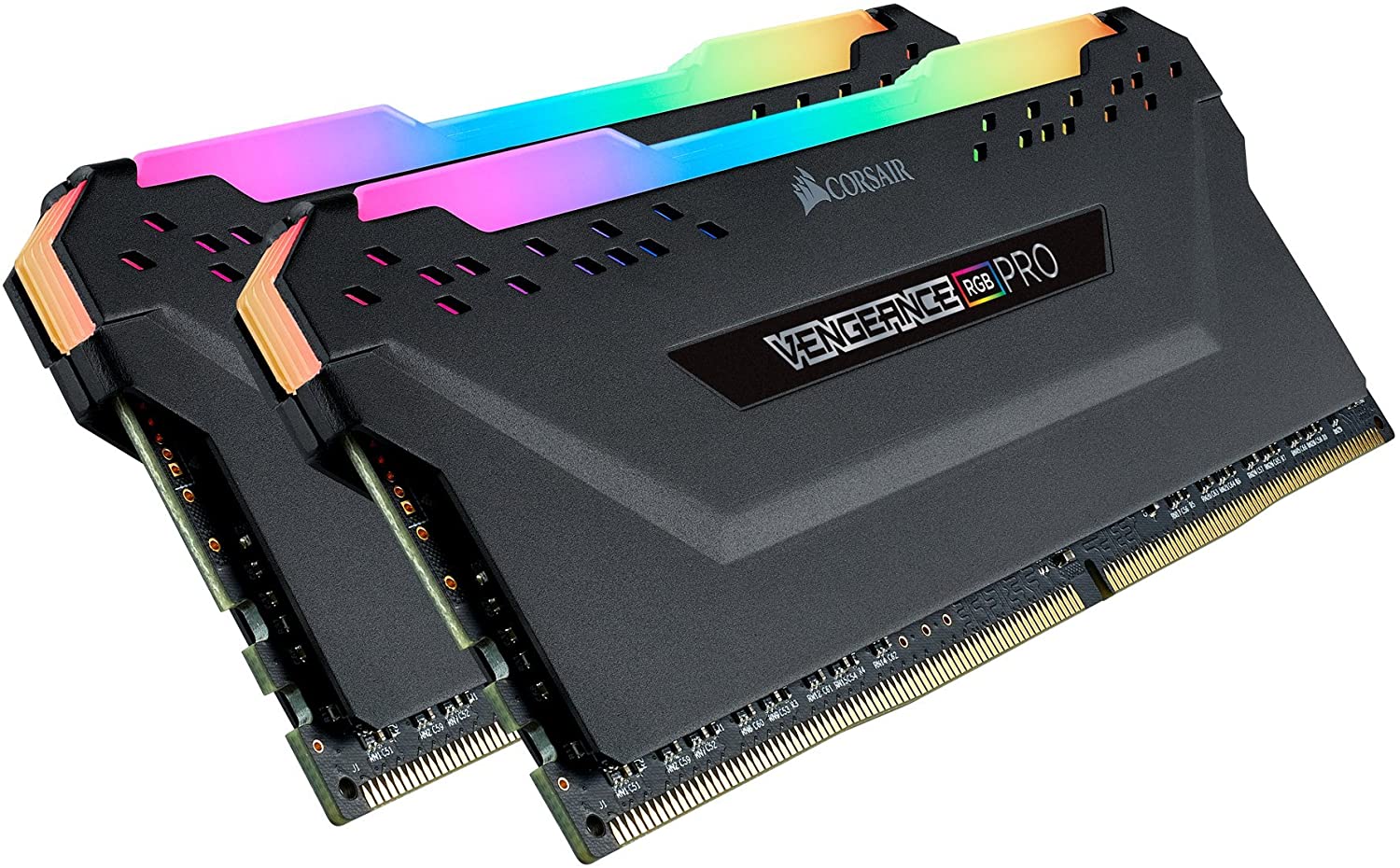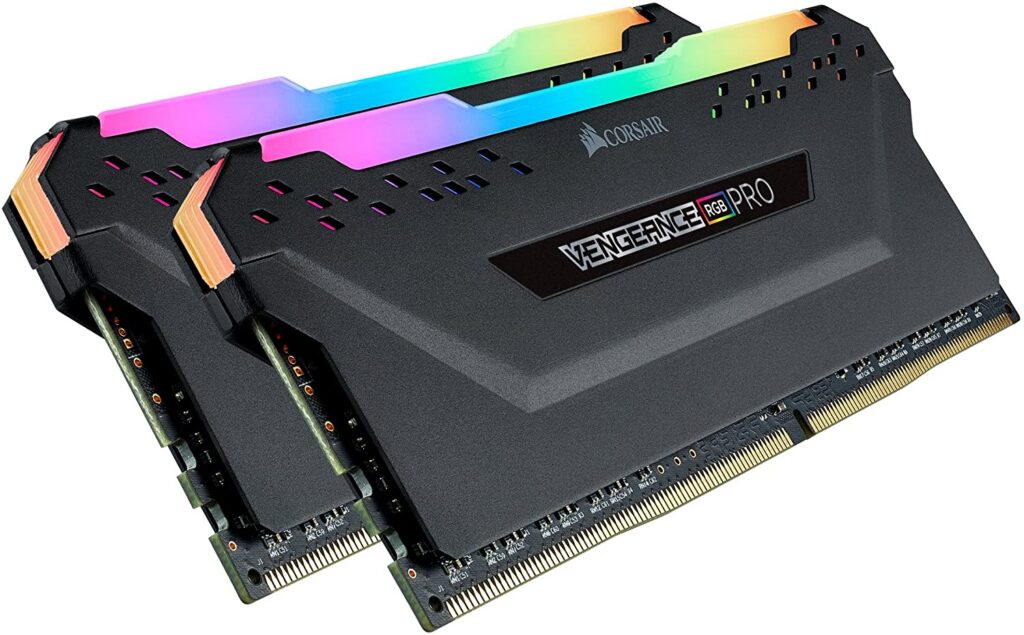 The Corsair Vengeance is truly one of the most remarkable RAM memories currently on the market. If I may say, it is the perfect match for almost all streamers out there.
I'm going to show you why the Corsair Vengeance RGB Pro with 32GB, two 16GB kits is one of the best possible solutions when it comes to RAM memory that you absolutely want to check out.
This model, just like the first one on our list, comes with spectacular RGB lighting (10 addressable RGB lights).
When it comes to compatibility, as you already know, Corsair did their bid so you won't have problems pairing (with almost every motherboard) this memory with your other components in your PC.
Who is it best for?
When it comes to RAM Memories with 32GB (3200 MHz) the specs alone say a lot about it. So if you are looking to play competitive games on your Twitch stream or you are streaming some other type of demanding content, you won't have to worry because this bad boy can keep up with all of it.
You can easily stream at 4k resolution and have the best experience while doing it. Plus, with the flashy RGB lighting, you can set up your PC to glow at almost any colour you want.
Any poor performance that you might have experienced in the past with your previous RAM memory will soon be forgotten if you chose to give this Corsair Vengeance RAM memory a try.
Key features
Considering that this is the third Corsair memory on our list you may already know what I'm going to say. Corsair RGB Pro with 32GB 3200 MHz, as all new Corsair memories, is designed to overcome high-performance overclocking running at 1.38V.
Also, the exceptional 16-20-20 timings, which are supported by the XPO 2.0 program, will allow you to automatically overclock it with just one click.
The lifetime warranty is one of the most useful things you can get these days when purchasing a new RAM memory (peace of mind is always welcome when it comes to these things).
There are the classic Corsair aluminium heat spreaders for out of the ordinary memory cooling (even when overclocked) that are specifically made for high-efficiency performance on the latest AMD and Intel motherboards.
So, you don't have to think if your RAM is going to work with these pieces of tech.
---
4. T-FORCE Vulcan Z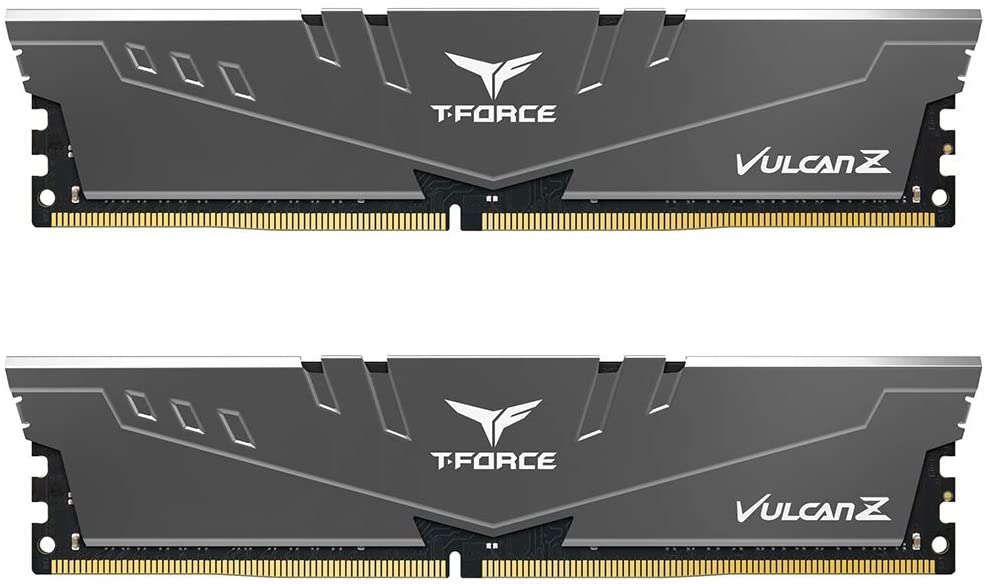 This is a simple yet great-looking memory kit from the TEAMGROUP Company. It doesn't include any RGB feature which makes it more compact and suitable for almost any setup (depending on the size).
Someone who doesn't need a light show in their pc should definitely consider getting this RAM memory. This particular brand brings us over 18 years of storage products.
Well-prepared and with outstanding quality, TEAMGROUP is the place to check out if you are looking to buy hardware that is relatively cheap and affordable but still of good quality.
Who is it Best for?
When it comes to building a capable setup this RAM memory should definitely come into consideration. If you are looking to stream content and play high-end games on your Twitch stream then this RAM can get the job done to a certain point.
You won't be able to stream games at 4k but 720p and 1080p should be easy to grasp. After testing out this product, my opinion is that you won't find a much better choice than the T-FORCE when it comes to the price-quality ratio.
Sure, you won't have the strongest hardware but when it comes to building a pc on a certain budget you can always count on this RAM memory to get the job done. Newbie and mid-end streamers should definitely put this product on their list of options.
Key features
This particular brand comes with some nice features such as the lifetime warranty and the standard XPO 2.0 software so you can smoothly set your memory to run at optimal speed/power.
This RAM memory runs at 3200 MHz 1.2V 16-18-18-38 timing which makes it a great energy-saver when using it on high-performance titles.
The aluminium heat spreaders for overclocking stability and the electrolytic anodizing process can enhance corrosion resistance.
The T-FORCE group selects the DDR4 memory through careful and precise testing making it compatible with a lot of new-gen motherboards (but not all).
---
5. T-FORCE Delta RGB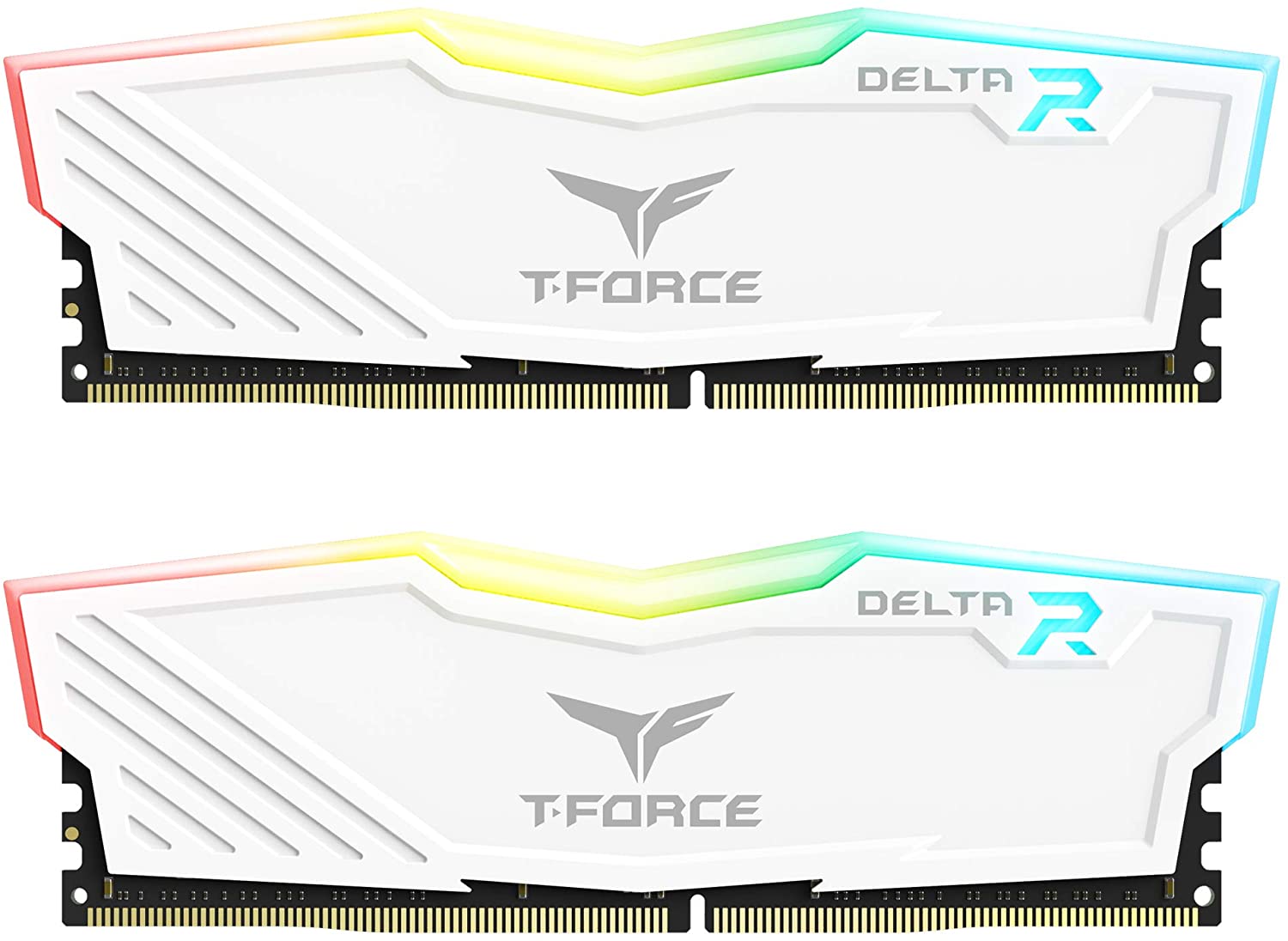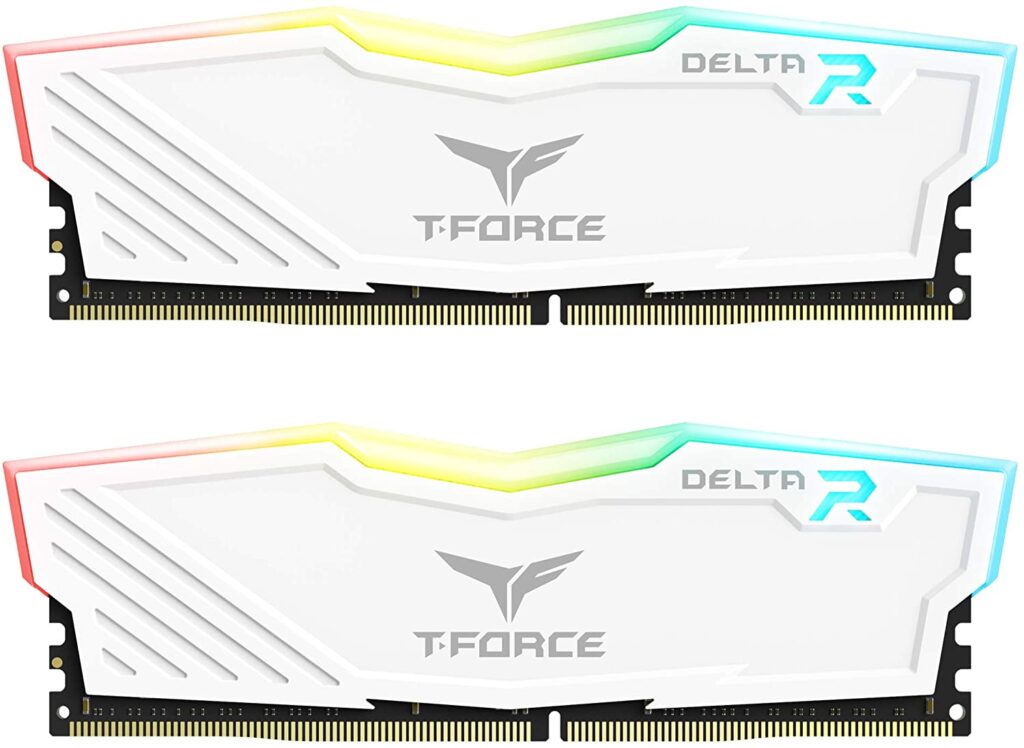 Here we have another TEAMGROUP product with an exceptionally good-looking design and built-in Force Flow RGB lighting effect that supports the Asus Aura sync.
This particular product gives you a ton of amazing options and above all, it is very budget-friendly. So, if you are here to check out some dope products for a fair price that also look stunning you are at the right place.
Who is it best for?
When you think about building your perfect setup for Twitch streaming there is not much more you can ask for than an awesome-looking piece of tech that also has good specs and won't cost you a fortune.
If you are looking to stream high-end games and your favourite content at HD quality such as 720p and 1080p this is the RAM Memory that's going to fulfil all your demands.
While you are streaming, you can put your pc in the visible range of your camera so that your audience can enjoy the awesome RGB lighting that this RAM Memory can provide.
Key features
As you can probably guess, this RAM memory also comes with a LIFETIME WARRANTY. That is always a relief considering that the product you are buying should be able to last at least a couple of years in my opinion.
It has verified compatibility with mainstream DDR4 motherboards to confirm its solidity with all the motherboards on the Qualified Vendors List.
This memory also comes with the latest JEDEC RC 2.0 PCB circuit board (compared to other memories, the transmitting signal is higher by around 35%), an energy-saving (1.2v-1.4) ultra-low working voltage (one of the TEAMGROUP trademark features), and a standard XMP 2.0 software to manage overclocking.
The kit comes with build-in aluminum heat spreaders for the best heat distortion and of course the RGB lights that all of you are really excited about.
The RGB lights can be managed through multiple software such as ASUS Aura sync, GIGABYTE RGB Fusion 2.0, MSI Mystic Light Sync and a couple of more. With all of these options, you can adjust the LEDs to your liking.
---
6. Corsair LPX 3600


This being the fourth Corsair RAM memory on our list there is not much more I can say that I haven't said before.
It has a rather plain design but have in mind that's because of its low profile (designed to fit in small setups) and some very decent specs.
Let's dig in and talk about the Corsair Vengeance PLX and see what this memory is all about.
Who is it best for?
After thorough research, I must say that I'm not as impressed as I thought I would be. Once I have finished testing I realized that there isn't a big difference between the 3600MHz and other lower speeds when it comes to streaming.
At first, I was excited and expected a high performance but in reality, I experienced an approximately 7% better performance, give or take with the 3600MHz.
Therefore, I must say within the price range of this RAM memory the better solution would be the 32GB 3200Mhz for the best streaming conditions.
And don't get me wrong, this is an absolutely nice RAM memory with good specs and performance, but I was a little bit more excited when I saw the 3600MHz. But once I tested it I didn't get the imagined results.
Key features
This Corsair Vengeance RAM memory comes with its usual features such as the LIFETIME WARRANTY so you don't have to worry about it breaking down.
The well-praised ALUMINUM HEATSPREADER for efficient heat dissipation is a great feature since your RAM can consistently run at high clock speed.
There is also the much-needed XMP 2.0 software to manage overclocking and set your latency to solid 18-19-19-39.
The Vengeance LPX is optimized for wide compatibility with the latest AMD and Intel DDR4 motherboards.
When it comes to the dimensions of the kit, you can rest assured that it will fit in any setup cause of the low profile height of just 34mm.
---
7. G.Skill TridentZ RGB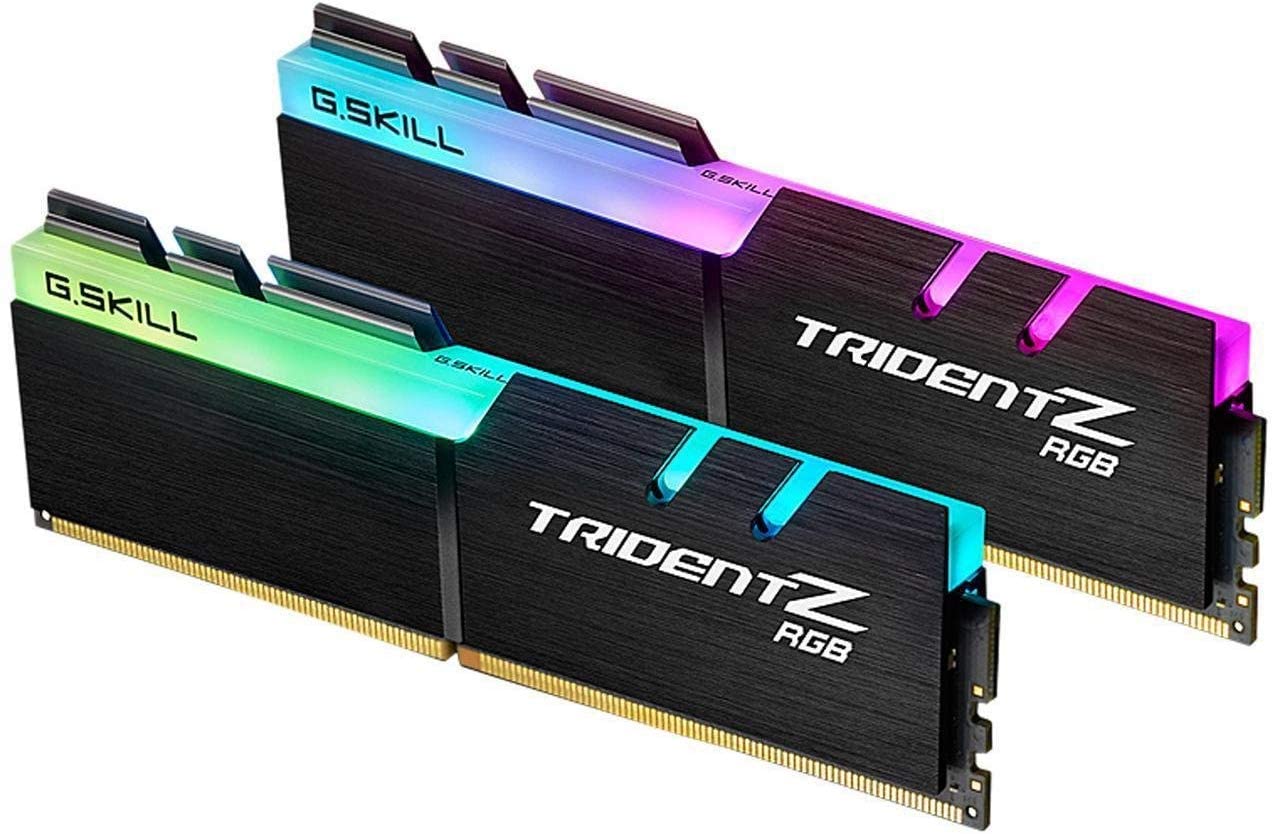 The next product on our list is the new G.Skill TridentZ RAM memory. This RAM has been the winner of the European Hardware Awards for 3 years in a row (2017, 2018, and 2019).
It also comes equipped with some rather cool design and it features a completely exposed light bar with vibrant RGB LEDs.
The great specs don't hurt either. As I said earlier, for all of you people who want to seriously stream some dope content in 4k you should definitely check this piece of tech out.
Who is it best for?
I must say that I am really impressed with this particular product. Because this model has a rather cool design with some awesome RGB light show effects it's a perfect match for all of you streamers out there.
As you could have read in the previous paragraphs, the 16GB RAM Memory kits do an outstanding job when it comes to streaming.
Considering this, just imagine how much more you can produce with 32GB. You can have your audience astonished once they see you stream games at 4k without experiencing any lags.
And above all, you will have an RGB Memory with a sick design that you will never get bored of. If you look at it this way, a large number of people are currently streaming and the number is going up.
So, if you want to stand out of the crowd you have to provide your audience with the best possible experience. And if you choose to do that, then this RAM Memory might be one of the best solutions for you.  
Key features
I can proudly say that this RAM is the perfect example of a combination of both beauty and performance.
This piece of tech comes with built-in luxurious hair-line ALUMINIUM heat spreaders, which is kind of expected for such a familiar model.
When it comes to the RGB nature of the product, the best thing about it is the ability to choose any colour you like. You have a variety of choices to go for with the Aura Sync software.
When we talk about overclocking G.skill unmatched selection process and a uniquely designed ten-layer PCB brings you the maximum signal stability.
Every single kit goes through careful testing for compatibility and reliability over an extensive variety of motherboards.
---
8. T-Force Vulcan Z

Here we have yet another fine product from the Taiwanese company TEAMGROUP. This company has presented us with one more budget-friendly product.
It has a rather simple design intended to perfectly protect the cooling module and some interesting specs.
The latest T-Force Vulcan Z is a RAM memory that you should make sure to check out and put on your list. Now let us get down to the details.
Who is it best for?
If you are thinking about Twitch streaming, this RAM memory can perform most of the things you will need to provide your audience with the best possible viewing experience.
My personal opinion after testing out all of these RAM memories is that there is a very small difference between 3600Mhz and for example the 3200Mhz.
This is why I would almost always suggest going for the 32GB 3200Mhz instead of this option. After all, you are all here because you are looking for the best RAM memory for streaming.
The finest thing about this product is its price. Therefore, if the quality isn't your number one priority and you want a RAM that can work smoothly at an affordable price, you should bump this model to the top of your list.
However, don't think that this product lacks in quality, it doesn't. I am just saying that if you have a bit more money to spend on this piece of tech it's better to choose some of the other options on our list.
Key features
The best thing regarding this RAM memory, and this is coming from an eco-friendly guy, is its energy-saving with ultra-low working voltage (1.2V)
As expected, the RAM supports Intel and AMD motherboards. The XMP 2.0 software lets it run at 3600 18-22-22-42 which is quite admirable.
The standard ALUMINIUM heat spreaders for high terminal conductivity are there to make sure that your hardware doesn't overcook.
Plain and simple, yet highly effective design enables you to place your RAM memory kits in any kind of setup.
---
Things to Consider When Buying RAM Memory
Here are the three most important things to look out for when buying a RAM memory.
1. Compatibility
The first thing you should always look out for when buying RAM memory is compatibility. You don't want to make the mistake of buying a product and then later figuring out that your streaming motherboard is actually not compatible with your RAM. This is why you should always pay attention to compatibility.
2. Size
Depending on your current setup or the setup you are trying to build, the next thing you want to look out for is the size of the RAM.
Size is actually a common problem for people who lack experience in technology and they make the mistake of buying a larger or smaller RAM than they need.
Therefore, always check for clearance around the CPU cooler and other components to make sure you get the right size.
3. RAM Specs
Considering that this article focuses on the best RAMs for streaming, I would say the next thing to look out for is the capacity of the RAM.
If you are streaming just for the fun of it then you have a lot of choices. However, when it comes to competitive streaming the best option is to go for 32GB.
This is the minimum in my opinion, and you can always go higher if you are willing to spend a bit more money. Seriously, who doesn't enjoy watching streamers play games at 4k?
Conclusion
With 4GB RAM you can't do much aside from streaming movies on Netflix at 480p. However, there aren't many people that would actually watch that since these days you can easily find HD content anywhere.
This is why 4GB of RAM are out of the question if you want to build a Twitch audience that follows your streaming. It just won't be enough for you to simultaneously run all the applications to produce a good quality stream. 
8GB will definitely not be enough to stream high-profile games in HD quality but if your goal is to stream different videos in HD quality then it can satisfy your needs.
16GB works great if you are looking to produce a good quality stream for your viewers. Especially if you want to stream games in HD quality on Twitch and other platforms.
You can easily produce a 1080p quality stream but if you are aiming at something exceptional such as streaming in 4k you will absolutely need to upgrade your setup to 32GB.
Finding the right RAM memory can be a hassle if you aren't well informed. I hope that this article gave you some insight on what you should look for and helped you choose a model that you will use in your future streams.
Related: Best Streaming Gear
Frequently Asked Questions
Is 16GB of RAM enough to produce a good quality stream?
The answer is yes, it can easily produce a good quality stream up to 1080p if you plan on streaming middle-end games. If your desire is to stream movies and other content rather than games, it can go to 4k resolution without any problems.
At what price can I get a good-quality RAM memory for streaming?
When we talk about price there is always a variety of choices depending on the specs of the memory. My recommendation is that you should look for RAMs in the 100$ to 200$ price range depending on how many GB you are looking to acquire.
Best online place for buying a RAM memory?
Amazon is definitely one of the best and safest options. Most streamers that need new equipment look for products with different specs, prices, and different brands on Amazon. The brand website itself is also always an option if they are shipping to your country.
Do RGB memories differ from other memories?
If you want to know whether or not there is a difference in speed or in other specs, then the answer is no. Meaning that we are talking about the memories that have the same specifications except one is RGB and the other isn't.
The only thing that stands out when we talk about RGB is the LED lights that you can manipulate to your liking. Other than that there isn't a considerable difference.