Monitors for Streaming
If you need to find other streaming gear, make sure to look at our Streaming Gear page. Here, you will find everything you need!
Post 5 of 6
When you are gaming or streaming, or just plain using your monitor for various tasks, choosing the perfect monitor for the job is essential.
Although vertical monitor setups are not as common as horizontal ones, there are quite a few advantages to it.
We are here today to help you find the best monitor for vertical use.
Post 5 of 6 in the Monitors for Streaming
Best Vertical Monitor for Streaming
Reviews
In order to help you find that perfect vertical monitor to boost your experience, we have conducted extensive research on some of the most popular vertical monitors on Amazon.
Upon review, we have found that monitors on this list are the best ones you can find. There is something for everyone here, so let's take a look at the best vertical monitors.
QUICK OVERVIEW: Best Vertical Monitors
VESA compatible
5ms response time

60 Hz refresh rate
Anti-glare panel with 3H coat
1. HP VH240a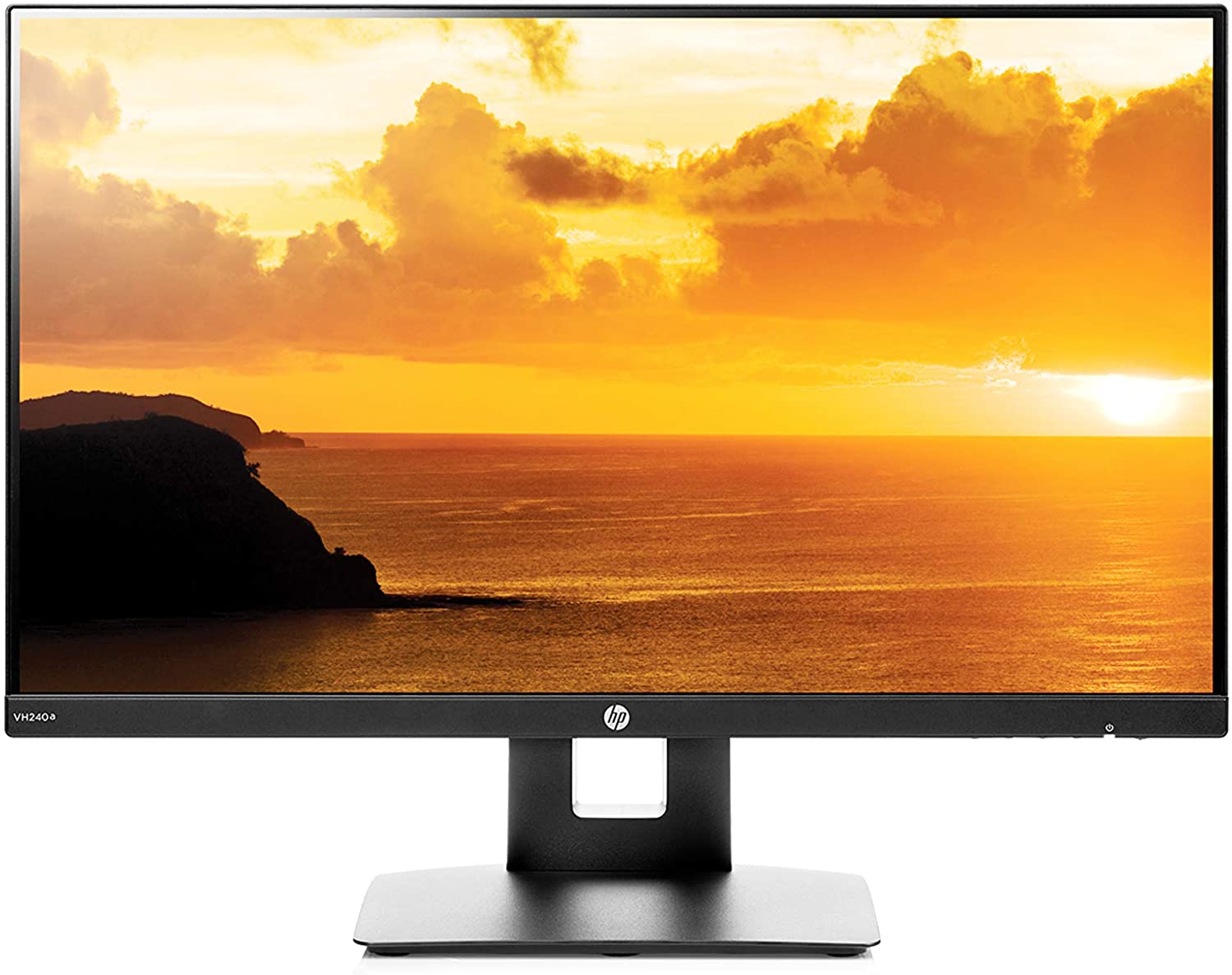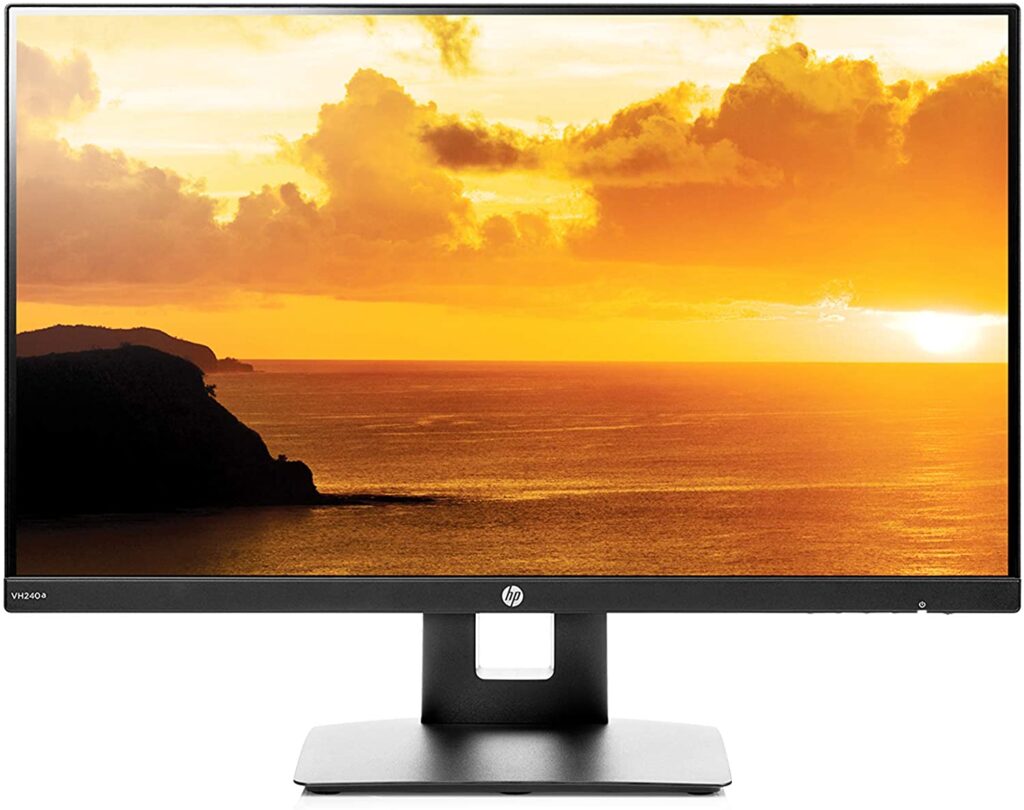 HP is a multinational IT company based in California, the USA that specializes in hardware and software production. It was founded back in 1939. From 2007 to 2013 it was the leading company in PC manufacturing. It is one of the few widely recognized manufacturers of the kind.
HP VH240a monitor is another one on this list with decent reviews on Amazon.The reviews are quite mixed but we filtered out some of the bad reviews since they are not related to the monitor itself. The features are solid especially considering the price.
Who is it best for
Another vertical dual monitor that is great if you are on a budget and are looking for either a second gaming or streaming monitor to follow your chats or if you are dealing with a lot of text-based work – i.e., writing, coding, etc.
Thanks to its thin bezels it is good for multi-monitor set-ups. It can be easily connected to other devices if you are using them.
The specs of this monitor are solid for gaming and online streaming on the majority of platforms.
Key Features
The main feature of this budget HP monitor is the IPS panel that does not allow glare. It is a 16:9 monitor with a 5ms response rate which is supported by streaming platforms.
Connect it to other devices using HDMI or VGA ports. It has solid colors with 72% sRGB coverage.
It has built-in speakers and can be ergonomically adjusted – height and tilt. You can enjoy a 178° viewing angle. The VESA compatibility lets you mount it on the walls and set up vertical viewing.
---
2. DELL UltraSharp U2414H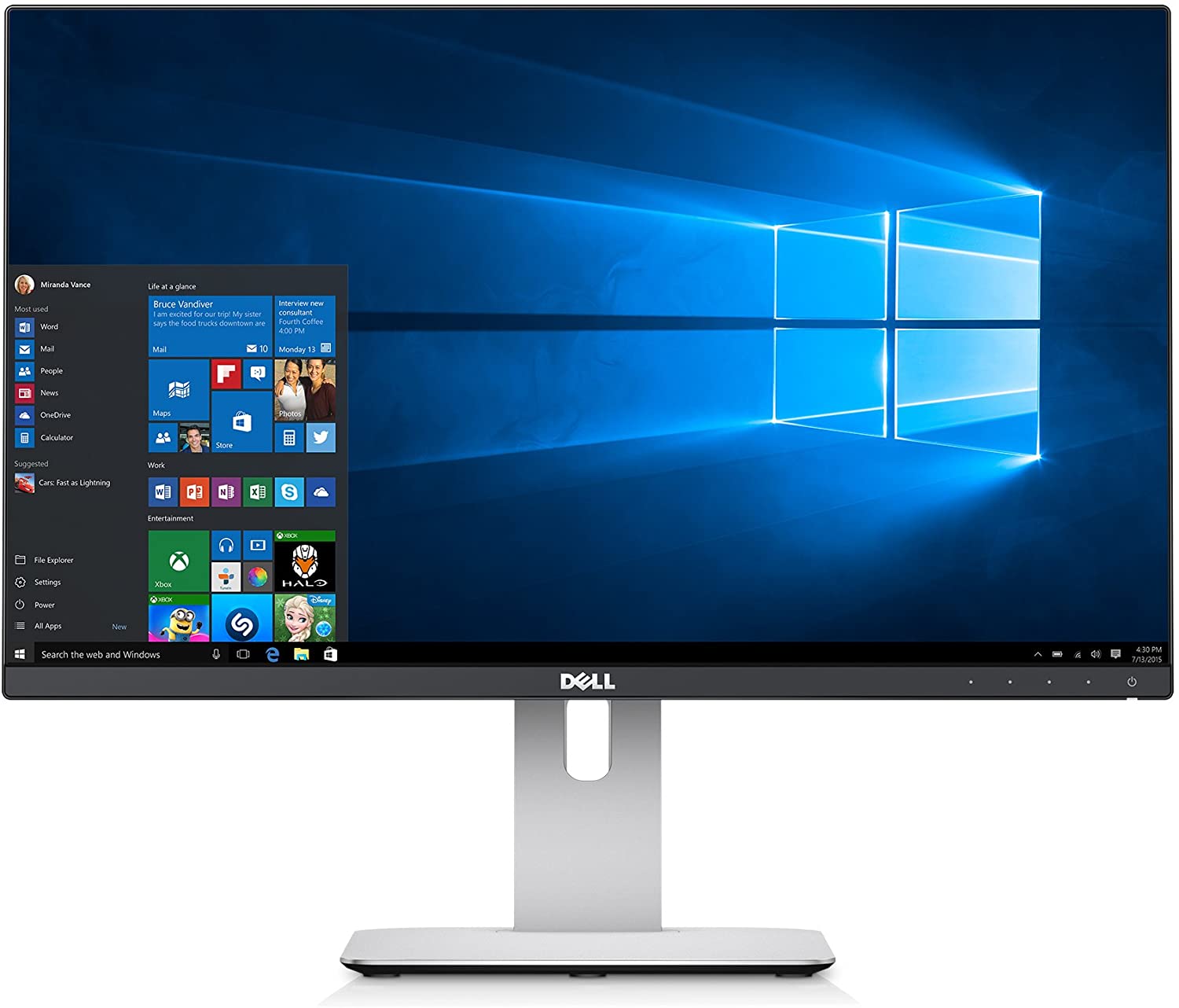 Founded and based in the USA, Dell is one of the largest IT companies in the world. It has a range of electronic products all of which have great reviews. Well–known for strong performance and great product quality.
With amazing reviews, this Dell UltraSharp U2414H monitor is the most expensive dual monitor on this list. According to the reviews, it is worth the money.
Who is it best for
This monitor would be your option if you are into photography, gaming, or streaming, and using any text-based programs like the ones used for translating, chatting, or writing codes.
Its thin bezels let you use it almost seamlessly in a multi-screen setup. It is the most expensive one on this list, but the reviews say that it has good value for money.
So, if you are ready to upgrade to a more expensive second monitor or vertical use monitor, Dell UltraSharp could be for you,
Key Feature
This monitor is neatly designed and made of premium materials that are sturdy but at the same time eco-friendly.
It is free of PVC, arsenic, and mercury and is made of 25% recycled plastic. It has an ergonomic stand that allows the adjustment of viewing angle in both horizontal and vertical set-up.
It has a PowerNap feature that puts the monitor into sleep mode or minimal brightness when it is not used
The FHD resolution provides sharp, crisp, and detailed picture at any viewing angle. The anti-glare technology will let you have a more comfortable experience while using it.
With various ports, available-you can connect the monitor to other devices like phones, projectors, or laptops.
---
3. ASUS VN279QL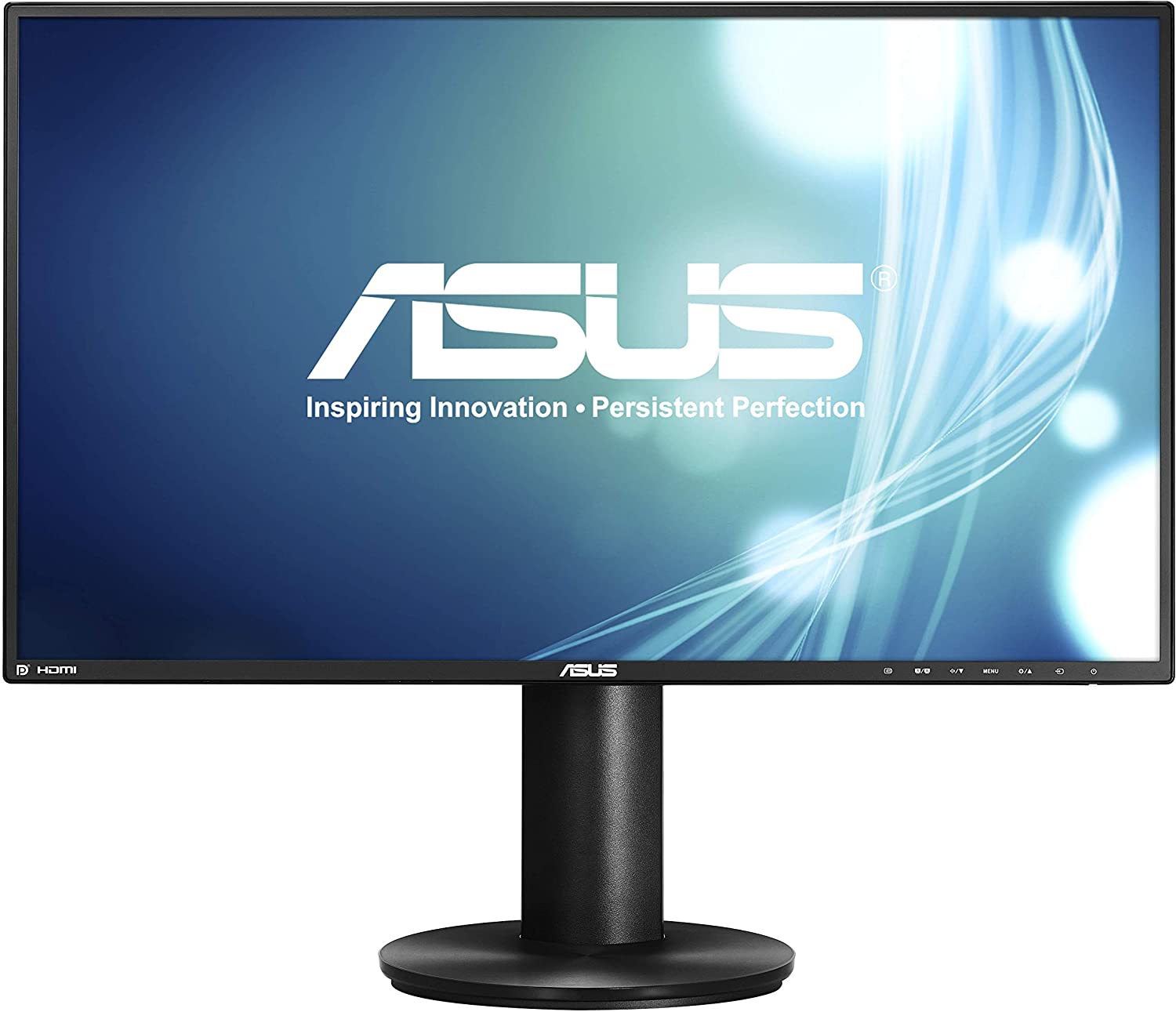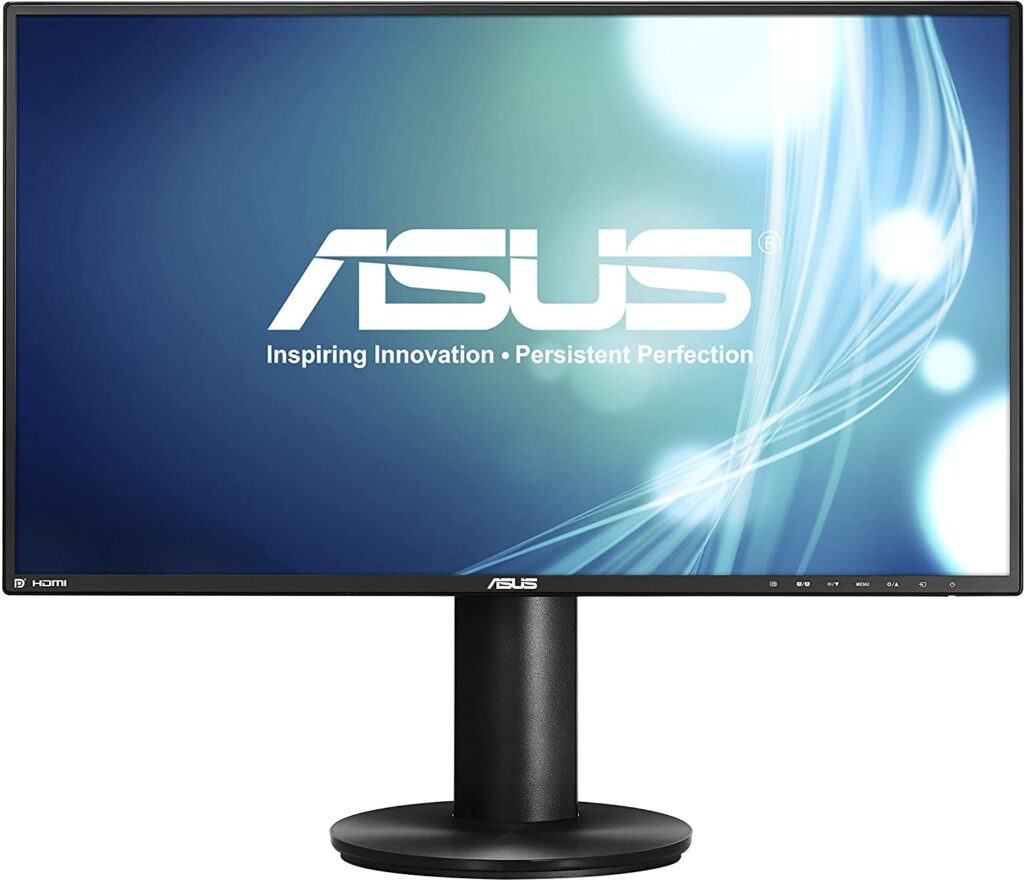 Founded over three decades ago, Asus is a top brand that produces gaming equipment and is focused on revolutionizing the PC industry.
Their product is highly valued among not only gamers but others who are using their electronic products.
Asus VN279QL monitor is a mid-priced dual monitor currently sold on Amazon. It has 4.6 out of 5 Amazon stars and great customer reviews.
If you are not pressed for the money you can get a great monitor if you purchase this one. Check it out.
Who is it best for
Due to its size, thin bezels, and other specifications, it is best used as second gaming and streaming monitor.
It can be adjusted vertically which makes it great for editing, programming, or coding. The picture quality is also great and fares well with graphic designers.
If you are savvy to adjust sharpness and brightness this might just be a suitable choice if you are ready to pay some extra bucks and do a bit of work yourself. The picture is solid and it will not hurt your eyes.
Key Features
The design of this monitor is sleek and elegant but quite sturdy as well. It is compatible with VESA mounting and it is ergonomic which means you can tilt, pivot, and swivel it to adjust the perfect viewing angle.
Its height is also adjustable. The bezels are ultra-slim – only 0.8mm which is great for multi-monitor set-ups. MHL allows you to easily connect your smartphone to it.
The monitor has a great resolution to do anything from gaming(less demanding games – refresh rate is 60Hz) and streaming to watching movies.
It is quite bright so it needs adjusting in order not to strain your eyes. The monitor is 27in so it might take a while to adjust to it in vertical mode if you have previously used smaller monitors.
---
4. SAMSUNG SE450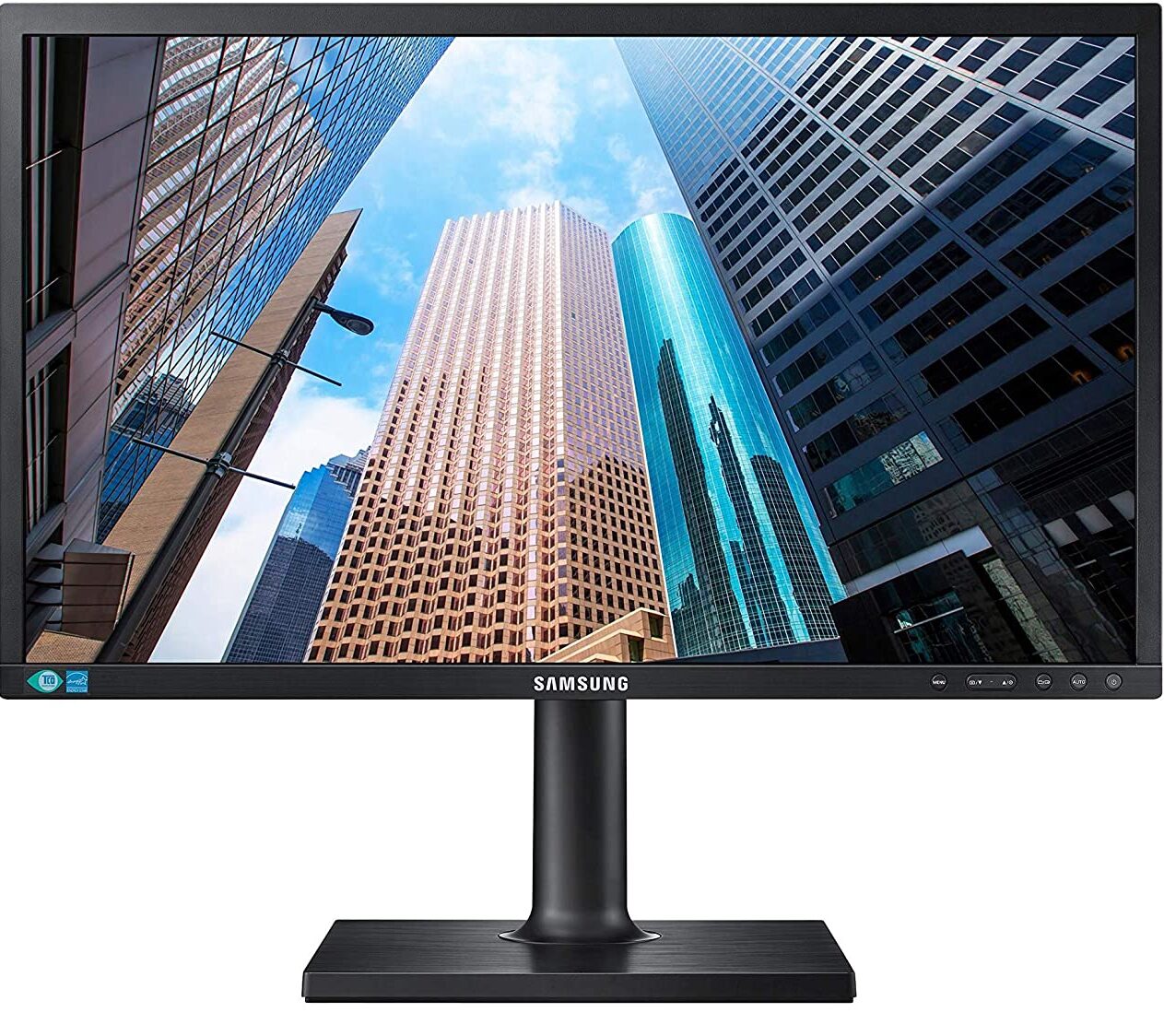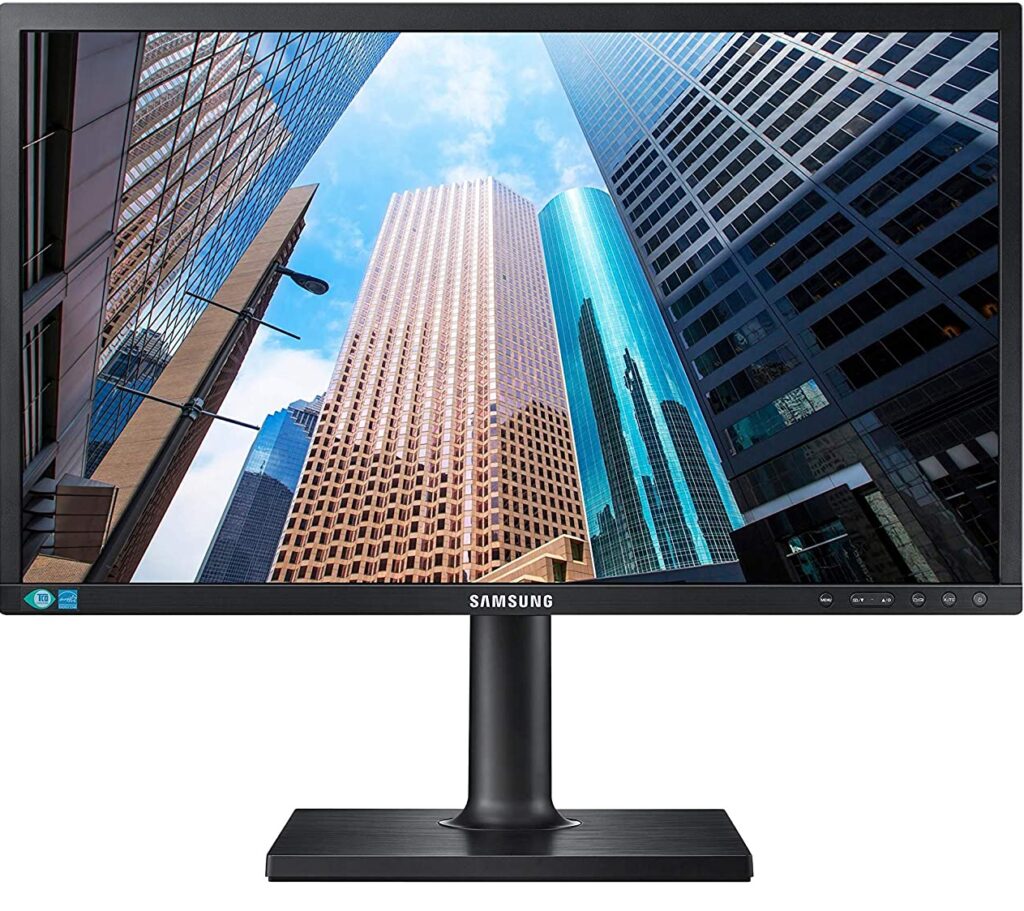 Samsung is a trusted company with decades of experience in electronics. From washing machines to state-of-the-art phones, PCs, and monitors, it is no wonder the company is masterful in manufacturing great products even at a lower price.
Samsung SE450 monitor has found itself on this list because of great reviews on Amazon. It is one of the best, most trusted dual monitor vertical use in its price range. It is a budget option but gives great value for money. Check it out.
Who is it best for
Samsung SE450 is the best vertical monitor if you are looking for something to start with. It is highly affordable but it gives you a sense of what you have needed in terms of monitors.
If you are editing text, writing codes, or following the chat on Twitch while you are streaming it is a fine choice for you.
Key Features
The design allows for horizontal and vertical monitor setup since it supports VESA mounting. The stand is adjustable and the monitor can be tilted, swiveled, or pivoted.
The height is also adjustable. It is made out of 30% recycled materials and it is packed in recyclable materials and consumes less than 0.005W power in Off Mode.
It is slick, slim and light and the cables do not make a mess on your desk. Due to various input modes. The monitor can be connected with the majority of workstations and devices.
With mega infinity dynamic contrast the monitor has good visibility in dark or light screens (image Contrast Ratio 1000:1).
MagicAngle technology gives you great color from almost any viewing angle. The TN panel prevents glare. The eye saver mode along with the Flicker-free technology allows for prolonged usage.
---
5. Acer ET241Y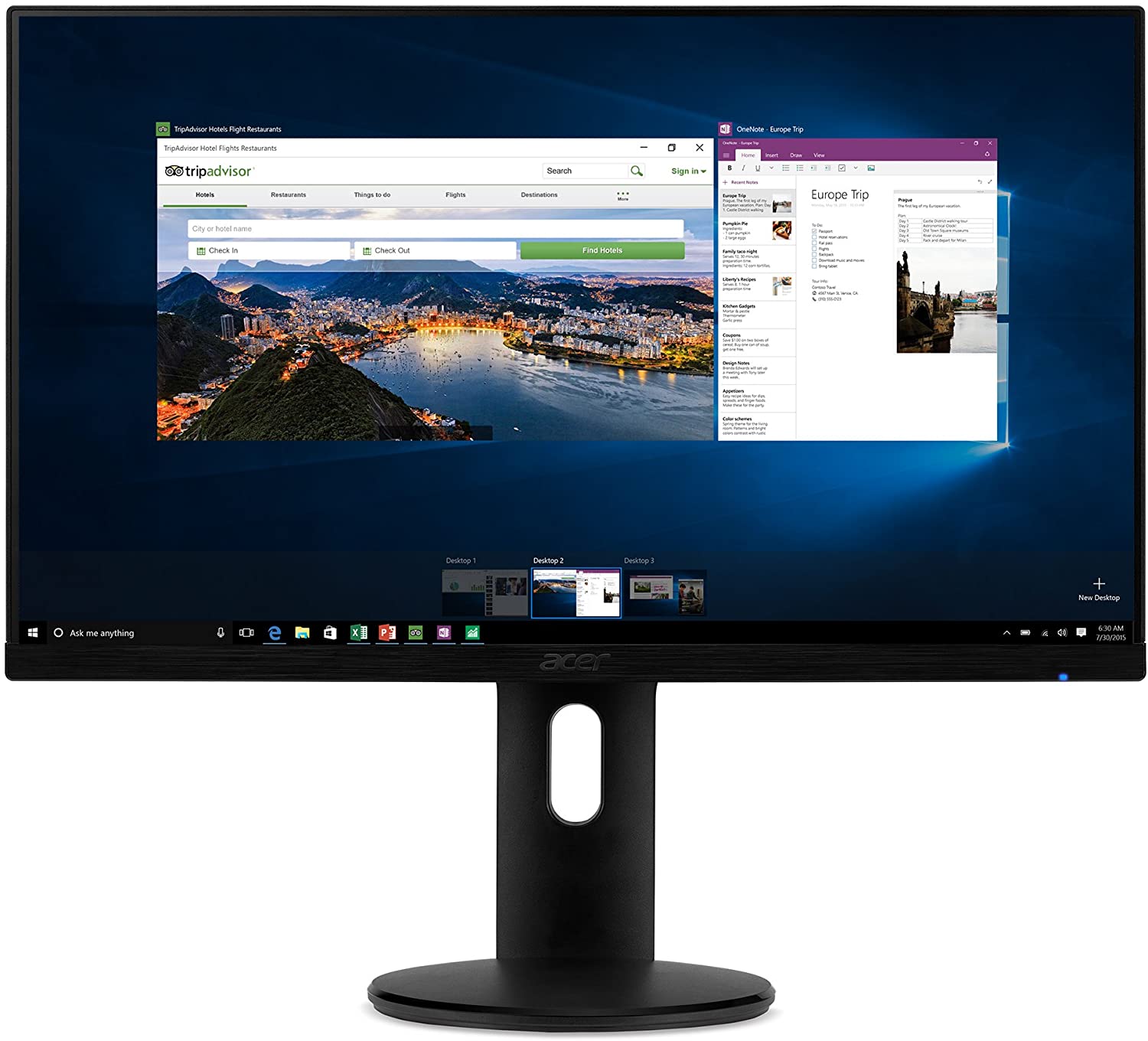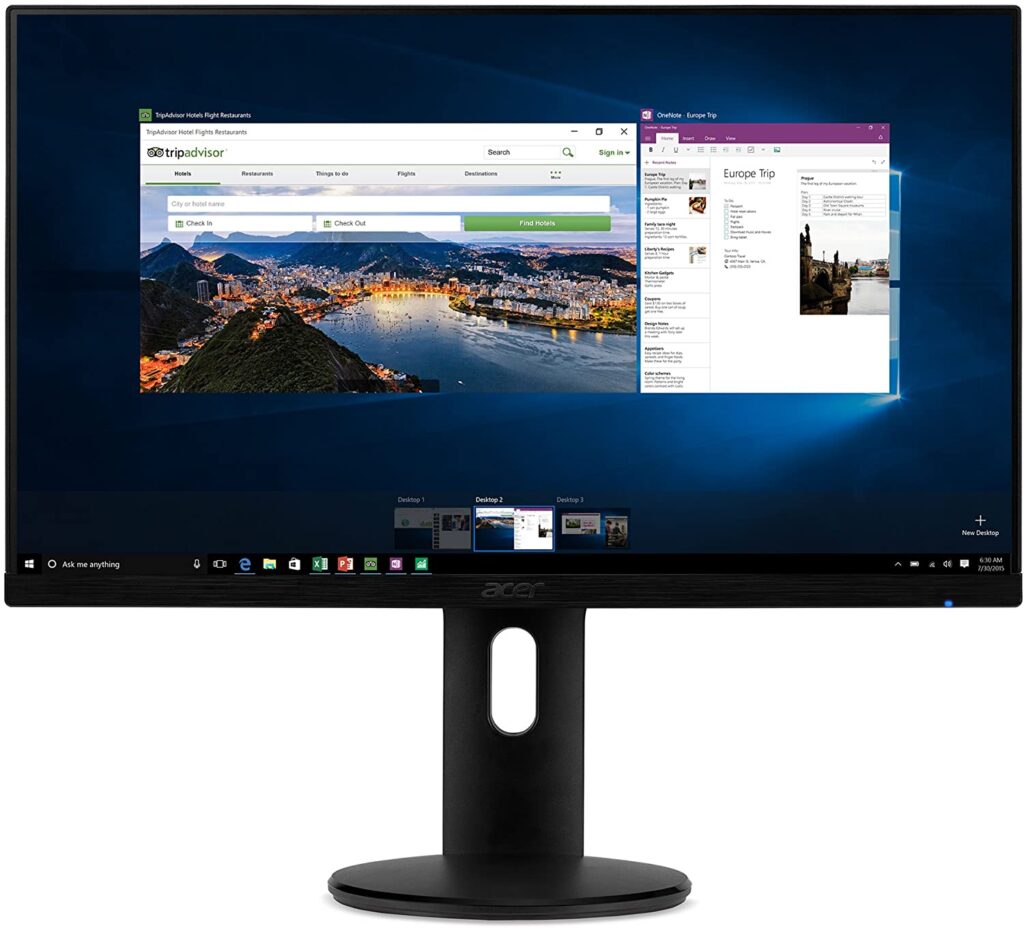 Acer is a multinational company based in Taiwan that specializes in technology of the advanced electronics.
It is a household name in the area of PCs, VR devices, smartphones, and other related devices including monitors. Acer dedicates its time and resources to innovation and creating new and improved products.
With a bunch of great reviews, the Acer ET241Y Abmir is another dual monitor for vertical use on this list that is affordable for anyone. It is one of the best-selling monitors on Amazon.
Who is it best for
Since it is a budget monitor, it stands to say that it is great as a second monitor that you want to set up vertically for either following the Twitch chat or creating codes.
It gives you solid experience with standard settings, as long as you do not mind setting the colors manually.
It is also good if you are playing some of the less demanding games since it has a 4ms response time. The aspect ratio of 16:9 is compatible with most streaming platforms, so it is great for that too.
Key Features
The standard aspect ratio and 60 Hz refresh rate make this monitor a solid one for gaming or streaming.
The Flicker-free Technology and ComfyView technology along with the blue light filter allow you to play longer sessions without your eyes getting tired. The reflections are minimal.
The design is ergonomic, and you can tilt, pivot, or swivel the monitor to adjust to the right angle. It is VESA compatible and can be rotated to portrait mode or mounted on a wall.
The bezels are really thin which is great if you want it adjacent to another monitor –it will not break the picture.
The low power consumption, along with the mercury-free design and 6.0 Energy star, ensures that the monitor is eco-friendly.
---
6. Samsung Business FT452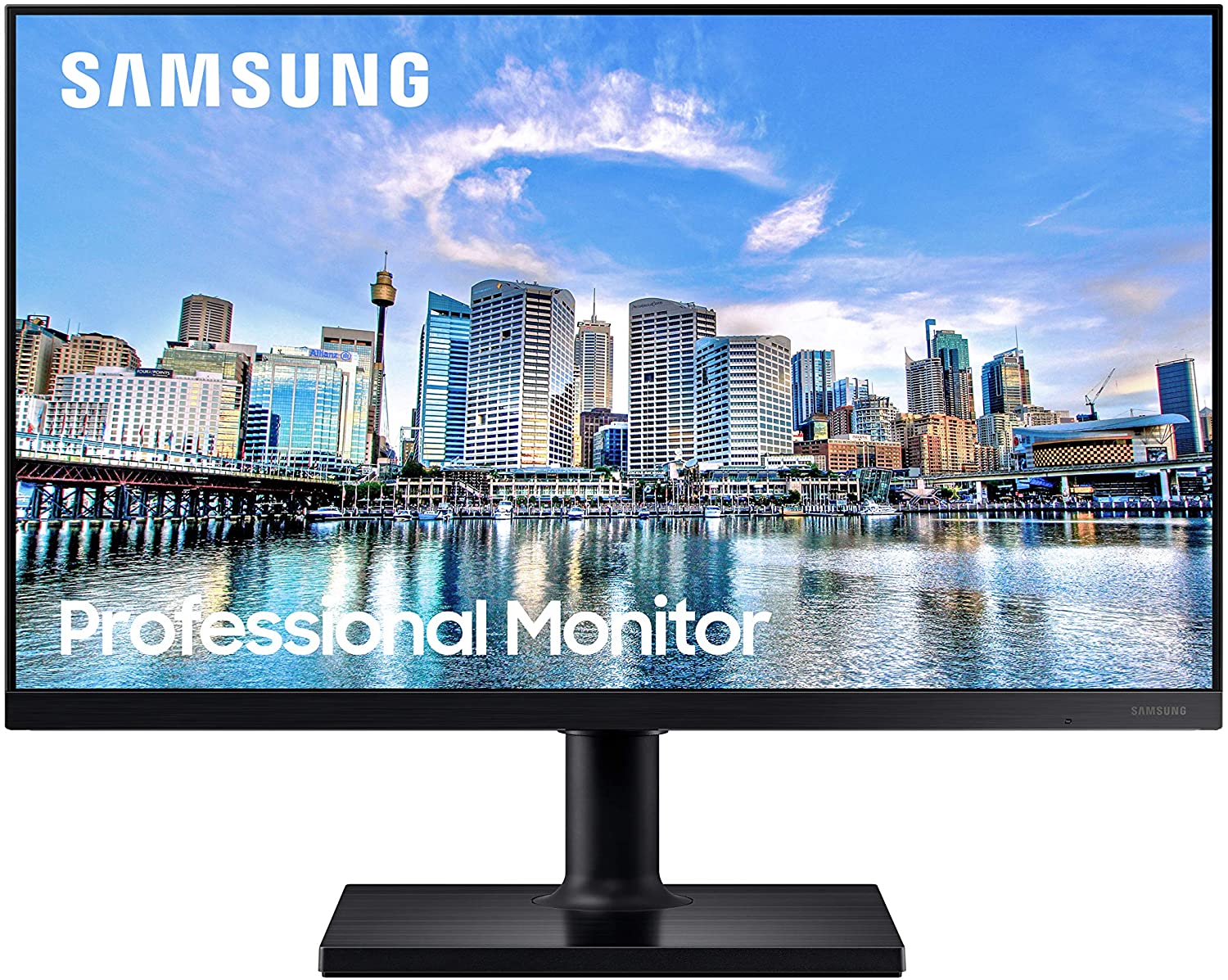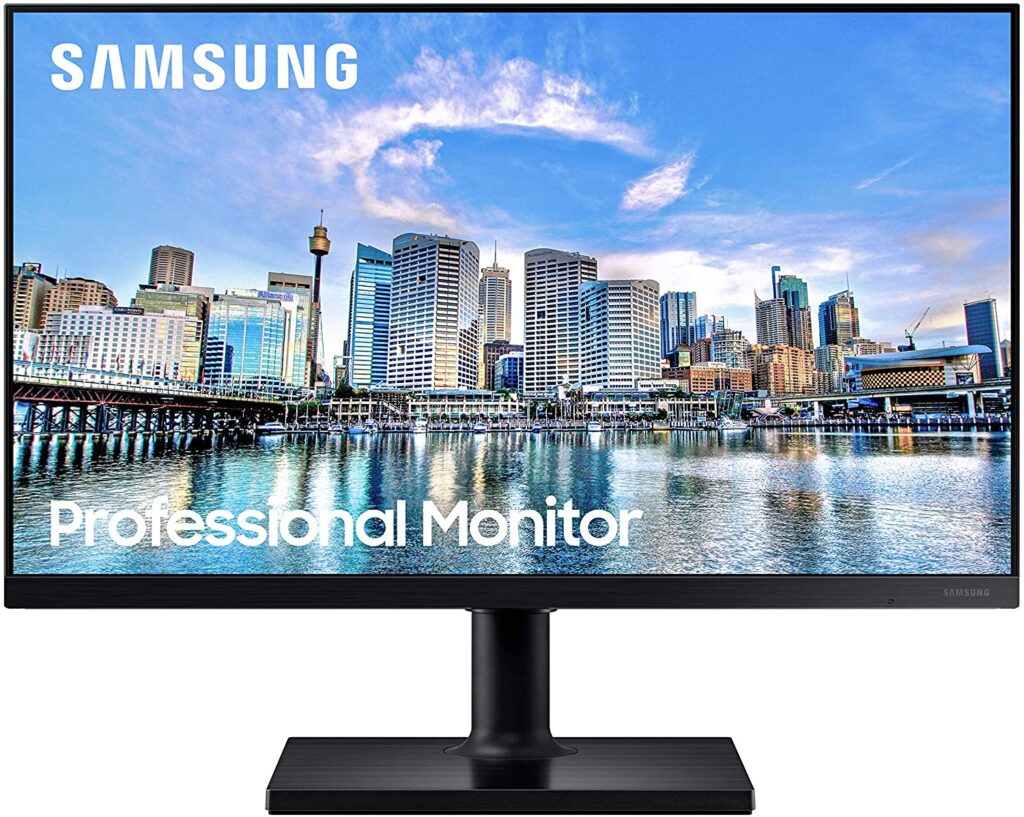 Due to the worldwide famous quality of Samsung products, it is no wonder that another Samsung monitor has found its place on our best vertical computer monitor list.
This Samsung Business FT452 vertical monitor is a bit more expensive and has a slightly higher Amazon score than the other Samsung monitor on this list. Check out its specs.
Who is it best for
This monitor is great for your office if you have to read or edit a lot of texts, as well as if you are writing codes.
The thin bezels are also perfect if you are looking to create multi-monitor setups that will give you a sense of an unbroaken image.
The monitor's specs suggest that it can be used for streaming and gaming as well, especially as a second monitor to help you follow Twitch chat for example.
It is a budget solution by a trusted company and gives great value for money.
Key Features
The ergonomic design allows you to easily set up the viewing angle and/or switch between vertical or horizontal views.
This monitor has really thin bezels which let you connect several monitors side by side seamlessly. It has different USB and HDMI ports so you can easily connect your other devices to it.
The Eye Saver mode and Flicker-free technology let you work or game for a long time without your eyes getting strained.
This monitor has a clear, vibrant picture. The color settings are automatically adjusted when the brightness lowers so that the picture does not appear darker. This happens due to the power-saving feature Eco Saving Plus technology.
---
7. Acer CB241H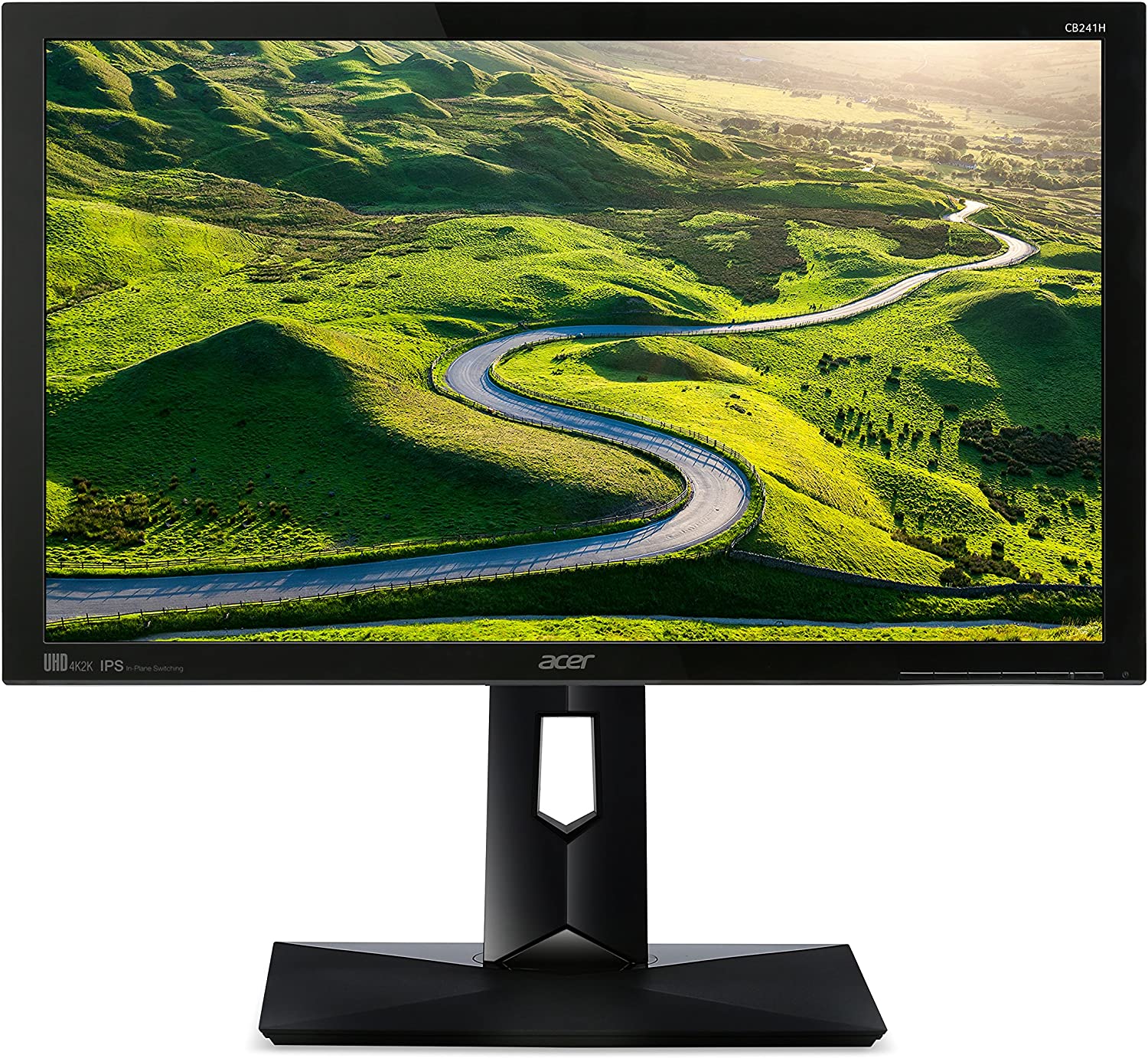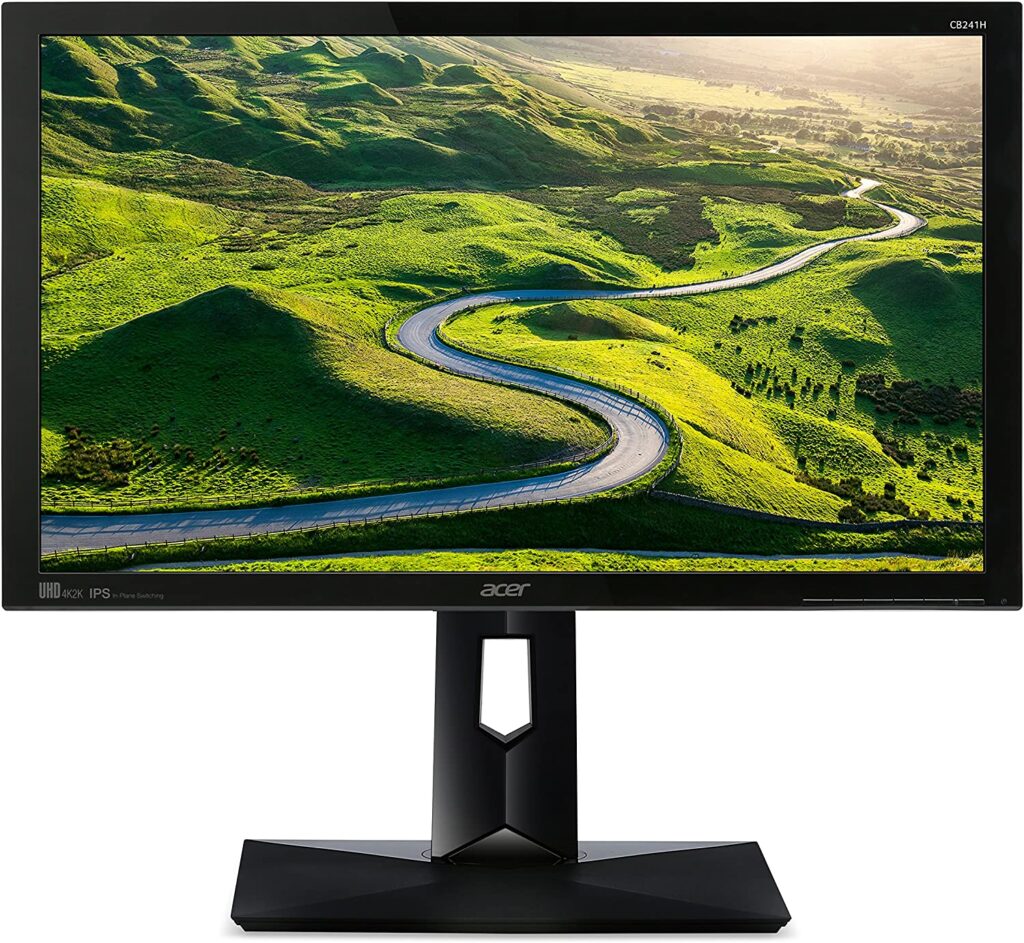 We have already stated that Acer is one of the top companies producing IT hardware. They focus on innovation and a user-friendly experience with lots of perks and unique features.
Owning a monitor produced by Acer is a solid investment that will last you for years.
Acer company finds itself on our list again with another one of its products, Acer CB241. This monitor has a good score Amazon stars, and a bunch of great customer reviews. Let's check it out.
Who is it best for
Used as a vertical monitor, the Acer CB241H is perfect for online gaming and streaming. The ratio is supported by the majority of streaming platforms.
The resolution and the response time make it great for playing fast-paced games.
On the other hand, if you want to use it in a vertical set-up you can. It is great if you have to edit a lot of text or write a massive code.
It is also great as a second monitor when you are gaming or streaming that will enable you to easily and conveniently follow your Twitch chat messages. Price-wise, it is a mid-range monitor.
Key Features
The design of this Acer monitor is quite sturdy, and you can adjust the height, pivot, or swivel easily by pushing or lifting it.
Although the bezels are quite wide, they are stylish. There is a variety of inputs that allow you to connect other devices to your monitor.
For instance, your smartphone or your laptop and enjoy the view on a bigger screen. The screen has a picture-in-picture option for all of you multitaskers over here.
It is an FHD monitor that ensures great pictures while gaming, streaming, or working. The backlight can be adjusted between 30% and 100% brightness to accommodate all light conditions in the room.
It has an anti-glare TN panel and deep black and bright white colors. It is eco-friendly – made out of 30% recycled PVC, and its power consumption can be reduced up to almost 70%.
---
What to Consider when Buying a Streaming Monitor?
Whichever the specifications of the monitor you are considering buying are, there are some things that you need to pay attention to.
In this section of this text on how to buy the best monitor for vertical use, we will go over some of the most important things you need to consider before actually buying it.
So, let's dig in right away.
1. Usage
The first thing you want to consider is the usage. What are you going to use your monitor for? How many hours a day are you going to spend looking at the screen? What are the benefits of having a vertical monitor?
Whether you are a gamer and like to stream your games online or a computer programmer or a translator you can benefit from having a vertically positioned monitor.
The benefits are numerous, especially for text-based programs. The height of the monitor when it is positioned vertically allows for more lines of the text to be visible at the same time which eliminates the need for scrolling every few lines.
When you are using a vertical monitor to keep up with your Twitch chat messages you will not have to stop and scroll to read some of the "older" messages since more of them will be displayed at the same time.
That being said, coding, text programs, or chats are what you are going to use this monitor for then you should go ahead and purchase one.
If, on the other hand, you are looking for a monitor to be your primary one (i.e., for actually playing the game or watching movies), you might be better off with a horizontal setup
2. Filters and Flickers
Since most vertical monitors are beneficial for those who are working on large amounts of texts for a long period of time – be it coding, translating, or chatting, the picture you get must be steady and flicker-free.
After a while, your eyes get strained. If the monitor is twitching or flickering, if the letters appear to be moving, blurred, or like they have a shadow it can cause your eyes to get tired faster, and create a lot of trouble if you have already been working for hours.
Another thing to consider is the blue-light filter. It is scientifically proven that blue light causes eye strain and negatively affects your brain.
It makes your brain think that it is still daylight – especially if you are looking at the blue light screen a few hours before bed. And, let's face it, this is what happens more often than you are ready to admit.
To ease your eye discomfort and to let your brain recharge, it is important that the monitor you are using has a blue-light filter and is made with flicker-free technology.
3. Size and resolution
When we think about monitors we usually think that bigger is better. With the monitors for vertical use, this can't be further from the truth. Why?
Let's remember why we need a vertical monitor in the first place – to eliminate the need to move our necks from side to side too much.
It is not natural when you are reading. To avoid this we rotate the monitor vertically and manage to read the text moving just our eyes – it is natural, and time-saving.
So what would we get if we would rotate a 32-in monitor into a vertical position? Nothing much.
We would just need to move our heads up and down instead of left to right, and the benefit of a vertical monitor would be lost.
The optimal size for a vertical monitor would be 24 inches or less, but not more than 27in.
When it comes to the resolution we are combining the size of the monitor with its usage. There is no need for a vertical monitor with a resolution higher than 16:9 since the video quality at that resolution is solid as it is.
And you will probably use it for text, so you wouldn't need a bigger resolution, to begin with. Since there is no practical need for a larger resolution monitor there is no need to spend more money on a monitor with stronger specs as they are generally pricier.
Conclusion
Which would be the best vertical monitor for you will depend solely on your own preferences and the way you would use it. Upon careful reviews and combining the features, price, and common use of vertical monitors, our winner on this list is HP VH240a. We hope we at least helped you by pointing you in the right direction.
Related: Best Streaming Monitor
Frequently Asked Questions
We are sorry that this post was not useful for you!
Let us improve this post!
Tell us how we can improve this post?