If you plan on turning your hobby into a job, and start streaming on Twitch, you will need proper software that will help you produce quality streams.
---
Quick Overview
Both XSplit and OBS are awesome, but our rating goes in favor of OBS.
 
1. Features – Xsplit comes with a bigger number of premium features and is simpler to use, while OBS is free
2. User-friendliness – Xsplit has a simpler interface, while OBS can be overwhelming for beginners
3. Performance – OBS runs more smoothly and takes up your CPU resources
4. Live streaming – with OBS, you can stream in 4k, while XSplit only allows for 1080p at 60fps
5. Recording – OBS offers bigger file format options, while XSplit is better for audio/ video optimization
6. Price – OBS is free
 
In the end, it's up to you to decide what is it you need and how much you're ready to pay for premium features.
---
Options are numerous, and in this guide, I will talk about the two frequently used ones – XSplit vs OBS.
Is XSplit better than OBS? The price of both, as well as the process of setting up and features, will be compared to determine whether XSplit or OBS is better.
OBS
Info, Advantages, and Disadvantages
OBS has been around the longest since it was one of the first streaming software ever created.
Thanks to many tech-geeks and open-source code, OBS is constantly improving and it always has the latest updates first.
Furthermore, it has an amazing, user-friendly interface, and generally speaking, it isn't so difficult to use, but does it make it better than XSplit?
Price
Beginners typically do not have much money to invest in their equipment, so OBS is great for them because it is free.
As stated, it is open-source software, the code is available to everyone, and new updates do not cost a single penny.
If you have some programming knowledge and know how to adapt the code to fit your needs, you can change it as you wish, without paying any money to original developers.
Installation and Setup
OBS is available only on the website – OBSproject.com.
There are multiple download links – you will choose the one suitable for your operating system. Keep in mind that if you are using Windows XP, you cannot use OBS, since it is unavailable for this Windows version.
In general, the setup is the same for different operating systems.
You will get a file for installation, and the process is straightforward and doesn't differ from the installation of any other computer program.
Once it is installed, you can immediately launch the program.
OBS will ask you whether it should be auto-configured for streaming or recording.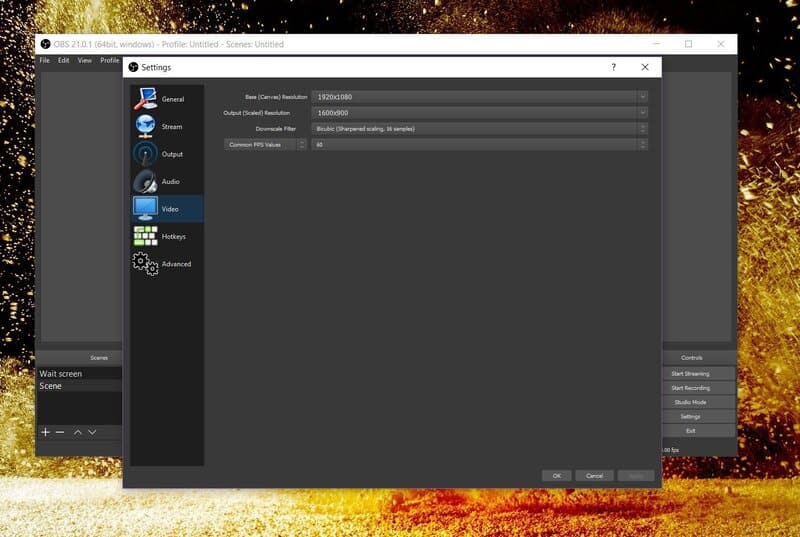 Any default OBS settings can be changed later, so it doesn't matter what you choose.
Before you start setting up the program, you should link the streaming platform with the software.
OBS is great because it is compatible with almost all streaming platforms – if you decide to ditch Twitch and switch to YouTube streaming, you can still use the same program.
Linking is done with a stream key, so just copy it from Twitch and paste it to OBS. You can also do it directly, by log-in in to Twitch through OBS.
Now, you can set the desired bitrate, FPS, connect external devices (microphones, camera, green screen), and add Scenes.
Features
When it comes to features, unfortunately, OBS doesn't have many of them.
You can either stream via OBS or record videos. It has options to record either gameplay, one of the active windows, or the entire desktop.
When it comes to audio, it uses desktop audio, which doesn't have outstanding quality. Connecting audio devices is enabled, so the tone coming from the mic should be clear, but you cannot add a custom playlist because audio files cannot be added to the Sources tab.
As you can see, there are some limitations with OBS.
If you plan on using alerts, overlays, widgets, or bots, you will have to rely on other programs.
None of these widgets can be created with OBS, but they can be linked to the software.
For example, to add overlays to OBS, you have to create an image in Photoshop, and then add this Image as a Source.
For alerts, you have to use one of the programs to create the alert, get the URL, and add this feature as a Browser source.
Even though creating these widgets is often quite simple, it is still a time-consuming task. Also, you might not have the skills needed to create one of the widgets.
Advantages
1. Free software
OBS's biggest advantage is that it is open-source and available to everyone.
It will take some time until you earn your first paycheck on Twitch, so it is good that even as a beginner, you have access to great streaming software.
2. Suitable for all computers
OBS doesn't use CPU as much, so it is supported by average computers, as well as more powerful ones.
During the stream, you do not have to worry about overburdening the CPU.
3. Simple interface
Once you test OBS, you will see for yourself just how intuitive it is.
All of the most important features are placed on the dashboard, and each is customized with right-click.
Furthermore, size and place can be changed just as easily, so you can create a dashboard that meets all of your criteria.
4. Compatibility and updates
OBS is available for all operating systems, and most importantly, it is compatible with all streaming platforms.
Also, all of the latest updates are firstly added to OBS, which means that you will be among the first streamers to test them.
Disadvantages
1. Not a lot of plugins
OBS lacks some of the most important features – alerts, as well as overlays and different widgets are necessary for streaming, so you will have to find other programs to create them.
This is especially unpractical for streamers that are accepting donations on Twitch.
For payments, you will have to find another program as well, and then find a way to integrate this feature into OBS.
2. Streams without music
Because audio files cannot be added as Sources, you won't be able to add music to the broadcast.
XSplit
Info, Advantages, and Disadvantages
Now, let's see what XSplit has to offer and see which is better OBS or XSplit?
There are two versions of XSplit. The first one, called XSplit Broadcaster is more similar to OBS – it is suitable for all streamers, not just gamers, while XSplit Gamecaster is designed specifically for gamers.
Both platforms are just as good and have a variety of features that will make you feel like a professional broadcaster.
Price
XSplit is one of the best streaming platforms if you decide to upgrade the account to premium.
With XSplit premium, you will have access to all of the incredible features, and your streams will look amazing.
However, if you decide to stick to regular XSplit, you probably won't be so amazed – streamers that do not plan on spending any cash on the software should probably stick to OBS.
So, what are the prices? This depends on the type of license.
There are three options:
3 months – $24.96
12 months – $60.00
36 months – $150.12.
Installation and Setup
Visit xsplit.com to download the program – keep in mind that at this point, you will have to decide between Broadcaster and Gamecaster.
Once it is downloaded, a setup wizard will appear on your screen.
The installation is simple – just follow the instructions on the screen.
Firstly, you will have to create an XSplit account. This can be done prior to the download, so if you have one, you can click on the Log-in button and enter your password.
Immediately upon opening, the program will notify you whether there are some new updates. Make sure to add them if there are any because your stream will look better with them.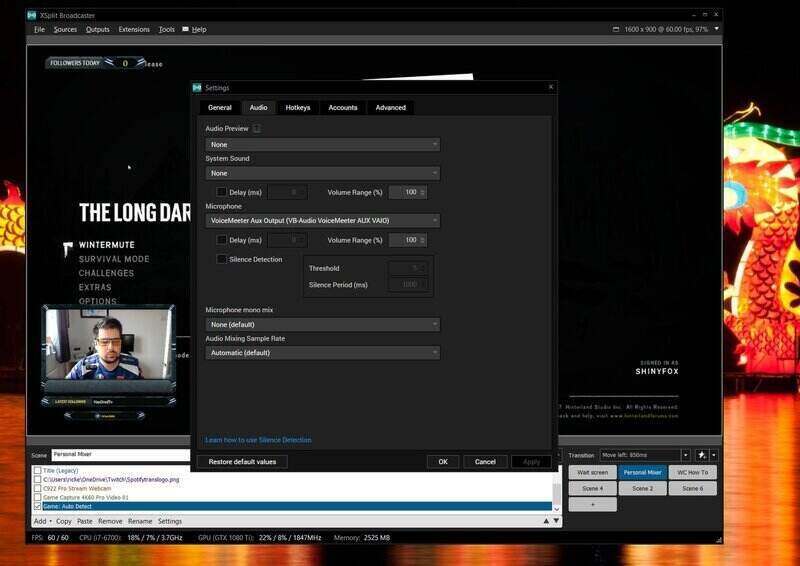 Then you will see XSplit Dashboard – compared to OBS Dashboard, it looks even simpler.
Now, you can choose a background image, play with Sources, choose a layout, add hotkeys, set the resolution, and adjust other settings.
Once you are done with customization, you can link the Twitch account through the Broadcast tab.
Features
XSplit is compatible with different streaming platforms just as OBS and the two software have a lot of similar features.
However, XSplit went a step further. 
Green screen is already integrated, and you won't have to use another app for overlays.
Also, XSplit allows you to edit videos within the program and has a few very unique features.
For example, there is a Presentation Packager – if you are changing computers, you can transfer all configurations to a new computer easily. XSplit will save them as a zip file, and you can unpack them on a new computer.
Furthermore, there is an adaptive bitrate that will adjust the bitrate to bandwidth and make sure the stream is always running smoothly.
So, in general, XSplit gives you more variety than OBS, but those extra features have a price.
Advantages
1. Easy to navigate
Even though XSplit has a bunch of options, it is still quite easy to use.
You only need basic knowledge to navigate the program, use the features, and stream.
So, it is great for beginners, and professional streamers can create even better content with a broad choice of options.
2. Allows third-party apps
If you want to use a feature from another program, you can link the two via URL link.
So, you aren't limited to only using XSplit features.
3. Features
As stated, XSplit has more options than OBS.
Things that in OBS require another program are already built-in OBS.
Also, there are some great unique features you won't find in other programs.
Disadvantages
1. Upgrade is necessary
If you do not upgrade your XSplit account, you won't have access to the mentioned features.
There isn't much difference between a regular XSplit and OBS, so it won't matter whether you are using OBS or XSplit.
2. Only for Windows
Currently, XSplit is supported only by Windows.
There is a way to get XSplit via Bootcamp on Mac computers, but this will prolong the setup process.
XSplit vs OBS – Final Word
Is XSplit good? Yes, this is amazing software, but between XSplit vs. OBS studio, the latter is better.
XSplit is great when you purchase a subscription, but a free version is quite similar to OBS, so it is better to stick to OBS.  With plugins, you can create incredible content with this software.
If money is not an issue then give XSplit a chance.
Options are numerous, and in this guide, I will talk about the two frequently used ones – XSplit vs. OBS.
Is XSplit better than OBS? The price of both, as well as the process of setting up and features, will be compared to determine whether XSplit or OBS is better.