It is annoying to start your daily Twitch streams and deal with signal delays. These stream delays are inevitable for most users since Twitch has been rapidly expanding towards new destinations.
It means that a lot of Twitch viewers are interested in watching several streams simultaneously. That itself creates a lot of traffic on Twitch servers.
Today we will talk about the Twitch stream delay, its meaning, and how you could reduce or even increase it as a moderator.
It is in your hands to create the best possible use of your time, bandwidth, and software on Twitch to have the best followers enjoying crystal clear image and sound the time you emit it.
Why Does Twitch Stream Delay Happen?
Many factors affect the Twitch stream delay, and among them are the internet connection speed, the country you live in that may give certain internet speed restrictions on Twitch, and even your hardware.
Even though certain limitations about which Twitch delay can be bearable by the audience, it creates adverse reactions that should be avoided by any means.
For example, if you follow your favorite Twitch streamer that broadcasts from China, it would be acceptable to have some delays if you reside in the Americas.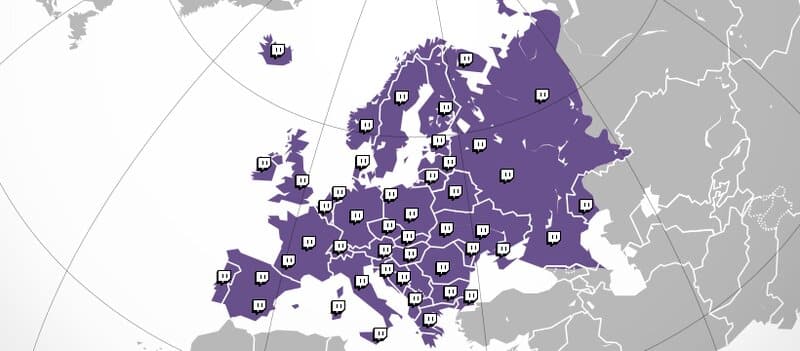 However, some countries give Twitch certain restrictions that affect Twitch stream quality.
Activating the Streamlabs OBS stream delay can affect your chat rooms in a positive way.
The regular Twitch delay is never more than 10 to 15 seconds. That also depends on the Twitch Latency mode that users may enable.
The bitrate you prefer to broadcast yourself can give your followers longer Twitch delays, especially when they live far away from you.
The more Twitch expands, the greater will become the issues with lower bitrate and higher analysis that is the ultimate goal for all.
It should be everyone's goal to step into the newest mobile networks technology to make sure that Twitch delay will disappear once and for all.
Tests to Measure the Twitch Stream Delay
You can know how long the Twitch delay from the control panel is. Followers and broadcasters share the same access.
First, you need to click on the Advanced Settings and then on the Video Stats button. It is the place where you can choose the Stream Latency option where you can have real-time information about your Twitch stream delay.
Other than that, there is no other direct way you can measure the seconds of delay from the actual live broadcasting. 
As a Twitch channel owner and streamer, you can inform your loyal followers about the natural delay happening. 
You can also suggest them to lower the desired bitrate and eliminate most of that delay at once.
On the other hand, there may be times when you could use some delay in your broadcasting. That can happen for multiple reasons, but the most important one would be the safety of information and your channel's integrity.
Ways to Set Up Your Twitch Stream Delay
If you search online, you shall find multiple ways to either increase or decrease the desired Twitch delay in your streams.
Here you will find the most successful methods to perform a Twitch delay setting for your channel:
How to Lower your Twitch Delay
When you want to minimize the OBS delay, you can find the OBS delay settings and start encoding.
Writing new code on Twitch channels (although not prohibited) is a practice that needs mastering.
Through the encoding, you can easily have your Twitch delay decreased to such an extent that it would become acceptable by your followers.
Another popular way to decrease the Twitch delay to satisfactory thresholds would be to enable a lower bitrate. 
We all know that a lower bitrate equals a lower image and sound reproduction. However, if you feel that most of your international audience has delay issues, it would be better to lower the quality but have them engaged in your online games and competitions in real-time.
There is also the chance to change your Twitch channel's latency mode to the lowest possible. That could also be set up by default and follow your next streams anytime you broadcast yourself online.
First, check the latency tab to identify its position. If it is the normal range, then you can click the low indication and reduce your bitrate so that your Twitch followers can enjoy satisfactory and real-time broadcasting.
Ways to Increase the Twitch Delay
As we have mentioned before, there are times when Twitch channel operators and streamers would like to increase the broadcasting delay.
That applies to security and quality assurance purposes. It can also be useful when you receive DDoS attacks and other hackers who want to take control of your streams.
The OBS studio can give you the solution for one more time. You can use the stream delay OBS and have the delay adjusted to your desired levels.
As soon as you enable the delay, the system will ask you to adjust the time of the desired delay, and it will apply the new settings at once.
The OBS delay can be a life-saving event for your streams since it can give your moderator the necessary time to find the intruders and block them.
On the other hand, using an increased delay, you can always manage to sum up and rejoin with followers from other countries that would love to view ads and participate in competitions on your live broadcasting sessions.
You can also grant access to partners and affiliates to add streaming delays to your live streams. The Add Stream Relay option in the Settings panel gives them the chance to adjust the delay between one and fifteen seconds, making it easy for you again to win back your audience.
The Main Reasons for Twitch Buffering
There are many ways for experts and novice Twitch users to eliminate the Twitch buffering issue. Some of them are easy to know and could be presented here:
You need to check if your computer has been invaded by malware. This virus software can contaminate your browser and make you buffering when you start your Twitch streaming session.
Another reason to suffer from buffering could be the background applications that run simultaneously to your Twitch broadcast.
It would be better for your streaming quality to shut down all other background programs and apps to have the best speed quality.
Your browser's cash memory can also give you a buffering phenomenon every time you engage in a new Twitch Livestream session with your followers.
A good practice would be to clear your cache memory every single day and make sure that you accept fewer cookies from locations you don't trust 100%.
Ways to Measure the Bitrate on Twitch
Always try to measure your upload speed using reliable online tools. That would be the only way to know exactly which combination of speed and frame frequency is optimal for your streaming.
Over the years, the Twitch platform has introduced new tools for streamers to improve their video and audio quality.
It would be better for your profitability and channel reputation to eliminate unnecessary delays that may frustrate part of your audience and make it leave your streaming earlier than it should.
After all, speed is the objective for all Twitch users who want to interact with each other and find a place to communicate efficiently.
Frequently Asked Questions
Here are some of the most frequently asked questions about Twitch delays on social media.
The actual inquiries come from the Google search engine, and this part of the article is dedicated to answering these issues.
Can I Fix Twitch Delay by Lowering Stream Latency?
There is a possibility you can fix the Twitch Delay simply by lowering the stream latency. As mentioned before, you have the chance to do so by yourself or even have your moderators take care of it on your behalf.
If you want to make a compromise between the average video and sound quality and the stream delay, these settings can become your Bible.  By lowering the video quality, you give your followers the message to lower their crisp image and sound quality expectations in favor of the immediate communication.
You should always keep in mind that these settings can stay enabled by default and not come back to normal if you don't disable them manually. 
Suppose you are certain that your current broadcast is about a local audience. In that case, you may easily disable the latency button and have crisper video quality alongside perfect streaming without any trace of delay.
What Happens with Proxies and VPN servers?
Some streamers also have Twitch delays from buffering when broadcasting through a Proxy or VPN server.  It is usual for Twitch to filter any such server. The best practice would be to abandon these VPNs or Proxies when using the Twitch Services.
Can my IP Address Cause Bad Twitch Latency?
Finally, another main reason for buffering during Twitch streams could be the various IP addresses your provider offers to your connection. It would be a lot better to have a dedicated IP address from your telephone company and register that directly to the Twitch servers.
Why Are Twitch VODs so Bad?
It is common knowledge among Twitch fans that Videos on Demand (VODs) can have awful quality. That may happen for many reasons. The most important one would be the deficient internet speed from the Twitch channel owners.
Every time you question yourself about the bad VODs experience you had, first try to check your internet connection. Another reason for bad VODs could be the image and audio recording hardware you have.
Can my Streaming Hours Be the Reason for an Awful VODs Quality?
Another reason for the bad quality of VODs could be the lack of experience with the streaming hours. When you decide which are the right VODs for your audience, try to find the best hours for a lower traffic burden on the Twitch servers.
What Would Be the Optimal Bitrate on Twitch Streams?
Twitch administrators allow users to have their broadcasting sessions with a maximum bitrate of 6000 Kbps. There is no way you can go over that limit, not to mention that few computers worldwide can give you a higher bitrate whatsoever.
The optimal bitrate for most Twitch streaming sessions would be 4500 Kbps that is a rate many followers can absorb.
Twitch only gives followers the bitrate you emit to the servers; you need to have a lower bitrate to give all of them the chance to watch your streaming with a decent speed and quality.
If your goal is to present your audience a live streaming game that requires a lower keyframe interval and some usual B-frames, you can lower the bitrate even beyond the 4500 Kbps limit.
What Are the Twitch Official Recommendations for Bitrate?
Twitch recommendations would be to have a 3000 Kbps bitrate and a maximum of 30 frames per second.
Twitch only gives followers the bitrate you emit to the servers; you need to have a lower bitrate to give all of them the chance to watch your streaming with a decent speed and quality.
If your goal is to present your audience a live streaming game that requires a lower keyframe interval and some usual B-frames, you can lower the bitrate even beyond the 4500 Kbps limit.