The three-monitor setup proves to be highly beneficial for your productivity. However, you'll find that an ordinary, skimpy desk is grossly inadequate for this setup.
What you need is a special kind of desk, a heavy hitter – a triple monitor computer desk. And, in my opinion, the best desk for 3 monitors is Mr IRONSTONE L-Shaped Desk because of its versatility, spaciousness, and functionality that you will appreciate.
I have tested dozens of desks to create this list of the best ones with the aim of helping you choose the one that'll suit you.
QUICK OVERVIEW: Best 3-Monitor Desk for Streaming
Mr IRONSTONE L-Shaped Black

Weight: 38.6 lbs
Top: Textured P2 MDF Board

Walker Edison Ellis L Shaped

Tempered safety glass
Max Capacity: 50 lbs

Size: 51″(L) x 51″(L) x 18.2(W) x 29.5
Weight: 40.4 lbs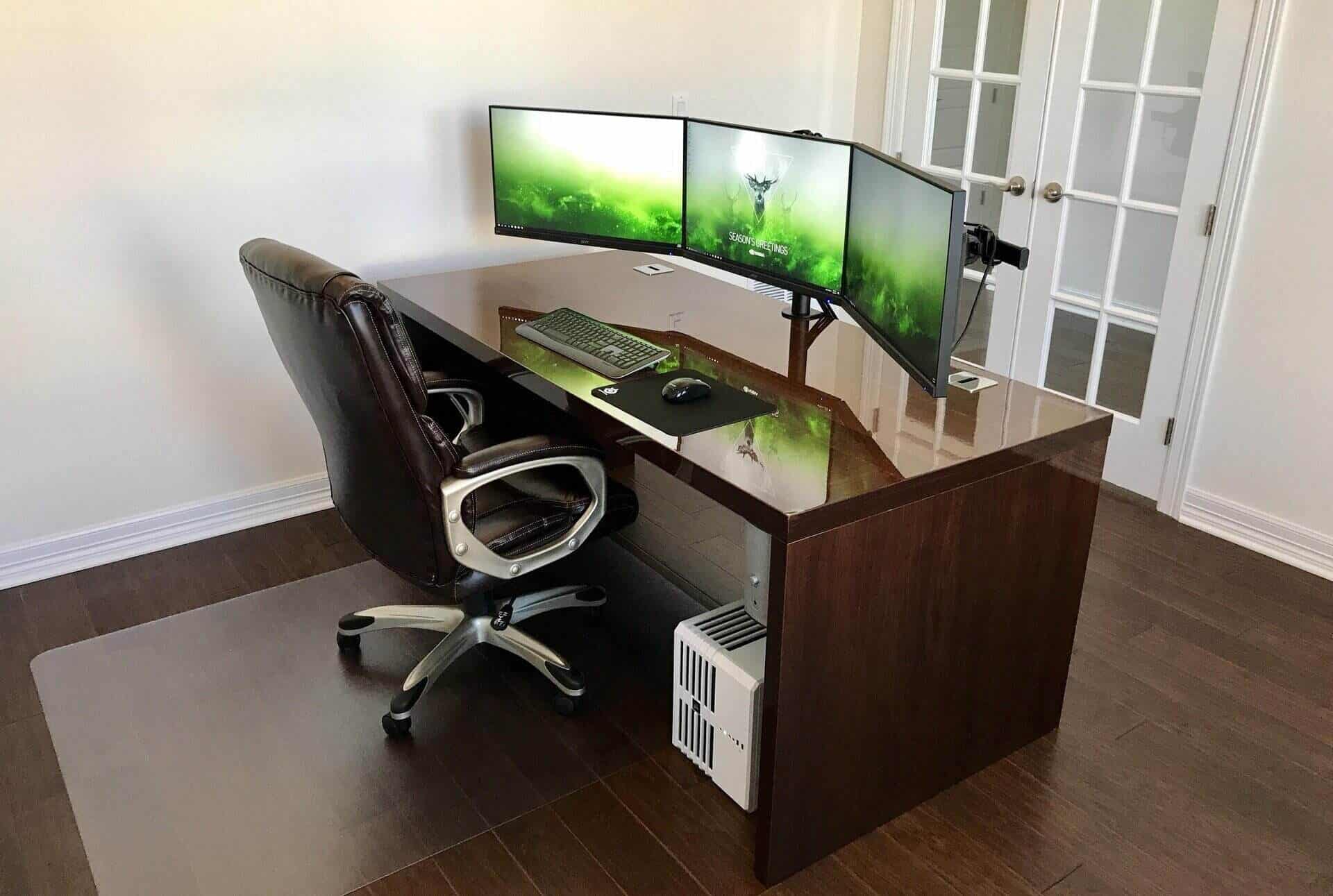 Best Desk for 3 Monitors
Tested & Reviewed
As every technology buff knows, all computer desks aren't created equal.
Sure, if you're an average user, you can relatively easily find yourself a reliable and sufficiently large desk that can fit all your gear. 
If you're in the market for a triple monitor desktop, you'll find out that things can get a bit complicated, to say the least. 
There are myriad factors and options you have to consider when buying a desk for 3 monitors. I'll help you find the right one. 
1. Mr IRONSTONE L-Shaped Desk
Best overall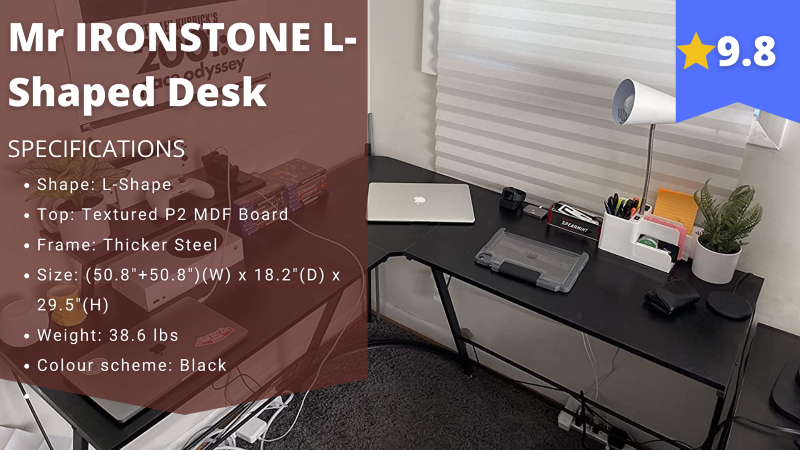 Stefan's Take:
Mr IRONSTONE L-shaped desk seems like a classic L-shaped desk at first. However, it has one great twist – an additional monitor stand that really adds versatility and functionality, plus some extra desk space. I could easily fit all of my streaming gear on this desk without it getting too crowded.
Moreover, it's made of high-quality materials, resistant to wear, and doesn't even take up too much space, so it'll fit even in a smaller room.
| | |
| --- | --- |
| Space | 10 |
| Size | 10 |
| Design | 9 |
| Extra Features | 10 |
Why do I think Mr IRONSTONE L-Shaped Desk is the best among these?
This Mr IRONSTONE L-Shaped Desk is a take on their classic L-Shaped desk, but with a twist.
This one, too, is graced by versatility, functional design, and all the extra tabletop space it offers.
What makes it so special is that it also has an additional monitor stand which is just perfect for that third coveted monitor in your setup. It's designed to save valuable space and fits cozily right in the corner of your workspace.
Who is it best for?
I want to point out the main benefit of Mr IRONSTONE L-Shaped Desk- its superb versatility.
Its L-shape makes it suitable for home or office usage alike, while podcasters, streamers, gamers, and all others with elaborate desktop setups will appreciate its generous tabletop surface.
Finally, its additional monitor shelf elevates it into a category of its own, so it'll be convenient for all those who require a separate monitor stand.
Key Features
Mr IRONSTONE L-Shaped Desk is a simple yet effectively designed desk with a clean, elegant, and modern look devoid of all unnecessary gimmicks. 
What makes it stand out is its superb quality! The tabletop is made of P2 MDF Board, covered with an additional textured anti-slip and anti-scratch layer.
This adds additional comfort during usage and makes it resistant to daily wear and tear. 
Another great feature of this desk is certainly its additional monitor shelf. It can be mounted on either side of the desk, according to your preference.
I found it quite practical to hold my laptop or tablet.
The X-Shaped legs are made of powder-coated steel, which guarantees extra durability and sufficient legroom.
Also, as is the case with all Mr IRONSTONE's desks, this one, too, has adjustable leg pads, which will keep it stable and level on all surfaces. 
All these features combined make it the best desk for 3 monitors you can get!
Pros
Affordable
Highly versatile
Sturdy
Easy to assemble
Includes instructions
Cons
For the price, nothing worth mentioning.
2. Walker Edison Ellis L-Shaped
Best desk for smaller spaces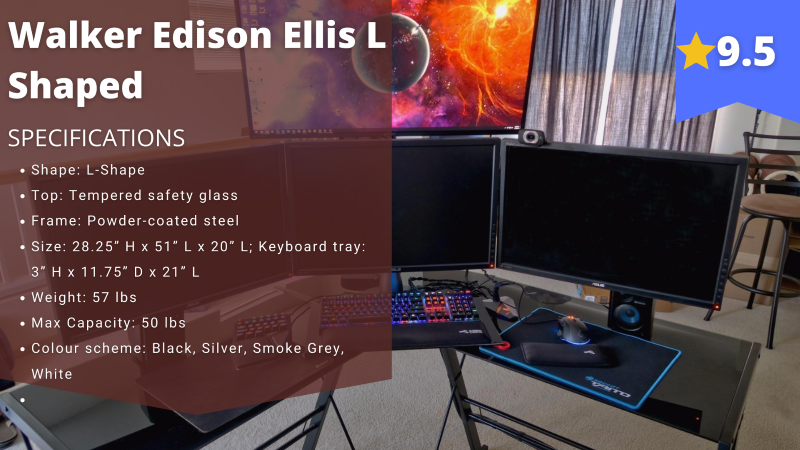 Stefan's Take:
This desk is just ideal for smaller rooms and flats. The X-shaped legs are space-saving, and even though the surface is not as deep, it can still fit three screens.
What initially attracted me to this desk was its modularity. The separate keyboard tray saves up desk space, and there is enough space to organize your streaming gear as you wish.
I got the desk in black and noticed some scratches after a few weeks of using it that I couldn't wipe off, so it's not as durable as the manufacturer claims.
| | |
| --- | --- |
| Space | 10 |
| Size | 9 |
| Design | 10 |
| Extra Features | 9 |
This suave soreno-styled desk belongs to Walked Edison home office line, although it would effortlessly fit into the living or any other space for that matter.   
Of course, far more important than its elegant and contemporary look are its functionality, abundant tabletop surface, and modular qualities, which make it one of the most versatile computer desks you can get. 
Who is it best for?
Perhaps you're a homeowner searching for a suitable piece for your home office.
Or you're a pro gamer who's on the lookout for a reliable and spacious desk that can fit your three monitors and other gear? 
Regardless of your profession or hobby, you won't go wrong by acquiring Walker Edison Ellis Modern Glass Top L-Shaped Corner Gaming Desk.
Key Features
The recognizable L-shape gives it plenty of possibilities, starting from the fact that it can be tucked into a corner of your choice, thus conserving space. 
Moreover, this desk is also highly modular. If you, by chance, acquire two of them – which according to its price, isn't unreasonable, you'll get a superior setup that can support up to six monitors and more than 200 lbs.
As can be seen in the specs, the tabletop is made of tempered safety glass. Thanks to this, the tabletop is not only highly aesthetically pleasing but also scratch-resistant and extremely easy to maintain.
However, take notice that although the glass itself is scratch-resistant, the dark layer that covers the bottom side of the black version of the desk isn't.
Of course, it's there to create the effect of opacity, but every scratch you make on it will be painfully evident. 
Another key feature of this desk is its movable keyboard tray which can support up to 10 lbs and immensely saves tabletop space.
The frame of this desk is made of steel with a powder-coated finish. The legs are X-shaped, which is a tried-and-true method for obtaining stability and ample leg space. 
Pros
Comes in 4 different color schemes
Versatile
Elegant
Lightweight
Easy to assemble
Cons
The tabletop surface could be deeper
3. Casaottima Gaming Desk
Best budget desk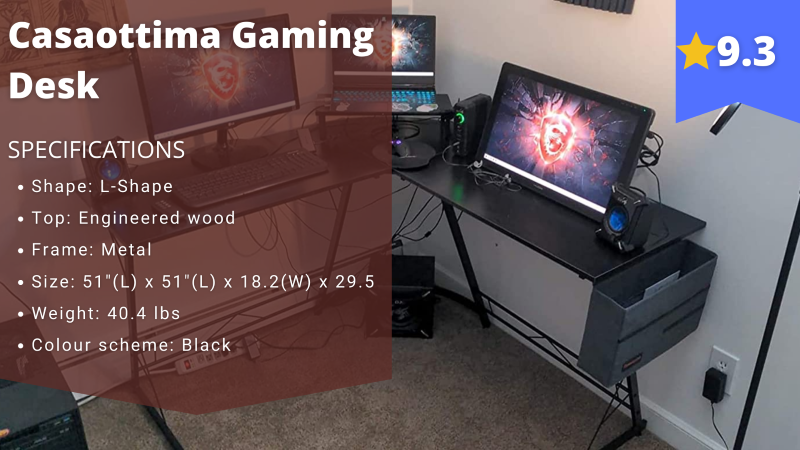 Stefan's Take:
The first thing I noticed about this desk was just how many features they managed to incorporate for such a low price.
The additional monitor stand was one feature I didn't expect a budget desk to have, so it was a nice surprise to see that this desk has one. It allowed me to organize all my equipment neatly, plus have some extra desk space.
Overall, the desk is sturdy, practical, and decently priced.
| | |
| --- | --- |
| Space | 9 |
| Size | 9 |
| Design | 9 |
| Extra Features | 10 |
Here I have another L-shaped desk for your consideration, this time from Casaottima. 
Although it doesn't bring anything revolutionary new to this time-tested concept, Casaottima L-Shaped Gaming Desk manages to develop it almost to perfection.
Simple, elegant, functional, and ultimately modern, equipped with an extra monitor stand, this reasonably priced desk is made of durable, high-quality materials.  
Who is it best for?
Just like other L-shaped triple monitor computer desks on our list, Casaottima L-Shaped Gaming Desk has various applications.
Whether you're a gamer who'll use it for his online gaming setup, a student, streamer, or musician, or just need a solid desk for your home office, you can't go wrong with Casaottima L-Shaped Gaming Desk. 
Key Features
The tabletop is made of engineered wood with a nice textured finish, with all the standard scratch-resistant, heat-resistant and waterproof properties you can expect in a desk of this type and quality.
Casaottima L-Shaped Gaming Desk comes with a stand for an extra monitor, which can be mounted – should you choose to do it – on either side of the desk.
Of course, even without it, the tabletop surface offers enough space for your three monitors, although this stand does save some extra storage space.
The metal frame is sturdy, durable, and extremely stable, thanks to the fact that the legs are X-shaped and that they are equipped with adjustable footpads.
All standard features, you might say, but, as I've mentioned, everything on this desk is done exceedingly well.
Pros
Spacious
Lightweight yet durable
Great design
Great customer service
3-year warranty
4. Arozzi Arena Gaming Desk
Best gaming desk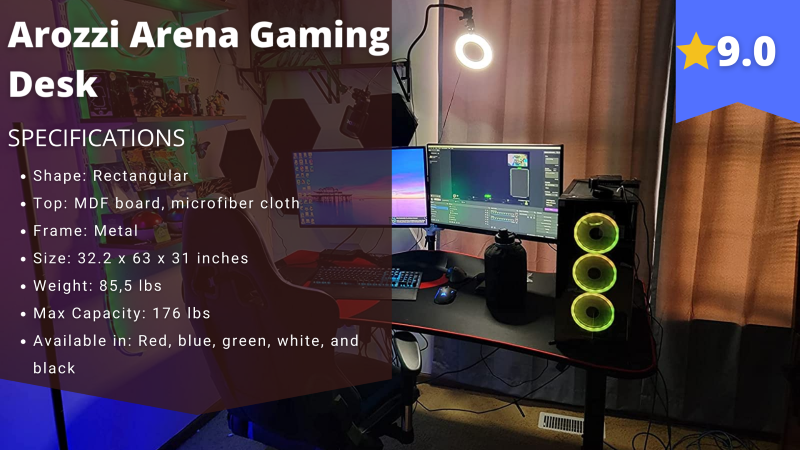 Stefan's Take:
Everything about this desk just screams "gaming!" From the design of the tabletop (it's a mousepad), color-scheme to the recognizable Arozzi logo.
I did think a rectangular shape wouldn't leave a lot of desk space unused, but I was proven wrong. Even with three monitors, a keyboard, a mouse, and a few streaming accessories, some desk space was still left.
The basket for cable management is another practical feature, and I liked the extra legroom.
| | |
| --- | --- |
| Space | 9 |
| Size | 9 |
| Design | 9 |
| Extra Features | 9 |
Arozzi company manufactures a wide range of gaming-related products, so you can expect they'll have the best interest of the gamers at heart. 
Arozzi Arena Gaming Desk proves it completely.
Instead of the prevalent L-shape, this high-end gaming desk offers a huge, ergonomically designed rectangular tabletop that can easily house three large monitors and a bunch of other equipment. 
Who is it best for?
Arozzi Arena Gaming Desk boasts a really stupendously large tabletop surface, so it will be more than appropriate for those requiring a desk with these qualities. 
However, since it was created by a team of the best Swedish designers who cooperated with professional gamers, the Arozzi Arena Gaming Desk aims to be the ultimate gaming desk and, for the most part, succeeds admirably. 
Key Features 
First of all, the frame of the Arozzi Arena Gaming Desk is made of metal, which makes it extremely sturdy. 
The tabletop is ergonomically designed and is made of durable MDF board.
It's then additionally customized with the top layer of interchangeable microfiber desk mat with anti-slip rubber at the underside, which makes it flawlessly cling to the surface. 
This desk mat is adorned with the Arozzi logo and a large decorative pattern and also serves as a mousepad.
Of course, it goes without saying that this combination guarantees that the whole surface is water-resistant and easy to maintain.  
The tabletop also features three cutouts which can be used to mount up to three monitors.
Underneath the tabletop is a substantial mesh basket that can be used for cable management.
Thanks to this feature, the surface of this triple monitor computer desk will be clutter-free. Finally, the legs of the desk are T-shaped, which ensures good stability and plenty of legroom. 
Pros
Sturdy
Spacious
Great design
High-quality materials
Comes in 5 different color schemes
5. Cubiker Modern L-Shaped Desk
Spacious L-shaped desk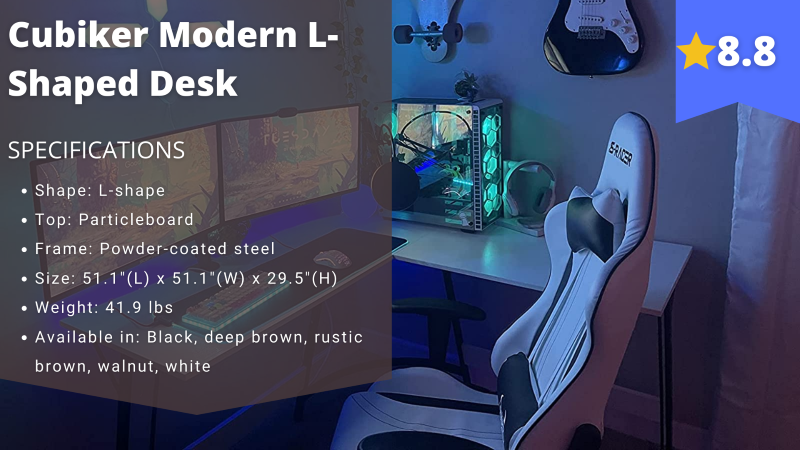 Stefan's Take:
If you have some extra room space, my advice would be to invest in a bit larger desk like this Cubiker one.
It comes in a few colors, has a modern design, and has a few practical features. I was mostly attracted to a movable shelf – I used it as a monitor stand, but it could also serve for storage.
Additionally, the surface is made of high-quality materials and resistant to wear, which is important when you decide to invest a bit more in a new desk. 
| | |
| --- | --- |
| Space | 9 |
| Size | 9 |
| Design | 8 |
| Extra Features | 9 |
Solid, stylish, spacious, and environmentally friendly, these words best describe the next candidate on this list – Cubiker Modern L-Shaped Desk. 
This desk represents a shining example of their company's ethos: modern, minimalist, functional furniture with a pleasing natural feel.
It's large, simple, and effective, with an overall quality you won't see too often in other desks of this price range. 
What's most important, it'll effortlessly house your three monitors and other accouterments. Did we also mention that it's currently dirt cheap? 
Who is it best for?
Virtually everyone who is in need of a large desk that can comfortably store up to three monitors and all your other gear will be exceedingly pleased with this awesome product. 
Key Features
First of all, this L-shaped desk is not only sufficiently large for most tasks you'll present to it, but it also encompasses almost an entire corner. 
The tabletop is made of solid particle bold that successfully emulates natural materials.
It is water-resistant, easy to clean, and fairly resistant to scratches, thanks to its high-quality coating.
The package also includes a movable shelf that can be mounted at the place of your choosing and will serve as a monitor stand or multipurpose storage rack.
The frame is made of sturdy powder-coated steel, capable of supporting considerable loads.
Pros
Affordable
Great value for the price
Easy to assemble
Sturdy
Space-saving
Cons
You're not getting much for that price
6. Lufeiya L-Shaped Desk
Great choice for new streamers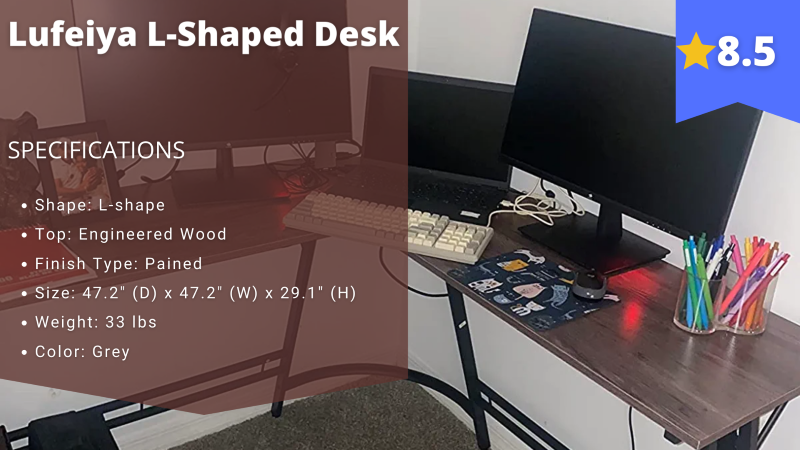 Stefan's Take:
I would describe this desk as modern, versatile, quality, practical, and affordable.
I managed to fit all my gear, plus headphones, a mobile stand, and a camera, but it didn't leave too much extra space. The keyboard tray or an additional stand would make it even more practical.
However, I think there is just enough room for a beginner since you probably don't have as many accessories.
| | |
| --- | --- |
| Space | 9 |
| Size | 8 |
| Design | 8 |
| Extra Features | 9 |
Lufeiya L-Shaped Desk is designed for home offices, dormitories, students, and gamers.
With nice, clean, and minimalist lines, this desk manages to be extremely functional and bold.
Who is it best for?
There is no doubt that every category of user will be able to appreciate this 3-monitor computer desk.
However, gamers might not be quite happy with its narrow desk space. That's why I think it would mostly suit beginners since they don't have as much equipment as professional streamers and can get the most out of this desk.
Key Features
Compared even to the most versatile L-shaped desks, Bestier L-Shaped Led Gaming Computer Desk possesses unusual flexibility. 
True, as most L-shaped desks out there, if you perchance acquire two of them, you'll be able to assemble a superior workstation.
The tabletop is made of engineered wood and painted to get a nice, quality finish.
Moreover, the metal legs are sturdy and durable, and I didn't expect it to be so well-built considering the price.
Additionally, the leg pads allow you to adjust the height for a few inches, and it's great for even floors.
You won't have to worry about something possibly falling from your desk and breaking due to its instability.
Pros
Great design
Sturdy
Versatile
Leg pads for adjustable height
7. OUTFINE L-Shaped Desk
Modern L-shaped desk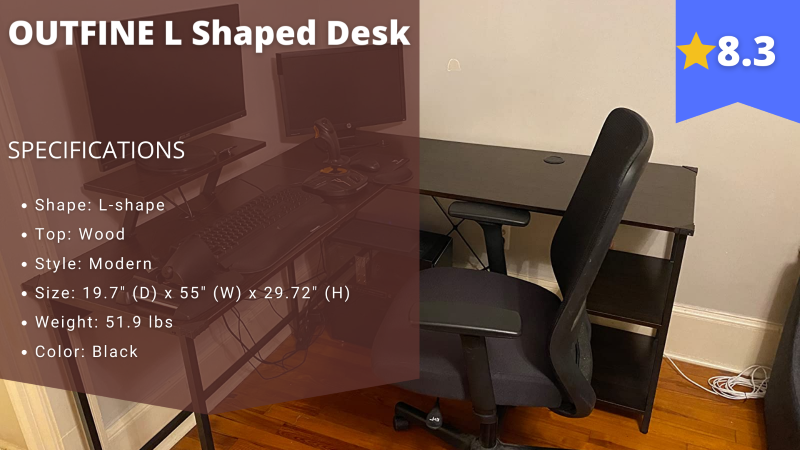 Stefan's Take:
This desk seemed quite narrow at first. However, the extra shelves really changed my mind about its practicality.
They were quite handy for keeping some of my smaller streaming accessories like headphones, cameras, stream deck, etc. Also, I liked its modern design, color, and quality materials that made cleaning really easy.
If you don't have a free corner to use it as an L-shaped desk, you can assemble it into an I-shaped one.
| | |
| --- | --- |
| Space | 9 |
| Size | 8 |
| Design | 8 |
| Extra Features | 8 |
Like most of their products, the OUTFINE L-Shaped Desk possesses a nice homey feel. That, of course, isn't a flaw in any way.
Everything on this desk is simple, harmonious, and functional.
With a pleasant color scheme, wood tabletop surface, and high-quality hardware, OUTFINE L-Shaped Desk will seamlessly blend into virtually every work environment.
If you're perusing triple monitor computer desks that won't break the bank, keep an eye out for OUTFINE L-Shaped Desk.
Who is it best for?
This simple, multi-functional desk is ideal for home or professional office conditions.
All user demographics who require a spacious and reliable computer desk for 3 monitors will benefit from it, no matter their profession.
Key Features
With OUTFINE L-Shaped Desk, the designers managed to combine functionality and beauty.
The elegant simplicity of this desk is paired with an efficient design and high-quality materials. It's durable and scratch-resistant, with a solid frame structure and adjustable leg height for added stability, support, and legroom of this unpretentious desk.
The L-shape conserves space and practically offers two separate desktops.
You can set up the two desks as you wish: L-shaped for a better overview of three monitors, I-shaped if more than one person will be using the desk, or U-shaped if you purchase an additional desk.
The additional shelves for storage are useful for holding all desk clutter, and a monitor stand can be moved around as desired.
You can adjust the height of the stand and create an optimal work environment.
Pros
Affordable
Spacious
Modern design
Extra shelf for better functionality
Cons
A bit difficult to assemble
8. Eureka Ergonomic Gaming Desk
Great K-shaped desk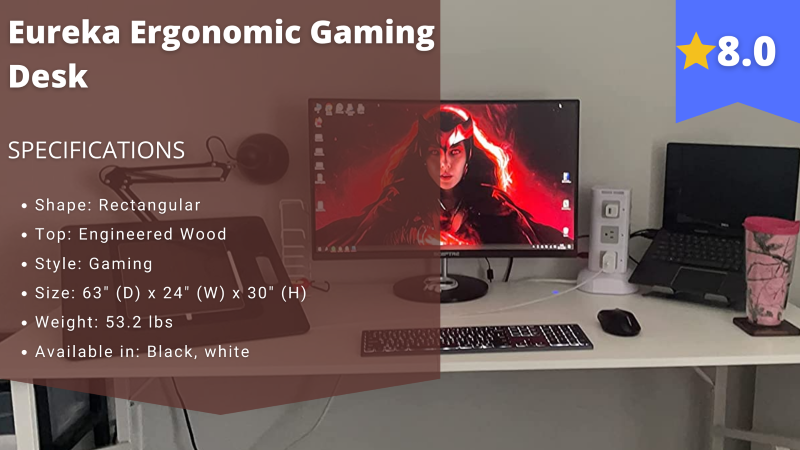 Stefan's Take:
What caught my eye were some extra accessories that improved the gaming and streaming experience.
The controller stand, cup holder, headphone hook, and cable management system helped with managing clutter on my desk, and I think any gamer will appreciate them.
| | |
| --- | --- |
| Space | 8 |
| Size | 8 |
| Design | 8 |
| Extra Features | 8 |
Unlike most items on my list, which are L-shaped desks, this desk boasts a K-shape.
Its specially designed ergonomic tabletop easily supports three monitors and offers a huge work surface.
Of course, a desk this ambitious wouldn't be quite the same without an excellent array of extra features.
All this, paired with high-quality materials and thoughtful and intuitive design, will make Eureka Ergonomic Gaming Desk a crown jewel of your gaming setup.
Who is it best for?
The Eureka Ergonomic Gaming Desk is a multifunctional gaming desk if we ever see one.
That means that it can be used for various purposes and different conditions, and it'll perform admirably.
However, it's also evident that only true gamers will completely utilize everything that this desk has to offer.
Key Features
The tabletop is made of P2PB-engineered wood, and it's scratch-resistant, easy to maintain, and waterproof.
What makes it stand out is a convenient gaming setup that consists of three must-have gaming accessories: a cup holder, headphone hook, and game controller stand – all within easy reach.
Your desk will always be prepared for work!
It also comes with a power socket box to keep your gear powered at all times, and two cable management holes, so you can keep a clutter-free work surface without the annoying mesh of cables.
The metal frame boasts K-shaped legs, so expect great stability and ample legroom. Finally, adjustable feet have anti-scratch, anti-slip, and anti-tilt protection.
Pros
Huge worksurface
High-quality design
Easy to maintain
Practical features
Things to Consider When Buying Best Desk for 3 Monitors
1. Budget
It might seem obvious, but your budget will be the first factor you'll have to take into consideration when buying three monitor desks.
As you've might've seen, there is a huge variety of available desks that come in different price ranges.
Always try to find the middle ground between your actual needs, wishes, preferences, and the sum of money you have at your disposal. 
2. Your preferences
What is your taste? What do you find visually appealing? What are your requirements? And how much space do you have available?
These are some questions you'll have to consider after you determine your budget.
They will make a difference between things such as buying L-Shaped or rectangular desks, or whether you'll need extra features, or you'll find them annoying.
3. Shape
Supposing that that available space is not an issue, the shape of your future three monitor desk will largely depend on your taste.
However, if your workspace is limited, then you'll have to calculate whether the L-shape or classic rectangular shape will be more appropriate.
4. Extra Features
As always, there is a fine line between a balanced product, and one crowded with unnecessary additions.
Hardcore gamers, streamers, podcasters, and others will find various extra features extremely useful.
Others will have no practical use for things such as headphone hooks or cup holders. Examine carefully whether you need extra features because they can raise the price of the desk considerably.
Related: Best Desk for Streaming
Conclusion
When it comes to triple monitor desks, there are multiple options to choose from.
My top three choices are:
Mr IRONSTONE L-Shaped Desk as the best overall,
Walker Edison Ellis L Shaped as best one for smaller spaces,
Casaottima Gaming Desk as the best for those on a budget.
By now, you certainly have a good understanding of what you can expect and what you should be looking for if you're searching for the one that's appropriate for you.
Of course, when in doubt, just backtrack through this list. As always, I've got your back!
Frequently Asked Questions
How to make your 3 monitor computer desk even more efficient?
In addition to the tabletop surface itself, some triple monitor desks will have features such as extra monitor shelves or keyboard trays.
If you want to conserve space even more, you might consider using triple monitor stands. Some desks, like the Arozzi Arena Gaming Desk, already include cutouts for mounting these stands. 
What is the best shape for triple-monitor desks?
No shape is superior to others per se. Whether you'll opt for an L-shaped or rectangular desk depends on your available space and your preferences.