QUICK OVERVIEW: Best Sony Camera for Streaming
Mirrorless camera
Efficient automatic functions

24.2MP full-frame sensor
Bluetooth and Wi-Fi

20.1 MP sensor
Time-lapse mode
So, you saw that there are kids on YouTube and Twitch making six figures a year, and you thought, "Hey, this seems easy enough," and you're on the task of finding the perfect camera for live streaming?
Well, this is the place for you.
The things I'll look into in this article are:
Best Sony Camera For Streaming
Reviews
It's been a well-known fact among both videographers and the common folk that Sony offers the best bang-for-buck ratio. The "buck" part of that ratio sometimes isn't the most favorable, but the "bang" part makes up for it.
They are being used for a wide range of videos – from live streaming to Netflix-approved shows, and there is a reason why they're so popular. So let's get right into the "best cameras for live streaming" nitty-gritty!
1. Sony ZV-1
---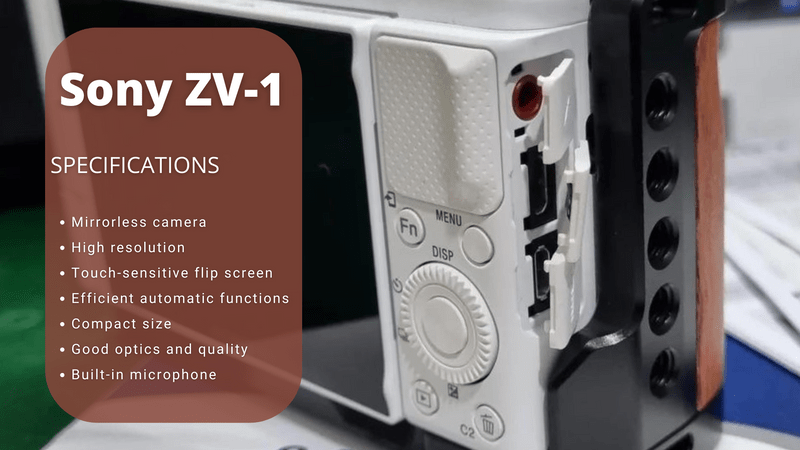 ---
The Sony ZV-1 is a camera specially designed for content creators, vloggers, and streamers, such as yourself, so it's a pretty obvious choice, at least for my taste. It's a well-rounded, easy-to-use, lightweight, and compact camera.
Minimal technical knowledge is needed to use it properly. That makes it perfect for beginners and pros who want to enhance their workflow.
Description
Sony had that final product of yours in mind when designing this camera, so it automatically does many things you would otherwise have to do manually.
Those things are fast autofocus and an algorithm looking for your face and eyes to focus on automatically.
They also did a good job thinking about the video quality/video size ratio for those who don't have a good enough internet connection.
It's a lightweight, compact camera, with a touch-sensitive flip screen which makes self-filming as easy as possible.
The built-in microphone is a function that can spare you $100s of additional audio equipment without sacrificing audio quality.
2. Sony a7 III
---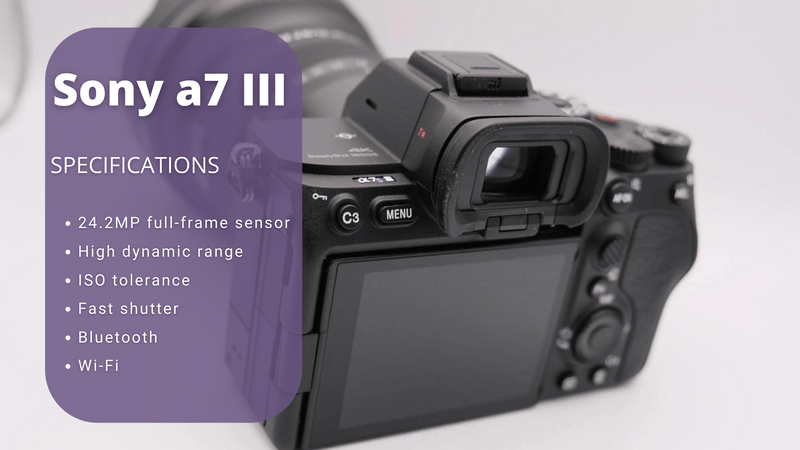 ---
The Sony a7 III is a different beast. Not only it was more than enough for vlogging and streaming, but I also used in professional video productions. In fact, a vast number of your favorite music videos from the last decade were probably shot with a version of the Sony a7.
This one (III) is the latest update to the system and offers some improvements over the older ones.
Description
It's a bulky thing. It's not lightweight, and it's not at all compact.
That would not be a problem, though, being that it will probably spend a significant portion of its work hours on a tripod, aimed at your pretty face while you play Minecraft.
But, in the event that you need it for something more than that, it's where it shines the brightest.
Sony did an incredible job with the Sony a7 III and its capability to shoot in low-light environments. And when I say low-light, I mean almost absolute darkness.
That option basically spares you the cost of additional lights. Lights can be used for details and making the picture even better than it was, but the alpha 7 III will manage exceptionally well in almost any kind of environment.
3. Sony Alpha a6400
---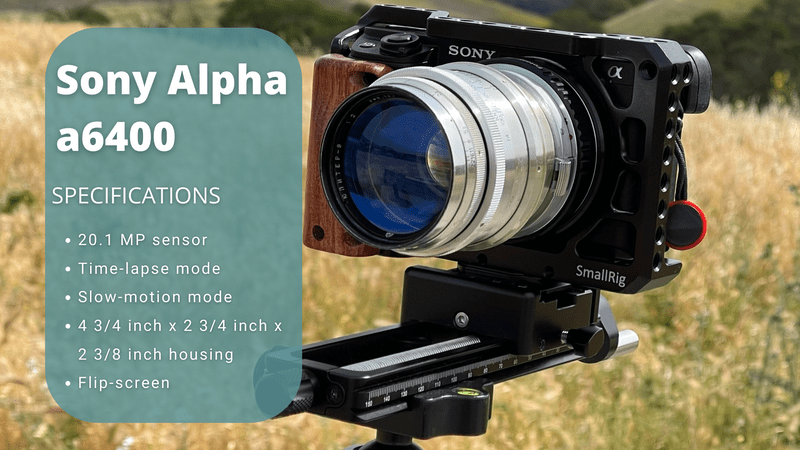 ---
The Sony Alpha a6400 is basically a compact version of the a7. It offers almost all of the functionality of the a7 but in a more compact and user-friendly package.
Of course, some of the high-performance traits are lost to that trade-off.
Description
The Sony Alpha a6400 is a tiny but mirrorless camera for streaming, and that fact is always welcome, especially when it comes to video production. You can also fit it with any Sony E-mount lens.
Given its 4k video quality at 30 frames per second, it will do more than enough for streaming purposes.
That being said, now is the time to address a thing that's true for all Sony cameras – the menus are atrocious. Everything good that this camera does is buried under tons of unintelligible photography jargon inside its countless menus and submenus. Some things are even not in the menus at all.
It's a weather-sealed camera, which, in addition to its low weight and small size, makes it perfect for outdoor filming.
4. Sony PlayStation 4 Camera
---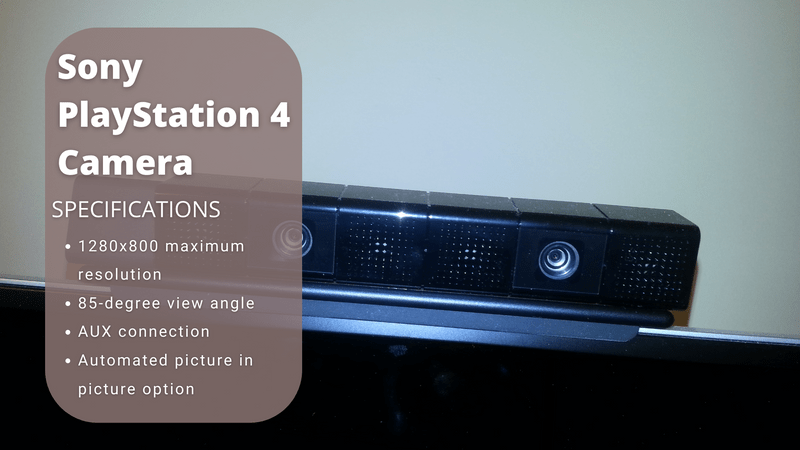 ---
This is a kind of cheat, to be completely honest. It's not a camera you can use outside of your Playstation, but it's made exclusively to record and stream your gaming on the console.
The Sony PlayStation 4 camera is by far the cheapest solution out of these, but it's also of the poorest quality.
Let me be clear. When I say "poorest", it doesn't mean that it's terrible, just that the other cameras on this list offer way more in terms of versatility and adaptation to not-so-perfect shooting conditions.
If you're planning to be a gaming streamer, this is definitely your go-to camera especially if you're starting.
Description
Honestly, this doesn't even look like a camera at first glance. More like an add-on for your Playstation, which it basically is.
It's a small tube shape you can mount anywhere, and use it as a web camera, too.
It doubles as a sensor/player tracker for VR games, but it also has built-in options for streaming.
Dual lenses give it the ability to sense 3D space. That ability is called stereoscopy. That's how it tracks players' positions in the room when they're playing VR games.
The fact that it goes onto your Playstation and has integrated commands inside the PS4 that enable all the control over it you could ever need is a really neat feature. But it's also PC-compatible.
5. Sony Alpha 7C
---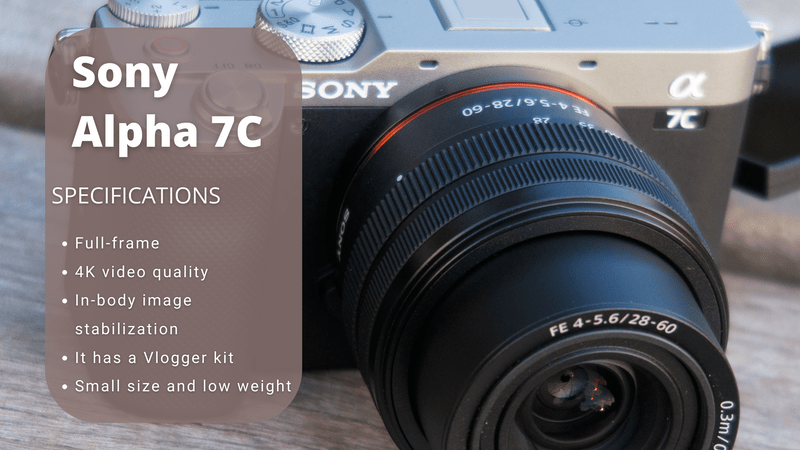 ---
The Sony Alpha 7C is another heavyweight among the cameras on this list, but this time it's not about its size.
As a matter of fact, it's the world's smallest and lightest full-frame camera. The name says a lot about what you can expect from this amazing camera – it's a part of the Alpha 7 family. Its high-quality footage and general performance are a given.
It offers all the things a professional camcorder needs to offer: the possibility to change lenses, a full-frame sensor, high-resolution video quality, and excellent color depth.
That means that it's going to be more than you'd ever need out of a streaming camera.
Description
The lightweight and small size frame of the camera make it immensely practical for people on the go. Add excellent in-body image stabilization to that, and you're in business!
This camera is heaven for hand-held filming if that's what you need.
Its maximum video capture resolution is 2160p, also known as 4k, which is double the resolution compared to HD resolution.
The Alpha 7C also offers Wi-Fi as a way of connecting it to external devices, such as remote shutters, phone apps, or other gadgets used for improving your workflow.
At first glance, it looks way different than the Alpha 7 III and is adorned with an almost retro-looking design which is a nice little feature for those of us who like to look cool while we film, aside from having a powerful tool.
What To Look For In a Sony Streaming Camera
It's really easy to get entirely lost in the world of cameras and camcorders, especially if you're new to it. It is full of specifications that look more like mathematical formulas (some even are), seemingly random numbers, and letter sequences that look incomprehensible to the untrained eye.
Add to that the camera model names that are, again, seemingly random strings of numbers and letters, and you get one infernally confused buyer.
In order to divert all that confusion away from you, it's best that I give you a quick look at what makes a camera good but also suitable for your streaming needs:
The other thing to keep in mind is that most of these cameras I'm going to go through are a kind of overkill if you only plan to use them for streams.
They are all (except for one) semi-professional to entirely professional cameras, and they all (except for the one mentioned before) can be used in all kinds of video production and will significantly raise your streaming quality.
Durability
The camera you choose has to be ready to withstand a beating! You'll be making content daily, and it's imperative that the camera doesn't get busted too easily. It's also important to take note of the projected battery life.
Image quality
A good camera will deliver images and videos of decent quality. It would help if you had that in order to stand out among your "competition".
Price tag
There is often a discrepancy between the camera you need, the camera you want, and the camera that you can actually afford. Finding the perfect balance in this little three-way scale is essential.
Other things, though, might include a certain amount of additional equipment, which you'd otherwise have to buy separately. Those things include built-in microphones, additional batteries
FAQ
---
Which DSLR camera is best for live streaming?
The answer to this question can be both pretty simple and hella complicated!
A simple answer would be "the best cameras for live streaming are the ones which do the job well for the least amount of money".
A shorter, albeit more complicated, answer is that you need to know your needs and capabilities before buying a camera. Here's a complete guide on DSLR cameras!
How much money do I have to spend on a good streaming camera?
Not much, actually. Especially if you intend to only do streams with it, some cheap cameras can do a great job with just a bit more work on your part.
In that case, you'd need to learn the basics of photography, how to set up any camera and how to get the best out of the cheap camera you have.
That's a lot of work, and people even go to colleges to study that in detail.
If you want a camera that will do those things automatically (things like proper exposure, and focus) and in all conditions, the price range goes up significantly.
What kind of additional equipment will I need for live streaming?
This question has almost a literal ton of answers. Depending on the camera you opt for and your needs, you might need:
1. A green screen
2. Additional lights
3. An external microphone
4. A capture card
5. A bunch of cables (HDMI cable, USB cable, audio cables)
6. AC power adapter
7. Card readers
The last but not the least of the additional equipment you'll need is – patience.
Streaming requires a highly convoluted system of both hardware and software to work correctly, and it takes a lot of time and effort to set up. But, once you do it, you're set up for years to come.
Why Sony? I see a lot of cheaper cameras on the internet.
Let's be completely honest here; Sony cameras aren't cheap. But, they are setting a standard in YouTube streaming.
A vast majority of streamers and YouTubers we all enjoy watching, all use Sony cameras. The consumer's eye has slowly gotten used to Sony's color palette and crisp image quality.
That's what your audience will probably ask for, too.
You can also get a great result out of a cheaper, off-brand camera if you know how to work it properly, but, as I said earlier, that's a whole college course in and of itself.
---
We are sorry that this post was not useful for you!
Let us improve this post!
Tell us how we can improve this post?