So, you saw that there are kids on YouTube and Twitch making six figures a year, and you thought, "Hey, this seems easy enough," and you're on the task of finding the perfect camera for live streaming.
Well, this is the place for you. Sony is one of the best brands for streaming cameras, and my top choice is Sony ZV-1. It's one of their more affordable yet still quite powerful cameras that will produce top-notch videos to help you stand out from the crowd.
I will also present other best live streaming cameras by Sony that might be a better fit for your needs. Let's dive in.
QUICK OVERVIEW: Best Sony Camera for Streaming
Mirrorless camera
Efficient automatic functions

24.2MP full-frame sensor
Bluetooth and Wi-Fi

20.1 MP sensor
Time-lapse mode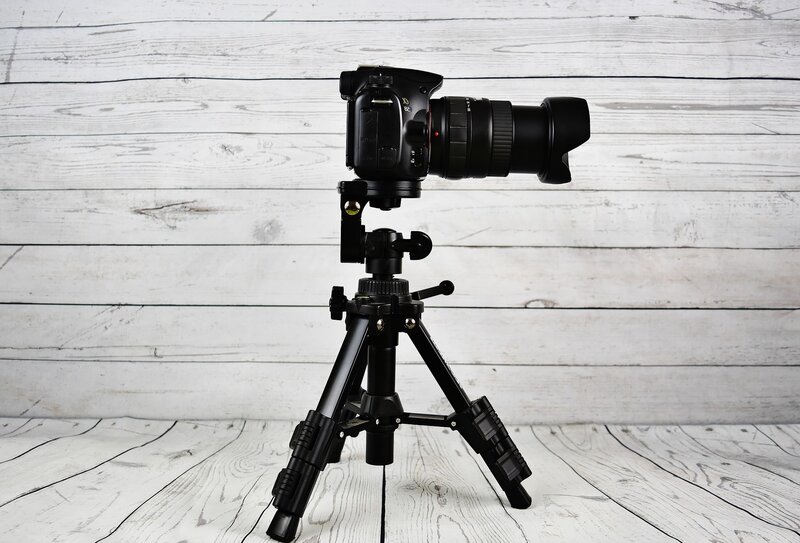 Best Sony Camera for Streaming
Tested & Reviewed
It's been a well-known fact among both videographers and the common folk that Sony offers the best bang-for-buck ratio. The "buck" part of that ratio sometimes isn't the most favorable, but the "bang" part makes up for it.
They are being used for a wide range of videos – from live streaming to Netflix-approved shows, and there is a reason why they're so popular. So let's get right into the "best cameras for live streaming" nitty-gritty!
1. Sony ZV-1
Top choice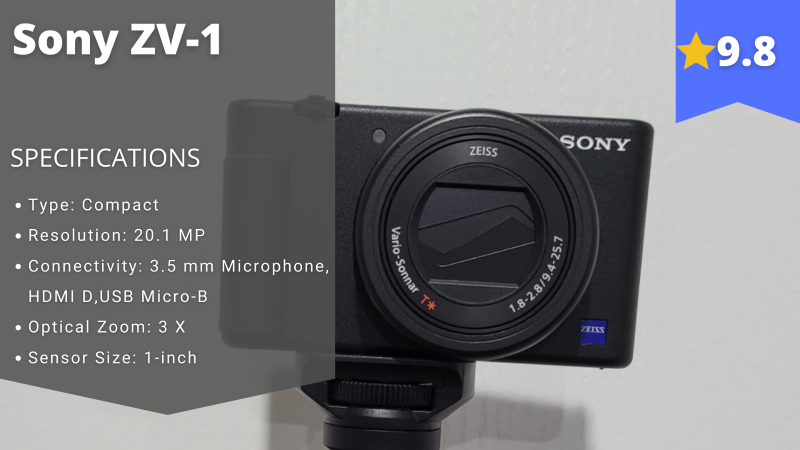 Stefan's Take:
The best-streaming camera, in my opinion, is Sony ZV-1. This model suits everybody – from amateur streamers that have yet to learn how to use a professional camera to professionals that want to produce high-quality content.
It's lightweight, portable, with great optics, and built for vlogging and streaming.
I was also impressed by the built-in microphone and audio quality it produces.
| | |
| --- | --- |
| Resolution | 10 |
| FPS | 9 |
| Autofocus | 10 |
| Value | 10 |
The Sony Z-1 is a camera specially designed for content creators, vloggers, and streamers, such as yourself, so it's a pretty obvious choice, at least for my taste. It's a well-rounded, easy-to-use, lightweight, and compact camera.
Minimal technical knowledge is needed to use it properly. That makes it perfect for beginners and pros who want to enhance their workflow.
Key features
Sony had that final product of yours in mind when designing this video camera, so it automatically does many things you would otherwise have to do manually.
Those things are fast autofocus and an algorithm looking for your face and eyes to focus on automatically.
They also did a good job thinking about the video quality/video size ratio for those who don't have a good enough internet connection.
It's a lightweight, compact camera with a touch-sensitive flip screen which makes self-filming as easy as possible. The built-in microphone is a function that can spare you $100s of additional audio equipment without sacrificing audio quality.
Pros
A camera everyone can use
Great optics
Built-in microphone
Video quality/output size ratio
Cons
A bit pricey for beginners
2. Sony a7 III
Best for filming in low light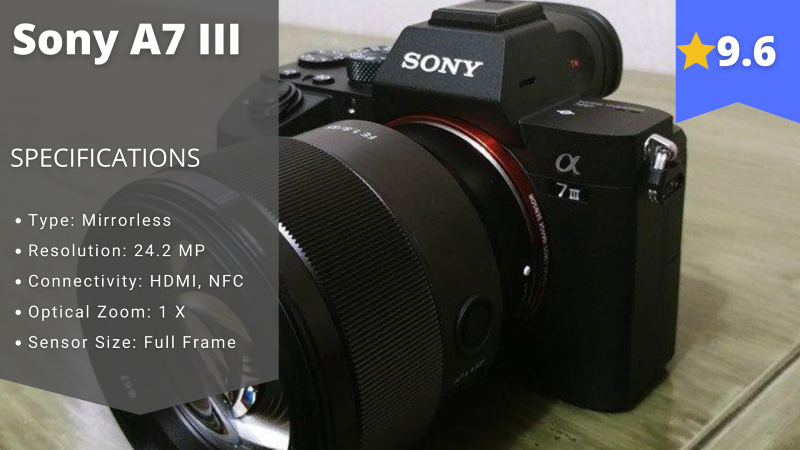 Stefan's Take:
One of my favorite live-streaming cameras in poor light conditions is Sony A7 III. This camera features incredible lenses and a sensor that quickly adapts to the filming environment, so you can live stream even in a pitch-black room without worrying about the quality of your content.
If you additionally want to boost the video footage quality, you can purchase additional lenses.
Just the camera body is quite expensive, yet I think it's worth every penny.
| | |
| --- | --- |
| Resolution | 10 |
| FPS | 9.5 |
| Autofocus | 10 |
| Value | 9 |
The Sony a7 III is a different beast. Not only was it more than enough for vlogging and streaming, but I also used it in professional video productions. In fact, a vast number of your favorite music videos from the last decade were probably shot with a version of the Sony a7.
This one (III) is one of the latest updates to the system and offers some improvements over the older ones.
Key features
It's a bulky thing. It's not lightweight, and it's not at all compact.
That would not be a problem, though, being that it will probably spend a significant portion of its work hours on a tripod aimed at your pretty face while you play Minecraft.
But, in the event that you need it for something more than that, it's where it shines the brightest.
Sony did an incredible job with the Sony a7 III and its capability to shoot in low-light environments. And when I say low light, I mean almost absolute darkness.
That option basically spares you the cost of additional lights. Lights can be used for details and making the picture even better than it was, but the alpha 7 III will manage exceptionally well in almost any kind of environment.
Pros
Insane image quality
Ability to adapt to any light
Fast and efficient autofocus
Cons
Hefty price tag
A little bit bulky
3. Sony Alpha a6400
Best mirrorless camera for streaming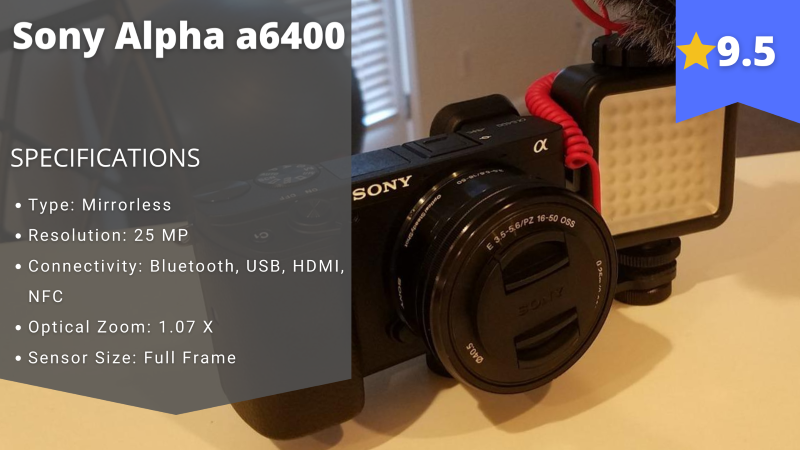 Stefan's Take:
This is the first interchangeable lens camera I have tested and any other I have tried simply couldn't compare.
In my opinion, this is an excellent camera for filming both indoors and outdoors, and it doesn't require a learning curve. I would even go to say that it is probably the best streaming camera because of its precise eye-tracking focus and 4K video recording.
| | |
| --- | --- |
| Resolution | 9 |
| FPS | 10 |
| Autofocus | 9 |
| Value | 10 |
The Alpha a6400 is basically a compact version of the a7. It offers almost all of the functionality of the a7 but in a more compact and user-friendly package.
Of course, some of the high-performance traits are lost to that trade-off.
Key features
The Sony Alpha a6400 is a tiny but mirrorless camera for streaming, and that fact is always welcome, especially when it comes to video production. You can also fit it with any Sony E-mount lens.
Given its 4k video quality at 30 frames per second, it will do more than enough for streaming purposes.
That being said, now is the time to address a thing that's true for all Sony cameras – the menus are atrocious.
Everything good that this camera does is buried under tons of unintelligible photography jargon inside its countless menus and submenus.
Some things are not even on the menus at all. It's a weather-sealed camera, which, in addition to its low weight and small size, and option to attach to a gimbal, makes it perfect for outdoor filming.
Pros
Lightweight
Compact
High image and video quality up
4K video
Cons
No in-body image stabilization
Not-so-user-friendly menu system
4. Sony PlayStation 4 Camera
Best streaming camera for PS4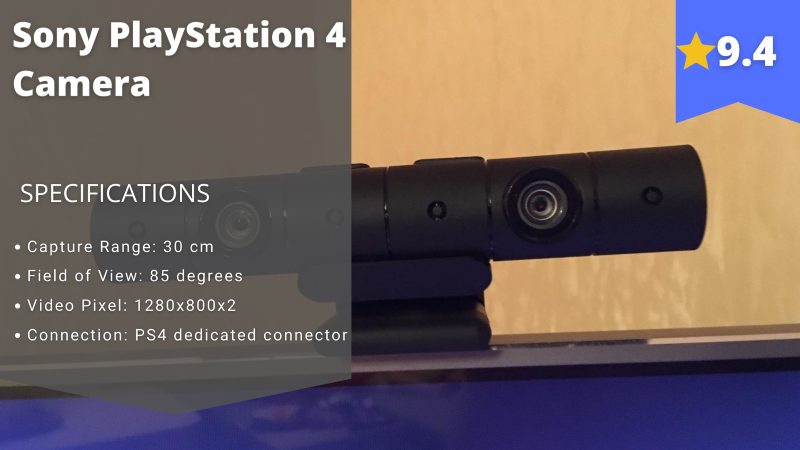 Stefan's Take:
Sony PS4 camera offers just what a high-quality webcam should offer: full HD video recording, different frame rate options, and precise focus.
The multi-channel built-in microphone will provide clean, stereo audio, and what I liked the most were voice commands: I could do whatever I wanted on my PS4 console completely hands-free.
| | |
| --- | --- |
| Resolution | 9.5 |
| FPS | 9 |
| Autofocus | 9 |
| Value | 10 |
This is a kind of cheat, to be completely honest. It's not a camera you can use outside of your PlayStation, but it's made exclusively to record and stream your gaming on the console.
The Sony PlayStation 4 camera is by far the cheapest solution out of these, but it's also of the poorest quality.
Let me be clear. When I say "poorest", it doesn't mean that it's terrible, just that the other video cameras on this list offer way more in terms of versatility and adaptation to not-so-perfect shooting conditions.
If you're planning to be a gaming streamer, this is definitely your go-to camera, especially if you're starting.
Key features
Honestly, this doesn't even look like a camera at first glance. More like an add-on for your PlayStation, which it basically is.
It's a small, tube-shaped, high-quality webcam you can mount anywhere.
It doubles as a sensor/player tracker for VR games, making it a great webcam for VTubing. Moreover, it has built-in options for streaming.
Dual lenses give it the ability to sense 3D space. That ability is called stereoscopy. That's how it tracks players' positions in the room when they're playing VR games.
The fact that it goes onto your PlayStation and has integrated commands inside the PS4 that enable all the control over it you could ever need is a really neat feature. But it's also PC-compatible.
Pros
Easy to use
Easy to mount
Extremely cheap
Great for video calls
Cons
Streaming limited to 1080p and 60 FPS (or lower)
Works as a part of the Playstation system, which many of us don't use
5. Sony Alpha 7C
Best camera with a full-frame sensor
Stefan's Take:
If you're a fan of full-frame cameras for streaming, I suggest you check out this one. It features real-time autofocus and eye-tracking, and great in-body image stabilization, which is especially important if you're using it on the go.
Considering the video capabilities of this camera, I have to say that it would be a shame to use it solely for live streaming. It's truly a versatile camera that will satisfy the needs of even the pickiest streamers.
| | |
| --- | --- |
| Resolution | 9 |
| FPS | 9 |
| Autofocus | 10 |
| Value | 9 |
The Soy Alpha 7C is another heavyweight among the cameras on this list, but this time it's not about its size.
As a matter of fact, it's the world's smallest and lightest full-frame camera. The name says a lot about what you can expect from this amazing camera – it's part of the Alpha 7 family. Its high-quality footage and general performance are a given.
It offers all the things a professional camcorder needs to offer: the possibility to change lenses, a full-frame sensor, high-resolution vid quality, and excellent color depth.
That means that it's going to be more than you'd ever need out of a streaming camera.
Key features
The lightweight and small size frame of the camera make it immensely practical for people on the go. Add excellent in-body image stabilization to that, and you're in business!
This camera is heaven for hand-held filming if that's what you need.
Its maximum video capture resolution is 2160p, also known as 4k, which is double the resolution compared to HD resolution.
The Alpha 7C also offers Wi-Fi as a way of connecting it to external devices, such as remote shutters, phone apps, or other gadgets used for improving your workflow.
At first glance, it looks way different than the Alpha 7 III and is adorned with an almost retro-looking design which is a nice little feature for those of us who like to look cool while we film, aside from having a powerful tool.
Pros
Great vid quality
Good in low-light conditions
Compact and durable
6. Sony Alpha A1
Best camera for professional streamers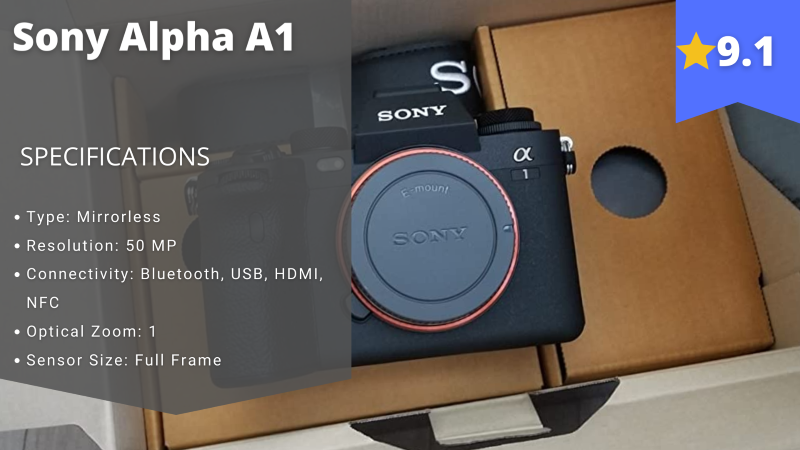 Stefan's Take:
I have to say that using this video camera felt surreal. I have never held a camera with such good technology, and I have tested numerous digital cameras.
Sony Alpha A1 has an impressive shooting speed, image processing, outstanding sensor, and accurate AF with eye-tracking. However, I gave it a lower grade simply because it's too advanced for live streaming.
| | |
| --- | --- |
| Reseolution | 9.5 |
| FPS | 9 |
| Autofocus | 9 |
| Value | 9 |
Sony Alpha A1 is one of the most advanced mirrorless cameras in the digital camera world. The camera technology it uses is superb, so the 5-figure price is not as surprising.
I have to say that considering its specs, using it only as a camera for streaming would be a great shame, and only passionate photographers and videographers would be able to appreciate what it has to offer truly.
Key features
This DSLR camera is a beast, and I'm not even sure from which feature to start.
If your goal is the best video quality, this is a camera for you!
Sony Alpha A1 offers 50 MP, 30 FPS shooting, and a refresh rate of up to 240 FPS. It's a high-resolution and high-speed camera suitable for recording video in any environment and any light conditions.
Sony incorporated a sensor with a CMOS structure and one of the best image-processing technologies called BIONZ XR that takes care of autofocus and improves image quality in real-time, thus making sure you don't have to spend much time editing your content.
When it comes to autofocus, it uses Fast Hybrid AF that is quick, precise, and accurate, with eye-tracking so that the main objective is always in focus.
However, I do have to say that these many camera settings can be overwhelming. While it could easily be the best live-streaming camera, you could also capture full HD content with a more affordable camera.
Pros
Best for capturing high-quality video
Excellent image quality
Ideal for fast-shooting video
Oustanding image-processing technology
Cons
The most expensive streaming camera
Too good for a live-streaming camera
7. Sony Cyber‑Shot RX10 IV
Best bridge camera for streaming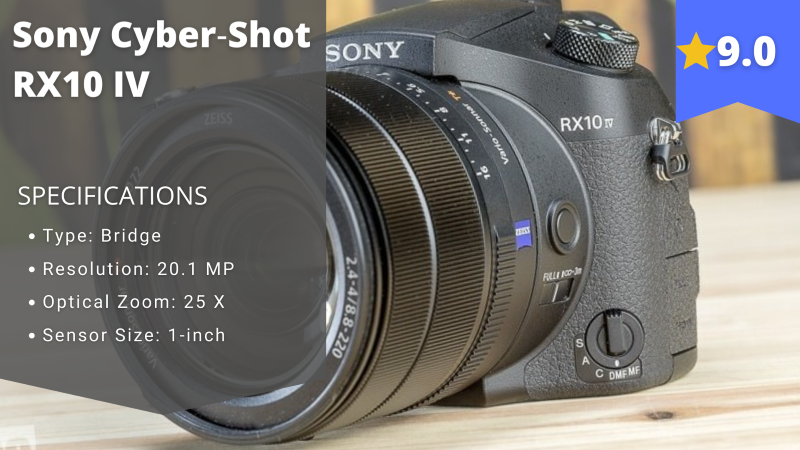 Stefan's Take:
I'm quite used to using DSLR cameras, and switching to a bridge one was good. Sony Cyber-Shot RX10 IV is a great upgrade from point-and-shoot cameras. Your live stream will be sharper and clearer, and the colors will be more vivid.
Initially, I had problems focusing, and AF wasn't as fast as I expected. However, I was quite pleased with the results once I figured out how it worked. Even at 600 mm, the quality of the images is good.
Regarding battery life, it was solid, and I purchased a bundle with a spare battery for longer filming days.
| | |
| --- | --- |
| Resolution | 9 |
| FPS | 9 |
| Autofocus | 9 |
| Value | 9 |
While Sony Cyber-Shot RX10 IV is quite popular among wildlife photographers, it's also a great choice for live streaming.
It's quite similar to some popular Sony mirrorless cameras but more beginner and user-friendly. Also, it's an amazing choice for those that want to upgrade from their point-and-shoot cameras.
Key features
Sony Cyber-Shot RX10 IV features an effective resolution of 20.1 MP with 1-inch sensor size and accurate hybrid autofocus that will ensure your images and video footage are vivid, sharp, and clear.
If you wish to lock focus, the hybrid AF will allow it.
However, during my testing, I had problems with the speed of autofocus. It was slow at times and did require a few tries to figure out how to use it properly.
It has movie shooting mode, yet it works quite well. The solid shooting range (up to 24 FPS) will ensure that even fast-moving objects are clear in the final footage.
Also, it supports 4K streaming, which is a must these days, especially for live streaming.
One thing I have to note is that it is on the bulkier side. The lens is quite big, and the camera is heavy. Still, the camera is quite comfortable to use. What I recommend is purchasing a bundle with two rechargeable batteries.
Pros
Allow full HD video and 4k footage
Fast shooting
Great image quality
Cons
Slow AF at times
Bulky camera
8. Sony RX100 VI
Best for streamers on the go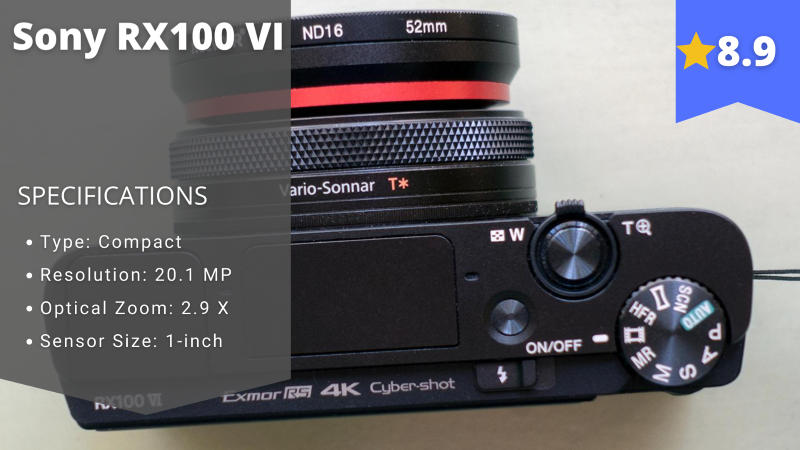 Stefan's Take:
In my opinion, the biggest advantage of this camera is its size – it's one of the smallest Sony video cams I have ever tested, and it was quite comfortable to use. The tiltable monitor is quite practical when filming at odd angles.
However, I did expect more from its internal microphone, and the 200 mm lens wasn't good enough for filming in poor light conditions.
| | |
| --- | --- |
| Resolution | 9 |
| FPS | 8.5 |
| Autofocus | 9 |
| Value | 9 |
If you like to live stream your traveling or simply need a camera that is lightweight and compact, Sony RX100 VI is one of the best cameras for this purpose.
It's not one of Sony's latest models, but it's just as powerful as newer ones. Let's check out the specs.
Key features
I have tested several Sony RX camera models, and the reason I picked this one is because of its long and powerful lens.
RX100 VI combines 20.1 megapixels with 24-200 lens, ensuring full HD video for live streaming. It's truly a beast and one of the most versatile compact cameras.
Such as with most Sony models, it has a hybrid autofocus system, and in most cases, it will work flawlessly.
Since it's a smaller camera, it was easy to carry around and comfortable to use. The LCD screen tilts so you can see the frame from any angle. The battery life is outstanding and lasts one full day.
The downside is the 1-inch sensor and performance in low light. While you can capture high-quality footage in low light as well, I think it would perform even better with a bigger lens. So, with this camera, you have to carefully think it through before ordering it.
Another thing I have to point out is the quality of the captured sound. Many Sony models have great built-in microphones, but it's not the case for Sony RX100 VI. You have to use an external mic to get a good sound quality that will accompany that HD video.
Pros
You can tilt the flip screen
Great battery life
Full HD footage
Cons
Poor performance in low light
Poor sound quality
9. Sony Alpha 7 II
Camera with the best stabilization technology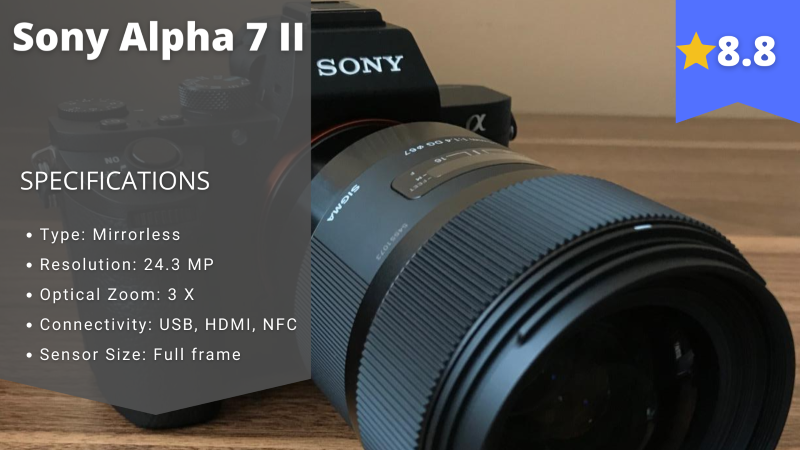 Stefan's Take:
In my opinion, this is one of the better cameras for streaming. It's good for filming in your home and outside in varying conditions. The grip is good, and it's relatively easy to figure out how to use it.
While Alpha 7 II does support full HD recording, it doesn't support 4K, which is a big downside, in my opinion. However, you can still make quality footage, especially with the appropriate lenses.
| | |
| --- | --- |
| Resolution | 9 |
| FPS | 9 |
| Autofocus | 9 |
| Value | 8 |
Out of all Sony Alpha 7 models, this is one of the cheapest, most compact, and beginner-friendly ones.
However, that doesn't mean that it offers less or that footage quality could be better. On the contrary, this camera outperforms even pricier models, such as a7S III.
Key features
The successor of this camera is the Sony A7 which earned the title "camera of the year." However, I have to say that after testing both, Alpha 7 II might deserve that title now.
Firstly, it's more comfortable to use. It's one of Sony's smaller and lighter cameras that you can take with you wherever.
With this model, Sony focused on shooting speed, autofocus technology, and recording capabilities. But the feature the brand improved the most was stabilization.
A7 II uses a full-frame sensor with 5-axis stabilization, so they did more than simply boost MPs by creating a versatile camera that will deliver the desired results. It suits better for vertical video recording, as well as filming in motion.
Sony is trying to push the E-mount lenses with A7 II, but I found that any streaming lenses work if you have an adequate adapter.
One feature I appreciate the most is the clean HDMI output since I'm most often streaming from the comfort of my room using my PC. Overall, it's a good bargain, but you do have to consider the extra costs of lenses.
Pros
5-axis stabilization
Ergonomic design
Great autofocus
10. Sony Alpha a6600
Great APS-C camera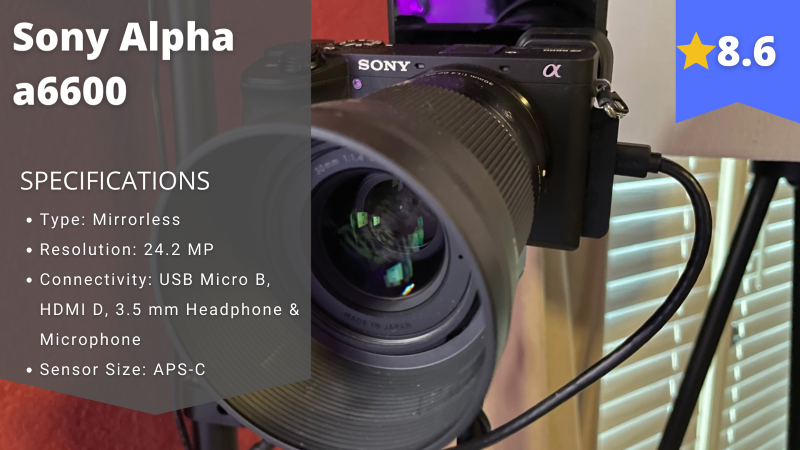 Stefan's Take:
I'm a big fan of the a6400 model and have used it as the camera for streaming for a while, so I was just as excited to test the newer model from the same series.
The features are quite similar to the a6400: 24 MP, CMOS sensor, same ISO range, and 11 FPS for recording. It works smoothly, but I would've preferred to see more improvements.
| | |
| --- | --- |
| Resolution | 8.5 |
| FPS | 9 |
| Autofocus | 9 |
| Value | 8 |
If you used the Sony Alpha a6400, you'll probably like the a6600 model just as much. The design, look, and sensor of the Sony Alpha a6600 are almost unchanged from the previous model, but there are some improvements in the performance.
Both are great cameras, but could this be a better fit for you? Let's find out!
Key features
Sony Alpha a6600 combines 24 megapixels with an APS-C CMOS sensor and 11 FPS shooting to ensure clear and quality images and recording with vibrant and accurate colors.
Moreover, it supports 4K recording, which makes it a great camera for streaming.
When it comes to its size, it's a bit heavier than the a6400 and other cameras from the a6000-series. However, in my opinion, it's still quite comfortable to use.
The design hasn't changed at all, so you can still get a good grip, and it's a great hand-held camera.
I was also pleasantly surprised by the improved in-body stabilization. It definitely has one of the best stabilization technologies out of all APS-C cameras I have ever had a chance to try.
It also works well even in poor light, which is quite surprising for an APS-C camera, and autofocus is fast and precise.
However, I don't think that it's a lot better than the a6400. Many features are still the same, and you can get the same image and vid quality with the a6400. It's most definitely not worth the price difference.
Pros
Works well in a bad light
Great AF technology
Good in-body stabilization
Cons
Expensive compared to the previous, almost-the-same a6400
11. Sony FDR-X3000
Best action camera for streaming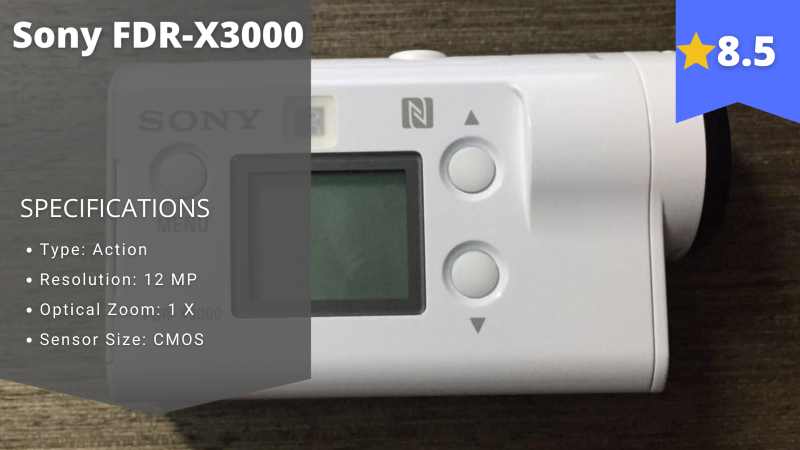 Stefan's Take:
I haven't had the chance to test many action cameras besides GoPro ones, so I was excited to see what this camera could do. Even with the little knowledge about action cameras that I have, figuring out how this one works was easy.
The in-body stabilization is exceptional, there is a variety of viewing angles you can play with, and the audio quality is good. The only feature Sony could improve is the battery.
| | |
| --- | --- |
| Resolution | 9 |
| FPS | 9 |
| Autofocus | 8 |
| Value | 8 |
If you're sharing epic, adrenaline-filled adventures with your viewers, your best choice would be an action camera, and likely for you, Sony is making these too.
FDR-X3000 is one of their most popular models that is full of new and thrilling features that will take your stream to the next level.
Key features
First, I would like to point out the incredible image stabilization of FDR-X3000. Sony has really perfected the stabilization system by combining one very typical and one extremely rare stabilization technology: electronic and optical.
The image will remain stable even if you're riding your trail bike on the rockiest road ever.
At first, you might think that 12 megapixels won't be good enough for live streaming, but there is no need to worry. This camera supports HD recording.
Moreover, FDR-X3000 features a powerful CMOS sensor, different viewing angles, and a shooting speed of 10 FPS.
The internal mic captures decent sound quality, but you also have the option to connect an external mic to improve it further.
I have to say that I haven't truly tested all this camera can do as I am not adventurous.
However, I can say that it isn't for those who sit and talk to the camera. If you're streaming from your chair, this won't be the best camera for you.
Pros
Has an internal stereo microphone
Great zoom and sensor
Waterproof
Three viewing angles
12. Sony a7S III
Great for streaming in a bad light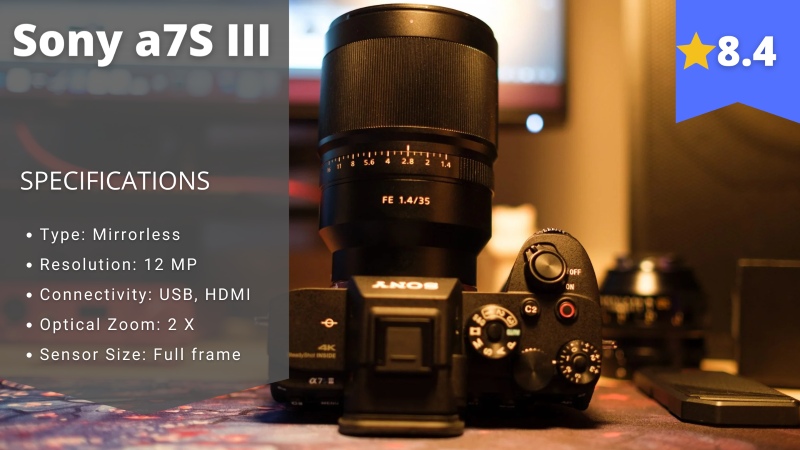 Stefan's Take:
This model is full of impressive features, out of which the incredible ISO range stands out the most. During testing, it performed amazingly in changing lighting conditions. The autofocus is fast, and with two card slots, you'll never have to worry about running out of memory.
However, I don't think it's really worth over 3000 bucks, especially since it has only 12 MP. There are far better choices in the same price range and cheaper.
| | |
| --- | --- |
| Resolution | 8 |
| FPS | 8.5 |
| Autofocus | 9 |
| Value | 8 |
Last but not least is Sony A7S III. I have saved this beast among full-frame cameras for the very end.
This is one of the best cameras for recording in bad light conditions, but it's also one of the most expensive. Is it worth it? Let's find out!
Key features
Let's start with the basic features. Sony a7S III features 12 MP resolution, a BMI-CMOS sensor, 10 FPS shooting, and recording in 4k. It doesn't sound special, right? Why would only the body of the camera cost over $3000?
Well, that's because Sony truly outperformed itself with ISO and the ability to record in soft light. The ISO extends to 409600, which is probably one of the highest ISO in full-frame cameras.
I haven't tested in a pitch-black room, but I'm sure you could capture good footage even in these conditions with such features.
In dim light, the results are simply impressive, and I think this camera is the best choice for someone who is often recording in such conditions.
A touchscreen and two card slots were a nice addition, so it's an excellent choice for challenging and long photo shoots.
However, if you're looking for a good camera for streaming and don't need as many fancy features, skip this camera. It's overkill for such a basic job, and you can simply get a good webcam for a dark room.
Pros
Great for long video shoots
Autofocus is fast
Great for filming in dim light
What To Look For In a Sony Streaming Camera
It's really easy to get entirely lost in the world of cameras and camcorders, especially if you're new to it. It is full of specifications that look more like mathematical formulas (some even are), seemingly random numbers, and letter sequences that look incomprehensible to the untrained eye.
Add to that the camera model names that are, again, seemingly random strings of numbers and letters, and you get one infernally confused buyer.
In order to divert all that confusion away from you, it's best that I give you a quick look at what makes a camera good but also suitable for your streaming needs:
Full-frame cameras are always better than non-full-frame cameras
4K has slowly become the standard when it comes to video resolution
Wi-Fi is a must-have
The other thing to keep in mind is that most of these cameras I'm going to go through are a kind of overkill if you only plan to use them for streams.
They are all (except for one) semi-professional to entirely professional cameras, and they all (except for the one mentioned before) can be used in all kinds of video production and will significantly raise your streaming quality.
Type of camera
Sony creates different types of cameras. You can get a mirrorless or compact camera, an action camera, a bridge camera, or a webcam.
The difference between a mirrorless camera and a compact one is the lens. Mirrorless cameras feature interchangeable lenses, which results in better video and image quality. However, this makes them bulkier, heavier, and less portable than compact cameras.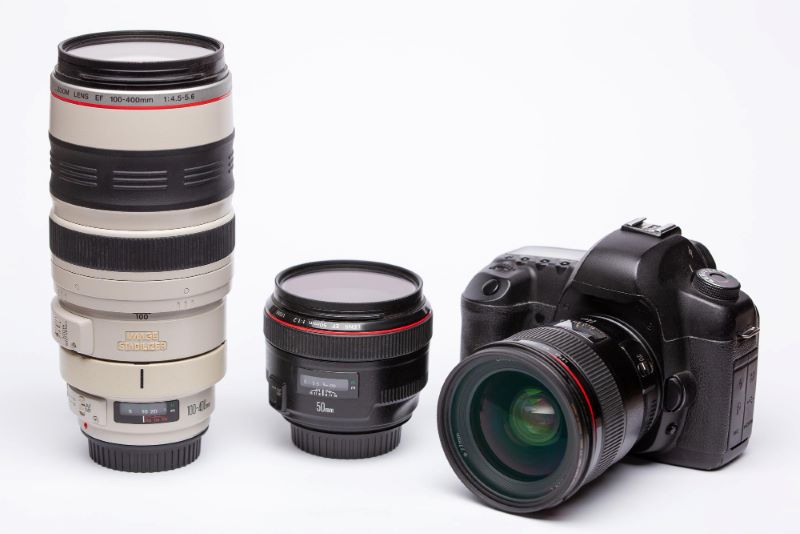 Action cameras are great for streamers on the go. They offer a good resolution and are smaller, making them more portable. Action cameras are also often waterproof, so you can share any adventure with your viewers.
If you're used to using the point-and-shoot camera when live streaming, you can consider upgrading to a bridge camera. It's a bit more complicated to use but will significantly improve the live stream quality.
You can also use a webcam for streaming. Nowadays, many webcams support 4K streaming, costing less than action or DSLR cameras. Therefore, they could be a great solution for beginners.
Durability
The camera you choose has to be ready to withstand a beating! You'll be making content daily, and it's imperative that the camera doesn't get busted too easily. It's also important to take note of the projected battery life.
Image stabilization
This feature is most important to those that hold the camera in their hands. An in-body stabilization will make your videos look less shaky.
However, if you plan on using a tripod, you don't really have to worry about this much.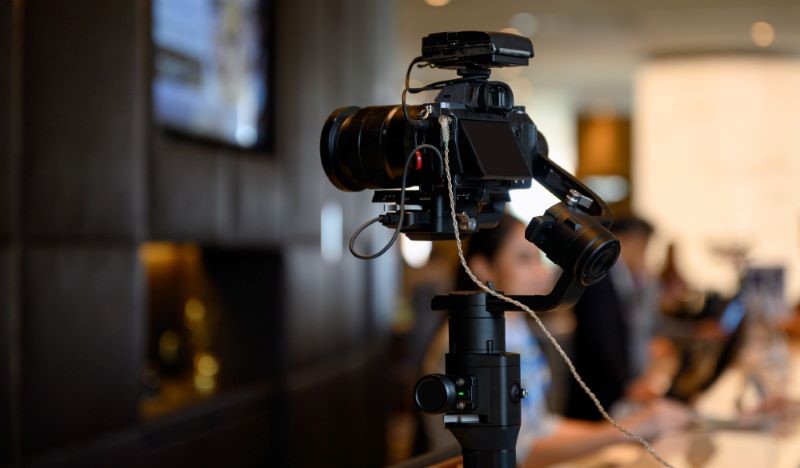 Image quality
A good camera will deliver images and videos of decent quality. It would help if you had that in order to stand out among your "competition".
Sensor size
There are three different sensor sizes: full frame, APS-C, and 1-inch sensor.
The full-frame mirrorless camera has the best image quality and works better in low-light conditions compared to APS-C cameras.
The 1-inch sensor is found in compact cameras, and it offers solid video and image quality.
Eye-tracking focus
If you're worried about out-of-focus videos, the best solution is to get a camera with eye-tracking focus. This type of camera will track the movement of your eyes and make sure you're always in focus.
Price tag
There is often a discrepancy between the camera you need, the camera you want, and the camera that you can actually afford. Finding the perfect balance in this little three-way scale is essential.
Other things, though, might include a certain amount of additional equipment, which you'd otherwise have to buy separately. Those things include built-in microphones, additional batteries
Conclusion
That completes my list of best cameras for live streaming by Sony. My top three choices are:
Sony ZV-1 as the best camera overall,
Sony a7 III as the best camera for streaming in poor light conditions,
Sony Alpha a6400 as the best mirrorless model.
If you find these cameras, remember that you can always opt to buy an action camera or webcam.
In the end, it all comes down to your needs and budget, but I hope that this guide has helped a bit with making that decision.
FAQ
---
Which DSLR camera is best for live streaming?
The answer to this question can be both pretty simple and hella complicated!
A simple answer would be "the best cameras for live streaming are the ones which do the job well for the least amount of money".
A shorter, albeit more complicated, answer is that you need to know your needs and capabilities before buying a camera. Here's a complete guide on DSLR cameras!
How much money do I have to spend on a good streaming camera?
Not much, actually. Especially if you intend to only do streams with it, some cheap cameras can do a great job with just a bit more work on your part.
In that case, you'd need to learn the basics of photography, how to set up any camera and how to get the best out of the cheap camera you have.
That's a lot of work, and people even go to colleges to study that in detail.
If you want a camera that will do those things automatically (things like proper exposure, and focus) and in all conditions, the price range goes up significantly.
What is the best system camera for streaming?
This question is hard to answer since this depends on your needs and budget. If you want to purchase one from Sony, I suggest getting ZV-1.
Whichever brand you choose, I suggest finding a model that has 4K recording. Here is my take on 4K cameras.
What is the best mirrorless camera for Twitch streaming?
My favorite mirrorless video camera from Sony is A7 III because of its versatility and incredible performance in dim light.
Fujifilm X-T2 is also a great choice or Nikon Z50.
What camera do popular streamers use?
Webcams are most popular among Twitch streamers and the most recommended one is Logitech C920. Razer Kiyo Pro and OBSBOT Tiny 4K are other popular choices.
---