In the shortest terms possible, audio mixers give you total control over your sound quality and control over any specific sound you make during your live stream. It's used when you have more than one sound source that you need to "fuse" into one, well-balanced mix.
A lot of people are using them, so I tried to find what are the best soundboards for streaming. I came to the conclusion that Depusheng DX8 is the right choice for your needs. It is affordable, has multiple audio inputs, and even a Bluetooth sensor.
I also reviewed several other soundboards available on the market, and the things I kept in mind to help you find the best audio mixer were:
The overall quality of the product
Available features
Price range
QUICK OVERVIEW: Best Soundboards for Streaming
Bluetooth connectivity
Eight channels

Pyle Professional 4 Channel

Mic and stereo line inputs
Steel housing

Real-time effect triggers
4 headphone outputs
Best Soundboards For Streaming
Reviewed & Tested
Soundboards are used and can be seen in podcasts, in gamer YouTube videos, at live performances of all kinds, or anywhere where there's at least one microphone or musical instrument being used.
What a soundboard/audio mixer does is that it collects all the sounds you give it, and it mixes them into one signal you can then send wherever it's needed. In this case, it's your live stream.
Other than that, most of them have built-in sound effects, and all of them can manipulate the sound in terms of EQ, stereo panning, general loudness, and such.
So, let's get into it!
1. Depusheng DX8
Best choice for a streaming soundboard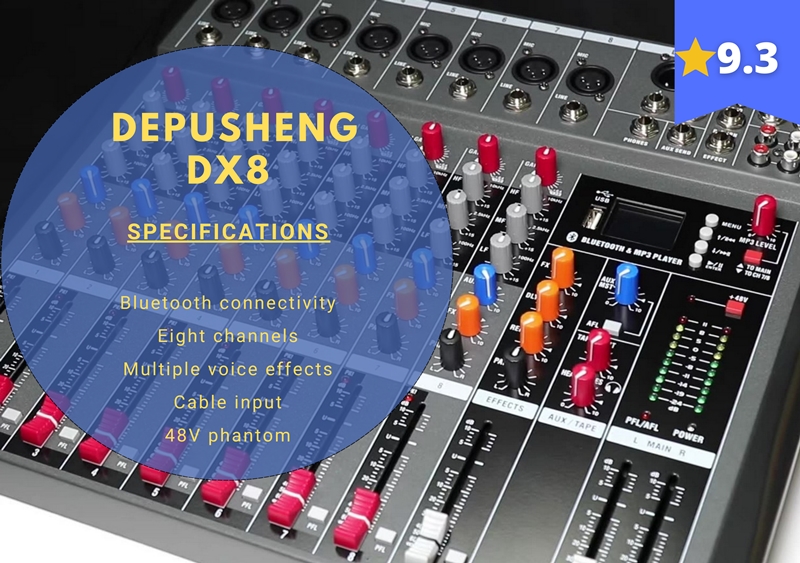 Stefan's Take:
This audio mixer is probably way more than you'd ever need for a simple live stream, with all the features it offers, but hey… You never know. Sometimes you have a string quartet as guests on your podcast, and they will demand to be mixed properly.
With Depusheng DX8 you are getting the whole package. It's not expensive, it is versatile and very user-friendly.
| | |
| --- | --- |
| Audio Quality | 9.5 |
| Sound Effects | 9.3 |
| Durability | 9.2 |
| Easy To Use | 9.1 |
The Depusheng DX8 offers everything you would ever need from an audio device, such as an audio mixer.
Why do I think Depusheng DX8 is the best soundboard among these?
You have eight channels at your disposal for multiple audio sources.
Each of them is completely customizable with custom sound effects and various parameters you can set for just the right amount of oomph it needs to be heard.
It has a Bluetooth sensor, so attaching an external audio source is as easy as it gets. Besides, we all hate cables, right? And we all cheer for one less piece of actual hardware tied to our mixer.
Overall it's a great mixer and a professional-looking, yet affordable mixer that will have you streaming online audio in no time once set up.
Pros
An affordable audio mixer
Multiple audio inputs
Thin and lightweight casing
Bluetooth
Both XLR and 1/4″ jack inputs
2. Pyle Professional 4 Channel
Best streaming soundboard for beginners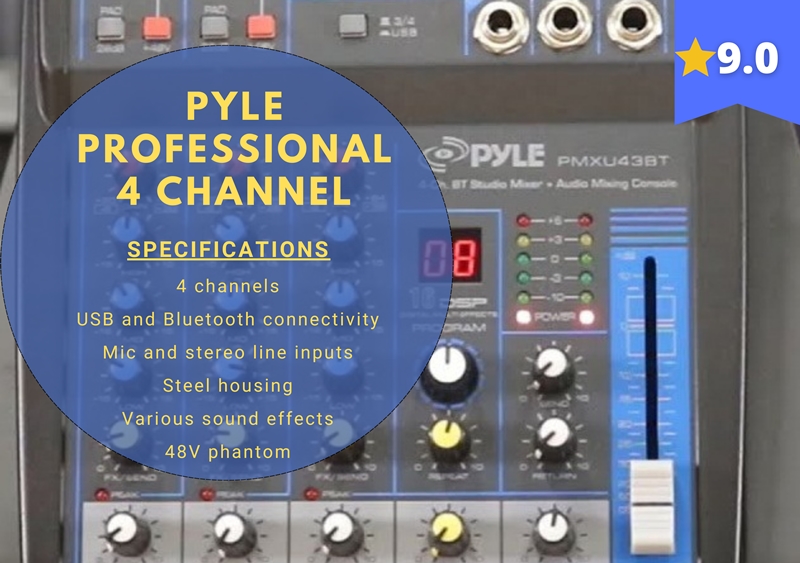 Stefan's Take:
The Pyle Professional Audio Mixer offers the same capabilities as the Depusheng DX8, but with fewer channels. On the other side, it is more affordable and great for beginners.
It's a small piece of audio equipment that won't bother your workspace as much as some other items here would.
| | |
| --- | --- |
| Audio Quality | 8.7 |
| Sound Effects | 8.8 |
| Durability | 9.4 |
| Easy To Use | 9.2 |
Whether you just want your voice recorder to do its job properly or you want to have fun with various voice effects, it does the job.
The effects on this audio mixer, as well as most others on this list, include both regular reverb and echo effects, as well as a number of pretty fun ones.
Other than reverb and echo, they offer modulation effects we know from the apps like Clownfish Voice Changer or the Voxal Voice Changer.
They can modulate and distort your voice in a number of fun and even bizarre ways.
Its small size comes with some downfalls. Namely – it only has 4 available channels to work with. Only two of those are separate, while the third and fourth channels occupy only one line on the interface.
What that means is that while you can have total control over the first two channels independently, you'll have to switch between the third and fourth channels and a possible USB sound source. They can't work simultaneously.
They are also limited to a 1/4″ jack input device, whereas the first two can be connected in various manners.
The 1/4″ jack is infamous for its lower sound quality than the XLR. They are also limited to mono, while the first two can also be used as stereo line inputs.
Now, don't get me wrong, 4 channels are still more than enough to stream podcasts with one or several guests, but you'll be limited to using 2 regular microphones and 2 microphones with a 1/4″ jack. Those two microphones can't work simultaneously with a possible USB sound input device.
Pros
Small size
Durable steel chassis
Relatively simple interface
Multiple sources of audio
Cons
The standard downfall of a simple user interface
3. RODE RODECaster
Streaming soundboard with various sound effects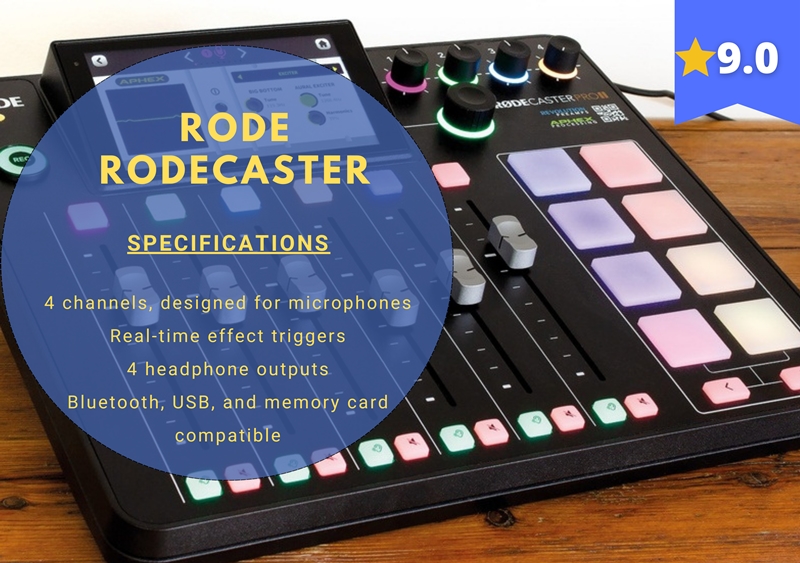 Stefan's Take:
While the first two mixers from my list are basically live audio mixers that can be used as a podcast soundboard, this is a thing specially designed for just that, and much more, depending on your imagination.
It will also record all 4 channels separately, which makes it perfect for post-production. It will give you a separate audio file for each channel.
| | |
| --- | --- |
| Audio Quality | 8.7 |
| Sound Effects | 9.3 |
| Durability | 8.7 |
| Easy To Use | 9.2 |
A great many uses a device like this has is that it offers some great storytelling possibilities for the ones among us who like role-playing games like D'n'D and such.
It offers advanced features in voice effects that can be manipulated in real-time so that your orc barbarian character really can sound barbaric.
The RODE RODECaster is a small, somewhat lightweight (2kg) device with 4 channels specially designed for streaming microphones.
The first thing that separates it from the competition is the panel with eight colorful and fully programmable pads that control a wide array of custom sound effects you can assign to them.
With just a press of a button, you can trigger a sound effect or a full audio sample. They act as fully custom hotkeys for various effects and soundscapes.
The other thing is that, in coherence with its 4 channels, it has 4 headphone outputs so that everyone included can have sound monitoring at once.
The fact that it has that built-in, rather than having to rely on additional device properties, makes it one of the best real-time monitoring tools out there.
Other than that, you can connect it directly to your computer via USB, and record everything in your favorite recording software.
I need to mention some limiting options that are present.
The cable output is only 3.5 mm, which means that you'd have to rely on adapters for anything other than the basic soundcard connectivity options. That can heavily impact your overall sound quality.
Pros
Specially designed podcast soundboard
Easy use
Multiple creative options and audio controls
Good audio monitoring
Micro SD card slot
Rec button communicates with recording software
Cons
A niche product
No EQ for sound control
A hefty price tag
4. Pyle Professional 8 Channel
Best sound mixer with wireless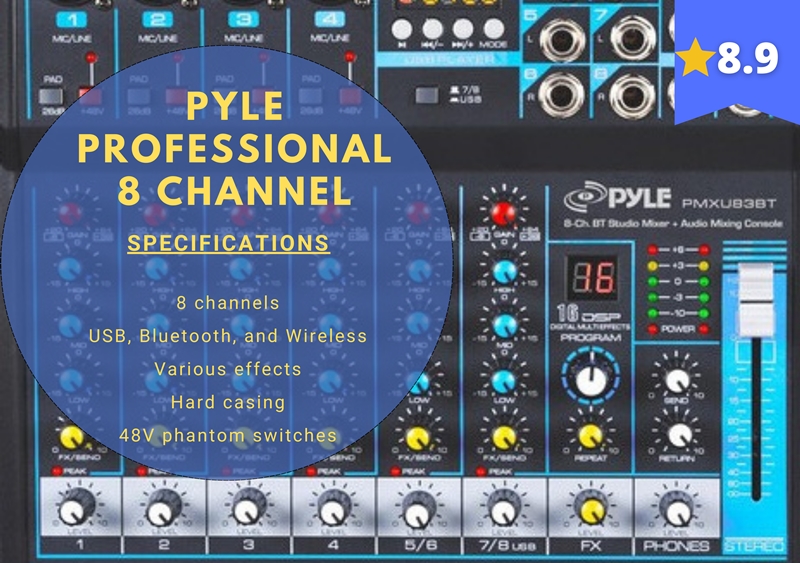 Stefan's Take:
I already went through Pyle's 4 channel version of this sound device. You would be completely correct if you guessed that this product is pretty similar to the 4-channel version.
It does, however, offer one functionality that the 4-channel version doesn't. Wireless connectivity, besides the regular USB and Bluetooth.
| | |
| --- | --- |
| Audio Quality | 9.0 |
| Sound Effects | 8.8 |
| Durability | 8.9 |
| Easy To Use | 8.8 |
In terms of sound effects and such, Pyle Professional 8 Channel is completely the same as the 4-channel option. It just offers double the number of channels.
That's useful for larger-scale live performances and a larger number of possible guests on your stream and/or podcast.
Given the larger number of channels, it's considerably bigger and heavier than its 4 channel counterpart.
Remember how the 3rd and 4th channels were extremely limiting before? Well, that's not the case now. Channels from 1 to 4 are now completely free and independent.
There are some tradeoffs with channels 5-8.
Channels 5 and 6 have their own line on the user interface, as well as channels 7 and 8. That means the same thing it meant before, they are all mono and have to share settings.
You also cannot use channels 7 and 8 simultaneously with the USB port, similar to what happens in the 4-channel version with channels 3 and 4.
Being mono channels, it's also obvious that they (channels 5-8) don't have an XLR input, which is always stereo, so they can only be connected by either mono 1/4″ plugs, or RCA plugs.
In that case, channels 5 and 7 serve as the left side of the signal, and channels 6 and 8 serve as the right side of the signal.
Pros
Multiple devices can be connected
8 is a large number of channels
Affordable
Cons
Almost a foot wide
Some limiting options
5. MaonoCaster Lite
Best portable audio mixer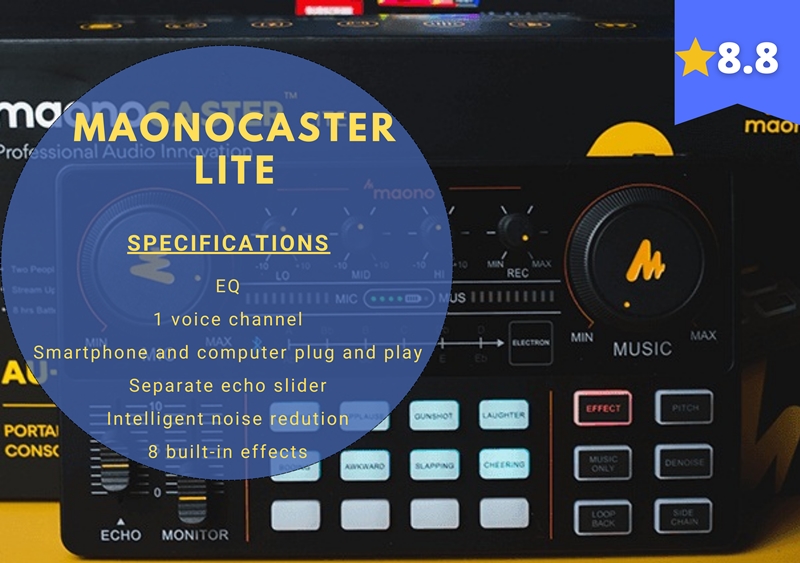 Stefan's Take:
This is one more device that is basically designed for podcasts and live streams and can do little outside of that.
It can simultaneously stream up to 4 devices, which is really cool. All in all, this is one of the handiest plug-and-play soundboards I've ever seen.
| | |
| --- | --- |
| Audio Quality | 9.0 |
| Sound Effects | 9.1 |
| Durability | 8.5 |
| Easy To Use | 8.6 |
Maonocaster Lite is a small and handy device that is just barely more than an audio toy. That, however, doesn't mean it's not useful. Especially for beginners in the world of podcasts, as well as people who like to prank call others.
You can also use it to play sounds and sound effects, both built-in and user-created.
The Maonocaster Lite is actually a whole bundle of products. Aside from the unit, you get a number of additional devices that will start you right off on your streaming endeavor.
The things you get in the bundle include:
Audio Interface Mixer
Maono mic
Appropriate cable (XLR to 3.5mm)
Mic tripod
Windscreen muff
Charging cable
2x 3.5mm cables for connectivity
User manual
You might have picked up on that charging cable, and yes, that means that it is battery-powered, and thus very portable.
It doesn't, however, have a 48V phantom power switch, but that's ok because the Maono mic works just fine without it.
It has a series of buttons for instant sound effects like applause, booing, laughter, or such. The jingle palette offers 4 buttons that are fully customizable.
A master EQ gives you some control over your output audio and can really make your jingle palette audio come to life.
One functionality that makes it better than, say, the RØDECaster, is that it's meant to receive more kinds of audio signals other than just a human voice on a microphone. It can be used for the guitar, for DJing, or anything else you can think of.
The Denoise function will also come in handy more than once, but it's important to note that you have no control over how much and which noise it filters out.
It probably relies on a series of internal smart modes and algorithms to automatically give you the best possible noise reduction it can offer.
Pros
Affordable
Everything you need to start
Extremely fun to use
Cons
Low-quality effects and built-in sounds
The mic is not easily interchangeable
What To Look For In A Streaming Soundboard
Quality
Audio quality, audio quality, and more audio quality! Jokes aside, though, other things are readily available in any and all audio mixing utilities and devices. They just differ in quality, but they will still be there.
Versatility
They all have at least a couple of basic reverb effects for your voice to pop, some delay, and echo effects if you want to sound mystical and mysterious.
The more sounds it can make, the better.
Size
It's very important that your soundboard or sound device doesn't eat up a lot of space on your desk if it already can play audio in a decent manner.
A cluttered-up workspace is always a hindrance to our workflow and creative process.
Ease of use
Most of us are not audio engineers, and we all want a device that would function intuitively and with as little learning as possible.
The search for the best audio mixer is, in fact, a search for the best audio mixer for you and your needs.
Why Do I Need A Soundboard At All?
It's a device that will help you balance your audio output and make it suitable for your computer to stream. It will also help you sound better on any sound system and across all audio formats.
It serves as a sort of control point where you take care of all audio inputs and mix them all up into a nice and well-composed stereo image.
That will make your show so much more enjoyable to watch and listen to. How many times have we all watched some YouTube reactors or similar online personae, and cursed at their bad audio mixing skills?
You probably know what I mean. People watch movies that you can't hear at all, but their own voice is loud as hell. A soundboard will help you go around some, if not all, of these problems.
Conclusion
After presenting you with these 5 fantastic and best soundboards for streaming, my final conclusion is as follows:
Depusheng DX8, as the best choice for an audio mixer overall,
Pyle Professional 4 Channel, as a cheap solution for guys just starting streaming,
RODE RODECaster, as a mixer with various post-production options.
As I already said, other than audio quality and various effects, the two main selling points for me are size and ease of use. You will definitely get everything you need from the soundboards I reviewed above.
FAQ
What is the best soundboard to get?
As stated before, it's the one that suits your needs best. As far as brands go, there are a lot of entry-level brands (not covered in this article) that can also do a decent enough job.
If you keep in mind the functionality and its usefulness to you, personally, there's little to no chance of making a significant mistake when you buy a soundboard.
Can you use soundboards on Twitch?
Absolutely yes! Soundboards come in between you and Twitch when it comes to your signal chain, and whatever leaves the soundboard will transfer to Twitch.
Now, I'm not particularly knowledgeable in terms of Twitch as a social media platform.
But my somewhat uneducated guess would be that the things a soundboard allows you to do can make your Twitch channel stand out a lot more than it would without one.
And that's only if you actually manage to stream your sound without a soundboard, a soundboard app, or any other virtual audio device, which is nigh impossible.
How do I get the best streaming sound?
The short answer is – by having a decent internet connection that can handle uploading big audio formats.
The long answer would be – by learning how to use your audio mixer and other devices in order to maximize the quality of your audio before you put it to the internet connection test.
A poorly mixed audio will be bad in whichever circumstance, but well-mixed audio is not a guarantee that your audience will have a premium listening experience.
You need to make sure that the sound files can reach them intact, as well as hope that their internet connection is good enough to receive the files you're sending.