On an overcast day, most webcams will not have enough light for well-lit image quality, even if you open your windows wide. That's why I decided to filter out some specially-built webcams that fare nicely in low-light environments.
Logitech Brio 4K is my top choice because of the 4K image, ability to record at 90 FPS, and additional noise-canceling feature. But most importantly, because of its auto light correction that maintains the video quality in all light conditions.
I have created a list of my top 7 webcams for log-light conditions, so let's dive into the specs!
QUICK OVERVIEW: Webcams for Low-Light Conditions
4K resolution
Excellent image quality

1080p full HD
Background replacement

Adjustable light
OBS and Xsplit support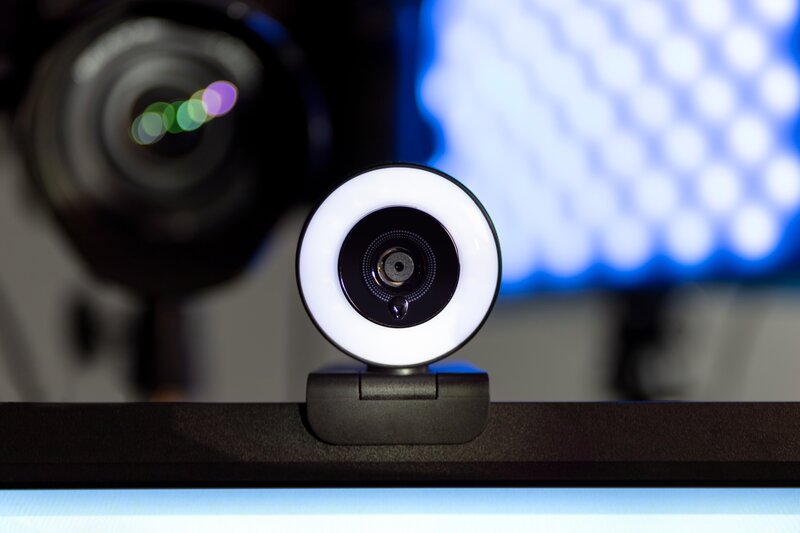 Best Webcam for Low-Light Conditions
Reviews
I remember when digital cameras first made an impact on the market. Soon after them, there came a myriad of small, cheap webcams and the first phones with cameras. Those two were pretty much the same.
What I mean by this is that they were primarily useless unless you had really good light conditions.
A bunch of them were just VGA cameras, with low-quality optics and a 0 (or even negative) tolerance for anything else than perfect lighting.
Even with perfect lighting, the image was still low-res.
Nowadays, you can get a small camera for your PC that's affordable and doesn't rely on you having a portable studio to boot.
So, without further ado, let's jump right into it!
1. Logitech Brio 4K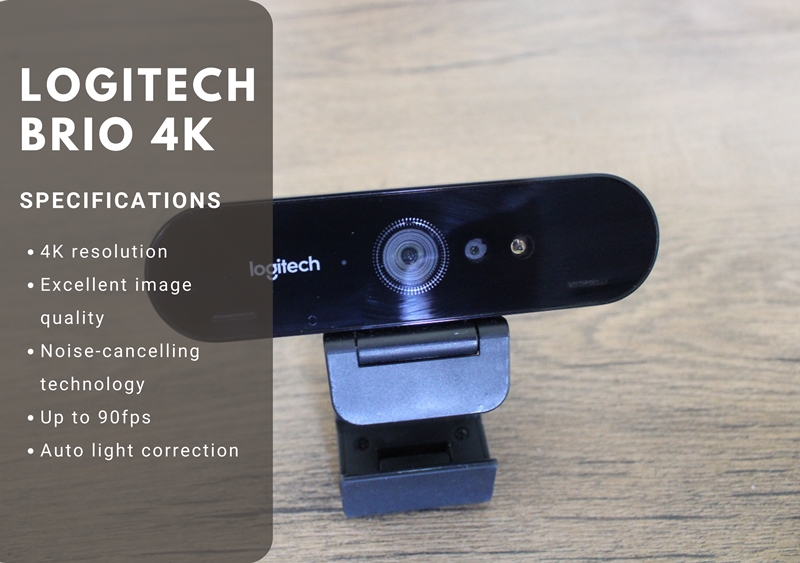 Stefan's Take:
This is one the best webcams on the market and my personal favorite one! As you know, I'm a big fan of 4K and think it's a must-have for streaming, so no wonder that this webcam beats the rest!

Logitech Brio also has an outstanding frame rate of 90 FPS and 5X zoom, and I was amazed by how well it filters background noise.
| | |
| --- | --- |
| Low-light Performance | 10 |
| Resolution | 9 |
| Frame Rate | 10 |
| Aperture | 9 |
The Logitech Brio is proof that Logitech webcams can also be of higher quality than just affordable. This is one of the very best webcams on the market!
Key Features
From the get-go, this is the only 4K camera on this list, thus far. That alone boosts it near the top of today's best deals list.
But that's not nearly its only feature where Logitech Brio beats basically any other camera listed here.
Its frame rate goes up to a recently unimaginable 90 fps, but that comes with a logical resolution trade-off. Sadly, 60 fps is also unavailable at max resolution.
Filtering out background noise comes easy for this beast, being that it boasts an advanced noise reduction microphone, that makes your voice sound crystal clear. I got outstanding results when filtering noises from the street or the TV in the room next door.
Logitech Brio also has a 5x digital zoom, which is rarely needed, but it can also come quite handy when used in 4K video.
It even boasts a special infrared feature.
Pros
Very high resolution
Excellent picture and audio quality
90 FPS
Auto light correction
Cons
A bit more expensive than the rest
2. Angetube HD Webcam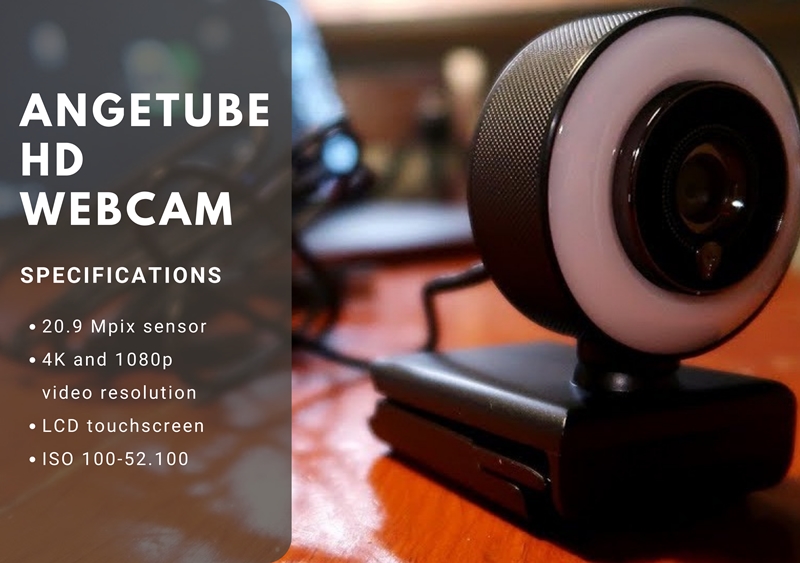 Stefan's Take:
The thing I liked the most about this Angetube webcam is how well it removes unwanted shadows from the face. The built-in ring light was a nice addition, and with 20.9 Mpix and 1080p resolution, I got some quite amazing shots and recordings.
| | |
| --- | --- |
| Low-light Performance | 9 |
| Resolution | 10 |
| Frame Rate | 9 |
| Aperture | 9 |
Having a ring light is the most popular first step towards having a good additional light for your face cam, whatever you're using it for.
The Angetube 1080p HD Webcam features one!
Key Features
This webcam has a built-in ring light. Now, if that isn't a Nobel-worthy idea!
The light is, logically, located around the camera lens. Apart from it always pointing in the same area as the camera is pointing, it offers a possibility that your light will never sneak into your shot.
It's basically the camera equivalent of wearing a flashlight on your helmet. Some engineer has probably seen a miner somewhere and thought to themself, "Hm… that's not a bad idea".
Other than the built-in light ring, this is just a basic, modern webcam with basic, current specifications – a decent webcam.
The adjustable ring light has 3 brightness modes, for greater flexibility.
Pros
Built-in light source
Autofocus and beauty filters
Full HD
Versatile
Cons
Just barely enough to do the job
3. Razer Kiyo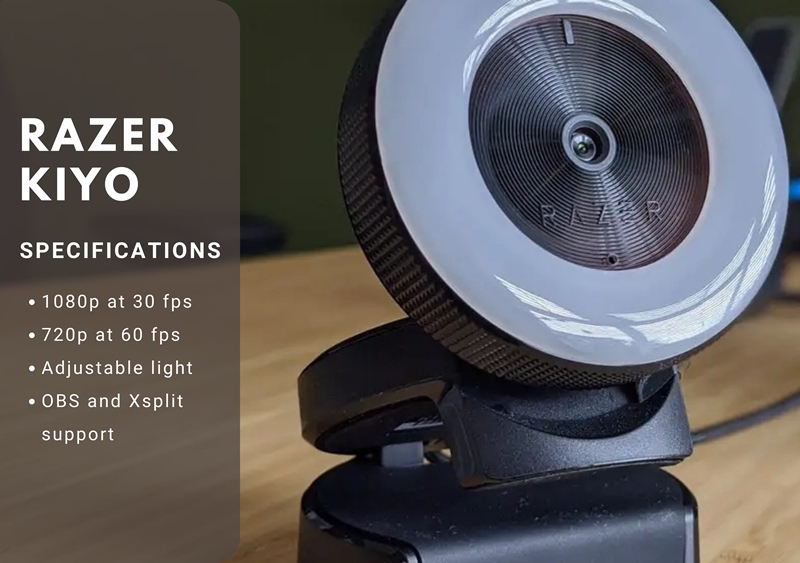 Stefan's Take:
The feature that amazed me the most was the video quality at 60 FPS. Even though I had to settle for 720p resolution, with adjustable light, I managed to get a clear and smooth video.
| | |
| --- | --- |
| Low-light performance | 9 |
| Resolution | 9 |
| Frame Rate | 9 |
| Aperture | 9 |
Ever since streaming started to become a massive factor in that world, there's been a need for Razer to make its own streaming webcam.
I know Razer, and I also know that they don't mess around. That is, of course, the case with Razer Kiyo.
Key Features
In accordance with Razer's reputation, this is a really well-built product. It is a great webcam, and you know that from the moment of unboxing when you take it into your hands.
One of its best advantages over its competition is its 60 fps mode. That means that you can have a 60 fps face cam, but you'd have to offer max resolution as a trade-off.
In most cases, that's completely fine. Your face cam is probably standing really small, and in one corner of the shot, so even 720p is more than enough for it to be crispy sharp.
The adjustable light that it boasts has three brightness modes for you to switch between, depending on the conditions. That helps you achieve flattering lighting in a wide variety of conditions.
This is, however, specially designed for gamers and gaming streamers. It will make you look professionally lit in any other case too, but gaming is where it shines the most. I tried it with Valorant and Fortnite, and the results are pretty much satisfying. My teammates can confirm that.
Pros
60 FPS
Automatic light correction
Quick autofocus
4. Logitech C925-e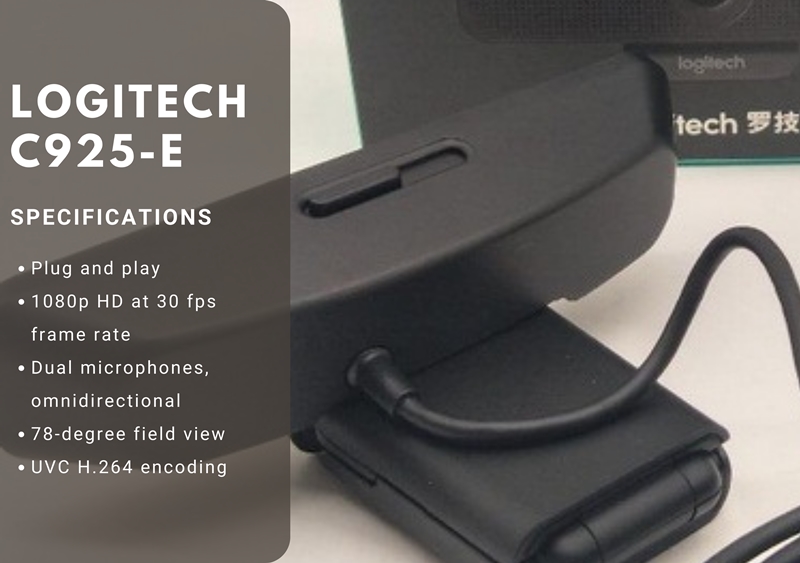 Stefan's Take:
The biggest advantage of this webcam is the sensor. While it doesn't come with built-in lights, I was still able to get great shots thanks to an excellent sensor. Also, I was quite pleased with the 78-degree field of view and 1080p resolution.
| | |
| --- | --- |
| Low-light Performance | 9 |
| Resolution | 9 |
| Frame Rate | 8 |
| Aperture | 9 |
Logitech is one of those companies that make almost everything computer-related, and they've also dabbled in web camera production before.
That experience is enough to give a chance to a Logitech HD webcam.
Key Features
While my last two entries were both round objects, this one looks completely different. It's rectangle-shaped.
What comes into view almost immediately, from the start of my testing, is that there are no built-in lights. But, there are two built-in microphones.
The two microphones are both omnidirectional, which allows the camera to record videos with a stereo sound. That's a rare feature in any camera, let alone a webcam. But I'm unsure if this feature will help sales of this webcam.
The stereo sound might sound great, but it also might not be what everyone needs. We don't all need pristine audio quality.
If you don't have an additional microphone to record your voice with, something like this Logitech HD webcam is what you need.
Pros
Great sound quality
UVC H.264 encoding ensures low bandwidth consumption
Good sensor, compared to other webcams
Cons
No built-in light can sometimes be a dealbreaker
5. AUSDOM AW615 Webcam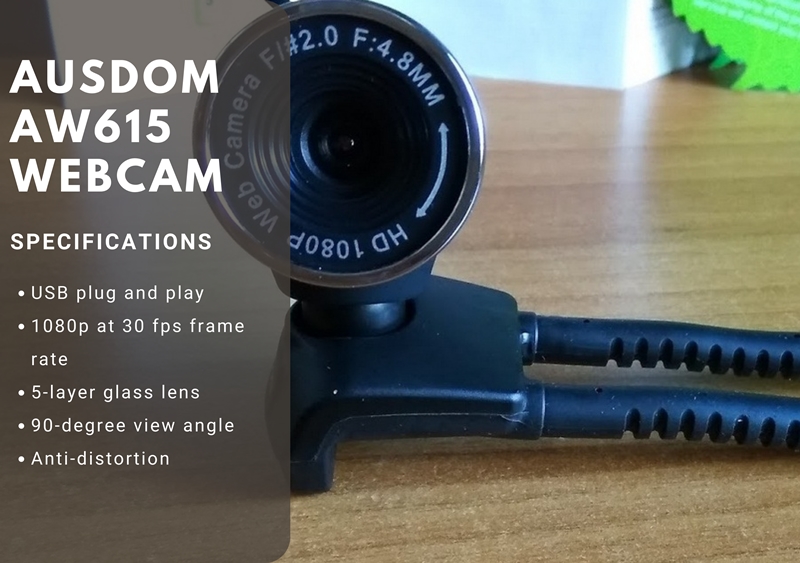 Stefan's Take:
The quality of this camera is superb, but what I liked the most was the setup. My PC immediately recognized the camera thanks to the plug&play feature, and even with manual focus, it was easy to adjust the webcam.
| | |
| --- | --- |
| Low-light performance | 8 |
| Resolution | 9 |
| Frame Rate | 8 |
| Aperture | 9 |
It's always helpful to have a well-rounded webcam that would outperform most webcams, and this is a cam like that.
Key Features
One of the best features this camera has, and what makes it a favorite among today's best deals, is that its lens is 100% glass. It's something I was delighted with.
Yes, many of these cameras have plastic lenses, and you can imagine how much that can impact image quality.
Besides that, since it is a wide-angle camera, it has built-in anti-distortion, which allows for a wide shot that isn't distorted into a fisheye shot.
Auto low-light correction is why it's on this list. While all the other characteristics are either decent or more than decent, this camera comes equipped with low-light-fighting capabilities.
Of course, being Plug-and-play is a huge upside. No drivers and additional fidgeting are required!
Pros
Versatile
Auto light correction
Plug and play
Wide-angle
6. Logitech C615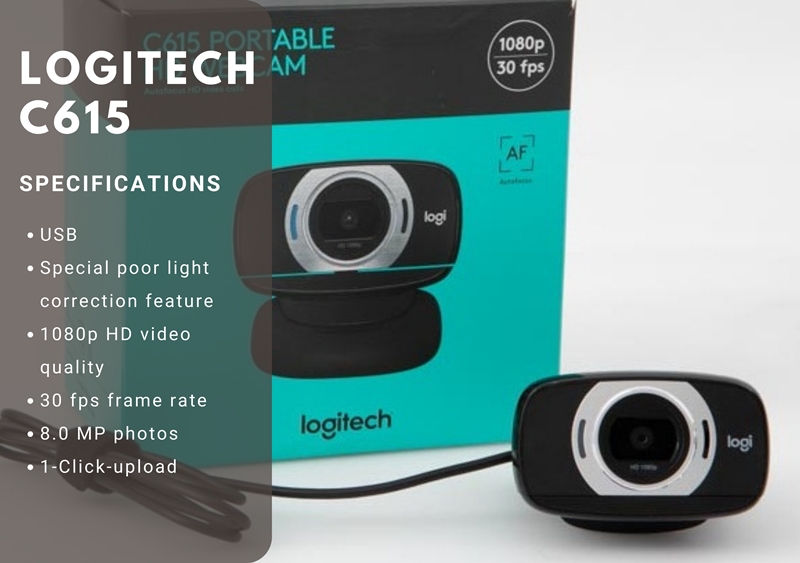 Stefan's Take
This little machine does all the things you could ever need, from an inexpensive webcam, and more! The quality of the video recorded in low-light conditions is amazing, and 1-click-upload really made it easy to share recordings.
| | |
| --- | --- |
| Low-light Performance | 9 |
| Resolution | 8 |
| Frame Rate | 8 |
| Aperture | 8 |
Hitting that groove between affordable and high quality has always been a challenge, in any market. Logitech did an awesome job on this one in that manner.
Aside from all the common things any budget webcam boasts, this one has a specialty: low light performance!
Key Features
Might be considered malicious of me, but I'm starting with a downside here because that left the biggest impression during my review.
This camera is listed at 30 fps, but in full resolution 1080p HD, you'll find the expected smooth video quality lacking. It's not choppy, but it won't be smooth either.
The manufacturer states that it's a camera well suited for video calls and this Logitech HD webcam is most likely best used for that. I tested it with Zoom and Skype, and this camera does its job.
It's not among the best webcams, but it offers excellent picture quality especially given its price.
What its strengths are, is that it's durable and that it has the low-light correction built in.
Pros
Affordable
HD video quality
Good image quality in poor light conditions
1-Click-upload
7. IFROO 4K Webcam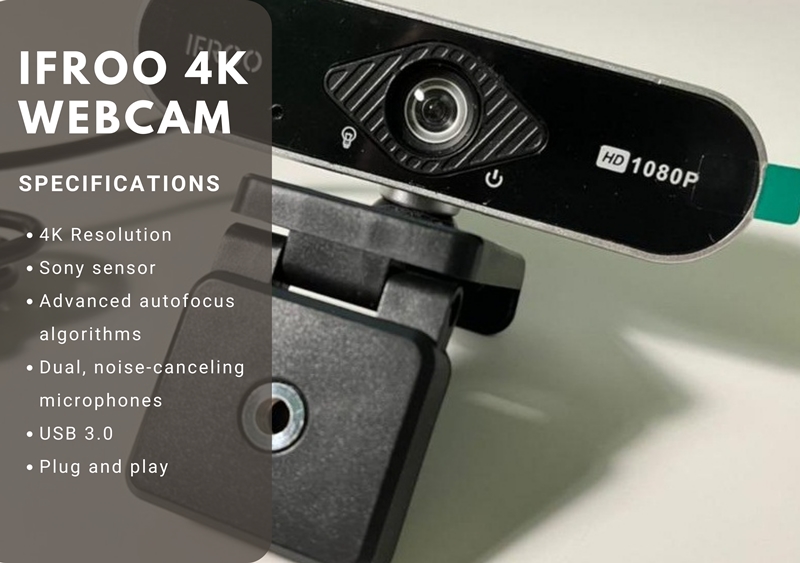 Stefan's Take:
I picked this camera because of one unique feature – a Sony sensor. I was really impressed by the fast auto-focus, and wide field of view, and 4K looks just fine. It may not be the best 4K image, but it captures just enough detail for a quality live stream.
| | |
| --- | --- |
| Low-light Performance | 8 |
| Resolution | 8 |
| Frame Rate | 8 |
| Aperture | 8 |
IFROO was an unknown brand to me until I ran into this little well-rounded gem. That fact is the probable reason behind this camera being so affordable while offering so much in terms of performance.
Key Features
This webcam boasts a feature that I've never before seen in a webcam – it has a Sony sensor.
Sure, it's not a sensor that Sony would put in some of their DSLR or mirrorless cameras, but it's still a Sony sensor, and that's always a good sign.
Aside from that, it offers an uncannily fast auto-focus, which is almost guaranteed to keep you nice and sharp at all times.
Dual microphones with built-in noise reduction do the job exceptionally well. You will be able to transmit your voice in the most quality possible without using an external microphone.
The USB connection utilizes USB 3.0, which ensures that your image quality stays 4K even after it leaves the camera.
And, above all that, you get a free tripod mount!
Pros
Affordable
It has a Sony sensor
Good audio
What To Look For In the Webcam for Low-Light Conditions
Sadly, webcams don't offer us detailed descriptions of how they handle poor lighting, because most of them aren't even made for that.
Only the ones that were specially made for that, will talk about the camera's performance in that kind of condition in the description on their website, or you can see that in in-depth reviews like this.
So, if it were cameras in general, I'd say "look out for ISO tolerance, aperture, sensors" and things like that. But, being that these are webcams, we need to look at the problem differently.
Three main things to look for are:
Max Resolution
The bigger resolution doesn't really ensure bigger image quality by itself. It just means that there are more pixels.
It might mean a sharper overall image, but not really the thing we're looking for here. A larger maximum resolution, however, does almost always mean a better sensor.
A better sensor will always fare better in the type of conditions I'm talking about here. So, in a certain, unintended way, a bigger max resolution does mean better poor light performance in most cases.
Built-in lights
Whatever the light is, it's always better to have it than it is not having it. It can just be a LED light similar to your phone's flash, it doesn't matter. Every lumen of light counts.
But, if you add a real light ring around the camera, that's where the built-in light goes from "something that helps" to the difference between "barely workable" and "excellent".
Built-in lights are way better at overcoming bad lighting conditions than any kind of webcam sensor, or any built-in auto light correction.
Aperture
This is the optional one. I said that it was optional because not all manufacturers say what kind of aperture their camera has. Except, of course, if the aperture is its main feature.
The aperture is that "fx.x" number you see on cameras and camera lenses all the time. It's a science in and of itself, but in short – the smaller the number after the "f", the larger the aperture. In that sense, f2.0 is a larger aperture than, for example, f3.5.
What you get with a larger aperture is basically a larger opening for the sensor to gather light from. A bigger hole equals more light. More light equals a brighter image.
You can see how this helps us battle bad lighting conditions.
If there is an aperture stated in the specs of the webcams you're checking out, look for ones that have an aperture of f2.0 or larger (again, larger means a smaller number, this time). Those cameras will be better at collecting light than other ones.
Conclusion
All of the webcams on this list are built to fix the problem of low light in one way or another. They are excellent for streaming, content creation, and video conferences.
Here are my top choices:
Logitech Brio 4K as the best overall,
Angetube HD webcam as the best light correction feature,
Razer Kiyo as the best autofocus.
If you're ready to invest in a webcam, I hope I helped you find the right one.
FAQ
---
Which webcam is best for low light?
Being that the on-paper data is pretty lax and unavailable for many a webcam, it's hard to determine.
But, as stated above, if you can find those things out before you buy, you should look out for ones with a larger aperture, a built-in light of some kind, or, in extreme cases, the ones with a larger maximum resolution.
Each one of these features helps more or less in and of itself, but you can also try to find a webcam that has more than one of these features, and that would be the best cam for you.
Do webcams work in the dark?
Most of them won't. The integrated webcams on our laptops will definitely not. Most likely, you'll just see a barrage of weird spots dancing around on your laptop screen.
Additional, or external webcams have a better chance of fairing with a dark scene, but even the most expensive ones on this list won't do well in complete darkness.
Actually, from my experience, even the mid-tier DSLR cameras can't do that.
How do you fix low light on a webcam?
One quick fix is – to turn the lights on. Even the worst webcams can manage with a regular lightbulb or a lamp nearby.
The more advanced webcams will immediately show gratitude, and you'll see that the video quality will jump significantly with just your own lights in your room.
Other than that, if there's an option, you can try and raise the webcam's ISO setting, but there aren't many webcams with that kind of manual control over settings.
Most of them rely on automatic exposure.
Why is my laptop's camera so bad?
I'll let you on a little secret – they all suck. I am yet to witness a laptop with an integrated webcam that is actually good.
Sure, newer laptops have better cameras, and they suffice for video conferencing, or video calls, but if you're here, you're probably looking for something with a little bit more oomph.
That oomph cannot be found in 99.9% of integrated laptop webcams, and you'll have to find an external one.
Why not one of the cameras listed here?
---