As a person with great experience in live streaming, I have always thought that up-to-date equipment is a must for streaming. Therefore, any streamer who wants to become or is a semi-pro or pro streamer should use a mirrorless camera since it's way better than the regular one.
And, in my opinion, the best mirrorless camera is Fujifilm X-T2 because of its great resolution, 4K recording, and outstanding autofocus.
Being aware that choosing the proper mirrorless camera for streaming can be tricky, I have decided to share my experience with you and help you with this task by sharing my list of the best mirrorless cameras for streaming.
QUICK OVERVIEW: Best Mirrorless Camera
Resolution: 24.3 megapixels
Sensor size: 23.6×15.6mm APS-C

ISO range: 100-51200
Wi-Fi and Bluetooth connectivity

Resolution: 24 megapixels
Weight: 400 grams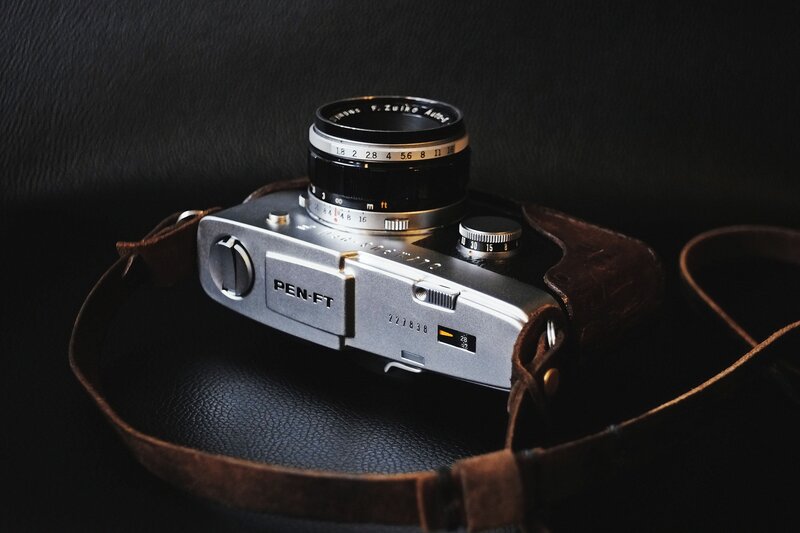 Best Mirrorless Camera for Streaming
Reviewed & Tested
Mirrorless cameras are not professional cinema cameras or film cameras, but, at the same time, any mirrorless camera is way better than a laptop webcam.
After testing numerous cameras from different brands, I've created a list of the best ones for live streaming that will take your streams to a higher level.
1. Fujifilm X-T2
Top choice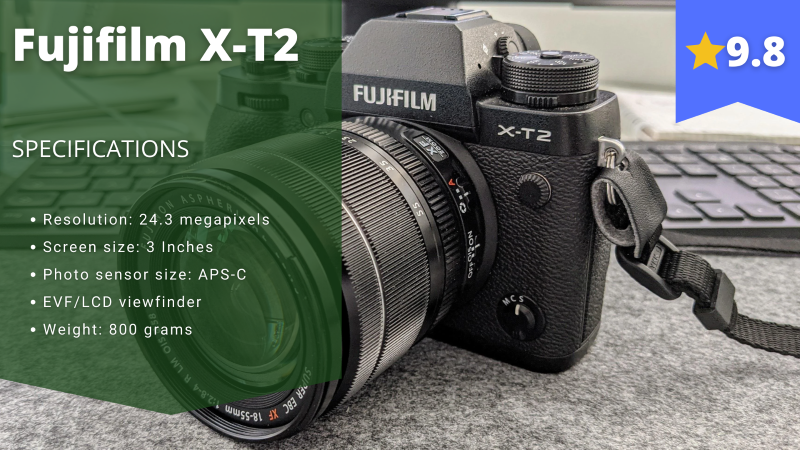 Stefan's Take:
My favorite mirrorless camera is Fujifilm X-T2: it has 4k recording, image quality is outstanding with vibrant colors. The feature I was unsure about the most was electronic viewfinder, but ended up amazed by it! It made positioning and getting the right shot much easier.
However, it did limit the length of my streams to only 30 minutes.
| | |
| --- | --- |
| Resolution | 10 |
| Autofocus | 10 |
| Battery Life | 9 |
| For Streaming | 10 |
Buy on Amazon
Thanks to the double-hinged flip screen, this camera offers much better flexibility to its users.
The feature that makes it stand out from other cameras is the "Performance Boost" mode which can speed up certain aspects when using this amazing camera.
Apart from the higher speed, Fujifilm X-T2 can provide an excellent response to various kinds of movement.
In addition, this live streaming camera includes a vertical battery grip VPB-XT2 which can extend both the mentioned "Performance Boost" mode as well as the camera's battery life.
This battery grip contains two additional batteries, so you'll be able to use power from multiple batteries and, thus, increase both camera's video recording time and its max continuous shooting video rate.
Fujifilm X-T2 also contains a dual SD slot as well as a USB port, a smaller HDMI port, and a microphone jack.
The LCD screen is a 3-axis tilt screen, the image processor is very powerful and the dynamic range of this great camera is really impressive.
Namely, the extended ISO goes from ISO100 to ISO51200, while the native ISO goes from ISO200 to ISO12800.
The boost mode significantly increases the precision of both the camera itself and the autofocus.
Finally, regarding the battery life, the videos can be up to 10 minutes long, or up to 30 if "Performance Boost" mode is on.
When it comes to cons, even though it has two extra batteries, this camera has a slightly shorter battery duration compared to some rival models.
In conclusion, this quality camera is the best mirrorless digital camera on the market at the moment.
Considering its specifications and features, I think its the more suitable for professional streamers, than semi-pros.
Pros
4K video capture
Cool design
Moisture resistance
2. Nikon Z50
Best camera under $1000
Stefan's Take:
I'm a big fan of Nikon cameras, and this model didn't disappoint. The focus was super easy to adjust with a directional pad and there was no out-of-focus effect.
The resolution was great, videos were clear and vibrant, but I was disappointed by the subject tracking – considering the price of the camera, it should be more precise.
| | |
| --- | --- |
| Resolution | 10 |
| Autofocus | 9 |
| Battery Life | 9 |
| For Streaming | 10 |
Buy on Amazon
This live-streaming camera is very firm but at the same time very lightweight.
Z50 can also be tilted or faced forward so you can take photos or record great-quality video footage from numerous angles even in low light.
The battery is EN-EL25 and it can be charged using a regular charger or USB.
There are no spare batteries included, so keep in mind that, after the original battery dies, you'll have to buy a new one.
Spare battery costs around 70$.
The battery life is not at a satisfactory level and if you opt to use Wi-Fi or Bluetooth to send photos or video footage to your mobile device, it will significantly cut into the battery life.
Nikon Z50 uses a micro USB connection which is a slight downside compared to some rival models that use a USB-C connection.
Additionally, the UHS-I SDXC memory card slot, a microphone jack (3.5mm), and a micro HDMI jack are included.
As for the things that could be better, although with most live streaming cameras you can focus just by tapping the screen, with this one I had to use the directional pad, which was a little unusual, at least until I got used to this feature.
However, the digital zoom functions can still be activated by tapping the screen.
Another downside is related to subject tracking features which are worse than with some rival models, in my opinion.
To sum up, Nikon Z50 is undeniably a high-quality webcam, but it's not a good bargain.
The camera itself is not as expensive as some other models, but with the additional equipment, its total price is not so low.
Pros
4K video capture
Great video quality and audio quality
Lightweight
Cons
Worse subject tracking features compared to the competitors
3. Sony Alpha a6400
Best 4K camera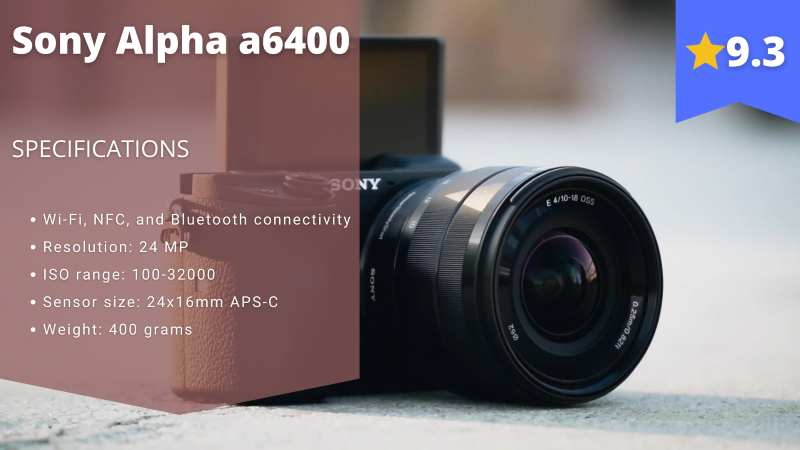 Stefan's Take:
Sony Alpha a6400 is the best for 4k recording – videos are crisp, smooth, and easier to upload/transfer thanks to the smaller file size. Autofocus works well but is not as good as in the previous two models.
Another great feature is a limitless recording so you can stream for hours, but keep in mind that you will have to use separate software.
| | |
| --- | --- |
| Resolution | 10 |
| Autofocus | 9 |
| Battery Life | 9 |
| For Streaming | 9 |
Buy on Amazon
In terms of design, this Sony Alpha camera doesn't look as flashy and classy as some other rival live streaming cameras.
Nevertheless, it provides solid video quality and excellent image quality, which people mostly look for in a video camera for live streaming.
It's very compact and light which is always a positive feature.
Besides, it has solid dust and moisture protection, so you can use it outside without a hitch.
The main control buttons are all located on the right side of the camera and the screen can be both tilted as well as flipped forward, and, thus, it provides a variety of angles (i.e. vertical video).
As for the a6400's connectivity, it supports NFC, Wi-Fi, and Bluetooth and it's compatible with both Android and iOS mobile devices.
The micro HDMI and USB 2.0 ports are located on the left side of the camera and the process of transferring video footage and photos to mobile phones is very simple.
The battery can be charged using a USB cable and an AC adapter for in-camera charging.
The regular wall charger is not included and, from my perspective, it's a manufacturer's mistake.
But the manufacturer did solve the overheating issue in this model, and that puts this Sony camera above other Sony cameras.
Another positive feature, especially for a live stream, is the fact that there is no video recording limit, so you'll be able to record until the battery empties or the memory card fills up.
The battery life is not very long, so my advice is to buy an extra one.
The autofocus and tracking features are on a satisfactory level.
Finally, 4K videos can be shot at up to 24, 25, and 30 fps and if you opt for 1080p videos, they can be shot at up to 120fps.
The videos are high-quality, very sharp, and clear, and this mirrorless web camera is a very good option for streamers.
The price of the camera and additional equipment is slightly lower than with the previous models on the list, so we could say that this Sony camera is affordable.
As for the downsides, the fact that you cannot make the movies in-camera and that you'd have to use a Sony or any other software for this function doesn't make this live streaming camera terrible, but it's still a downside.
Pros
Excellent autofocus
No recording limit for 4K videos
Lightweight and compact camera
Affordable price
Cons
Software needed for making movies
4. Sony a7 III
Camera with the best sensor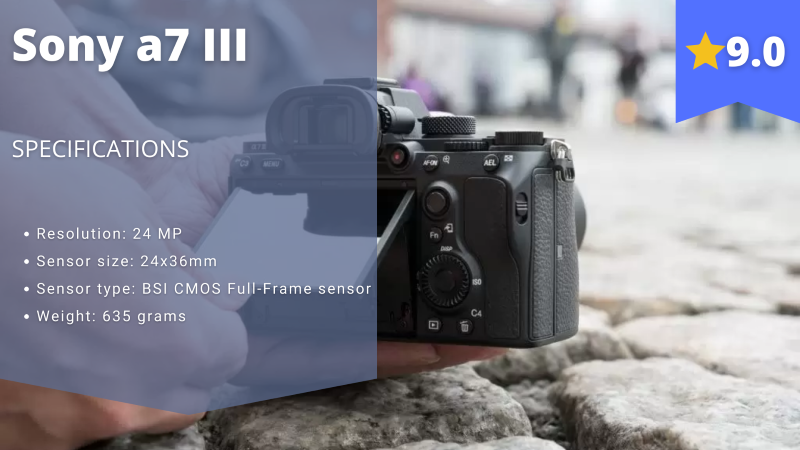 Stefan's Take:
This camera has one of the best sensors – BSI CMOS. I tested its performance in various light conditions, and while in low light, videos had a bit lower quality, they were still quite clear and smooth.
Another feature I liked was slow-motion at 120 FPS, but I missed the built-in flash and I wouldn't recommend it to beginners due to the price.
Sony a7 has really incredible camera features.
It has an incredible dynamic range and the BSI CMOS sensors can operate in any kind of light.
Its autofocus is impressive and the 4K footage is very sharp while the recording goes quite smoothly.
Sony a7 can shoot at 10fps, is very light, and it has protection against moisture and dust.
The menu where you can find numerous other features is very simple, unlike with some previous Sony cameras, and, most importantly, it's completely customizable, so you can customize it to your liking.
When it comes to the battery, a7 III uses the Z battery and it has the additional grip with one extra battery.
That means that you'll be able to use two batteries at the same time and, thus, double the battery duration.
Just like the previous camera on the list, the ordinary wall charger is not included, so the charging option is either a USB or AC power adapter for in-camera charging.
Subsequently, the external charger can be bought separately.
As for the ports and inputs, there are 2 USB ports (one micro USB and one USB-c), a 3.5mm headphone input, and a 3.5mm microphone jack as well as a micro HDMI port.
There are also 2 SD slots.
The first slot supports, at UHS-II speed, SDXC, SD, and SDHC memories.
On the other hand, the second slot supports all SD formats, but at UHS-I speed.
In addition, the second SD slot supports Sony Memory Stick as well.
The a7 III camera is compatible with both iOS and Android devices and the connectivity features include NFC, Wi-Fi, and Bluetooth.
There is also a Sony PlayMemories Mobile app that can be used for transferring photos and videos to social media, such as YouTube channels, and the phone can be used as a remote control.
4K videos can be captured at 24 or 30fps at 60, or 100 Mbps, whereas 1080p videos can be shot at 24, 30, or 60 fps at 50 or 100 Mbps.
The in-camera slow-motion mode can capture videos at 120fps at 60 or 100 Mbps.
The downsides are the lack of in-body flash and the price.
Namely, its quality is totally worth paying almost 2000$, but I simply don't think that it's an appropriate price for a streamer.
In my opinion, there are some much cheaper, but still satisfactory options on the market, but if you have enough funds for this particular camera, go for it.
Pros
BSI (Back-Illuminated Sensor)
4K HDR video capture
Excellent battery life
Extra battery included
Two SD slots
5. Sony Alpha 7C
Best action camera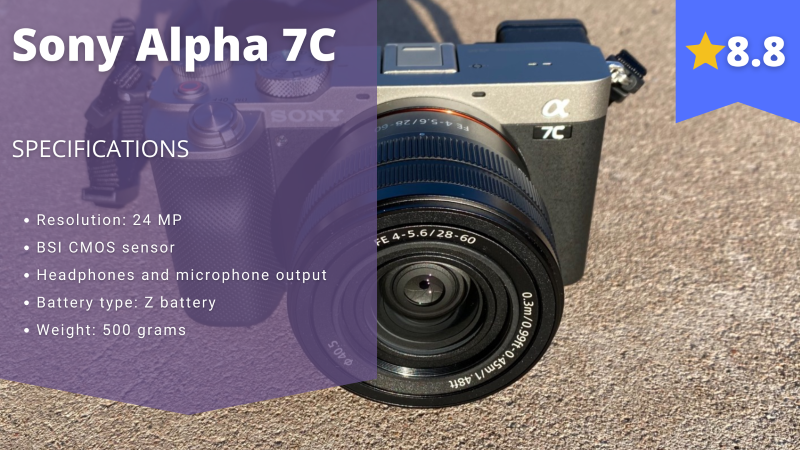 Stefan's Take:
For those with a big budget, I would suggest this Sony model.
It's a smaller model, but with really powerful lenses, autofocus, and auto-tracking that you'll appreciate for streaming. It's one of the best action cameras in my opinion, but I would like it more if it had better battery life.
| | |
| --- | --- |
| Resolution | 9 |
| Autofocus | 9 |
| Battery Life | 9 |
| For Streaming | 8 |
Buy on Amazon
Sony 7C camera is quite small and compact, but its video and audio quality is still excellent.
Namely, the lenses in the 7C camera are very powerful even though they are much smaller and lighter than the lenses in some rival cameras for live streaming.
This good camera has some interesting features such as AF Tracking or Touch Tracking and it can shoot up to 10fps.
7C is very mobile and it can be easily rotated or flipped around which can make the recording process much easier.
It contains one SD card slot that supports UHS-II speed.
This slot is located on the side of the camera, unlike many other video cameras which have a slot in the battery compartment.
Some of the greatest features of this Sony camera for streaming are tracking and digital zoom.
Once you select your focus subject, it will remain attached to it, regardless of the tracking so it can be used as the action camera as well.
Instead of the mechanical shutter, this camera has a hybrid electronic shutter as well as a 5-axis image stabilization system.
As for the video features, Sony C7 shoots 4K videos at up to 60fps and 1080p videos at up to 120fps.
When it comes to downsides, the button layout is not the best and I needed to control several things with only one finger, so it was a bit tricky occasionally.
Another issue can be the fact that when you change settings for taking photos, they will, at the same time, change for the recording mode.
I used the custom mode in order to keep these two settings types separated.
Pros
Light and small
Can shoot sharp and high-quality footage 
Excellent tracking features
6. Olympus OM-D E-M5 Mark III
Camera with the best focus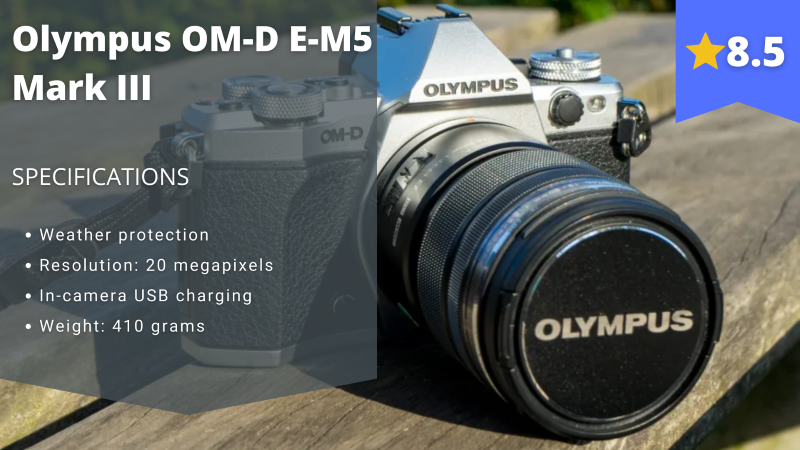 Stefan's Take:
The feature I was excited to test the focus on this camera and was quite surprised by how it worked: auto-focus is quite fast, and focus stacking is immaculate. A big plus was also the option to connect my smartphone to the camera and use it as a controller.
While it can record 4K videos, you're limited to 30 FPS – good for streaming, but I do expect more from a professional camera. 
| | |
| --- | --- |
| Resolution | 8 |
| Autofocus | 10 |
| Battery Life | 8 |
| For Streaming | 8 |
Buy on Amazon
This Olympus camera is lightweight, but also sturdy and compact, and it's mostly made of plastic.
It also has weather sealing which means that it can be used in rain without the risk that it will be damaged in any way.
There is no in-body flash included and the camera has a Micro Four Thirds sensor.
When it comes to the manual control most buttons are customizable so you'll be able to adjust the device to your liking.
As I mentioned in the specs, in-camera charging is available by using the USB port and the camera has one SD card slot that supports UHS-II speed.
In terms of jacks, there are one micro HDMI jack and one 3.5mm external mic jack.
The camera has Bluetooth and Wi-Fi connectivity and it's compatible with both Android and iOS devices.
Subsequently, if you want to use your phone as a remote control or to transfer files from the camera to your phone, you'll have to download the Olympus Image Share app.
The capture rate is 10fps but you can shoot 25-30 shots at that rate and then it will slow.
As for the recording videos, there is a 4K UHD capture at 102Mbps at 24, 25, or 30fps.
One of the biggest downsides of this camera is the fact that it has a resolution of "only" 20 megapixels, while most competitors have 24.
Pros
Compact and sturdy
Weather sealing
Lightweight
Customizable buttons
Cons
Smaller resolution than the competitors
A limited number of shots at a 10 fps capture rate
Conclusion
My main goal was to share my experience and analyze both the good and bad sides of each camera for streaming. Some of them are more expensive or cheaper, but all of them are excellent pieces of equipment.
These are my top three favorites:
Fujifilm X-T2 as the best overall,
Nikon Z50 as the best for under $1000,
Sony Alpha a6400 as the best 4K camera.
I hope that streamers who are thinking about buying a mirrorless digital camera find these reviews helpful. Happy streaming!
FAQ
Are mirrorless cameras good for streaming?
Mirrorless cameras or DSLR cameras provide impressive full HD video quality and, thus, are excellent for live streaming. Just keep in mind that your mirrorless digital camera for streaming has to be capable of making longer recordings.
Additionally, it has to be connected to a video encoder in order to be able to send clean HDMI output to a live streaming platform that you use.
Is Sony a6400 good for streaming?
This camera has some excellent features necessary for live streaming and provides excellent full HD video quality.
It is also slightly cheaper than some other high-quality cameras on the list and that's why I chose it as my favorite mirrorless camera for streaming.
How long can you stream with a mirrorless camera?
Most mirrorless cameras for live streaming can record up to 30 minutes. Having in mind that a couple of years ago this limit was only 12 minutes, I assume that in the next couple of years this recording limit will be even higher.