Imagine yourself sitting in one position for hours. Yes, if you are sitting on your sofa, that might sound desirable. However, if you are playing video games on a gaming PC, pain in your back might occur after some time.
Well, a good gaming chair will feel as comfortable as a sofa. The best streaming chair, in my opinion, is SITMOD Gaming Chair.
I have tested several streamer chairs to see which is the most comfortable. Let's dive in!
QUICK OVERVIEW: Best Streaming Chairs
Material: Fabric
Maximum weight: 400 Pounds (181 kg)

Colour: Gray
Material: Polyurethane

Material: Leather
Maximum weight: 330 Pounds (150 kg)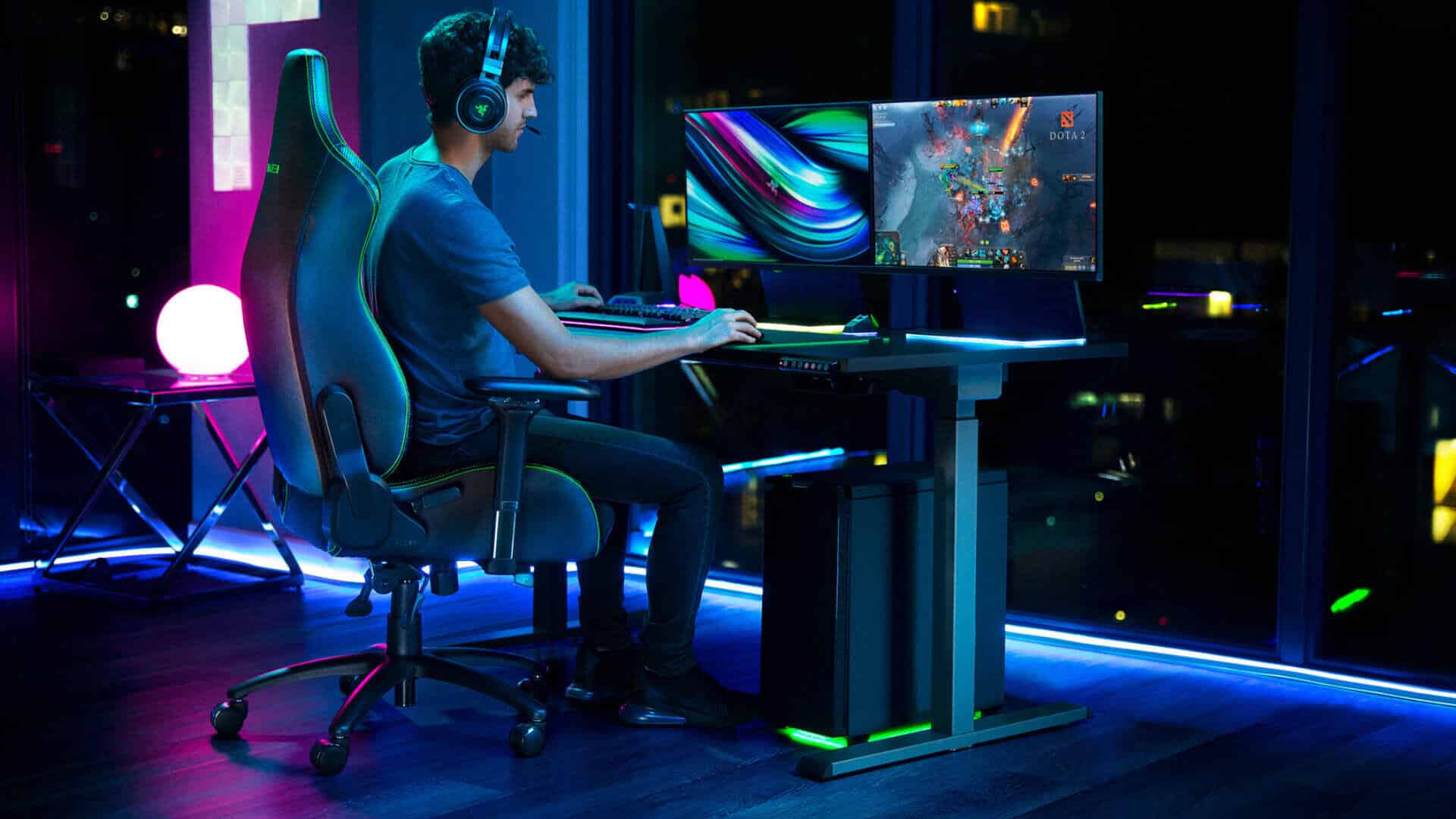 Best Streaming Chair
Tested & Reviewed
Nowadays, gamers and streamers are looking not only for bucketed racing-seat-influenced design but for more ergonomic options.
Moreover, it is important to see what upholstery option suits you the best. The upholstery options are mostly fabric, leather, and breathable mesh.
I hope my reviews will help you find the most suitable one.
1. SITMOD Gaming Chair
Best overall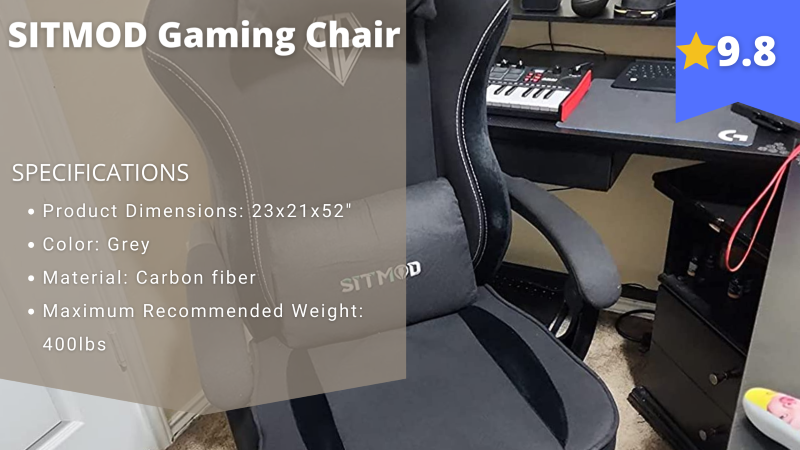 Stefan's Take:
I got this chair just for a test, didn't want to give it up, and now it's a part of my streaming setup. It's that comfortable!
I liked the wide seat, firm but comfortable cushions, and vibrant back cushion that significantly improves comfort. Plus, once I recline it, I can use it even when I'm not streaming: sit back and watch a movie, stream, or read. The outstanding load capacity makes it really the best streaming chair!
| | |
| --- | --- |
| Comfort | 10 |
| Design | 9 |
| Load Capacity | 10 |
| Adjustment Features | 10 |
Why do I think SITMOD Gaming Chair is the best among these? Because of its versatility and comfort! It has just what streamers and gamers need, so it was an obvious winner of the Best Streaming Chair title!
This model of the chair comes in different colors and at different prices. You can choose the one that suits you best.
Anyway, I will talk about a grey fabric gaming chair.
Who is it best for?
The model I have chosen to review is a bit pricey when compared to the other models of the chair itself and with the other models from this list.
However, if you are willing to pay for this model, you get a fairly comfortable chair that can hold long sessions at the computer or a console.
Even the guys from my team, who are hardcore gamers and constantly looking for the right streaming chair, would gladly use this one during their long-lasting streams or gaming tournaments.
If you want something a bit cheaper but with the same specs, just choose a different color.
Key features
Well, I needed around half an hour to assemble it at an easy pace. You get all the necessary tools provided with the chair, which is a big plus.
What stood out was the comfort! The chair's frame is sturdy, so you do not have to worry about its stability.
The extra pillows will give you that much-needed lumbar and neck support so that you don't feel those hours spend in the chair once you stand up.
If you like to use the chair without a lock, you will be happy to hear that the backrest has a very loose spring.
Therefore, you can push it down. This is the best position for resting and reading.
Also, you can lock it in any position you want. It allows you to customize your posture/position however you want. Needless to say, the lock is stable in every position.
The arm-rest screws need to be tightened because they can get wobble and loose. But it does not happen so often. So, I do not find this as something worrying.
The footrest might not be long enough for everyone, which can be frustrating. Considering the price and specs, it's the best streaming chair, worth every penny!
Pros
The backrest is adjustable
Sturdy chair frame
Comfortable
Easy assembly
Cons
It's missing the tilt feature
2. Hbada Computer Chair
Best racing seat chair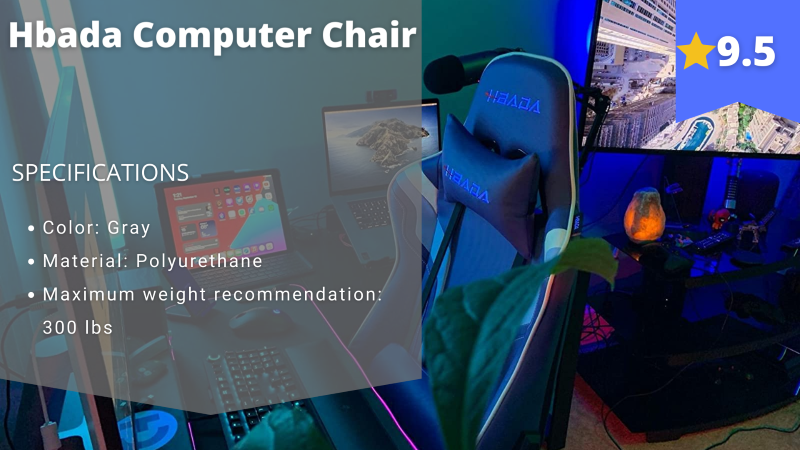 Stefan's Take:
I'm a big fan of racing seat chairs, so I knew this one wouldn't disappoint me. Overall, it's comfortable, the extra pillows for the back and neck are a nice addition, and it was relatively easy to assemble.
The one feature I particularly liked was the armrests. At first, I thought it was a bit weird that they could move up & down instead of rotating. However, I quickly noticed just how practical that feature is. The design may not be a unique one, but I like its simplicity.
| | |
| --- | --- |
| Comfort | 10 |
| Design | 9 |
| Load Capacity | 9 |
| Adjustment Features | 10 |
The chair that I'm going to present to you, Hbada Gaming Ergonomic Computer Chair, is undoubtedly worth your attention.
Like with the first chair, there are other types of this model. However, I think this chair is okay, unfortunately, for a slightly greater price.
Who is it best for?
Because it starts to squeak after only a few months of use, I would advise using something other than this chair as a Twitch gaming chair. Other streamers might find this chair noisy, as well.
If you use the computer chair casually, it can be an okay choice for you. Quite comfortable, and if it starts squeaking, you'll be the only person it will annoy.
Key features
Hbada chair is easy to put together. The build quality looks decent, and it is done with subpar materials.
Firstly, the chair has a solid metal frame.
Compared to the first model, it doesn't have as thick cushions, but it's still okay to sit in for long hours.
I noticed a bit of poor fitting of the chair cushions, which I needed to get used to.
The armrests of this chair are adjustable (up and down) to fit different people. This is the feature that I liked the most.
The padding was fine, and it was really easy to position my arms. Moving the armrests too much can make them very loose pretty often.
Moreover, the recline feature of this chair is magnificent. I have managed to make it go 155° flat. It is almost like you are on the ground. The chair really passed that test.
Another great feature of this chair is that it can hold people up to 300 Pounds.
And probably the most honest thing that Hbada offers is one year of free replacement. So, if your chair is damaged or has installation issues, you can change it easily.
Pros
Easy assembly
Wonderful recline feature
The armrests are adjustable (up and down)
One year of free replacement
Cons
The armrest might become loose after some time
3. Darkecho Gaming Chair
Chair with the most adjustment features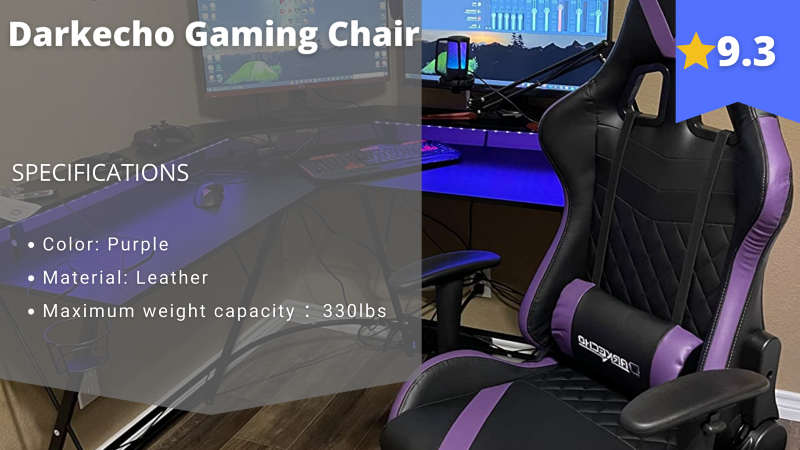 Stefan's Take:
All adjustment features really stood out the most. Reclining the chair to 155 degrees was perfect for taking a break, and 90 degrees kept my spine in the right position when working. A retractable footrest, adjustable height of the armrests, and extra pillows add to the comfort.
One thing that started bugging me a bit over time was the vibrating cushion's noise. It was so loud that my viewers noticed it during the stream.
| | |
| --- | --- |
| Comfort | 9 |
| Design | 9 |
| Load Capacity | 9 |
| Adjustment Features | 10 |
When I first saw this chair, I knew passionate gamers would appreciate its design and color scheme.
But it has to offer much more, so let's dive into the specs.
Who is it best for?
I might have the best thing for you if you are looking for a perfect Twitch gaming chair. Due to the specific design, probably everyone who watches your streams would ask questions about it.
Even if you are a white-collar worker who uses a computer frequently, you will be pleased with this one. Your back and legs will feel great. So, that is a huge advantage of this chair.
Key features
I put this chair together in about 40 minutes. The instructions were clear, and I got all the necessary tools.
The chair is very comfortable and the materials used are superb. However, I think that there should be a bit more padding.
You can adjust the chair to your body. Therefore, you can adjust the height of it so your feet can be on the ground and your knees at 90 degrees.
Moreover, you can move a back cushion a bit above if you prefer it to sit in the curve of your back. The back cushion is not attached, so you can remove it if you do not need it.
Additionally, the chair has massaging cushions, so after a long day of sitting behind the desk, you can recline the chair and get a massage. 
The vibration was a bit too loud for my liking, so I didn't use this feature much. But if you don't mind the noise, enjoy your relaxing evening.
The armrest is fully adjustable, and the chair reclines to 180 degrees. The chair rolls well, so you do not have to worry about squeakiness.
Pros
Super comfortable
Adjustable armrests
Retractable footrest
Superb materials
Cons
Vibrating cushions are too loud
4. Flash Furniture X10
Best budget streaming chair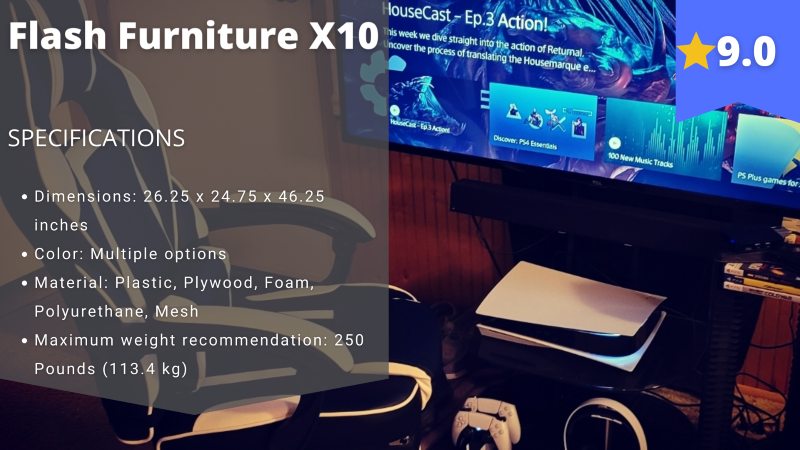 Stefan's Take:
I got this chair to see how well will a chair that costs $100 perform. The design is nothing special but subtle, so great for those that want simplicity.
I didn't take much effort into putting it together, and it had some excellent features like a high back and ergonomic design. The cushion is comfortable but not so thick. I had an issue with the base – one piece broke quite fast. Overall, it's good for the money. Just be gentle with it.
| | |
| --- | --- |
| Comfort | 9 |
| Design | 9 |
| Load Capacity | 9 |
| Adjustment Features | 9 |
The model I will present you is relatively low priced, but I would like to point out that it does confirm with ANSI/BIFMA X5.1 Standard for office chairs.
Who is it best for?
I recommend this chair for those who have to work from home from time to time. The price is a huge advantage if you use the chair casually.
You should look further if you need a chair for long-lasting computer projects and a lot of gaming or streaming. There are better options.
However, if you need the chair for a low price for casual use, this would be a satisfactory choice.
Key features
The assembly is a bit complicated. Honestly, it requires more effort and strength than I am used to giving.
Furthermore, the instructions need to be clearer. Overall, the design is nice. It can fit well in your office and your room. Thanks to the pneumatic lever, you can adjust the seat's height.
For this price, you get a pretty comfortable chair.
Of course, it is not like a sofa or some other chairs, but bear in mind the price of it. However, some might say that it is too hard for the back, but it is up to you to see.
It does not have a neck or back cushion. But, as an ergonomic chair, it has built-in lumbar support.
However, it cannot compare with the cushion. Hence, if you are used to having them, it would be a problem.
You might not feel so comfortable then. Another important thing – this chair that I am reviewing does not have a footrest.
After some time, the wheels might become squeaky. However, due to its price, that is something you have to be aware of.
Pros
Affordable price
Simple design
It fits well in different environments
Cons
Base can easily break
No footrest
5. Toszn Video Game Chair
The best design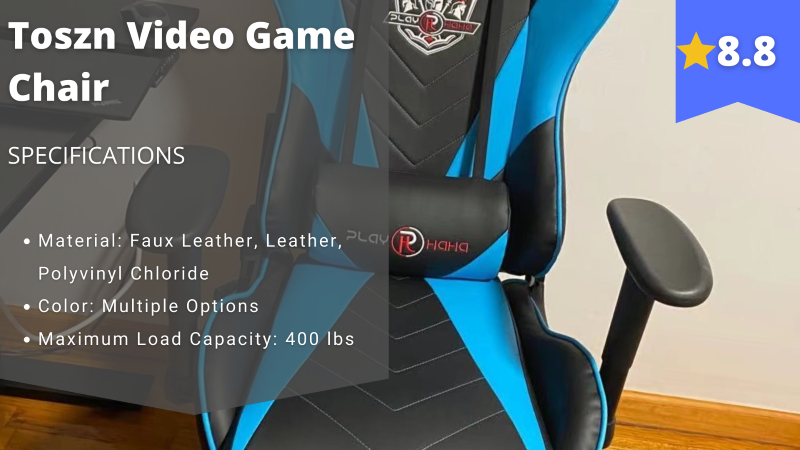 Stefan's Take:
I ordered this chair because of the design. I liked the color combos, plus the extra cushions and very high back. I worked for several hours and didn't even notice the time flying by – that's just how comfortable it was!
On the other side, the assembly was exhausting. I typically need just a few minutes to assemble a chair, but it lasted much longer with the instructions.
| | |
| --- | --- |
| Comfort | 9 |
| Design | 10 |
| Load Capacity | 8 |
| Adjustment Features | 8 |
CHECK IT OUT
With Toszn, quality meets value. It's quite attractive to people due to its quality and price.
This chair is available in different color combinations. I have chosen to review the one that comes in B-Blue. The Toszn Video Game Chair is a tempting price and a nice choice for your workspace or room.
Who is it best for?
If you are working from home or the office and you need a chair at a moderate price, this is a superb solution.
It is pretty comfortable, and you will not feel tired after long sessions. Due to its design, it fits nicely wherever you put it.
If you are at the beginning of your streaming career and looking for an appropriate streamer chair, this is one of the best solutions. There are not many better chairs for this price.
At the end of the day, it is a perfect choice if you do not want to pay for an arm and a leg for your chair.
Key features
Putting together this car was a hassle. I spent almost an hour trying to figure out which screw goes where.
The manufacturer does provide instructions, but they were quite unclear.
Overall, the chair is very comfortable. I did not expect some super padding for this price, but anyway, I do not have objections about the comfort.
The chair's higher backrest is very useful for more extended periods of sitting. It's adjustable and great for those with lumbar issues. Your back and neck will have great support.
Footrests are the only thing that is missing.
There is plenty of legroom because the seat is wide. I had no issues with the chair supporting my height or weight.
Due to the combination of blue and black leather, the chair has an upscale look.
The covering itself seems durable, so I have no complaints about the material.
Unfortunately, you might have a problem with a recline feature. The knob that activates the feature is a bit difficult to handle.
Pros
Great design
Comfortable
Very high back
Cons
Too difficult to assemble
6. AutoFull Pink Bunny
Best quality-to-price ratio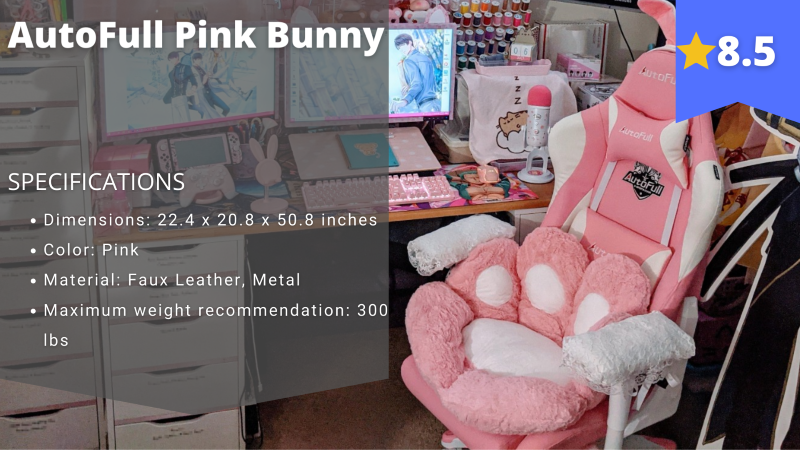 Stefan's Take:
When it comes to the design of this chair, it's not my cup of tea. However, I wanted to test its comfort, and it didn't fail me in that department.
I could sit in the chair for several hours straight, playing games or working, without getting any back or hip pain. Also, I liked that I got the tools I needed to put it together.
| | |
| --- | --- |
| Comfort | 9 |
| Design | 8 |
| Load Capacity | 9 |
| Adjustment Features | 8 |
AutoFull is one of the best streaming chair manufacturers. And I have chosen one of their pink gaming chairs.
AutoFull Pink Bunny Gaming Chair proved to be a huge success in Asia in 2019/2020.
Nowadays, the chair is becoming popular in Europe and America. Overall, this is a chair with satisfactory features and a high price.   
Who is it best for?
If you are looking for a Twitch gaming chair, look no more. Honestly, this one is more suitable for female streamers, but hey, it is the 21st century. If you like it, you should have it.
As said in the features part, the chair and padding are comfortable, so you will not have to worry about sitting in the chair for many hours. Your back will not hurt.
Gamers and streamers will enjoy this one. Seriously, this one is one of the most interesting twitch gaming chairs I have ever seen.
Key features
If you are a beginner, you will need around 40 minutes to assemble this chair. On the other hand, if you have more experience and practice, around 20 minutes would be enough to put this chair together.
Generally, instructions are very helpful, and you should not have problems assembling this chair. Especially since you're given all the tools, you need.
This chair is very comfortable. The back and neck pillows provide great support. They are amazing! The headrest is puffy and soft, while the backrest is wide.
I really appreciate the leather they used for the cover. It feels like velvet. There is also a small pocket, which you can use to put your phone, for example.
The chair is pretty heavy, but I must admit that it rolls decently on the carpet, and all wheels are functional. The armrest and the chair itself are height adjustable.
At the top of the chair, there are bunny ears. You can wear them or leave them there, or you can simply put there some other headband instead of the bunny ears.
A small and cute bunny tail is at the back. Regarding the reclining feature, the chair back might be locked at any angle between 90-150 degrees.
Pros
Specific design
Comfortable
Easy assembly
Good reclining feature
7. NOUHAUS Velour Office Chair
Best office chair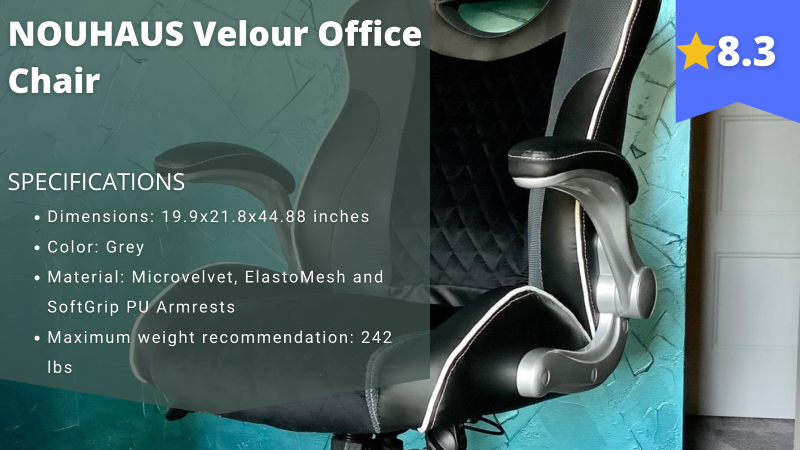 Stefan's Take:
Two things stuck out the most. First, the simplicity of design. I think this chair would blend in any space. Secondly, the blades instead of plastic wheels. They are faster and just glide over the floor smoothly without noise. Plus, rollerblade wheels are more durable.
I would like it more if I could lock the chair in the reclined position.
| | |
| --- | --- |
| Comfort | 8 |
| Design | 8 |
| Load Capacity | 9 |
| Adjustment Features | 8 |
NOUHAUS doesn't look like a typical gaming chair, and that's because it's not. But it's an excellent office chair that will suit any space.
When it comes to pricing and quality, the chair is expensive but comes with many features.
Who is it best for?
As I said already, this is a high-end office chair.
This is an excellent choice if you're working from home or from the office and need a comfortable chair.
Since it does have a 135-degree tilt, it can be a great gaming chair.
Gamers and Twitch streamers will also be satisfied with it, but honestly, there are more attractive choices.
Key features
Well, assembling the chair is not hard. I needed around half an hour.
The chair is comfortable. The seat is wide, and the padding is quite thick.
Also, it has an ergonomic design, so you don't have to worry about lumbar pain even without the extra cushions for back and neck support.
It doesn't have a retractable footrest, which would make it stand out.
The armrests and seat height are adjustable, as well as the backrest.
The maximum reclining is 135 degrees. It's the perfect angle for gaming. Just keep in mind that you cannot lock the chair in that position.
The materials used are skin-friendly, so do not worry about that.
There is one feature that stood out – wheels. Or I should say – rollerblades.
Yes, you read that right. This chair has roller blades as wheels.
They make moving around much faster and smoother. Also, they won't scratch your floors, they're silent, and they will last longer than plastic wheels typically used in office and gaming chairs.
Pros
Very simple and modern design
Fast roller blades
Durable
Cons
You can't lock it in the desired position
8. Atelerix Ventris Gaming Chair
Best materials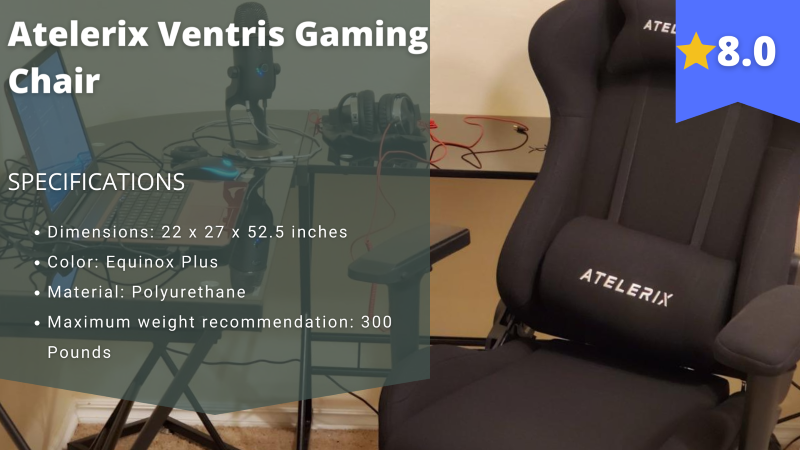 Stefan's Take:
After testing this chair for a few weeks, one thing that amazed me was the durability of the materials. The leather didn't start chipping, and the foam padding was just as comfortable as on day one. The wheels are plastic but quite strong.
The seat was a bit too narrow for me, and I wish it had a footrest, as that small feature can improve comfort.
| | |
| --- | --- |
| Comfort | 8 |
| Design | 8 |
| Load Capacity | 8 |
| Adjustment Features | 8 |
Like most of the chairs that I have presented, this one comes in different designs and colors as well. This chair comes from Atelerix, and it's their Ventris Gaming Chair.
If you have been saving for some time and are willing to spend around 200 dollars on a chair, this might be a good option.
Who is it best for?
Atelerix chair is, without any doubt, intended for gamers. Obviously, they have tried hard to make a good gaming and streaming chair.
I believe that gamers would be satisfied with this chair. However, I think that for long gaming sessions, one can find a much better solution.
That impression comes from the fact that I noticed the chair becoming hard after some time.
Key features
The chair is not too difficult to put together. You only need to follow the instructions, and you are over in about 30 minutes. However, it can be a bit frustrating in certain moments if you are not too practiced.
Generally, the seat is okay. It is not super comfortable, but it is comfortable enough. The seat padding is made of foam and covered with polyurethane leather.
For longer periods of sitting, it might feel a bit hard. For people with bigger thighs, the seat can be a bit narrow.
The chair comes with neck and back pillows. However, I feel that the back or lumbar pillow is hard as a rock, so it is pretty useless.
The armrests are so-called 4D. It means that they are adjustable. The manufacturer says that there are 189 customizable positions.
Anyway, I have seen that it can be moved up-down, front-back, left-right, and rotated.
However, I think the armrests' paddings could have been more comfortable. Unfortunately, the armrests even have become a bit wobbly after a few months.
The wheels are a bit noisy, and I do not think the wheelbase is well-built.
The reclining feature is great. The chair can recline backward 180 degrees. So, even when you want to lie down, you do not have to leave your chair.
Pros
The neck and back pillow
Adjustable armrests
Reclining feature
Cons
The seat is a bit narrow
No footrest
9. Dvenger Video Game Chair
Best maximum load capacity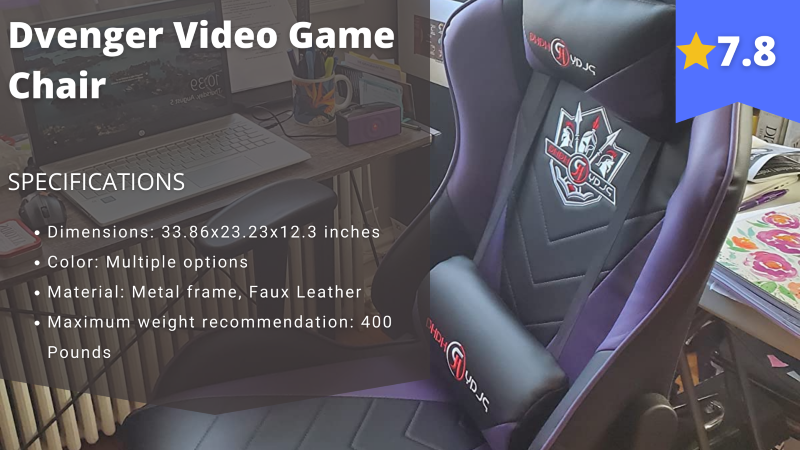 Stefan's Take:
The maximum load capacity is what drew me to this chair. And once I felt just how sturdy it was, I could tell with certainty that it would work for everybody. Also, the material is good and comfortable to sit on, even for longer periods.
I would prefer a bit thicker cushions and maybe a different base shape since I feel like I will just slip out of the chair.
| | |
| --- | --- |
| Comfort | 7 |
| Design | 6 |
| Load Capacity | 10 |
| Adjustment Features | 8 |
Dvenger Video Game Chair is available in 10 colors and two designs. Dvengers offers a comfortable and affordable chair with a classic racing-style design.
Everything depends on your taste, but for me, pricing and comfort are absolutely in line.
Who is it best for?
Some guys from my team commented that this chair could easily be priced much more. Therefore, you can say that it is a great value for money.
Whether you use it like a Twitch gaming chair or an ordinary gaming chair, you will be more than satisfied.
Due to its comfort, it is great if you are a gamer or programmer. Hence, I think that everybody will be happy with this chair. Whether you are a white-collar worker, programmer, or gamer, this is an absolute win.
Also, considering its high load capacity, people of all sizes can use it.
Key features
This gaming chair did not come with the user manual but with a short assembly instruction. Assembling the gaming chair is easy, and it takes less than half an hour.
Firstly, the chair I have tested are generally comfortable. This one is no exception. The seat is pretty sturdy but could have a thicker cushion.
It seems like the company was trying to save some money on the padding.
Still, it is great for extended gaming or programming sessions. Unlike some chairs I have tested, this one also has comfortable armrests whose height can be adjusted.
However, they can swivel a little, which can sometimes be annoying. Moreover, this chair does not have a footrest.
The back and neck pillows are adjustable.
They are not extremely comfortable, but after all, it depends on your taste.
The reclining feature is very good as well. The chair can be reclined between 90 and 10 degrees. That is more than enough to use in the periods of rest.
Pros
Outstanding load capacity
Great materials
Comfortable
Cons
The weird shape of the base
10. Arozzi VERNAZZA
Best soft fabric chair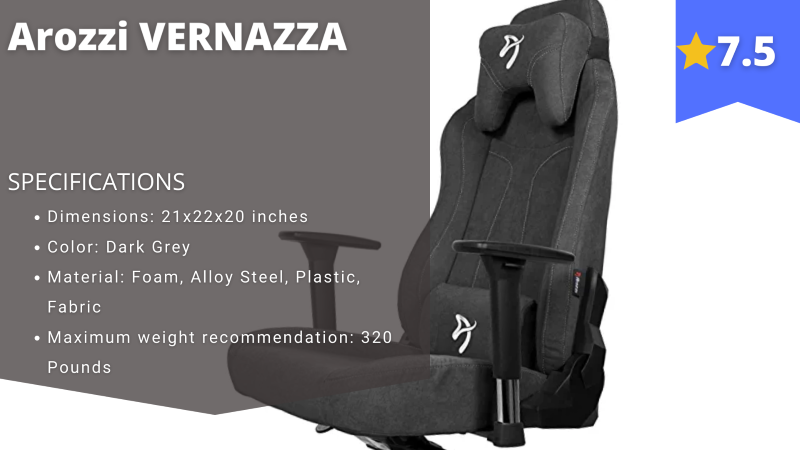 Stefan's Take:
There are many great features of the chair: removable and adjustable headrest, high-quality casters, and great fabric quality that is wear-resistant.
However, the armrests were really uncomfortable, and I couldn't find a height that would suit me. Also, I didn't get the lumbar support I was looking for, even with the extra cushions.
| | |
| --- | --- |
| Comfort | 8 |
| Design | 7 |
| Load Capacity | 8 |
| Adjustment Features | 7 |
Arozzi is dedicated to producing gaming gear, and its Vernazza chair is both functional and stylish.
One can see that the Swedish team has incorporated almost everything that a gamer or streamer needs.
This chair is one of the most expensive on this list. However, if you are willing to invest a huge sum in a good chair, this will be a great piece of business for you.
Who is it best for?
I recommend this if you are looking for a Twitch streamer chair or a regular gaming chair.
On the other hand, if you just need a chair that will "take care" of your back and are willing to pay for that, feel free to try this one!
Key features
The chair is available in a few different colors. Therefore it will fit into most environments. I have purchased the grey one made out of soft fabric.
It took me around 20 minutes to assemble it. Generally, the chair is pretty comfortable. The chair is well-built and sturdy.
It is obvious that they have made it of quality materials. Memory foam, which is what padding is made of, is very dense.
The high density might make a lumbar pillow and the seat slightly uncomfortable or even obnoxious during long sessions.
The armrests are so-called 3D. They can move up-down, slide forwards & backward and rotate in and out.
However, they were still quite uncomfortable. Even with so many different positioning options, I couldn't find the right one and was constantly switching heights and rotating them.
You will be satisfied with its weight capacity and a spacious and wide backrest if you are big and tall. If you need a rest, this chair also has a reclining feature.
You can recline this chair up to 165 degrees. It would be enough to lie down and have a rest.
Pros
Great fabric quality
The headrest can be removed
Well-built
Things to Consider When Buying a Streaming Chair
1. Design
Well, along with comfort this is the crucial thing. You want to make an impression during your streams. Therefore, a well-designed chair is a part of the mosaic you need.
2. Comfort
You have to take into account your height and weight before buying the chair. They will be the biggest determining factor.
Not all chairs are made for everyone.
Therefore, you should try your chair for some time before buying it. Many manufacturers offer a free replacement for some time. Be careful and know your rights!
3. Adjustment features
There are a few features that are different from chair to chair.
The most important adjustable features include adjustable armrests, the ability to recline backward, and height adjustment.
The best streaming chair will adjust to your needs.
For example, while gaming, we like to tilt the base back a little bit and recline the backrest back. So, look for the features that will help you make your gaming chair more comfortable.
Conclusion
I have shown you ten gaming and streaming chairs. They differed in color, design, and price. The ones that I think are the best are:
SITMOD Gaming Chair as the best overall,
Hbada Computer Chair as the most comfortable one,
Darkecho Gaming Chair as the most versatile one.
Hopefully, one of these suits you, and you're happy with your purchase.
Related: Best Streaming Gear
Frequently Asked Questions
What is so special about gaming chairs?
Generally, the gaming chairs are specifically designed to support appropriate posture while sitting. Imagine yourself sitting in one position for like 10 hours?
Whether you are a streamer, gamer, white-collar worker or just a guy who uses a computer a lot you need something to secure the perfect positioning of your body.
Instead of your spine holding your head, torso and arms against gravity, gaming chairs stand-in for you. Moreover, most of the game chairs are made of specific materials to provide additional comfort for their users.
Are gaming chairs bad for your back?
We are not doctors, but we do not agree with this. In fact, gaming chairs are invented to prevent back pain. As we said, a gaming chair helps you to maintain a proper posture. Nowadays, neck and lumbar pillows provide additional support for users.
According to research, a proper posture encouraged by the gaming chairs reduces joint stress and migraines, improves digestion and increases energy levels.  
Should I get a gaming chair or office chair?
If you are used to your office chair and it is healthy for your back, we advise you to keep having them. However, if you are really into gaming we advise you to get a gaming chair.
Moreover, if you would like to stream then a streamer chair is a must-have. But you should always be aware that the most important thing is to feel comfortable.